Take Two – Part 1
3 Film Reviews of Movies on Netflix |  HuluPlus | Redbox

These are reviews of films I found, watched and actually enjoyed.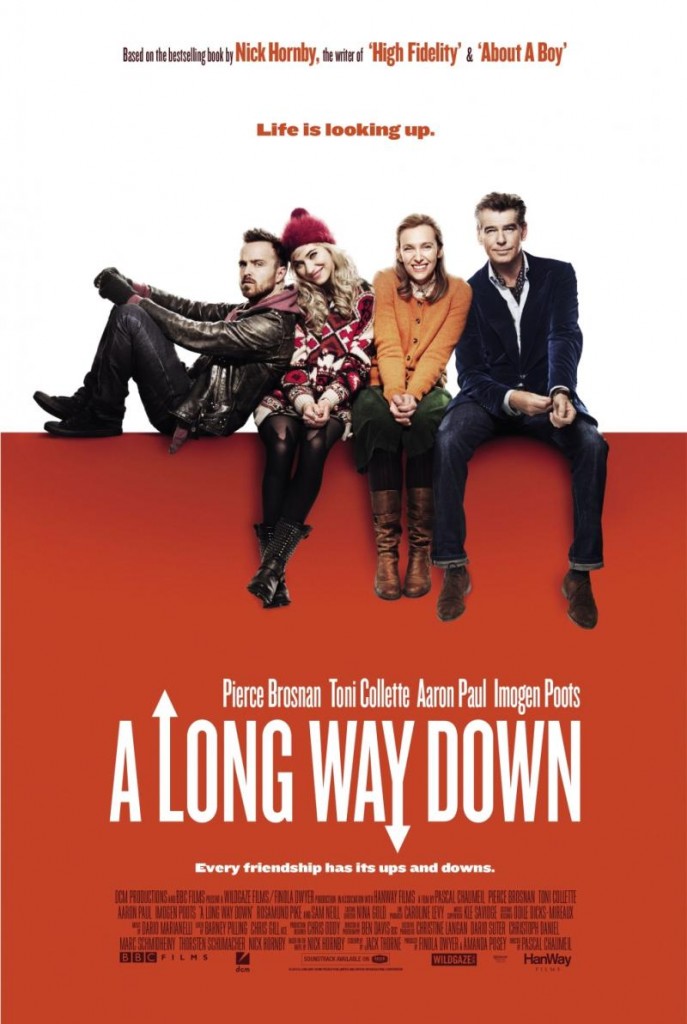 2014 | Comedy/Drama
A tale of 4 suicidal strangers who meet amidst the oddest of circumstances and in a twist of fate, and poor timing, find themselves in a media frenzy forcing them to not only become friends but unravel, one by one.
With a cast of Bond, Tara the Schizophrenic, Jesse Pinkman, and Imogen, aka Vendetta, you're sure to have your eye-candy fill.
The actual cast: Pierce Brosnan, Toni Collette, Imogen Poots, Aaron Paul
Ok, so I watch too many movies and shows but honestly, this film was surprisingly entertaining and it's placating stance on how lonely we all feel at times was kind of nice.
I came across this while searching for something to bide my time and it was a great find. Surprising, raw, funny, dark – the story by Nick Hornby is a step outside of the typical relationship humor he's known for. It's a much more human look at our need for one another, even if the people we end up are the last people any one of us would expect us to need.
WATCH THE TRAILER: Netflix / YouTube
[separator type="thin"]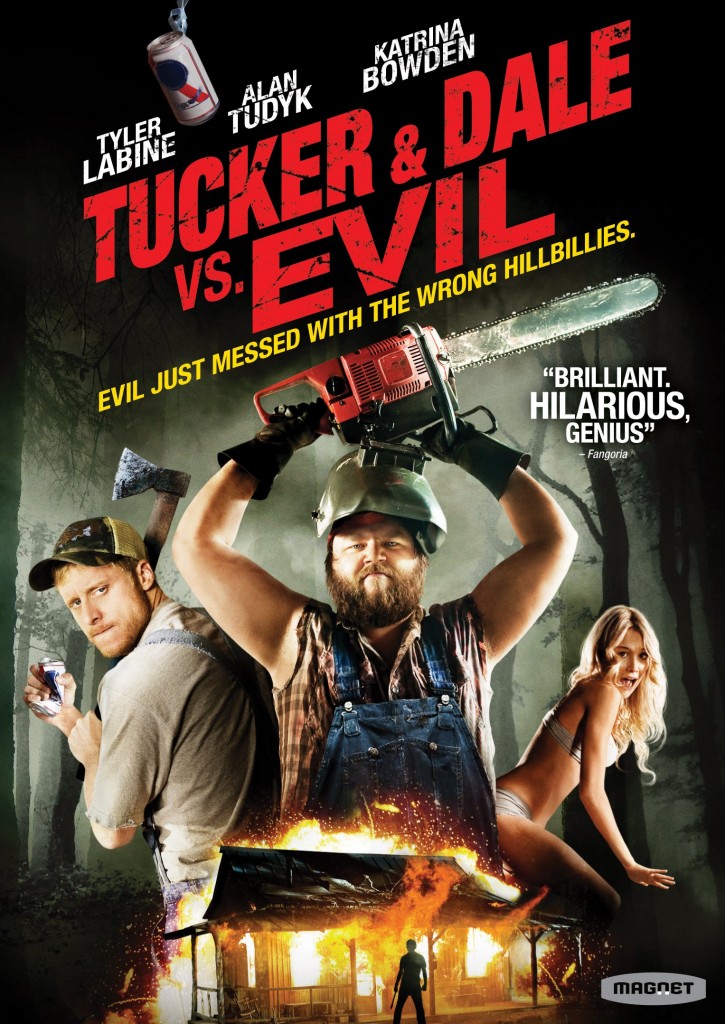 2010 | Horror/Comedy
Yes, I'm a little late to the game on this one but it is one of the most ridiculous and hysterical films I've seen. How mass and accidental murder can render you in a gut wrenching state is worth applauding. So for those of you who are, like me, only now just hearing about this, "Tuck and Dale Vs. Evil" is one of the funniest, scary slayer movies you'll see. It is clever and precarious and just goes to show you how assumption really does cause all sort of disarray.
If you are a Simon Pegg and Nick Frost fan ("Shaun of the Dead" + "Hot Fuzz"), you will appreciate Tucker and Dale. TRUST ME.
Watch this movie when you want to laugh out loud and feel utterly content knowing you're laughing at things totally inappropriate. (Because somehow, it's super funny.)
WATCH THE TRAILER: Hulu Plus
Cast: Tyler Labine, Alan Tudyk, Katrina Bowden
[separator type="thin"]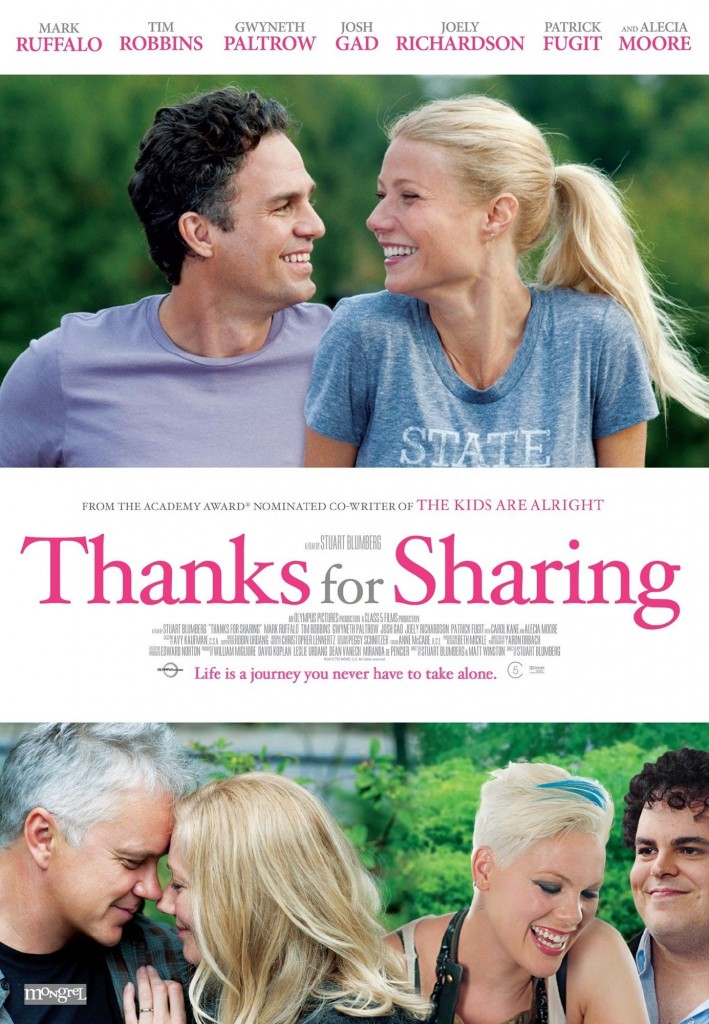 2012 | Comedy/Drama
Being a sex addict was never more awkward, endearing, and worth watching. Following the lives of 4 characters (ok, I have to give them the recognizable names: Oloff, Hulk, Conscious Coupler, and Pink) – these 4 are often unlikable and painfully lost, yet somehow they each have their own redeeming qualities. With beautifully, honest dialogue and candid looks into the things no one is comfortable talking about: SEX, "Thanks For Sharing" is a poignant and interesting watch.
Think about this: The average man thinks about sex 15 times a day. Hard scientific fact (not grossly overstated "assumption"). But women think about sex more often than you think too (and it isn't always some Harlequin romance type sex!).
At the end of the day, everyone struggles with something.
This is a movie to watch on a day when you need to pour a glass of something and feel better about your life.
Most memorable dialogue exchange (and I'm paraphrasing here):
"Aren't you afraid he'll slip back into the darkness?"
"I can't focus on him. I focus on myself. I married an addict and I have to wonder, what does that say about me."
My favorite part of this story is the relationship between Neil (Played by Josh Gad) and Dede (Played by Pink).
WATCH THE TRAILER: Hulu Plus
CAST: Mark Ruffalo, Tim Robbins, Gwyneth Paltrow, Josh Gad, Joely Richardson, Patrick Fugit, Pink, Carol Kane