5 Cookbooks To Check Out
We're a big fan of cookbooks. They are the culinary equivalent to a literary collection of visual prose. While we have sorted through many, below is a look at 5 that captured our attention this month. Each one offers something totally unique whether it's learning how to make beer and the history behind it to blending culture, tradition, and new ways of eating.
As the culinary world changes and adapts to allergies, clean eating, and curious home cooks, more and more options become available. For those of us who enjoy dabbling in the kitchen, these are sure to give you some reasons to play.
Happy cooking!
The BOOK of BEER
Because it's never too early to study up on beer.
The man behind Mikkeller brewery offers his guide to the best beers. Discover how he got started in the business, and learn about the ever-growing Nordic beer revolution with its fascinating origins. Then find out everything you have ever wanted to know about this highly versatile of drinks with an in-depth look at the different types and the intrinsic differences between them.
Drawing on his years of experimenting with tastes, textures and techniques in the art of beer brewing, Mikkel offers you his own extraordinary insights into the processes behind your favourite beers. Starting with the basics, discover how to make beer at home with easy-to-follow recipes covering many of the sought-after brews that Mikkeller and his friends have become known for.
In addition to this, learn about how to taste beer and understand its flavours. With a chapter dedicated to food, Mikkel offers an alternative to wine with meals and teaches us which beers work best with what foods as well as providing us with a few tasty recipes of his own.
BUY BOOK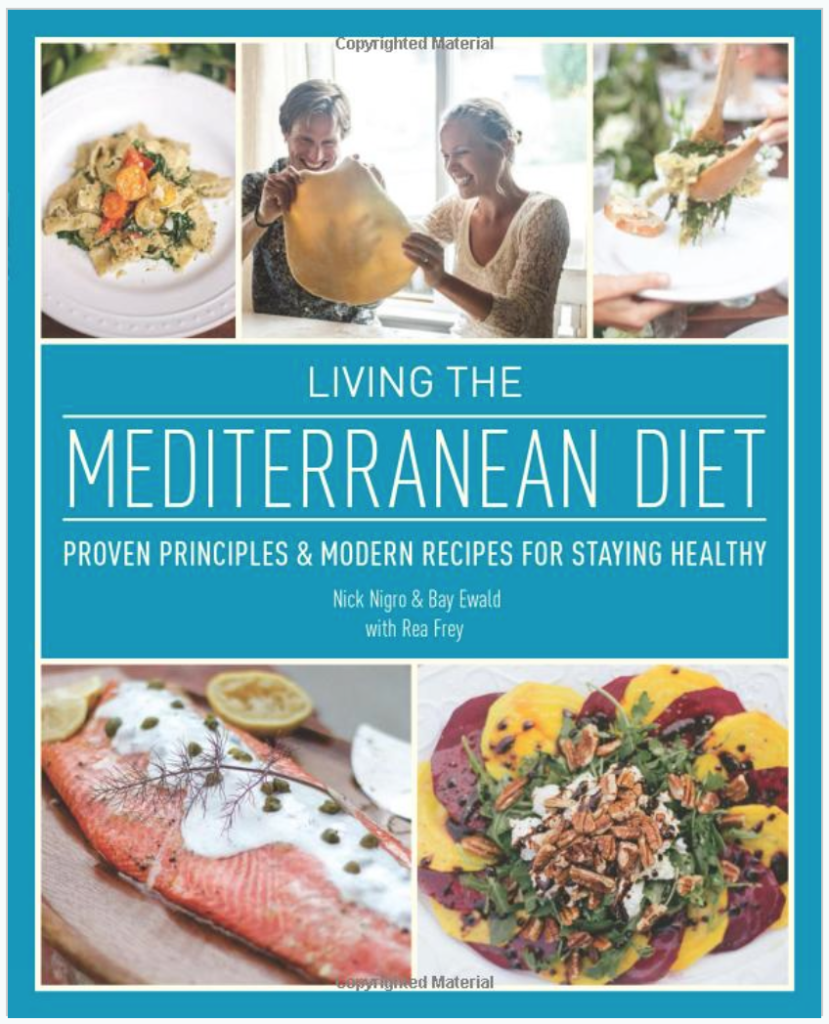 Living the Mediterranean Diet
A FULL-COLOR GUIDE TO THE MEDITERRANEAN DIET FEATURING WEIGHT-LOSS TECHNIQUES, LIFESTYLE CHANGES, AND TASTY RECIPES
This is a fab cookbook to keep on hand when you're trying to change your lifestyle.
Hearty whole grains; crisp, farmers' market vegetables; luscious, garden-grown fruits; freshly caught fish—the Mediterranean Diet has proven itself as one of the most sustainable programs for improving health and achieving your ideal weight. Living the Mediterranean Diet creates an approachable way to maintain a healthy and active lifestyle and includes a bounty of traditional Mediterranean recipes presented with a California flair. With the fresh and nutritious recipes in this book, you can enjoy creative dishes to stay healthy and fit.
Anyone in the many Mediterranean countries of the world will tell you that food is meant to be a celebration and that everything that you put into your mouth can be both pleasurable and good for your body.
Buy COOKBOOK

The Seasonal Jewish Kitchen
A wonderful blend of culture and modern cuisine.
Here, at last, is a fresh, new way to think about Jewish food. In The Seasonal Jewish Kitchen (Sterling Epicure), Amelia Saltsman takes us far beyond deli meats and kugel to a universally appealing world of diverse flavors ideal for modern meals.
Inspired by the farm-to-table movement, her 150 recipes offer a refreshingly different take on traditional and contemporary Jewish cooking. Amelia traces the delicious thread of Jewish cuisine from its ancient roots to today's focus on seasonality and sustainability. She draws on her own rich food history to bring you a warmly personal cookbook filled with soul-satisfying spins on beloved classics and bold new dishes. From her Iraqi grandmother's kitchri–red lentils melted into rice with garlic slow-cooked to sweetness—to four-ingredient Golden Borscht with Buttermilk and Fresh Ginger and vibrant Blood Orange and Olive Oil Polenta Upside-Down Cake, Amelia's melting-pot approach will win over a new generation of cooks. Click here for the recipe list.
Buy COOKBOOK
The Gluten-Free Table
Emeril may be their dad, but these girls created gluten-free dishes to please your palate. 
Imagine growing up with a father known for his rich, Creole-style cooking, who instilled a love and appreciation of food from the very start. Now imagine not being able to eat most of his dishes anymore. That's what happened to Jilly and Jessie Lagasse when they were diagnosed with gluten allergies in 2001 and 2004, respectively. So they learned to adjust, changing the ways they cooked, ate, and used ingredients. The Gluten-Free Table provides a well-balanced base of recipes that can add flavor and enjoyment to the menus of even the most demanding gluten-free eaters. With appetizers, soups, salads, sides, entrées, and desserts, the book has something for everyone.
Featuring family favorites, Southern classics, and a few of Jilly's and Jessie's own culinary anecdotes thrown in, readers will delight in this compendium that includes recipes for Sweet 'n' Sticky Chicken Drumsticks, Hearty Butter Bean and Ham Soup, Jalapeño and Cheddar Cornbread, Slow-Cooked Rosemary Chicken with Apples and Fennel, Maple Syrup Johnnycakes with Ice Cream, and more!
Buy COOKBOOK
The Malibu Beach Recovery Diet
A Cookbook With A Kick
Written by Malibu Beach Recovery Center co-founder Joan Borsten, and four of the executive chefs:  Yannick Marchand, Licia Jaccard, Johnnie Handal and Sergio Galvao.
The cookbook recipes, and those on the website, are also beneficial for those with anxiety, depression, diabetes and eating disorders. The renowned Malibu Beach Recovery Center is well known in the addiction industry for its team of executive chefs, many trained in Michelin-star restaurants, and the mouthwatering food served each day. The four chefs who co-authored the acclaimed cookbook created the delicious, healthy recipes that are based on a French low-glycemic diet and incorporate several decades of neuroscience research about the relationship between healthy food and addiction recovery. Most alcoholics and addicts have low levels of dopamine, the brain's "feel good" chemical. This is the result of genetics – an estimated 20% of the US population are born genetically predisposed to addiction – and epigenetics (changes in our DNA due to environmental factors).
The innovative, easy-to-use meals featured here are crafted to provide a combination of foods and nutrients to help rejuvenate the body, rehabilitate our natural energy, and fuel well-being by restoring the production of dopamine.