Saint Marc Pub+Café
Picnic outings for the 21st Century family kitchen
21058 Pacific Coast Hwy. | Huntington Beach, CA 92648
[dropcap letter="T"]here will never truly be enough words to convey the kind of experience you will have dining at the "hot and new" (as Yelp puts it)
Saint Marc Pub+Cafe
in Huntington Beach. The latest addition to the Pacific City Center boasts top-notch staff, tasteful mastery of the surreal, and plate after plate of equally befuddling, exquisite cuisine that touches all borders of the classic American entrée bringing it into the 21st century. When I say "plate after plate", the phrase couldn't be more literal, for never before has this writer been so bombarded with as many "samples" as the fateful Wednesday night that I stepped into a three-fourths empty restaurant so newly erected that it wasn't even listed on the center's directory. One might say that the deceptively smiley, Head Chef was attempting to exhaust me into culinary submission. Well, he
almost
succeeded.
Chef Jay Bogsinske of Phoenician, Zinc Bistro fame, introduces himself and the rest of his team and without wasting any time, dives into Saint Marc's cuisine with style and verve. As I enter, the first word that comes to mind is open, though I was seated as far back from the front entrance as you can get. The ceiling and walls are set high and wide enough that I might as well have been lolling on the open-air patio. This pleasant "off-ness" doesn't stop there: the silverware consists of modernized sporks, the plates are ceramic "paper plates", the cocktail glasses are crumpled "solo red cups"; orders for food (and payment) are done through an iPad attached to your table, and any assistance needed is culled from the simple push of a button. Press it, and any one of the multitude of Saint Marc Ambassadors patrolling the floor wearing an Apple Watch (to which the notification is sent) will come and assist you.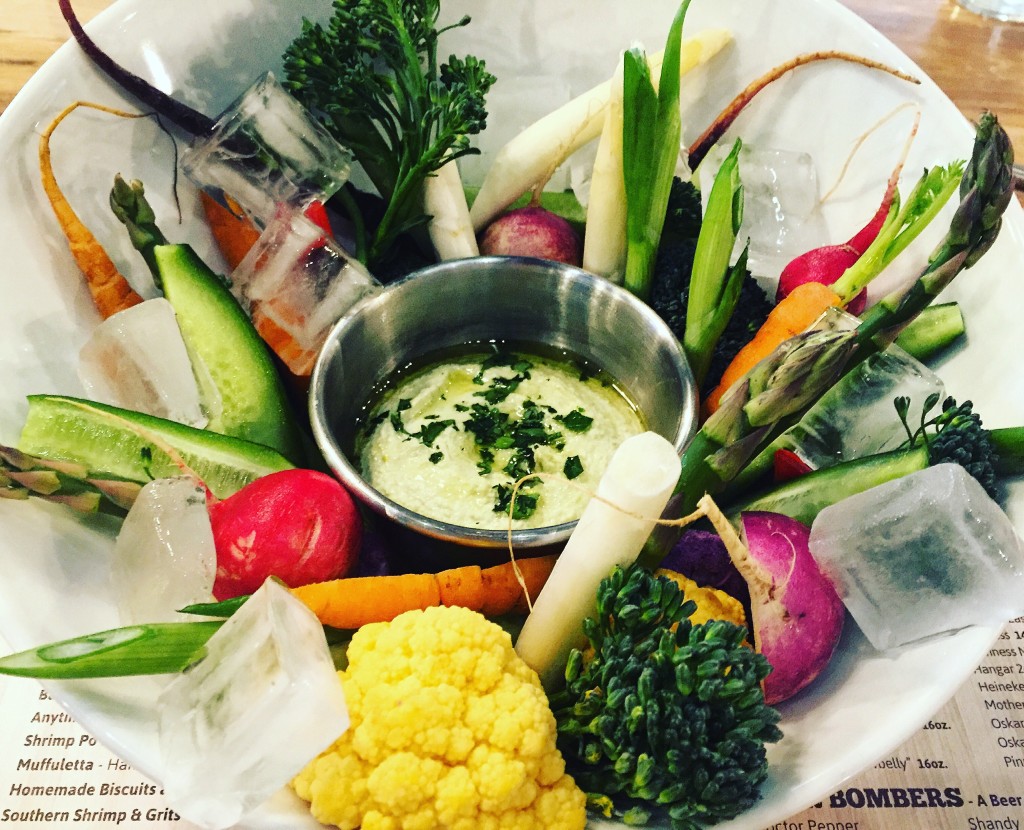 With the iPad, any entrée and its parts can be modified, substituted, switched out, or created. Though the name Saint Marc conjures up visions of Parisian cafes, Chef was insistent that the motif is actually closer to a Chinese buffet restaurant where you come, order a couple of different entrées (especially hors d'oeuvres) and share everything.
"Everything is meant for sharing", he keeps telling me.
The "bacon bar" is a prime example of this. With no less than eleven different signature-styles of bacon to choose from (with names like Nueske's Wild Cherry Bacon and Coffee Rubbed), I'm surprised anyone would want to share anything. Luckily, Saint Marc is as liberal with its serving practices as it is with its bacon, because you can actually order a "bacon flight" just like you would with beer or wine. Imagine nine different strips of bacon being brought to your table on an extended cheeseboard, separated only by grease-pockmarked paper sleeves. If this sounds oddly specific, it's because that is exactly what I get to try for my first taste of the evening. I'll keep it brief: Garlic-Parmesan, Paprika Slanina, Benton's Country, Maple, English Style, classic Applewood, Apple Pie, Habanero, and Double Cut. To put it simply—and that's saying something—the Habanero isn't as spicy as you would think, the Double Cut will give you the most munch for your money, but it's the Apple Pie that you'll dream about for nights afterward. Not overly saturated in brown sugar and cinnamon, and absence of the overwhelming saltiness that can accompany most strips, this piece of bacon is the definition of savory-sweet. It's easy to imagine enjoying a few of these with a mimosa or Bloody Mary during Saint Marc's 24/7 Brunch policy … defying convention yet again.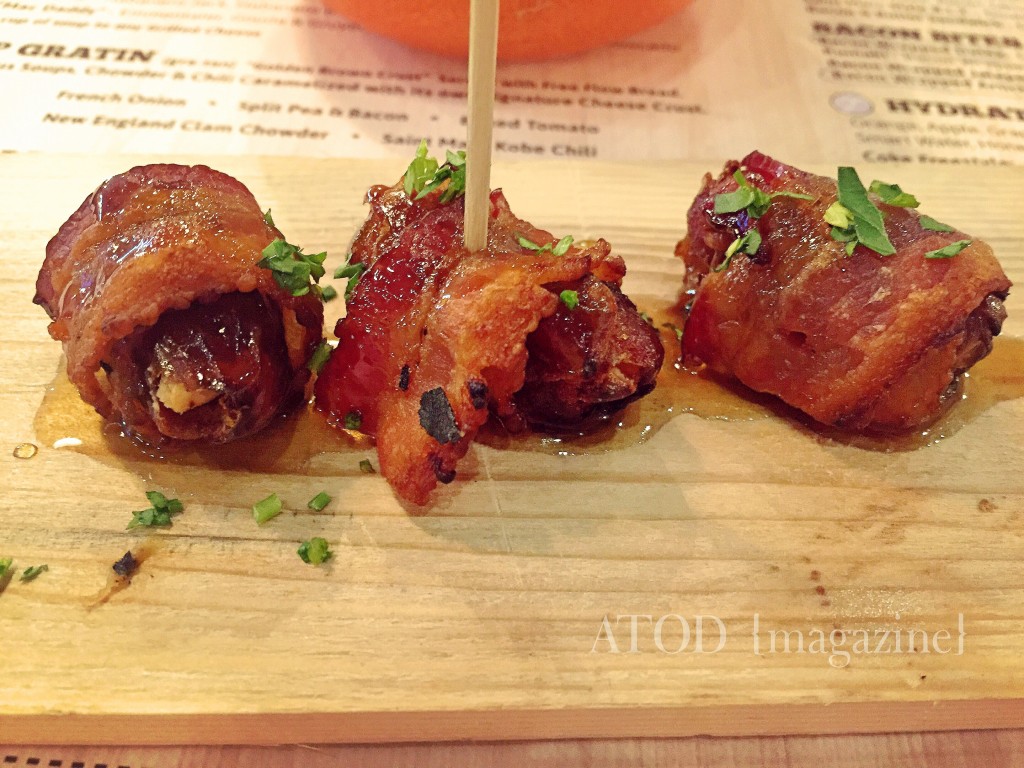 Nibbling on the backend of a veggie crudité that had been brought out earlier, up next is a cheeseboard bearing Cambozola triple cream blue cheese (think blue brie), mustard gouda, and Lamb Chopper, which is produced from a combination of goat and sheep milk. Accompanying the trio are the usual suspects: mounds of nuts, dried fruit, pickled carrots & cucumbers, a dollop of mustard, and honeycomb. It's a brief encounter, and I wasn't too sorry to see the board taken away, but the Cambozola, paired beautifully with the honeycomb, merits a vigorous head nod.
Definitely one of the more interesting dishes of the evening had to be the Ahi Tuna Hot Stone. A board is set down in front of me. On one end: a mound of sliced Ahi; the other: a large pink stone. It's explained to me that when the tuna is caught, it is frozen in such a way that upon defrosting, it's as if only eight hours have passed from catch to plate. The purpose of the stone is to lay the strips of ahi across the hot surface strips, laying them upon the hot surface, and adding a splash of the accompanying ginger soy glaze to an immediate and satisfying hiss of all 400°F.
Unfortunately for this writer, that is where the novelty ends—as sound an idea as the heated stone might be, it was very difficult to look past how unimpressive the ahi was, both cooked and not. The fish itself tasted fine, so my guess would be that it just hadn't completely defrosted enough.
However, disappointment doesn't seem to be the norm at Saint Marc's, and things pick right back up with a basket of sinfully delectable tempura-fried Wisconsin cheese curds. Anything but plain and simple, these mournfully delicious bites are the only entrée to stay on the table throughout the evening until I finally give in and ask for a to-go box. Honorable mentions also go to the triple threat of the evening: bacon-wrapped dates (in maple syrup), jalapeños (stuffed with cream cheese, drizzled in agave), and artichokes (in a rich lemon tarragon aioli, shaved parmesan).
The drinks at Saint Marc are worth a trip all on their own; there's an impressive "cold canned beer & cider" selection, beer bombers for the more adventurous crowd, over 32 wines served on draft (and which can be ordered in incremental ounces, over the "per glass" norm), twisted takes on classic libations such as the Mai Tai and the Mojito, and a Coke Freestyle machine that can produce over 100 custom beverage combinations.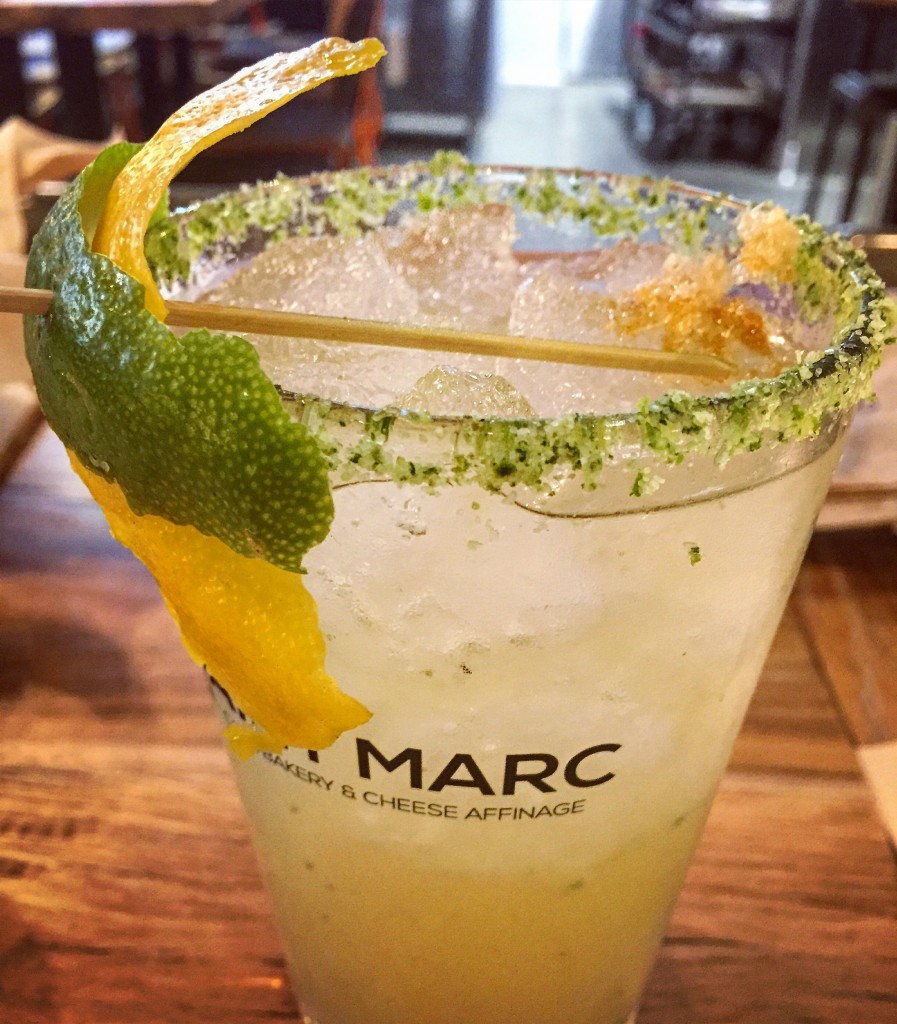 There's nothing more creatively invigorating for a cocktail mixologist than being given free reign over their domain, and it shows in the first concoction of the evening, The Ghost of Bloody Mary. Getting its name from an opaque green-white hue, you might at first confuse the tall glass for a twist on the margarita. Rimmed with chile-lime salt, a pick of lemon+lime peels, and topped with a morsel of dehydrated white vinegar resembling something like coral (which melts into the drink when prompted below the surface of the strained tomato water, it's just as refreshing as it sounds. Be warned. Though I'm assured there is alcohol present, the ethanol escapes me.
Taking "fresh" to a whole new level is the St. Marc Twisted Grapefruit cocktail. After cutting a hole in the top of the grapefruit, a Japanese blender (resembling a thin cylindrical pole) is inserted, opened up inside (now resembling a wired whisk), and blends the pulp into fruit juice. To follow they add whichever spirits you prefer—tonight it's vodka— pour it in and you consume it through a straw. Akin to the classic straw in the coconut, upon finishing you'll definitely be reminding yourself to ask the bartender for a larger grapefruit next time.
The evening concludes with not one, but three desserts: a decadent "Bread and Butter Pudding" a la Mode, paired with a Mother Earth Cali' Creamin ale; the no less gratifying Strawberry Danish a la Mode; and in a pleasant surprise, Fried Beignets & Chicory Coffee, which the residents of New Orleans will tell you is Ride or Die in their parts—biting into a center so hot, rich, and fluffy you half expect to find juices where bread is, I'm sold.
I begrudgingly set down my third beignet as Chef settles into the seat across from me for a little one-on-one; I want to know what really sets Saint Marc apart from other restaurants. His answer is simple, unsurprising even: hospitality and natural passion. Handpicking each ambassador himself, Chef offers that attending culinary schools and professional training is "nice", but he's more concerned with the customer experience, which stems from  how each person that walks through that door is going to be treated. Simply put, it should feel like being cooked for and catered to by friends. His words ring true; a week later, I have no doubt I'll still recall the names of my ambassadors over all the dishes I'd tasted this evening.
As The Feelies' 'Let's Go' comes on over the sound system, colluding with the still-warm beignet on my plate, I venture I won't soon be forgetting them either.