#TuesdayTalks with Christie Brinkley
Talking Prosecco, living in the moment and eating healthy!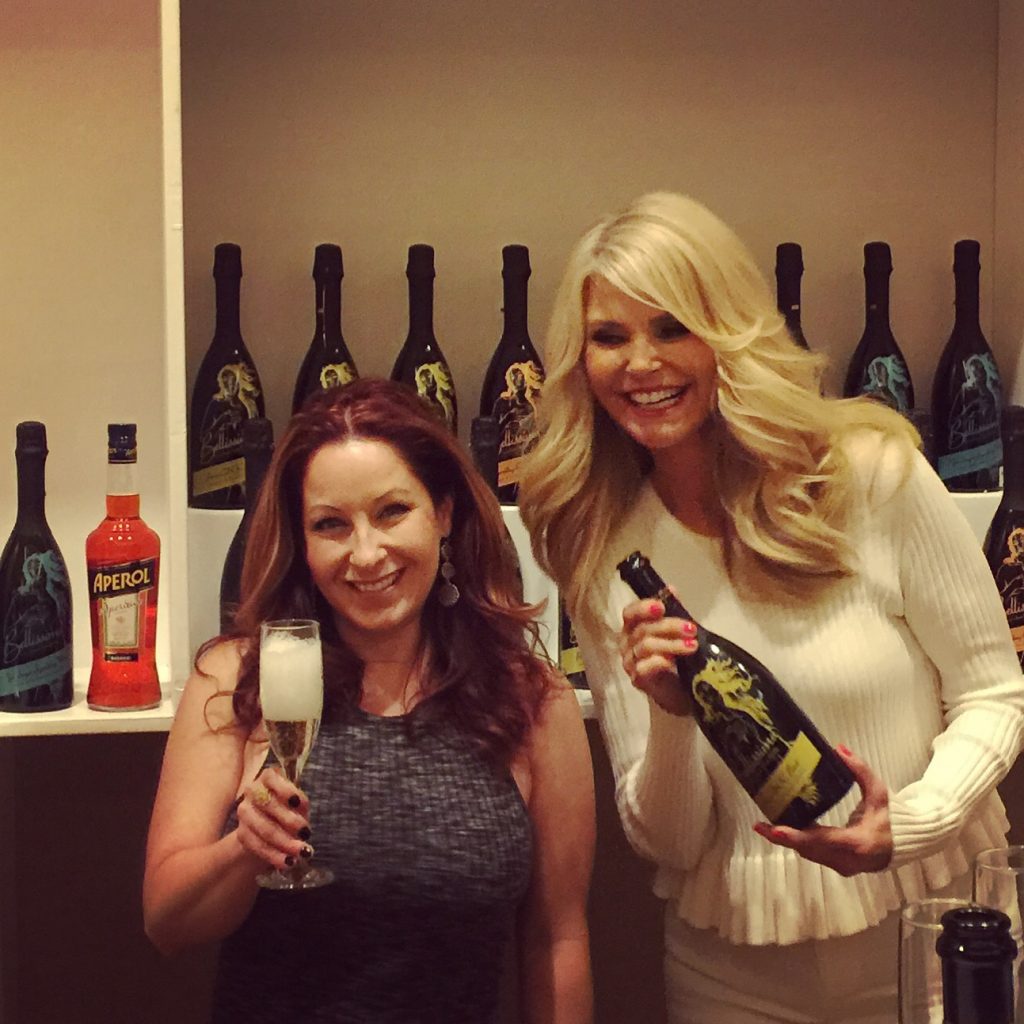 Christie Brinkley may very well be the most beautiful woman around. And at 62, she still tops the charts! She is beautiful from the inside out and her approach to life is timeless. She hasn't aged much since being a supermodel or appearing as our favorite temptress in National Lampoon's, Vacation. In fact when we sat down in Las Vegas at WSWA for a chat to discuss her brand new endeavor, Bellissima Prosecco, she even joked about having to drink it while driving a red Ferrari (referencing the famous scene!). I will say that the minute we met, her smile was beaming and her grace and sense of style were downright illuminating. Christie is not just a mom, model, entrepreneur, philanthropist, activist and extraordinary woman, she is someone whose devotion to a healthy lifestyle while living life to its fullest is something to be admired. Mother to three: Sailor Brinkley Cook, Alexa Ray Joel, Jack Brinkley Cook, Brinkley has maintained a quality of life that puts her family, happiness and health at the forefront.
And so, it isn't at all surprising that she has one of the first 100% organic and sustainable Prosecco's on the market. She even made one with zero sugar … and it tastes exquisite! I tried all three varietals of Bellissima and while each has it's own story, the ZERO and the BRUT enticed my palate most.
When I entered the Bellissima lounge, Christie was at the helm with her notorious smile and champagne flutes ready to be filled with sparkly. When I introduced myself, she warmly said hello and then took me behind the bar to talk about Bellissima making sure I had a freshly poured glass of sparkling Prosecco. We paused for a few photos and then, the interview began:
[separator type="thin"]
ATOD: How did you get involved with Bellissimo?
CB: They approached me because I've been a long time proponent of eating healthfully and organically. In the early days, I'd encourage people to buy organic and they'd say, "we'd love to but my pocketbook won't allow for that". And so I'd say, "what you need to do is choose the fruits that you need organically the most". For instance, you peel a banana, you peel an orange, you don't need to bother as much. But the strawberries, the grapes, there's more chemical per surface bite. So they're right at the top of the list of the fruits you should be eating organically. So it's such a natural fit to have an organic Prosecco! And then to also have a Prosecco that has zero sugar and that tastes as good as anything out there, it's really exciting.
ATOD: Is there a special fermenting process that they use to eliminate the sugar?
CB: Yes, they use a very special re-fermenting process so its in the vat for seven months which means there is a really low sugar content. There's really nothing like it. This is a family that has produced and grown organically for close to thirty years. They began long before the organic movement. They are really pioneers. 
ATOD: Where is the winery located?
CB: In Treviso. It's the Ferrari of Italy. A red Ferrari (laughing).
ATOD: VACATION! You have to go back to the original!!
CB: Absolutely! 
ATOD: I love that the viticulturists started growing organically at a point in time when our foods were being mass produced and fresh was no longer a priority. Sadly, society began cultivating food in an unhealthy way which is why its 's important that they never compromised and stayed true to growing the most conscious produce!
CB: And for all of those reasons, this Prosecco is so exciting. It was also very important for me to make sure visually, every part of this told our story – look at the bottle from every side. (We pause to take a closer look) It's about the beautiful moments in life.
You know, even before I was involved with this I was writing my book, "Timeless Beauty" and in it, I talk about how important it is to slow down and appreciate all of those special moments. Everybody's life has ups and downs but sometimes we skim over those beautiful moments when we should stop and pause and give them as much attention as we give any negative things that happen. 
ATOD: Savor every moment … It's a learned thing and so hard to do sometimes. 
CB: That's why I wanted to call it BELLISSIMA! To celebrate all of those beautiful moments. You know, really soak them all in and celebrate them with friends and family. And I envisioned the bottle being beautiful and about all of my travels. And I love to travel. I collect stickers from all of the places I've been – the little treasure troves of the world. There's a little story on the back to remind you of all of the things that you love in life. Traveling and beauty – and – there is a secret toast hidden under the foil that says: Dream big, bellissima dreams and may they all come true. 
This Prosecco really does embody the campaign it's setting out to share: This is about celebrating the seized opportunities in life. Whether it be playing the rain, being silly with your kids, taking that vacation no matter what, delving into a romance, doing something you always dreamed of doing, etc. The point is, live in the present and enjoy every moment of it.
As we finished toasting and talking, it was impossible not to walk away from my conversation with Christie Brinkley without a huge smile on my face and a feeling of beautiful possibility in my soul. She emits a joy seldom seen in today's world of celebrity and it was utterly invigorating. Bellissima can be found throughout the country in various wine markets as well at some of your favorite restaurants.
ABOUT
In Italian, bellissima is the word for "most beautiful". To us, it stands for a new line of sparkling wines, all made from the finest organic grapes grown in Italy's Treviso-Veneto region. There's Bellissima Sparkling Rosé, Bellissima Zero Sugar, and Bellissima Prosecco. Bellissima was developed with help from one of the world's most discerning and beautiful women, Christie Brinkley. For the label, Christie chose Botticelli's masterpiece, The Birth of Venus. The Roman goddess of love provided the perfect image. Look for all three varieties wherever you shop for fine wines. And please, enjoy Bellissima responsibly. That would be the most beautiful thing of all.
[separator type="thin"]
To get your hands on a copy of her book: