Shaky Knees Fest – Day 1
Finding the pulse of creativity, unfiltered
Written by Lexi Scott + Morgan Kitchens | PHOTO CREDIT: Lexi Scott
[dropcap letter="W"]hat does it mean to be genuine? Not unique or different, but truly
genuine;
 more to the point, what does it mean to be genuinely true to your art form and creations? When I thought about how I wanted to write this article, I couldn't avoid the need to know what it means to be an artist and keep your authenticity, especially in the music industry. This became the defining question that guided my entire mindset when I got to the 
Shaky Knees Festival
. There's so much hype about being unique and different in the music industry, you don't really hear much about the
art of being genuine.
So that's what I set out to do! I sought to discover which artists put heart behind their lyrics, who love what they do whether they've been in the business for a few months or ten years, and I even got the chance to ask a few of the artists directly what makes their music genuine!
Compared to larger music festivals like Coachella or Lollapalooza, or even smaller music festivals like Music Midtown here in Atlanta, Ga., the overall selection of bands at Shaky Knees is more concentrated. You don't have a huge selection of bands from various genres or different ends of the spectrum. Shaky Knees is more for fans of rock, with a side of blues and soul.
At 12 on a sunny Friday afternoon, the day started off with the slow, smooth voice of David Ramirez. Given that this was a work day, the size of the audience was not the greatest but slowly started to trickle in as the set went on and Ramirez's vocal power grew. Ramirez's slow Texan voice falls just on the border of country without tipping completely into the genre; a fusion with the singer/songwriter genre, making his heart-filled lyrics appealing to such a wide range of people. Ramirez also tends to play with the melodies live, so you get a little something different and possibly something even better than the recorded version!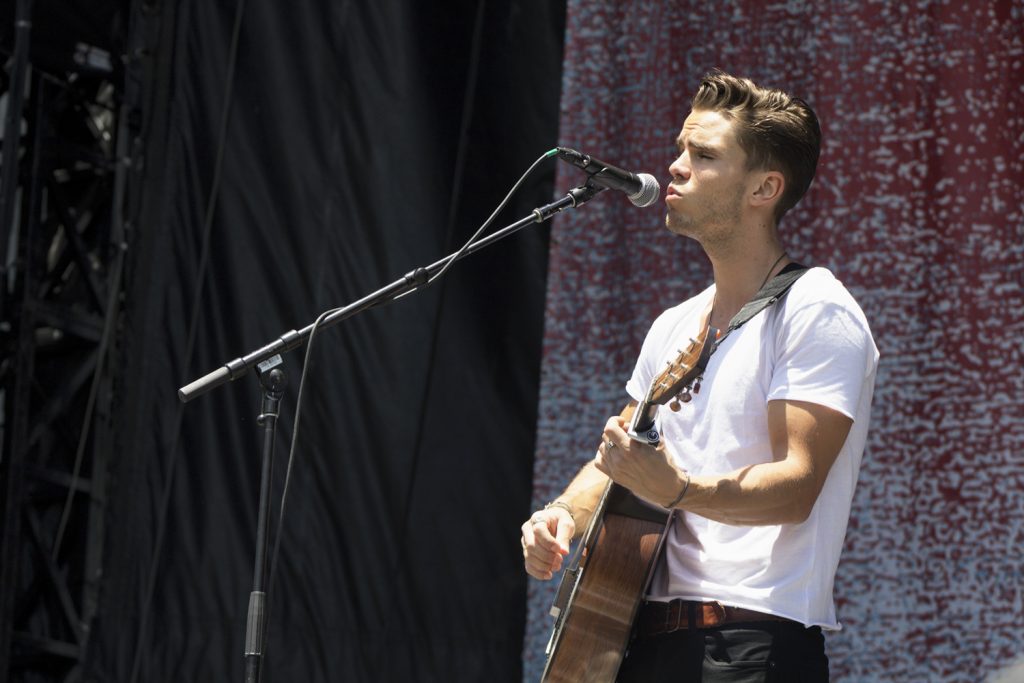 Next up was up and coming band Kaleo, and by this time the lawn was almost completely filled out. Singing some of their more popular songs, like "All the Pretty Girls" and "Way Down We Go," Jökull Júlíusson's soulful voice spewed out soulful lyrics and melodic lullabies, with a hint of vintage rock and roll, one right after the other. Kale's lyrics dig into the things that taunt the heart and soul. They're lyrics that make you think and discover things about your innermost self. One of the lyrics that really caught my attention was "the devil's gonna set me free." It's a simple lyric that I'm sure has various meanings for different people, but once again it's one of those lyrics that hits you hard when you first hear it and makes you think deep about those buried inner feelings of the soul. What's specifically interesting about Kaleo's sound is that each song is a bit different from the other in terms of the overall feel. As our guest contributor Morgan Kitchens puts it, "There's a lot of differentiation into various dramas; some songs sound very indie singer/songwriter, while others sound like they belong to rock from another decade. Kaleo's sound is described as indie pop, folk, blues and rock, which all come across in each song very apparently. However each song sounds as if it belongs to different artists, with only Júlíusson's voice tying it all together, which isn't necessarily a bad thing!"
I later got the chance to speak with Júlíusson to talk about what makes his music genuine. Here's what he had to say:
I feel like a hypocrite or something. I feel like what I'm doing is something that has been done before. Obviously most things have been done before in music. I guess I just try to relate my inspirations and the way I write to make it personal, and the lyrics and the stories are something that I've experienced or feel strongly about—you know, emotional. And convey it in a way that I can and, hopefully, that turns out to be something genuine.
– Jökull Júlíusson
Lunch Break!
Morgan and I took a short break to try a couple of the many food trucks. The first dish to catch my eye was a fish taco from The Pickle.
Fish taco: beer battered cod with lettuce, cheddar cheese, salsa and remoulade.
First, this was the biggest fish taco that I've ever had and second, one of the best I've ever had. The fish had the perfect amount of crunch, wasn't dried out and was surprisingly very filling!
Morgan stopped over at Bento Bus for some veggie-friendly goodness: a marinated tofu rice bowl filled with lettuce, rice, tempura crisps, Bento Bus original sauce, nori bites and marinated tofu.
Overall rating of both dishes is: A+
July Talk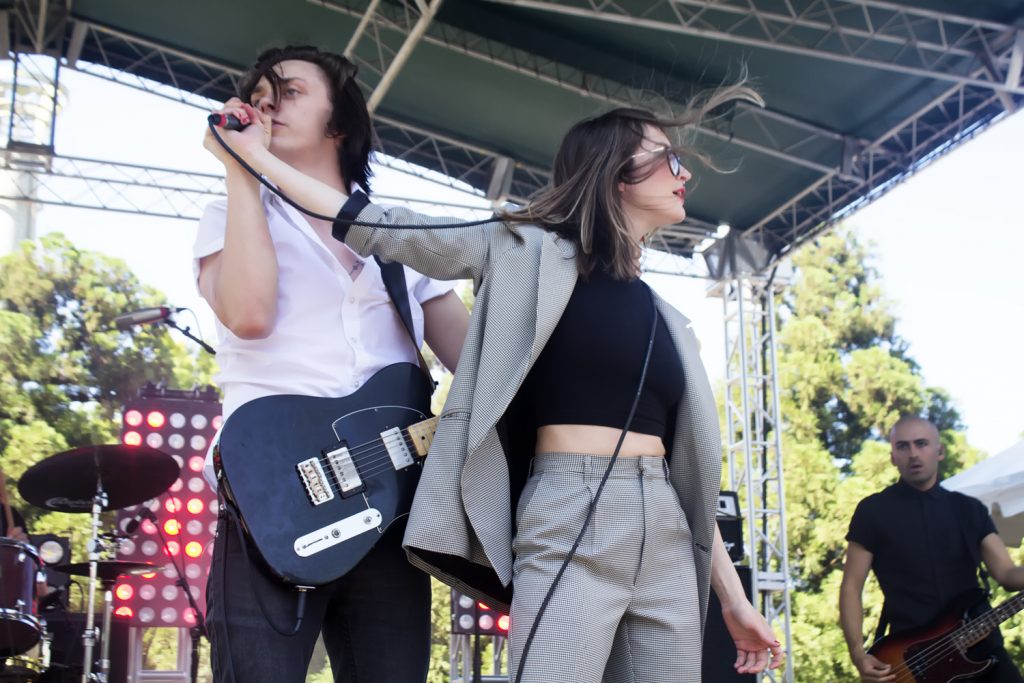 I will first start by saying that I hadn't of July Talk prior to the festival, but they were easily my favorite act of the day! Lead singers Peter and Leah are completely comfortable not only with themselves, but with each other, and their presence on stage is amazing! Peter, though he has the classic look of a 1950s Greaser, has this striking gravelly voice like Louis Armstrong that is completely unexpected. Meanwhile Leah plays with a balance between classic and modern––a high-waisted 70s suit, crop top and a pink Beyonce hat––while dancing, jumping and rolling across the stage with the flexibility and freedom of a ballet dancer. They performed on the smallest stage of them all, but that did not hinder them, nor the crowd as everyone could feel the energy radiating from Peter and Leah and were feeding off of that as the set went on.
Leah continuously interacted with fans in the crowd, walking along the extended part of the stage to grab outstretched hands. One fan didn't want to let go. There was even a moment when Leah requested the hats of those closer to the stage and wore them in a stack atop her head through a few songs. Ultimately there is so much character behind what they do. They genuinely just have a good time on stage together!
While I do enjoy many songs by The Struts, the show honestly felt like I was watching one of those cheesy music shows dedicated to classic rock bands, like AC/DC or Aerosmith. Lead singer Luke Spiller seemed to come off as if he were trying too hard to live that sex, drugs, and rock n roll lifestyle. In the middle of an hour long set, if that, Spiller found it necessary for a wardrobe change. The show, which was basically just Spiller, seemed a bit put on; not to mention Spiller was not afraid to show off his egotistic mannerisms, almost to the point of a God complex. However most of the crowd seemed to enjoy Spiller's wild variation of classic rock and roll, with at least half of the audience seeing the band for the first time.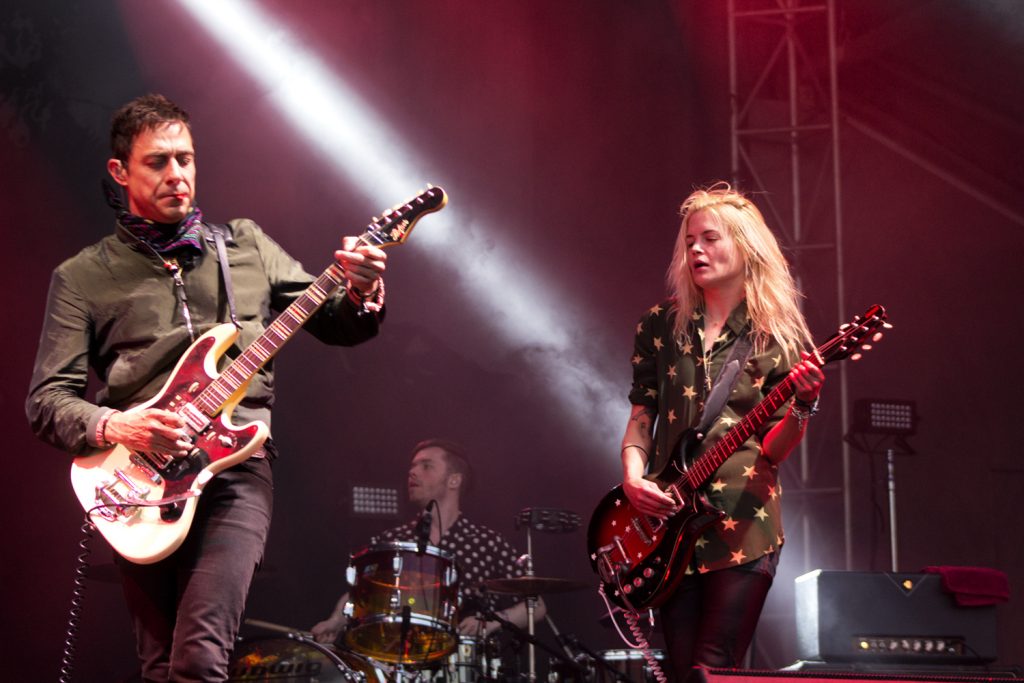 Excuse this very cheesy and just barely pun-worthy statement, but The Kills absolutely killed it. Their minimalistic but artful songwriting provides something unique and interesting in the band's cohesion of the garage and indie rock genres. Lead vocalist Alison Mosshart is this edgy, badass and sometimes vulgar rocker chick, nonchalantly spitting on stage and smoking a cigarette during the set. What exudes from duo Mosshart and Jamie Hince while performing is their charisma. Mosshart and Hince both perform as if they are wide-eyed teenagers playing along to their favorite record in a room by themselves—no judgement, no worries, but with uninterrupted sincerity.
While The Kills were still performing on the stage directly neighbored to the stage of The 1975, I happened to look over and see a large crowd gathering for the band about an hour before the set. The 1975 recently released an album with a catchy pop-vibe that caught wind much quicker than their previous sound. As I got closer to assess the crowd, all I saw were millennials of the hipster descent: fanny packs, Miley Cyrus top knots, and 90s inspired tanks and button downs. Speaking of style, even though the band mostly performed songs from their newest album, their edgy British rocker style remained in tact. For years, The 1975 has referred to themselves as a "band's band," creating music for their enjoyment, not constantly worrying about how their music will be perceived to the general public, which comes off in their work. As it grew darker and the neon lights gradually grew on stage, so did the atmosphere around me, and then came Matthew Healy making his way towards center stage. As Healy danced awkwardly across the stage, dance moves reminiscent of Michael Jackson but not quite there yet, it was hard not to dance to the funky 80s-inspired tunes. But when you actually pay attention to the lyrics, there's something almost poetic about it all. Lyrics like "you used to have a face straight out of a magazine, now you just look like anyone" from "A Change of Heart" and songs like "She Lays Down," a stripped tune of just Healy and his guitar, portray a vulnerability and self-awareness that has heightened since the release of their last album.
Jane's Addiction
By the time I had gotten to the stage for Jane's Addiction, the entire lawn was filled out along with the double-decker stands on the side! However, though the crowd accumulated for the classic rockers, I couldn't help but feel that most people were only there for the name. There were only a few visible head bangers and people getting into the show, but most only sang the words to a handful of the band's songs, songs that I'm guessing are their most popular tunes. This might have been due to the age difference when compared to the other bands. Maybe Generation X doesn't feel the need to scream obnoxiously or yell the lyrics to every song at the top of their lungs, but the atmosphere just wasn't there. As for the band itself, they showed up late and were less than present when they were on stage. This was a disappointment.
Check out our Behind-the-Scenes photos from the stage and the crowd …
[Best_Wordpress_Gallery id="26″ gal_title="Shake Knees 2016 – Day 1″]