#theATOD5 – Summer Tastes
Cover Photo by Tram Tran
[dropcap letter="T"]his summer, nothing welcomes in friends or family quite like inventive recipes that ooze summer color, flavor and authenticity. That in mind, we wanted to find 5 unique recipes that would encourage you to do precisely that.
Bon appétit!
[separator type="thin"]
Mediterranean Celery Olive Salad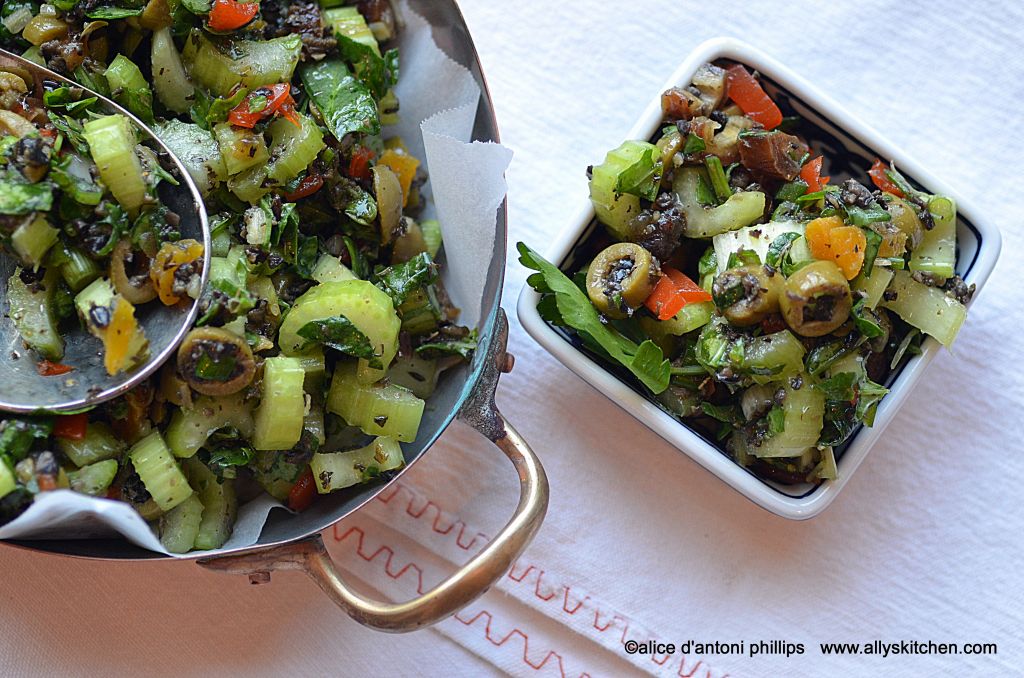 What you need:
4 cups celery, sliced
1 cup olives, sliced/chopped (pimentos included), drain juice
1/3 cup black olives, minced into a fine mixture (I bought them in the can like this.)
2 packed cups baby arugula, roughly chopped
½ packed cup flat parsley, chopped
1 Tbl. fresh thyme leaves
2 tsp. Italian seasoning (can substitute Greek)
½ cup dried apricots, chopped
½ cup Dole Sunshine dates, chopped
1 tsp. coarse ground pepper
1/3 cup extra virgin olive oil
1 lemon, large juice and zest
What you do:
Combine in a large mixing bowl all of the ingredients except the olive oil and lemon juice zest. Toss and blend well all these ingredients.
In a small bowl, combine the olive oil, lemon juice and zest and whisk together well. Drizzle on the celery mixture. Toss and blend well. Refrigerate at least an hour before serving.
[separator type="thin"]
Mint + Tuna Salad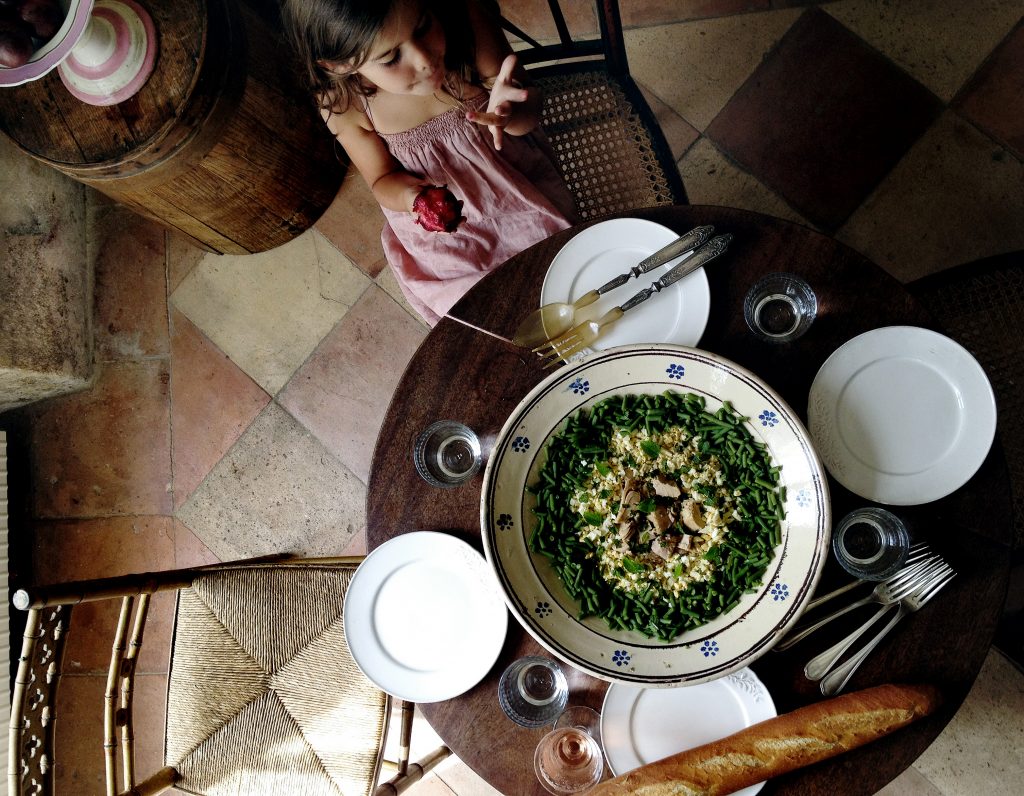 What You Need (serve 4):
5 eggs (hard-boiled)
3 handfuls of haricots verts/ French green beans
A large handful of chopped mint
2 cans good-quality tuna fish
3-4 tbsp balsamic vinegar
6 tbsp olive oil
A dash of celery salt
A dash of pepper
What You Do:
Place eggs in a pot and pour enough water over the eggs to cover. Cover with a lid and boil for 15 minutes. Transfer to a bowl of cold water and let the eggs cool completely. Peel eggs and chop finely and set aside. Cut the tips off the green beans on both ends, rinse well and cook for 8-10 minutes in salted boiling water. Drain and set aside to cool. Chop to 1 cm. Set aside. Prepare vinaigrette – mix olive oil, celery salt, pepper and balsamic vinegar . You can add more or less balsamic vinegar to your liking. Set aside.
Assemble salad with tuna fish in the center, a layer of chopped eggs, then a layer of green beans. Sprinkle with chopped mint just before serving and drizzle with vinaigrette. Serve immediately.
[separator type="thin"]
Asparagus, Wild Garlic & Corn Cream Cheese Tartlets

What You Need:
1 pack puff pastry, thawed
24 asparagus stems, washed 
1 tablespoon extra virgin olive oil
kernels from one medium corn on the cob
sea salt flakes & freshly ground black pepper to taste
1 tub cream cheese (about 300gr)
1/4 teaspoon wild garlic powder*
1 medium egg, beaten
3 small spring onions, thinly sliced
What You Do:

Preheat the oven to 200C (180C for air). Unroll the thawed puff pastry and cut in even squares. Score a border (about 1/2cm) around each piece and prick the centers with a fork. Place in the freezer while you prepare your vegetables.
Heat 1 tablespoon olive oil in a pan over medium heat. Snap and discard the asparagus ends, and add the rest the remainings to the pan. Cook until just tender, about 3′ and then add the corn kernels. Season with sea salt and black pepper to taste, gently toss and cook for another 2′. Remove from the heat and set aside. Combine the cream cheese with the wild garlic powder and a pinch of sea salt flakes and set that aside too.
Take the puff pastry squares out of the freezer, place on a large baking sheet and brush the borders with the eggs wash. Top each square with a generous smear of the garlic cream cheese, asparagus (I only used the tops here) and corn kernels.
Bake in the preheated oven for 10′, turn the heat down to 170C (150C for air) and bake for another 5-7, or until the pastry is puffed and golden brown.
Remove from the oven, top with the sliced spring onion and serve.
*I discovered this at my favourite Armenian spice & meat shop in Athens- if you can get a hold of it (I've only found it here online), get it. It's very expensive, but totally worth it (plus only a pinch goes a long way).
[separator type="thin"]
Nacho Burger
What You Need:
Guacamole + Pico de Gallo
1 avocado
2 limes
kosher salt
Black pepper
2 tomatoes, diced
1/4 red onion, finely chopped
1 jalapeño, seeded and finely chopped
1 c. fresh cilantro, finely chopped
The Burger
1 flour tortilla, cut into triangles
2 tsp. extra-virgin olive oil
1 lb. ground beef
2 tbsp. butter
3 slices cheddar cheese
3 Hamburger buns
What You Do:
For the guacamole and pico de gallo: in a small bowl, mash avocado with juice of 1 lime and season with salt and pepper. In another small bowl, combine tomatoes, onion, jalapeño, cilantro, and the juice of 1 lime. Season with salt and pepper.
Preheat oven to 350 degrees F. Coat tortilla triangles with olive oil and season with salt. Bake until golden brown, about 10 minutes, then set aside.
Form beef into three equal-sized patties and generously season with salt and pepper.
Melt butter in a cast-iron skillet over medium-high heat. Add burgers and cook 2 to 3 minutes, then flip and top with Cheddar. Cook 2 to 3 minutes more for medium rare.
Toast buns and build burgers by layering guacamole, patty, tortillas, and pico de gallo.
[separator type="thin"]
Garden Cake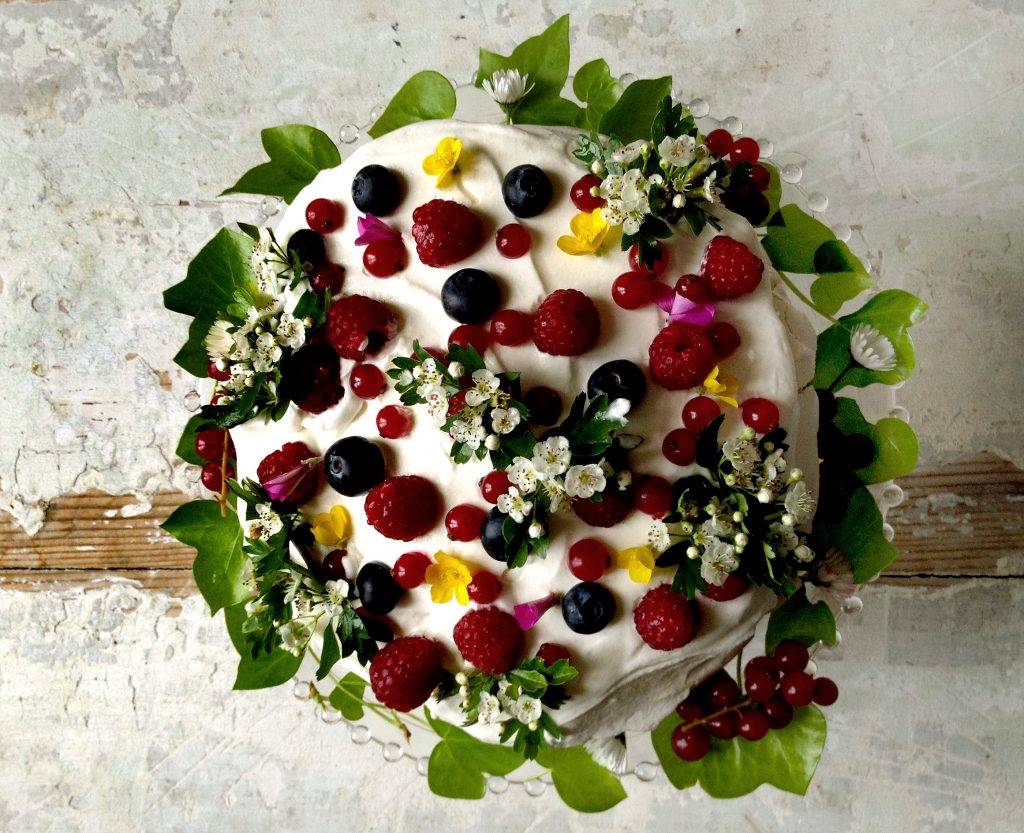 What You Need:
6 egg whites
350 grs caster sugar
250 ml whipping cream
1/4 teaspoon vanilla essence
Big handfuls of your favourite berries – in this cake there are raspberries, blueberries, and red berries
Pretty flowers & leaves of your choice – mine came from my garden, they are used for decoration and not to be ingested. (make sure to rinse them well).
What You Do:
You can make this cake even more special by decorating it with edible flowers, just make sure to choose them well for safety reasons.
Pre-heat your oven 140° celsius.
Whisk the egg whites until soft peaks start to appear, then you can start adding the sugar gradually, spoon by spoon, until the whites become glossy then stiff – this should take approx. 10-12 minutes. I use an electric whisk.
On a parchment-lined baking tray, form two meringues (20 cm width/5 cm height), one next to the other, and bake for 45-55 minutes. When ready, take out of the oven and leave to cool.
For the filling:
Whip 250 ml cream till light and fluffy, add vanilla essence. I don't add sugar to the cream as the meringues are sweet enough.
When the meringues are totally cool, add the whipped cream, scatter as many berries as you like, then sandwich the other meringue on top. Add more whipped cream on top of the second meringue. Now you can simply enjoy the last part of decorating your cake with berries, leaves and flowers – all things bright and beautiful.
Note: The flowers and leaves in the photo of the cake are only used for decorative purposes and not to be ingested