Dwell on Design
Sustainability and the American Dream
In an age where architecture and design are more eco and cost conscious, consumers looking for something new, sustainable, design centric and affordable have options. It may be the first time in a long while since the market crash in '08 that buyers can start seeing more clearly through the fog of insanely priced homes and an ever fading idea of the American Dream. With events like Dwell on Design, we get to see the latest in design, architects whose quest to make our lives more functional while still appealing to our desire for aesthetics and modernism, to a place where visionaries come together to show us what's possible.
Every year I come in awe of understated elegant design, in hopes of finding something truly fascinating and from the exploration of Method Homes to tempered glass wall to wall sliders, I learned about a few new movements in home design and mindset. That said, there were two new brands that stole my design heart: Living Vehicles + Swing Tables.
[separator type="thin"]
Brand 1. Living Vehicles
Developed and Designed with Architecture in Mind.
[columns_row width="half"] [column]
[/column] [column]
[/column] [/columns_row] [columns_row width="half"] [column]
[/column] [column]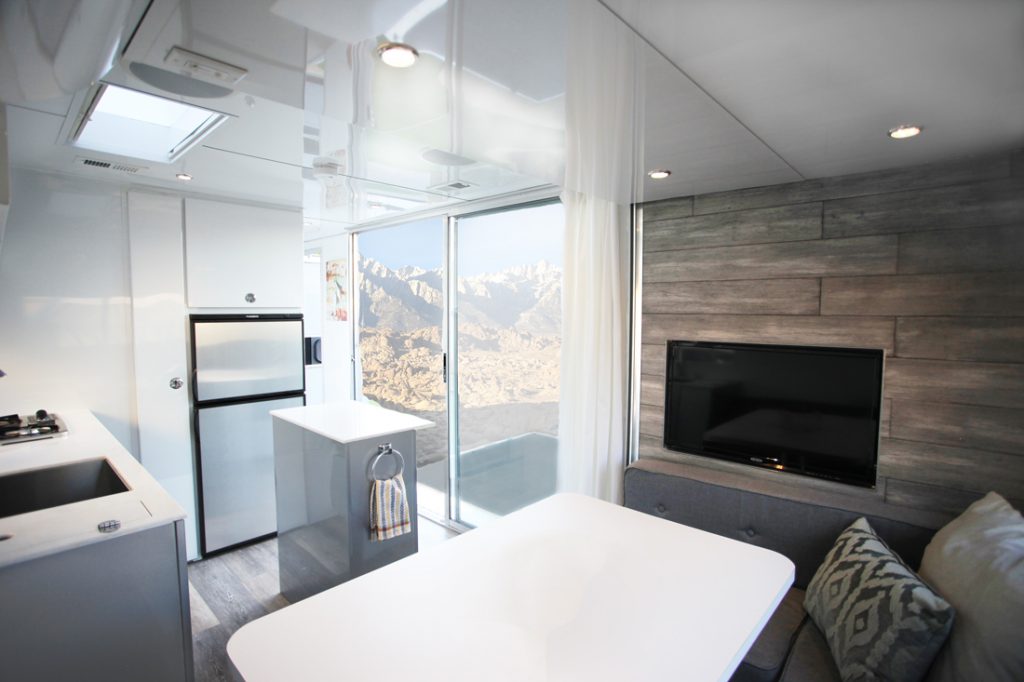 [/column] [/columns_row]
First up is Living Vehicle. When I stepped up onto the outdoor deck stocked with barbecue and a bar, I knew this would be one "mobile home" that would open me up to new possibilities. Stepping inside, I'm greeted by designer, Matt Hofmann. First room? Dining, sleeping, and the cooking. With a kitchen table that seats 6 and then conveniently turns into a bed later, the sleep design from the tufted cushions to the movable bed above it (another bed that sleeps 2) is unquestionably smart design. And then you move into the kitchen with refrigerator, stove, dishwasher, a pantry, and a space for a stereo. This isn't a tight or crowded space. In fact the efficiency of design lends to the intrigue!
From an elegant bathroom with outdoor shower, to the bedroom, to the living room that has a washer/dryer combo on board, it's hard to argue why any of us need a 2,000+ square foot space that we spend millions for. (At least in California!)
This is the most sophisticated, beautifully designed untethering home option on the market in my opinion. Made with fully weather resistant materials (aluminum among them), this nearly 8,000 pound livable space, offers home buyers and free spirits a genuinely viable option. For those that want to live life less bound to one place, sleek design made by architects, engineered with freedom, usability, functionality, affordability, and luxury in mind is precisely what Living Vehicles offers. In fact, fully loaded, this high end, weather proofed home has a modest price tag of $150,000!
This is a definite alternative to the Tiny House lovers who want something they can travel with anywhere. How easily? For about $800, you can take your home wherever you want – at any time. The beauty of Living Vehicles is that you can even build out so imagine two or three of these as your new home! Buying land wherever you desire doesn't seem so outlandish anymore.
Made locally in Santa Barbara, there's something rather appealing to supporting design that is so thoughtful, engineered with longevity and environmentally conscious appeal. Living Vehicle is the culmination of Matthew Hofmann's decade of experience designing small spaces for the modern world.  Consider joining the movement towards a more intentional way of living and learn more about the specs at the end of this article.
[separator type="thin"] [separator type="thin"]
Design 2. Swing Tables
Made with Love, Playfulness, and Sustainability.
[columns_row width="half"] [column]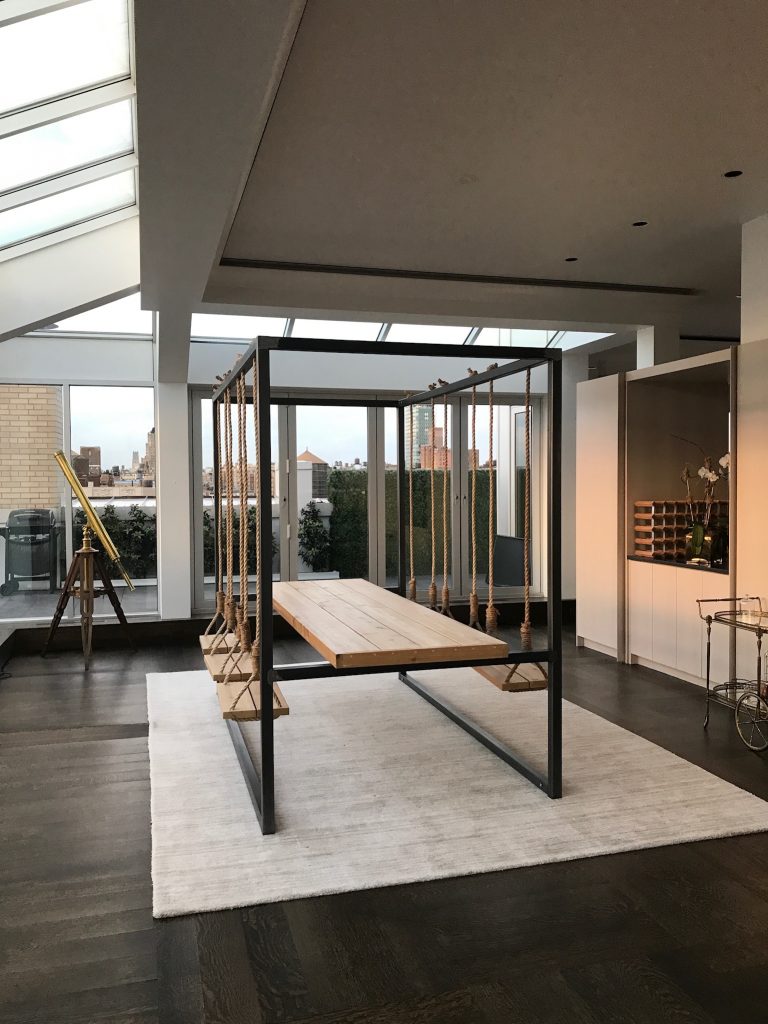 [/column] [column]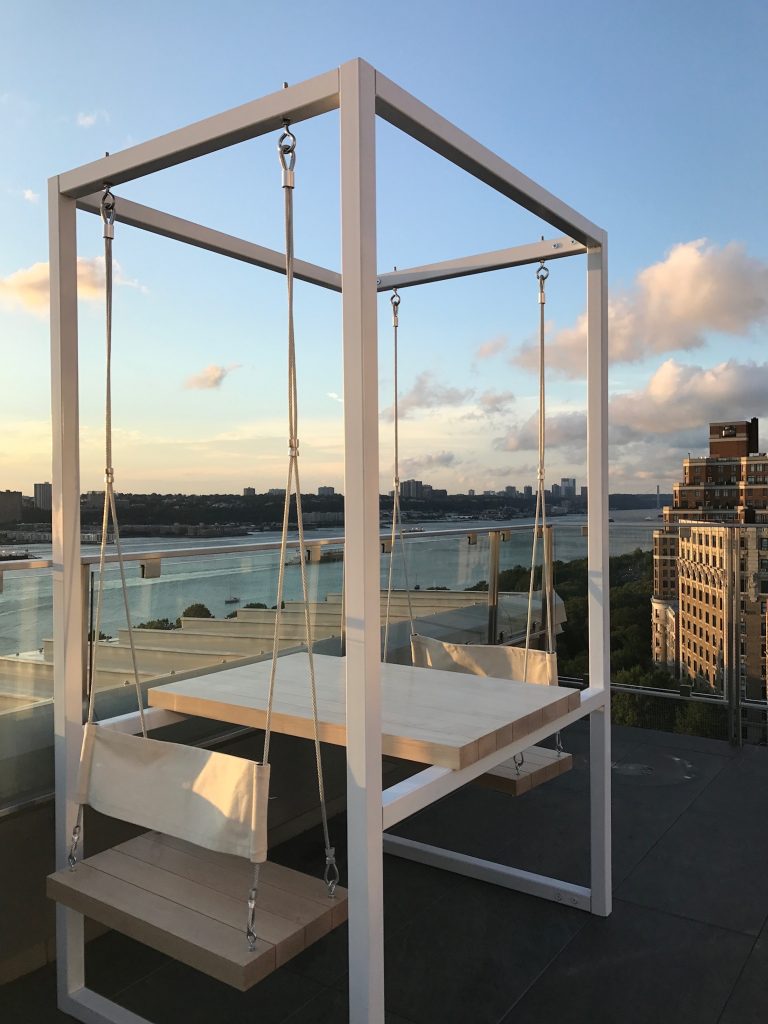 [/column] [/columns_row] [columns_row width="half"] [column]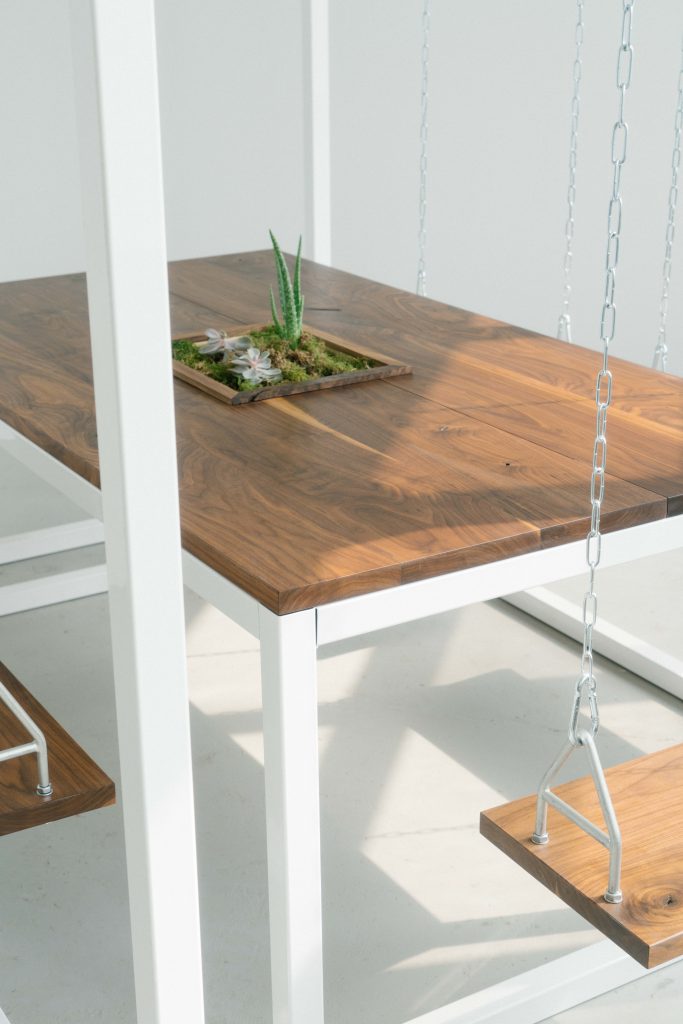 [/column] [column]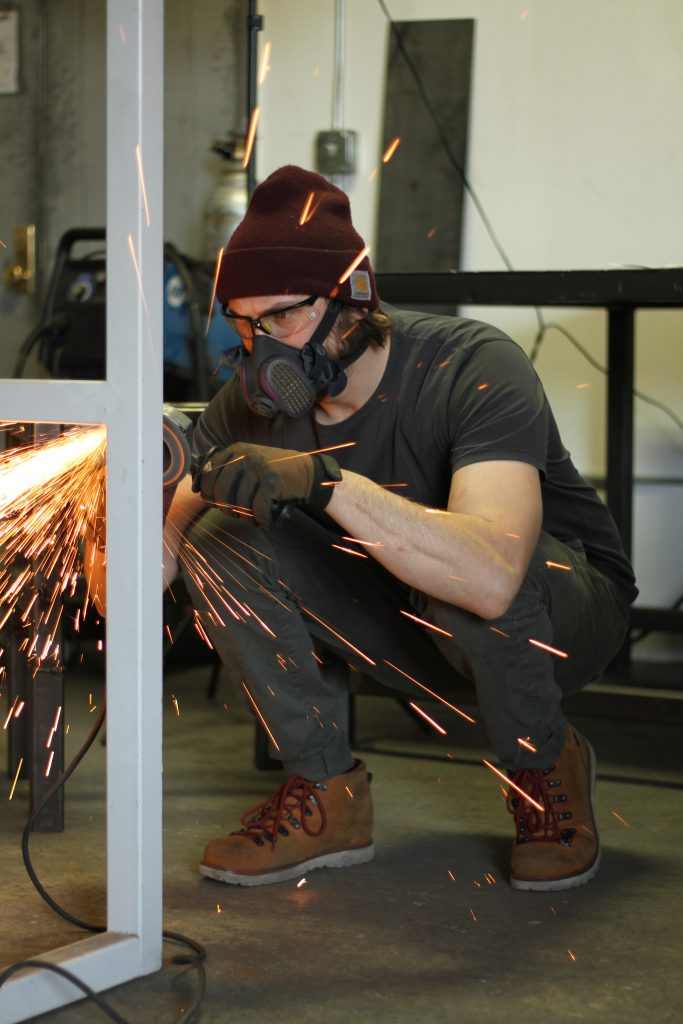 [/column] [/columns_row]
Swing Tables imagined and designed by Greg Frehr and Ben Hanisch. Imagine a kitchen table or outdoor table that could be streamlined, clutter free, and tap into your inner child?! That's this product without question. Designed with sustainable woods, a steel frame, and a ton of heart, what Greg has created is something I think every home could benefit from. It's a way more playful reason to get everyone back at the dinner table to talk, laugh, and put down our devices for a while.
A unique hybrid of a swing-set and a table. Available for outdoor or indoor use. Breaks down for shipping, and re-assembled with ease. Hand made in New York.
When you meet Greg, you'll know immediately that this table was made from a place of ingenuity, childlike wonder, design savvy, and materials that are kind to the environment. The SwingTable story started out in Chicago, where Greg Frehr and life long friend, Ben Hanisch, were working together in a company that Ben founded called the Last Workshop. They developed and evolved the Swing Table concept. Together they moved the workshop east, to New York, they decided to focus on different aspects of the furniture business while sharing a Bronx workshop.
The recessed planter box in the middle of the Swing Table 2.0 might be my personal favorite. That design addition to this already imaginative table gives it that je ne sais quoi. I'd order it with the seats with backs (I know myself well enough to know what a klutz I am, I need that extra support!). That said, something about an array of material and mediums from industrial, natural, rustic, to modern drives my creativity and makes me long to sit down at 2.0 and write for hours.  This is a really special table and it suits indoor and outdoor use. In fact, I've already imagined how I'd decorate each one!
Owner, Greg Frehr, has been making custom furniture for too many years to count. His experience and craftsmanship has taken SwingTables to new and exciting places. Each project is treated with the upmost care and a quality product is his number one focus … and it shows.
Price Point: $2,750-$6,500 (all the bells, whistles, and high end wood)
[separator type="thin"] [columns_row width="third"] [column]
[/column] [column]
[/column] [column]
[/column] [/columns_row] [separator type="thin"]
More About Living Vehicles
Designed by Architects, Engineered for Life.In every facet, the design of Living Vehicle exudes the feeling of home. It emphasizes the intuitive needs of the user to foster a connection with the things that matter most in life — the people and the world outside. Have more questions? CONTACT THEM HERE.
[columns_row width="third-and-two-thirds"] [column]

[/column] [column]
WEIGHTS & CAPACITY
Sleeping Capacity – 6
Length – 27' 4"
Length Overall (Hitch to Bumper) – 30' 11"
Exterior Width – 8' 4"
Interior Width – 8' 0"
Exterior Height w/o AC – 10' 5"
Exterior Height w/ AC – 10' 11″
Interior Ceiling Height – 6' 8"
[columns_row width="third-and-two-thirds"] [column]

[/column] [column]
SHELL, FRAME & EXTERIOR
Chassis – 5" All-Tube Aluminum
A-Frame – 7" Tube Aluminum Tri-Bar
Folding Door – Clam-Shell or Optional Gate Deck
Heated Subfloor – Conditioned Basement
Ceiling Joists – 6" Aluminum Trussed
Insulation Ceiling (R-Value) – R-25
Insulation Floor (R-Value) – R-19
Insulation Walls (R-Value) – R-7

[/column] [column]
SYSTEMS (MEP)
Electrical Line-In – 50AMP
Concealed Propane Tanks LPG (Lbs.) – (2) 30
Propane Tanks – Pull-Out Access Drawer
Fresh Water Tank – (Gal.) 100
Gray Water Tank  – (Gal.) 62
Black Water Tank -(Gal.) 45
Fresh Water Fill – Diverter Valve From City Water
A/C  (Btu.) – 13,500
[/column] [/columns_row] [separator type="thin"]