#theATOD5 – BOLD Cocktails in Los Angeles
brought to you by Expedia.com | written + tasted by Dawn Garcia
This cocktail tasting was inspired in part by the SoCal's Best Bars article on Expedia Viewfinder.
[separator type="space"]
cover photo by Vincent Madero ©ATODMagazine
[dropcap letter="L"]os Angeles oozes variety when it comes to cuisine but as mixology continues to astound and amaze, finding bold cocktails can be a bit of a mission. So?
I collaborated with my friends at Expedia.com and made it my mission
.
In the quest to find unique libations that give your palate a reason to wake up and have some fun, ones that utilize nature, well made bitters, fascinating spirits combined together, or all of the above, I ventured around to some Angeleno bars where I knew the Mixologists and Bartenders were crafting something delicious.
While there are thousands of bars throughout Los Angeles to explore and new cocktail programs being unveiled every night the clock strikes five, I took some time to carefully explore some new programs, visit Mixologists I know craft with passion, and venture outside my comfort zone so while I scoured the city for something unique, I found some libations that truly encapsulated the notion of "Bold".
---
Estrella on Sunset
Mixologist, Gioconda St. George
The Cocktail: THE WHEEL OF FORTUNE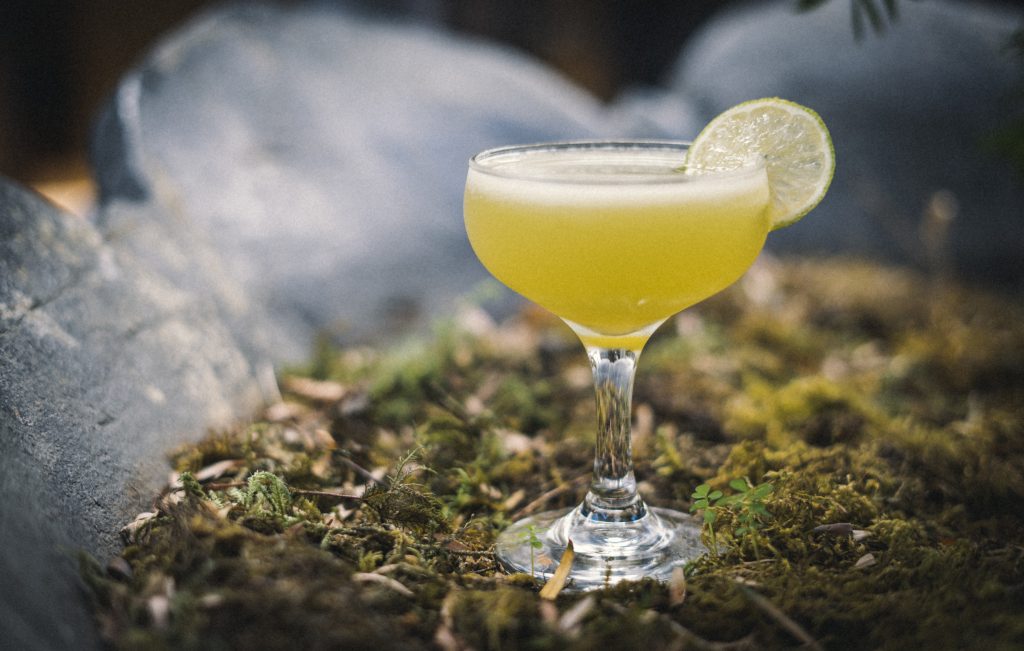 Estrella Sunset is a gorgeous restaurant and bar in the heart of West Hollywood that beckons locals, celebrities, and travelers alike to come in and experience bright colors, natural textures, an exciting menu (brunch is definitely worth checking out) and a cocktail program that doesn't bore you with predictability because the woman responsible for those drinks you're ordering?  She's one of the city's best.
Gia St. George crafts cocktails that don't dare take your curiosity for granted. Sure, she can make a killer martini or bellini too but it's all about her clever approach and careful thoughtfulness of the ingredients themselves that makes her cocktails leave an impression. Gia adds that beautiful whimsy to her creations and whether you want sexy, delicate, outrageous or bold, she will make something to satisfy your cravings. I sat down at the bar on the treated leather barstools and ordered three cocktails – all vastly different – to see which one really struck the "BOLD" chord within.
The WINNER: The Wheel of Fortune! ($15)
Cacacha, Spicy Kale/Pineapple Syrup, Lime
This cocktail is bold and totally original. I may love Pat Sajak and Vannah White but admittedly I was hesitant upon first sip. But then? My mouth curled up from end to end smiling because I knew I had found "The One". This libation doesn't mess around. It's got Cacacha AND spicy kale and pineapple syrup with lime – an explosion of contrasting flavors. What is cacasha? A sugarcane distilled alcohol most commonly known in Argentina but it's sweet bite mixed with the heat and tart of the accompanying ingredients qualify, without a doubt, as BOLD.
*TASTING TIP: Pair with the Cauliflower Hummus.
8800 Sunset Blvd. | West Hollywood, CA 90069 | www.estrellasunset.com
---
Alexander's Steakhouse
Mixologist: Erik Lund
The Cocktail: Holy Smoke (Formerly known as Holy $hi*)
Located in the beautiful city of Pasadena, where history lurks and great food and local stops are not as easy to find as you'd think, is Alexander's Steakhouse. Known for it's luxurious cuts of steak including a two-pound Tomohawk (in the range of $350!) and their Japanese Wagyu fillets, it's the bar program and it's bites that I came here for. Behind the granite bar top is Erik Lund, a mixologist with more panache that you'd expect.
His approach to cocktails is eloquent but entirely unpretentious. If you tell him what you like, he'll craft something just for you. He has a cocktail menu that appeals to the inner humorist with names like CATS & DOGS (an homage to Ghostbusters), HOLY SMOKE (once lovingly called Holy $hi*), and a few others. He has a quick witted explanation written under each cocktail, just before listing their ingredients.
I decided to start with what he'd already created before I put his mixology openness to the test. I tried a range of cocktails and had one creation, the Whiskey Crush – off the menu – totally worth ordering on the regular. That said I went back to one that beckoned: HOLY SMOKE. So here is what you should know: Cocktail list is playful and the men and women behind the bar exceed expectation and are there to make sure you have a drink you love.
The wine program is also something to explore. Anyway, back to Erik – he's one of LA's finest and their bar program is one that exemplifies well made drinks and that's the whole point in this article.
The Winner: HOLY SMOKE! ($15)
Coconut gomme, Fidencio mezcal infused with ghost chile pepper, agave, lime juice, topped with a powdered milk salt rim
This is the drink that will literally numb your lips and cause you to find the nearest pitcher of water upon first sip. It's not messing around. The ghost pepper is front and center and it will make you wish you had a bowl of freshly made corn chips to tame it's sting. And while it is heavy on the heat, the coconut and lime somehow entice you ever so eloquently that you accept the scorching spice and allow the drink to settle in. And it does.
*TASTING TIP: Pair with the Himachi Shots.
111 N. Los Robles Ave. | Pasadena, CA 91101 | www.alexanderssteakhouse.com
---

---
71Above
The Bar Manager: Darwin
The Cocktail: DOWNTOWN (Befittingly)
LA isn't known for hugely expansive skylines but as that begins to change with new buildings going up Downtown among the epic ones that have been there since it's inception, one building has always been the beacon of DTLA: US Bank. A towering cylinder rising up over 70 floors, it is the one architectural landmark that is etched with glass and reminds us that we too have a skyline worth admiring.
Inside of US Bank however exists one of the most anticipated culinary delights that only opened it's doors a modest two weeks ago: 71Above. A restaurant owned by Emil Eyvazoff and a culinary team spearheaded by the immensely talented Chef Vartan Abgaryan, Darwin Manahan has crafted a cocktail program that tells the tale of Angelenos with poise and depth and every sip of his creations only amplify that.
The entire staff at 71Above sets the standard in hospitality and I HIGHLY recommend making your way there as soon as possible. Chef Abgaryan has created a menu the way an artist crafts a painting: imagination, no limitations, and flavors that continue to unfold as you go deeper into the dish. Keep in mind everywhere in the restaurant has free wifi for guests so you can view the panoramic views of the entire LA basin while sipping on cocktails you will be all too happy to partake of.
The Winner: DOWNTOWN! ($16)
Toasted hazelnut, infused Old Forester Bourbon, Hennessy VSOP Cognac, apricot Demerara
The is one of those "take me down a path and show me your experience" kind of drinks. With the truly contradicting beauty and chaos of Downtown, Darwin has concocted a tale that unfolds as you sip deeper into it. It's not complicated or oversimplified but the notes of toasted hazelnut and the orange zest creeps up through the cognac and bourbon while the apricot demerara seems to have crystalized with melodic panegyrics and thus the story unravels with each sip.
*TASTING TIP: Pair with whatever small plate Chef has available … (I fell in love with the Strawberry Gazpacho.)
633 W 5th Street | Los Angeles, CA 90071 | www.71above.com
---
Broken Spanish
Bar Manager: MIKE LAY
The Cocktail: LA JARRA
Created by Chef Ray Garcia, Broken Spanish is one of LA's most wonderful restaurants. Meant to capture the essence of Mexican food in a way that defies the traditional ways, Garcia has managed to offer cuisine that is rich in flavor, big on color, locally sourced and beautifully fresh. His approach to food is truly generous in spirit, full of love and passion, and surprises you with a punch of flavor you hope to repeat in every bite (and they only get better)!
The décor of Broken Spanish is warm and inviting as photos line the walls, woods, metals and industrial accents share the space equally, and the use of square footage is impressive. While his food is praise worthy, and the restaurant lovely, the cocktails get to take the mic this time around. With three menu panels honoring the drink connoisseur through more familiar cocktails all the way on down to big and rich, Bar Manager, Mike Lay has thought up drinks that showcase the cuisine while also introducing you to combinations you wouldn't necessarily consider.
The Winner: LA JARRA! ($12) 
Mezcal, Dolin dry, lime, pineapple, pineapple sage served over tiny ice in a jar
Upon first glance all you can think is, this is the cutest drink you've ever had! The tiny bulbus jar presents itself to you with confidence as the clear base cups the pineapple, pineapple sage, Mezcal and Dolin dry with a sense of purpose. While pineapple in anything just makes us all happy with thoughts of tropical escapes, it is the whisper of sage that makes this itty bitty cocktail one to look forward to again and again.
*TASTING TIP: Pair with the Gougeres En Mole (your tastebuds will be eternally grateful).
1050 S. Flower Street | Los Angeles, CA  90015 | www.brokenspanish.com
---
Highland Park Bowl
Bar Manager: CANDIS
The Cocktail: Belle of the Bowl 
I concluded my Angeleno quest for bold libations at a landmark that is the infinite virtuoso of canonical perfection: Highland Park Bowl. But first I must address the robe wearing elephant in the room too prevalent to ignore: The Big Lebowski. A movie I feel utterly drawn to and one that seems to have been pivotal in the vision of the bar crafted creations. Somewhere deep down we all relate to "The Dude" and his posse, the obsession with a rug, and the conquest of a good bowling game.
Now imagine the Dude set in the 1930's with a mechanical bowling lane made of teak stained wood panels, vintage metal pin sets, booths with an entire shelf affixed to it ready for your glass to nestle in, AND cocktails that will make your entire game niftier than a well dressed cigarette girl walking around offering you candy and cigarettes! With banners and vintage inspired signs adorning the walls at this Los Angeles piece of history recently furbished, rare bottles of spirits uncovered during renovation now housed behind chicken wire lining the shelves of the bar walls, original leather pin casings created to make a chandelier, a mysterious painted mural lines the back wall that stares you down as you pick up your polished ball and toss it with every ounce of focused strength you can muster.
THAT is Highland Park Bowl. Now imagine a gorgeous blonde with a Southern smile and a quirky sense of style that teeters on badass and super sweet. That is Candis, the Bar Manager and luckily, the one creating my vast array of cocktails in hopes I will find, "the one". After a range of cocktails from "The Dude" which definitely is a close 2nd, I find the one that contradicts everything: "The Belle of the Bowl".
The Winner: BELLE OF THE BOWL ($10)
Honeydew-infused gin, lime juice, house cucumber thyme soda
For the pure authenticity of this cocktail, it stands alone as bold in every conceivable way. With the bright color of moss green, the fresh mint sprig curtseying at the top of the rim, the bountiful bounce forward of thyme and cucumber in the fizzy bubble of the soda, there is no other way to describe this drink than herbaceous, bubbly, earthy goodness. Therefore making it the perfect finish to a worthy conquest.
*TASTING TIP: Pair with Signor T.
5621N. Figueroa Street | Los Angeles CA 90042 | www.highlandparkbowl.com
---
A look at the experience including two locations that aren't mentioned above: Pearl's Rooftop + Mercado Hollywood