#TuesdayTalks | Talking with Danny Trejo
photos by Dawn Garcia
[dropcap letter="TT"]
Danny Trejo
is a face that is easily recognizable. Known for his work with Director (and second cousin)
Robert Rodriguez
in
Desperado
,
From Dusk Til Dawn
, and his infamous character
Machete
, his overall badassness is something you can't deny.
Among the many things the Los Angeles native does, including having been in over a hundred movies and dozens of TV shows, this legendary man also happens to be the owner of Trejos Tacos: a restaurant, a cantina and a food truck offering some of the tastiest tacos in town.
Trejos Tacos recently launched their Taco Trucks and we were invited to meet Danny himself and try some of the menu.  While he does have a brick and mortar in Los Angeles with rumors of a second restaurant location opening soon, the Trejos Taco Truck is pretty damn sensational. Keeping the menu simple, the offerings are in no way short of exceptional.
Before saying hello, we wanted to indulge in some of the food, including the tasty chips, salsa and guacamole placed on the bar height tables spread out in the American Legion parking lot in the heart of Hollywood.
We ordered the rainbow cauliflower taco, carnitas, and chicken. Every single bite was one you longed for and while tacos may seem like a simple dish, they are one of the most difficult to master. Trejos and his culinary team  have perfected their tacos. My favorite (and most surprising) was the cauliflower. It was powerful in flavor, balanced in texture and explosive in taste.
As we finished our tacos, Danny came over to say hello. He and my partner immediately broke the ice when they shared stories of how being on the Young & the Restless suddenly upped their "acting cred" with their moms and their moms friends!
[columns_row width="half"] [column]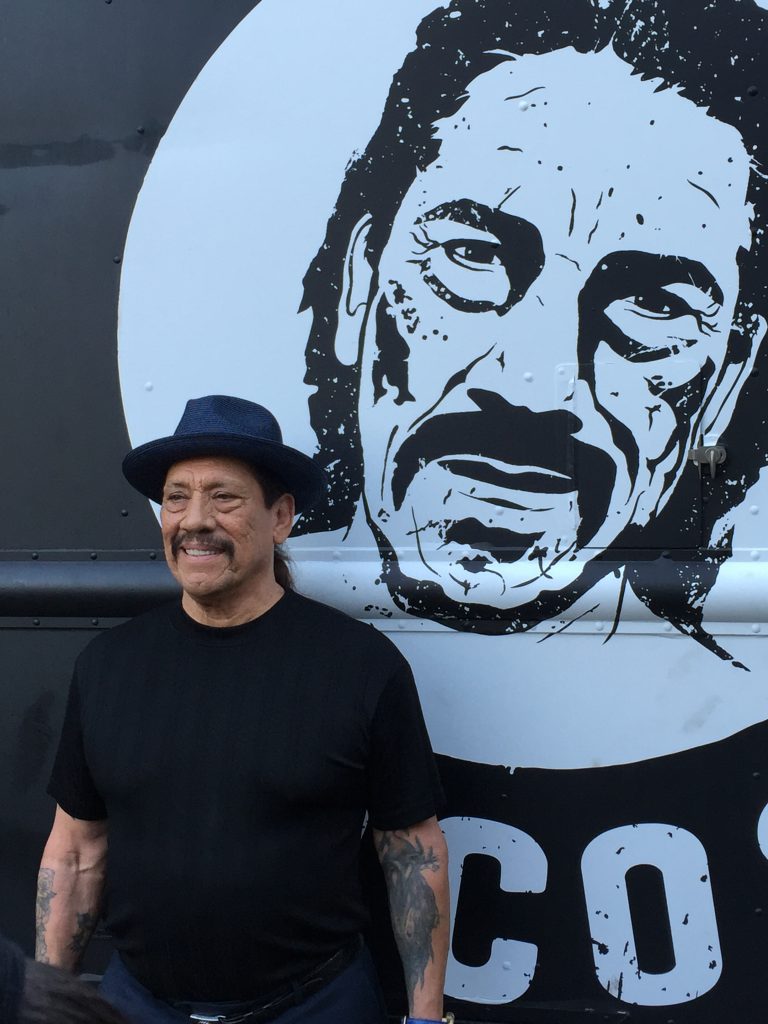 [/column] [column]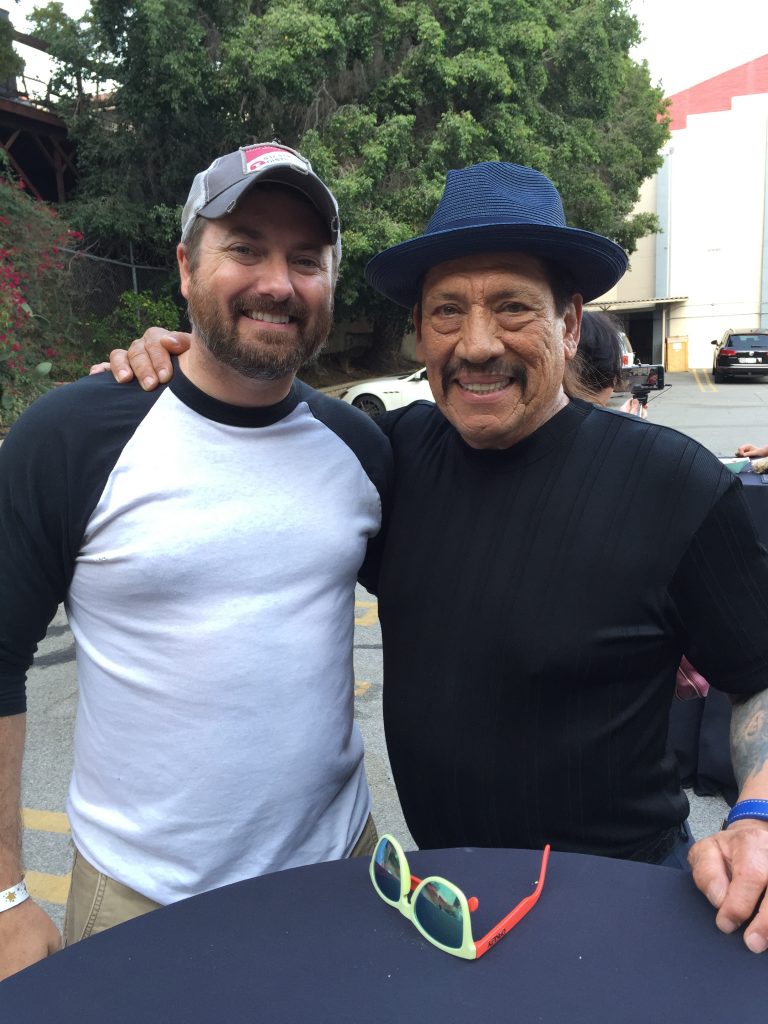 [/column] [/columns_row]
Danny Trejo: My mom kept telling me, "ay hijo, go get a real job, enough with this acting stuff" and I would remind her I'd been in dozens of films that paid me at this point and that I was a real actor. When I got the role on Young & the Restless, I walked into her house and she gasped! She was so proud and finally said, "You made it! We all watched you on the show!" Imagine, all of my moms friends and my mom so excited about me being on a soap opera! Suddenly to them, I was a REAL actor! I couldn't believe it. To them, Young & the Restless was the real deal.
So what's the story behind Trejos Tacos? Did it come together organically or did something in particular happen?
A lot of people ask but we started this as a fluke. Funny enough, my mom always wanted a restaurant. Always. But she was living in the 1950s and my dad would tell her, "we got a ktichen right here". He was the real Archie Bunker, the Mexican Archie Bunker. But she was a great cook! One of those cooks that every Thanksgiving, we would all look forward to her meal. Everyone would rave about her sweet potatoes, and the turkey was always perfect. And so she would always talk about having her restaurant and after she passed away, when I was filming Badass, Ash (Shah) asked me, "Danny, why don't you start a restaurant?" and I joked, "yah Trejos Tacos".
That was that and we went on with filming Badass and Badass 2 and Badass on the Bayou, and while we were shooting the third movie, he came to me with a business plan. It was really thought out and I looked at it and I sent it to my agent to look at. They looked it over and said, "You can't lose. He's being fair all around." So I said, let's do this. I saw that this is a guy that gets things done so we opened the one on Cahuenga. And people started asking if we did catering and if we were gonna take it on the road so we looked at the truck side and we all agreed it was doable. 
We took the truck to Santa Monica and people loved it. Now you can follow us on Instagram to see where we'll be. I try to show up as often as I can and at the restaurant, I try to make it at least three times a week. It's so cool! Coming to see us makes people's vacations; we've become a tourist attraction! In Illinois and I saw all these Trejos Tacos t-shirts and I couldn't believe it! I asked them where they got it and they said they got it when they came to LA.
Will you be expanding the menus on the food trucks?
Oh yah, right now we keep it simple until we perfect each one.
Yah that, cauliflower was amazing!
I love that one. So we're approaching this just like the restaurant, start off slow to make sure we've got the ground game going and then we will start adding more items. The minute we have it down we will increase the things we make on the trucks and that way nobody gets overwhelmed.
Tell me something that maybe no one knows about you. Like when you were a kid, you were talking about your mom and how she would cook. What was your favorite dish she made?
Oh my gosh, my mom made the best fish tacos in the world. She made shrimp tacos, fish tacos and I loved those. That's one of the reasons I started Trejos Tacos. It's the easiest meal there is and you could literally put everything in it and nowadays with food, even for vegetarians there are a lot of choices. Tacos really are a meal for the whole family.
[columns_row width="half"] [column]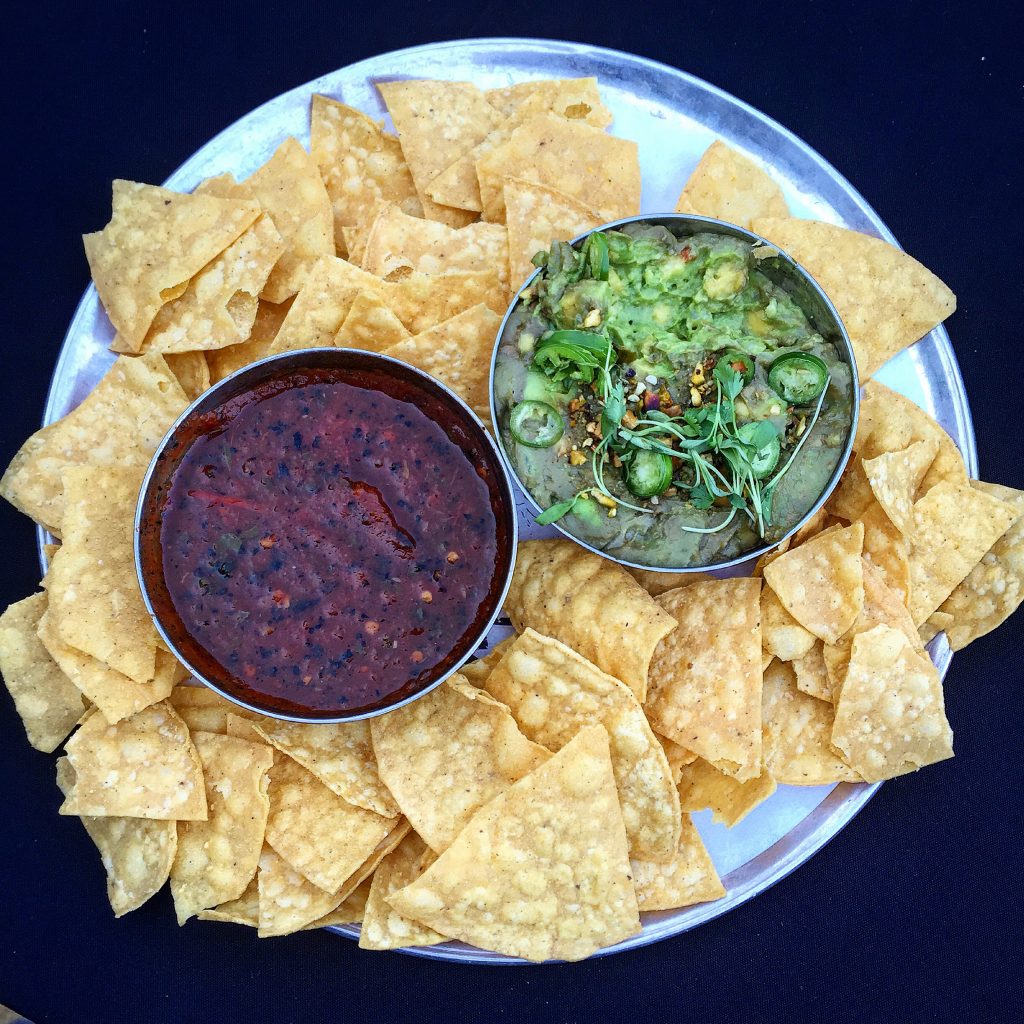 [/column] [column]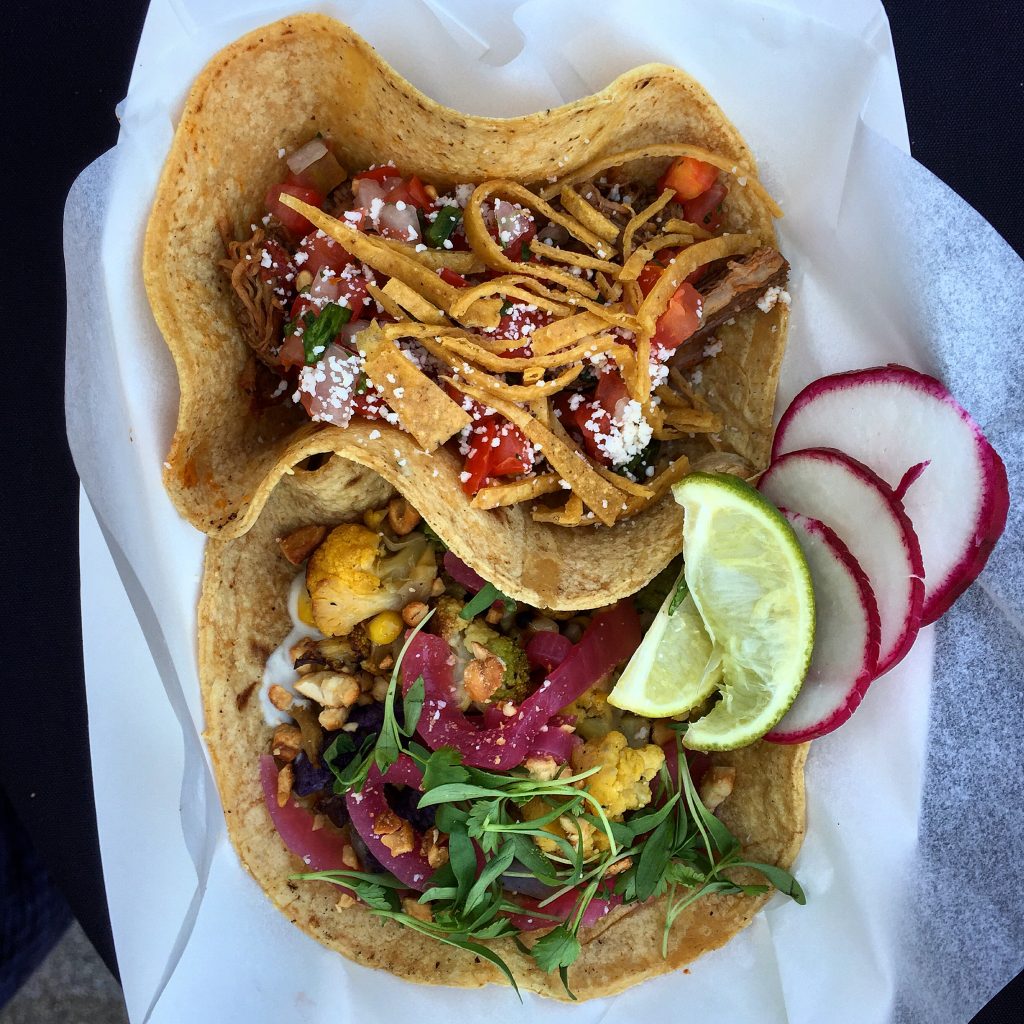 [/column] [/columns_row]
If you could create a crazy taco that would be your signature taco, what would it be your homage?
I would have to say the brisket taco. I love that. I also love soyrizo! I just tasted that and it's delicious so I think maybe now we'll try to make a breakfast burrito with that.
So what's next with you? I know you have a ton of projects in production and development.
Let's see, Wednesday I'm in Salt Lake for ComicCon and then I'm shooting a film in Calgary called Dead Again in Tombstone. When I come back from that I'm promoting another one I did that's just now out in theatres called Storks and then after that, shooting another film called Social Security with Craig Moss.
In Storks, I play Jasper the stork, who raises this baby because I used the baby's address! It was a lot of fun.
Do you just love every day? It's an adventure every day you wake up!
Yah, every day is incredible. I have to tell you, every morning when I wake up I say, "Lord, let me sign every autograph, take every picture" just because it's such a blessing to be able to make someone's day! I see actors that don't want to do that and I don't understand that because that's the reason we're here! 
Is there a movie you would love to do that you haven't done?
There's a couple of movies that John Wayne did that I would love to do. I loved John Wayne. I have a dog I trained so if you ask him if I like John Wayne, he'll give you a special growl! I swear to god.
There's a movie called, Valdez is Coming with Burt Lancaster, I'd love to do that. I love Westerns. John Wayne did a movie called Searchers that was unbelievable too.
Have you ever met his kids?
I haven't yet.
I had an opportunity to work with Ethan Wayne for the John Wayne Cancer Foundation and I remember this story he told me about how every time his dad was at the drugstore, he would buy every kid that was in there an ice cream cone. When the kids saw John Wayne at the store, they'd get so excited because they knew it meant ice cream! 
I'd love to meet his kids and work with them somehow. It's so funny, no matter who you are, your kids, when they're kids don't see you as cool! I did a video with Slayer, I took my daughter and we were walking up to the guys of the band and all of them were like, "Oh man! Trejo!" And my daughter turns to me and says, "Wow dad, you really are cool!" I thought, Slayer makes me cool? I worked with Robert Deniro! Slayer is amazing and I always think it's funny that that was the moment my daughter finally thought I was actually cool.
[columns_row width="half"] [column]
Hollywood may be full of actors, directors, producers and the like but when you come across someone that is even cooler than you imagined? Danny Trejo really is someone to admire and someone to love, even if he's playing a character you love to hate!
With over 19 films in production, in post or about to be released just in 2016 and 2017 alone, Danny Trejo is everywhere! He may very well be the hardest working, nicest, most kind man in Hollywood. Thank you Danny for your time and your generosity!
---
For Trejo's Tacos and Taco Tuesday Fans! $10 bucks!
Taco Tuesday menu consist of any three street Tacos plus a soft drink for $10 or Beer, Wine or Margarita for $12.
Tacos include Steak Asada, Brisket, Carnitas with Grilled Pineapple, Grilled Achiote Chicken, Black Pepper Tofu and Rainbow Cauliflower.
Trejo's Tacos | 1048 S. La Brea Ave | Los Angeles, CA, 90019

SaveSave