Family Friendly Morro Bay
Seascapes, Surreys and Seals!
photos by Dawn Garcia
[dropcap letter="M"]
Morro Bay
is a magical place. The lure of a fishing village with a story to tell, serene settings and incredibly nice locals makes you feel like you've stumbled upon a Californian pearl.
From salt water taffy to waking up in the morning and getting a fresh latte where you'll be greeted with countless dogs on walks basking in the marina to the call of the sea lions, my daughter and I felt like we were in the scene of a movie. It's visually stunning …
Our arrival was like entering into a fabricated world where someone drew in the perfect surroundings. The Morro Bay rock alone seems so surreal it's hard to believe it really stands on the mouth of the peninsula as you round the bend and admire the life of the local sea otters playing and loving in the embrace of the kelp.
Morro Bay is where we chose to have our staycation. That said, there are a few things I look for in terms of whether or not it's a family friendly stop:
[columns_row width="fourth"] [column]Location[/column] [column]Ambiance[/column] [column]Food[/column] [column]Activities[/column] [/columns_row]
Morro Bay fit the bill.
---
With so many things to do in such a quaint town, we began our journey checking into our hotel and then admiring the view as the sun set on the marina. The sailboats sat idly on shore as amber lit up the sky before the cobalt took over and we admired it before taking a stroll down the sidewalk to explore.
Along Embarcadero, we came upon charming boathouses, local shops, wine tasting rooms for Chateau Margene (we're big fans of Michael Mooney) and MCV Wines. MCV was closed so we walked into Chateau Margene where we were greeted and immediately offered a water  for my daughter (which was pretty great) and a tasting menu. I tasted a 2013 Reserve (lovely – tasted like summer met winter and played with some spices) and while we sat for a few minutes before our dinner reservations, I looked over at my daughter, saw the smile on her face and realized what a wonderful place this was for a family trip away.
[columns_row width="third"] [column]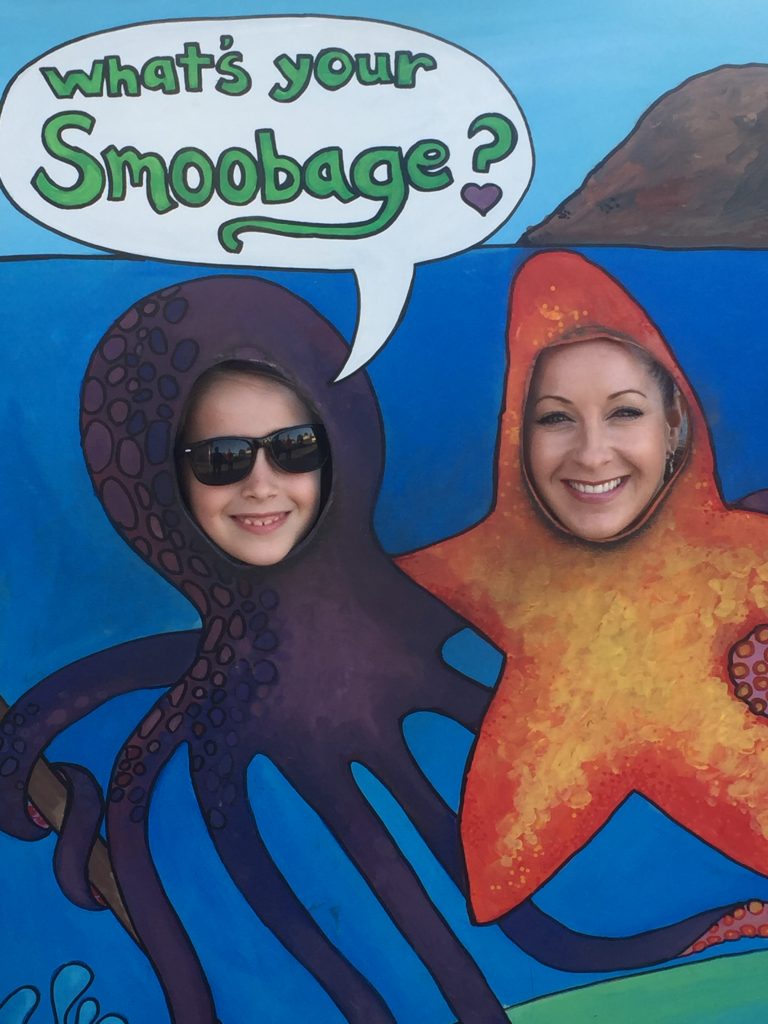 [/column] [column]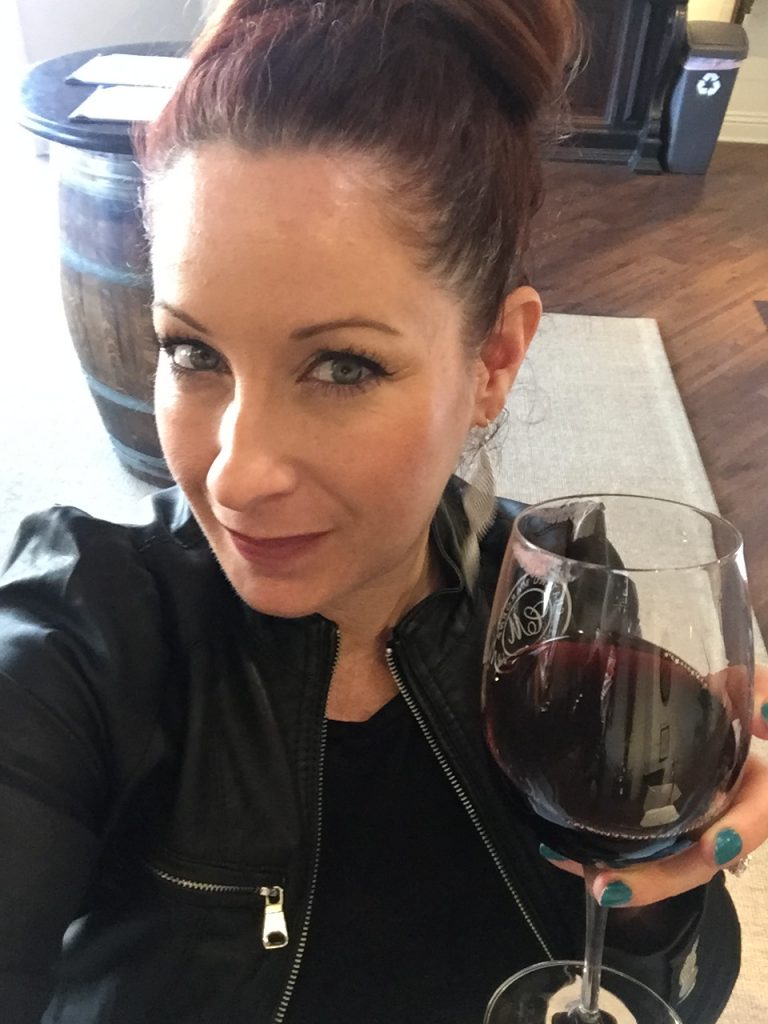 [/column] [column]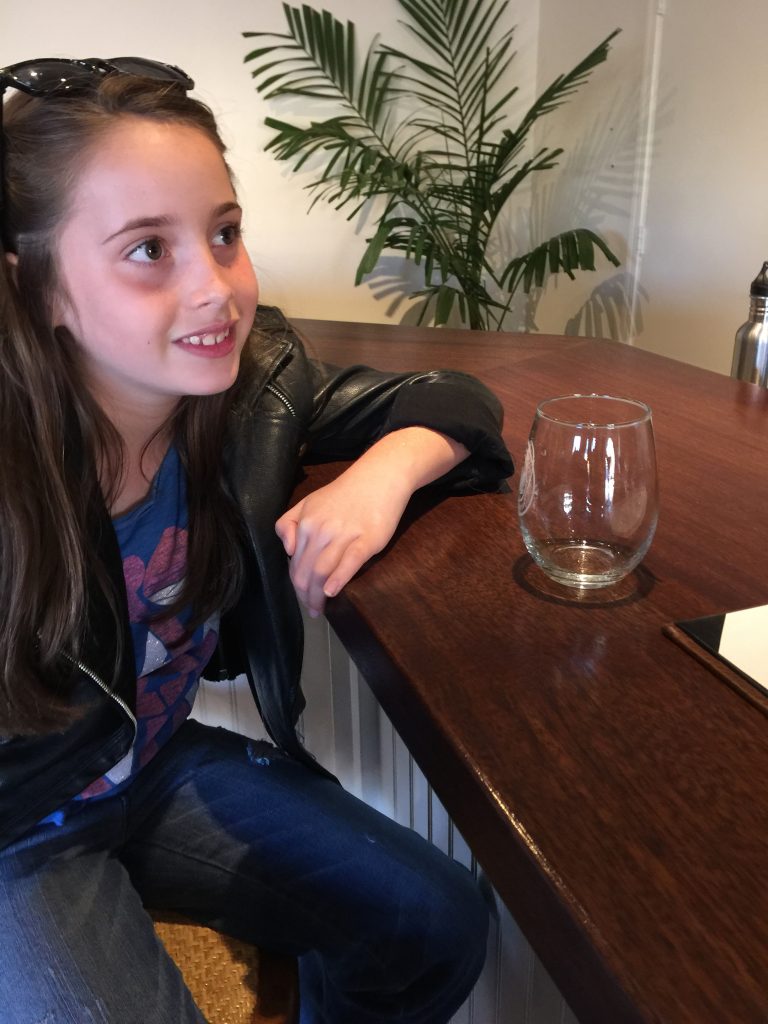 [/column] [/columns_row]
As we head to dinner at Windows on the Water, we enjoy the night air. In front of the restaurant is a newly installed art piece (one of several throughout California). It is a life size bull painted black with scenes of Californian landmarks, sports teams and skylines.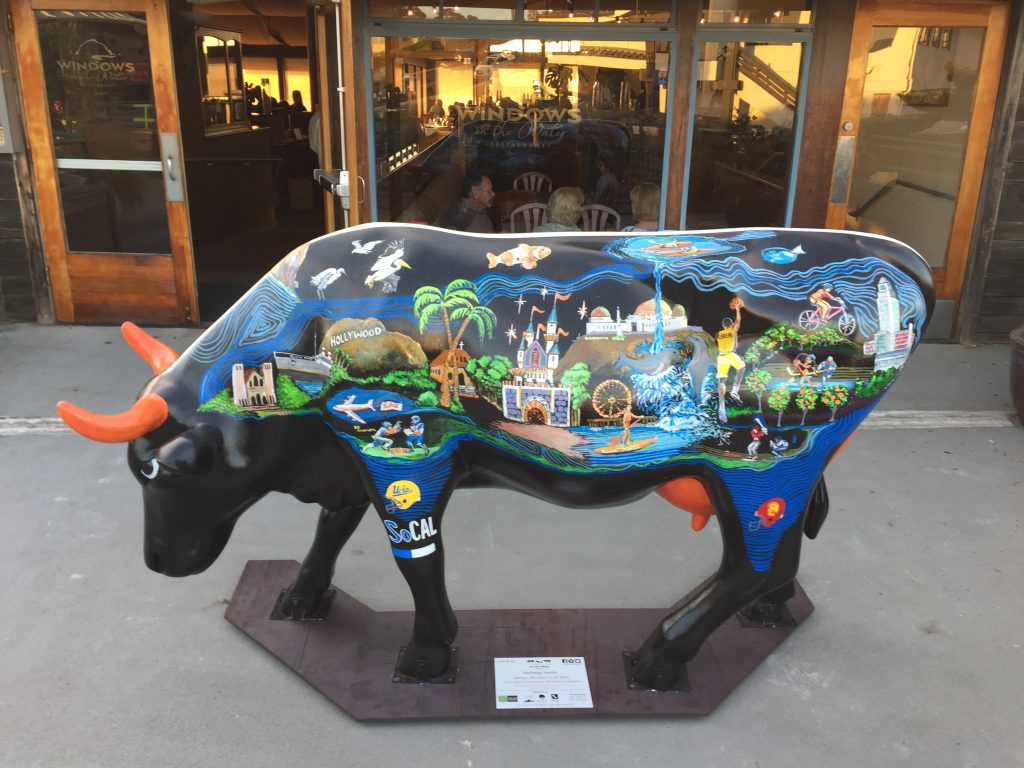 Once seated at our table, we spend some time enjoying the ambiance, including a gentlemen playing classical guitar strumming tunes of classical, Spanish and old school rock. The menu boasts seafood (locally sourced) and while my 9 year-old is adventurous, we're happy to see pizzas on the menu for the more discerning diners (aka, kids!). I begin with a glass of brut Champagne and she is sufficed with water … just in a fancy glass. I order the branzino, she orders a marguerita pizza with pepperoni (not on the menu but they accommodate). She heartily eats the fresh baked bread while we wait, and once the food arrives, we enjoy every last bite. A meal with family isn't quite complete without dessert and thankfully, they have some options to appeal to us both. I order the Kaffir Lime Crème Brûlée and she orders the Chocolate Ganache without the port wine reduction (she's happy with the chocolate and the ice cream). The meal is flavorful and the service was impeccable with a staff that pays close attention to every diner's needs. Chef Neil Smith has created a menu that is healthy, hearty, and comforting which leaves no appetite overlooked.
[columns_row width="half"] [column]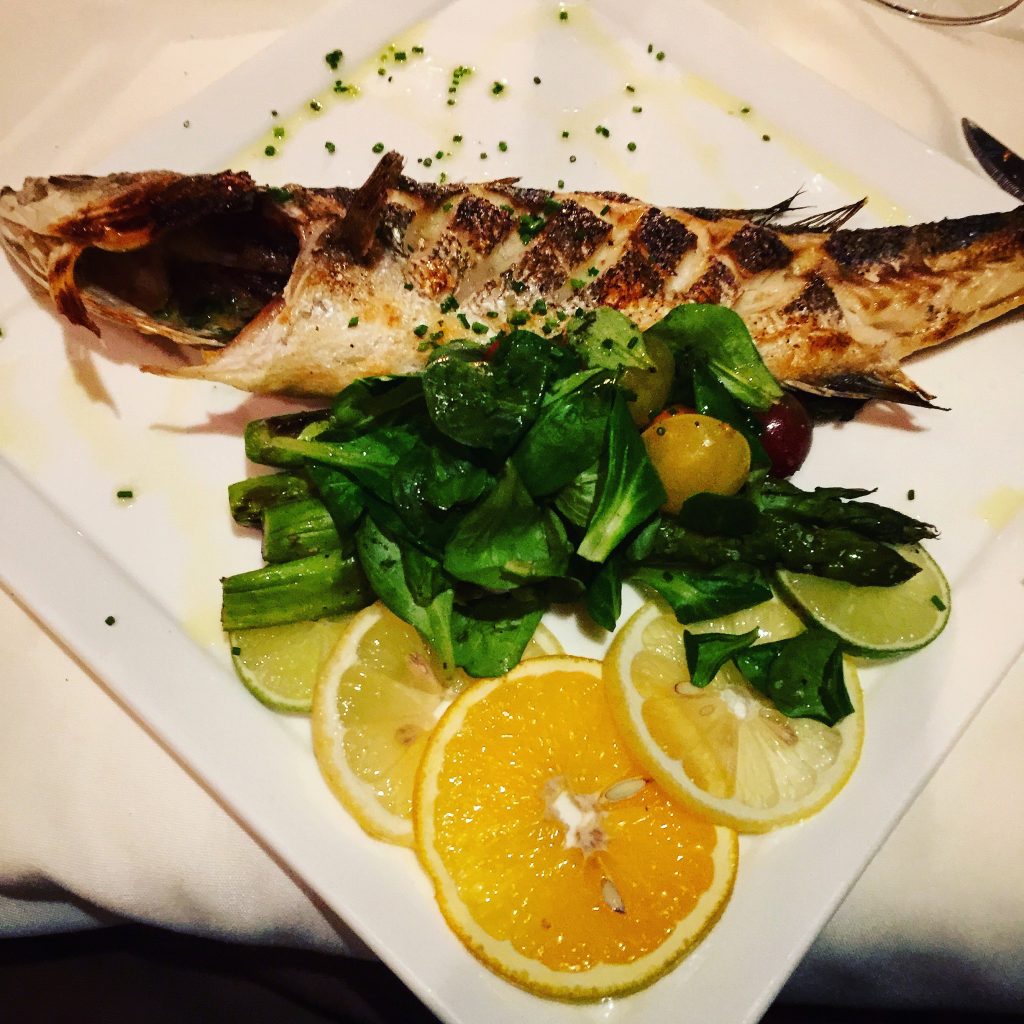 [/column] [column]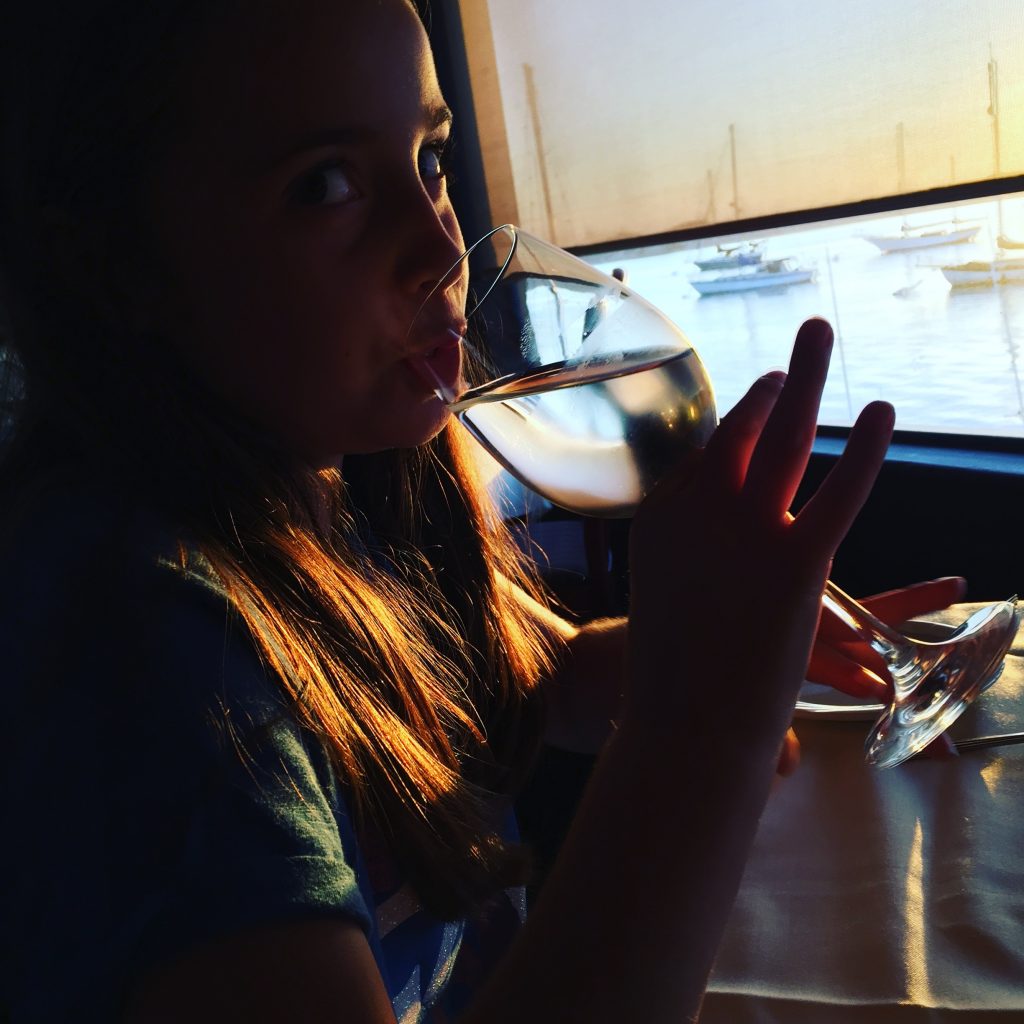 [/column] [/columns_row]
While our first day was fun, it was the second day and the adventures to follow that forever impacted us. Day two consisted of whale watching with Dane from Sub Sea Tour Whale Watching, a new experience for both my daughter and I. We arrived bright eyed and bushy tailed with an anticipation that cannot be explained away: we were going to see whales! So as we boarded the boat with two dozen others, we headed out to sea.
The ride began with a jaunt past the local sea lions and sea otters basking in the sun and bathing in the kelp and as the big blue opened up, off we went. Nothing felt more invigorating than seeing the look on my daughter's face as we ventured out on to the ocean together with a sense of curiosity and hope to see life in more grandeur than we ever had.
[columns_row width="third"] [column]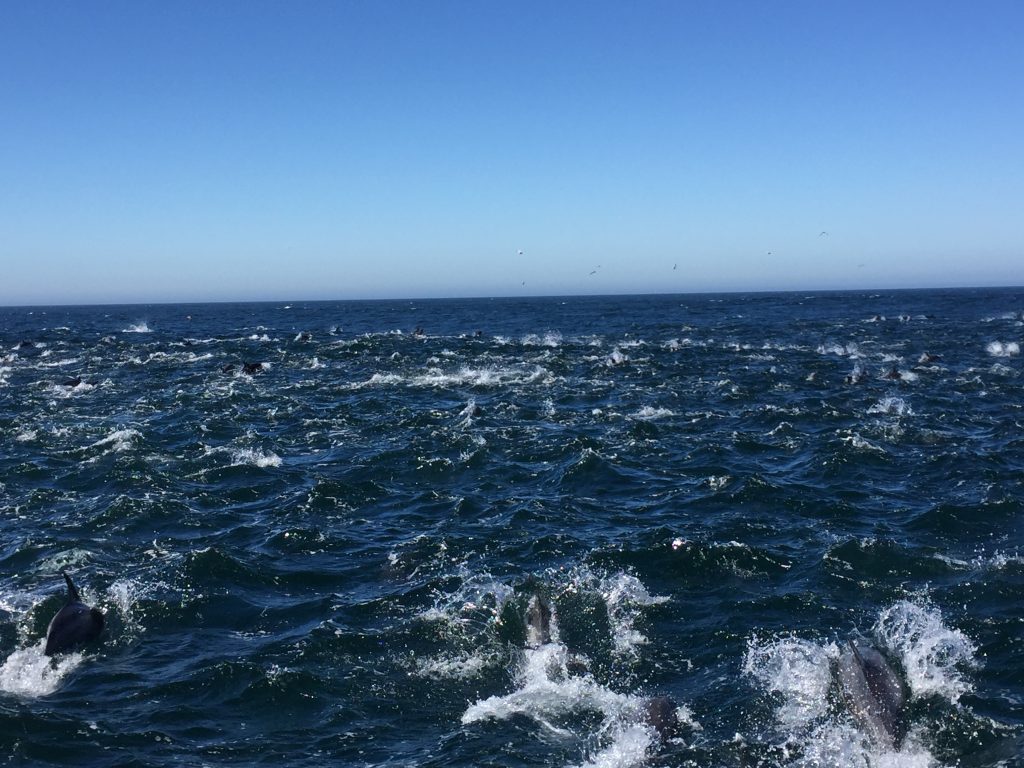 [/column] [column]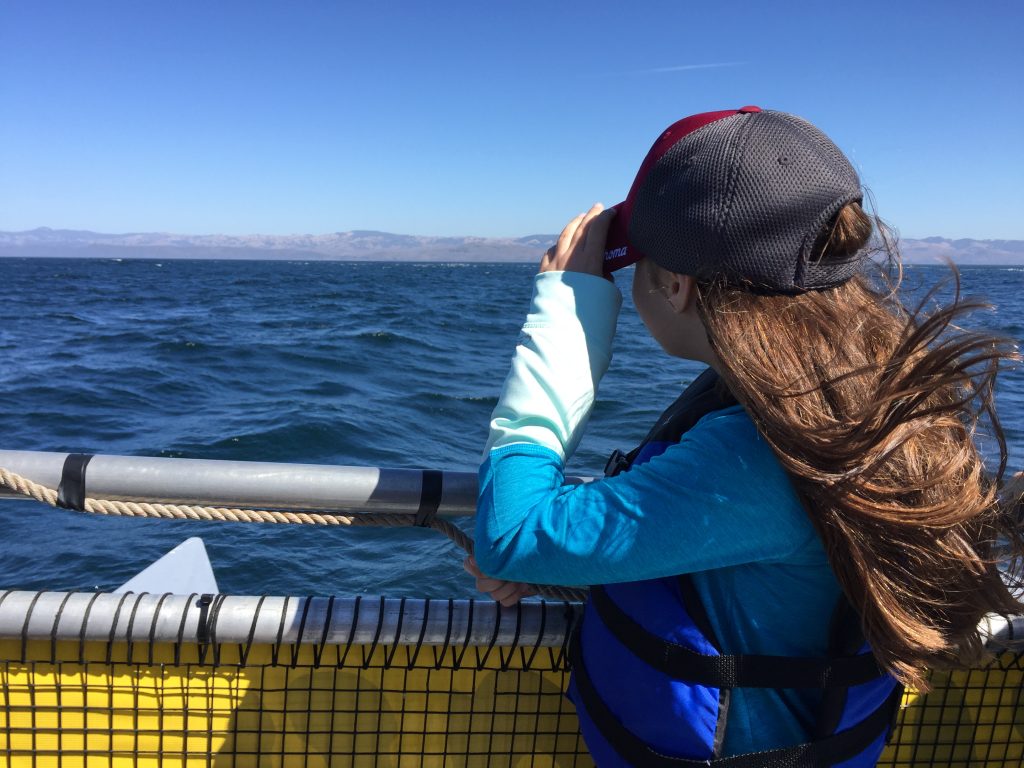 [/column] [column]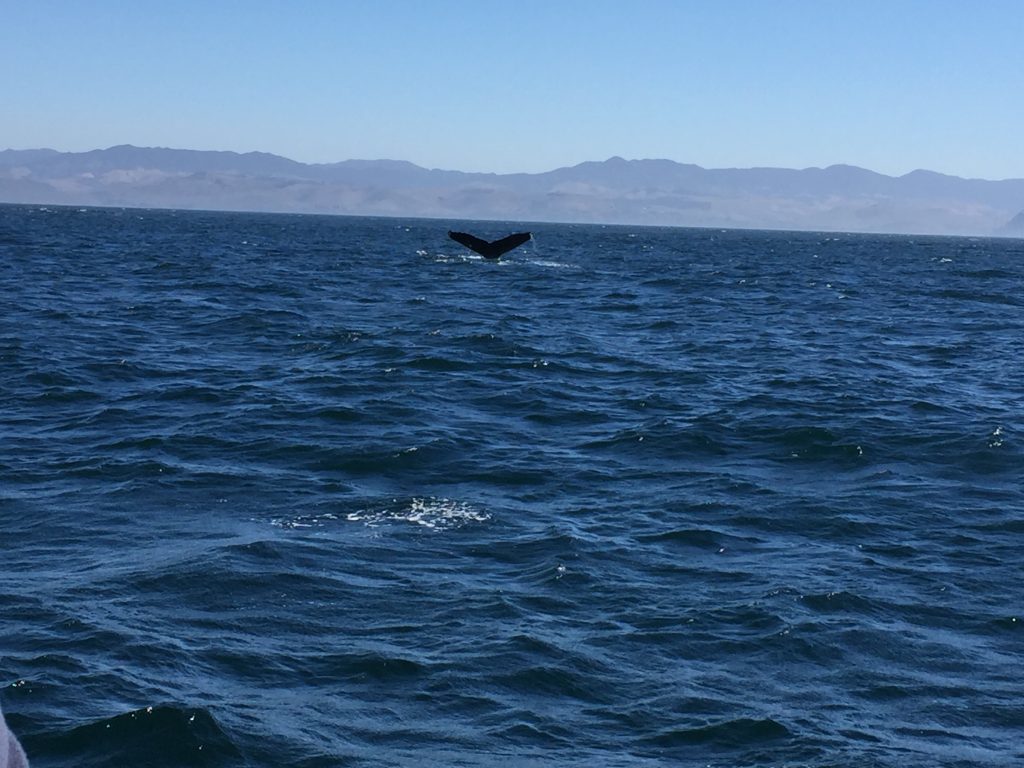 [/column] [/columns_row]
This was by far the highlight of the entire trip. Morro Bay is lovely but going out onto the waters extending past the shore in search of this season's sea dwellers? That is magnificence. While we enjoyed the stories and the laughs, Dane became our instant hero as an hour and a half in, no whales or dolphins were in sight (we did see sea lions frolicking in the open ocean) – until – he saw something a little further out. When he asked if we were all open to going a little further? We said YES!
What followed was a phenomena! We came upon a megapod of dolphins and two humpback whales. A superpod of dolphins is a thousand dolphins but a megapod? Try up to eight thousand dolphins gathered in one place off of the ocean (about ten miles offshore) swimming gracefully and freely with their babies in tow! Couple that with the two curious humpbacks that came very close to us, well, National Geographic couldn't have phoned in a better outcome! For a nine year-old and myself, this was a life changing moment we will never ever forget and Morro Bay will always hold a very special place in our hearts because of it.
*TIP: Drink water, take sea sickeness pills and bring some snacks.

Following our adventures, we headed to Blue Sky Café for a quick bite and then back to the hotel to rest before dinner later that evening at Dorn's Original Breaker Café. While the city is beautiful, and there are plenty of fine dining options, we found that our favorites ended up being the local fish taco stops like Dockside to be more palatable.
The following day, before heading back to Los Angeles, we stopped to rent a Surrey (with a fringe on top) at Farmer's Kites & Surreys and ride along Morro Rock. The shop itself is stocked with an array of kites but we opted to buy a football at the shop instead. Riding around in a surrey is a lot harder than it looks but riding along the bike path, seeing a family of sea otters feet away and experiencing the Morro Bay beach was worth every struggling pedal push. We parked out surrey, grabbed the football and headed to the sand for some spontaneous game playing. It was the most idyllic way to round out an unforgettable staycation up the central coast.
[columns_row width="third"] [column]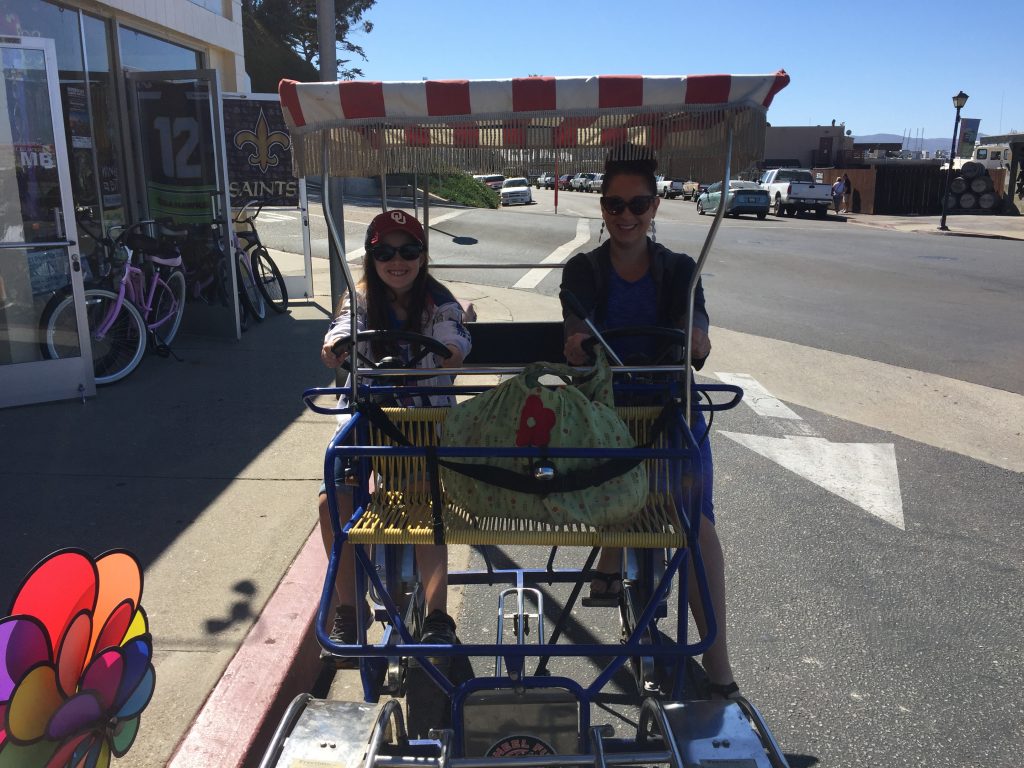 [/column] [column]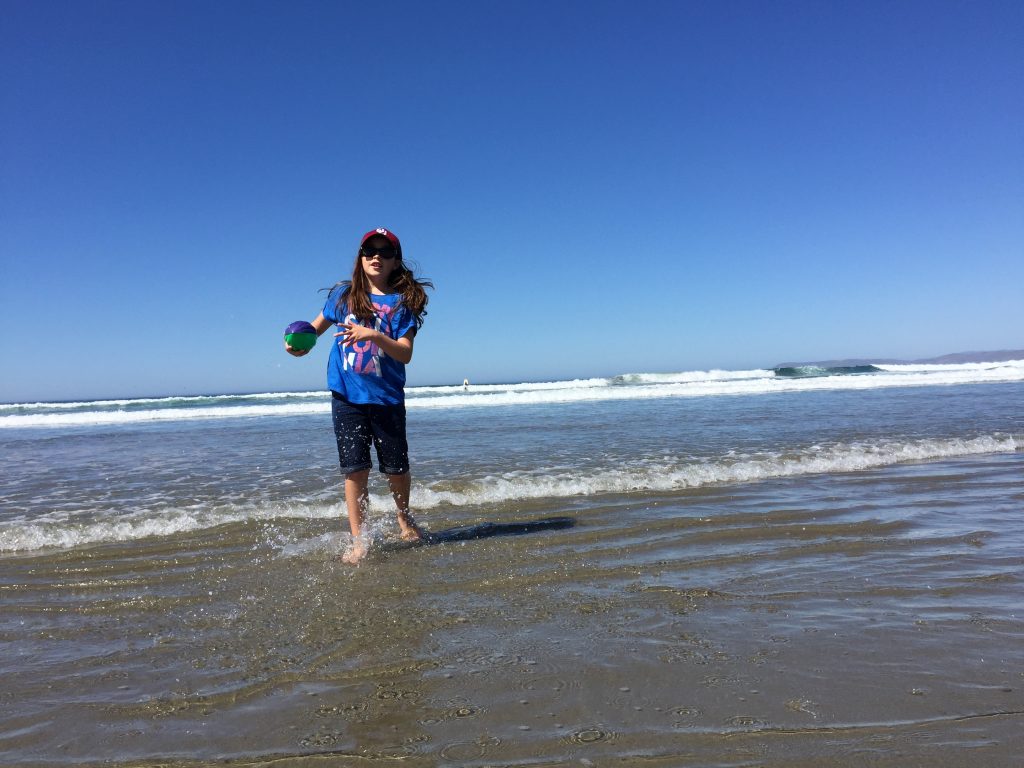 [/column] [column]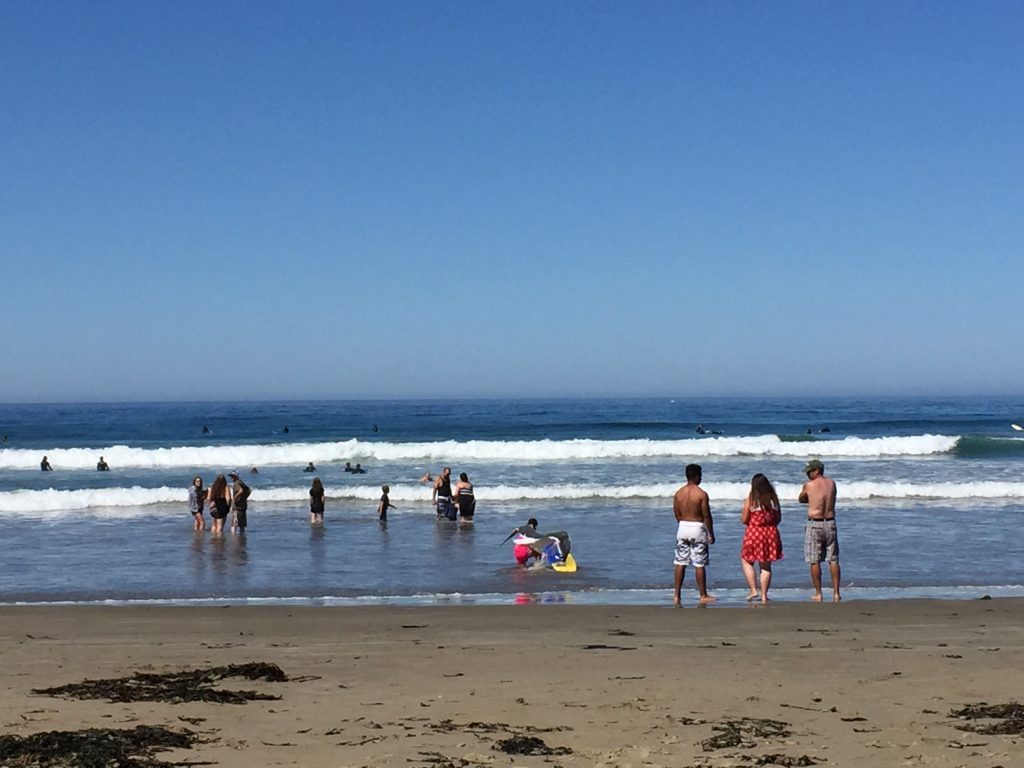 [/column] [/columns_row]
This is an ideal place for a family vacation, reunion, or romantic escape. I highly recommend coming to Morro Bay for a weekend. You won't find a more peaceful, picturesque, exquisite village to happen upon in California. For fun, visit the Skateboard museum, the Aquarium, go paddle boarding or charter a sailboat for a few hours, do some wine tasting, and for the kiddos, definitely grab some of the local ice cream! For food options, there are a lot of local choices, explore some of the local fish markets in Morro Bay or fine dining – Windows on the Water, Dockside, Harbor Hut, etc. – but I also recommend you saunter up to Cayucos (a 15 minute drive) and eat at Cass House Grill. There are plenty of wine choices within a 5 mile radius, cute B & B's, and plenty of things to do.
We will be back as winter sets in …
For more Central Coast ideas: