Eating our Way Through the Amalfi Coast
Part 3 | Italian Cuisine
Written + Photographed by Ruth Cuevas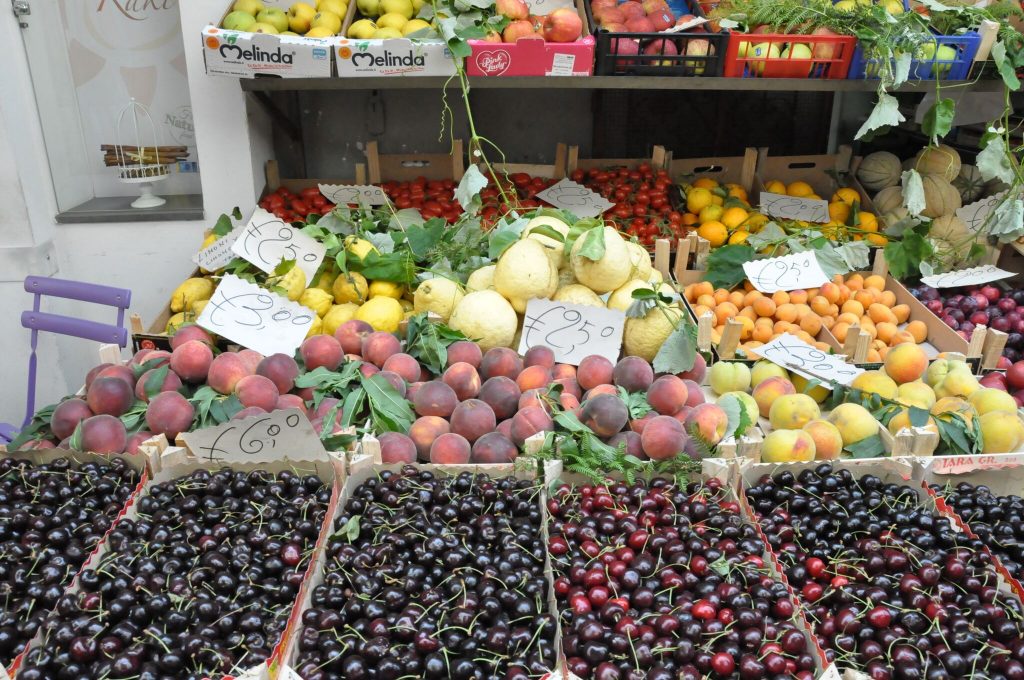 [dropcap letter="E"]ating in the
Amalfi Coast
| If you ask people to name their favorite food, it's usually Mexican, Italian, or Thai (not necessarily in that order). That said, I think most people would agree that having their favorite foods in its actual country of origin seems like it would taste different than it does here in the states. Somehow our version of international cuisine (in theory) would appear to be more tame than the original but that's a concept I've always found to be an interesting sociological exercise;  grasping how another country interprets your flavors. So, when the opportunity came for me to go to Naples, my mouth began to water for Italian, more poignantly …
pizza
.
In
Italy!
I wanted to taste Italian fare in it's natural place of conception.
In truth, I hated that I was being so stereotypical about it. It felt so touristy. I believed myself to be so much more exotic and do something bold like eat at a restaurant Anthony Bourdain filmed an episode of No Reservations at. Yet when I'm being totally honest, all I wanted was to try the same pizza that author Elizabeth Gilbert ate in her bestselling memoir, Eat, Pray, Love. I wanted to experience it they way I imagined.
[columns_row width="third"] [column]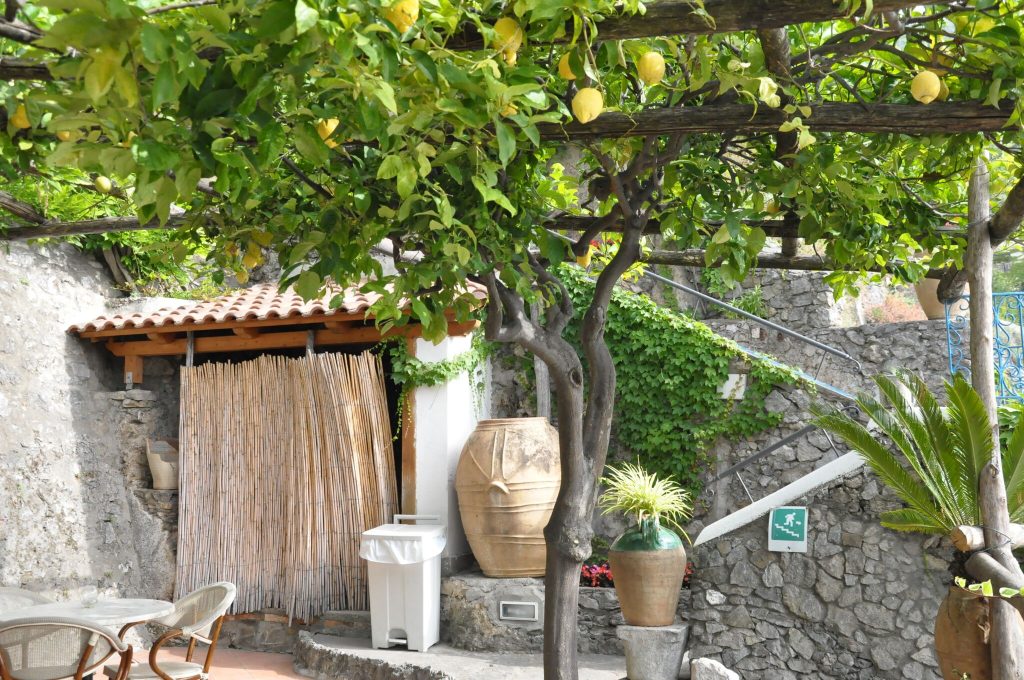 [/column] [column]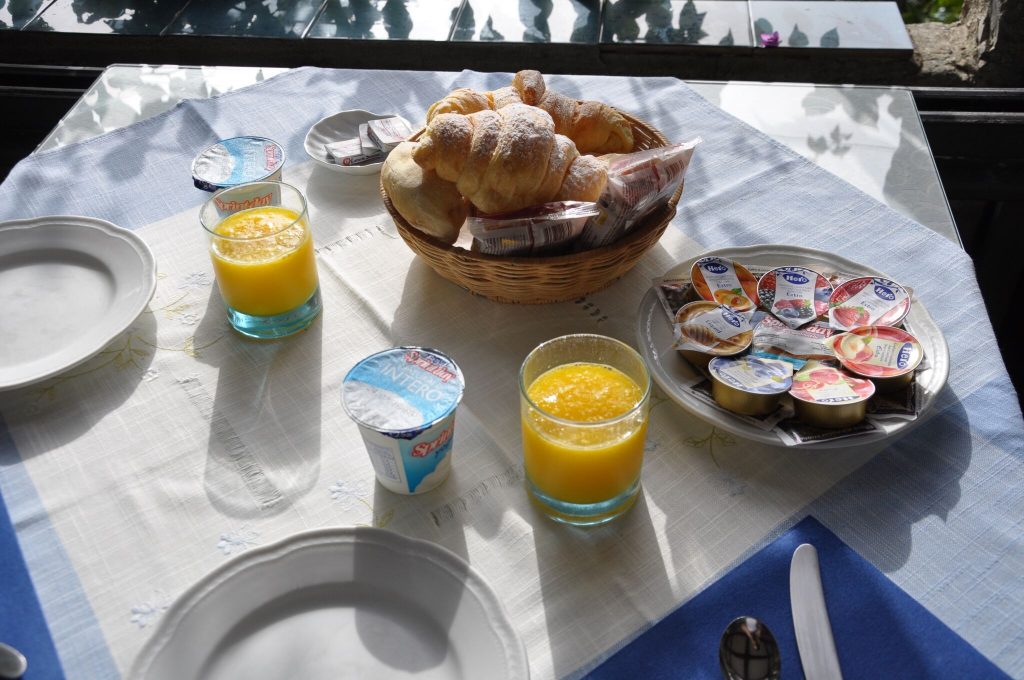 [/column] [column]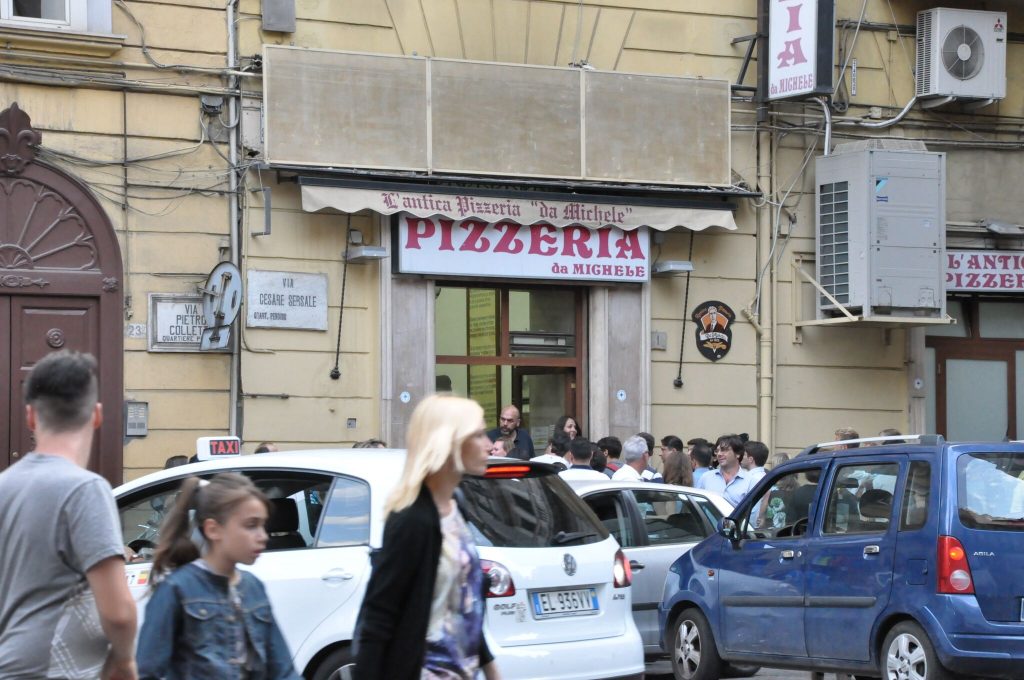 [/column] [/columns_row]
FOUR DAYS TO DINE
After looking at a map, we decided instead of spending the majority of our time in Naples, we would explore the Amalfi Coast as well. We first considered riding to Italy from our home in Germany by motorcycle but later, decided to fly instead and rent a car in Naples.
My boyfriend and I bought our tickets and began to count down the days. In an effort to know as much as we could about where we were headed, borrowed books from the library, watched movies about Southern Italy, and got hooked on Anthony Bourdain's "No Reservations".
It wasn't my first time in Italy, but it was the first time I'd ever been in Southern Italy. Everything I'd heard was true: the traffic was chaotic, horns were constantly honking, and there was as much crime and pollution there as there was beauty and wealth in the North. We drove from Naples to Revello, across and through the mountainous roads of the Parco Regionale dei Monti Latarri.  About an hour later, we arrived on the coast and settled in to our glorious room overlooking the Mediterranean Sea at the Villa San Michele.
[columns_row width="half"] [column]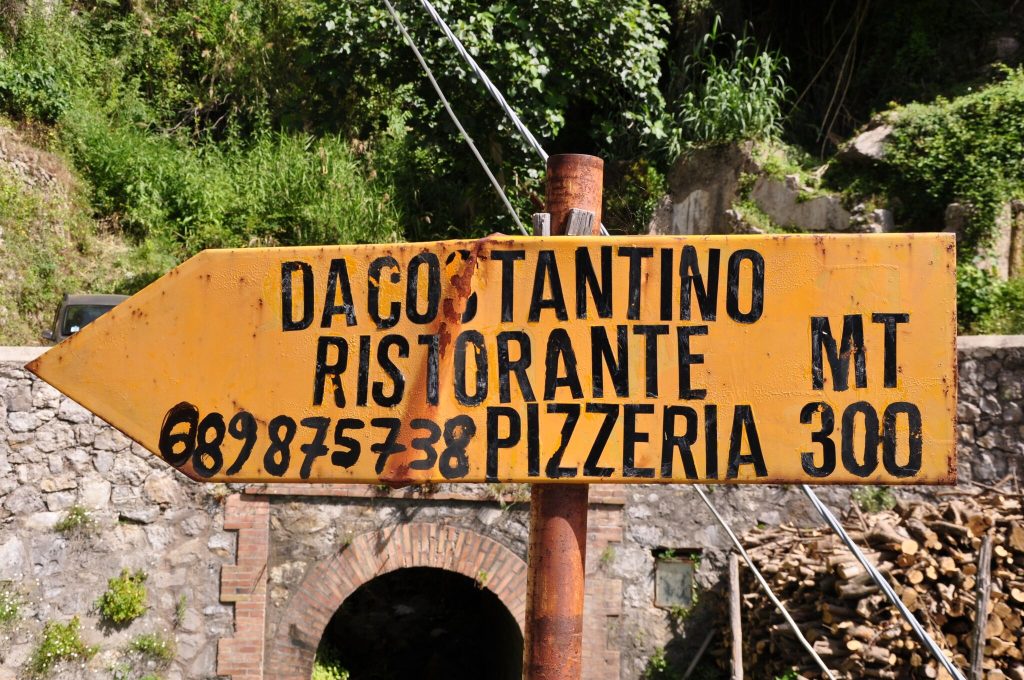 [/column] [column]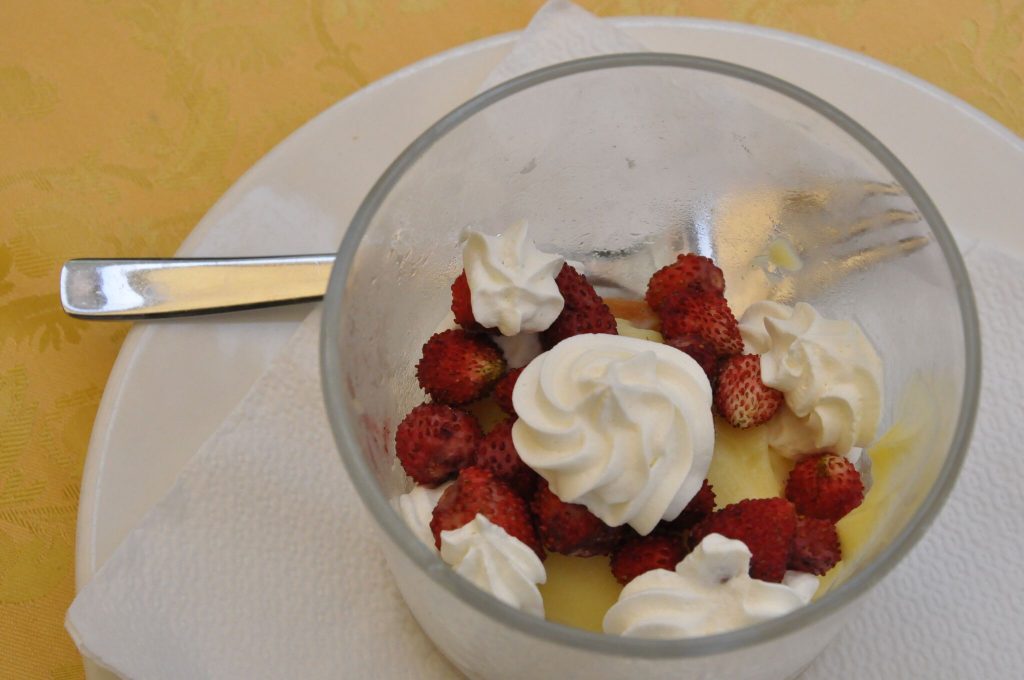 [/column] [/columns_row]
The entire coast smelled of lemons and lilies. Our hotel patio was placed under a canopy of lemon trees and surrounded by walled gardens of rosemary and other herbs. To complete the mood, our hotel restaurant offered freshly squeezed orange juice for breakfast with warm pastries baked in their kitchen and served with homemade jams, local meat and dairy, and I'm pretty sure even the coffee was local. The delicate flavors of breakfast worked in tandem with the view, to provide way more than a morning meal. They provided a morning experience.
---
Dinner was just as impressive. The curtains billowed through the open windows as the fresh, sea air carefully drifted inside. In the distance, you could see the lights along the coast, creating a nighttime landscape, as breathtaking as day. Dinner was the daily special and began with a salad and fresh bread. There was your choice of a bowl of homemade gnocchi-like pasta in a red sauce or a bowtie pasta with a white clam sauce. The next course was a local white fish in a white wine, vinegar and mint sauce. It was served with carrots and rosemary potatoes.
For dessert, the owner's wife's freshly made profiteroles filled with a coffee-espresso cream. Fresh fruit was also offered nightly. The fruit was determined by what was freshly picked or plucked and the menu crafted by the kitchen. On the night we were there, we had the most common with kiwi, apricot, strawberries, pineapple and mango. The cake alternated every day. In fact, everything varied and the daily menu was based on local ingredients that were the best choices that morning. Usually, there was a fish and a salad and bread and a pastry and pasta. The sauces were never exactly the same because the chefs did not follow recipes but rather just created something new every night.
[columns_row width="third"] [column]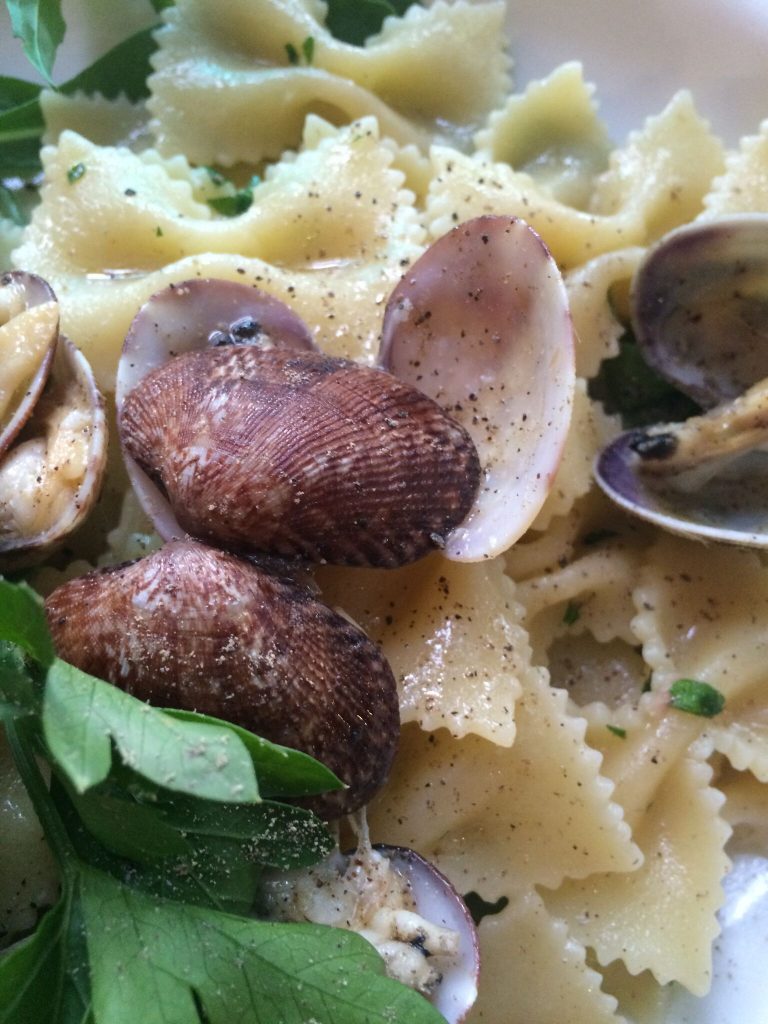 [/column] [column]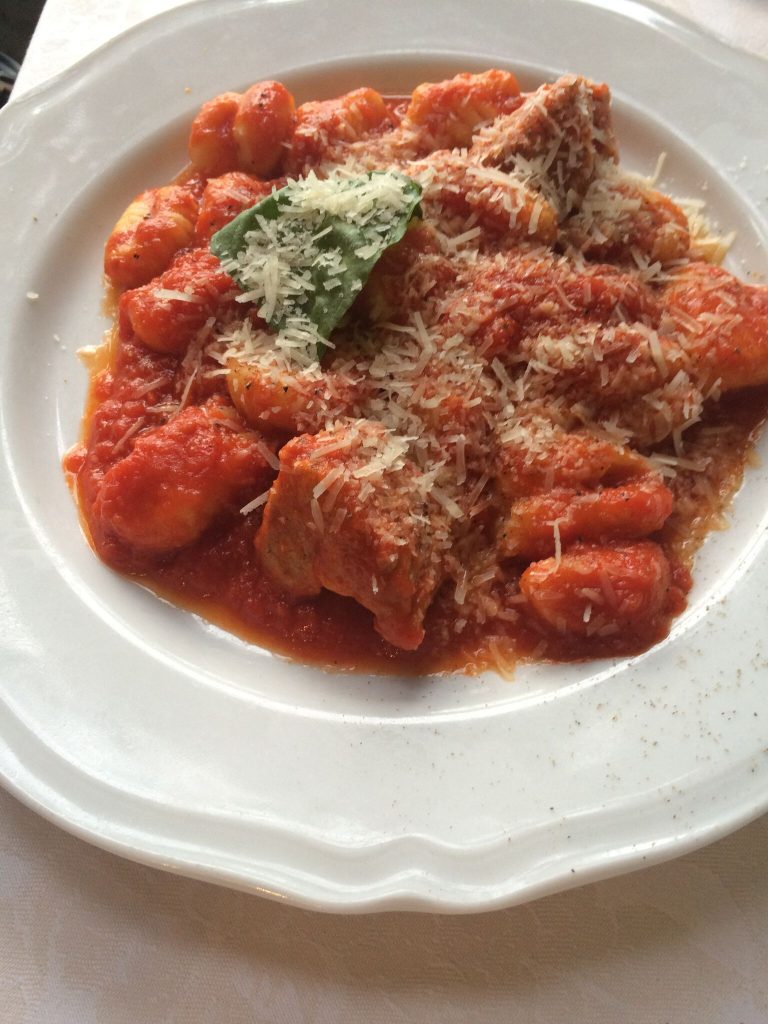 [/column] [column]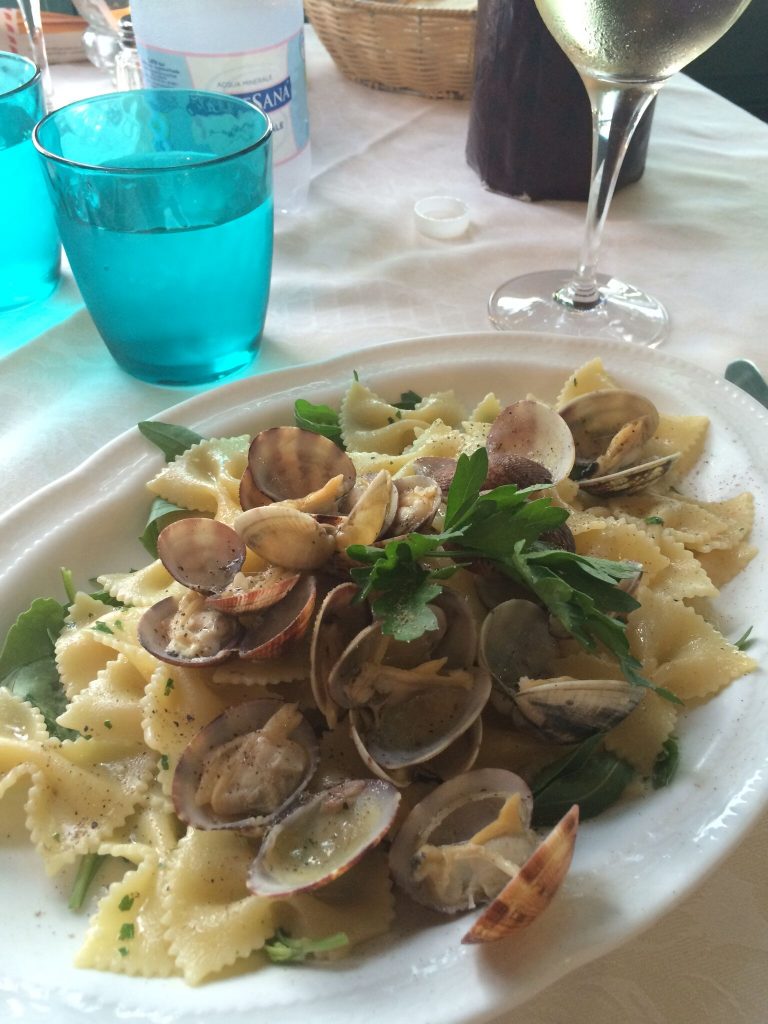 [/column] [/columns_row]
Our restaurant offered a half-board option upon check-in. Half-board usually means you pay a set price for your room, your breakfast and dinner regardless if you actually eat breakfast or dinner there. This is a good option if you are in a remote location or if you're short on time. In my experience, when a hotel offers a half-board option and the nightly dinner is four courses and it is all local, fresh, and handmade in their own kitchen, chances are you won't regret spending a little bit more.
It was at dinner that I realized that despite the popularity of fishing, Amalfi does not smell of fish. Rather, it smells of lemons, fennel, and rosemary – all, which grow heavily in the region. When I looked down at my plate that evening, I thought about something Anthony Bourdain said in the Italy episode. It was true: everything we were eating was local and cooked according to tradition to ensure that flavors were divine. The fish was a firm, flaky flesh with hints of citrus, carefully placed in the middle of my plate and lightly draped with a sauce that naturally complements the taste of the fish.
Our waiter recommended a local Ravello wine called, Giardino di Klingsor. (Keep in mind, Revello is not a big village – we could walk for 10 minutes in either direction to reach the border.) The wine was a dry, white wine that featured two types of grapes. This was the first time I could tell you exactly what I tasted when I tasted wine. It was light and fruity but still dry with only a tinge of sweetness.
Over the next few days, we ate pizza, more fish, clams, lobster, pasta, cannoli, gelato, cakes, and pastries. We ordered the same thing at different restaurants and villages just so we could compare flavors. In most cases, our dinner at Villa San Michele, in Revello, won us over.  Every restaurant had its own character, reflected in the dishes they prepared.
What I love about Italy is that the personality of the location always has a way of bleeding into your meals.
We returned to Naples on our last night before boarding our plane home. We had to decide on how we were going to spend our last few hours in Italy: we could go climb Mt. Vesuvius, we could visit Pompeii, or, we could visit the pizza joint that Elizabeth Gilbert wrote about. I'm not sure how I convinced him to go get a pizza, but I did.
The reason this pizza restaurant is in Gilbert's book is because it's rumored to be the birth of pizza. I wanted to do a little research to be sure if this was true and found that there were at least three restaurants in Naples that claimed to be the birth of pizza and each had their own family legend. In addition, there were several lists of the best pizza in Naples and Gilbert's restaurant always held a different spot in the top five pizzas in Naples. In the end, we decided on L'antica Pizzeria "da Michele" because I liked Eat, Pray, Love.
[columns_row width="half"] [column]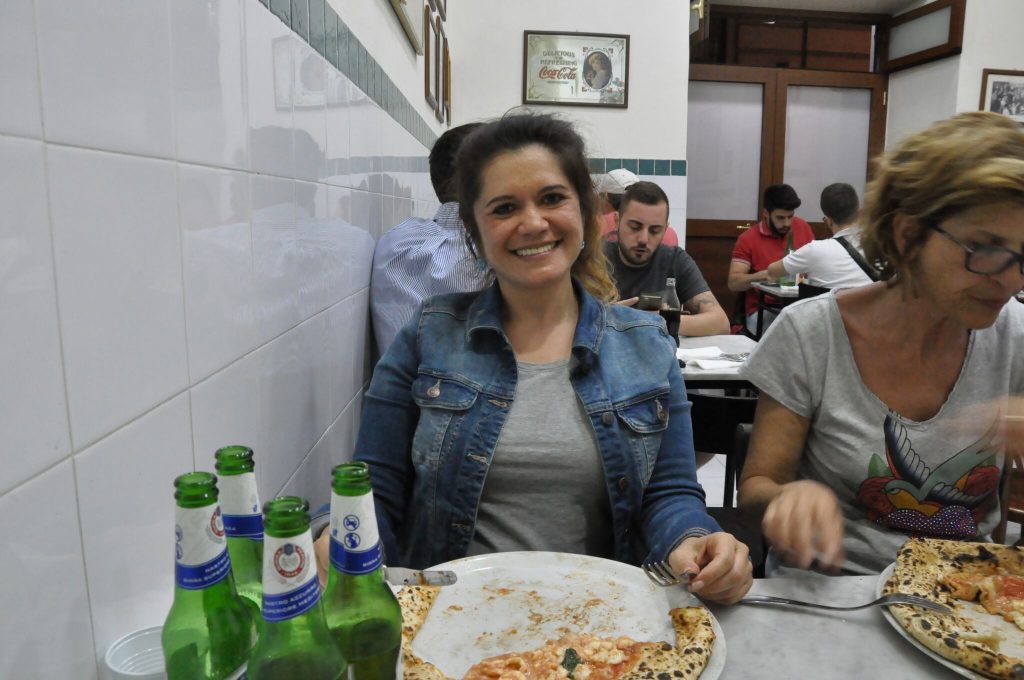 [/column] [column]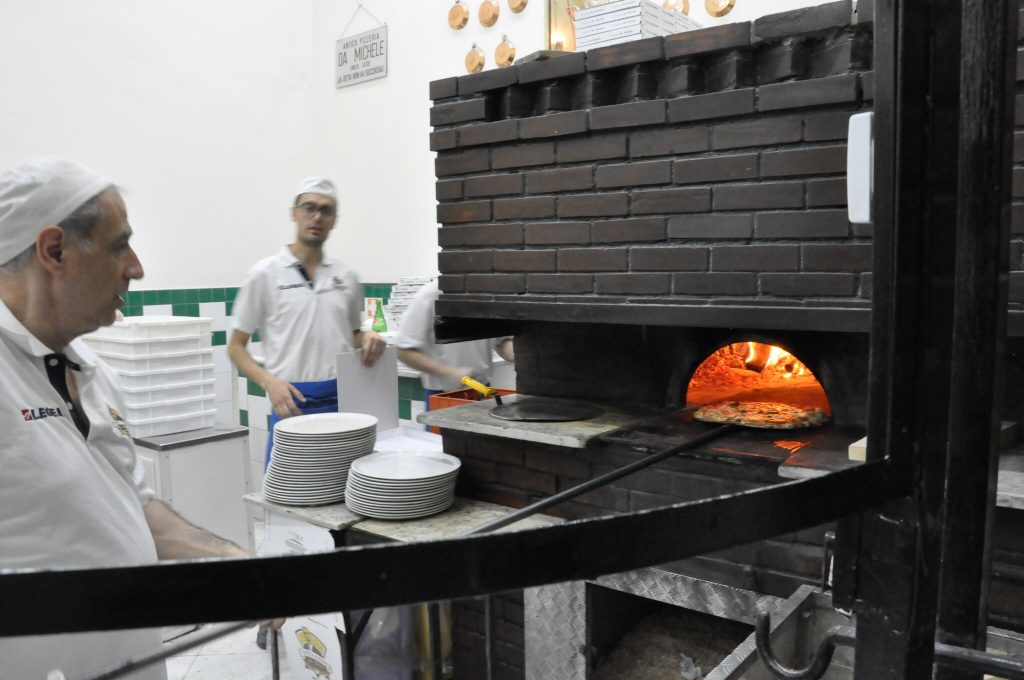 [/column] [/columns_row]
The internet instructed me to quickly take a number. It also warned me that there was always a long line but it moved quickly. I chose to keep these pieces of Intel from my boyfriend, for fear he might back out on our way there. We bravely navigated through the wild Naples traffic and followed the directions from our navi (European GPS) until we reached the pizzeria. To put into perspective how crazy the traffic was, we were looking for a parking space and accidentally turned the wrong direction on a one way street and drove about three blocks against traffic, passed four police officers, faced oncoming traffic, and no one told us to turn around. Eventually, we found a parking space.
There was a local who looked like he was possibly homeless, helping drivers navigate into the tight spots in front of the restaurant. He promised to watch your car for the small fee of a few euros. Evidently, the police stood there all day to keep an eye on the "parking attendants" and make sure that the attendants do what they say they're going to do.
We walked to the front door, where a tall, bald, middle-aged muscular Italian man stood. He was wearing a black t-shirt and jeans that complimented his mustache and short beard. He was in charge of managing guests turns and stood at the door shouting anything from 1-100 into the crowd. When you walked up to him, you told him how many people were in your party and he wrote it into his notepad and handed you a number. We were number six and he was shouting 35. We waited over an hour and every time we were ready to walk away, we remained in line because by this point, we were really curious if the pizza was as good as all the hype. We looked around and noticed that almost the entire crowd was Italian. Americans and other nationalities all stood out in the crowd pretty easily so there was a certain amount of trust from knowing that the crowd was likely there due to the pizza's reputation.
[columns_row width="third"] [column]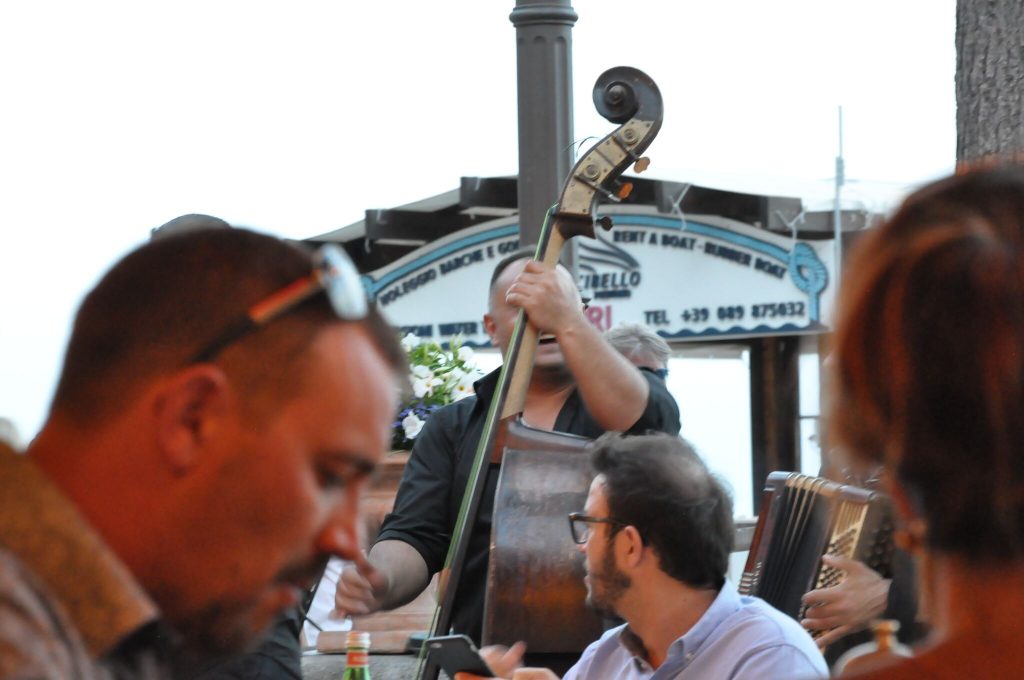 [/column] [column]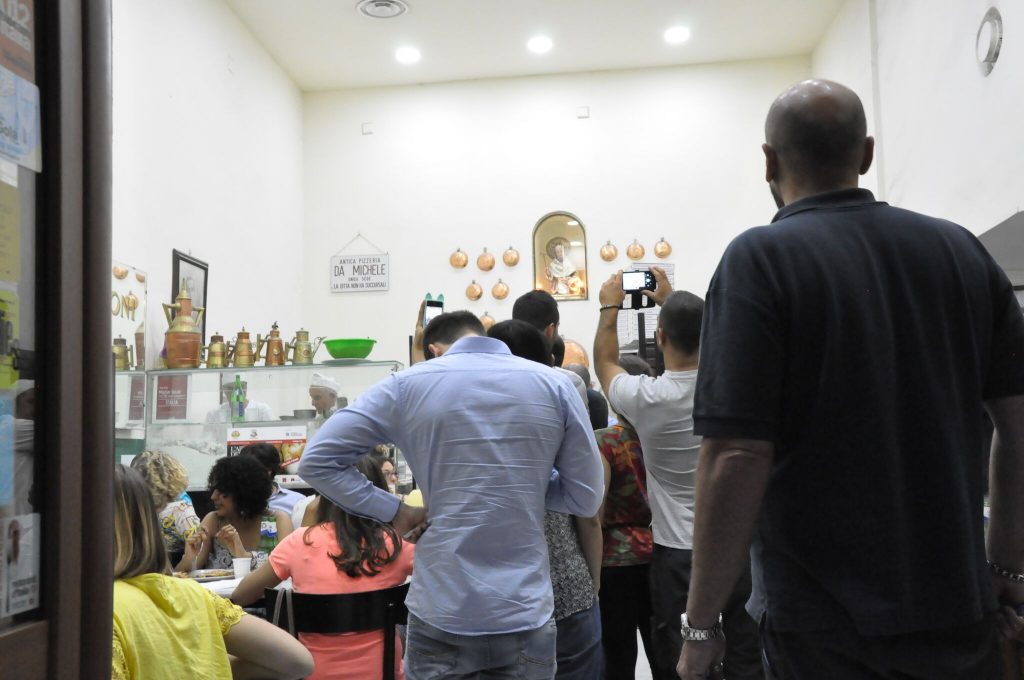 [/column] [column]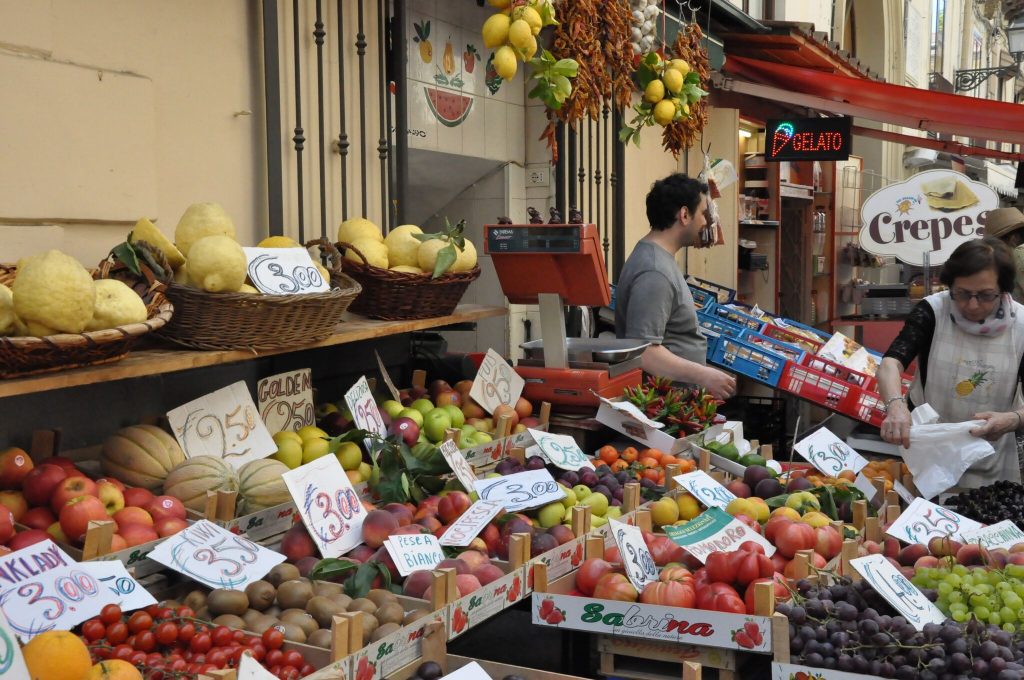 [/column] [/columns_row]
Eventually, we were ushered past the brick oven and into the back room, in the exact room where Elizabeth Gilbert sat when she ate her infamous pizza! I couldn't believe it!
There are only two pizzas on the menu at L'antica Pizzeria "da Michele". One is the famous pizza margarita and the other is a pizza with no cheese. They do not offer substitutions or requests. Every pizza is made in a brick oven with carefully monitored temperature. Once again, every ingredient was local, especially the mozzarella.
In Europe, you eat pizza with a fork and a knife since most of the pizzas don't come pre-cut. The great advantage being that your first bite is worth the effort. The first bite of pizza was a warm, creamy, gooey combination of flavors that I can still taste.
The crust was the flavor that hit me first. It tasted a little bit like it had been flame broiled. It was soft and light but also doughy and crispy at the same time. The sauce was a light, creamy tomato, not the regular tomato sauce I was used to. It was topped with circles of mozzarella and a few basil leaves. It's cooked with a touch of olive oil so when it comes to you, there are tiny puddles of oil, sitting on the cheese and all the flavors work together to create a symphony of taste. There are so few ingredients you can almost taste them all: flour, salt, water, tomato, cheese, basil, and olive oil. This was the creamiest, sloppiest, best tasting pizza I have ever had.
If you're ever in Naples, I highly recommend daring through the local traffic, paying a shady dude to watch your car, waiting in line for an hour to sit at a picnic table with eight Italian strangers while you all eat pizza that I promise, lives up to the hype.