Anthony Bourdain + the CRAFT
[dropcap letter="L"]ike anyone with a pulse and an appetite, I have long since admired the journey of writer and chef,
Anthony Bourdain
. His ability to strip away any pretense to just get down in the trenches, eat, laugh, learn and educate is what every journalist should strive for. His uncanny ways of taking you alongside him on every journey he embarks on always awakens inspiration.Bourdain's latest project is the quest for artisans around the world who are masters of their craft. Working with
William Grant & Sons
spirit, 
The Balvenie
, the single malt whiskey brand takes story and adventure on a new path. Introducing the series,
"Raw Craft"
, Bourdain begins by exploring the behind-the-scenes grit and reality of making what is a contender in the spirits world.
While learning the finite details at the factory in Scotland, we learn about the grains, the patience, the course corrections and more. From rye whiskey to iron working (with the episode featuring Elizabeth Brim, who will make you feel inspired and motivated to never give up on a dream), this show stands out from all of the others he's done because this time he's tapping into the heart of people. A reprieve from food or travel, but rather the very thread that weaves together the essence of what makes artisanship so incredibly special.
[columns_row width="third"] [column]
[/column] [column]
[/column] [column]
[/column] [/columns_row]
Invited to a screening of an episode and to do a Q & A with Tony, listening to him speak first hand is like sitting with a friend you've known for years that always has the best stories. He is charismatic, self deprecating, humble, but undeniably smart and purely genuine.
Whether he's talking about planning meals for his daughter a week in advance or admitting he's not afraid to look stupid, he is the real deal. It is a pleasure to share a little more insight into some of the things I was eager to know and hopefully, some things that will enlighten and inspires you …
UPDATE: June 8th, 2018 – Today the world lost a man whose ability to transform the way we see the world was unlike any other. Over the years we've been taken to the streets of the Middle East, through meat markets in Asia, talked to strangers on the street, and felt a human connection that feels lost on most days. Bourdain is a revelation in many ways but in person, he is a presence that left an impression on your soul. He made you believe in the beauty of the grit. My heart sank upon his loss but the legacy he's left us all is one we must never fail to continue. The world needs to be awakened and if we can learn to see the profound impact of other cultures, see the immense importance of one another, embrace all the difference, confront our misconceptions, and just take a fucking risk, we will be honoring him. Anthony: You will be forever missed in this great, big, colorful world.
---
Dawn Garcia (DG): I love Japan. I find it to be the most beautiful yet the most contrasting in both culture and obscurity. I was wondering when you were there, just happening upon things, what are some of the more beautiful moments you stumbled upon and then in contrast to that, some of the more obscure?
Anthony Bourdain (AB): Some of the most beautiful moments – well, for starters, Japanese plumbing is so awesome! My entire crew of my boys, and there were like fifteen of us, were always fifteen minutes late because they were enjoying the bidet. Just hanging in the bathroom, enjoying the warm jets, let's just put it that way.
And – Onsen. You know, Japanese tend to work really, really hard but man they know how to relax. Going to onsen, especially if you go to a real compound on the countryside, looking out at these perfectly landscaped views, all carefully tilted so that even if there may be a guest near you, you're not aware of them? If you slide into that hot cedar tub or rock pool, man they do that right. That whole entire process is deeply satisfying.
Also, the minimalism of a Japanese flower arrangement is something that is also quite interesting to me. The way they decide first what's unnecessary to make the arrangement beautiful – they strip away complication and then concentrate on the few elements that are really pretty and truly beautiful.
Japan also has both its good side and its really quirky dark side. Like the fetishes, and I don't want to get too detailed, but let's just say there's a tendency to pay attention to detail there that can be troubling in terms of the nightlife arena.
But in the food, the art, the landscaping and so many aspects of the Japanese culture, I'm just constantly – it just really takes my breath away. I love it. 
DG: Following up on the question we discussed during the LA screening about Japan – a country so beautiful and contrasting in culture, tradition, and experiences – what two artisan crafts would you be most fascinated to explore?
AB: I'm fascinated by old-school, traditional tebori-style tattoos. And the Japanese art of Ikebana (flower arranging) is interesting as well. But there are so many: knife and sword making, ceramic work, printmaking, and sushi in Japan are all thrilling.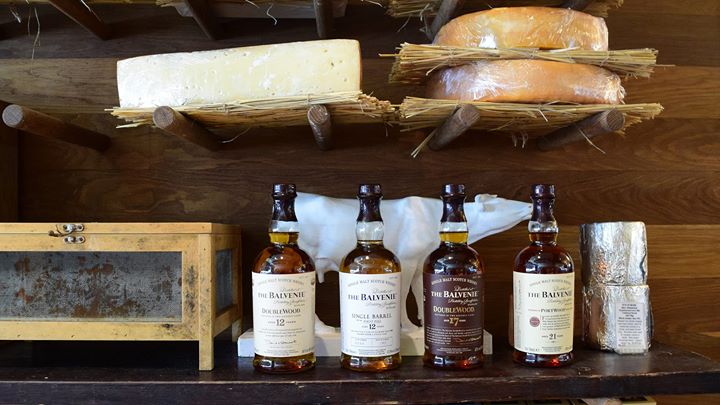 DG: Smell is such a memory trigger. When you visited The Balvenie distillery, what smells penetrated your senses?
AB: There's no place in the world like Scotland; touring the distillery and seeing first-hand how The Balvenie is made was quite eye opening. They still malt and dry their own barley – you don't see a lot of that, and the smell of the malting floor, with the grains slowly warming, is familiar and comforting even though the process today is very rare. It surprised me to see the time-tested, age-old tactics that are still used to this day, and how they continue to do things just as they've always done.
DG: When you've been out filming and discovering food, what has been one of the more impactful conversations you've had with locals? And where were you?
AB: There have been so many! So often, people become incredibly open and frank over a meal and bare their souls on all sorts of issues. I don't think I could pick one. 
DG: A single bite of food or sip of a spirit can inspire a connection to the world I think we are all hungry for. What meal and/or drink have you had that really captured the essence of a place and completely awakened your palate?
AB: When you eat a good bun bo Hue in Vietnam, or a laksa in Borneo, you know exactly where you are immediately. You could be nowhere else.
DG: What most appealed to you about joining forces with The Balvenie and William Grant & Sons for this Series?
AB: I've been a fan of the brand for a long time. I guess you can say I was waiting for the right brand to come along, and this is a product that I like, and one that is very well-made, by some extremely passionate people as I have found out since starting to work with them. The Balvenie came to me with the idea to celebrate these kind of lone wolf craftspeople, and it's something that just clicked. Seeing these craftspeople that have real passion for their work is exciting to me, and their stories deserved to be told.
DG: Lastly, what meal or dish did you eat growing up that still reminds you of that youthful wonder that inevitably stirred your curiosities as a chef?
AB: I wrote about this in Kitchen Confidential but it still holds true all these years later: the oyster. I've had countless inventive, amazing, life-changing meals and dishes in the many years since, but it all goes back to that first, simple, freshly-shucked oyster. The surprise and wonder I felt as a young kid that something could taste so completely of the sea and so unbelievably different from everything I had ever experienced – it's inspired my curiosities ever since.
Every time I watch a show he's working on like Parts Unknown or listen to Tony talk, I am continually inspired that the world is not only vast and extraordinary but worth our attention and respect. A huge thank you to Tony for taking the time in the midst of traveling and filming to do this interview and to the Balvenie crew for making this possible. I (as I'm sure are my readers) am eternally grateful …
ABOUT THE BALVENIE'S RAW CRAFT WITH ANTHONY BOURDAIN:
Season 1 of The Balvenie's Raw Craft with Anthony Bourdain (2015) garnered over 2.6 million viewers who gained a glimpse into the lives and works of committed artisans at the forefront of the American craft movement.  Season 2 of Raw Craft will debut four new episodes on a rolling bases starting September 15th, 2016.  The series will celebrate a new group of America's most talented craftspeople – handpicked by Bourdain – in the second season of the engaging online film series.
Guiding Bourdain through their process, each craftsperson provides a unique insight into the dedication and sacrifice required to create things the old fashioned way – by hand. Bourdain says, "The term handcrafted gets thrown around a lot these days. It's become a movement – a trend – that can obscure passionate folks who actually make amazing things by hand." Through Raw Craft, Bourdain uncovers the true meaning of craftsmanship and aims to raise a new level of awareness for the American craft movement.
The Balvenie's longstanding alliance with craft is a result of the distillery's dedication to the five rare crafts of whisky making, which allow them to achieve their distinctive taste and exceptional quality. The Balvenie still grows its own barley, uses traditional floor maltings, employs a team of coopers to tend its casks, a coppersmith to maintain its stills, and has in its service the most experienced Malt Master, David Stewart, MBE, in Scotch whisky history.