New Orleans is way more than Mardi Gras and beignets
Dear New Orleans: You are as magnificent and lovely as they say.
New Orleans is a city known the world over for its celebration of Mardi Gras, it's tales of vampires, and undeniable access to some of the best jazz anywhere on the planet. It's history is rich, its architecture mesmerizing, its food downright indulgent, but it's the people of New Orleans and the many things outside of just celebrating on Bourbon Street that make it such a special place.
New Orleans has 13 Districts in total, each with their own personality, cuisine, landmarks and influence. Given a unique opportunity to explore the city with a born and bred local who is deeply steeped in the hospitality industry in NOLA, I was beguiled to say the least at how much life exists in this part of Louisiana. Sure I geeked out a little when I ate a beignet at Cafe du Monde, or wandered the cemeteries, saw Anne Rice's home, stumbled upon a drumline,  saw a a spontaneous outburst of Dixieland on Bourbon Street, or when I walked past the house Payton and Eli Manning bought their parents—but it was having the opportunity to see the city through the eyes of a veteran local that whet my creative whistle in a way that makes me long to return.
So what can one see in three nights and four days of New Orleans? Quite a bit I'm pleased to say. First and foremost, having a local (and dear friend) showing you around is a luxury. Second, staying in the city's most fascinating 9th District of Jefferson Parish, in a beautiful home facing the Mississippi, well, it gives you an appreciation for the many natural elements surrounding you. Mornings began with traditional chickory New Orleans coffee, a chef's breakfast of choice, and a stroll meandering around the river as lush green marshes and historic homes greet you. Below is a glimpse of what a short trip to New Orleans can be outside of the traditional New Orleans "party scene", and admittedly, it's divine.
Now let's get into the #ATOD5 reasons you absolutely should visit New Orleans that aren't Mardi Gras related.
---
1. THE DISTRICTS
First, familiarize yourself with the 13 Districts. With a population of 1,013,000, a 0.8% increase from 2022, the districts each have their own personality. The best tip to explore all 13 is to drive all around the region to familiarize yourself with the immense landscape that makes up this remarkable area. A little insider info is that what most people refer to as a meridian, New Orleaners refer to as the "neutral zone". People pull up chairs to have neighborhood chats, enjoy a drink, and catch up in various neutral zones. The zone acts more as a unifier of people than a city-zoned marker. Below is a look at the variety of districts that make up New Orleans.
East Bank
French Quarter / CBD, Warehouse (Districts 1a & 1b)
Central City / Garden District Area (District 2)
Uptown / Carrollton Area (District 3)
Mid-City Area (District 4)
Lakeview Area (District 5)
Gentilly Area (District 6)
Marigny, Bywater, St. Claude, St. Roch, Desire (District 7)
Lower Ninth Ward Area/Holy Cross (District 8)
Eastern New Orleans
New Orleans East (District 9)
Village de L'Est (District 10)
Venetian Isles / Lake Catherine (District 11)
West Bank
Algiers Area (District 12)
English Turn Area (District 13)
Each District is known for something unique, but the ones we spent the most time exploring are the Garden District (2), the French Quarter (1a + 1b), Mid-City (4), Uptown/Carrollton (3), and West Bank (Jefferson Parish).
The Garden District is filled with history, traditional iron works that signify the illustrious tone of a city rich with story. Bourbon Street is a celebration of cuisine, art, and music. Uptown explores creativity, architecture and unique shops, and the West Bank is a stroll through history and industry exemplified in homes, medical centers, and the Huey P. Long bridge on Snake River.
---
2. THE FOOD
I was very fortunate to dine with the people behind some of the city's best restaurants, and it was an experience I won't soon forget! As for the cuisine, yes it is bold and big on flavor, NOLA spices, and cajun Creole influence, but it also has the one meat you'll be hard pressed to find in California: alligator—and after having it twice while in New Orleans, I can safely say … it does indeed taste like chicken, just chewier! For a little blackened gator, stop in at one of five Felix's Restaurant and Oyster Bars.
Located in Uptown, Seafood Sally's is a quaint, boutique-style restaurant located in an old New Orleans house. With bright, happy colors  and an ambiance that feels like you're eating at a friend's home, Seafood Sally's is a joyful stop. From an impressive selection of spirits and house-made cocktails (Midnight Swim looks incredible)-to wines, not only can you get an incredible drink here, the cuisine is really good. We ordered the onion rings, and while it doesn't sound like much, these gluten free, cornmeal deep-fried rings are way above par! Known for their fresh gulf seafood, definitely try the oysters, Louisiana Crab-Santhemum (served with crab fat lemongrass chili butter & lemon), but don't be afraid to get those hot fried turkey necks!
Named the "Most Outstanding Restaurant in the United States" by the famed James Beard Foundation in 2005, what Galatoire has become under the leadership of Melvin Rodrigue is nothing short of commendable. I had the pleasure of dining with Rodrigue at Galatoire's, alongside distinguished members of the National Restaurant Association (Rodrigue is the Director and served as chair of the Board of Directors in 2020). Among the members was his wife, Katie Casbarian. Casbarian and her brother Archie took over for their father at the incredibly well-respected New Orleans restaurant, Arnaud's along with their mother, Jane. More on Arnaud's to follow.
Galatoire is one of the most reputable upscale restaurants in New Orleans' French Quarter. The decor is airy with walls that showcase the New Orleans insignia, fleur-de-lis with a rich green tone that gives a warmth to the restaurant's open concept dining room, often filled with hungry patrons. The menu by Phillip L. Lopez is seafood-centric, but make sure you devour their in-house bread. While there, try the foie gras, oysters en brochette, Godchaux salad, crawfish etouffée, and indulge in their exceptional selection of wines, and finish with the signature bourbon cocktail and black bottom pecan pie.
---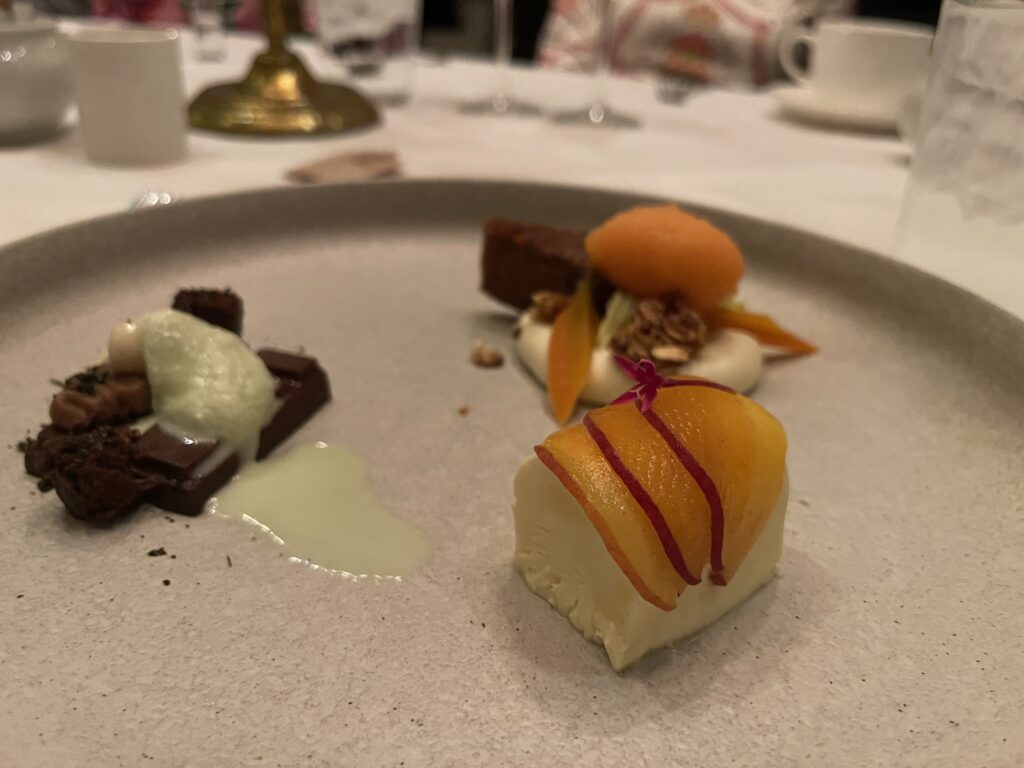 In 1918, a colorful, French wine salesman named Arnaud Cazenave opened the grand New Orleans restaurant on Bourbon Street that bears his namesake with a commitment to serving quality Creole cuisine. Arnaud believed that the pursuit of the pleasures of the table were as worthy as anything else one chooses to pursue in life. In 1978, the Casbarian family took over and has been operating with that same mindset and commitment under the present leadership of brother and sister, Katie and Archie Casbarian, and mother Jane ever since. This idea that began over 100 years ago is still making strides and is a must eat while in the French Quarter. The building the restaurant — and Mardi Gras Museum — is located in is a stunning bit of historic New Orleans architecture.
We sat in a private dining room on the second floor as large shutters opened out onto the street where a local saxophonist played as we ate. With seven menus by Chef Tommy DiGiovanni to choose from, the cuisine is next level. Try their wines, the crab claws Provencale, the baked oysters Arnaud, Pontchartrain, filet mignon au poivre, sautéed wild mushrooms, and finish with bananas Foster or their sinfully good hazelnut pot de crème.
---
If you've ever met Dickie Brennan, you know hospitality is engrained in his DNA and represented in his entire persona. You will be hard pressed to find a more gentle, approachable, educated, lover of New Orleans, New Orleans cuisine, and New Orleans people quite like Dickie. Dickie Brennan, Sr., Dickie's father, raised his children in the restaurant industry. With a deep love of cooking, wines and bourbons, bringing people together, and beyond, the love and passion the Brennan family have for all of their restaurants and staff is unlike anything I've ever seen. I'm lucky enough to call Dickie (Jr.) my dear friend, but his family's culinary legacy in the French Quarter speaks for itself.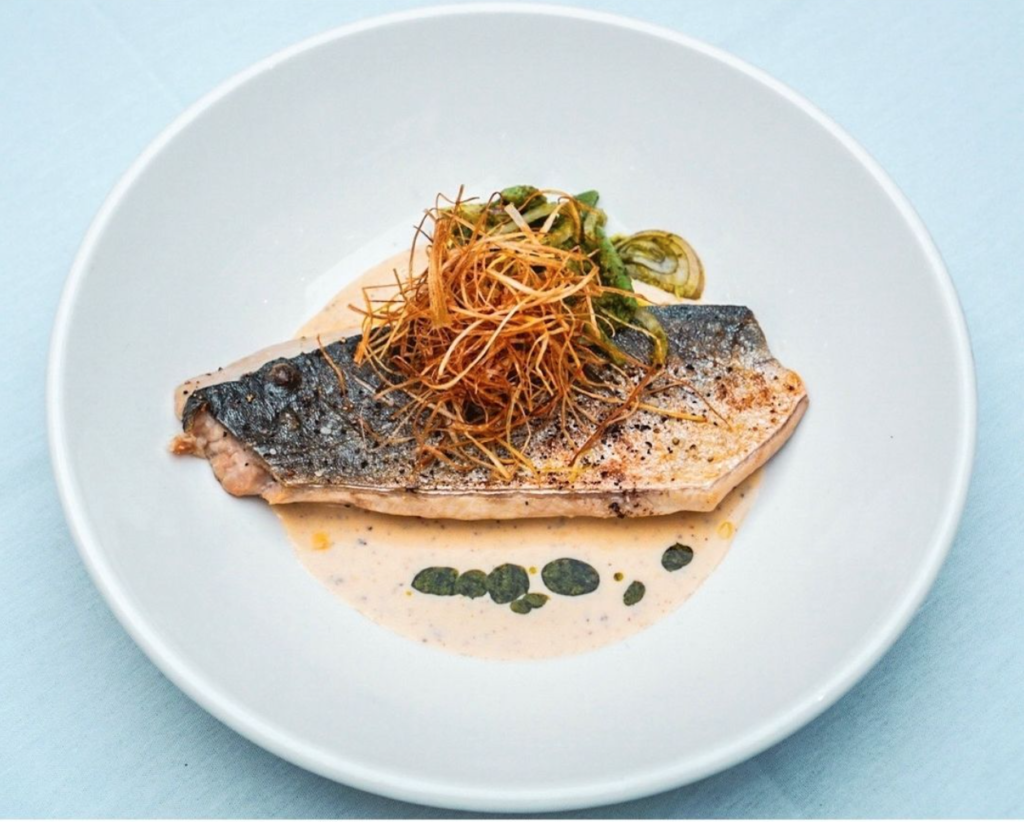 Here's a quick rundown of each Brennan restaurant in the French Quarter + Garden District …
Mr. B's Bistro is casual dining with upscale seasonal cuisine created by Chef Vincent Sciarrotta, spearheaded by Cindy Brennan. Try the crispy fried oysters, poached pear salad, barbecued shrimp, lemon ice box pie or the chocolate salted caramel cake. Wash it down with a bourbon cocktail.
Dickie Brennan's Steakhouse is where locals go for the perfect cut of steak, a stiff Irish drink, great service, and familiar faces. In Dickie Brennan's own words, "We're not here for today, we're here for 50 years down the road." Named Best Steakhouses in the U.S. by Travel+Leisure , The Daily Meal's America's 20 Best Steakhouses, Maxim Magazine's 10 Best Steakhouses in America and Playboy's Top 12 Steakhouses in America, Brennan's is top-notch. Big fans of Brennan's Steakhouse and a damn good cut of beef, we recommend the petit filet—and the crab cakes and baked brie. Always leave room for dessert and be open to do some fine Irish whisky tastings as their collection of unique and rare whisky is impressive.
Tableau is located on Jackson Square attached to the historic Le Petit Theatre in the French Quarter. The dishes highlight locally sourced ingredients and reflect a wide variety of flavors including European influences combined in a modern approach. This is great for any meal, but should you head there for weekend brunch, we recommend the truffled crab claws, gayoso salad, Tableau cheeseburger, basque cheesecake, and their Just As Well bourbon cocktail.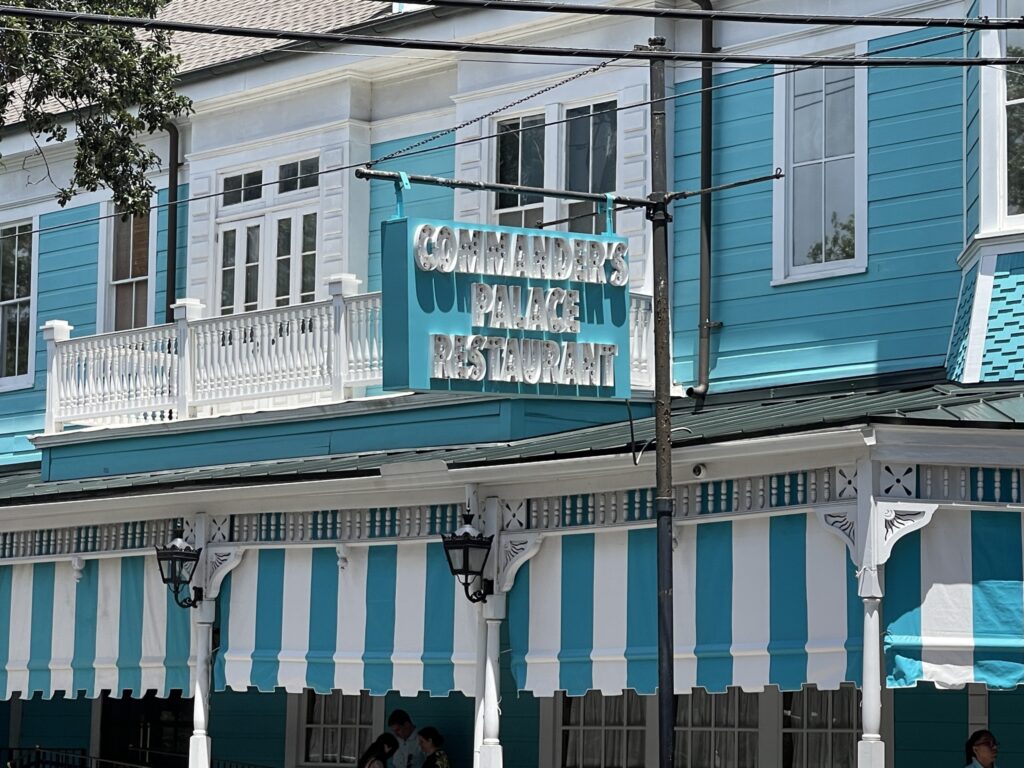 Commander's Palace in the Garden District is one of the New Orleans most famed restaurant staples whose story began in 1893. Known for Haute Creole cuisine, the Brennan family (Ella, Dottie, Dick and John) took over in 1974, where a new look, including a paint color that is now known as the iconic "Commander's Blue", took hold. Today the restaurant is run by co-proprieters Ti Adelaide Martin and Lally Brennan, and the family's dedication to perfection is imminent. Brunch at Commander's is divine (but busy!) under the culinary direction of Chef Meg Bickford. Their site says it best: "Our 'dirt to plate within 100 miles' policy means that we strive for 90% of our ingredients to come from within 100 miles of our back door. Our cooking has the flavor of distinctive Louisiana terroir. Meg and the Commander's Kitchen team know its history but live by the credo that … 'all of our best meals are still ahead of us.'"  As far as what to order, here are our recommendations: start with their classic bloody Mary, then order the Commander's Creole gumbo, Louisiana watermelon salad, pecan crusted fish, black pepper cane syrup bacon, and finish strong with the Creole bread pudding soufflé. Order any of their wines or bubbly to savor throughout the meal.
The Commissary is the Dickie Brennan & Company's most recent family restaurant addition located in the Lower Garden District. A vision that has come to life and is run by Dickie and his daughter, Sara, The Commissary is a 6,000  square foot unique venue that offers a dine-in restaurant and a market that is equipped with everything, including grab-and-go items. Our picks for the market include family dinners and their housemade desserts. When it comes to the restaurant and bar, we suggest the "everything" chicken wings, fried Brussels sprouts, pimento cheese dip, kale Caesar salad, the Creole Cuban sandwich—and for vegetarians, the charred broccoli sandwich—and the fries (you HAVE to have the fries). For drinks, get curious and try Red Sails made using a sweet potato vodka, Wake the Dead made using cold brew coffee and tequila, or order a glass of Cava or any one of their beers.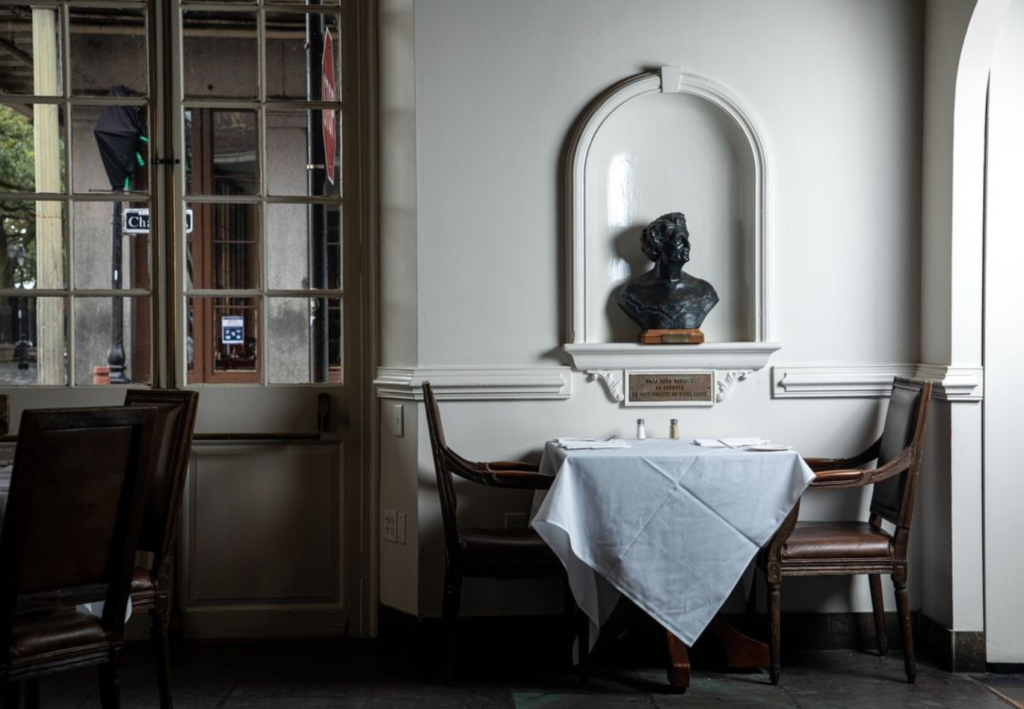 ---
3. THE ART
New Orleans has a very rich art scene from street art to the Sydney and Walda Besthoff Sculpture Garden near the Children's Museum. There are multiple designated areas to view art, but perhaps the most notable is the Warehouse Arts District on Julia Street where you can find 15 galleries and 9 museums. The art campus is outfitted with a range of art that appeals to any art savant or novice, telling incredible stories that will find their way into your soul and tether themselves around you. You can also find over a dozen museums and galleries on Magazine Street in Uptown. And in Jackson Square and the French Quarter, you'll see original paintings, photography, sculpture and more on Royal Street and throughout the historic Vieux Carré, famous wrought-iron fence surrounding Jackson Square, and the open-air art market at the historic Place d'Armes.
Art exists in every corner, on every street, and in every pocket of New Orleans. From the unmistakable architecture to the iron works that you won't find anywhere else in the country, New Orleans is rich with creativity and the spirit of innovation. It is known for its impressive collection of American and French art, photography, glass, and African and Japanese works. It's a city that calls to artists. Edgar Degas painted The Cotton Exchange there in 1872 and local artists like Barbie L'Hoste, Alexandra Kilburn, Molly McGuire,  and Jessica Strahan have found their voice, sharing theie artistic lens.
According to GoNOLA, L'Hoste offers mixed mediums that invite a sense of discovery, polarizing her characters just enough to make you look inward. "In the same way that we can discover limitless virtual environments, I strive to create abstract landscapes for these characters, or personalities, to perform within," says L'Hoste. Kilburn explores the vibrant colors of New Orleans, the struggles of a city, and the sense of spirituality that exists within it, creating "tiny goddesses" on various materials, including outdoor murals. "I hope in some small way these imaginary deities bring forth good feminine energy—strong, wise, comforting, something the world desperately needs," Kilburn says, "and that each one contains some of that strange and lovely New Orleans spirit." McGuire creates pieces that pay tribute to old school circus posters that are reminiscent of youthful whimsy. "People ask me which circus I work for," Mcguire says, "and I tell them—'the circus in my mind!'" Soberman practices encaustic painting—a process by which wax, resin, and pigments are heated, mixed, and applied in layers to create a unique vibrancy and depth of color. Soberman says, "I draw from the stories of my surroundings in and around New Orleans, a profoundly diverse environment worth recording in the present and preserving for the future." Strahan's #youarewhatyoueat series is an incredibly creative and literal look at fruits and vegetables as contours of the human face.  Her message is one of inquisition, encouraging surveyors to make healthier choices and eat smarter. It's a fascinating approach to changing perception.
Wherever you go in New Orleans, there's art.


---
4. THE HISTORY
The history of New Orleans dates back to the 1600's. The story according to NewOrleans.com states that the, "indigenous people called it Balbancha, 'land of many tongues,' and they inhabited the rich delta lands between the Mississippi River ('Father of Waters') and Okwa-Ta ('Big Water,' Lake Pontchartrain) for the same reasons that would later attract Europeans: abundant ecological resources and a convenient network of navigable rivers, bayous and bays. Claimed for the French Crown by explorer Robert Cavelier, Sieur de La Salle in 1682, La Nouvelle-Orleans was founded by Jean Baptiste Le Moyne de Bienville in 1718 upon the slightly elevated banks of the Mississippi River. approximately 95 miles above its mouth. Engineers laid out a grid of streets with a Place d'Armes (today's Jackson Square) that would become known as the Vieux Carré ('Old Square'), or today's French Quarter. The nascent outpost became the capital of the French Colony of Louisiana in 1723.
The flow of goods between the Gulf of Mexico and port of New Orleans attracted smugglers, privateers, and pirates, with Jean Lafitte and his brother Pierre among the most infamous. Jean Lafitte was a fixer and rogue who played an instrumental role in aiding Maj. Gen. Andrew Jackson and the Americans in their victory over the British during the Battle of New Orleans (1815) at Chalmette. Tradition holds that Lafitte's Blacksmith Shop, at 941 Bourbon Street, served as the pirates' base. Probably dating to the 1770s and said to be the oldest structure housing a bar in the United States, Lafitte's Blacksmith Shop is a picturesque relic of colonial-era vernacular architecture, and still a popular saloon today …
---
---
Now when it comes to Mardi Gras, the celebration dates back to 1699, but it became the celebration it is today when French colonists celebrated Mardi Gras in Mobile, following its founding in 1718, in New Orleans, mostly in the form of public festivity and private costumed balls. Mardi Gras remained a raucous but generally informal affair until 1857, when a group of Anglo-Americans from Mobile formed the Mistick Krewe of Comus and introduced formal parades and elaborate floats organized by social organizations called krewes. The krewes of Comus and later Rex would set the template for Mardi Gras for decades to come, by which time New Orleanians proudly called their pre-Lenten feast 'the greatest free show on Earth.'"
New Orleans also happens to be where Marie Justine Cirnaire Couvent, a free, Guinea-born Black woman, purchased property making history in the 1800s as one of the first women to own property; A property that was a fixture of New Orleans and is now a critical part of the city's history. Upon her passing,  she donated her land and deemed that is must be used to create the first free school for Black children, paving the way for so many. She writes, "My name is Marie Justine Cirnaire. I was born in Guinea. When I was perhaps seven years of age I was carried to St. Dominique. I am as a result not aware of the name of my father nor of my mother, nor do I know my age. I was married to Bernard Convent, free Negro, whose widow I now am. We have had no children.
I bequeath and order that my land at the corner of Grand Hommes and Union Streets [now Dauphine and Touro] be dedicated and used in perpetuity for the establishment of a free school for the colored orphans of the faubourg Marigny… Also, I declare that said lands and buildings shall never be sold under any pretext whatsoever." She was truly a trailblazer and philanthropist.
To learn more about the city, including the dawn of Jazz, visit www.neworleans.com.
---
5. THE LOCALS
Every city has something unique that makes it special, and while New Orleans is rich with history and folklore, it is exceptional because of those that planted roots and call it home. New Orleans locals are like no other locals in the world. Their sense of community and love of all things New Orleans is what creates stories so exuberant, you'll want to talk to nearly every person you meet. That notion of true hospitality and intrigue is alive and well and evident in the people of New Orleans. Their passion for supporting their city's eateries, stores, artisans, musicians, design, architecture, history and more is unparalleled. The people of New Orleans have survived so much, building and rebuilding over and over again. And sure, the beignets and jambalaya are the best in the world, but there is way more to this gem of a U.S. city than you could ever imagine—and it begins with the locals. In other words, go to NOLA! And not just for mardi gras.
Photos by Dawn Garcia