Hyperion Public | Brunch Stop
A brunch fit for everyone, including the fellas
12969 Ventura Blvd. | Studio City, CA 91604
#ATODBrunchHop #TastyTuesdays #LAEats
[dropcap letter="S"]tudio City is a city built on the foundation of Old Hollywood. Days of starlets and leading men making films we all now find ourselves all too nostalgic when watching. As the decades have passed, the world of restaurants and bars have gone through a tremendous transformation. Long gone are the days of cool bars worthy of F. Scott Fitzgerald's mighty pen and while the culinary scene is ever changing, there are some new eateries that bring to life a sense of community and comfort food. Among those is one eatery that caters to foodies and bar flies. That place is
Hyperion Public
.
As we continue to change our expectations, Hyperion Public still believes in wooing our boozy desires and our need for something easy and not too pretentious. While lunch and dinner are fantastic, it's their brunch that really sets the mood. With a plethora of options for mimosas, ranging from the standard to grapefruit to watermelon, your bubbles certainly have way more room to expand its horizons here. Now incorporate their cocktail menu on the whole and you will find a new brunch spot that appeals to everyone.
On a Sunday morning, ten of us – one girl and nine guys walked in to enjoy everything Hyperion Public had to offer for brunch. Here's how it all turned out:
the DRINKS
 hyperion sunrise
pama/ mango nectar/ champagne
lilosa
grapefruit juice/ champagne
the hot mezcal    
del maguey vida mezcal/ luxardo maraschino liqueur/ angostura aromatic bitters/habanero tincture/ lime juice 
Beer (A variety of IPA, Gluten-Free and Stout)
Nothing but good things can be had from trying the mimosas above. They're not the same ole same ole (though they have that for those that love them). They took the ideas of bubbles and decided to give them a befitting partner. My favorite is the Lilosa. Something about the citrus of the grapefruit is refreshing as both a palate cleanser and an intoxicating start to what will be an appetizing brunch. The Hot Mezcal is a smoky, spicy glass of sexy and the beers are a good array of options.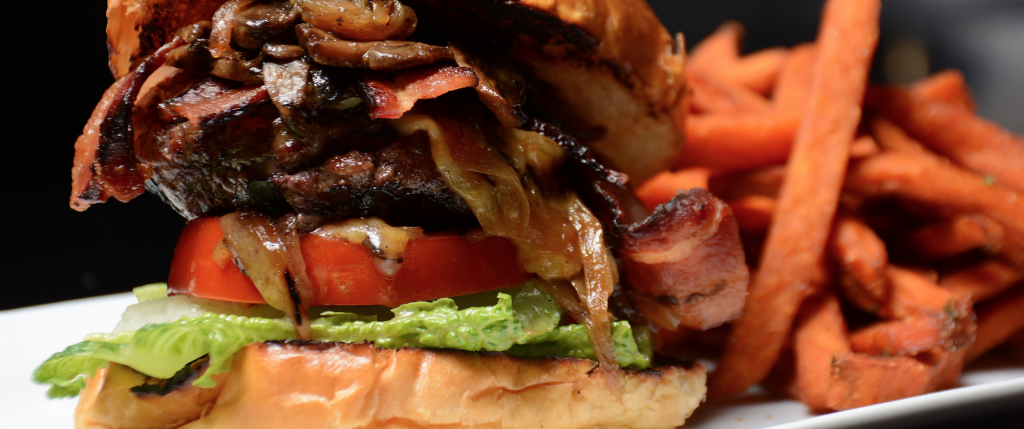 the FOOD
the hyperion burger
cheddar/ jack/ applewood bacon/ caramelized onion/braised mushroom/ romaine/ tomato/ house-made burger sauce
c.w.a (chicken with attitude)
fried chicken breast/ crispy onions/ bacon coleslaw/roasted jalapeños/ sliced dill pickle/ bbq blue cheese dressing
truffled frittata
truffled mushrooms/ pecorino/ arugula/olive oil/ lemon spritz/ toast
f yeah fries
fries/ omg dip/ applewood bacon
avocado fries
panko crusted/ lime-cilantro aioli
the pretzel
dijon mustard/ omg dip
the SWEETS
donut sundae
glazed donut french toast/ blackberry sauce/caramel sauce/ vanilla ice cream

While I've eaten countless items on the menu (and all were very good), the frittata was my perfect pick for brunch (egg white only). Light, airy, and healthy, it doesn't lack in taste or flavor. That said, the burgers are delicious! The Hyperion Burger really is the one to go with. Its cheese blend, applewood bacon that is not lean on cut, the braised mushroom, and the burger itself is all the ideal gluttonous combo. The meat is high grade and high quality. As for and the c.w.a.? Well, four out of eight guys ordered it at our table and not a speck was left on the plate. I'd say that is a rave review by default. When asked, they said it was incredible (and they said this as they were biting in and licking every last bit off of their fingers).
The avocado fries are kind of where it's at in terms of sides. First, it's avocado so if you think about it, it's totally healthy. Second, they're fried with panko crumbs sooo … it really is a no-brainer. Order them. As for the finish? The donut sundae is an homage to everything Homer Simpson loves: donuts, ice cream and caramel sauce. It is a dessert fit for those that aren't shy on indulgence.
Open for lunch, brunch, happy hour and dinner, Hyperion Public is a culinary stop worth frequenting. As an aside, when you're done feasting, walk next door to their Community Pub to watch a game or enjoy a few more libations.