Women's March
PHOTOS ©Dawn Garcia
What began as a movement in Washington resulted in over 5 million women – and men and children – around the nation coming together to speak out. In an opposition to sexism, racism and inequality, the nation came together to take a peaceful stand. Below is the information and one woman's story …
[separator type="thin"]
The EVENT
The Women's March on Washington is a grassroots effort comprised of dozens of independent coordinators at the state level. The effort is helmed by four national co-chairs and a national coordinating committee who are working around the clock to pull it all together.
Date and Time: Saturday, January 21, 2017. Rally begins at 10:00am and ends at 1:15pm. We will begin marching at 1:15pm.
Location: There is a program of speakers and performers on the stage between 3rd and 4th on Independence facing NW.
The Rally: A program featuring nationally recognized advocates, artists, entertainers, entrepreneurs, thought leaders, and others will be announced in the coming days.
Tickets: The Women's March is NOT a ticketed event, no ticket is required.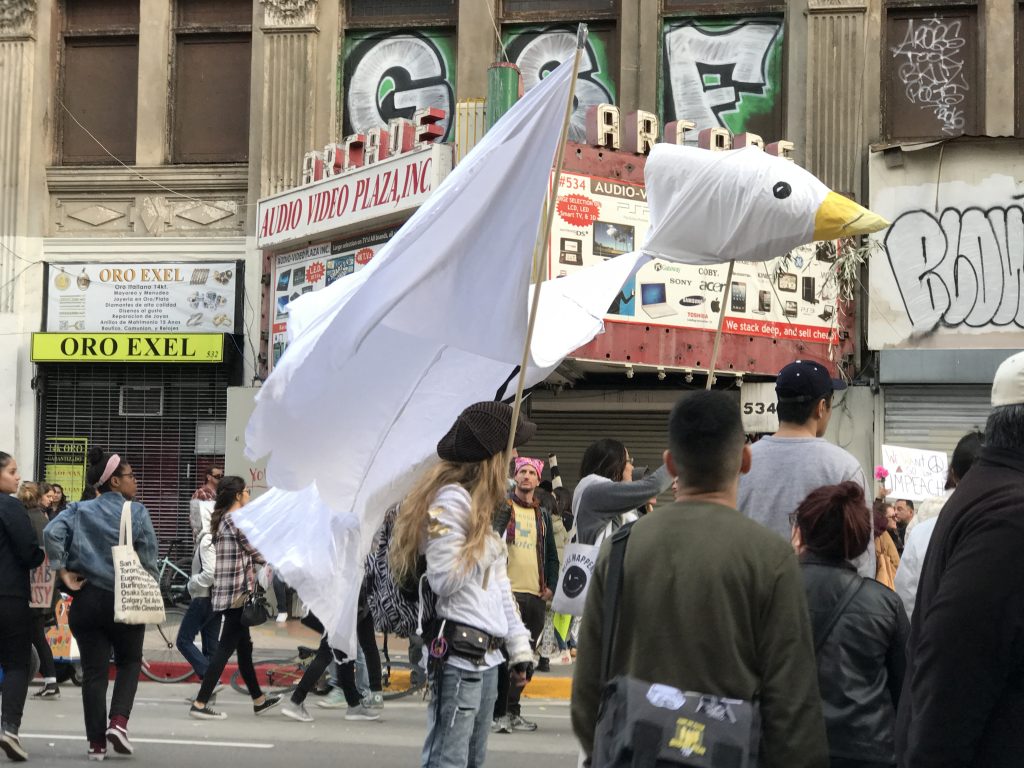 [separator type="thin"]
Not Willing To Go Back In Time …
by a woman among a sea of women
Today I marched. I marched alongside 750,000 women, men and children. Women, men and children of every color, every socio-economic class, every sexual preference, every gender identification, every belief system and every voice. It was not merely a march to protest a man or his cabinet but to stand against an ideology. An ideology that should have been abolished centuries ago but alas, we were slow on the draw. We assumed those days were behind us. Years of oppression for anyone of color fought for in times when everyone said how foolish it was. Years of fighting for equality and human rights for women, the LGBT community, immigrants, those of all faiths, even those of every political distinction. Foolish they said. A foolishness no doubt that seemed as "crazy" as a Women's March and yet here we stand. 750,000 strong banning together to abolish a mentality that would take an ideology so tyrannical and disgusting and reinstate it. 
We said no. We will not willingly live in a world where racism is acceptable, sexism is the norm, homophobia is the new religion and hate is the foundation to which all things are decided. 
We said no. To a nation of privileged mind sets that signify the bashing of anyone. We said no to enslaving anyone who emigrated to America. We said no to teaching our children that tolerance is a foolish notion created by liberals who washed down their progressive thought with blinded direction. We said no to allowing the country we love to forget the battles it's fought and the horrendous crimes that were committed in the name of ignorance. We said no. No more. We stood side by side with hope in our souls and a deep desire to stand for something more. To call out those who think progress is wrong. 
It will be a rude awakening for those who believe that this movement is a "fad" or youthful acting out. This is a common cause that holds our government and our citizens to a higher standard. It's time to raise the bar …
[Best_Wordpress_Gallery id="41″ gal_title="Womens March"] [separator type="thick"]
All of us, together, have built the Women's March into a powerful global movement. Now, it's time for us to mobilize and demand that our elected officials Hear Our Voice.
HOW TO MAKE THE MOST OF A HEAR OUR VOICE EVENT 
Attending a Hear Our Voice event doesn't have to be complicated. Download this guide from our partners at United State of Women to learn how to make the most of a Town Hall or in-district congressional meeting.
DON'T SEE AN EVENT NEAR YOU? 
Consider hosting your own event.
Click here to find out if your elected officials will be holding official town hall events with their constituents, and register your own event on the map. Check out this guide from Indivisible Project on how to make the most out of a Town Hall event.
IF YOUR MEMBER OF CONGRESS ISN'T PLANNING ON HOLDING ANY PUBLIC EVENTS, IT'S STILL IMPORTANT FOR THEM TO HEAR FROM YOU. 
Call them up to set up an in-person meeting at their district office, or pull together an "empty chair" town hall event if they refuse to meet with you–and make sure to register your event on the map. For some tips on how to pin down your "missing" member of congress, check out this guide from Indivisible Project.
MISSED THE KICKOFF?
Click here to listen to a recording of the kickoff tele-townhall, with Senator Kirsten Gillibrand, Cecile Richards of Planned Parenthood, Leah Greenberg of Indivisible, leaders from the United State of Women, and Women's March co-chairs Bob Bland and Carmen Perez, about how you can take local action to stand up and fight for equality, justice and freedom.