21C Louisville | Sumptuous + Purposeful
A Personal Look at the Art Driven Hotel and Restaurant Changing the Way Hospitality is Done
photos by Dawn Garcia
[dropcap letter="I"]n the peak of tornado season, Louisville harnesses the rain with absolute grace, unfazed by the winds or the inevitable patterns of weather that brings a certain sense of uncertainty. This is a city that harkens creativity, exceptional cuisine, and makes something beautiful when the weather tosses in a little chaos.
Louisville, Kentucky is a city made up of a population of about 675,000 people. The city known for its bourbon and its southern hospitality, it's also one that emits a rather artistic and diverse community of residents from those that have lived there all their lives to those that stopped in and decided to stay. It's a place full of charm, continually evolving food, and some of the best damn cocktails this side of California!
That said, the city has a plethora of hotels and restaurants to choose from so when I had the opportunity to stay at 21c Museum Hotel Louisville? It was an easy call. After having been wooed by 21c Museum Hotel in Oklahoma City, I was eager to see what the Louisville location was all about. Turns out, not only is the restaurant one that should be a finite stop while in town thanks to the culinary renderings of Chef Mike Wadja, the bar is something to revel in, and even the art exhibition displayed on the basement floor is one of depth and intention. In other words, this is another boutique hotel win for me in terms of where to stay and eat.
Admittedly, the rooms are drastically smaller than the luxurious open space in OKC, the little elements included to make your stay more comfortable however are well done in a much more simplified manner. This time, rather than staying in a room big enough to do laps in with a steam shower, oversized bathtub, private living and sleeping areas, I was in a standard room in the midst of historic Main Street in the heart of Museum Row. When arriving in the room I was happy to find the iconic 21c rubber ducky in the shower and a red penguin waiting for me near the window (I just named him "Red"). The bathroom was backlit in a subdued blue (adding a certain calm during your stay) and the decor consists of a desk,  a chair and ottoman, side table, king sized bed, minimalistic art, and a TV (that I never actually turned on). Next time I come, I'd definitely like to explore the suites … That said, with industrial accents, modern art, and hints of contemporary design, this location has lots to take in.
21c Museum Hotel | 700 W Main St. | Louisville, KY 40202
[columns_row width="half"] [column]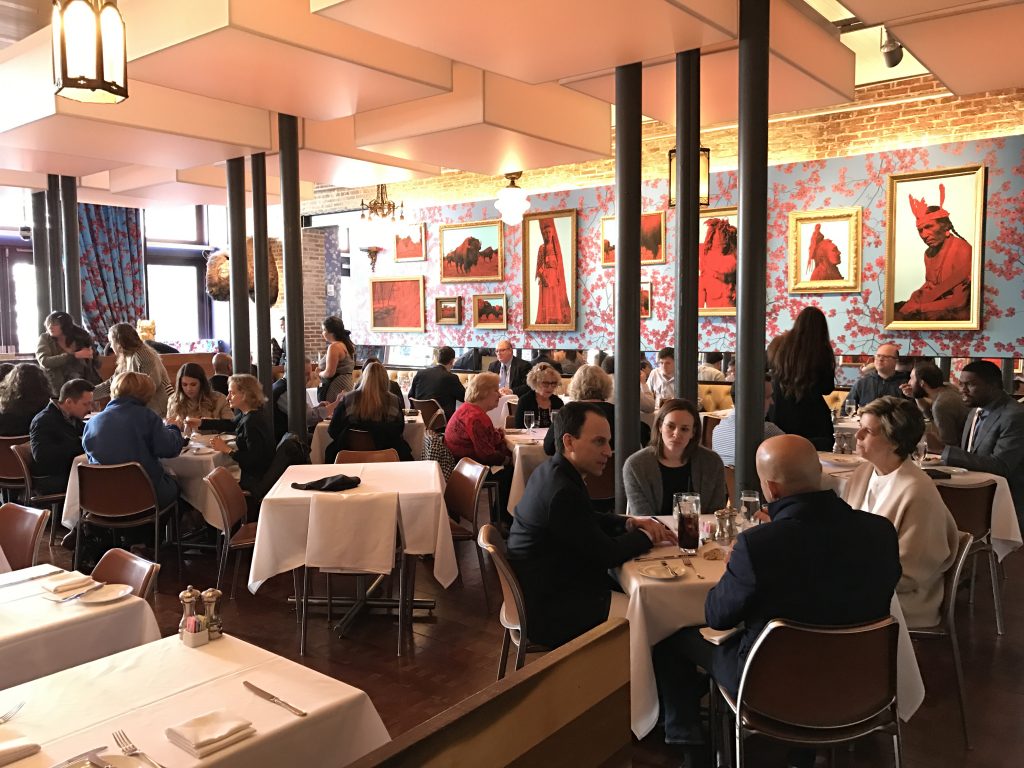 [/column] [column]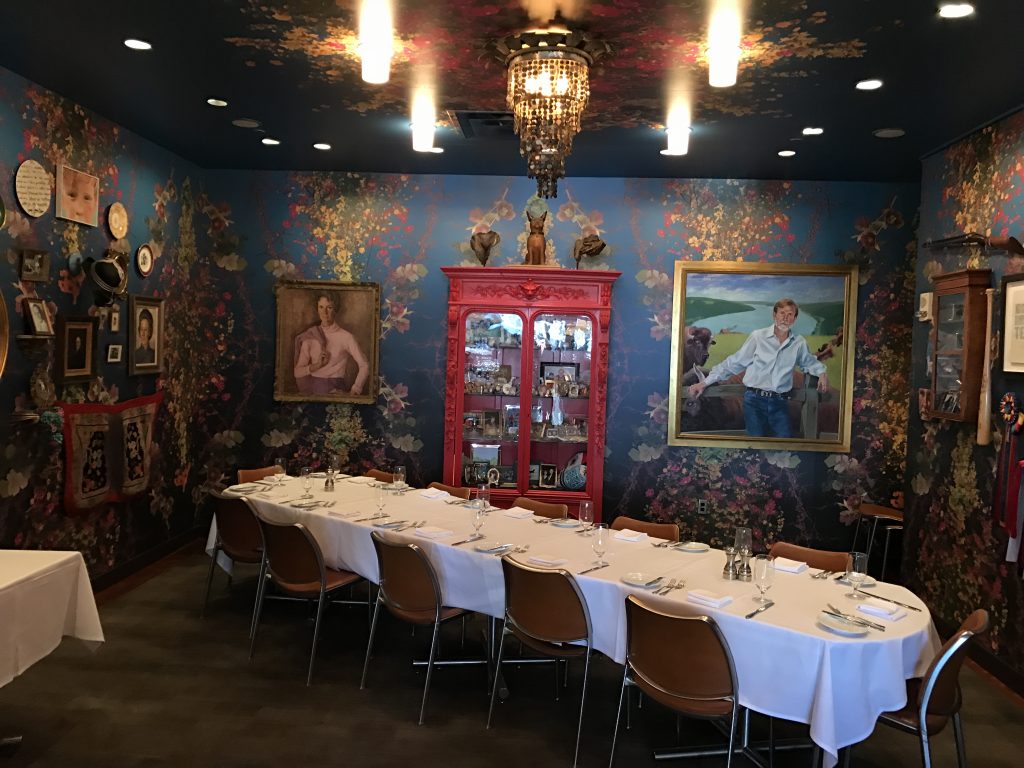 [/column] [/columns_row]
Before discovering the curated exhibition, "The Future is Female" showcasing women in art, the need for open dialogue, embracing sexuality and embodying the human condition, I ventured into their restaurant, Proof on Main. Proof on Main is its own glorious artistic space with a curated experience that will excite you visually, make you adore its owners, and appeal to even the most fickle of palates. A city quickly rivaling some of the nation's most forward thinking culinary stops, dining at Proof on Main is its own main event.
As you enter through the hotel lobby, you'll land in the bar that has a story honoring all sexuality with the theme of "The Last Gay Bar in America" paying homage to present time and even the silent film era when sexuality was fluid but not widely accepted. It's a beautiful space with bright pinks and turquoises and a welcome painting depicting art collectors and 21c Louisville hotel owners, Laura Lee Brown and Steve Wilson. The drinks at the bar are downright seductive. Even their in-house mimosa is bright and memorable! As you move through the restaurant, noticing every intentional element of both art and design, you'll find yourself in awe once you enter the restaurant itself.
Each space has its own curated personality. You have various dining options: Sit in the main room with reds illuminating all around and paintings commemorating the various stages of history in Louisville and Kentucky, or head into Laura and Steve's private dining room with opposing walls juxtaposing their unique personalities and personal memorabilia, or saunter towards the kitchen where a wall cleverly curated as "Fallen Fruit: The Practices of Everyday Life" emits storytelling to the most intricate level, or grab a tufted booth closest to the street entry outfitted with a giant buffalo mounted above and rich shades of gold. No matter what choice you make, you won't be at a loss for conversation starters!
Now that you've feasted your soul and eyes, it's time to harken in your appetite and that's where Chef Mike Wadja and his team at Proof on Main come in. A restaurant that is a true farm to table concept, they work with local purveyors to ensure the food you're served is sourced locally. My server is Edward and on site is Adam the manager who only enhance the entire dining experience. Both gentlemen were above par! And then there's chef! Chef Wadja is a man with a story that unravels as he tells his stories of travels throughout the world. All evident when it presents itself in the subtleties found in his dishes. Chef is young and considerate. The care to take allergies into consideration isn't necessarily the norm with every chef so the willingness to adapt his dishes is already a welcome beginning. Below is a look at my dining experience:
[columns_row width="half"] [column]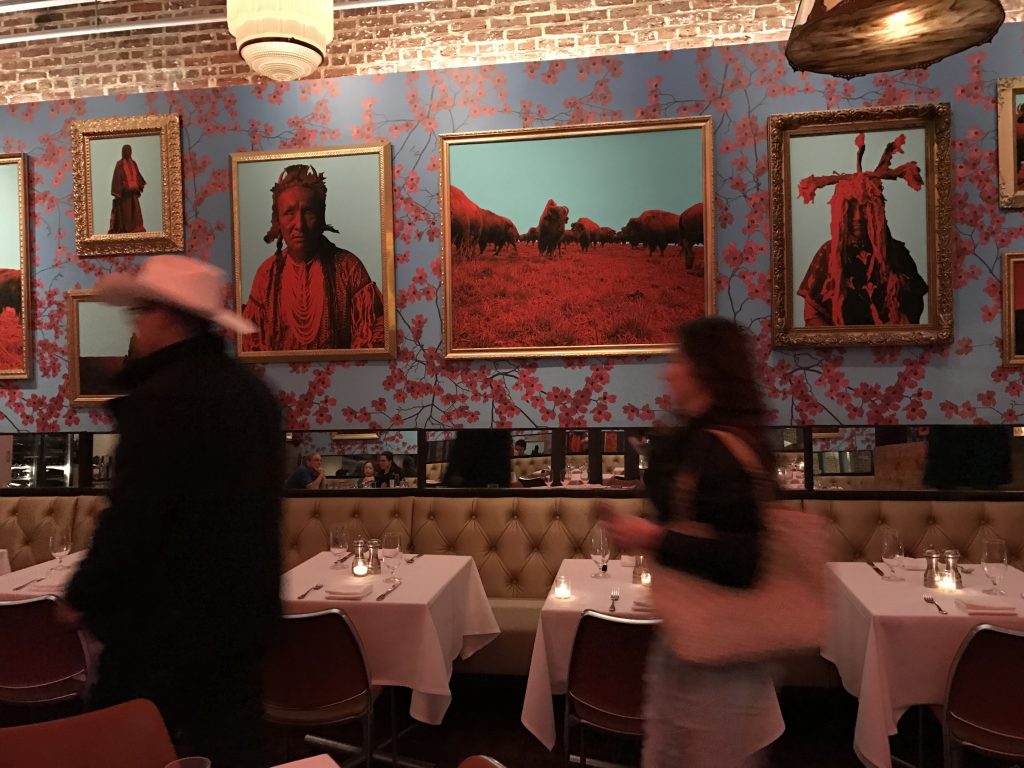 [/column] [column]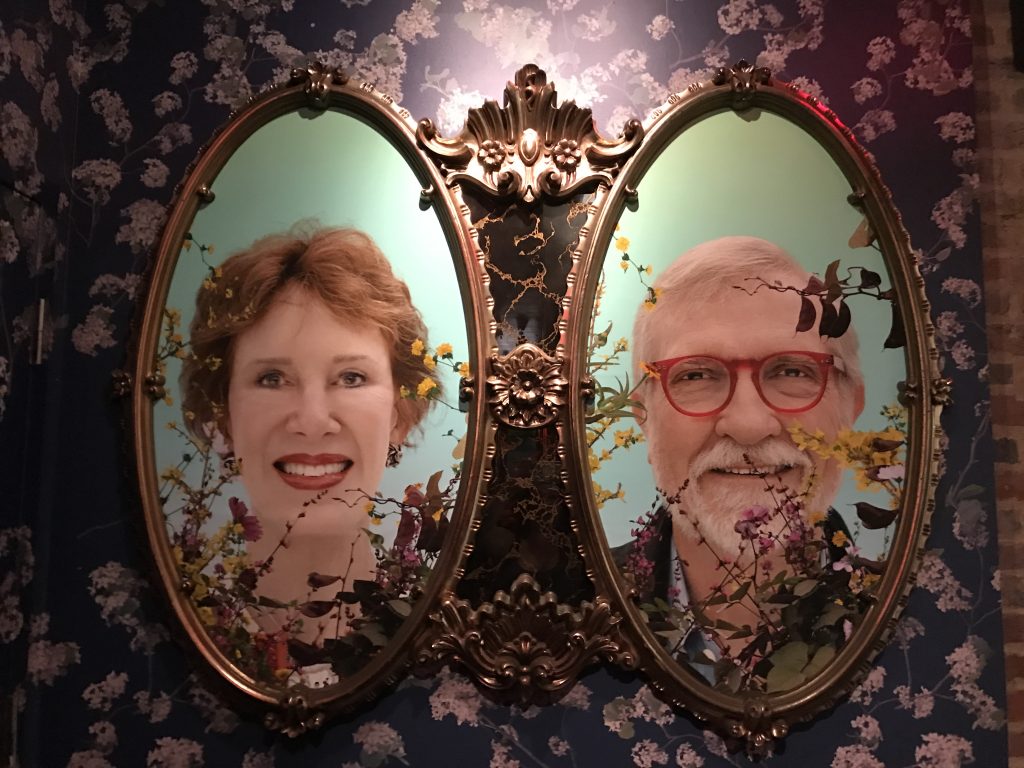 [/column] [/columns_row]
DRINK | Spanish Archer: lustau fino, sfumato, rosemary-lemongrass syrup, pineapple vinegar, prosecco
This cocktail is heaven in a cup. Sherry is nutty and herbal without a power punch to distract and this is filled with the herbaceousness at the front of the tongue with the finish of sweet. The sfumato is this earthy, concoction of complexity and simplicity all at once. The acidity from the pineapple with the foam of prosecco is a lovely sip.
[separator type="thin"]
DRINKs | Bourbon Flight
Dish 1 | starter
 First bite is a salad of local roots: carrots, parsnips, turnips. The bottom is a lemongrass pudding, and with the salad, some dehydrated allium, red curry and barrel ash
This is refreshing! The allium and barrel ash contrast on the carrots and turnips is so subtle, but crisp. Like summer – this reminds me of sunshine and warmth with the cool air sneaking in as the sun sets. In essence, it's nature brought to life in a colorful way.
[columns_row width="half"] [column]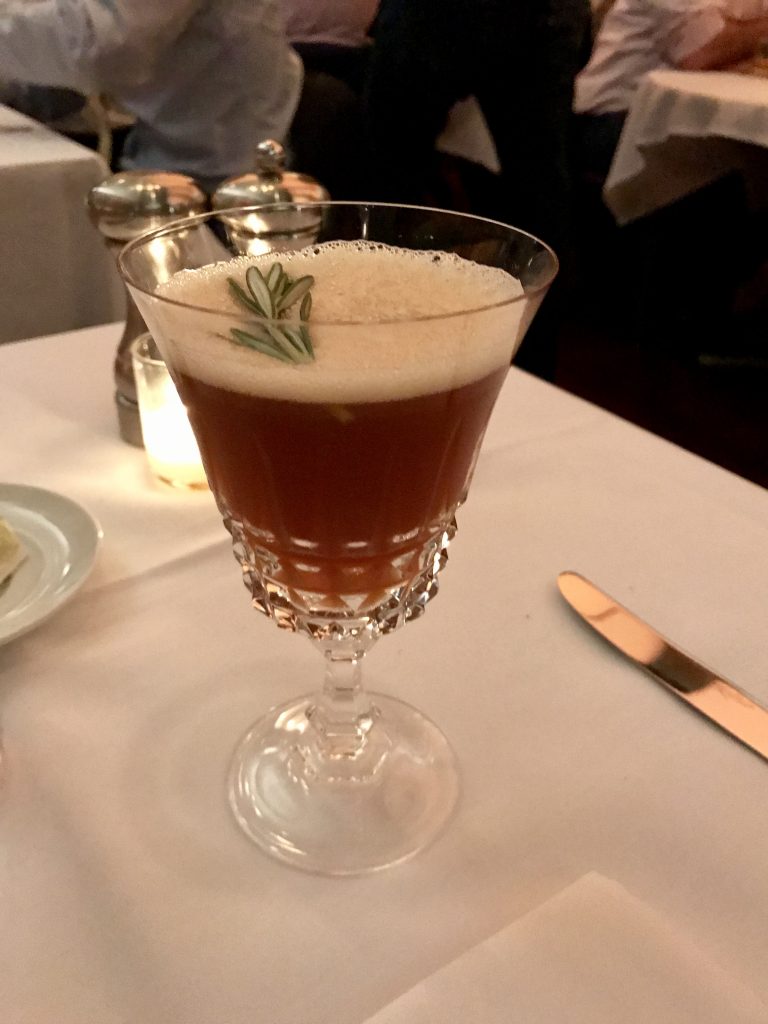 [/column] [column]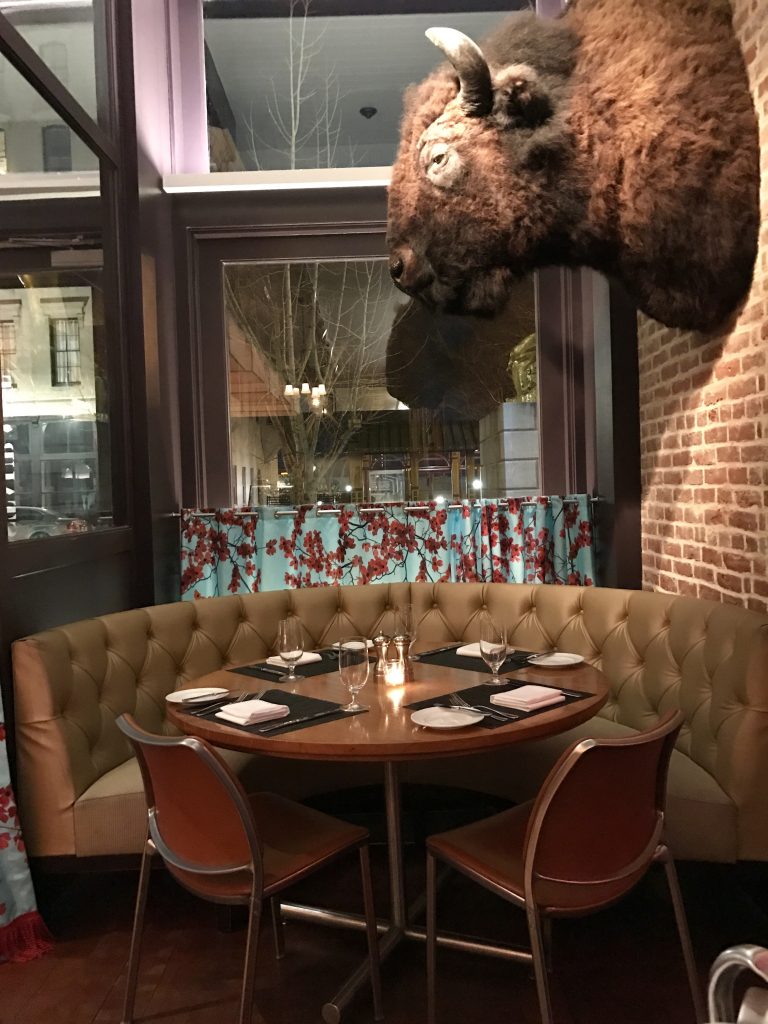 [/column] [/columns_row]
Dish 2 | diver scallop and parsnip
Diver scallop and parsnip. The parsnip is taken and  treated it like a bricktop chicken putting it in the oven at 25o degrees for six hours, removing from oven and then dressing it again allowing it for ultimate flavor profiling.
The presentation alone is rather intriguing, looking almost like a the shape of an old vintage smoking tobacco pipe as the scallop rests ever so atop the large parsnip, stem and all. The taste is predominately full of a smoky, salty balance that really enables the natural flavor of the scallop to make its way to the front of your tastebuds.
[columns_row width="half"] [column]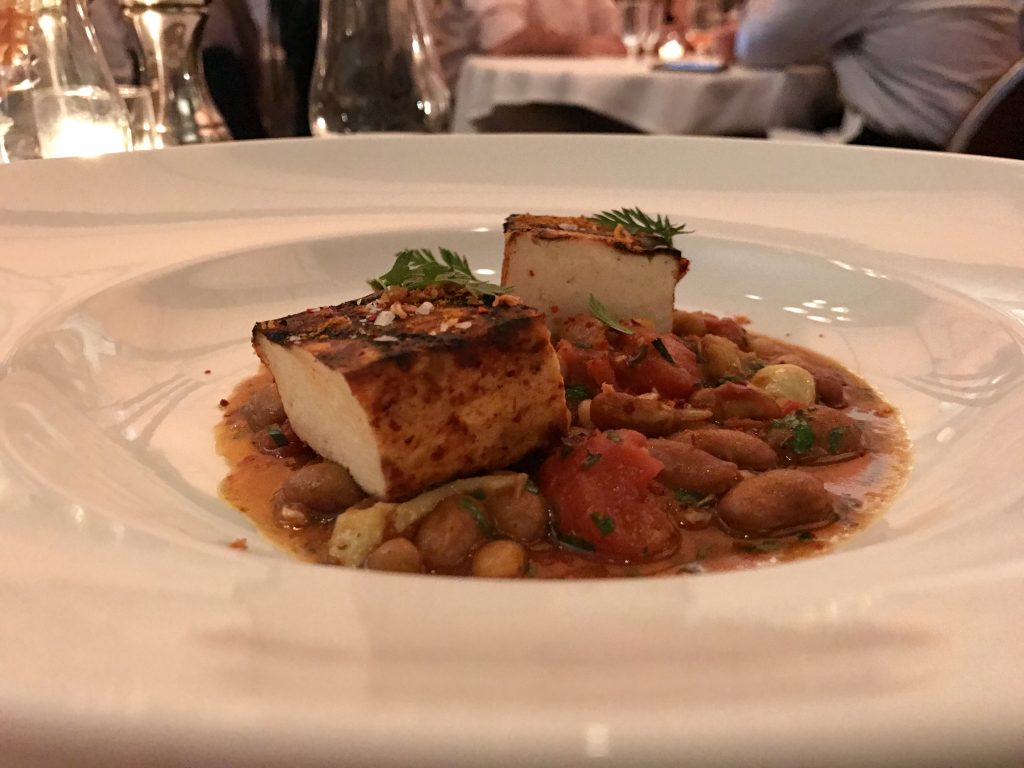 [/column] [column]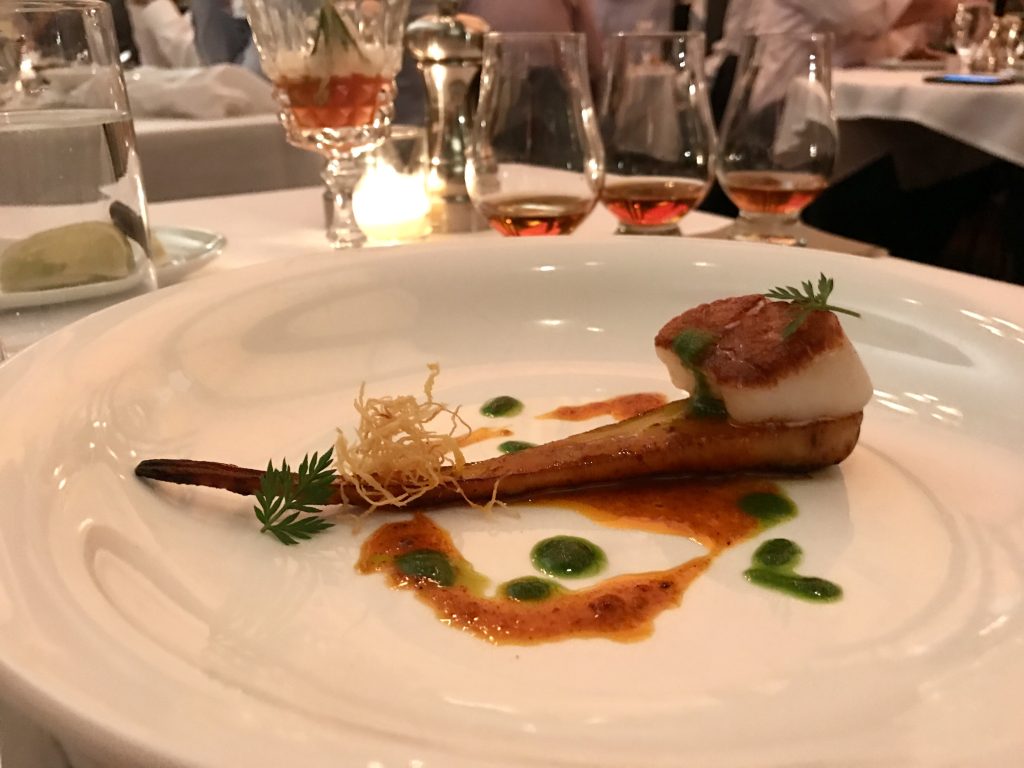 [/column] [/columns_row]
Flight: two barrel picks aged | Old Forrester + Whistle Pig
Old Forrester – caramel and nutty, vanilla with a creamy finish. Whistle Pig – this is so smooth! Vanilla and molasses are the nose on this with a finish that isn't rough but rather nice.
Dish 3 | Vegan Six Bean Cassoulet
Six bean cassoulet made with tomato, garlic confit, ras el hanout, with house tofu to give it a vegan steak feel.
The tofu is charred which gives it a nice smoky taste on the onset. Tofu is soaked in harissa, then rolled across the grill. The cassoulet is probably one of the better ones I've had. It has a punch of citrus with the texture of the beans being perfectly cared for without being squishy or undercooked. The beans, which seems like an odd thing to focus on – are cooked perfectly. They aren't under nor overcooked so you get to taste the naturalness of texture and get the bulk of flavor without losing it's unique appeal.
It's hard to get good vegan when you go out and I'm a huge meat eater but I have those days when I just crave veggies and it's hard to find them. We want to make sure to take care of vegans that come in so we offer things like root vegetables and vegan steaks.
The tofu is great on texture with a crisp outer shell from being soaked and rolled over top of grill. Together the contrast of the beans, herbs and tofu come together.
I paired this w the Whistle Pig which is a super conflicting idea but actually brings out the flavors of the beans and ras el hanout.
[columns_row width="half"] [column]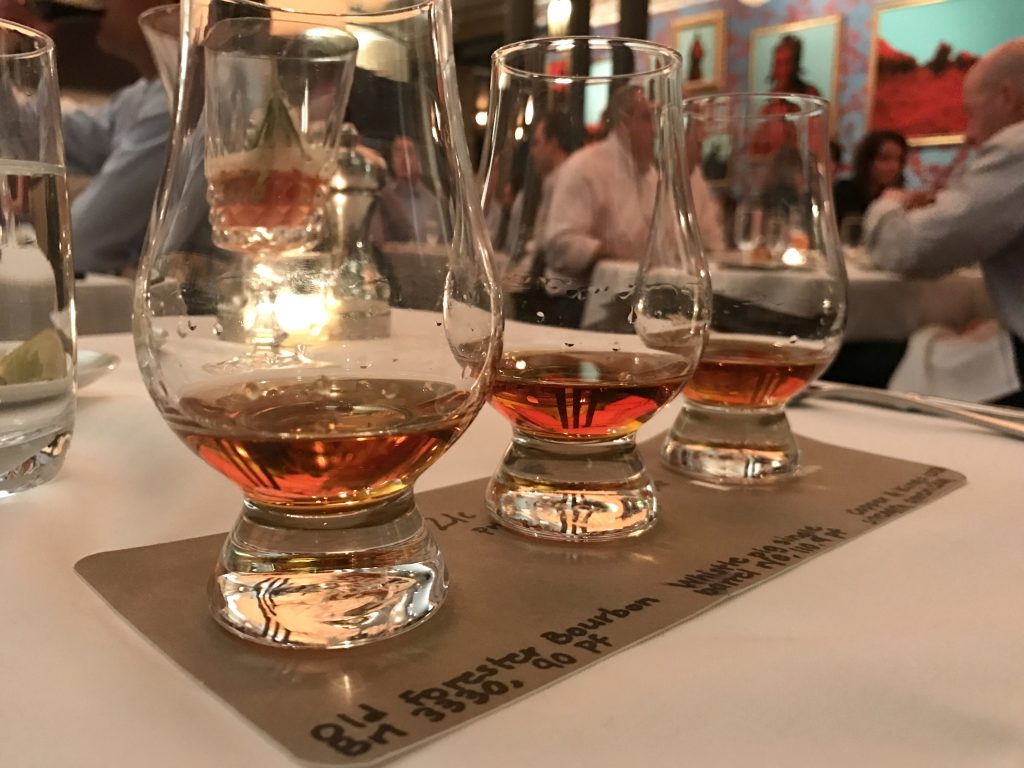 [/column] [column]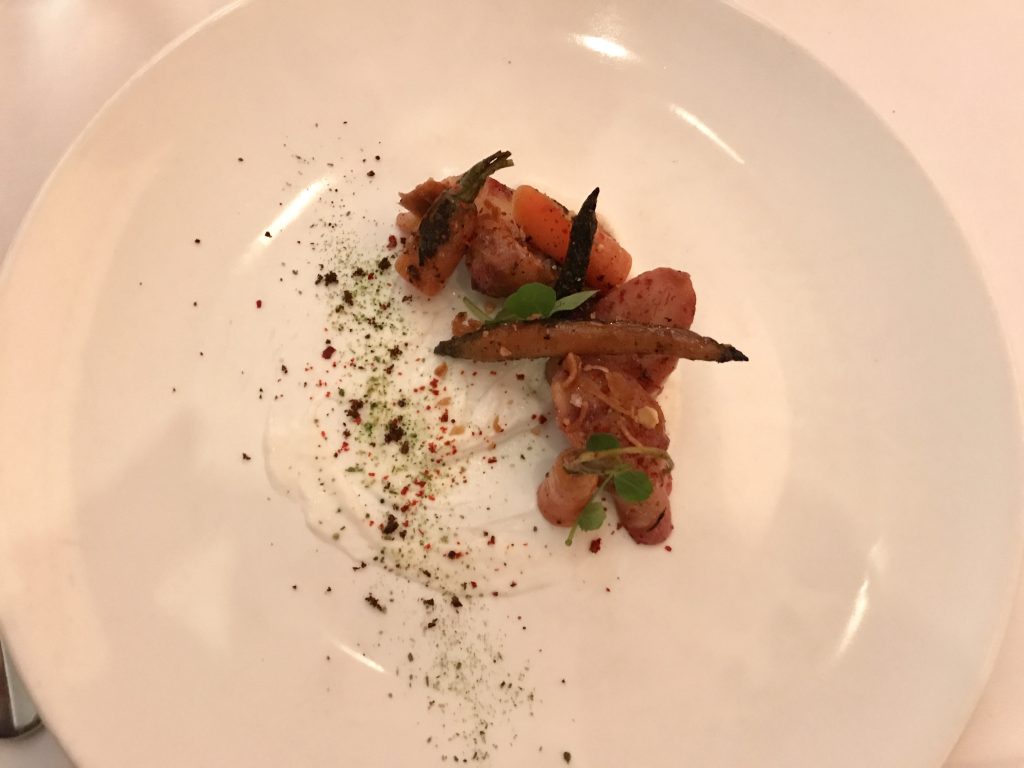 [/column] [/columns_row]
DRINKs | Paired w a Rioja – Viña Albini 2009
Dish 4 | Pork two ways
Duo of Pork : fageletti bean ragu over cabbage cooked on la plancha making them nice and crispy, pork prese (take the pork shoulder and pick it and then put it back on the skin getting a nice crispy wafer on top and then the meat below it's folded into mustard seed and herbs) then chef's favorite cut of the pork COPA – nice layer of fat then get a nice char to it and use sorghum gum so when you brine it's nice and sweet
The copa is buttery and the fat just ruminates all throughout your mouth. Pair it in a bite with the cabbage? That's flavor! The roughage and the buttery texture and taste compliment one another.
The crisped pork – layered – is meaty with an almost pastrami-like feel with andouille sausage to counter the crisp outer shell. Of the two, the copa is definitely my preference.
[columns_row width="half"] [column]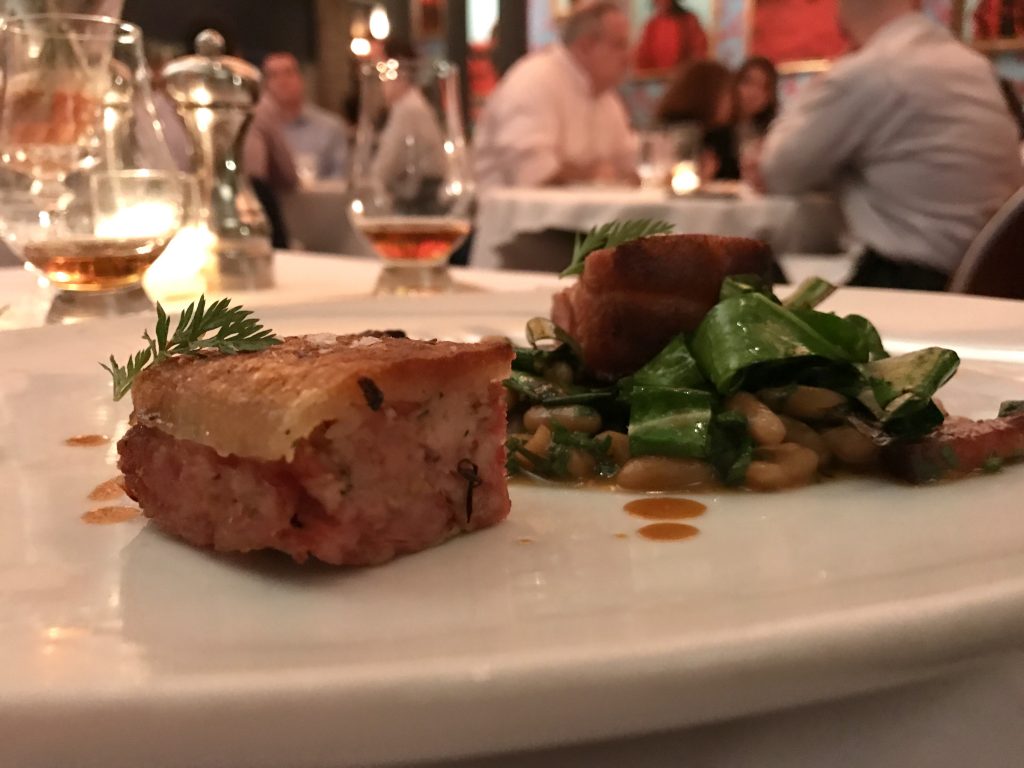 [/column] [column]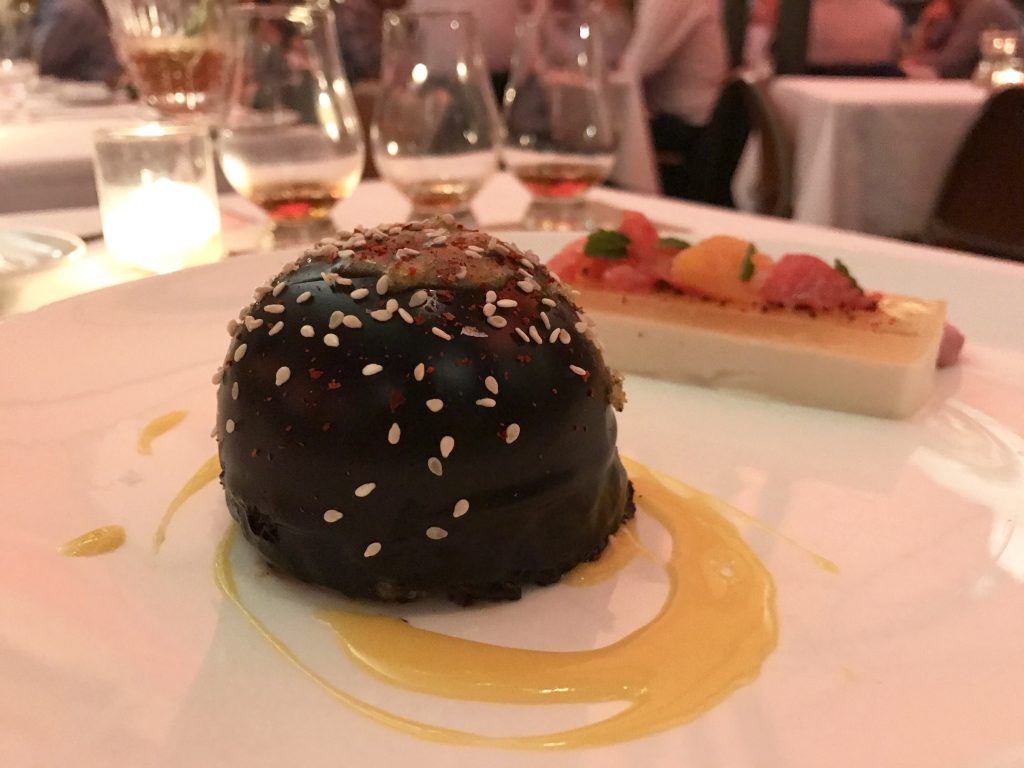 [/column] [/columns_row]
Dish 5 | dessert – the death star
The Death Star. It's a dark chocolate with melted granache then a pâte de fruit inspired by an Old Fashioned cocktail in the dead center with an herbed sponge cake across the bottom, then they pour a mirror glaze over the top of it with a green chile flake with zest on the outside. Also, a passionfruit curd all around with a blood orange panacotta with citrus salad across the top then they have a raspberry mousse on the outside.
The Death Star is sexy, seductive and a tease. The passionfruit pat de fui nested inside the ganache and herb sponge cake is a happy surprise and ties the dish together.
The blood orange panacotta with citrus atop is spring in a bite. It bursts with refreshing notes of orange and grapefruit and the blood orange gilèe on top rounds out the firm base. In essence, this dish has a contrast of texture, flavor, sweet, savory and decadent richness.
And just when I thought the meal had found it's finish, a bowl with freshly made cotton candy arrives. It's as if you're taken on a whimsical walk through a variation of contemporary art, modern cuisine, and completely stripped down, un-showy vegetables and fruits. The cotton candy really is the ideal way to end an adventurous meal amidst such an exquisitely inspiring atmosphere. Having an opportunity to spend an evening talking with Chef about each dish opened my eyes to the way he sees cuisine: its meant to be an experience.
That is something every diner should applaud.
[separator type="thin"]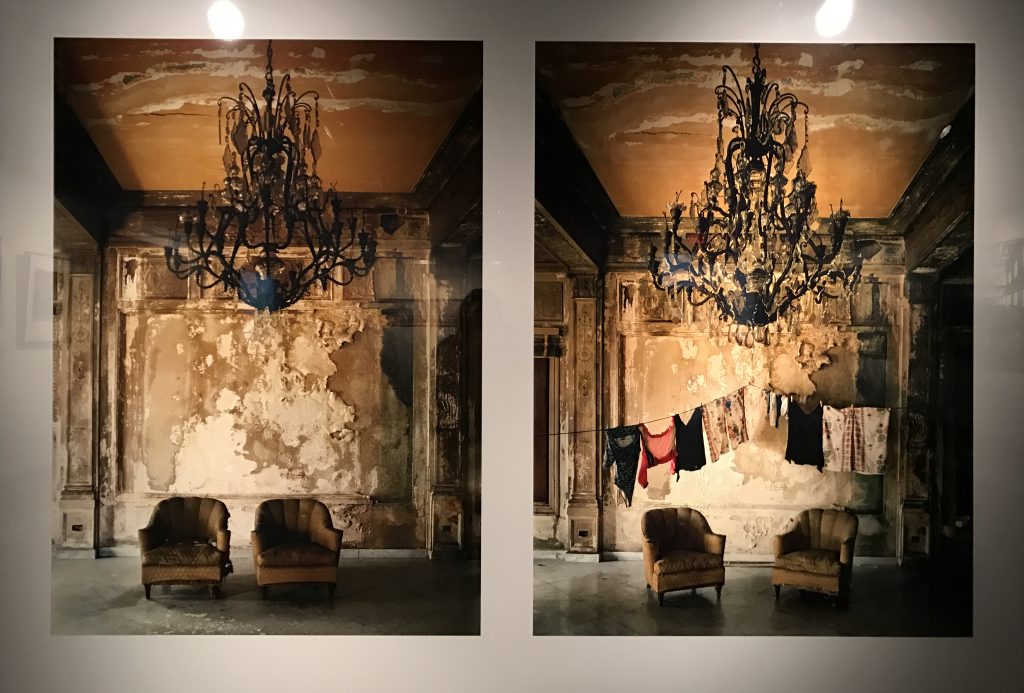 The last worthy aspect of 21c Museum Hotels is in fact the contemporary art exhibitions. This particular exhibition, curated by Alice Gray Stites, was a show of solidarity between the sexes, the fluidity of soul, a political poise and the exposition of the human spirit. Every piece has a tale to tell but perhaps, for me, the pieces that spoke loudly to me were a sculpture and two photography series'. The sculpture, Monica Cook's Phosphene, is a broad stroke of power and ferocity as a couple crashes into one another utilizing some of the most prominent artistic elements I've ever seen. The medium is primarily made of glass which speaks to the fragility and the verbose desire to break through boundaries. The piece has dominance and submission, pain and inspiration. The photography that enabled a deep emotional flow for me was Michael Eastman's, "Isabella's Two Chairs Diptych and Anastasia Taylor-Lind's series shot in Kiev, Ukraine. Both parallel silent destitution and hope, the beauty in uncertainty, the power of imagery, perspective and the truth we often barricade within. I also found myself absolutely endeared by all of the art throughout the restaurant and bar. This hotel has a strong story that is brought to life with vibrant colors, laughable and intense looks at Kentucky history, a celebration of sexuality, freedom and equality. Coupled with the gorgeous cuisine by Chef Mike Wadja, you have a recipe for something unforgettable.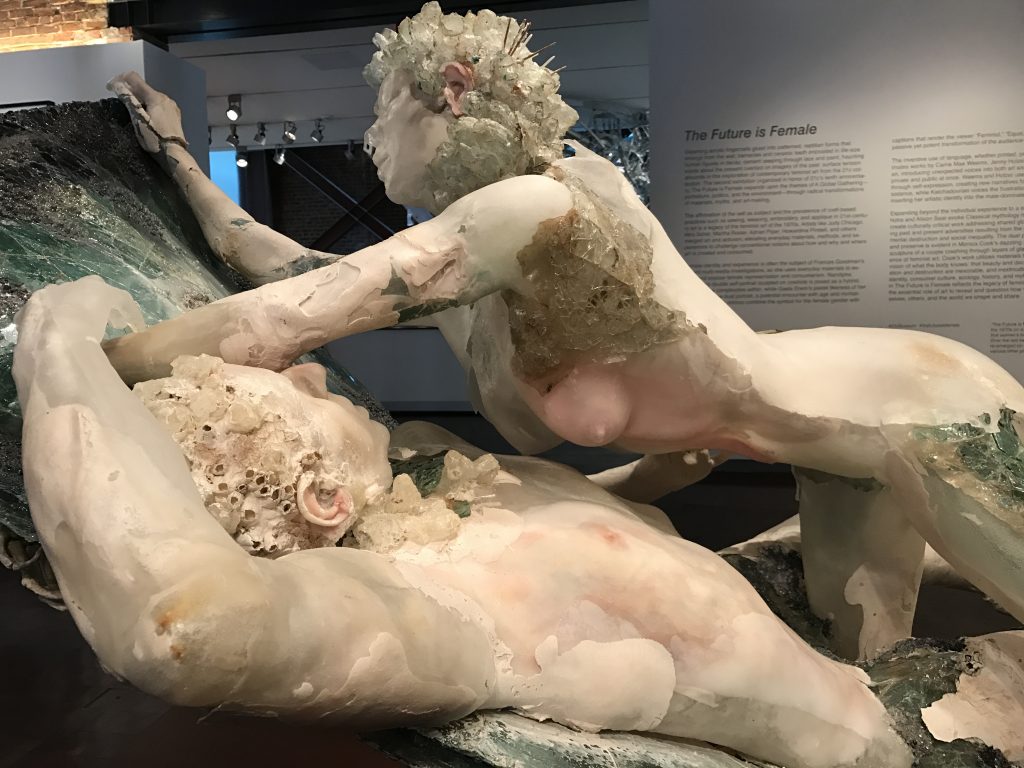 All in all, I encourage everyone to explore the city of Louisville and even moreso, take time to really expand your mind by staying at any of the 21c Museum Hotels. They are changing the way we see hospitality and for that I am extremely grateful. Not only is service at these hotels something to mirror, the thoughtful approach to decor, minimalism, cuisine, mixology, culture, art and honoring the spaces we dwell is paramount.
[columns_row width="half"] [column]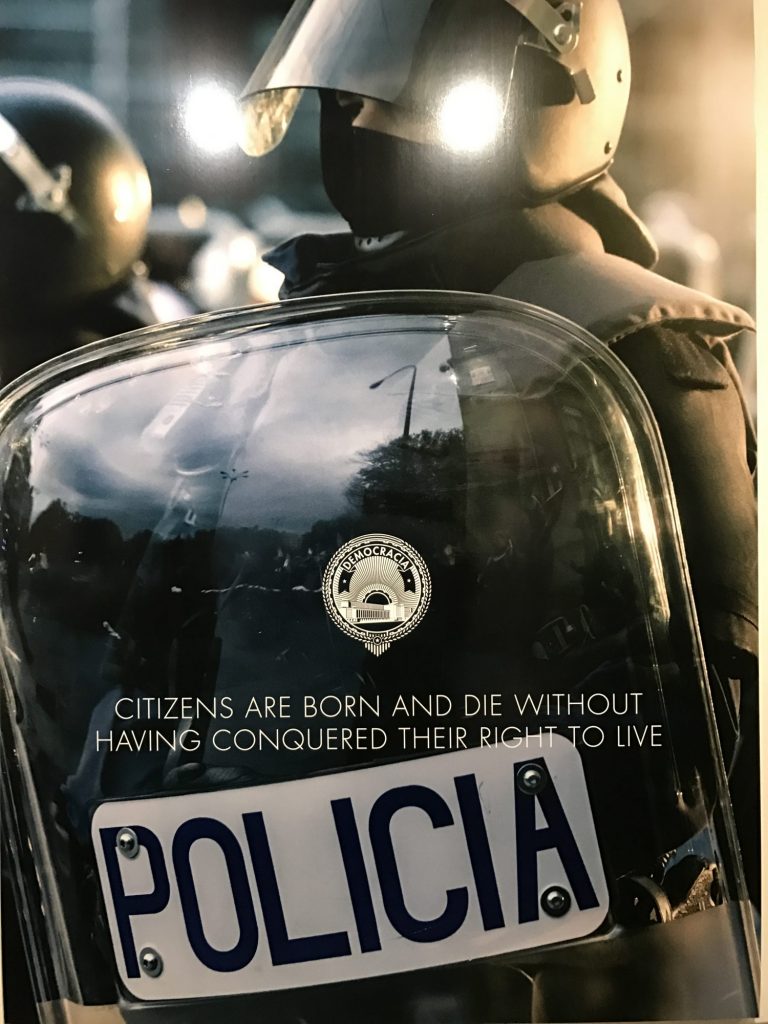 [/column] [column]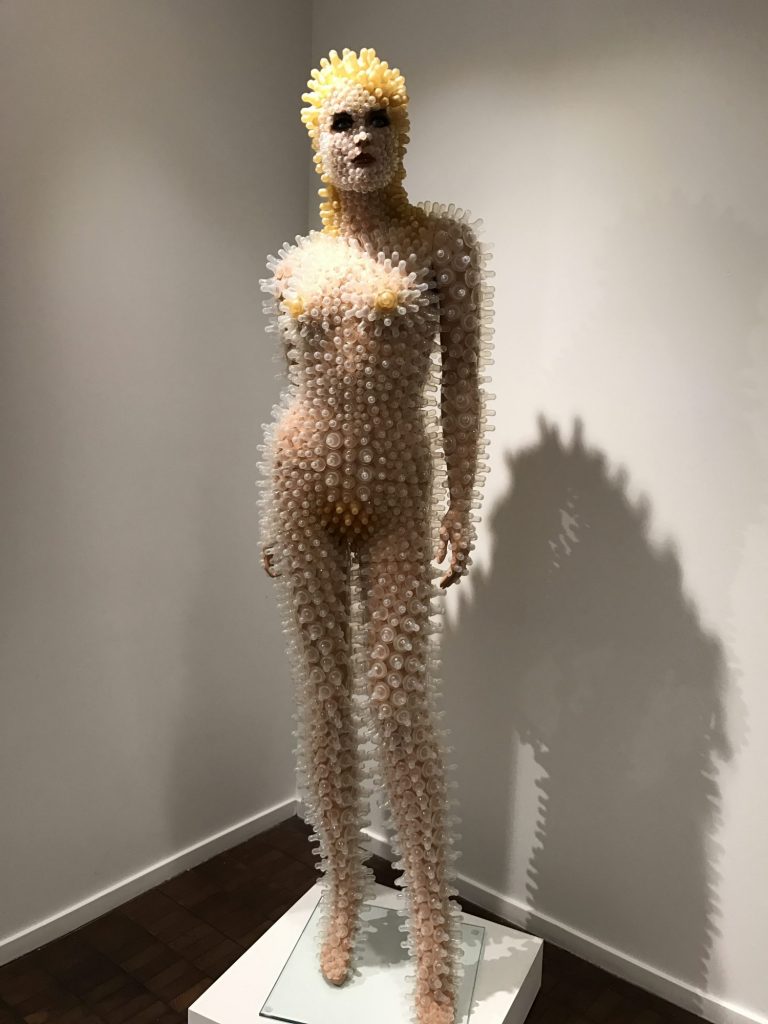 [/column] [/columns_row]
Fore more on 21c Museum Hotels, visit www.21cMuseumHotels.com
[separator type="thin"]
Explore the new Victoria Beckham line at Target!