The Charm of Cambria
Wining, Dining and Exploring Cambria with My Favorite Girl
photos by Dawn Garcia + Barcelona Garcia
C
California really is a gorgeous state with more terrain and possibility that continues to unfold. From the very tip of the state to the very end of the state line, there is so much story to explore, people to get to know and small towns you may not have even known were there.
Cambria
is one of those towns. A quaint beach town, Cambria has something you'd expect to find in a small town states away. Named Cambria in 1870, its the Latin name for Wales, situated near Monterey Bay it was once known as "Slabtown" after the Oceanic Quicksilver Mining Company purchased the land employing over 300 people thus creating an economy that slowly grew into what it is today.
Cambria is a town made up of a population of just over six thousand people (in Los Angeles, that's likely the population of a few square miles of my neighborhood)! It's quaint and gently populated region however has the distinct pleasure of being home to some of the most beautiful coves, illustrious Hearst Castle, a sweet history, agriculture and some of the best pies around! Alas, us Californians are lucky enough to call this sweet stop one of our own. So when the opportunity to spend four days with my daughter in Cambria came about, we packed up and headed north.
In essence, finding family-friendly spots while appealing to my desire for luxury and culture isn't always quite as easy as one would expect so this was definitely something I was looking forward to. While the culinary scene is still finding its way and the hotels in town haven't all modernized just yet, there are some fanfare eateries we tried, a few wine tasting rooms we visited, a farm filled with baby goats just born, and a yoga adventure with a seascape to die for.
eat
Soto's True Food Kitchen | healthy, organic, vegetarian, gluten free, vegan
Soto's won me over last year when I was in search of picnic spots along the California coast and came across an organic grocery store that had everything I needed. So when we arrived in Cambria and were hungry for something healthy, our hotel had no dinner or restaurant so it was Soto's that rescued our hunger. We took a drive to the Main Street (less than a mile away), walked in to grab a few things and to my surprise saw that they had incorporated a kitchen in the back. On Chef Jeannie's menu among sandwiches, salads, even spicy tofu pâté are the evening's specials: a basil margherita pizza and curry chicken veggie soup. Dinner was exactly what we were looking for. So much so we had lunch there twice and got snacks every day from here. We tried the phô with beef, miso ginger noodles, portabello gouda melt, root veggies, quinoa with carrot, coleslaw with vinaigrette, and Linda's Lavender Lemonade. This is our go-to.
Soto's True Earth Market | 2244 Main St. | Cambria, CA 93428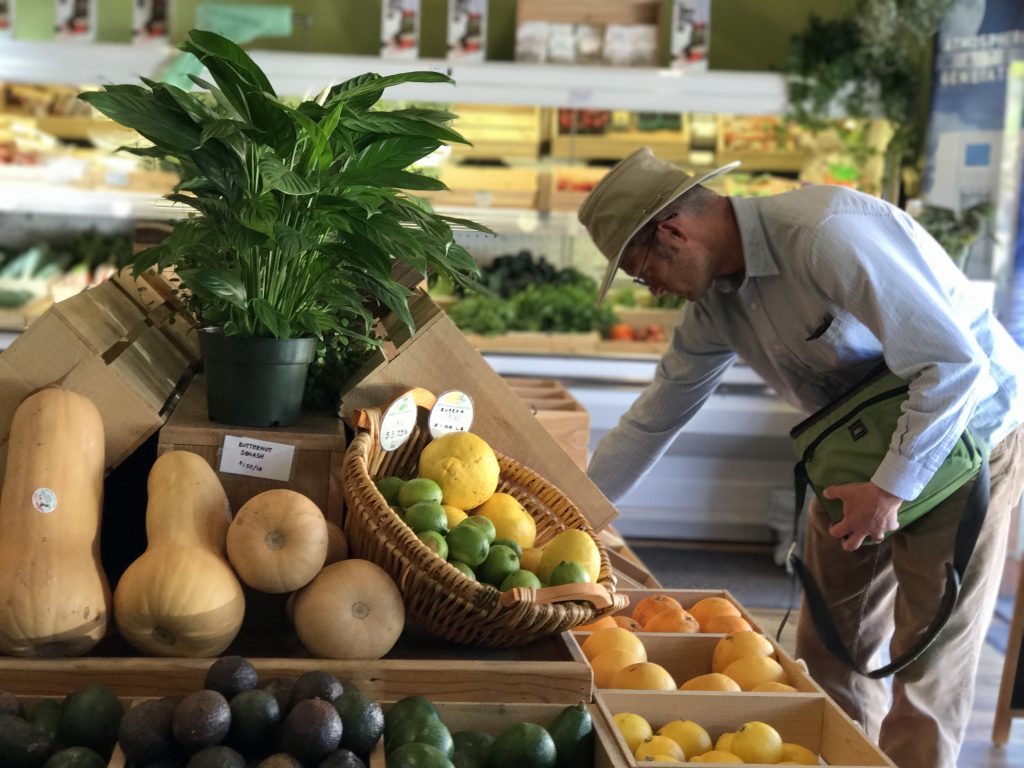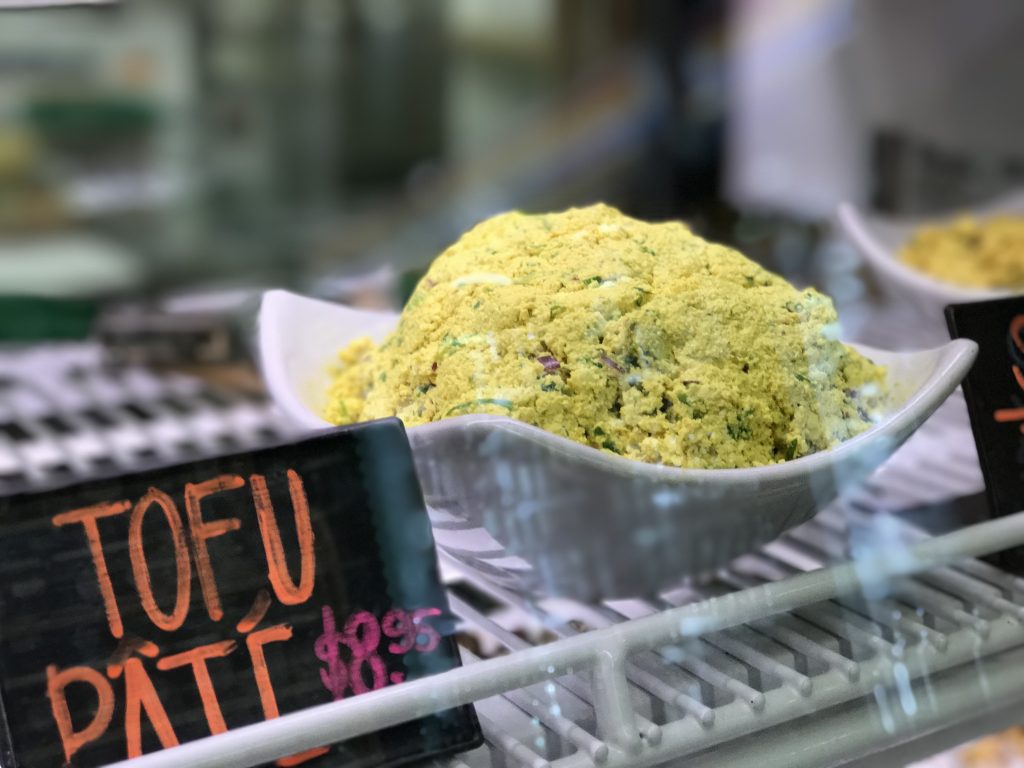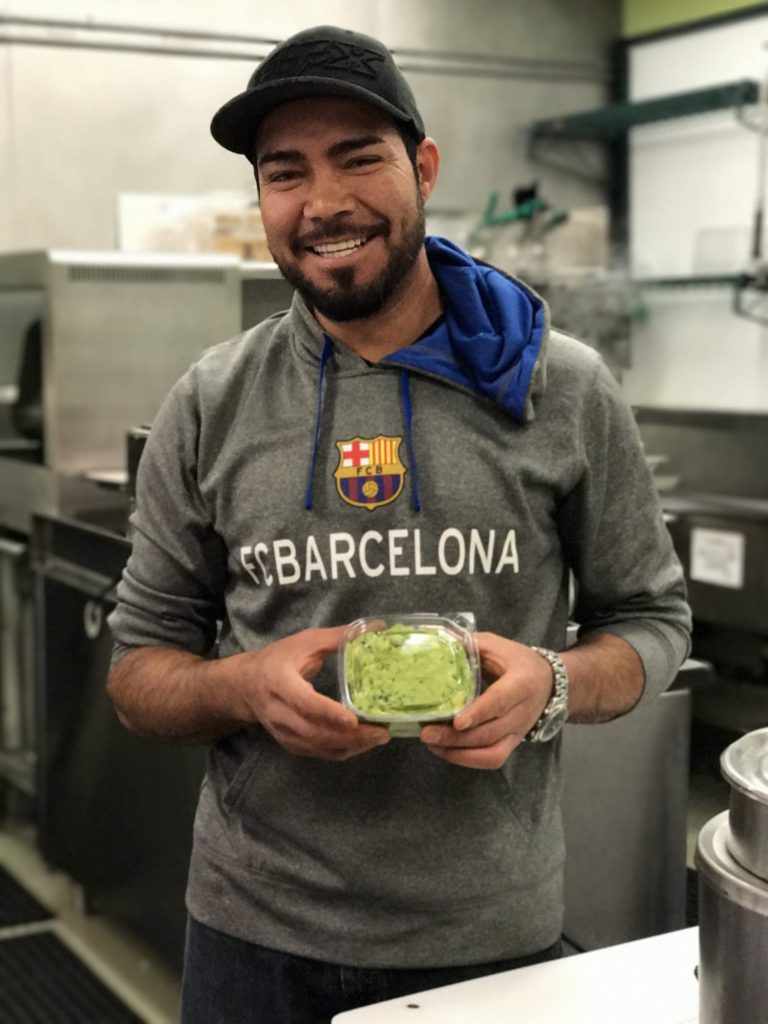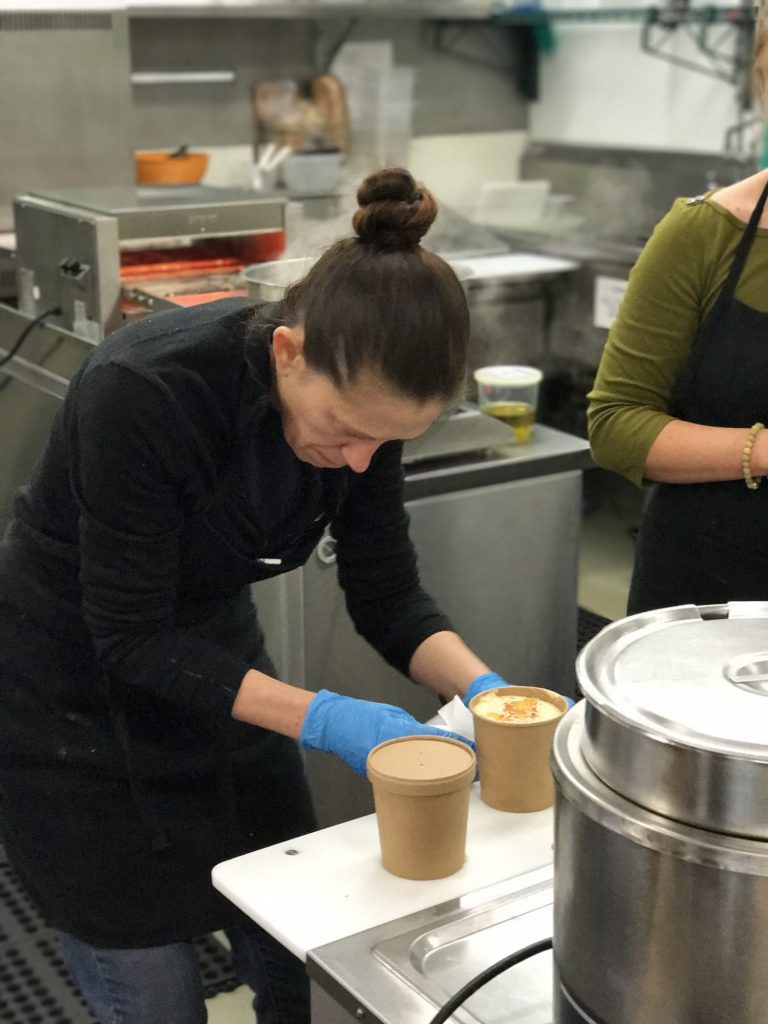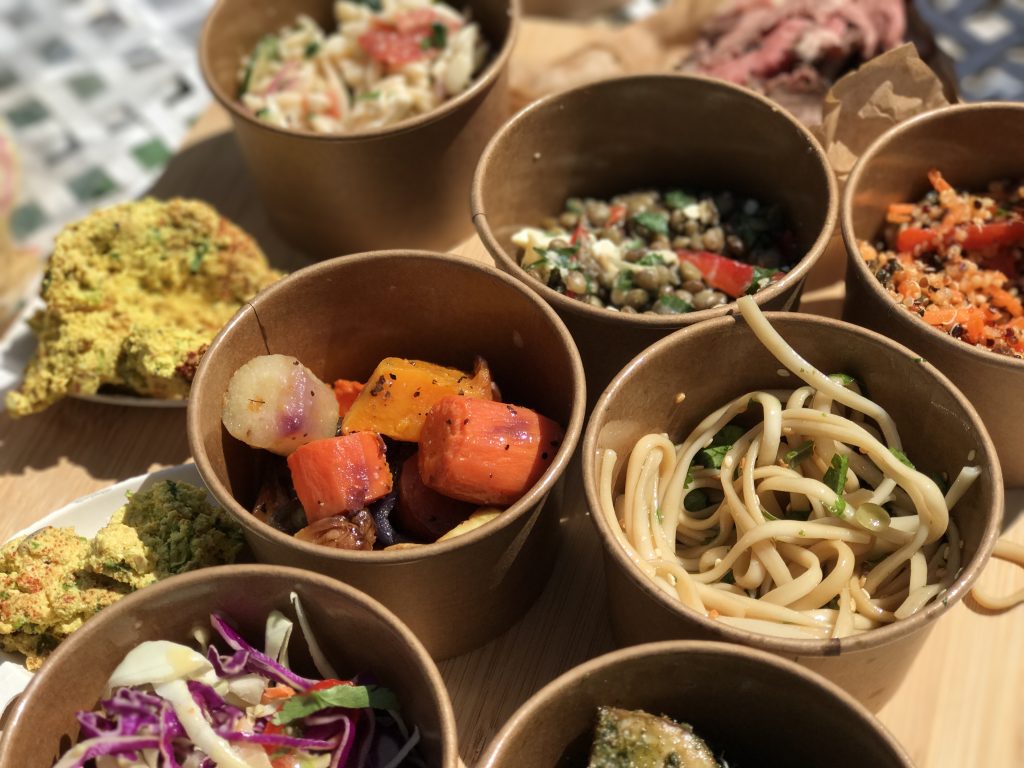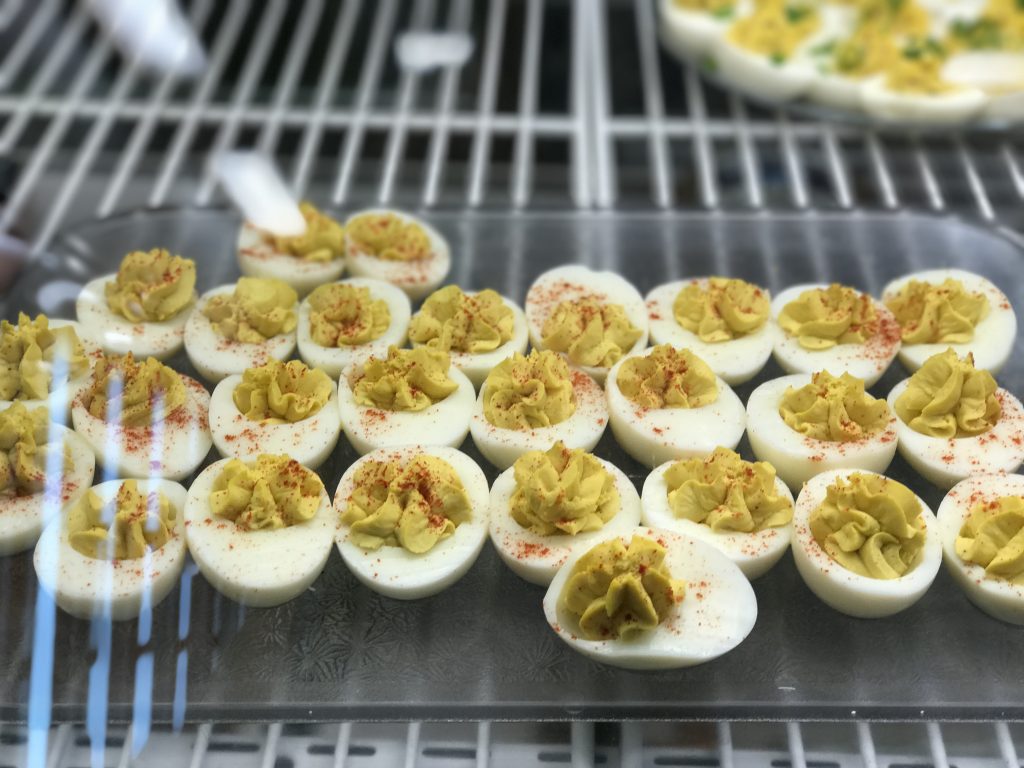 Café | sandwiches, salads, melts, wine, beer
This is an absolutely adorable cafe that also happens to be the oldest building in Cambria dating back to 1887. Brian Lucas, the owner, has a menu that boasts some genuinely tasty sandwiches included melted roast beef, bacon+lettuce+tomato+avocado, Italian and even a veggie burger. The board just behind Abbey (the sweetest woman!) with endless options are hung behind the register each with their own bits of character. The decor is a blend of vintage signs, the old west and outdoor bistro. We order the "Italian sub" and I get the "mean green burger" on gluten-free toast. Each comes with chips of our choice. I end up buying the veggie chips (mixed root veggies and another, just beets). We then order a Bubble Up for my daughter and a Pol Crement half bottle of bubbles for me and head out onto the patio to eat. The patio has bistro tables and chairs and a gorgeous garden planted on a slightly rising hillside with herbs, flowers, vintage flower pots, signs and statues spread throughout. It's a darling spot with a tremendous amount of character. The sandwiches are really good as I'm sure is everything on the menu but it is the ambiance, Brian and his staff that make it even better. This is a must for lunch.
Cafe | 4286 Bridge St | Cambria, CA 93428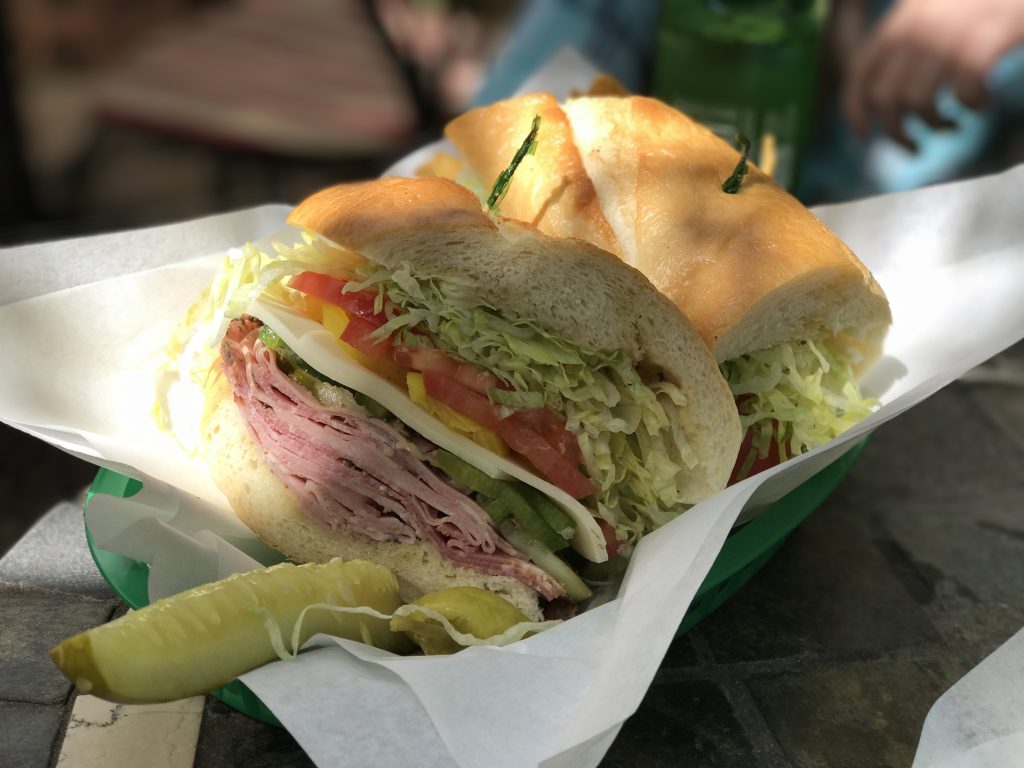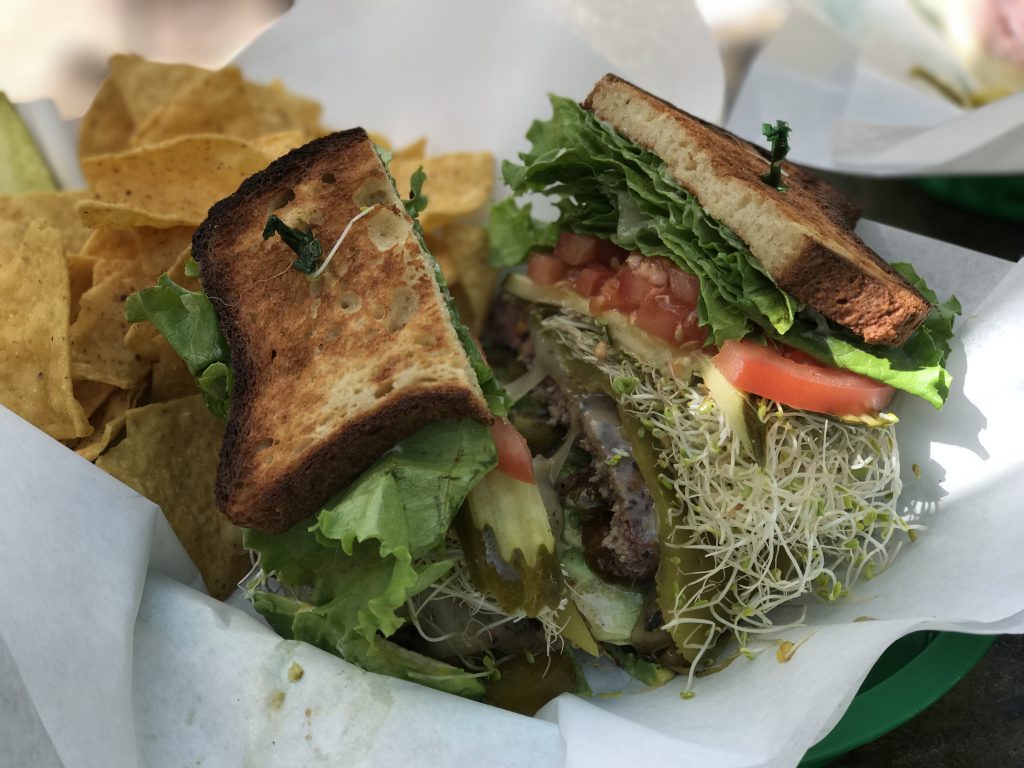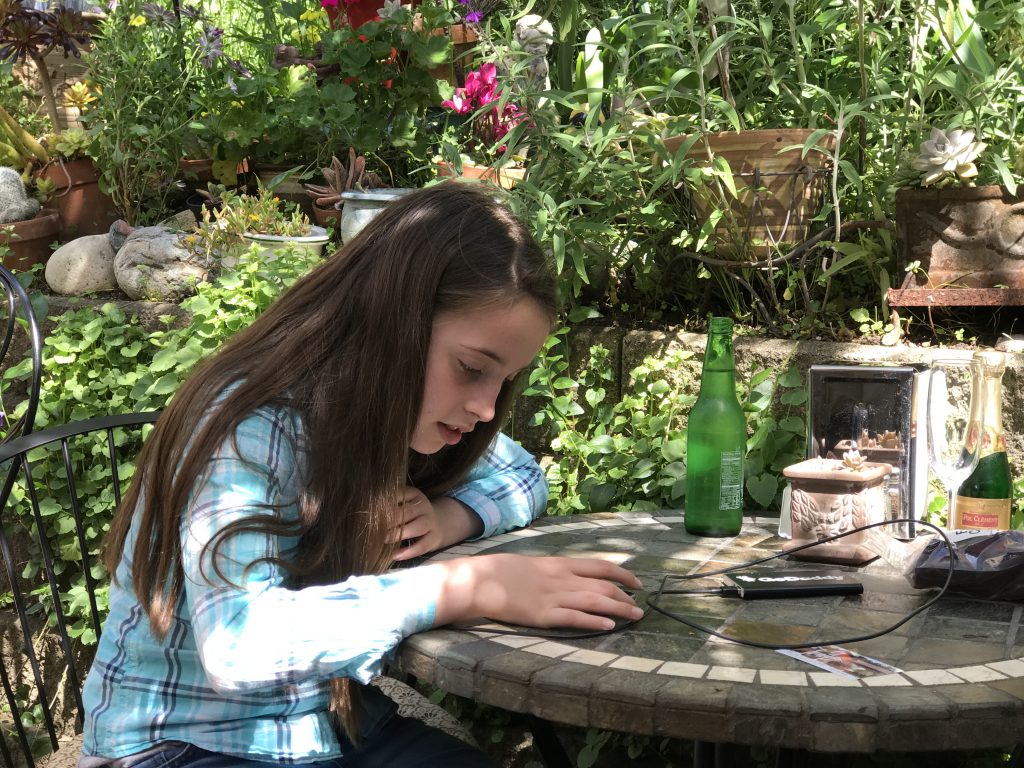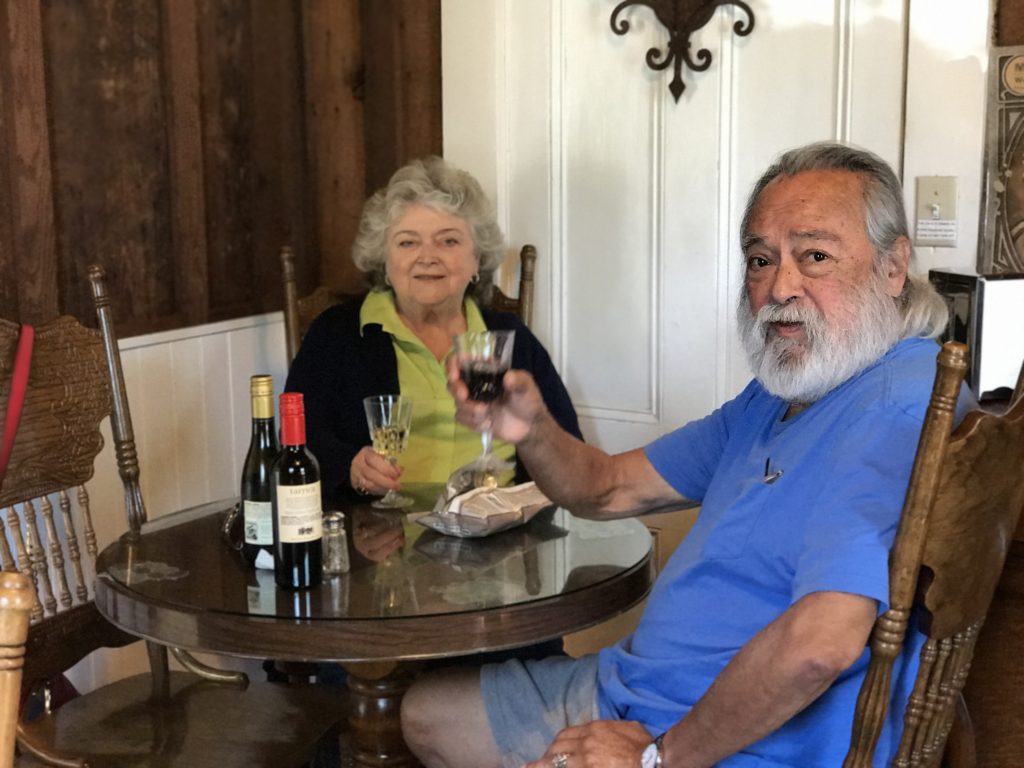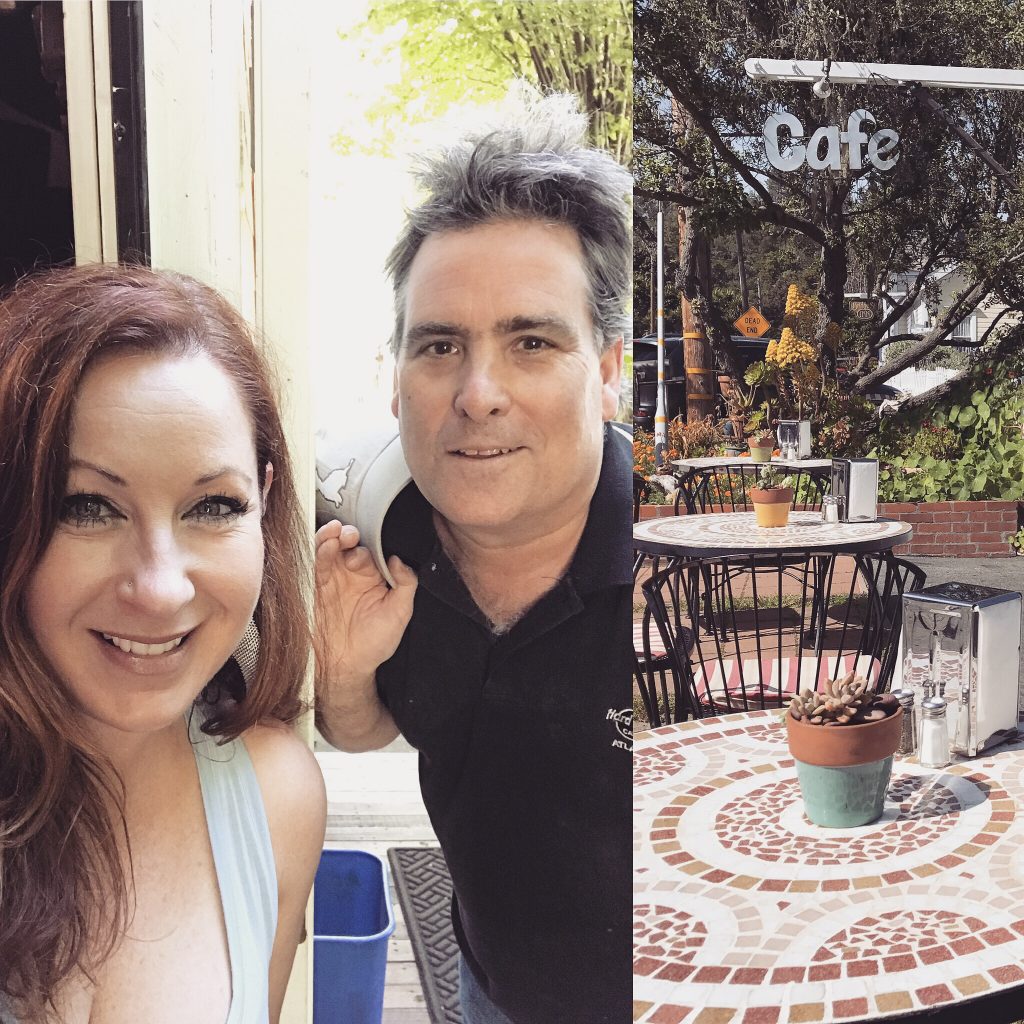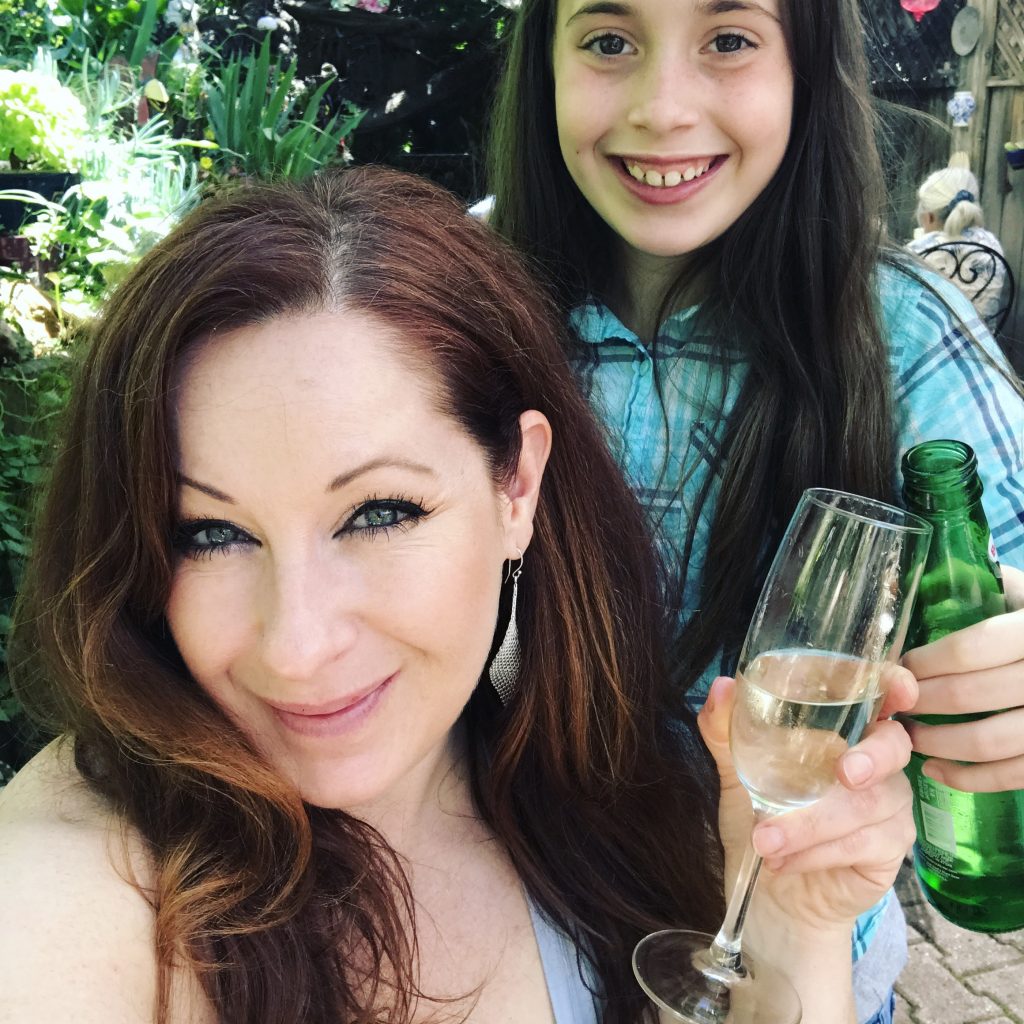 Madeline's | Wine Tasting + California fusion (Spanish, Italian, Cajun, Seafood)
One of the finer dining experiences in the town, Madeline's offers a range of cuisine, more upscale decor, a wine shop, a great front entry, and a staff that was beyond accommodating. After a long and exhausting day, we decided to order carry out and dine in our room – in pajamas. In the mood for a range of flavors we order the vegetarian polenta, steak and mashed potatoes, lamb empanadas, and their raspberry lemon cheesecake for dessert. My favorite was actually the vegetarian polenta. The polenta is cooked so the outside is perfectly crisp and the flavors from the grilled vegetables which included zucchini and eggplant among tomato and spices was balanced and well seasoned. My daughter enjoyed the steak and we both polished off the raspberry cheesecake.
Madeline's | 788 Main St. | Cambria, CA 93428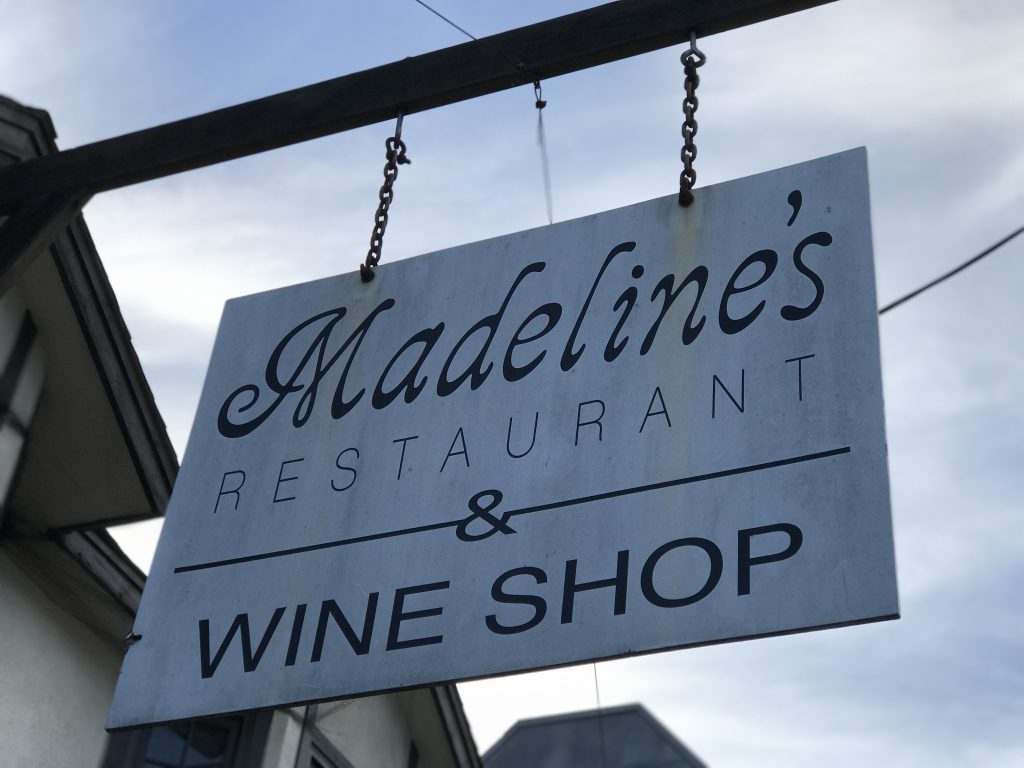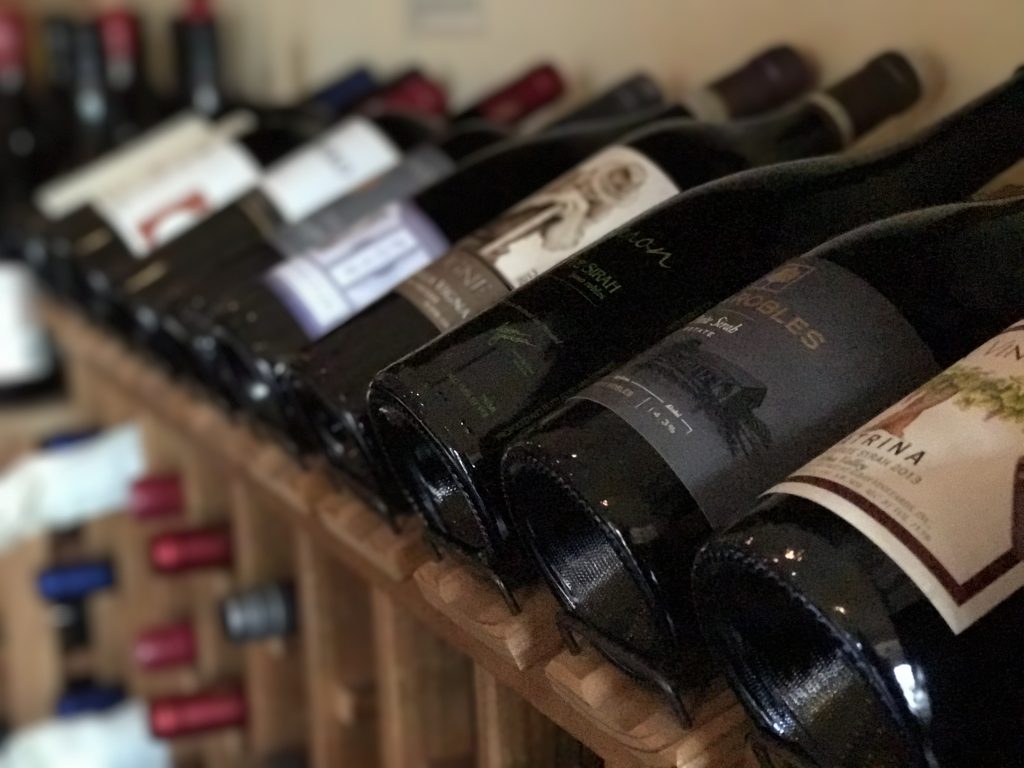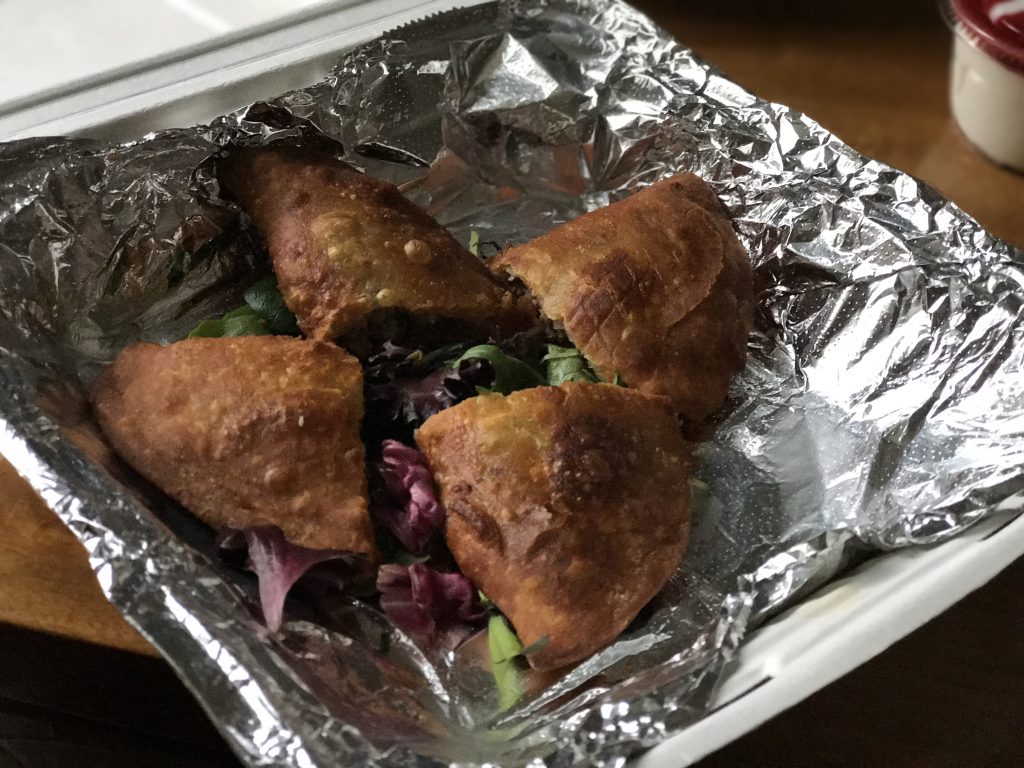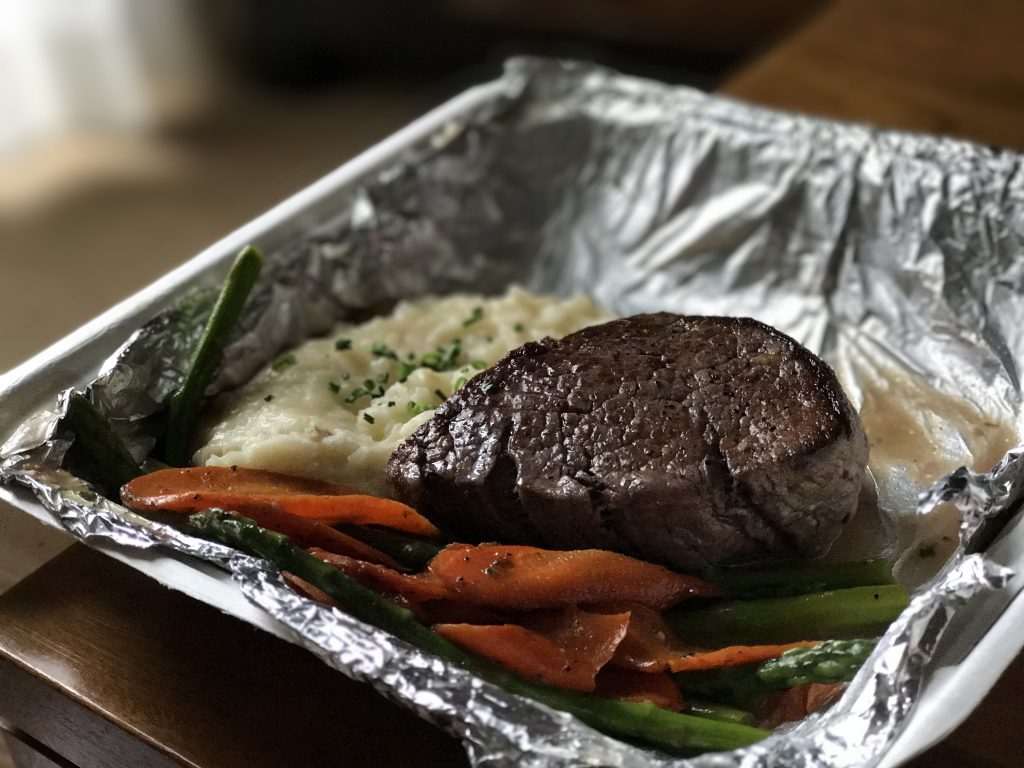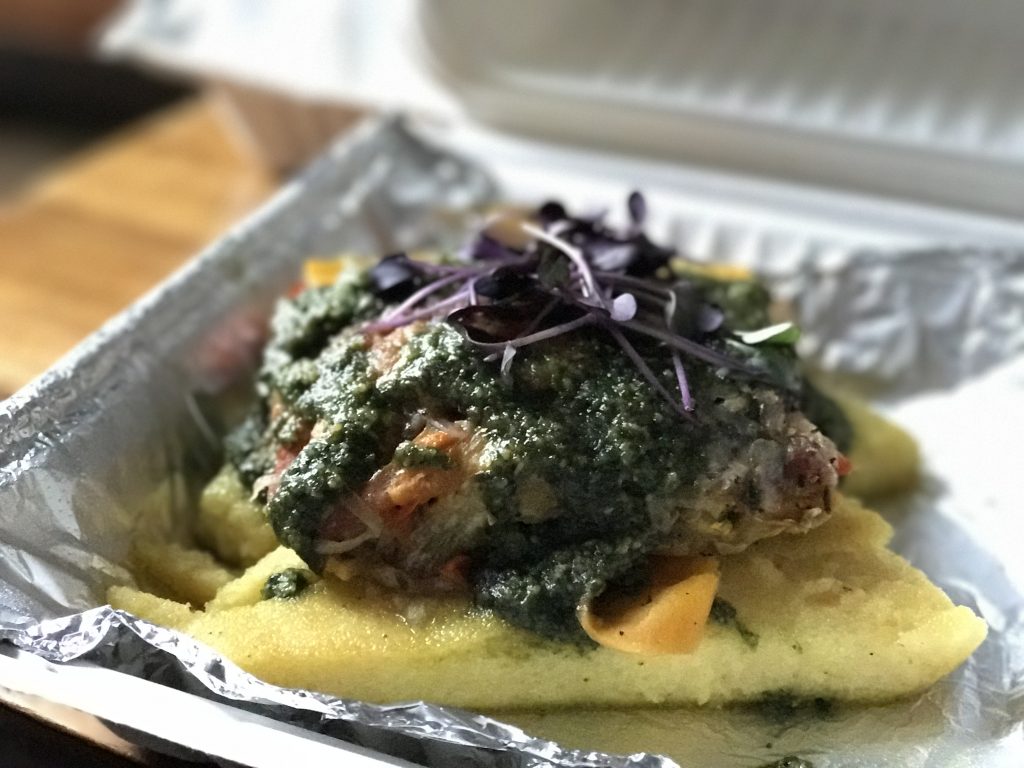 Robin's Restaurant | a hint of California cuisine with vegetarian options and curry
When you walk into Robin's you are greeted immediately by front of the house. Everyone is lovely and as we are taken to our seats, it takes only a few minutes before our server Shelly arrives to say hello and take our order. Shelly is one of those rare gems who truly sets the tone for exceptional service and hospitality. We came here prepared to try an onslaught of menu items and we have plenty of choices.
We order: Calamari with sesame cabbage slaw + sambal aioli, Robbins salad, braised lamb shank with tarragon polenta, Thai red curry of tofu, luscious carrot cake and the heavenly hot fudge sundae. To drink I try the evening's selection of a 2013 Eruption Red Blend.
My daughter eats up every last bite of calamari and as the lamb shank and curry arrive, we are eager to try. The lamb shank was absolutely beautiful. The meat just fell right off the bone and the flavors of tarragon, gremolata, white wine and tomato lamb jus only accelerated the level of taste. The curry was spicy with a generous portion of vegetables. We finish with the dessert and the carrot cake is moist with a few surprises of crystallized ginger, coconut, pineapple and cream cheese frosting so it doesn't lose its piquancy. The dinner was one to remember as was our server Shelly. A HUGE thanks to her for being so incredible!
Robin's Restaurant | 4095 Burton Dr. | Cambria, CA 93428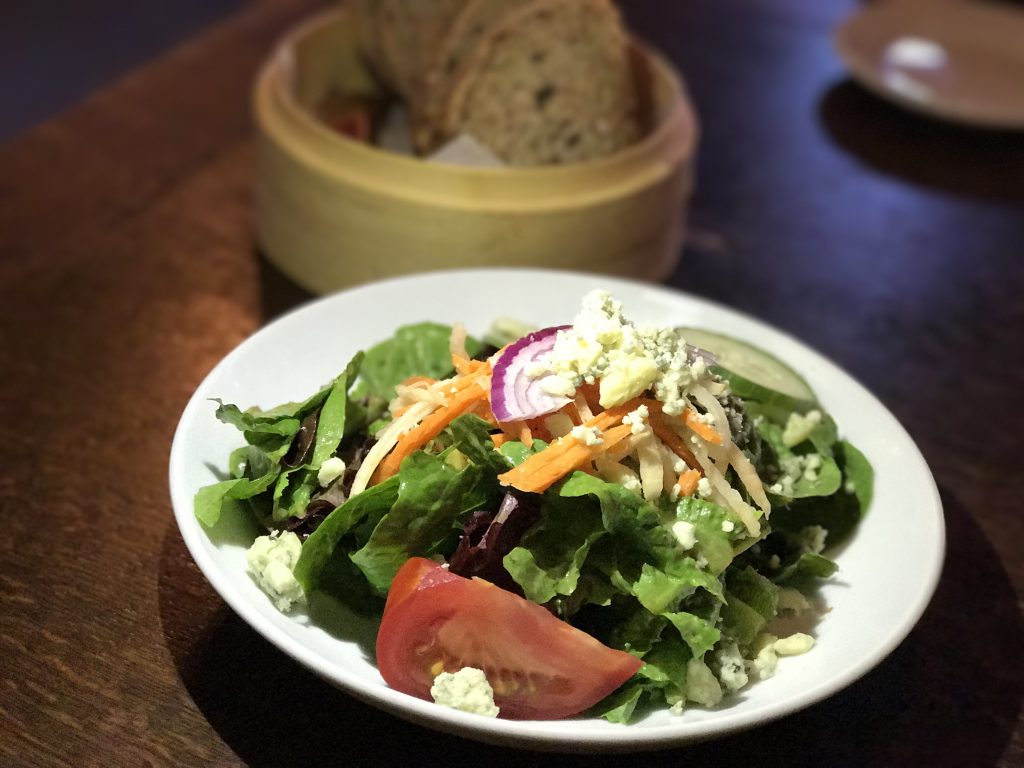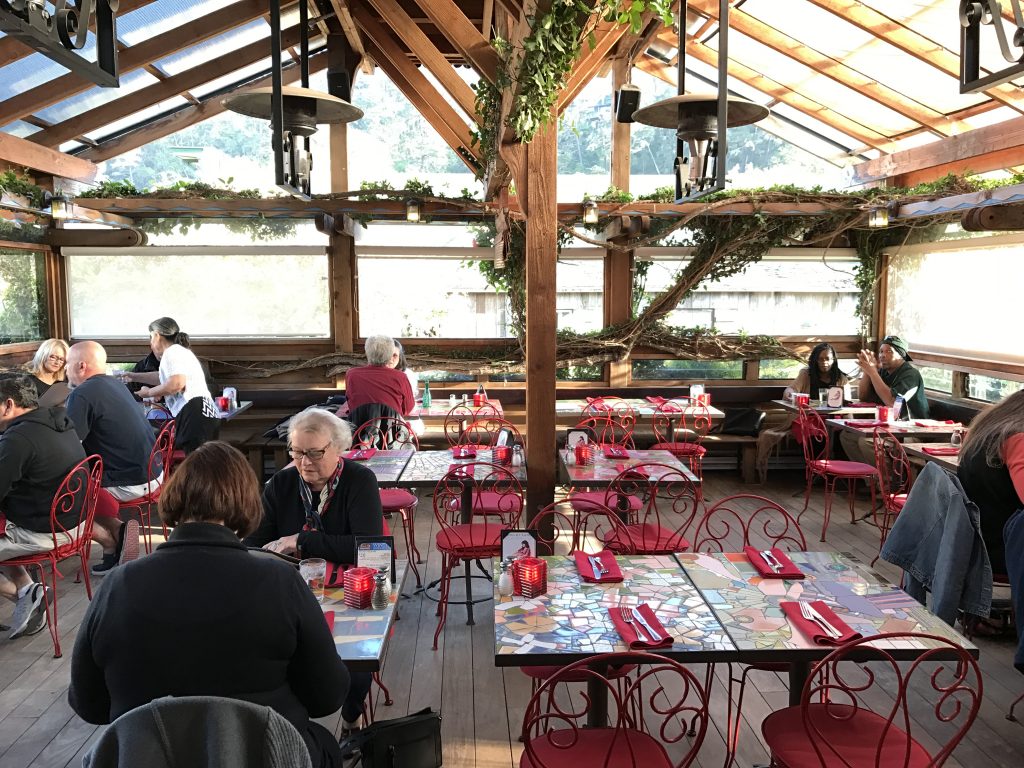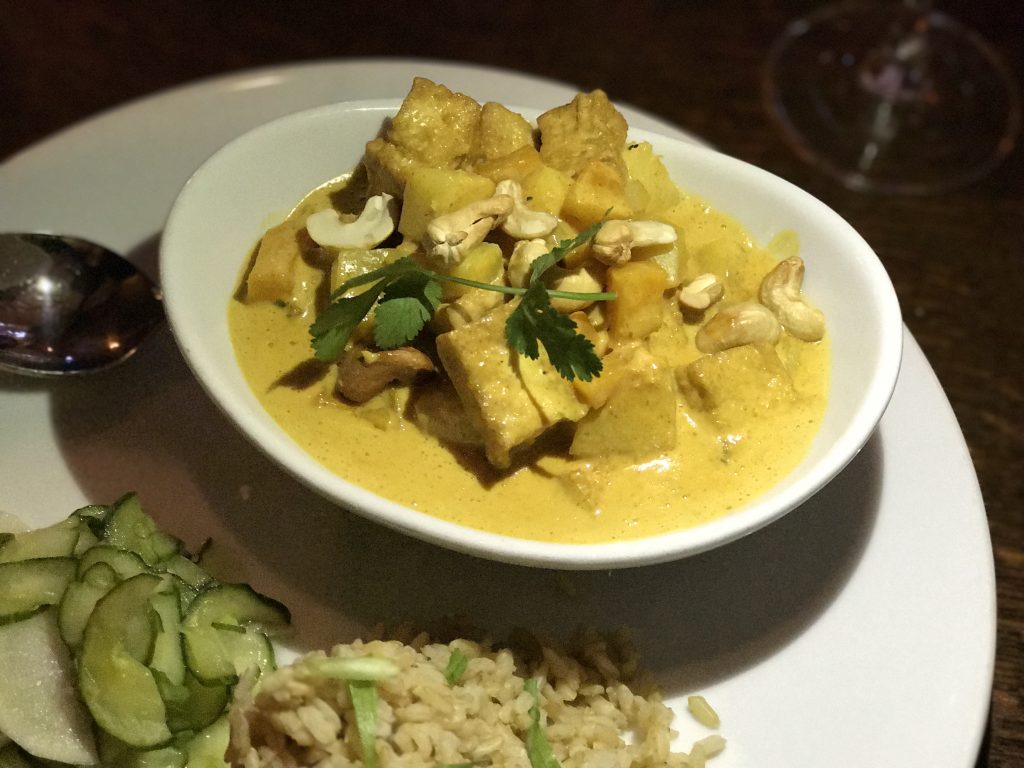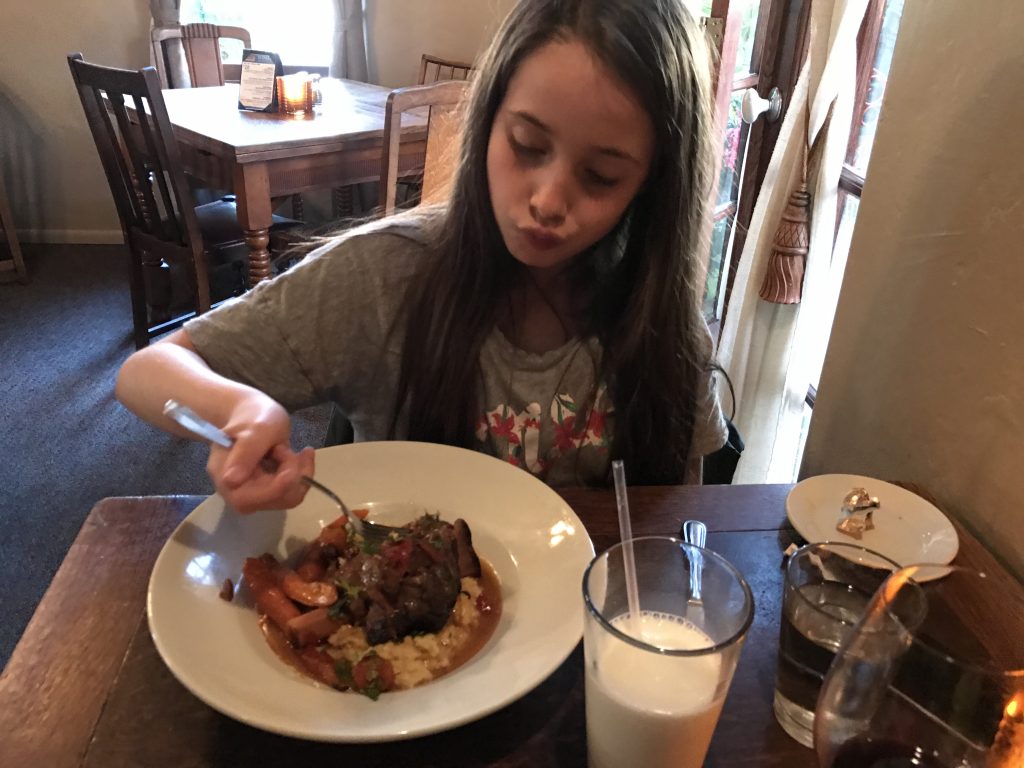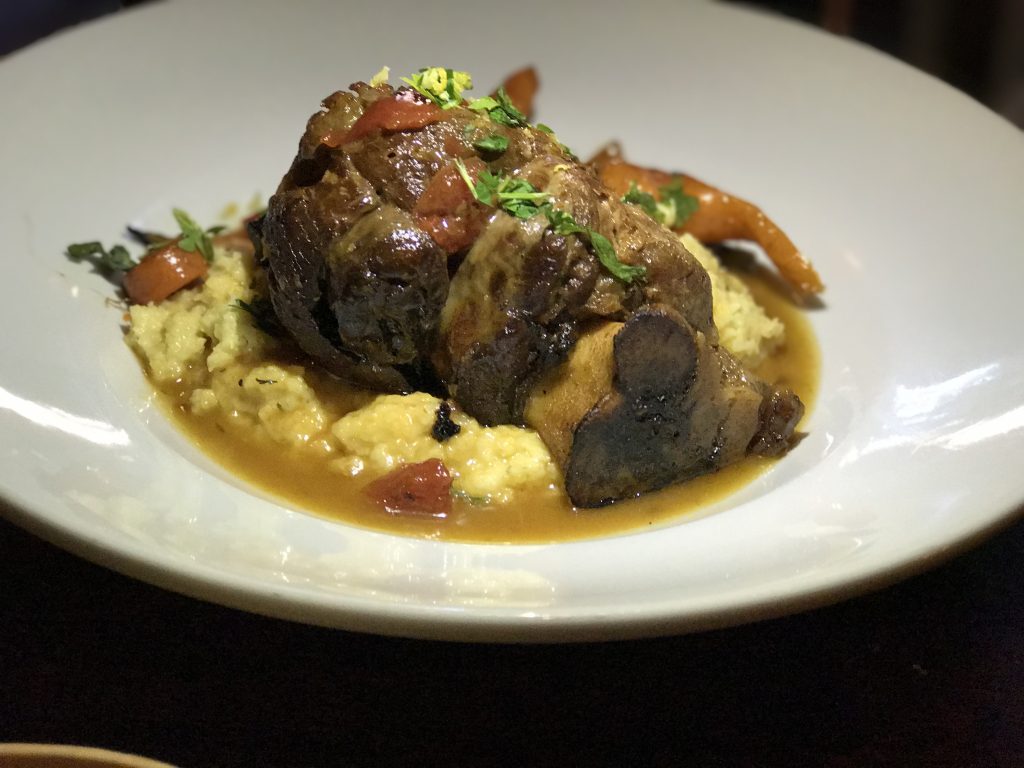 Linn's Fruit Bin | pie + jam + produce shop
In the town of Cambria, there is one staple that is something you never want to miss: the best pies around! Linn's Fruit Bin is the family farm about fifteen minutes outside of town with an upscale restaurant and pie shop in town. We went in for a pie and jam tasting and the moment you walk in, the smell of baked pie will take hold of your sense of smell and the minute you go in for a taste, its love at first bite. We tried the pecan, apple, Olallieberry, Cherry and more. We loved all of them and ended up taking a cherry and apple pie home. The story behind the Linn family began in 1975 when John and Renee Linn attended a wedding in Cambria and fell in love with the area and moved with their family and called Cambria home. After establishing their farm, Renee was known for utilizing their fruit to make some of the most delicious pies around. Now people everywhere get to experience what locals have for the last forty years.
Linn's | 4251 Bridge St. | Cambria, CA 93428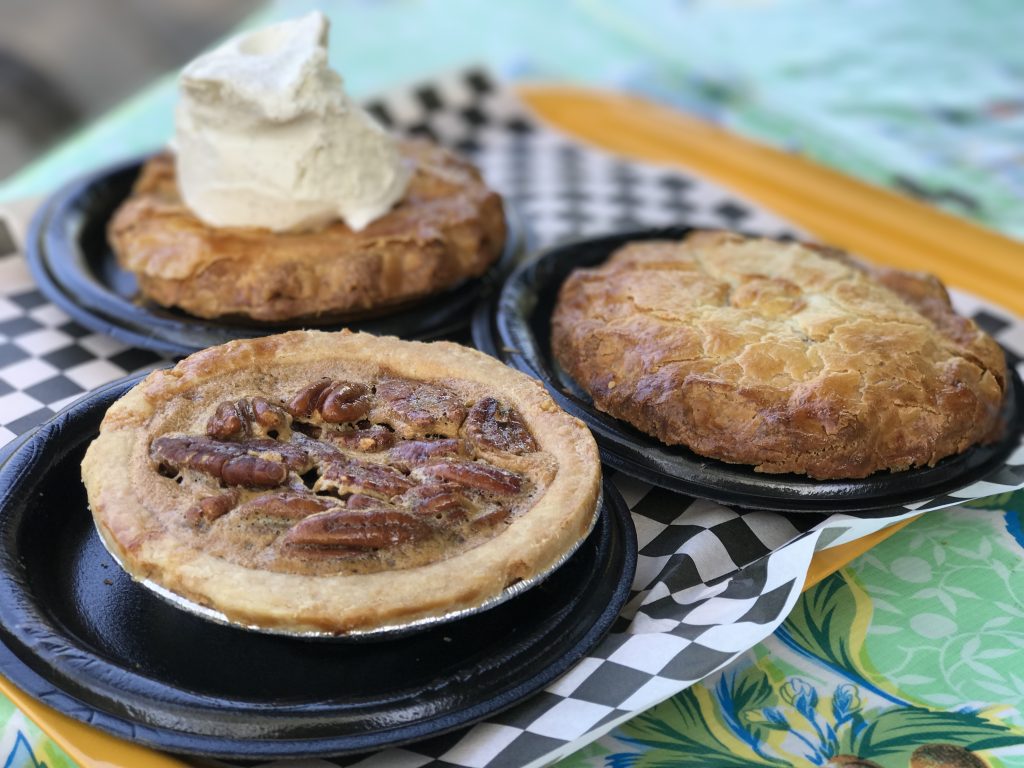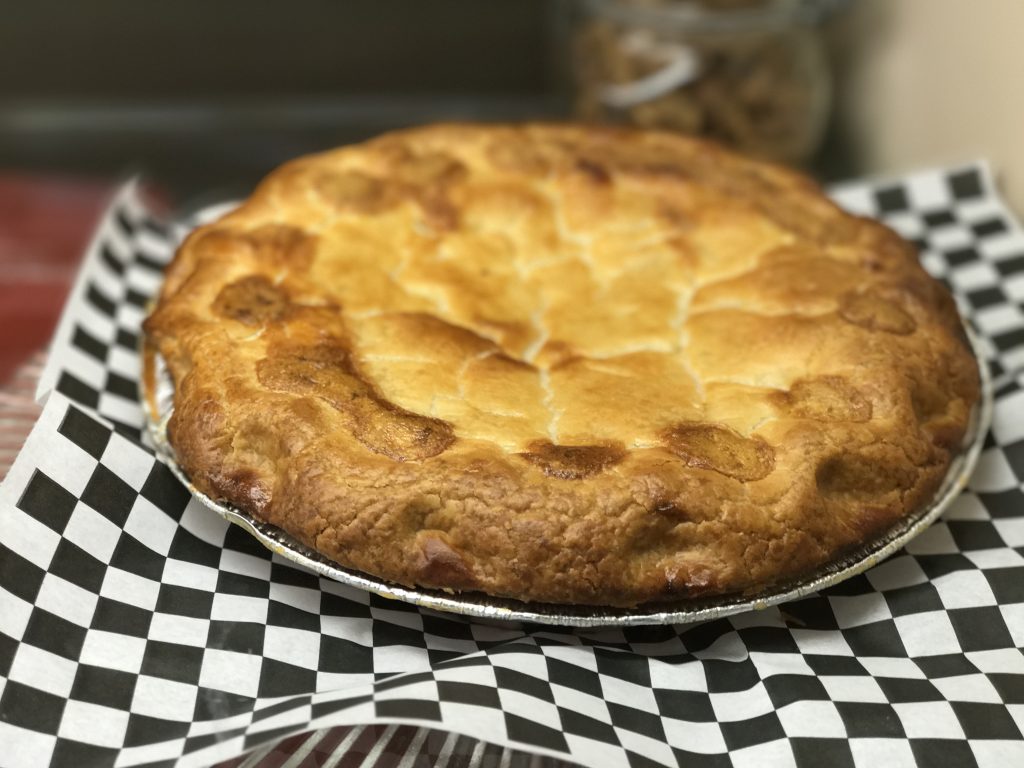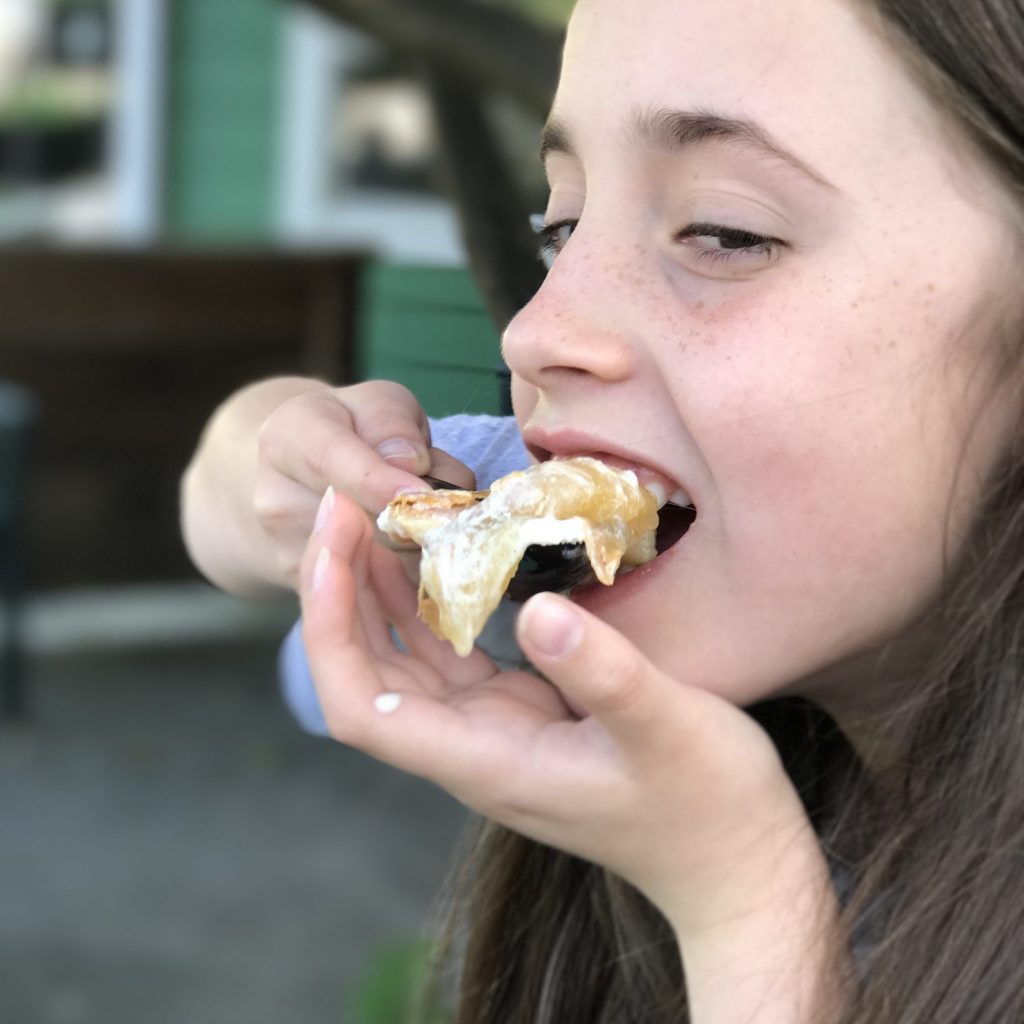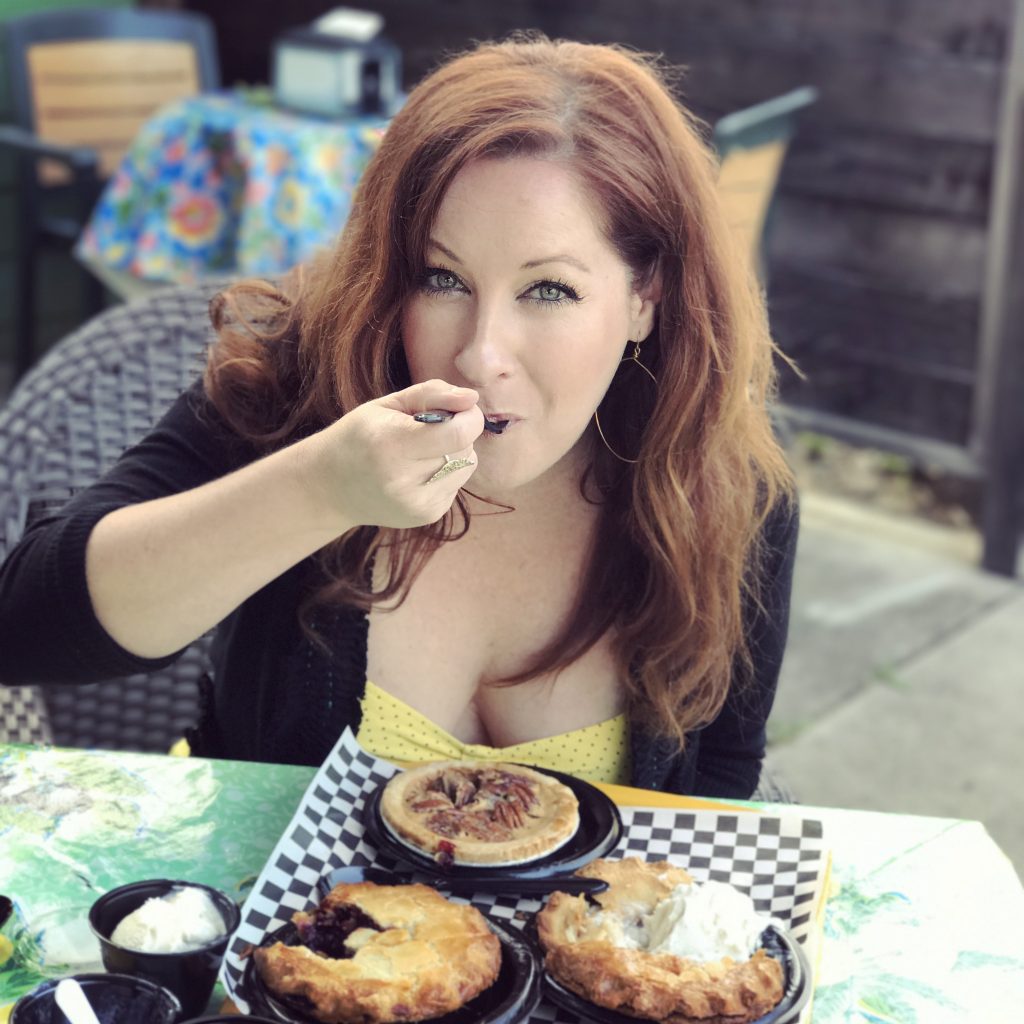 adventure
Stepladder Creamery | dairy farm and local farm
As you navigate your way through the heart of Cambria you find yourself in the hillsides which are so beautiful, it almost seems like you're in another state. Deep tones of green line every hillside, farms appear in the midst of open space, cows graze and eventually you come upon Stepladder Creamery where we were going to meet Michelle. The property walk through is by appointment only but serves as a venue, a goat and cow dairy farm, a fruit and veggie stand and a place where you can get some darn good avocado honey. We happen to do our tour precisely one day after two baby goats are born. We are fortunate enough to have held these darling little babes and as we round the corner, come upon another forty-two newly born baby goats that aren't more than four weeks old! After getting familiar with the babies and their moms, we tour the farm and see how the cheeses are made and then have an opportunity to do a tasting. Three cheeses, each with their own distinct flavor and then we taste the honey. With honey harvested on site, the honey is both sweet and slightly bitter and its decadent! While we finish up, the produce from their farm is being sorted through so notes of citrus and avocado dance all around us.
Stepladder Creamery | 4450 San Simeon-Monterey Creek Rd. | Cambria, CA 93428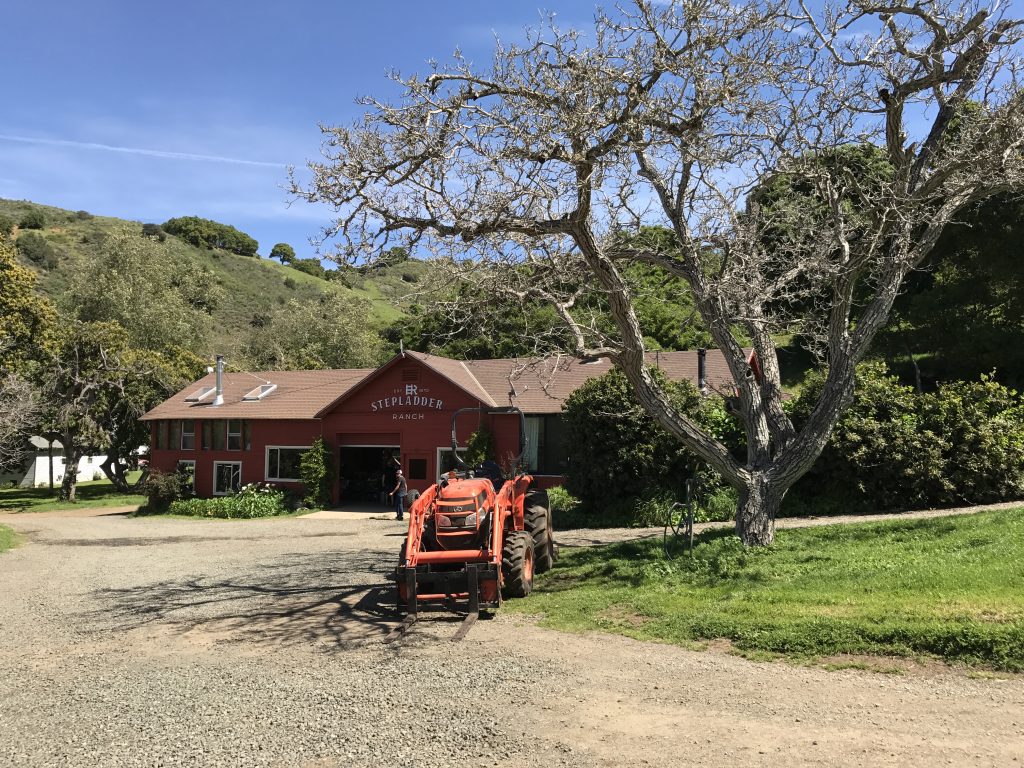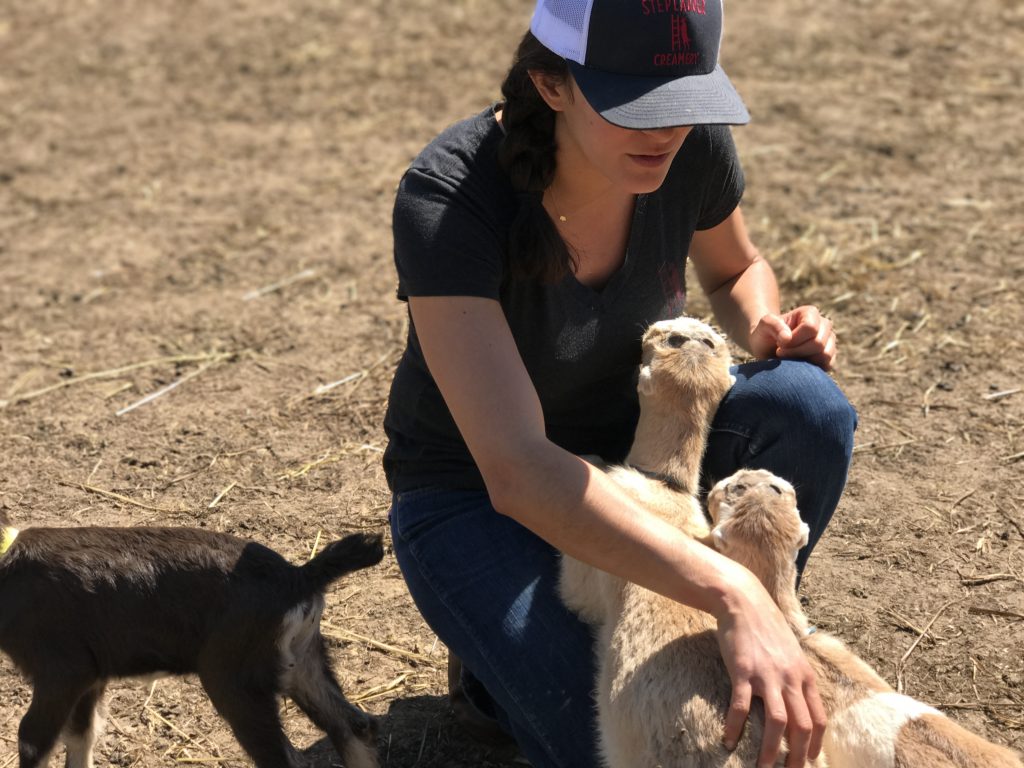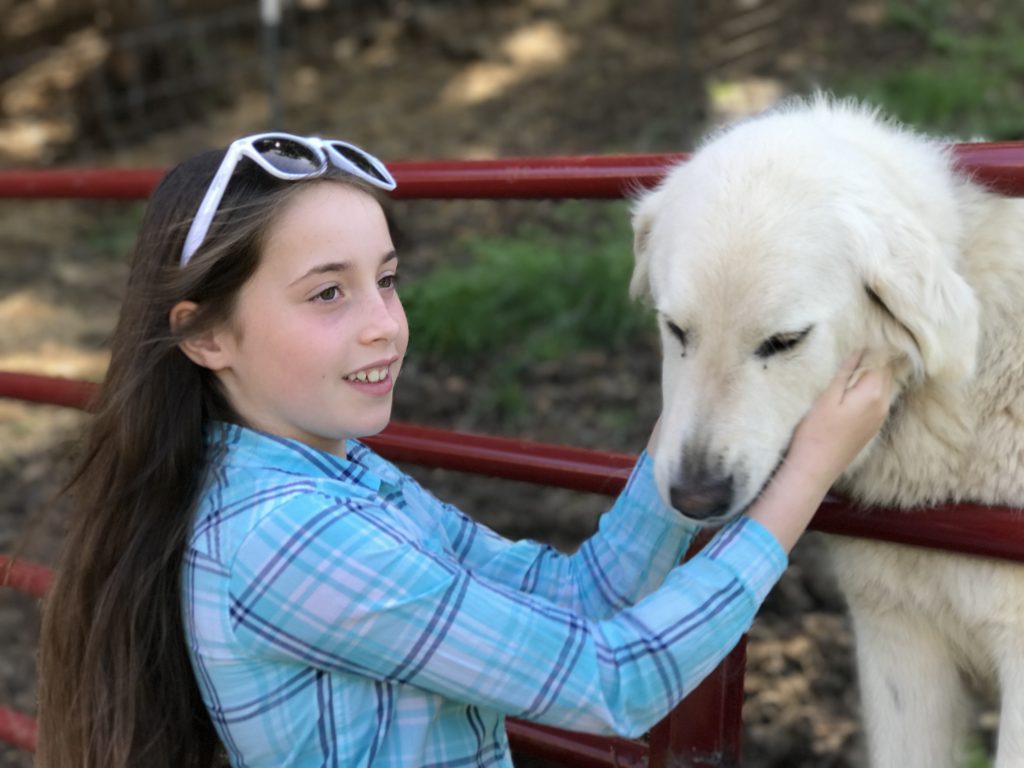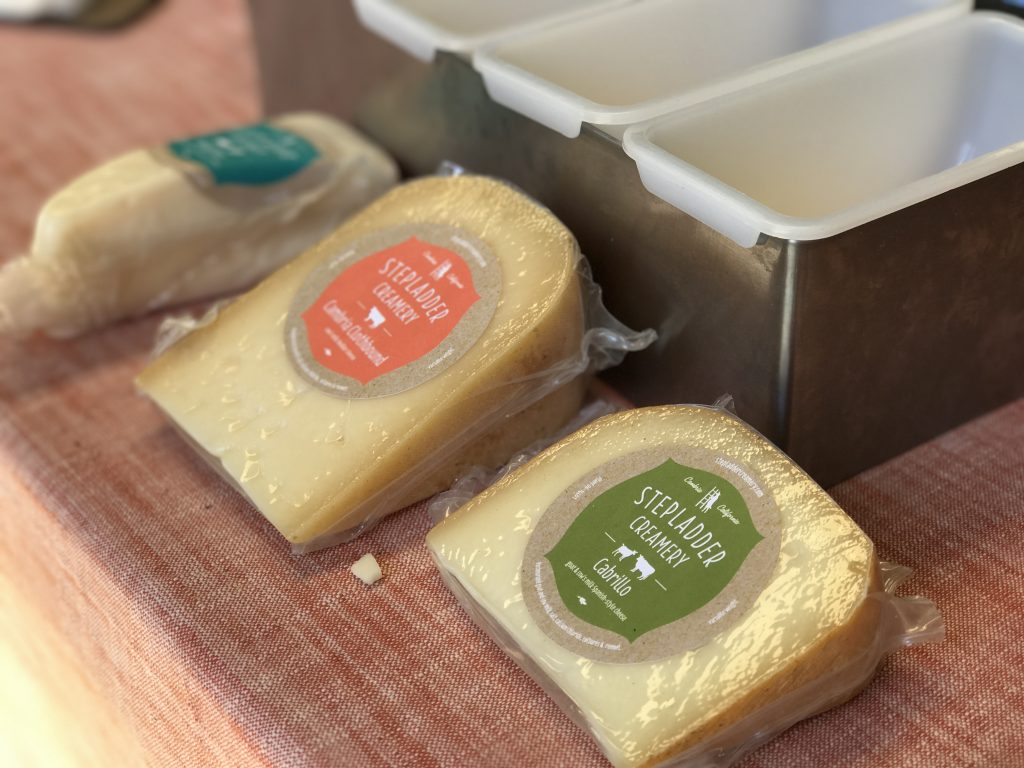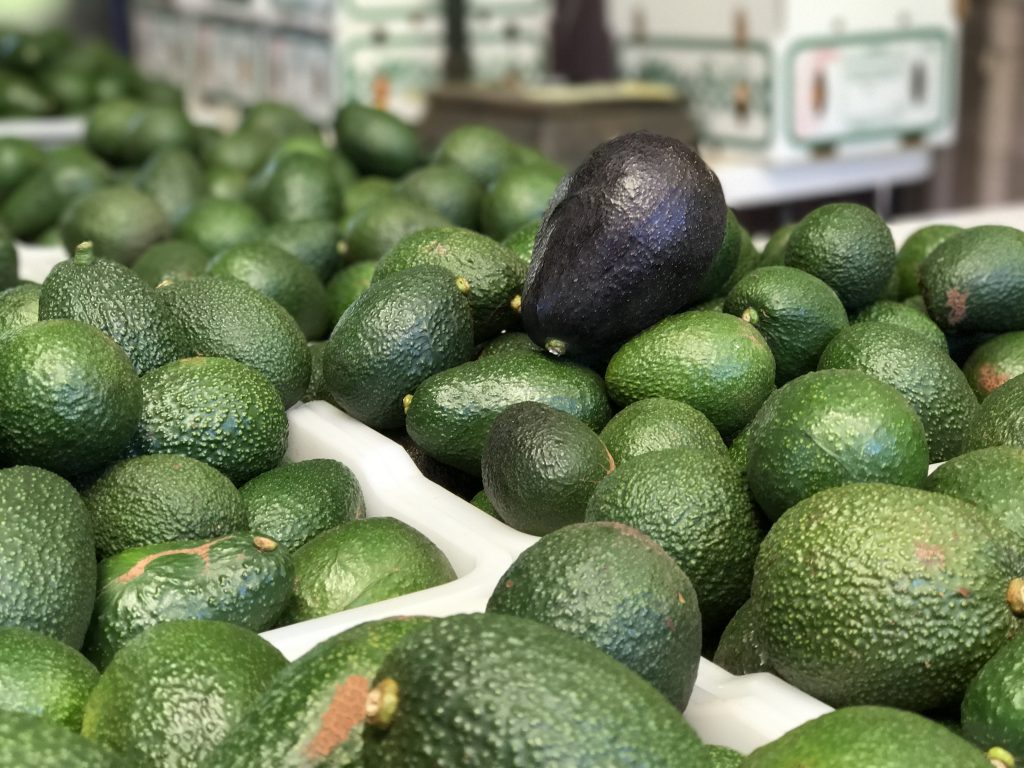 Stolo Vineyards | winery + wine tasting
Located up the historic Santa Rosa Road exists a beautiful winery with a red barn, two goats, three honorary cats and a family you have to get to know. The winery is Stolo Vineyards and we had the pleasure of stopping in for a wine tasting. A family run winery, the wine itself ranges from Sauvignon Blanc to deep hearty Pinot Noir. The nose on the wines range from berry and floral forward to earthiness and hints of rounded nuttiness. They are each uncomplicated and easy to sip. Tina is beyond helpful and as we sit and try their portfolio of wines, we talk about life, laugh and enjoy being on such a beautiful property. As we enjoy the long communal picnic table inside, I glance out of the window and notice crystals dangling outside on the tree (leftover from a wedding two weeks prior) and I'm in awe. That subtle shimmer just adds to the charm of this place. This is a an incredible stop and well worth a slight detour out of town.
Stolo Vineyards | 3776 Santa Rosa Creek Rd. | Cambria, CA 93428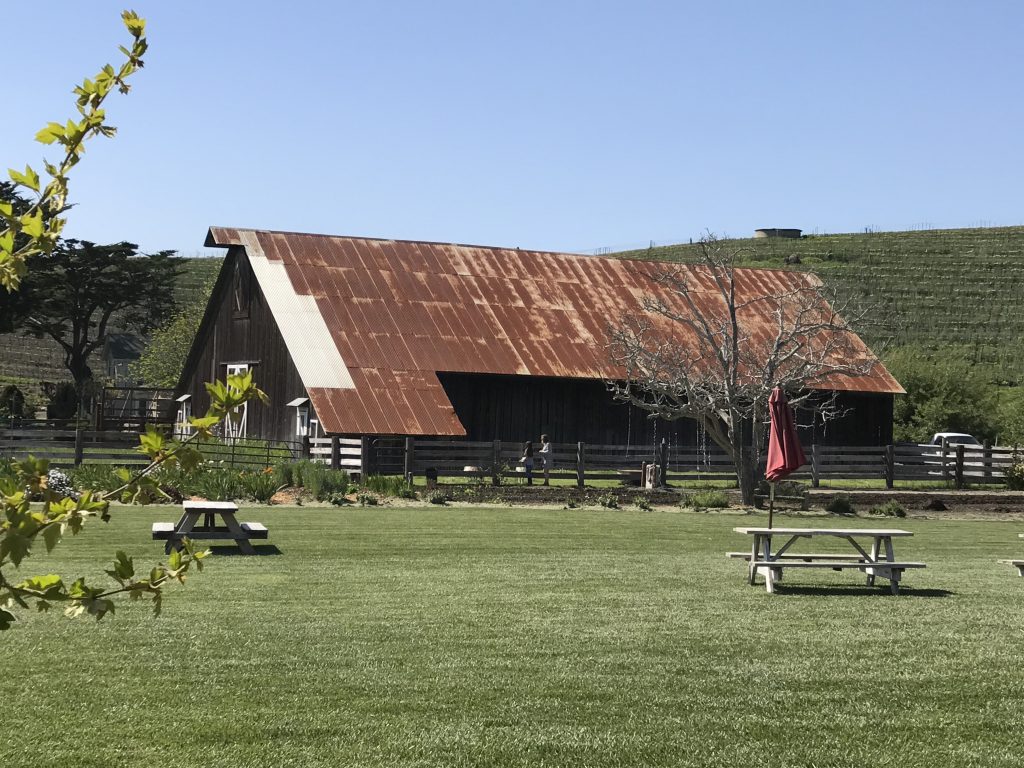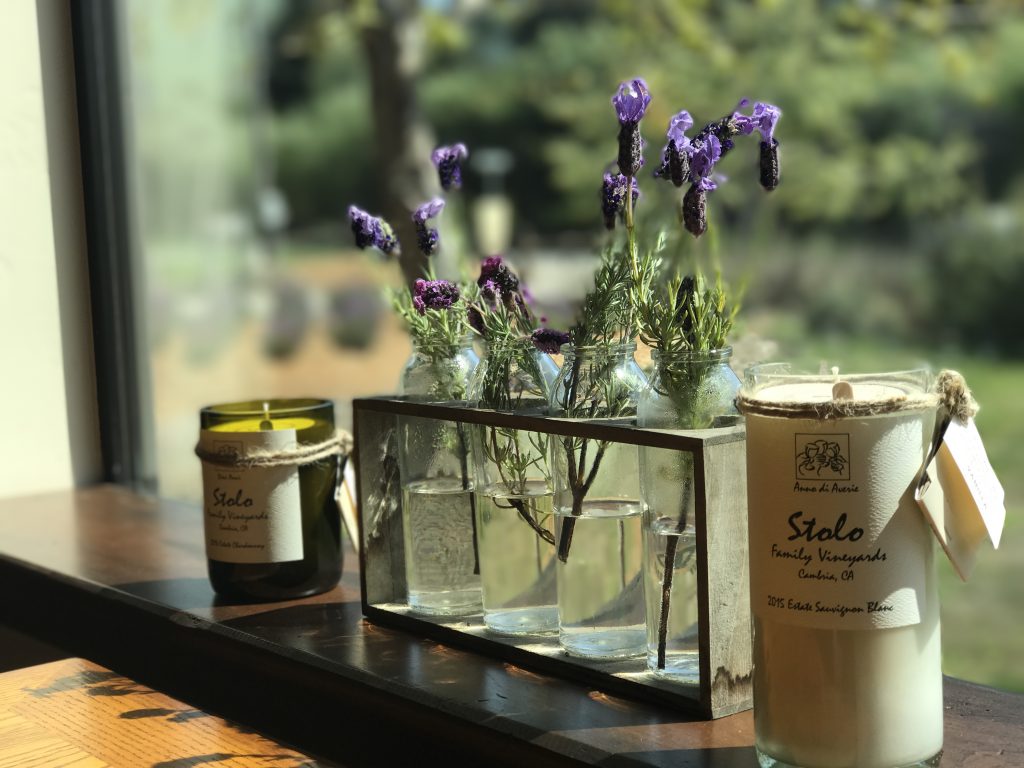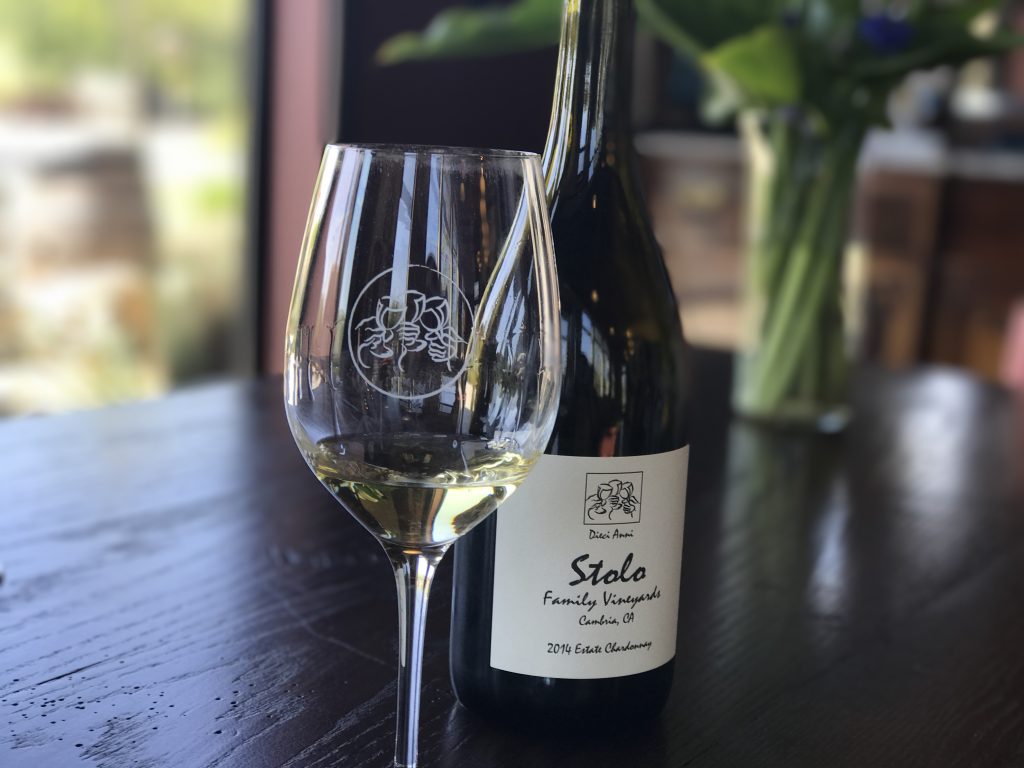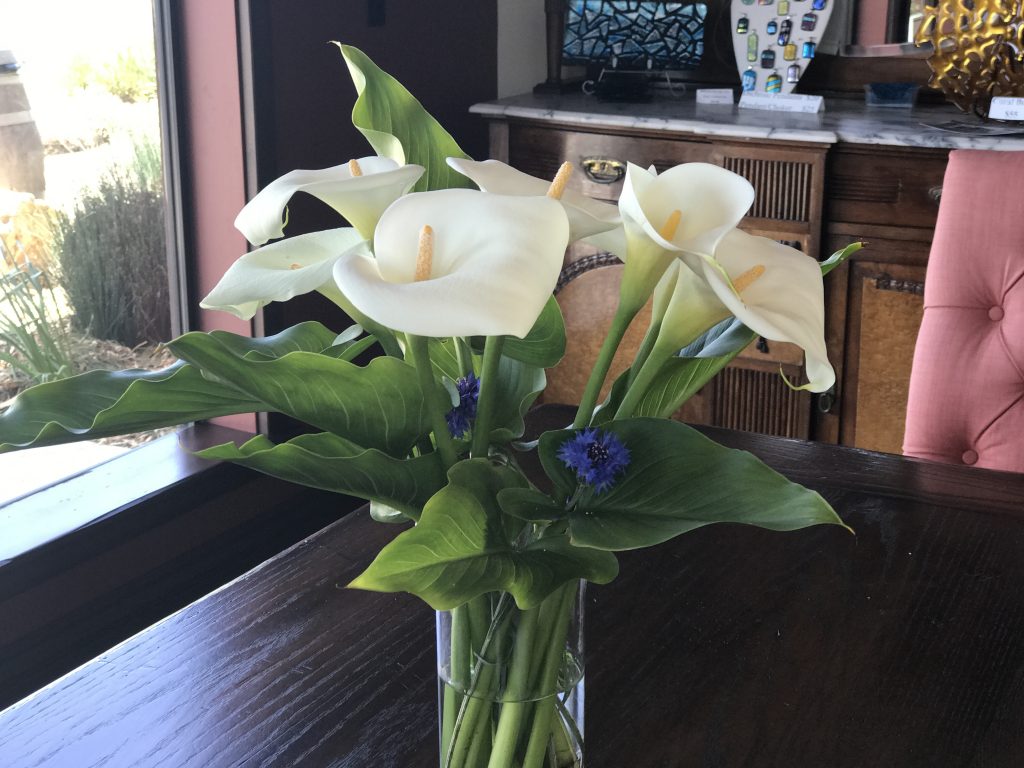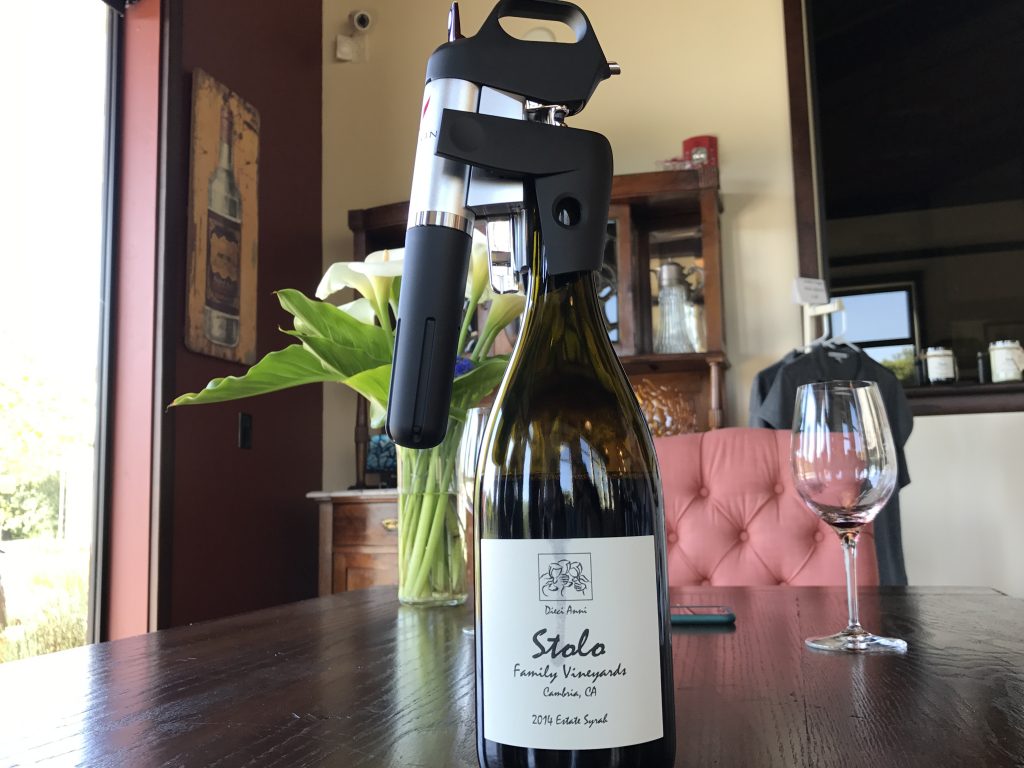 Tula Yoga | yoga studio 
As the sun rises and smoothies are made, my daughter and I head to Moonstone Beach for a morning of relaxation and regrouping with Terri from Tula Yoga. With yoga mats ready, mason jars filled with fresh water and lemon slices, and beautiful sprigs of jasmine tied securely to the jar, Terri leads us into a morning mediation of stretching and awareness. She is the kind of instructor that immediately instills a sense of abandon so you can actually quiet the mind and find your center. Our views are of crashing waves on the shore, crowds of strangers walking on the sand beyond us, people flying kites at the beach and the promise of a simple and quiet morning. Tula Yoga offers some sensational classes on and off-site and Terri has created some rather inventive retreats certainly fun (and tranquil) to take part in.
Tula Yoga | 614 Main Street | Cambria, CA 93428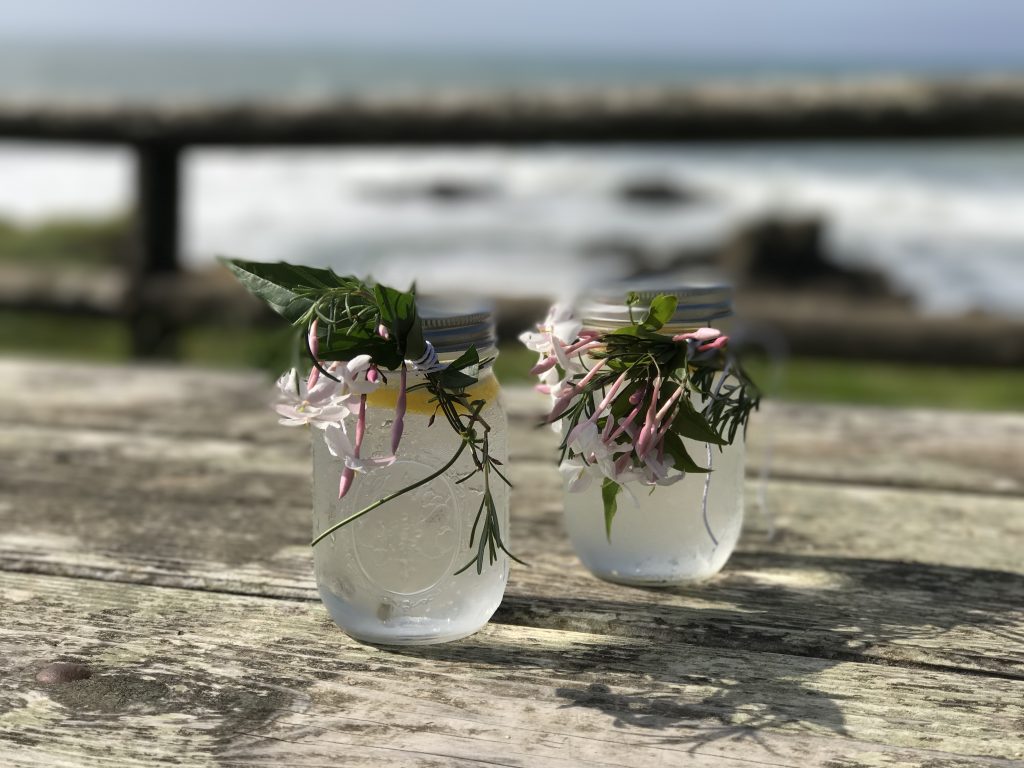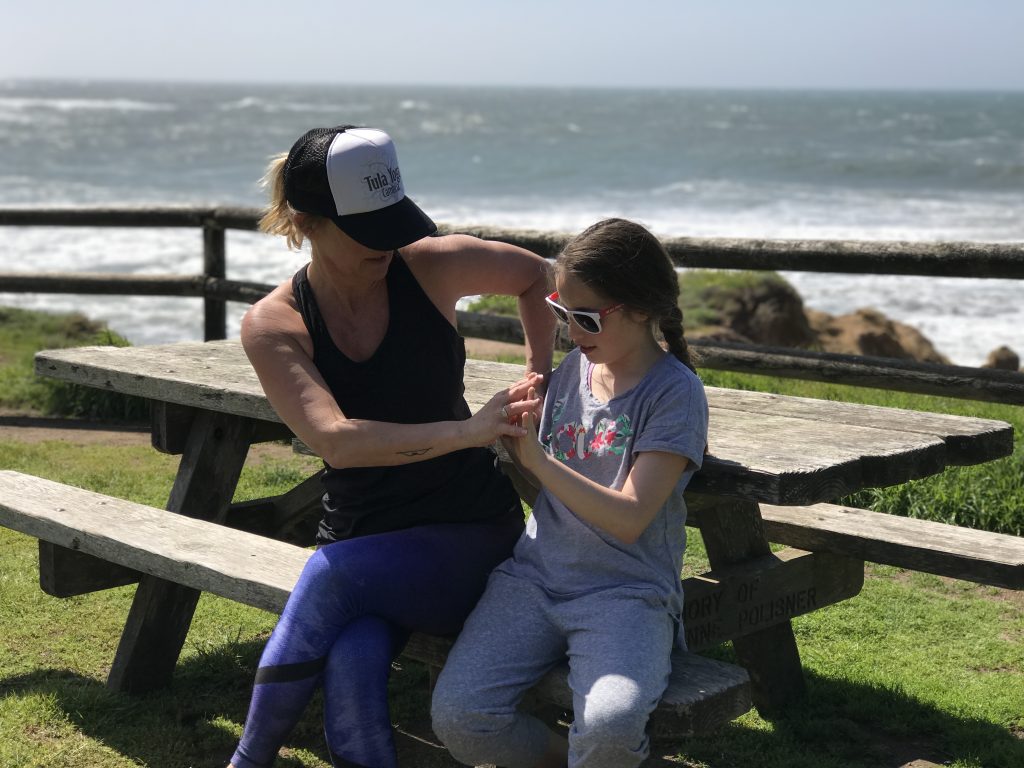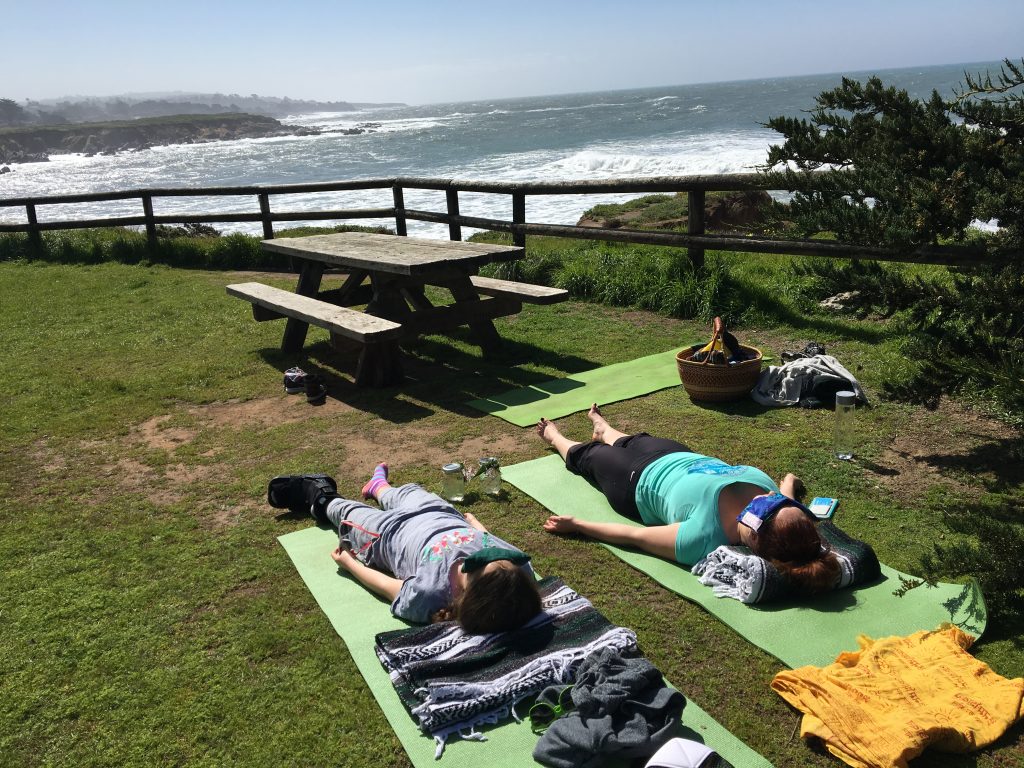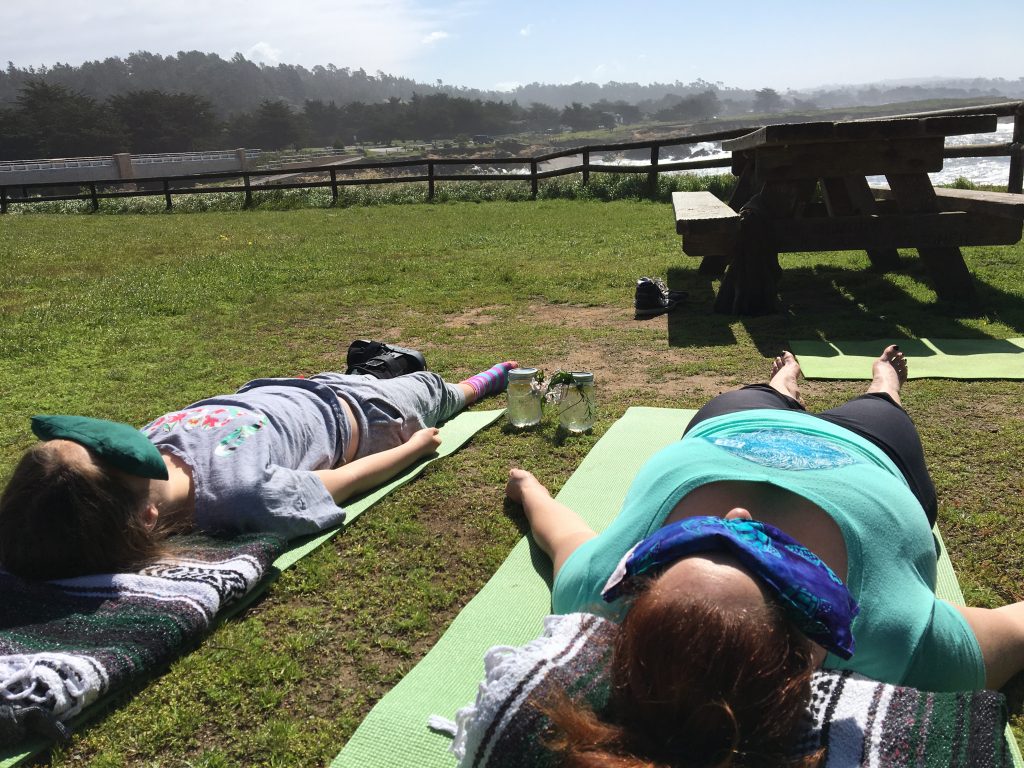 Hearst Castle | museum + national park: the infamous William Randolph Hearst's Estate
Hearst Castle is something everyone should see at least once. Propped atop the entire countryside of Cambria and San Simeon, the grandiose mansion houses spectacular views, insanely ornate décor, extensive history, refined cottages, wild zebras, an empty zoo, a landing strip, a wine cellar to envy and our favorite parts: the kitchen and the gardens. While the Roman Pool is under construction, we decided to tour the grounds and do the Cottages and Kitchens tour. While a romp through someone else's kitchen may seem futile, this kitchen is one of the most amazing you'll see. Huge prep tables, commercial equipment in mint condition dating back to the 1930's, detail in every corner and enough space to host 150 people! The cottages are decorated from top to bottom. In fact if you look up, you'll see intricately carved ceilings with cherub faces and purposeful markings. All designed by female architect, Julia Morgan who devoted 28 years of her life on this project. Now an official State Park, from stories of Hollywood starlets to torrid affairs, to sweeping views of the San Simeon Valley, Hearst Castle is something to behold.
Hearst Castle | 750 Hearst Castle Road | San Simeon, CA 93452-9741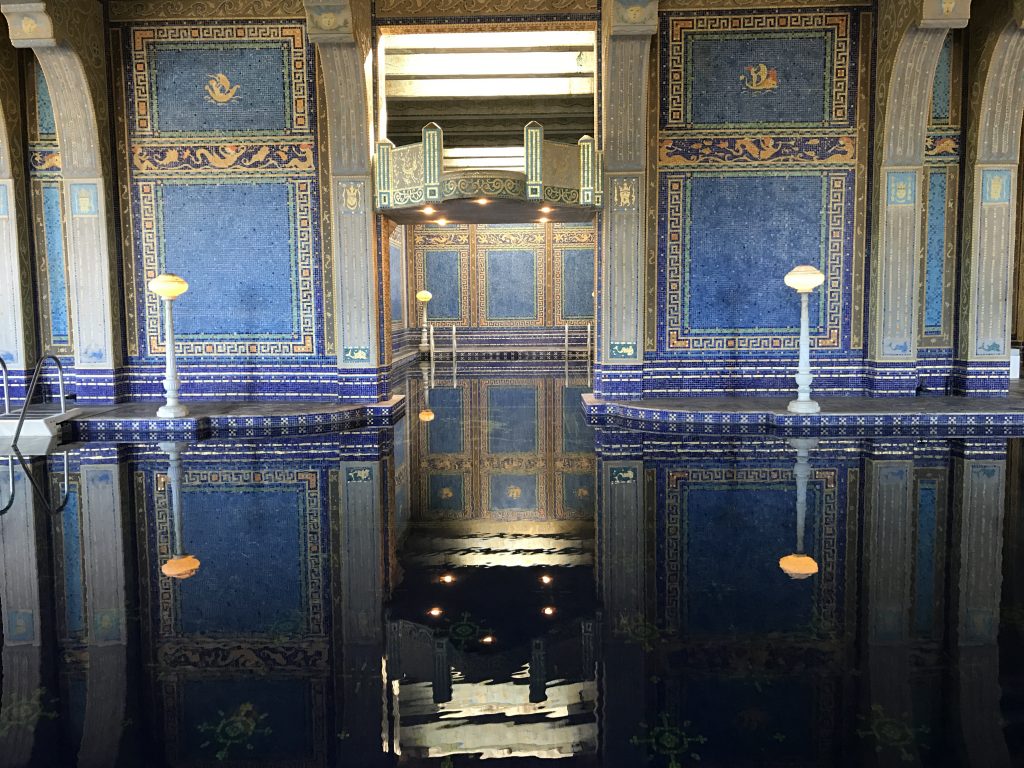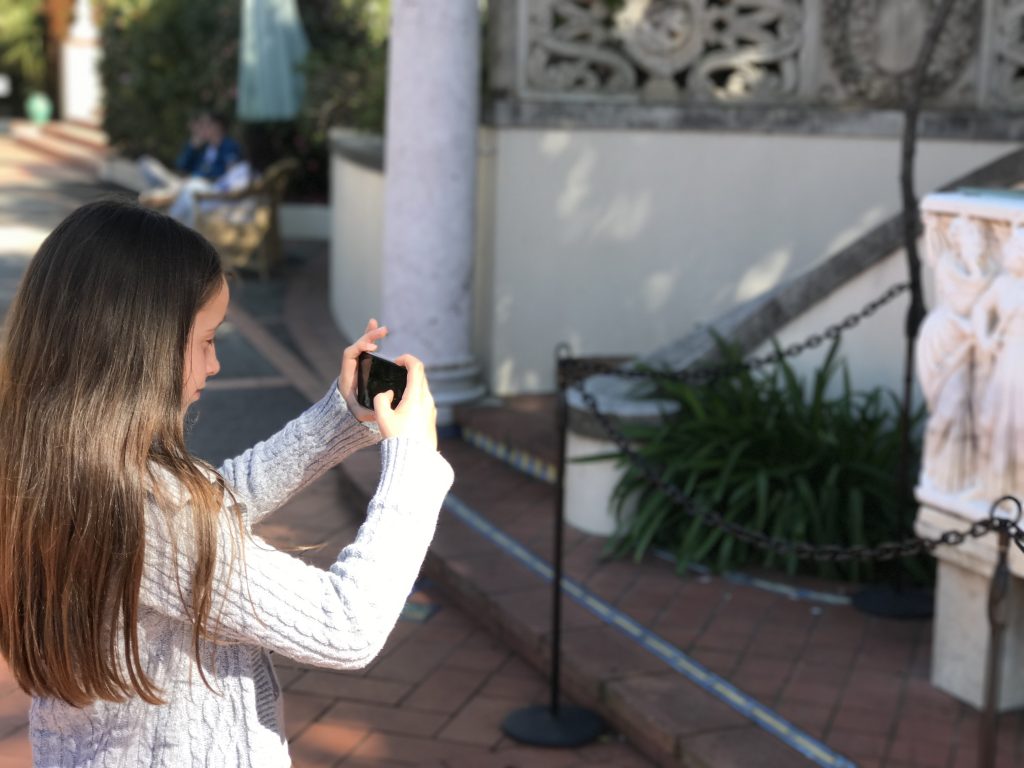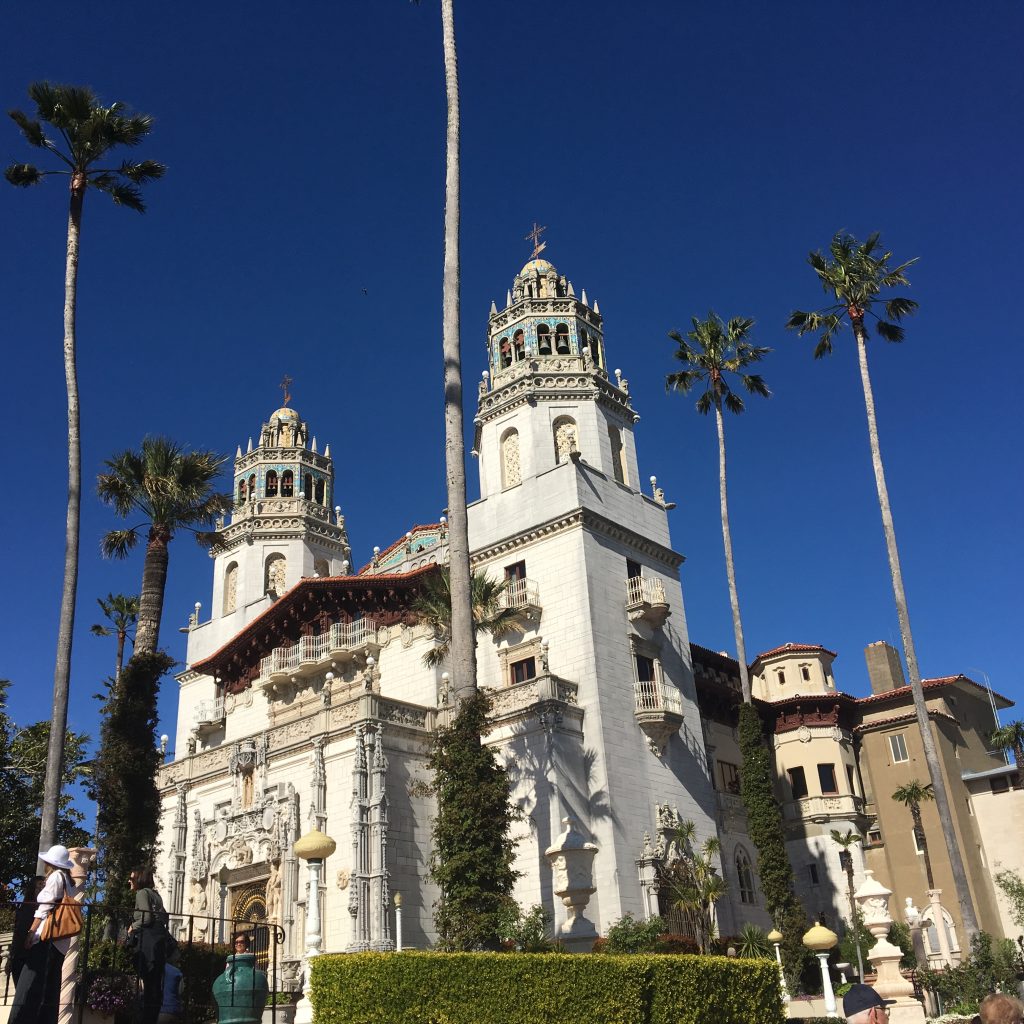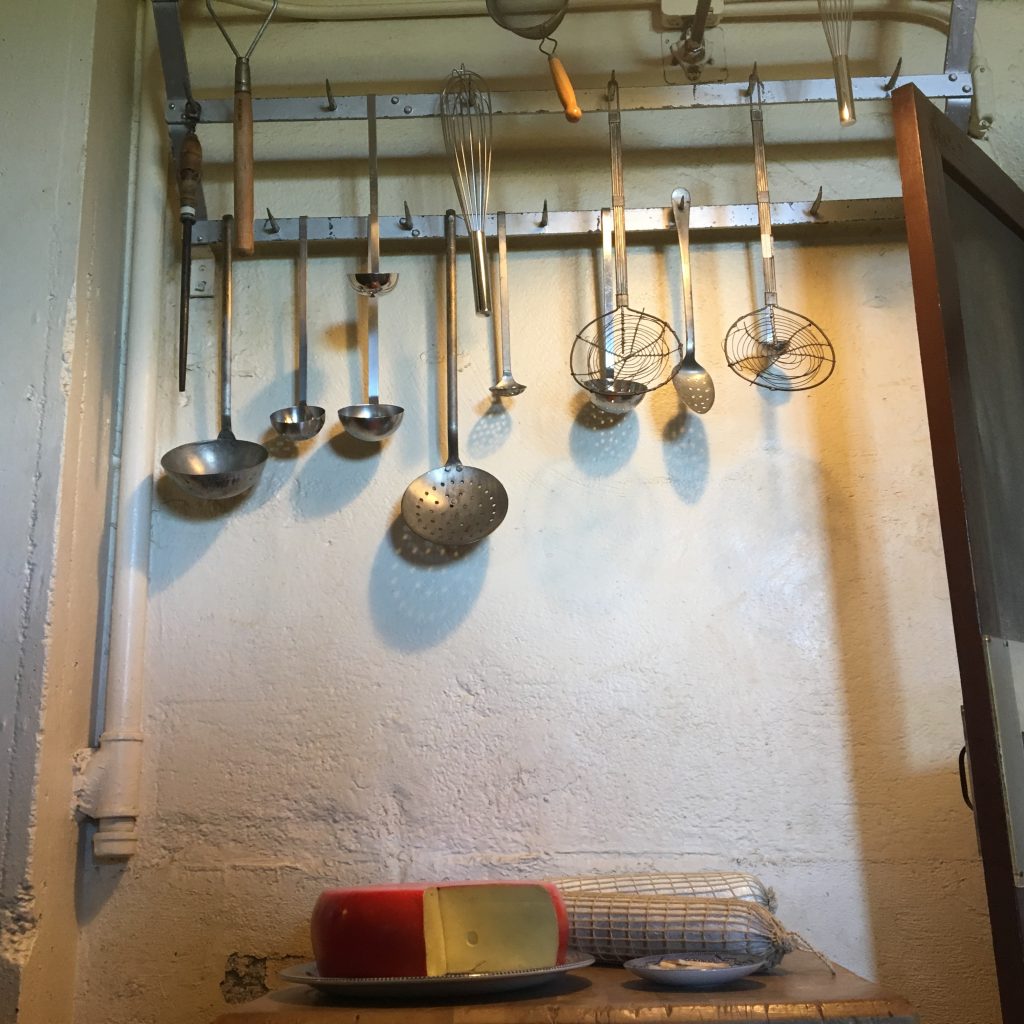 San Simeon Elephant Seal Beach | elephant seals to appeal to every discoverer
For anyone who has ever watched Planet Earth or the National Geographic Channel, you have an appreciation for nature and wildlife. In California we have a plentitude of sea creatures and wildlife to be awed by but in Cambria you get to see them in a way that epitomizes the term, "up close and personal". Along the San Simeon beach line, just past Hearst Castle, hundreds of elephant seals bask in the sun, play in the sea and even scratch their bodies with their fins which, when scratching, seem more like hands! It's fascinating to watch them in their own environment and if you're lucky, you'll get to see them communicating with one another in a way only nature could provide.
San Simeon Elephant Seals |  Plaza del Cavalier, 250 San Simeon Ave. | San Simeon, CA 93452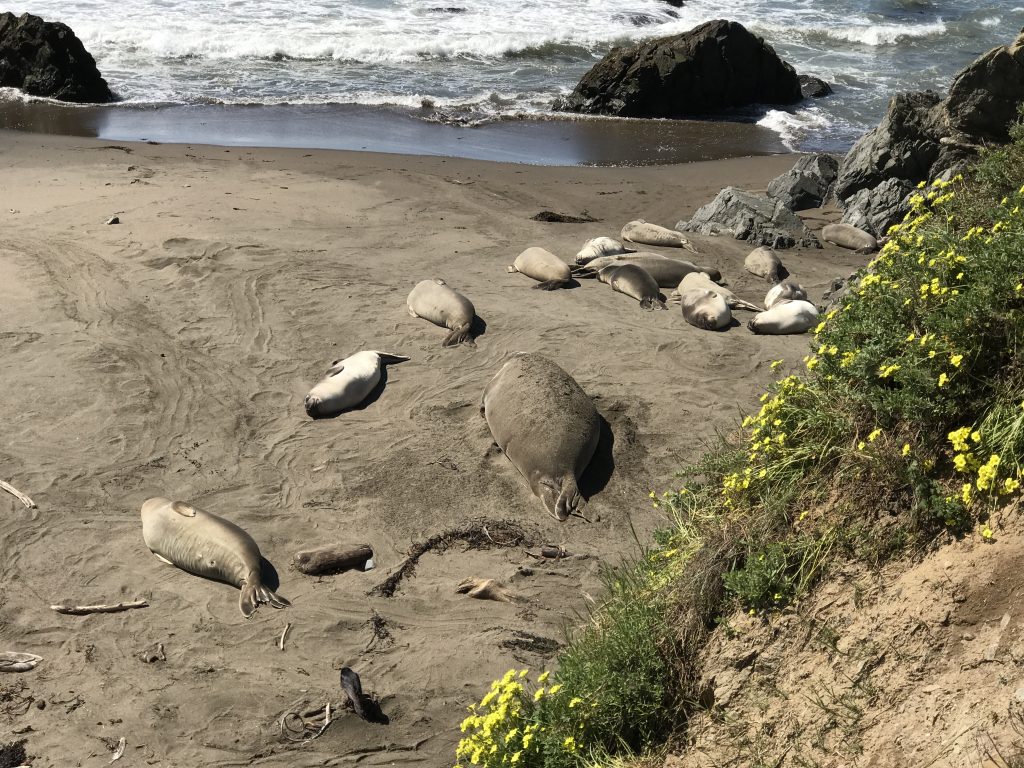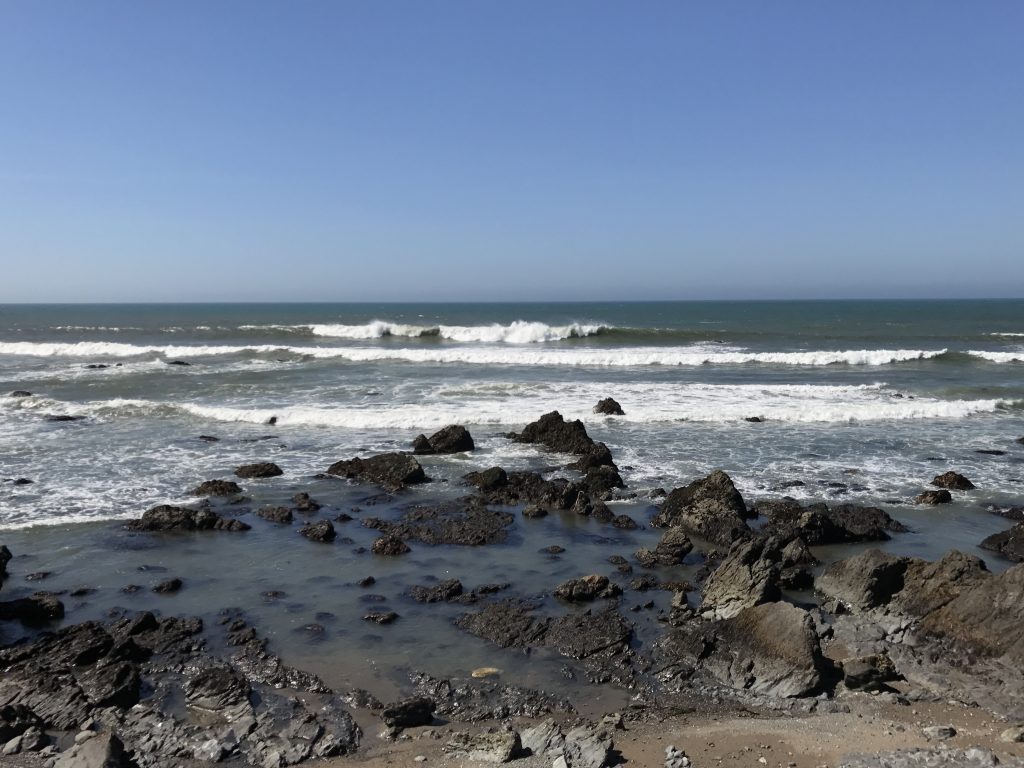 For family friendly spots, this entire region is ideal. There are plenty of hiking trails, beach excursions, wildlife and friendly people to make your girls getaway one to remember. For the women? There are also plenty of fabulous adventures including going dancing at the local bars, exploring neighboring towns, enjoying margaritas or wine, and giving into guilty pleasures with some fresh baked pastries at Linn's.
The Gist: Cambria is a town that really is illuminating. It has great little stores to discover (we like the Antique Shops), Tula Yoga studio which has some pretty innovative, forward thinking classes available, places to discover including Moonstone Beach, wine trails, tasting rooms like Moonstone Cellars (I enjoyed the 2015 Gewürztraminer + Nate will take good care of you and show you the new Members Only Club House and B+B being built in back!) – and – Cutruzolla Vineyards (I enjoyed the 2013 Reserve Pinot Noir and the 2015 Chardonnay). A few notable mentions other than above are Lily's Coffee House, Linn's Restaurant, and Las Cambritas (happy Mexican food). There are beautiful beaches nearby to walk along and tons of shops to discover and while there are plenty of hotels, I still think Air B & B may be the best bet for this particular town. While I stayed at the nicest hotel in the area, El Colibri Hotel & Spa, it refers to itself as a spa but I don't know that I'd come here expecting traditional spas you may find elsewhere. The rooms are updated (except for the bathroom which I reference below), the morning smoothies are delicious, you can rent bikes for a beach stroll, and the beds are comfortable. Our room had a fireplace and views of the mini forest outside our sliding glass balcony door.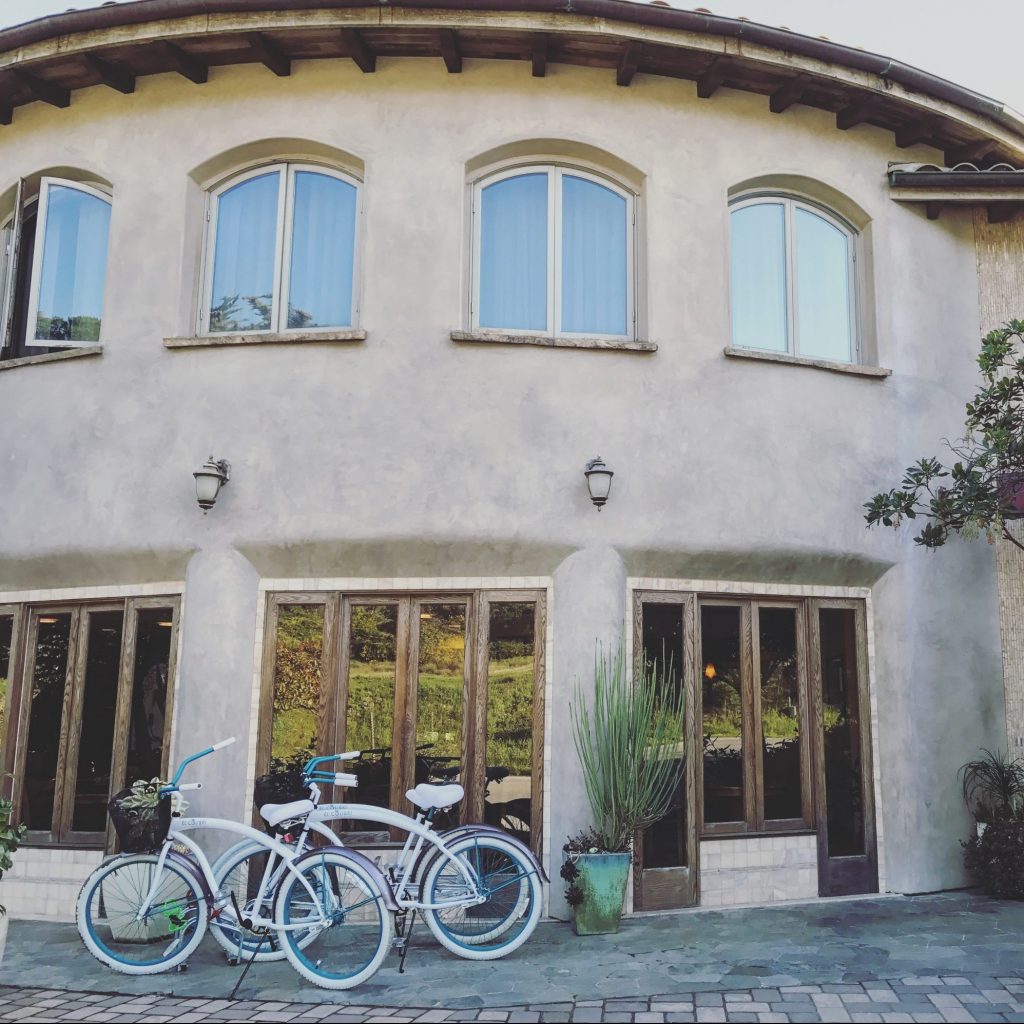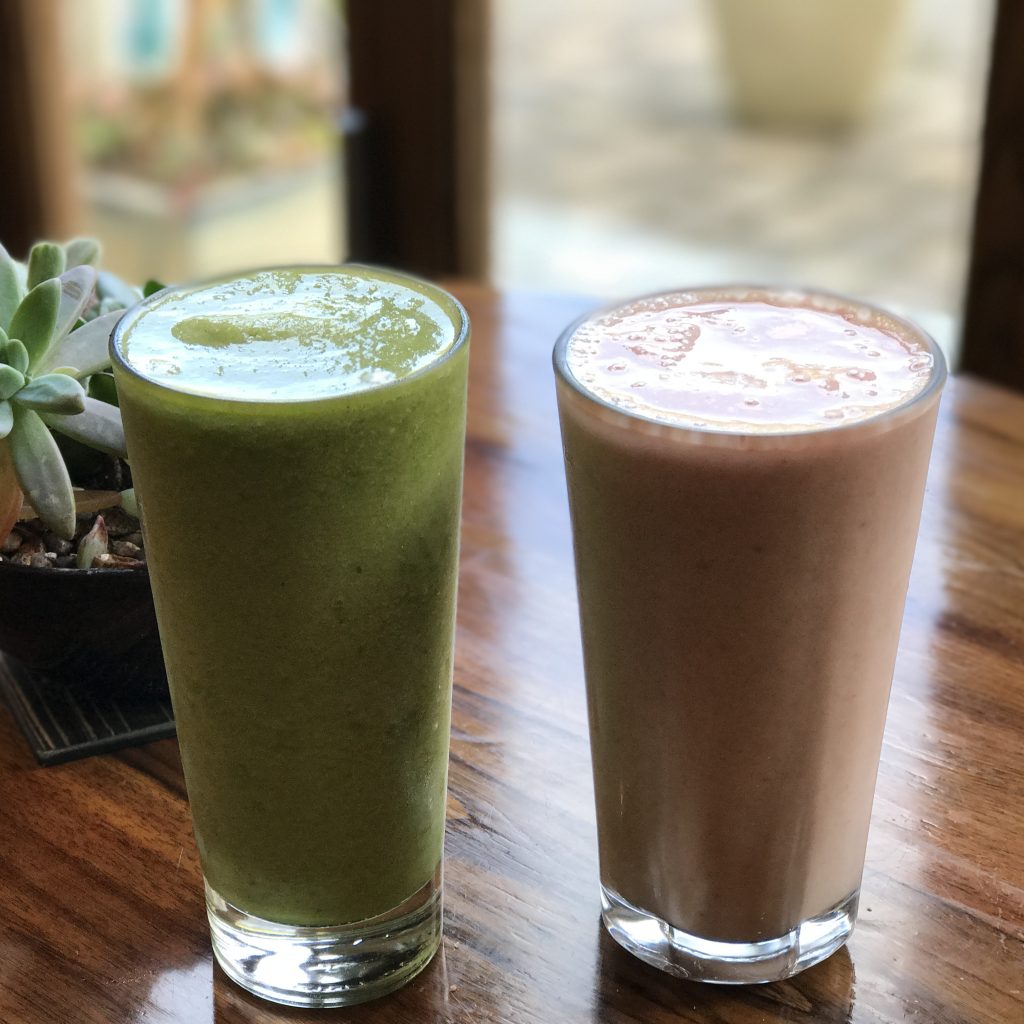 That said, some things are still a work in progress considering the neighboring areas. If there were areas of improvement in Cambria, I'd love to see more improved hotel options and a few more flavorful restaurants. With so much nearby including San Luis Obispo (hearty in dining options), fresh seafood just a hop, skip and a jump away, and the gorgeous land and seascapes surrounding the town, it would be the perfect place to stay with a few more upgrades. All of the restaurants we visited were good, some really left an unforgettable mark like that pie from Linn's and the Lamb Shank from Robin's and our experience at The Cafe. I would like to see some of the higher end restaurants utilizing the agriculture in the region to offer some healthy options including vibrant fruits and veggies.
As far as those looking for boutique hotels that are high end, the one hotel and spa is El Colibri where we stayed. This hotel is the only luxury hotel in the area but would do better to incorporate a few additions like a privacy screen above the bath tub (there is no privacy whatsoever so anyone in the room can see you shower and bathe), a wine and cheese hour every evening and perhaps the option to call the front desk and order your breakfast. These are amenities that classify a hotel as luxury and boutique. The fact that you can't order breakfast is something I don't understand – it would actually unburden the one woman preparing everything because she could time everything out a lot easier. Also, since the hotel seems more like a boutique hotel, it would be wonderful to have filtered water available and a menu that is fully available. Many of the items weren't available which was frustrating.
All in all, Cambria is a sweet town and I had incredible conversations with everyone at the Market, our time with Terri, the wineries, and the locals were beyond generous with their time. While the city may not see itself as a family destination, my daughter and I found plenty of things to do. Our favorite parts were discovering the landscape surrounding it though. It really is a beautiful part of California … and wine lovers? Definitely take some time to head to Stolo!