Catalina | Your Island Getaway!
relax, rejuvenate and refresh
cover photo courtesy of Catalina Chamber & Tourism
[dropcap letter="C"]
atalina Island
is an island just 26 miles off of the Los Angeles Coast and yet when you've arrived? It's as if you've traveled back to a time where luxury and lifestyle meant enjoying the world around you without life getting in the way. With everything from spas, eco tours, new cuisine and a museum that really is beautiful, you can't help but find Avalon (the city name of the island) to be the most ideal getaway. The beauty of the island, among many things, is that you can escape for a day, a weekend or a week and feel equally invigorated and relaxed no matter what. [columns_row width="half"] [column]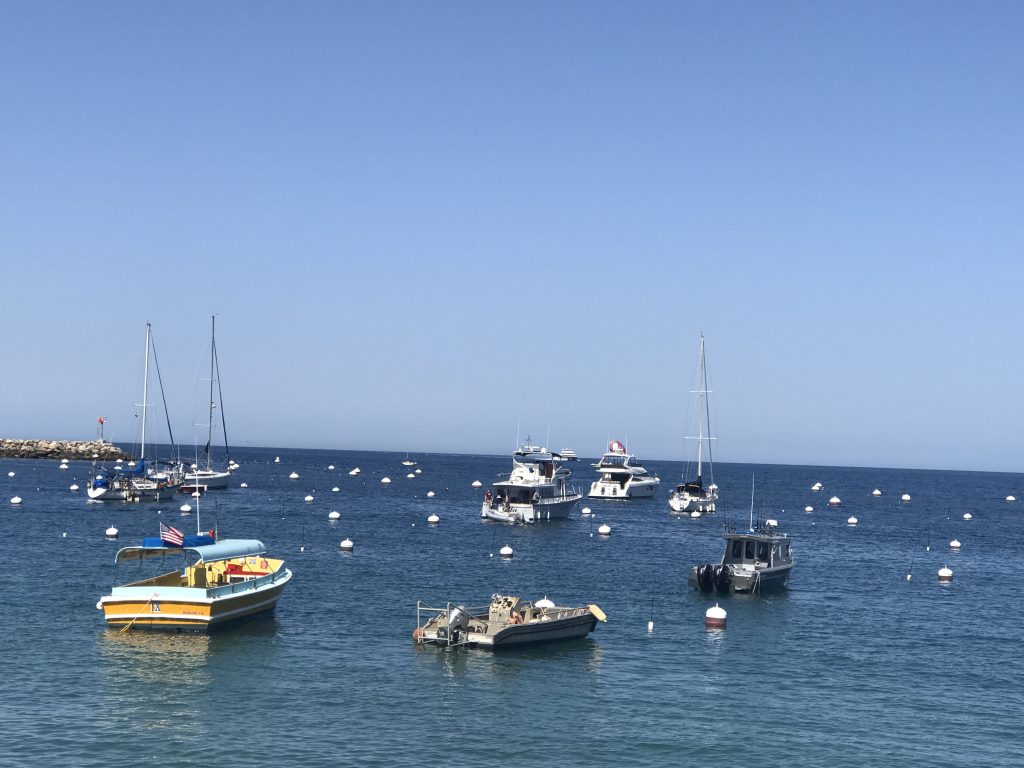 [/column] [column]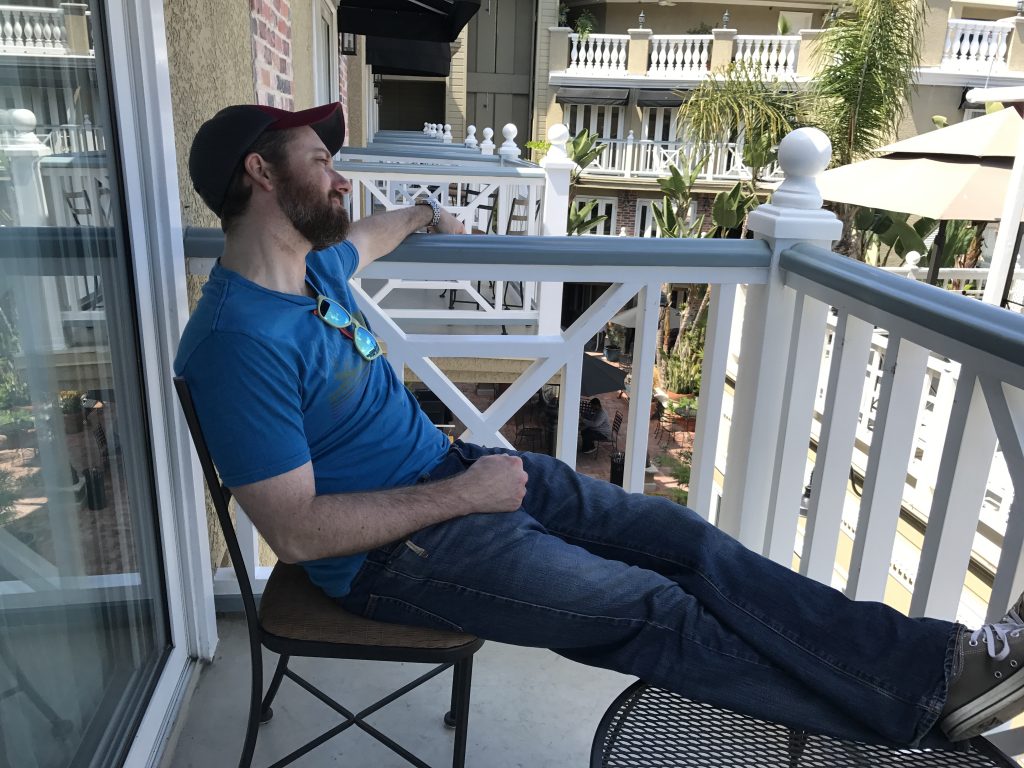 [/column] [/columns_row]
The island has a history that tells tales that rival much of our history. Stories that include being the place where espionage was started when embargos all but landlocked American soldiers who utilized the island to practice war tactics that would prove to be instrumental in today's spy tactics and special ops. It also happens to be the place where, when Mr. Wrigley purchased the island, was where the Chicago Cubs came to train (in an effort to escape the brisk chill of Chicago winters!). And for those that wonder, Mr. and Mrs. Wrigley are THEE Wrigley as in Juicy Fruit, Double Mint and Big Red gum! He also happens to be the same man that owns Wrigley Field. The story goes that he and his wife loved the property and they actually did quite a bit to preserve the land and increase tourism. Now the island is owned primarily as a land of conservation but the Wrigley family still own a percentage of the island and to this day, the descendants still come to visit.
[columns_row width="half"] [column]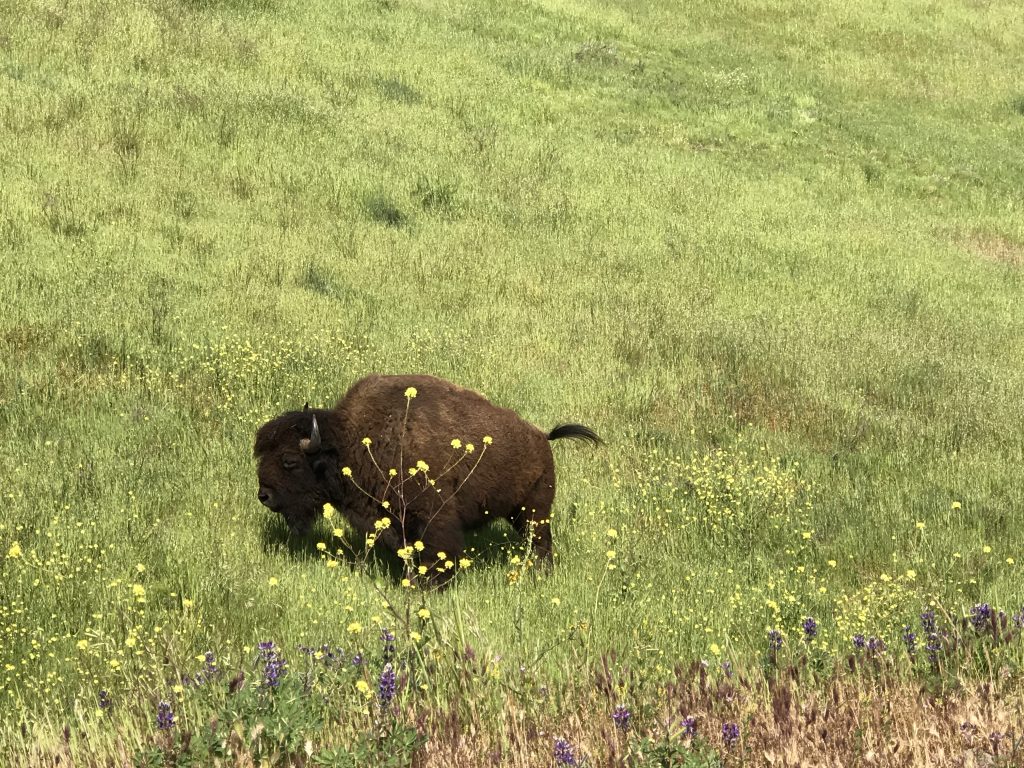 [/column] [column]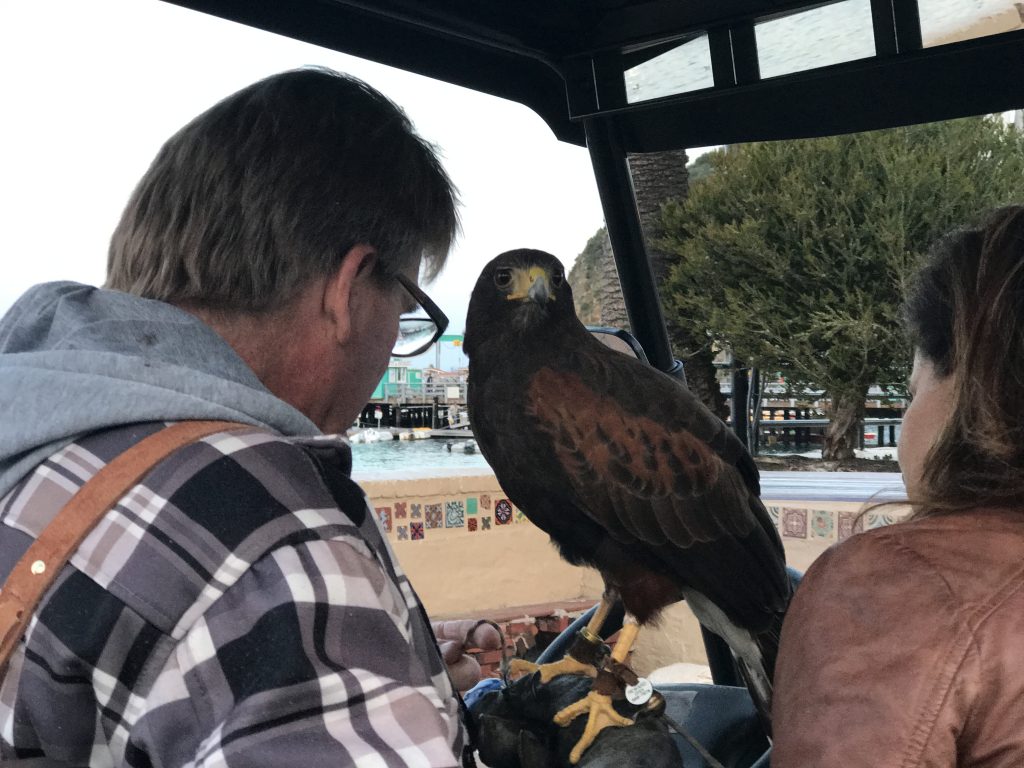 [/column] [/columns_row]
I should preface this piece by saying that it's been seventeen years since I've been to Catalina and while now, an adult with more refined taste, I was pleasantly surprised at how much change has occurred and how much they've done to restore the history of such a lovely place worthy of thriving. So, truth be told, seventeen years ago, there weren't many hotels on site, let alone ones that could appeal to the more sophisticated traveler (keep in mind this was in the midst of the 90's). In fact, the fanciest hotel was a Holiday Inn which is where I stayed when my sister got married here years ago. Granted, the Holiday Inn has done some major renovations and is now a beautiful hotel (just note its not right on the shore). Now as tourism grows and travelers realize how much there is to offer on the island, the choices have increased exponentially. There are a good handful of luxury options as well as a multitude of other hotels which says a lot about the mile and a half island sliver that acts as ground zero for most of the island's activities. With price ranges appealing to every income, I found myself drawn to a few different hotels that appeal to my desire for something more.
[separator type="thin"]
Hotel Metropole: I stayed here and it is a quaint stop on the island. My room had two queen beds, a fireplace, and a beautiful balcony that let in the night air and the sound of the morning as it crept through the curtains. I enjoyed the hotel but a few little adjustments could send this to the top of the favorites list of where to stay. The rooms are spacious, beds are comfy, décor however is very simple. A little art, a succulent or two, and a few storage options would really make a difference. They do offer free water bottles which I really appreciated. All in all, the hotel is sleek and nice and the breakfast offered is a good way to start each day. For the days when you want a hot latte or a cinnamon roll, you just jaunt downstairs and grab one at the Cookies & Co.
Pavillion Hotel: As you arrive on Catalina Island, this is probably one of the first places you see. It has a darling courtyard and yellow accents that make it stand out. With a beach resort type feel, Pavilion has an outdoor fire pit, wine and cheese each evening, and access to fitness classes at Island Spa.
In the mornings, wherever you stay, take a stroll along the boardwalk until you arrive and Descanso Beach Club. It's a beautiful view.
For more lodging options, including vacation rentals and Two Harbors, visit www.catalinachamber.com or www.visitcatalinaisland.com
[separator type="thin"]
Dining on the island has also been one of the major changes. When I was last here, there were two major options: A Cantina (with some killer jalapeno poppers and margaritas) or the die-hard Italian joint. Now? There is a plethora of options ranging from incredible grilled octopus to exquisite fresh fish tacos, a vegan stop and some genuinely tasty handmade ice cream that will have you leaving enough room for it – after every meal. Seriously, it's that good. Great food suggestions while on the island: Avalon Grille, Bluewater Avalon, Steve's Steakhouse, and Scoops. In fairness, I'm guessing the jalapeno poppers still hit the late night spot after a few libations!
[columns_row width="half"] [column]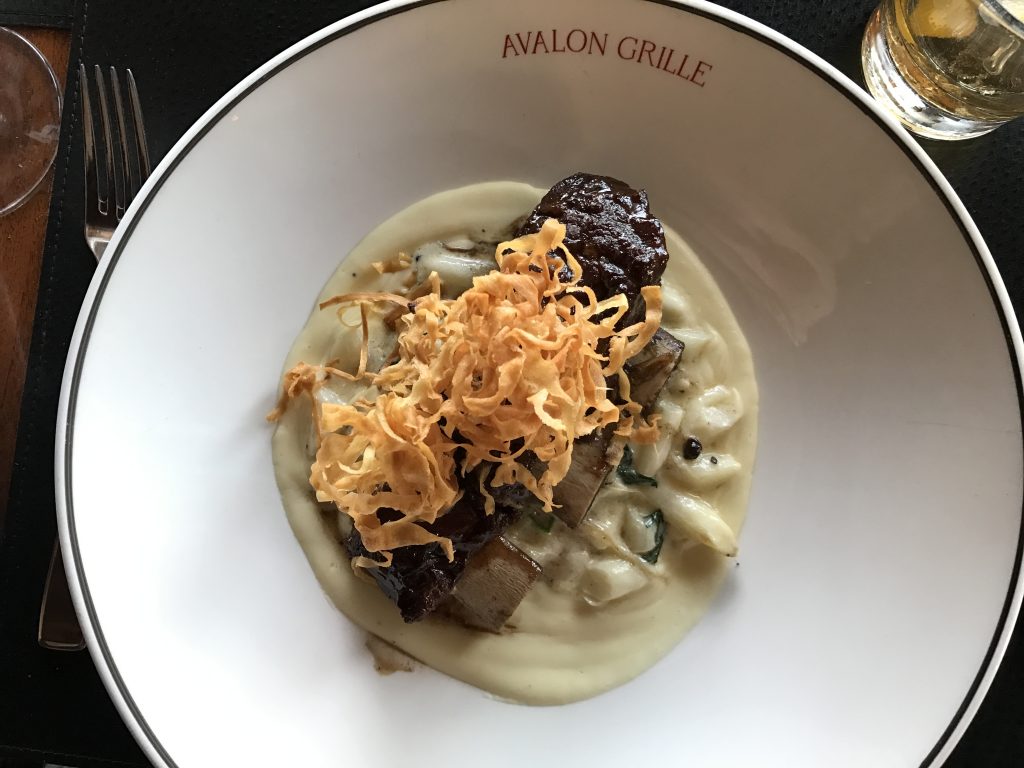 [/column] [column]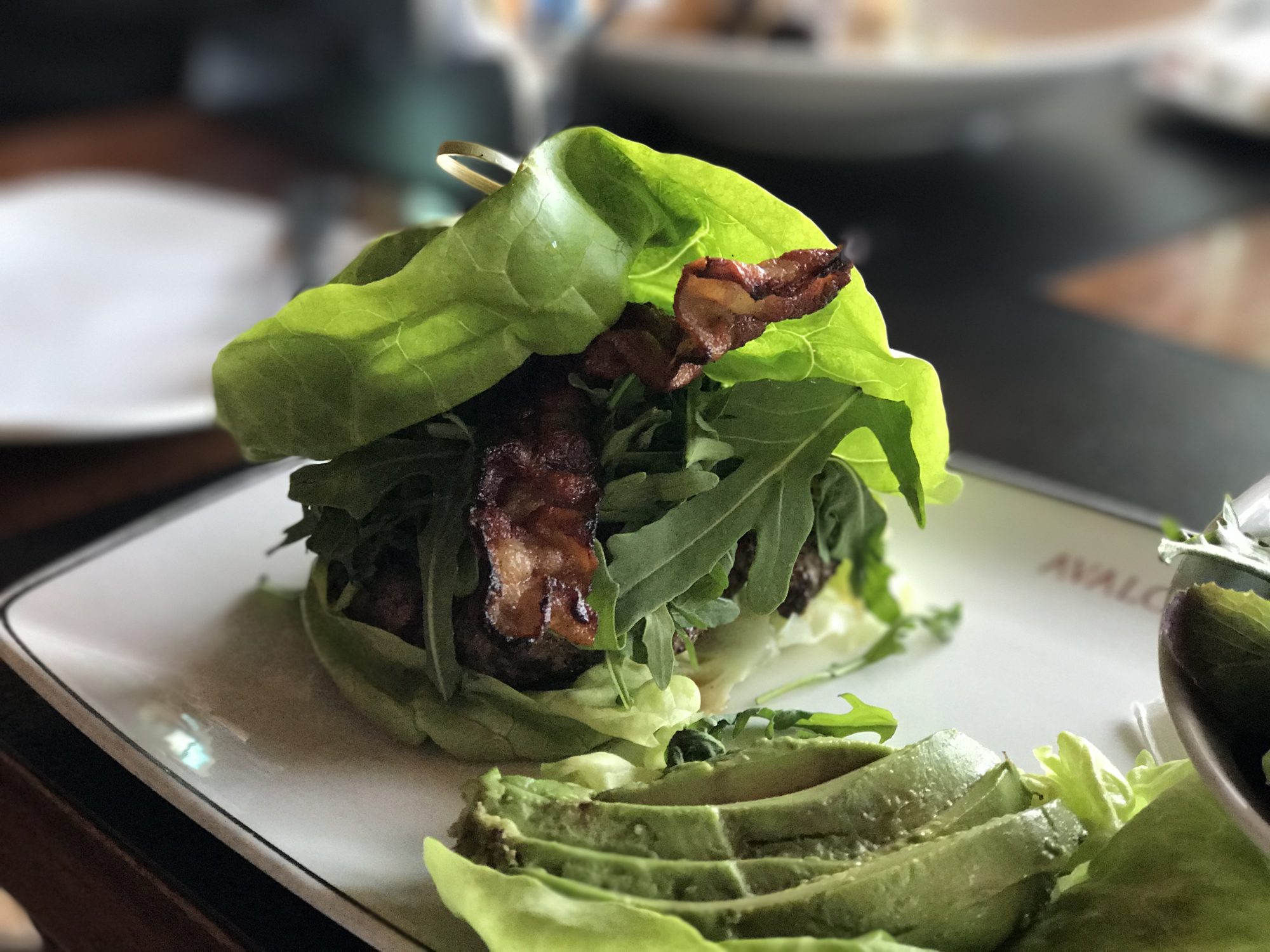 [/column] [/columns_row]
Avalon Grille: One of the finer restaurants on the island, their cocktails, grilled octopus, crispy Brussel sprouts, and Blue Buffalo Burger were the hits. The burger was tender and while I ordered it protein style, it was utterly delicious! The octopus however with traces of curry and the parsnip mash made every bite succulent. Service here was impeccable.
Bluewater Avalon: Where to go for a tasty cocktail, a cold beer, fresh tacos and crispy calamari. Situated right on Avalon beach, you can dine at the bar and still have breathtaking views of the ocean, the sailboats, and the people soaking up some sun. The fish tacos are really good but we enjoyed the calamari so much, we ordered two! The bartenders are incredible and will make whatever you can conjure up. I highly recommend getting one of their adult "milkshakes"!
[columns_row width="half"] [column]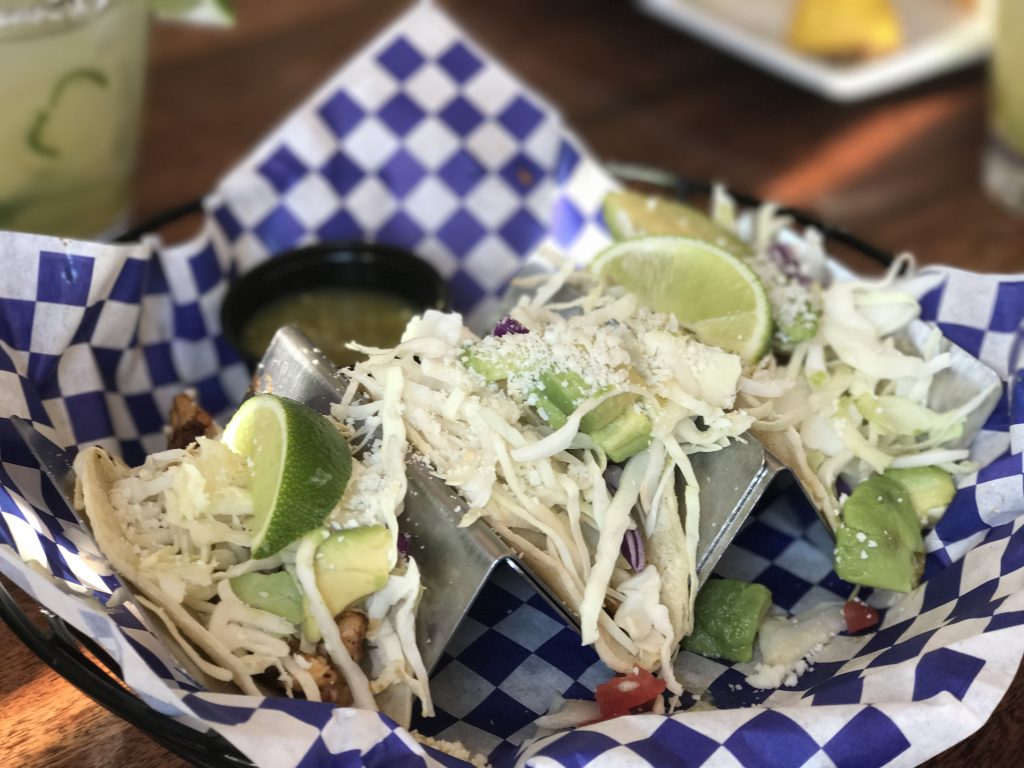 [/column] [column]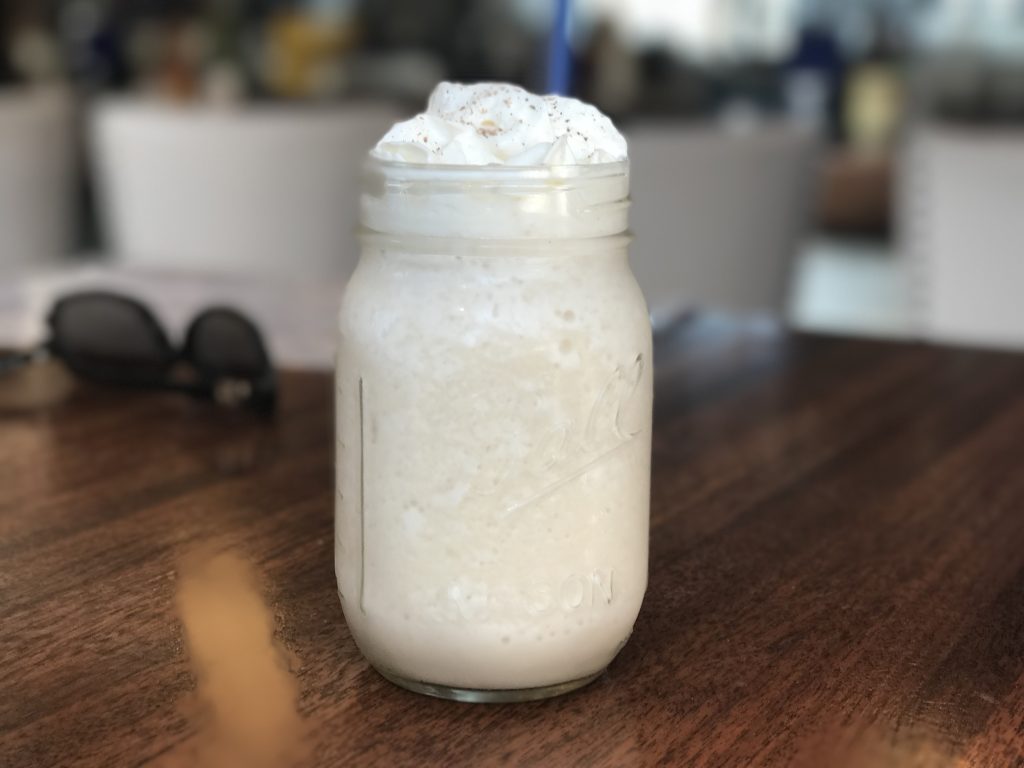 [/column] [/columns_row]
Steve's Steakhouse: Located on the top floor of the boardwalk, the décor at Steve's is modern with some defining art pieces that give it character. While we only stopped in briefly for a sampling, the cuts of steak and the shrimp we had were cooked to perfection, and the presentation of the cuisine was nice. Steve himself came over to greet us and it seems his hospitality really does extend to every single guest that comes in.
Scoops: Homemade ice cream is just one of those things you HAVE to try. Scoops has creamy, well-constructed, fresh ice cream flavors and gelatos and the moment you taste yours? You understand why there is almost always a long line of hungry patrons waiting to order theirs. Sccops is basically the "Sprinkles" of Catalina and it's a stop you cannot miss.
[columns_row width="half"] [column]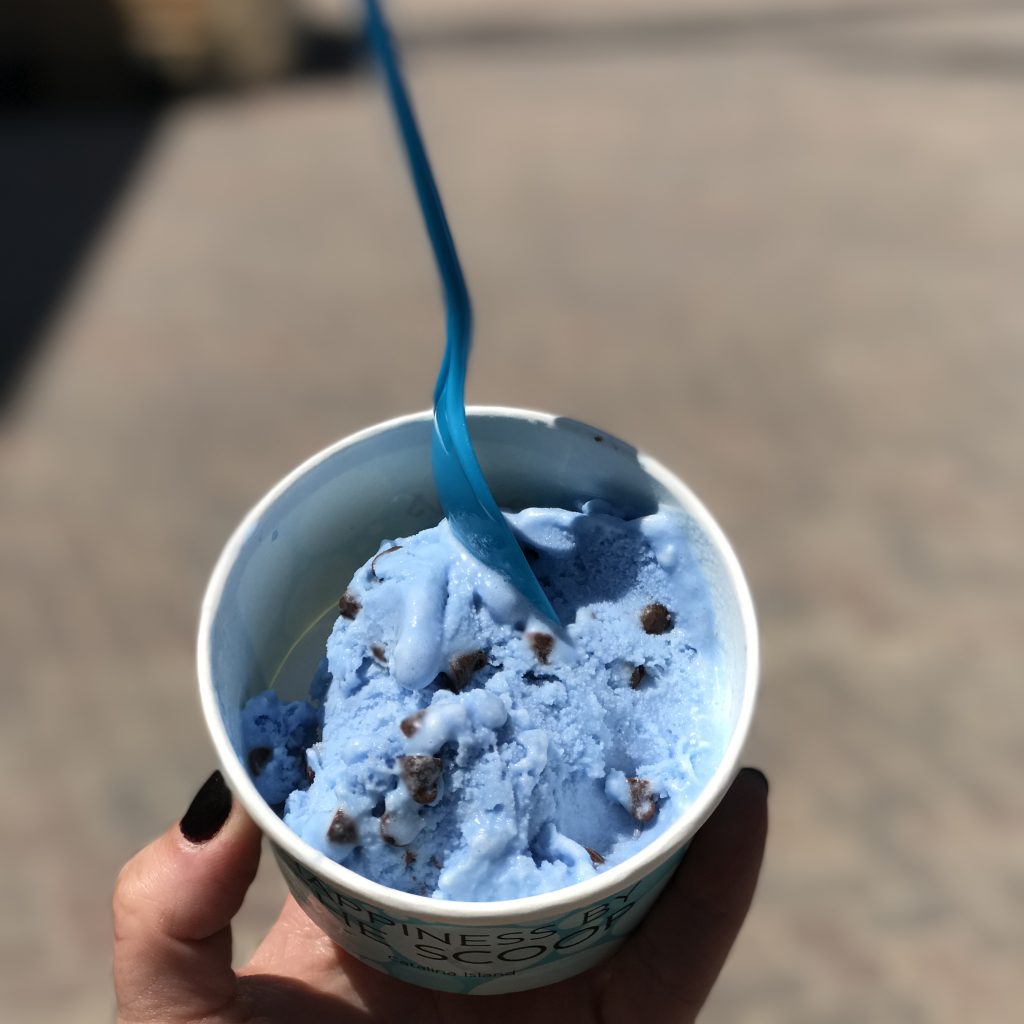 [/column] [column]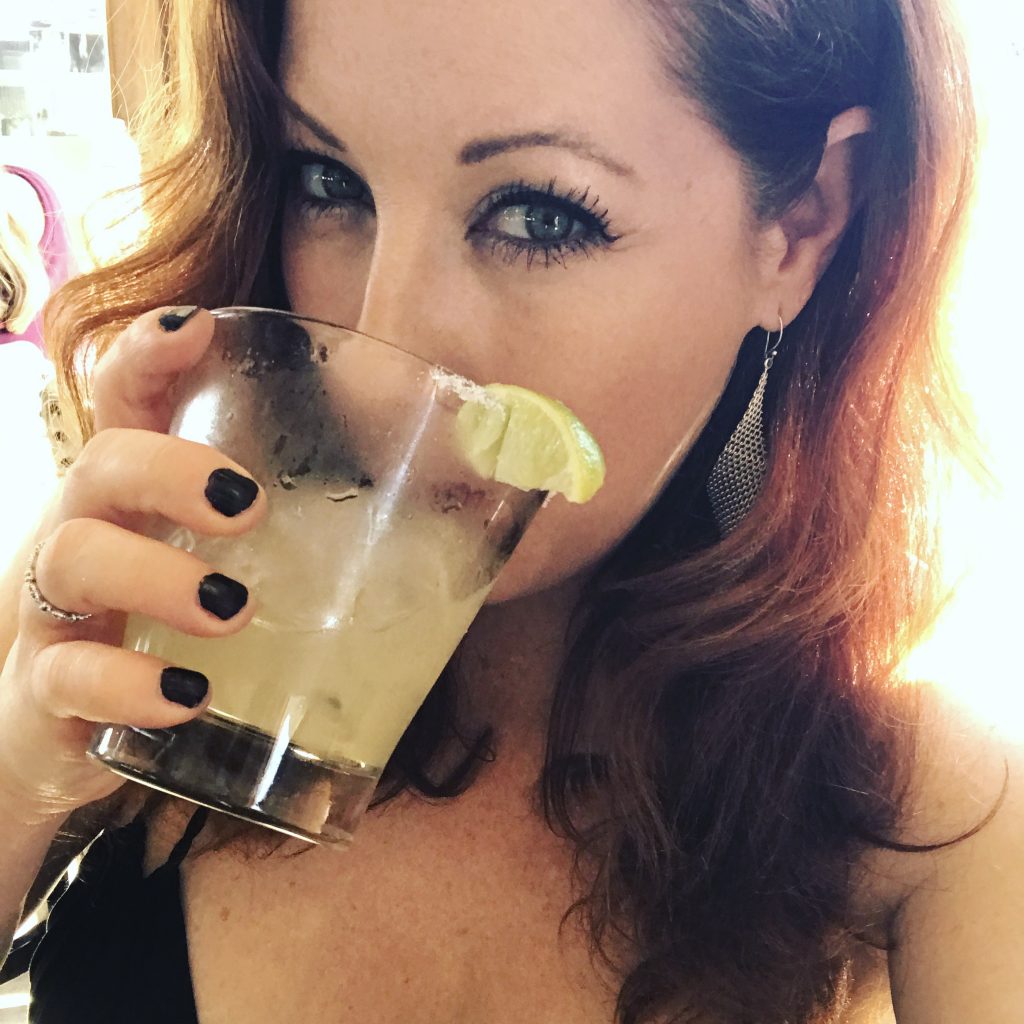 [/column] [/columns_row]
Onto the more daring and adventurous options … Catalina also has something for you! More than charting a sailboat or hiking the beautiful terrain, you can zipline across the island or go on an eco-jeep tour spanning the entire 35 kilometers of the island with your own personal guide. Linda was our guide and I'm convinced she must be the most knowledgeable human being ever to live on the island! In our three hour tour (yes, like Gilligan) she educated us on the eagle population and the story of a doctor who single handedly brought them back from all but disappearing, the foxes that were almost endangered, the boar that had to be moved to another continent, we ran into a herd of bison, visited Twin Harbors, discovered the rich agricultural and horticultural terrain, visited the private airport, learned about the various camp programs, retreats, got the low down on the history of the island, the early settlers, the many owners, and it led us to discovering that Catalina is a well-protected California landmark. Needless to say, it's an extraordinary way to explore and you'll find yourself in awe of how much wildlife there is to see and enjoy.
[columns_row width="half"] [column]
[/column] [column]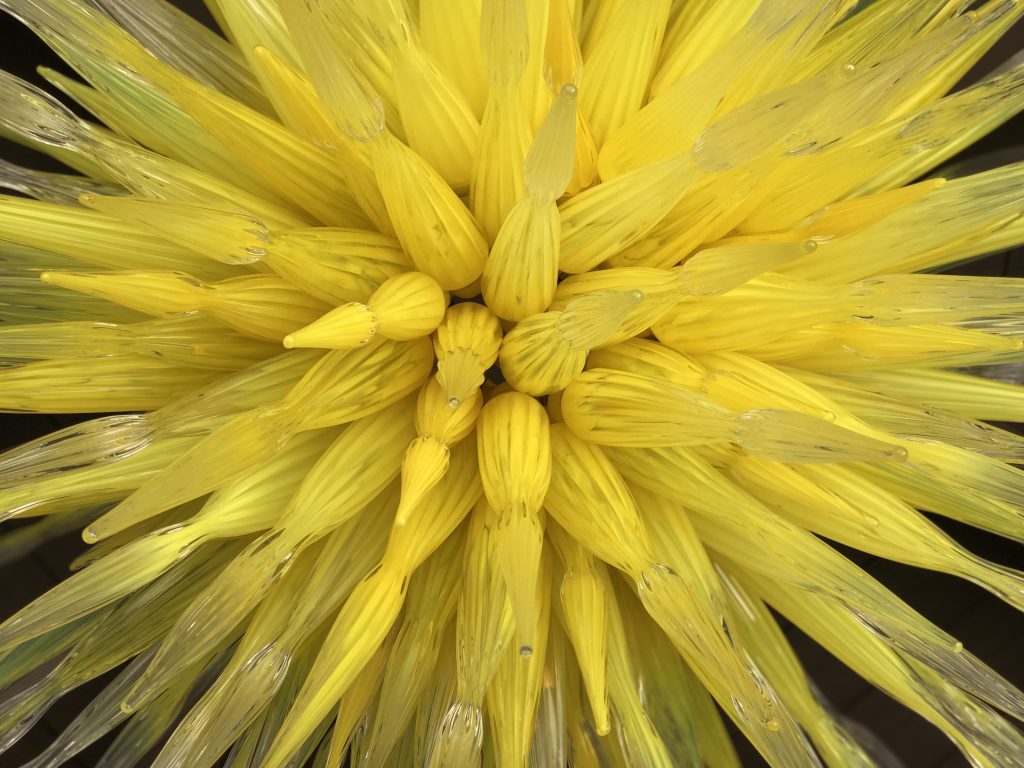 [/column] [/columns_row]
All of that said, one of my favorite new additions to the island is the beautifully orchestrated and newly moved location of the Catalina Island Museum (also known as the Ada Blanche Wrigley Schreiner Building). With a modern façade on the exterior, the moment you walk in you are greeted with grandiose ceilings including an ornate original Chihuly sculpture hanging from above with glorious shades of blue that seem to change with the varying direction of both sunlight and moonlight. There is a contrast of modern architecture with the wonderful ease of days gone by. Before you enter into the galleries and exhibitions, you begin with what I would call the pinnacle of storytelling. It's a small movie theatre playing an old movie collection of newsreels that showcase the beginning of the island through the roaring days of front page news, wars, fires, rebuilding, honoring the folklore and wonder of the island itself. It's a rather poignant way of introducing island dwellers to the intricate musings that shaped the island as it is today. After you've enjoyed your "talkie" you begin to wander through the gallery ripe with history, amusing tales left to you to decipher as truth or fable, and as you make your way to the second floor, you are greeted with a glass garden that will take your breath away. Designed by famed glass blower, Dale Chihuly, you will find yourself totally immersed in the delicate fluidity of his colorful creations.
[columns_row width="half"] [column]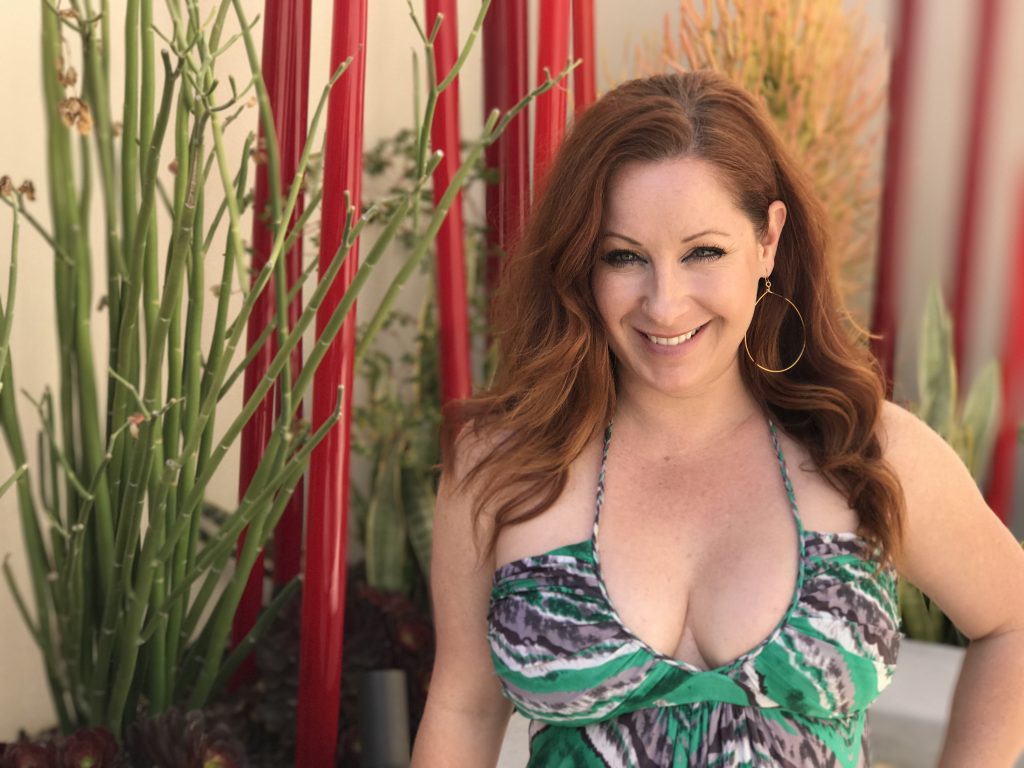 [/column] [column]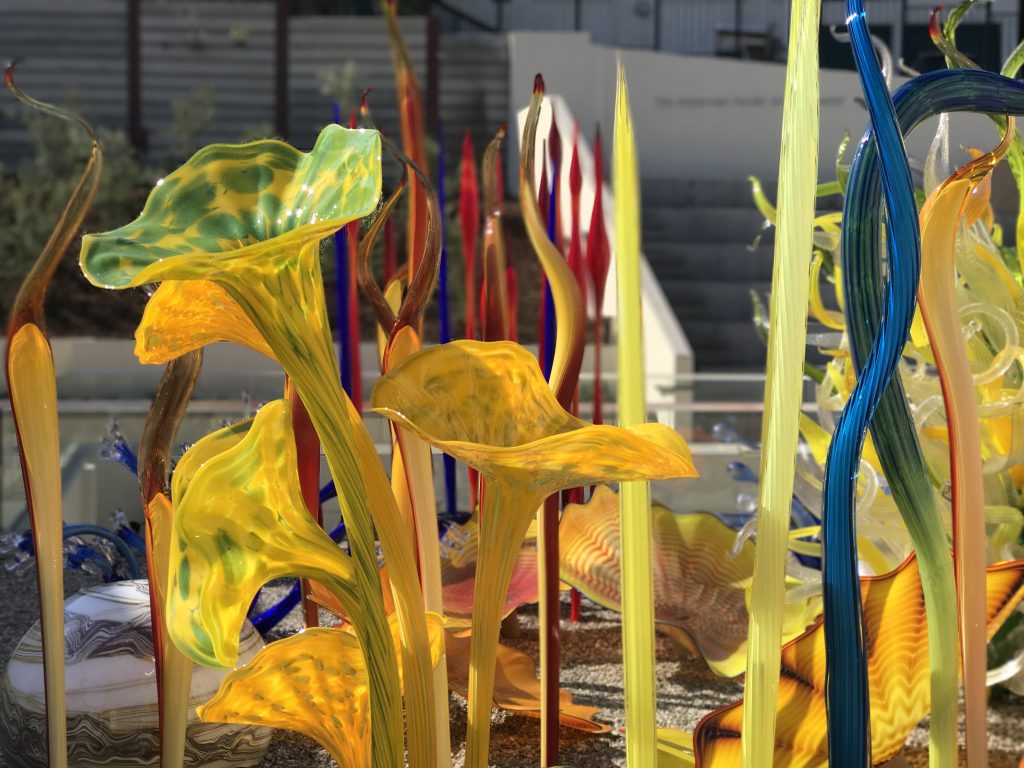 [/column] [/columns_row]
"Dale Chihuly has become one of the most recognized artists of his time. He is credited for pushing the boundaries of the glass medium. Previously considered a fragile material, Chihuly has taken glassblowing beyond the creation of singular symmetrical forms creating towering and gravity defying assembled sculptures. Chihuly has mastered the alluring, translucent and transparent qualities of glass in an effort to create works that transform the viewing experience."
This is a wonderful way to learn about Catalina whilst feasting on art. One of my other favorite things about the Museum is that once a month they have movie night in their outdoor theatre. Whether it be a rare copy of an old black and white or a family favorite, it's a way of bringing the community together.
Lastly, while you peruse the island and find your own favorite things to do and places to eat, be sure to check out the old Avalon Casino, now the local movie theatre. Inside you will find gorgeous painted murals from the Deco days that have recently been restored to their original glory. The theatre has undergone a major transformation that invites you in to another time. The red velvet seats even come equipped with hat hooks! Because once upon a time, a gentleman always wore a hat.
Catalina is a charming island and for Angelenos, Californians, and travelers alike. It really is the ideal way to escape when the buzz of city life takes hold. One boat ride over on Catalina Express or hiring a helicopter or charting your own private plane will remind you that just a hop, skip and a jump away exists a little paradise … and let's be honest, we need more of that in our lives.
IDEAL FOR: Anyone with a pulse.
Photos ©by Dawn Garcia + Matthew Sanderson