Whiskey and Ancho!
Glenfiddich + Ancho Reyes Verde
photos by Dawn Garcia
[dropcap letter="T"]here are two spirits everyone needs to make themselves familiar with (just in case you're not already!):
Glenfiddich Scotch Whiskey
and
Ancho Verde
. While most avid drinkers may know Glenfiddich and Ancho Verde's monarch,
Ancho Reyes
, I'm guessing you may not know the amazing stories behind the brands. We have the great fortune as writers to meet with brand ambassadors and the founders of spirits. It's a pleasure to hear first hand accounts of the distilling process, the inspirations, the far regions to which they travel all in the name of making certain you have something wonderful to drink.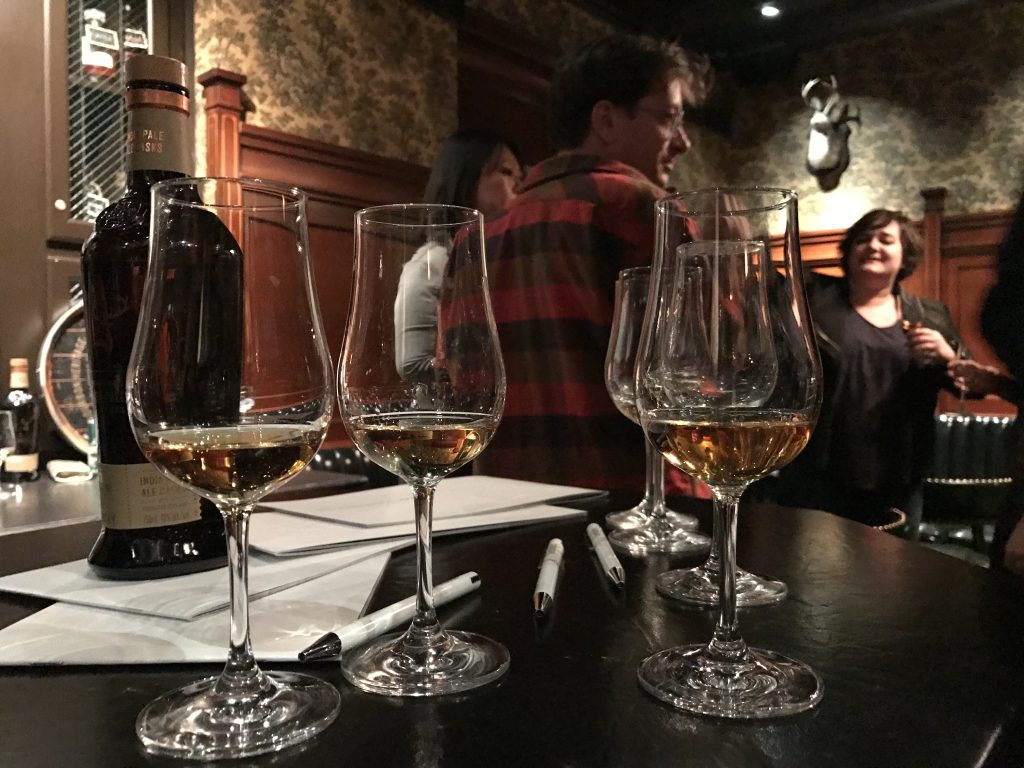 This spring, Ancho Reyes introduced California to a brand new product called Ancho Verde. Inspired by the Reyes family in Adobe, Mexico, this is the ultimate spirit that encompasses the "use what you find" mentality. Somewhere in the depths of Mexico exists a small town with small homes and surrounding those homes are fields of poblano and ancho chiles.
A few years ago Ancho Reyes hit the market and became an instant cult classic—a game-changing spicy liqueur that drinks beautifully on its own, and goes along swimmingly with other spirits including its cousins, tequila and mezcal. With much anticipation, Ancho Reyes has released a limited edition second product, Ancho Reyes Verde, a green chili liqueur that is sure to become another favorite, especially for those who hail from the southwest and grew up eating green chili every meal. Much like southwestern chili, Verde is made from chili peppers harvested in late August before they turn vibrant red from more time in the sun. The green Ancho peppers have a more bright and vegetal flavor than sun-ripened red peppers, which become sweeter with more time on the vine. These flavors are directly translated into each spirit. The Ancho Reyes Verde is bright, herbal, and spicy, with fresh-from-the-garden flavors compared to the sweet and caramelized spice of the Originale.
"What I think is really cool and incredible, is that you are using the same raw material and you are gaining a very different experience," says Ancho Reyes co-founder Iván Saldaña, "This is because chilies change so much. When they are green they are fresh, herbal, and they have a higher content of organic acids, so they feel crisp and fresh, kind of like a white wine. But when they are ripened and sun dried, all the chemistry changes. The organic acids become sweet sugars and the herbaceous elements become fruity, and spicier, older."
What is the best way to use each liqueur? "Use Verde in cocktails with white spirits and Originale with brown spirits," says Ancho Reyes, Brand Manager, Shem Blum. The freshness of the green chile liqueur will go beautifully with your silver tequila margarita or even a piquant gimlet. For those looking for easy inspiration, we have five cocktail recipes created by the Bon Vivants for Ancho Reyes Verde—starting with quite the spicy offering, the El Rey de Reyes, a combination of both Verde and Originale.
photos below courtesy Ancho Reyes
---
Next on the list is Glenfiddich, a scotch whiskey hailing from Scotland that pleases the palate and is rather debonair in style and appeal. The story goes that in 1887, William Grant began ambitiously building his own distillery using a single stone mason along with his seven sons and two daughters and decided on a name: Glenfiddich, Gaelic for Valley of the Deer. The first batch of whisky was available Christmas that same year. As the years went on, the family enjoyed success throughout the next decades.
By 1957, great grandson Charles Gordon introduces a new vision for Glenfiddich's future by bringing in a team of coppersmiths to oversee the stills. Point is, Glendfiddich has a very rich history, a family legacy that is one to admire, and has proven to be among the leaders of single malt scotch whisky's. While I have had the rare pleasure of sipping on a bottle aged 37 years (1980!), I can say all of the blends have distinct flavor and are certainly lovely. Whether you sip it neat, on the rocks, or blended into a well-made cocktail, it's a brand to keep in your arsenal.
In my discovery of Glenfiddich, I've had an opportunity to meet and interview two brand ambassadors, Mitch Bechard and now the West Coast ambassador and woman after my own heart, Jennifer Wren. Jennifer is perhaps one of the most tenacious, well versed spirit savants I know. I'm a scotch whisky newbie so to have someone like her invite you to taste Glenfiddich while she tells the incredible tales that go along with the label and each different cask, you find yourself delighted.
So in the peak of spring with summer looming, I was invited to enjoy a rare evening where a few of us were allowed to try her very own cask blend alongside a few others. We began the evening inside one of LA's coolest speakeasy's, Bar Jackalope. The décor reminds you of a place existing in far off lands where rumors of whimsy and rare pours seep into the air. It's sultry and authentic and leant to the experience we had with Jenn as she poured several years including her very own blend. It was such fun to taste, to allow the notes to culminate on the palate and the finish to scurry on down the throat taking residence into our tastebud memory bank. The cask she picked for the Project XX was from the conval warehouse and is a virgin American oak cask. It is intense and balanced all at once. We sat down for a little one-on-one to gain even more insight into not only what Glenfiddich has evolved into but also explore how it has changed her own journey as a whisky drinker.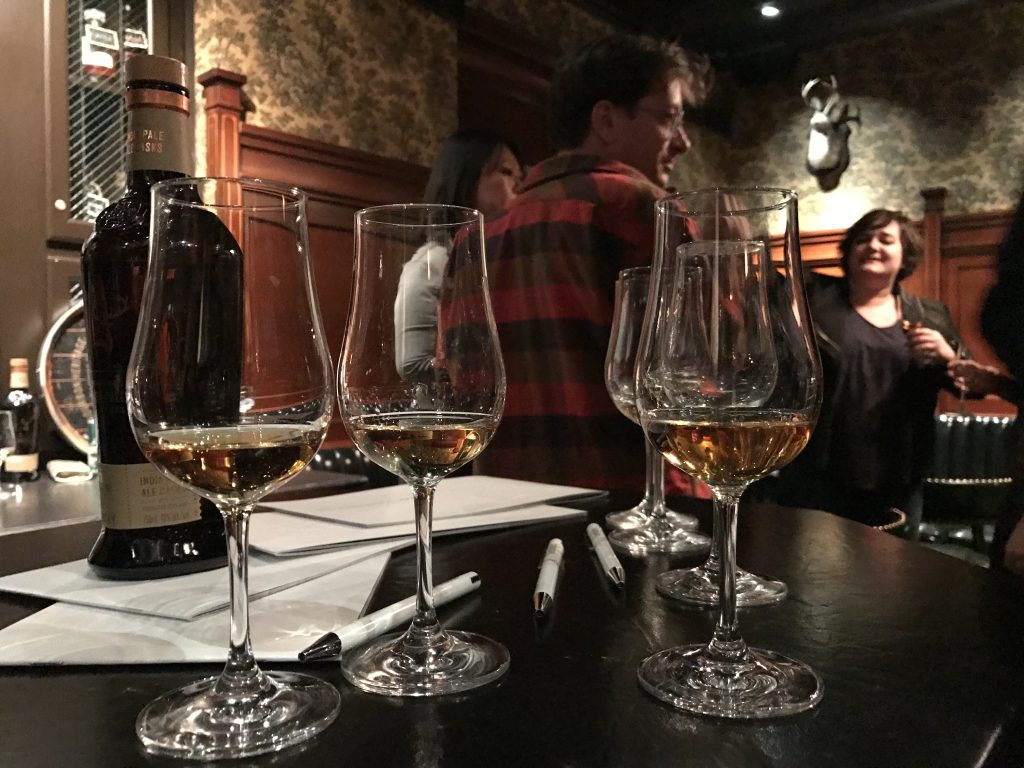 When you started playing with different casks, what was it about the final blend of yours that stood out to you personally?
The cask I chose was very young but had an obvious sophistication. It boasted bright vibrant honey and clover notes followed by orange blossom – very complex flavors for a Virgin American cask.
Would you rather smoky or smooth?
I'd rather smoky AND smooth!
What is something people would be surprised to know about Glenfiddich?
Our master blender, Brian Kinsman, despite the common opinion that sherry cask aged Single Malts are more refined and desirable, believes that Glenfiddich didn't find its true "Glenfiddich-ness" until we began using primarily American Oak.  That being said, his favorite Glenfiddich is Bourbon Barrel Reserve – the one he makes but cannot buy in his own country (that particular batch is an American exclusive)!
Biggest misconception about Scotch whisky's?
That the average person can't enjoy it. That the taste is too complex or "alcoholly" or that it is all smoky. In fact, I've met many people that believe the smoky taste of some single malts "means that it's scotch instead of whisky."
Best experience going to the distillery thus far?
Everything about spending time with Ian Miller and Dennis McBain when I'm in Speyside. Both gentlemen are just masters of their crafts, absolute loves, and a wealth of knowledge about our distillery. With them, I've seen the birthplace and heritage sites of our founder William Grant and they brought the history to life. Last time I was there, I went up to the Cabrach with Dennis and stood on the hill with him overlooking the Grant family cemetery and the schoolhouse where Charles Gordon taught – it was simply magical.
One of your favorite meals to pair with Glenfiddich?
Sushi! Our Glenfiddich 1963 The Original goes perfect with lighter fish and Project XX is perfect with fatty tuna or salmon.
How did you become the female brand ambassador (and among the first if I'm not mistaken)?
Not the first! I was actually recommended by the first female Glenfiddich ambassador, Heather Green who is a fabulous force of nature – writer, whisky expert. Getting her blessing was so humbling.  Now I am one of four women world-wide to represent the brand. Our newest woman on the American team, Tracie Franklin on the East Coast, is the first African American woman to ever become an Ambassador for the brand.
Everyone on the Glenfiddich team comes from very diverse backgrounds and perspectives – we believe that our differences make us better.
Little known fact about the brand.
We are now a 129 year old 6th generation owned family company (since the great great great great grandson, Mathieu Grant Gordon joined the company in 2016.) It's a pretty hard feat to accomplish the success that Glenfiddich has seen and remain family-owned.  And every family member must learn the business and work their way through the ranks, just like everyone else. Mathieu spent a great deal of time working in the Balvenie malt floor during his first year.
(Also, on a fun note, the Balvenie malt floor is haunted by a woman known as the Green Lady and tons of our staff claim to have seen her floating about – even Mathieu!)
A big thank you to Jennifer Wren and Glenfiddich for always revealing the heart and soul of distilling and the pleasure and honor of drinking a spirit so seeped in story.