Coffee and Donuts with Danny Trejo
Breakfast and Heart
photos by Dawn Garcia + Barcelona Walker
[dropcap letter="I"]n LA, mornings are a rather important start to the day primarily because if you time it right you beat the traffic, get in a workout, and have plenty of time to fuel up on some rather scrumptious breakfast options. So today, after waking up at 4:45am to accomplish precisely that, it was time to head straight to Hollywood's newest hotspot,
Danny Trejo's
latest culinary venture:
Trejo's Coffee & Donuts
. Arriving right at open (7a.m.) a line had already formed. Having opened its doors just a modest two weeks ago, it's already gaining popularity amongst the Angeleno locals and tourists alike. However today, we were in for a special treat: Danny was there to say hello. Having had the pleasure of meeting and talking to him before, I was genuinely happy to see him again and grub down on some donuts together! [columns_row width="half"] [column]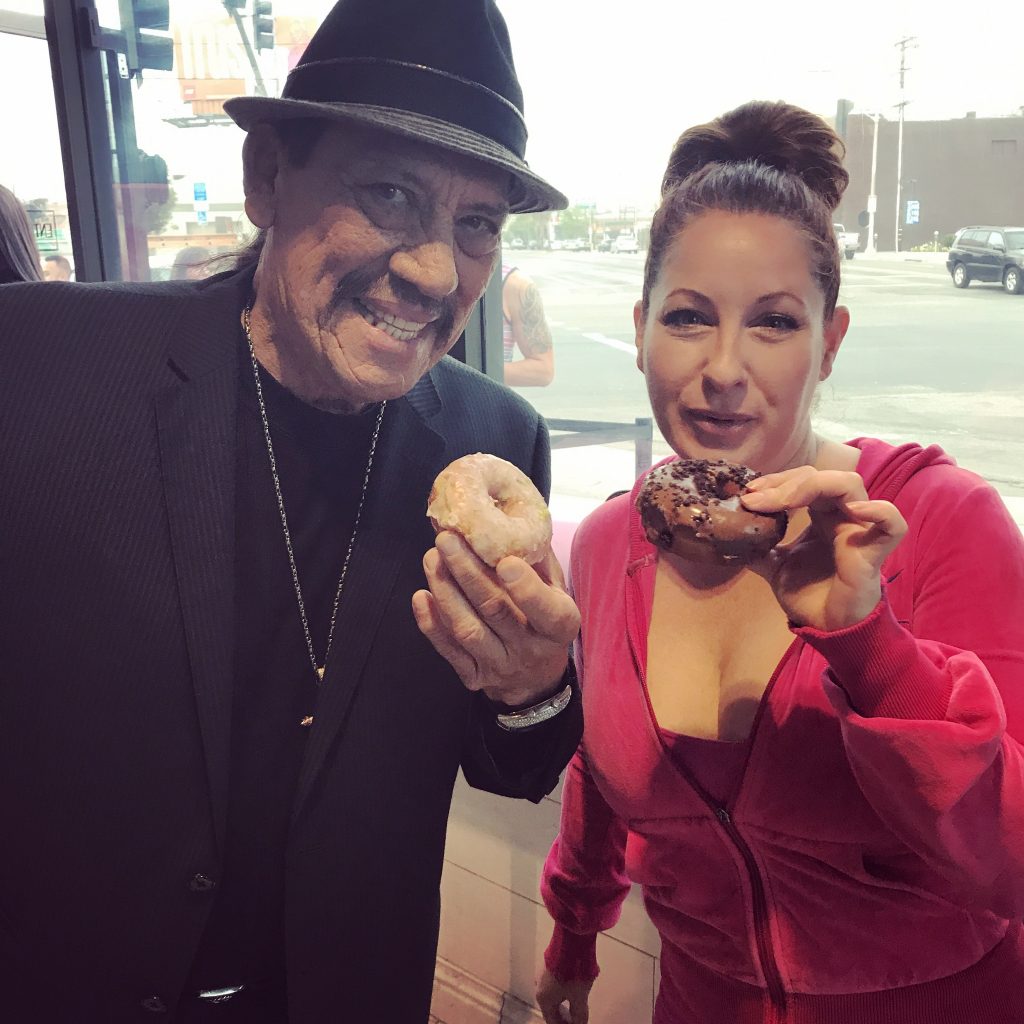 [/column] [column]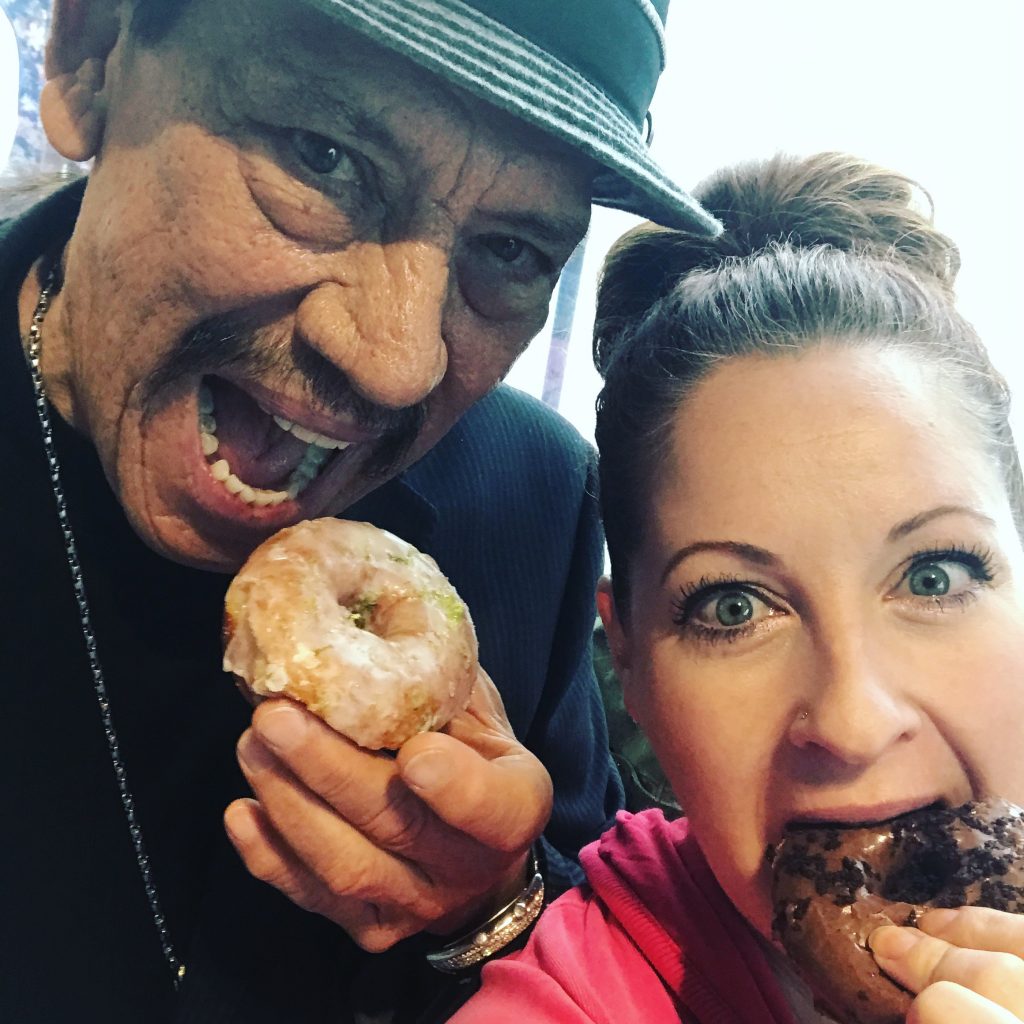 [/column] [/columns_row]
COFFEE
Admittedly a huge coffee connoisseur, Danny takes a lot of pride in their batch of Trejo's Coffee. With aromatics of coffee, chocolate and even a hint of nutmeg, the brew is one that sets itself apart. Those who know the process of finding a good coffee understand the love and patience it requires to make the perfect batch. With so many coffee varietals out there, it's wonderful coming across something that distinguishes itself from the pack and Trejo's Coffee really does that.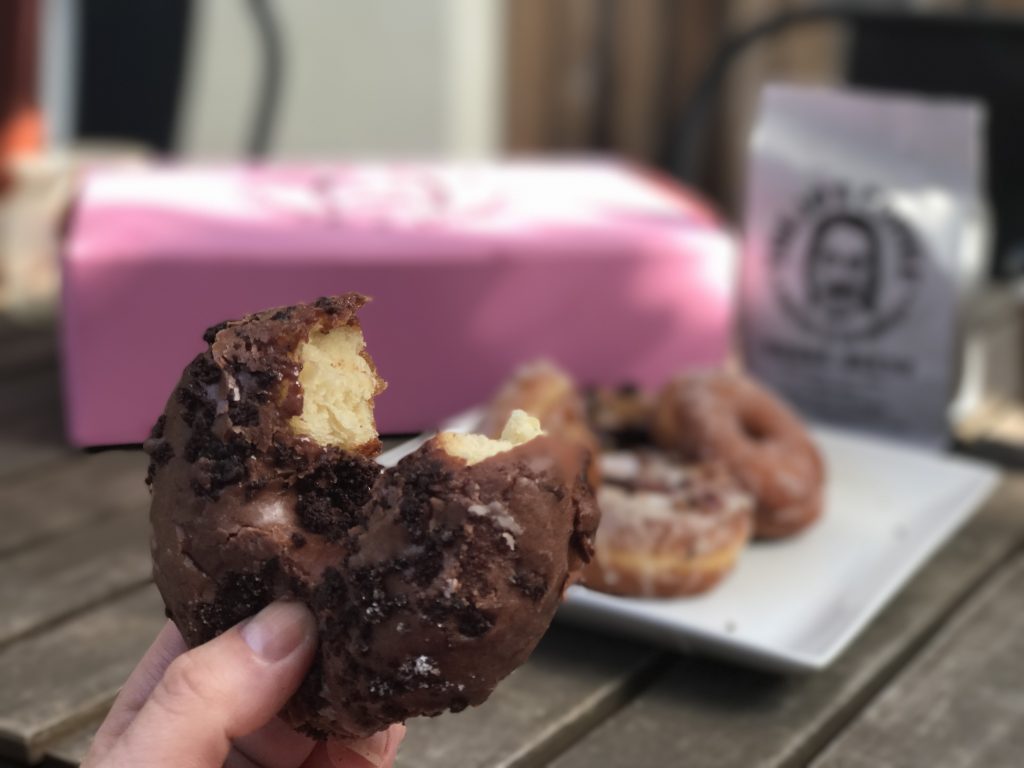 DONUTS
Growing up, donuts was a very important part of childhood. We had Randy's Donuts, Winchell's, Dunkin Donuts, Donut Hut and some mom and pop places sprinkled throughout the city, so as fickle as I am with cuisine? That spills over into my passion for a darn good donut. That said, what wows me in the donut world is something that isn't the norm. THAT? Is precisely what Trejo's Coffee & Donuts has done. This morning when I arrived, a box was ready. The box consisted of the following donut concoctions: abuelita (chocolate glazed goodness), margarita (lime with hints of tequila), the OG (original glazed or gangsta – you decide), cafe con leche (damn.), sugar, cinnamon crumb, and gluttony at its best: maple bacon (with chunks of bacon). Needless to say as Danny I talked, we bit on into this pastry range of flavor. I went in for the abuelita and he chose the margarita. Both are divine (the Margarita is tart and savory making it one of the more interesting creations).
There was no doubt the entire batch would be gone come sundown (and it was!).
[separator type="thin"]
Danny Trejo – without a doubt – shows his true colors every time you meet him and those colors? They're full of vibrance, thoughtfulness, kindness, humility and gratitude. In fact today as a line of strangers and fans patiently waited for their time to order some of the tasty donuts, Danny walked out and talked to puppies, the people and one very special little girl. While the little girl appeared to have lost sight and hearing on one side, Danny took time to listen to her, complement her silver shoes (which rocked!) and never once rushed to hurry through the conversation. He made her day. Turns out she was a fan of his role in the SpyKids movies (let's be honest, aren't we all?!).
"That little girl was so sweet. God has blessed me so much and ya know, what a blessing just to be able to make somebody's day! Just a simple hello or show of kindness, it matters. You never know how somebody's feeling and I'd rather have a mangy dog for a friend than an enemy. We can't forget the importance of even a simple smile."
His words ring so true. For those that don't know Danny's story, he didn't have such a refined past. As a young kid, he got heavily into drugs and crime and was in and out of jail for 11 years. In fact after a stint in San Quentin and discovering boxing (winning the prison's lightweight and welterweight divisions), something happened. He turned his life around after completing a 12-step program. He realized the value of living a clean life and has since devoted his to working hard, being a solid friend, being a support system for his family, and being a hugely important part of the communities he's in. One of everyone's favorite actors in Hollywood, his long standing film career with directors like Robert Rodriguez and his ever evolving roles make him a man that really embodies talent and gratitude. He really isn't your average Hollywood actor and you see that the minute you meet him.
A man very close to his family, his latest ventures (Trejo's Taco's, Trejo's Taco Trucks and now Trejo's Coffee & Donuts) are an homage to his mother, his family and a hope to keep revitalizing the economy in Los Angeles. Utilizing his roles as Machete and Badass, he has taken a following and chain of successes as an actor and turned it into a brand you want to support. While we enjoyed donuts and coffee, I asked him why donuts and coffee?
When this concept came up, we knew donuts are a slow economy concept and often associated with a negative space but we thought, hey, we can make this work. So my team decided to just do this. I love donuts and I'm a coffee connoisseur! We brought in a chef to help create donuts and I just called my friends and we tasted donuts and coffee until we found the right combo.
While enjoying my new favorite, the abuelita, I wanted to be conscious of his time. I didn't want to keep him but that's when he told me what was next on the agenda for the day. As someone who has turned his own life around and the lives of many, he was off to speak at Drug Court. Invited by a judge to speak to those who had successfully completed a prison program to keep them clean and out of jail, Danny was going to encourage these guys to stay the course and remind them that after this? Anything is possible. And quite honestly? He's living proof that's true.
Once again, Danny Trejo has launched a namesake concept that will undoubtedly make donut and coffee lovers everywhere happy … and well fed!
Trejo's Coffee & Donuts is open Monday-Saturday, 7am-2pm.
6785 Santa Monica Blvd. | Los Angeles, CA 90038