The Heart of Inspiration and Prestige
Three Days of Seaside Luxury
photos by Dawn Garcia
[dropcap letter="DP"]
Dana Point
may very well be the true gem of Orange County. Located amidst a stretch of beach ranging from Newport to Laguna Niguel, the water is clear, blue, and full of surfers, sailboats, families and happy beach goers alike. The moment you arrive, you know you're somewhere special. Dana Point is a city that is rich with breathtaking views, sweeping seascapes, and absolute beauty. There is something undeniable about its allure and so when we decided to stop in to Laguna Cliffs resting just above Lantern Bay Park, it was the perfect beginning to an unforgettable escape.
Lantern Bay Park
is a lush green park landscaped with picnic tables and most notably, views of the harbor where fleets of sailboats rest on the water along the docks. [separator type="thin"]
Part 1. Cocktails + Lunch
As we headed to into Laguna Cliffs, we wandered through the lobby decorated with quaint succulents and tones of sand. Located on the second level terrace is overVue where we grabbed a table outside and began to order. Starting with the Red Tide Sangria made with rich red wine, fresh fruit fusions and a splash or orange and pineapple juice, this not only quenched my thirst but helped alleviate the heaviness of the summer heat! Then we decided to order the Chicken Nacho Bites and the Spicy Ahi Tacos. The chicken nacho bites were beyond satisfying and had hearty amounts of shredded chicken piled atop a small chip (the nacho) and topped with jalapenos. With six bites on the plate, it was an ideal intro but when the ahi tacos arrived, my palate was given an entirely new experience. Made in an unconventional nori shell, this was a terrific departure from the norm with the subtle explosion of siracha aioli that made the ahi and avocado balanced and flavor forward. Hats off to Chef Kaleb Hanley!!!
[columns_row width="half"] [column]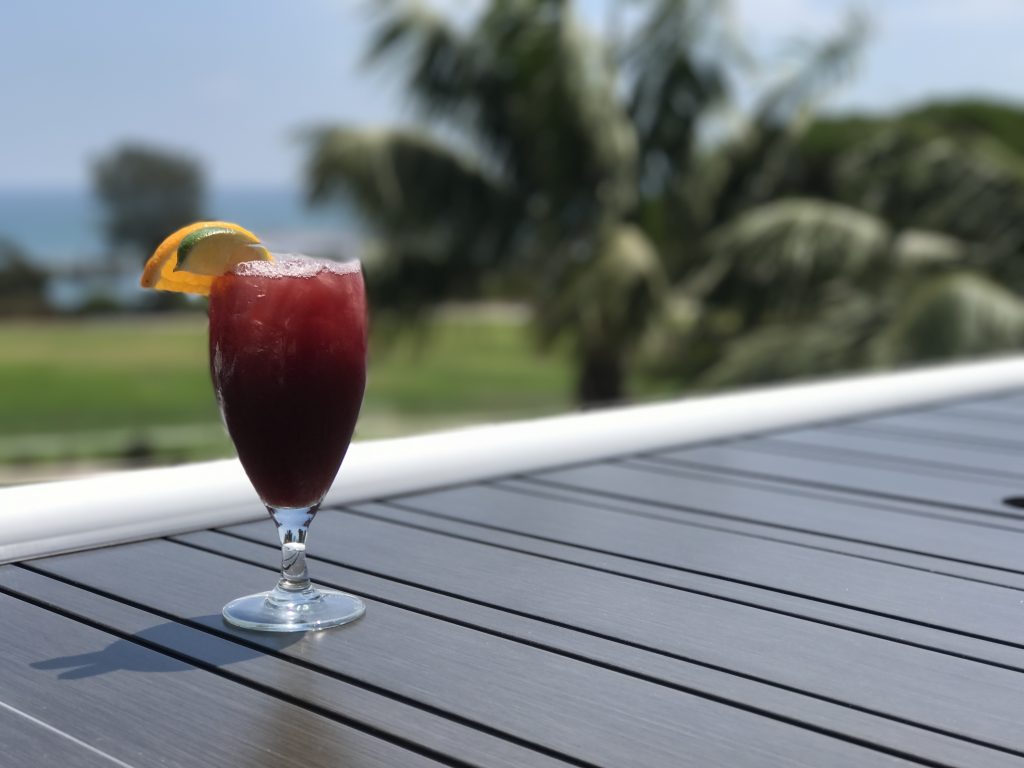 [/column] [column]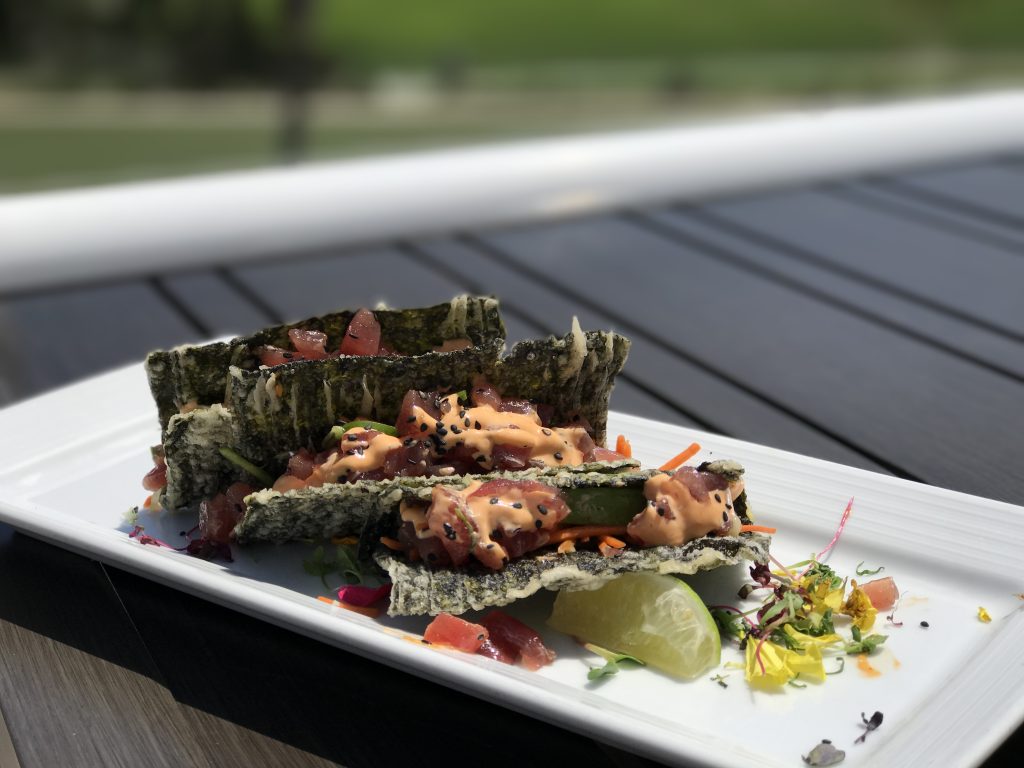 [/column] [/columns_row] [separator type="thin"]
Part 2. Luxury + Refinement at the Ritz-Carlton
Once our appetite was satisfied, it was time to head to the Ritz-Carlton Laguna Niguel for a few days away. Let's just say the minute I arrived, luxury and allure came together for a beautiful and rather unforgettable experience. The Ritz-Carlton Laguna Niguel is the first of the Ritz-Carlton's on the west coast dating back to 1983. Bringing with it the prestige of the crown royal logo, it sought to be the standard to which all luxury resorts would be held to and quite honestly, they've succeeded in spades here. From the moment you arrive, every need or concern has been considered, addressed, and from the bell desk to the bartenders, you will be treated like royalty – no matter who you are. That is a level of hospitality lost in so many of today's hotels and resorts and something I crave when traveling. Needless to say, this truly is where you go to feel as if the world has paused for a short while and a little taste of paradise surrounds you everywhere you go. With a room on the first floor, my French doors opened up to my patio equipped with a fire pit and unending views of the harbor, the beach and the gorgeous mountains that harness around the shoreline almost like a barrier from the rest of the hustle and bustle happening everywhere else. Once settled in to my room I headed out to the ocean for a walk on the sand and I was pleased to find chairs and umbrellas designated for guests to enjoy along with complimentary bottles of water.
[columns_row width="half"] [column]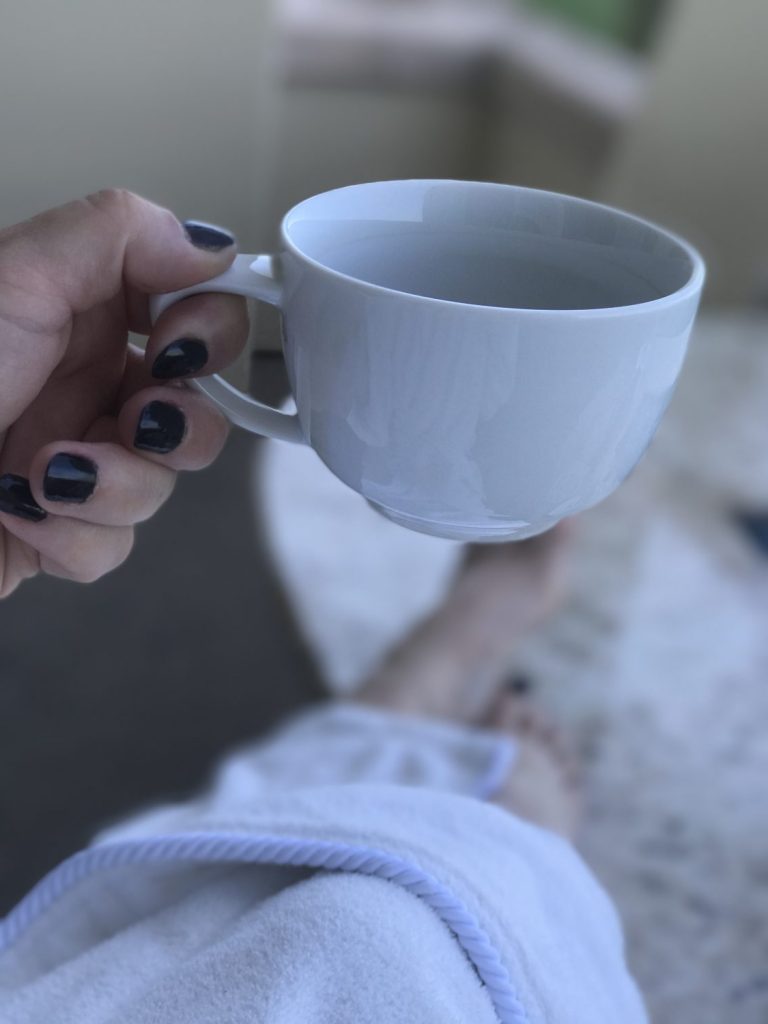 [/column] [column]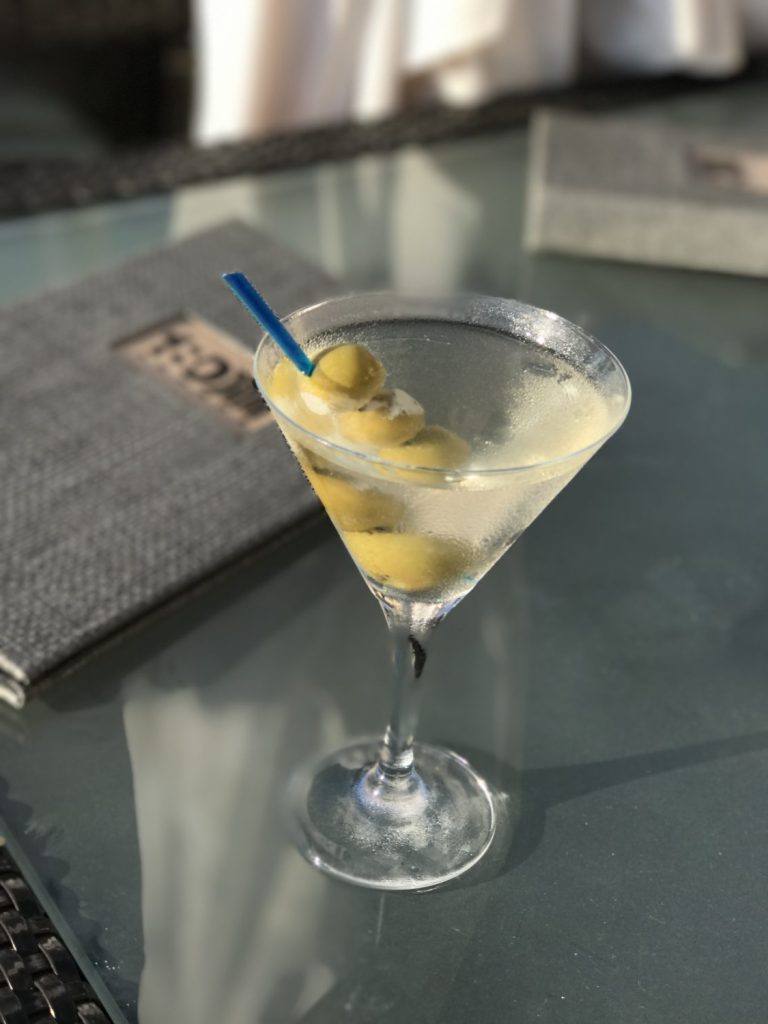 [/column] [/columns_row]
Dining at the Ritz-Carlton offers something for every taste. With a market and café with grab-n-go options at the Market Place, the dining terrace at 180blu for cocktails by sunset,  Bar Raya, enoSteak or room service, you won't be left without options. I began my culinary quest by taking in a grand sunset view and some much needed sustenance at 180blu. 180blu can best be described as a terrace bar and restaurant that encourages guests to let go of stress and instead settle in for a wonderful night. With tables situated throughout and a community-table driven concept, guests can either sit with their own party of friends and family, alone, or dare to join a stranger and share a conversation. I chose the latter and had the pleasure of sitting across from a gentlemen who was at the resort for a conference and before long we were talking about our family, kids, the hospitality industry and of course how incredible the Ritz-Carlton really is. Soon my dirty martini arrived as did fresh oysters, a small but delicious salad, and sweet potato fries. Everything was divine but when a burger arrived for the gent across from me? I was salivating. A perfectly cooked open face burger topped with a fried egg and once I finally tried it myself? I must admit that it was one of the best burgers I've ever had. The community table concept is one I've always been on the fence about because it's both intimidating and intriguing but 180blu is a place to embrace.
Every morning I'd enjoy a morning run (the stretch of beach is about 2.7 miles) which was exhilarating (and motivating!) and then go to the hotel gym to finish up my workout, grab ice cold water and stroll back to my room before ordering breakfast and a cappuccino. If you're feeling adventurous, take a stroll around the property and in the neighboring town. With chic cafes, darling eateries and cute shops, the hours will will happily pass, and during the summer Dana Point offers a free Beach Trolly which makes exploring easy. As the afternoon closes in, nothing quite hits the spot like a drink made by the bartender Kevin in Bar Raya. He has a knack for remembering everyone and their cocktail or drink of choice. It's impressive!
Next up? A steak to dream about for days to come at enoSteak. I was really looking forward to dining here and the experience exceeded my expectations. Once their wine bar, they've transformed this restaurant into an elegant and intimate steakhouse with impeccable service, exceptional wines, and art that emits a sense of modernism mixed with twists on traditional. Beginning with a Heitz Cellar Cabernet Sauvignon that boasts big flavors and notes of blackberry with a jammy, peppery finish, a plate of gluten-free toast arrives with a chicken liver and blackberry pâté. Darius, my server, had been told by the concierge that I was allergic to gluten. It's the little things like this that set the Ritz-Carlton apart. Below is what I ordered:
Wedge Salad | point Reyes blue cheese, bacon, shaved onion, house buttermilk dressing
Prime Filet 9 ounce | cooked medium rare with truffle butter served with potatoes blue cheese gratin
The truffle butter creates the perfect crisp seal locking in the juices of the filet. The cook on the meat has the precise amount of pink in the middle and the steak wavers on the edge of the fork with every single bite sending your tastebuds into a bit of carnivorous ecstasy.
Paired with the potatoes gratin, especially following their Wedge Salad, this was a little plate of heaven.
Grilled Asparagus
Cañada de los Encinos Zinfandel/Petit Verdot blend | Made in Guadalupe, México its bright on the nose with a raspberry and cherry finish that brought out the flavors of the filet and the cream of the potatoes.
Creme Brulee | This is like toasted marshmallow atop clouds of milky sugary cream and fresh berries.  In other words it was perfect. 
The Ritz-Carlton really does embody the utter elation of everything that luxury represents. While the price tag may seem steep, this is a resort that warrants every bit of it. In fact the moment I checked out, I missed it – I missed that sense of divine escape because at this property on the edge of the cliffs, you can leave the world behind. When you stay here you have embarked on an exquisite journey and as you wake up to the sun rising on the water and go to sleep to the sound of the waves crashing against the shore, you forget about the stresses of life and instead slip right into absolute serenity.
[columns_row width="half"] [column]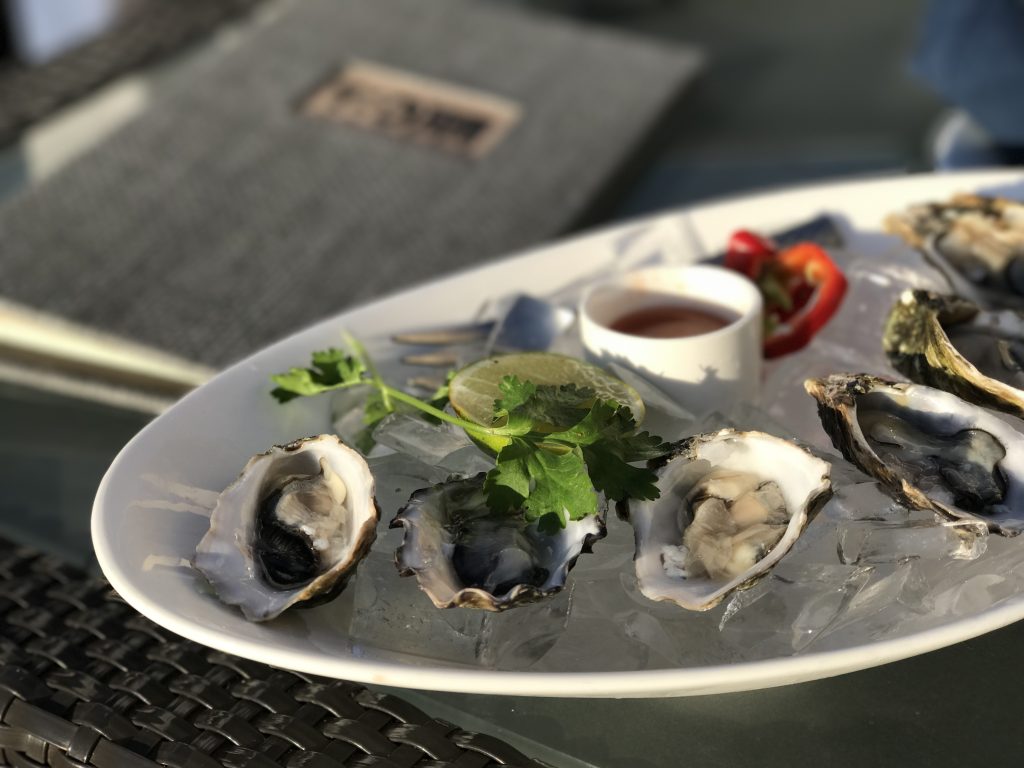 [/column] [column]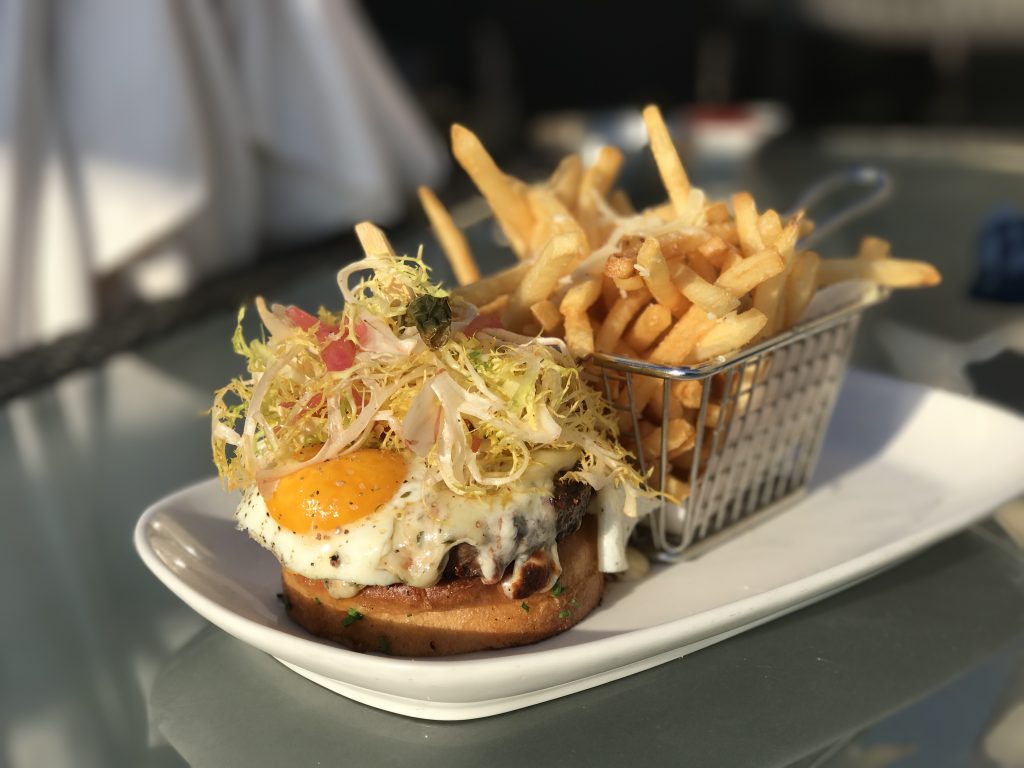 [/column] [/columns_row] [separator type="thin"]
Part 3. Spa Escape
Having had been to different parts of Orange County, one thing it offers in plenty are beautiful spas to tap into your inner tranquility and I had the pleasure of doing just that at Monarch Beach Resort's Miraval Spa. Designed with the concept that mind, body and soul will be awakened, it exudes throughout from the entry with river rocks cascading down the walls to the women's lounge stocked with spa citrus-infused waters, nuts, fruits and hot teas, to the spa cafe that makes fresh juices and superfood salads and sandwiches, and an outdoor lap pool. I enjoyed their Organic Facial – a facial made to cleanse and calm your skin in an effort to slow the aging process and give much needed hydration using only organic products – and then soaked up some sun outside on a fresh linen chaise lounge with a clean spa towel and a front row view of the pool. I loved this pool because it is there only for spa guests and the privacy made me feel comfortable and ready to actually soak up the rays and not feel interrupted. This is a place of mindfulness and connection reminding us all to take a minute in the chaos of life and breathe.
Miraval Life in Balance Spa | 1 Monarch Beach Resort N | Dana Point, CA 92629
[columns_row width="half"] [column]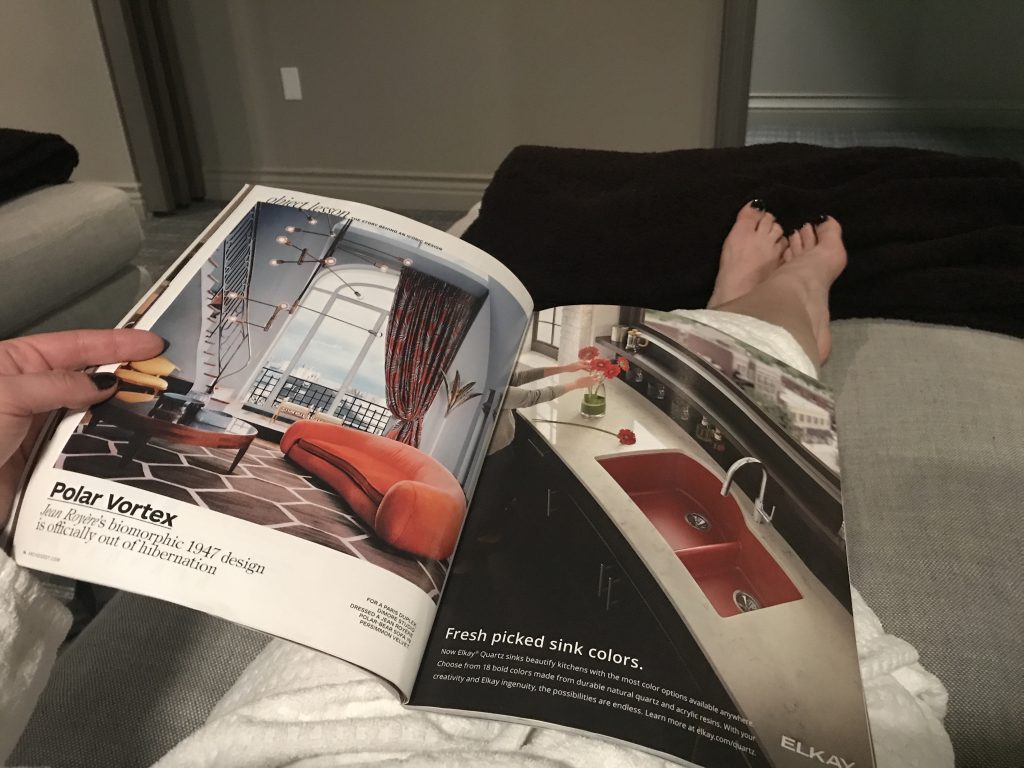 [/column] [column]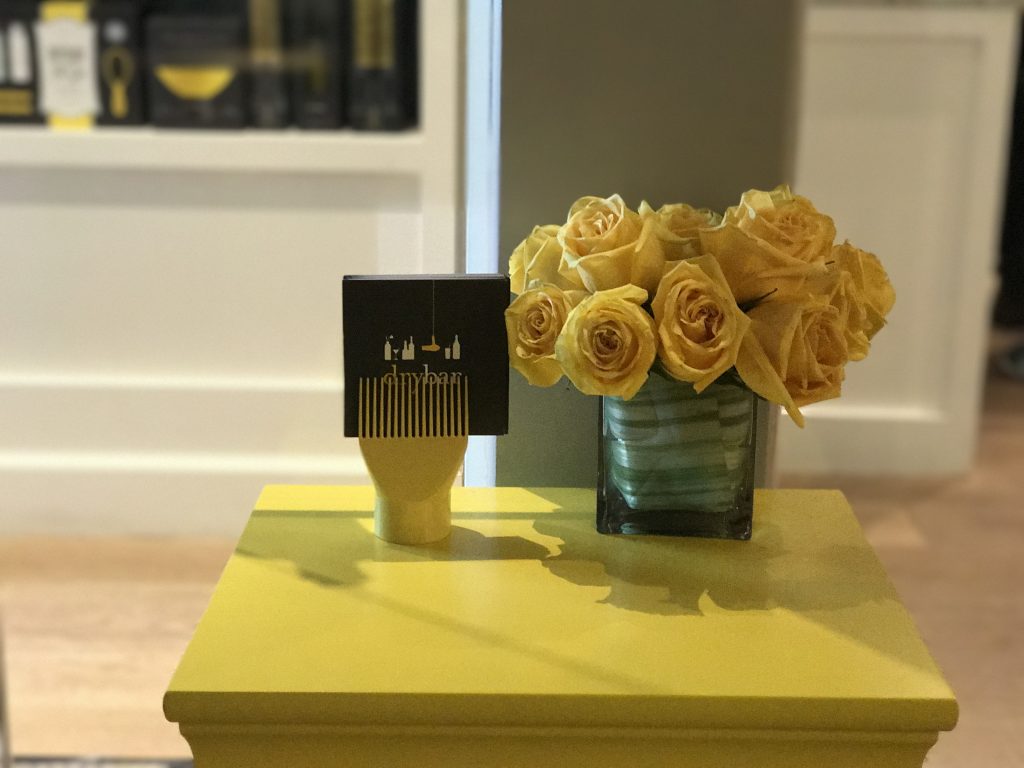 [/column] [/columns_row] [separator type="thin"]
Part 4. Rooftop Bites + Afternoon Delight
Dana Point is a city I hadn't spent any time in and I have to say I was clearly missing out. I have traveled the world and experienced a lot of incredible cities and Dana Point quickly rose to be among the favorite beach cities I've stayed in. The city itself oozes a sense of pleasure that makes it the ideal choice for your annual vacation spot. With so many hotels and resorts to choose from in the area, I rounded out the final afternoon stopping in at Doubletree Suites at Doheny Beach. A hotel that recently had a fire in their kitchen and now in the midst of remarkable renovations, their Longboard Rooftop Lounge is open and waiting for you to come, kick back and enjoy a tall glass of cold beer or in my case, the Spicy Margarita made with Milagros Silver, triple sec, pineapple, fresh lime juice, japapeños and a homemade tamarind rim. The décor is nautical with modern takes on the traditional navy blue and white theme we associate with being near the water. The chairs are a web of white metal put together to cradle your body while you sit back and sip, laugh, and enjoy a casual stop along the coast.
[columns_row width="half"] [column]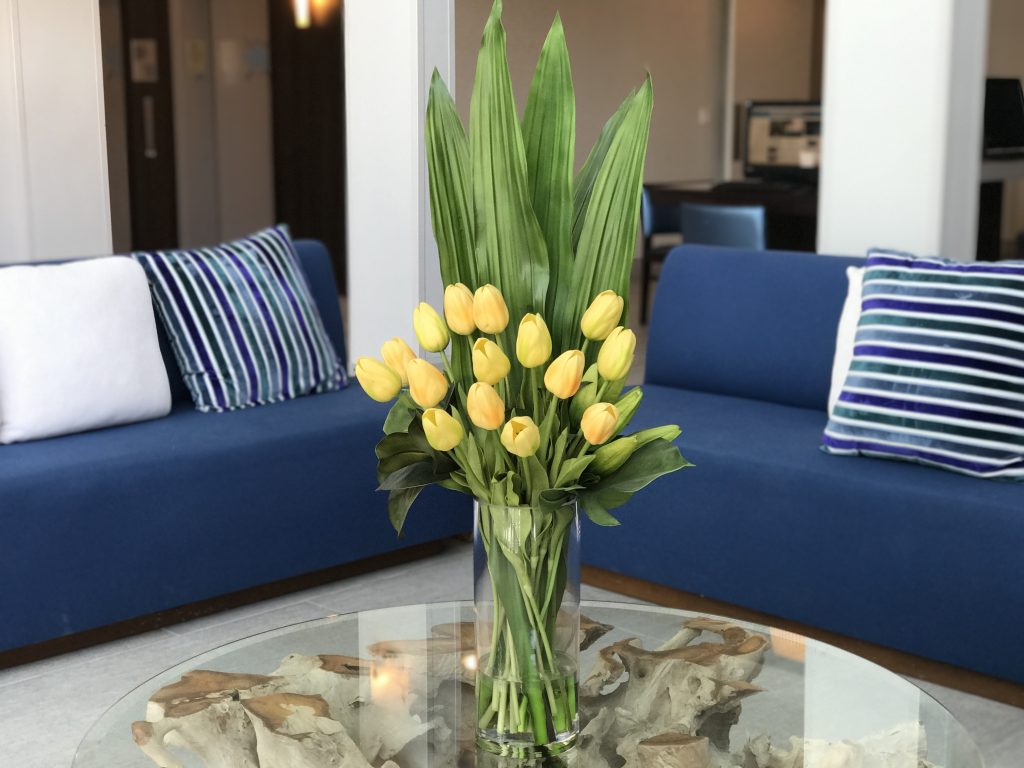 [/column] [column]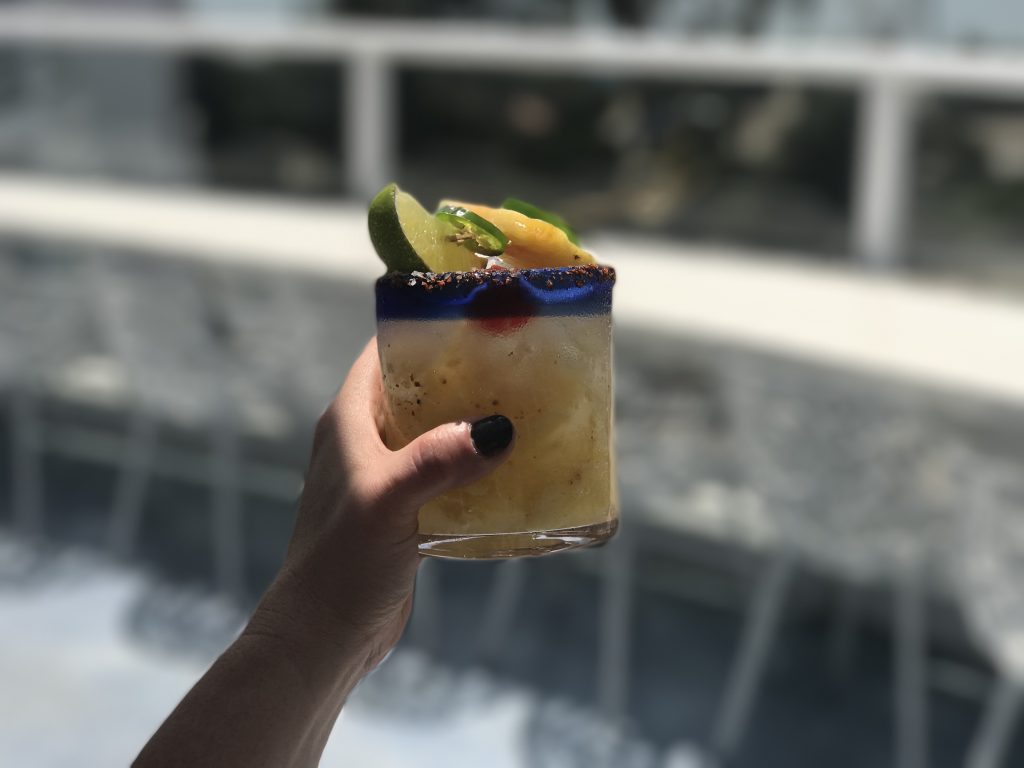 [/column] [/columns_row] [separator type="thin"]
When you're looking for a beachside place to get away, Dana Point is the place to go. You can book sailing courses, jet skiing, surfing, paddleboarding or just sink your toes into the sand while the cool of the Pacific rushes over you. Be sure to check out the vast selection of parks, the sculptures throughout the city including nearby art galleries, the incredible array of restaurant choices and playful bars, and indulgent shopping. For more, visit: www.danapoint.org | #MyDanaPoint
SaveSave
SaveSaveSaveSave
SaveSave
SaveSave