Smoking + Drinking Cigars + Rum
Puerto Plato is a Paradise
photos by the talented Nick Argires
[dropcap letter="I"]f you closed your eyes and imagined a world of bright colors and textures, smiles greeting you at every turn, and beauty that emanates from every corner, then you may find yourself in the
Domincan Republic
, in particular Santo Domingo and Sosúa in
Puerto Plata
. Santo Domingo is a district that oozes story unraveling in every face you see, every crack on the walls, every vivid painted door, and every erected monument. With influence of Colonial Spain, Cuba, and Africa, the district of Sosúa is one that boasts bright, happy colors that seem to reflect a sea of fresh spring blossoms, a vibrant people, and seascapes that invoke a welcomed sense of paraíso. Traveling from Santo Domingo and Puerto Plato, a group of us writers and photographers poured out onto to the streets of Sosùa in Puerta Plaza to be greeted with a range of colors that looked like an artist's pallete, the smell of ice cream and coconut ruminating in the air abundant in humidity, and three men: one dressed in stilts towering over us, another in the body of a donkey wearing colorful necklaces, a straw brimmed hat, and a brown suit jacket, and a third in a traditional festive garb complete with a mask that seemed like something out of a mythical island fable. To say there was a pulse of excitement and joy in the air would be an understatement.
Cigars + Rum in the D.R. from Dawn Garcia on Vimeo.
As we ventured into the Plaza square where music was blaring and people sporadically burst out in dance, the need to explore the vibrant painted houses and buildings lining the streets takes hold. From pink to bright turquoise and every color on the rainbow spectrum, you would be hard pressed not being happy wandering around (and I highly recommend doing so). So as we strolled through the plaza and admired the street vendors including the man wielding a machete and freshly cut coconut, we sipped the massive island fruit water, waded through the crowd and stopped at the doorstep of an incognito cigar shop, Monseñor, where we going to be submerged in a room filled with tobacco leaves and hand rolled Domincan and Cuban cigar blends. In other words, a room full of the stuff of legends! Hector, our liaison, introduced us to different types of tobacco leaves, tobacco, and then we headed into the humidor filled with cigars and cigarillos. From Cuban to pure Dominican, rich and verbose, to light and sweet, a truly good cigar is hand rolled and appealing to your own personal preference. My preference led me towards a rich and hearty Dominican cigar that had an almost nutty finish. There is a certain sense of cool whenever you think of a tightly rolled cigar and let's be honest, there is something sexy about it as well.
[columns_row width="half"] [column]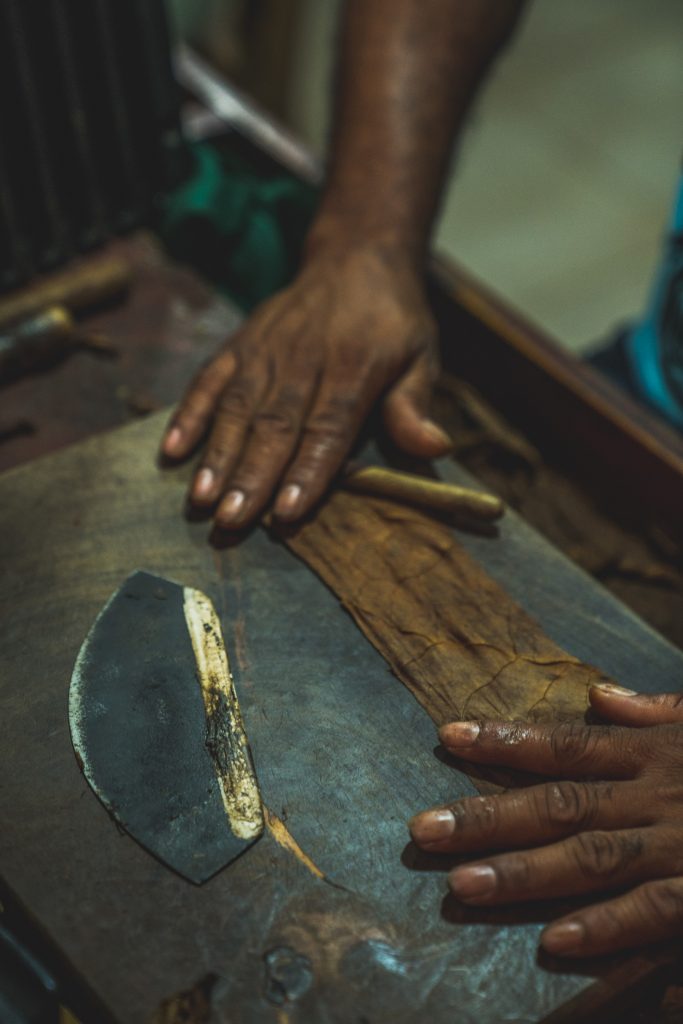 [/column] [column]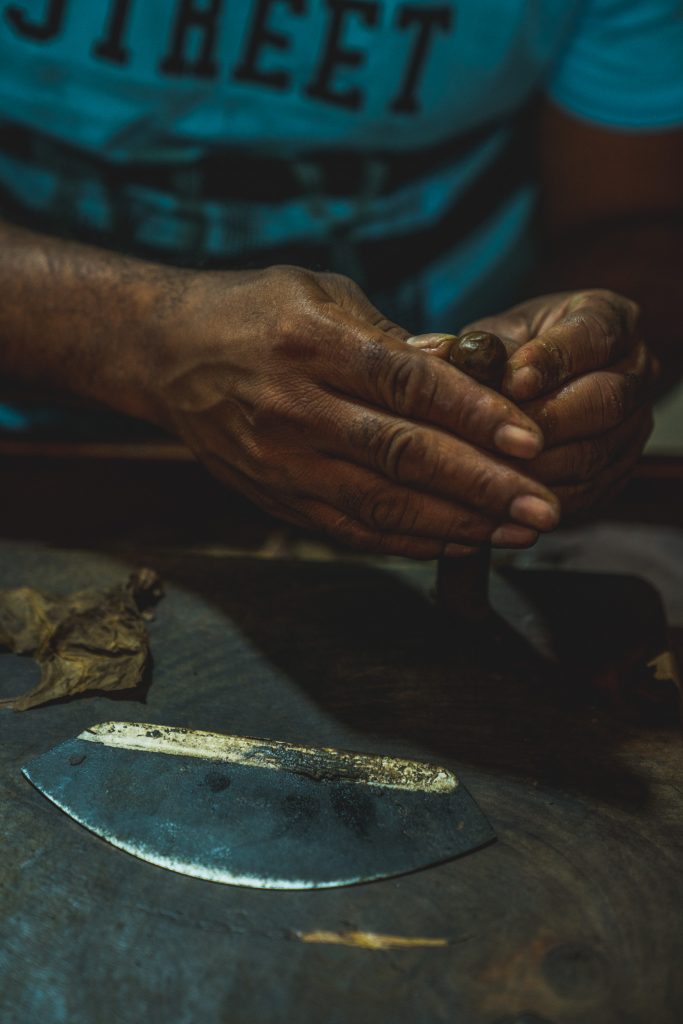 [/column] [/columns_row]
After putting a stogie in between our lips, tasting the fresh pressed leaves encasing the rich tobacco known to the region, it only seems right to enjoy this while siping on some local rum and perhaps a starter of Mamajuana. In spite of the name sounding like something you smoke, it's actually an unusual blend of  rum, red wine, and honey soaked in a bottle with tree bark and herbs. It's a strange concoction said to be powerful for men and women as a known aphrodisiac. While we explored an array of "versions" of mamajuana, the real nectar of the gods in the DR is rum.
[columns_row width="half"] [column]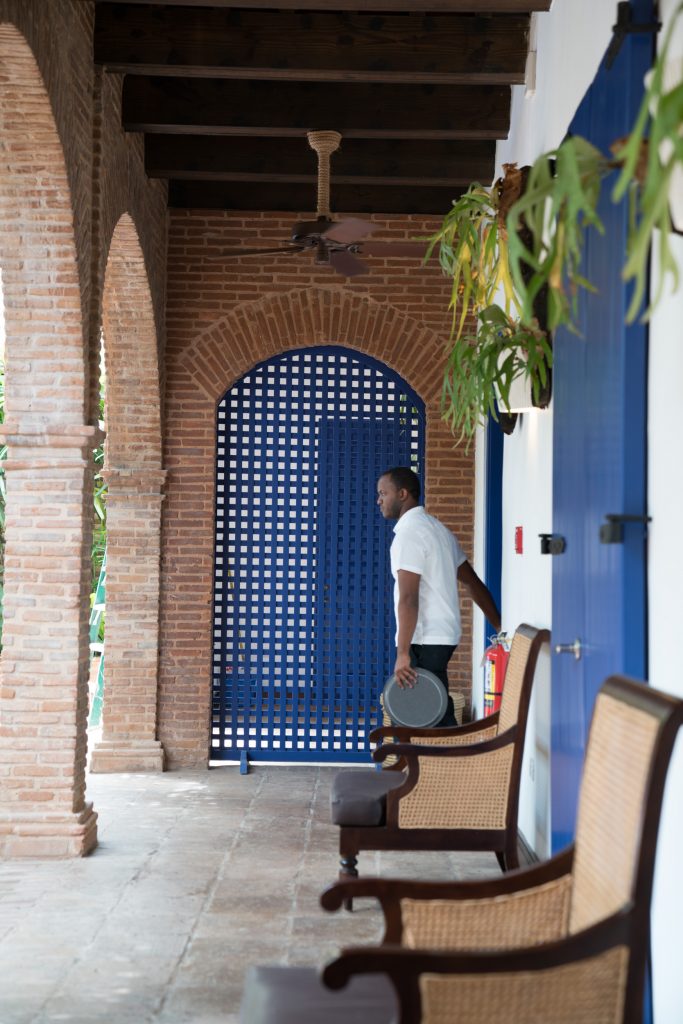 [/column] [column]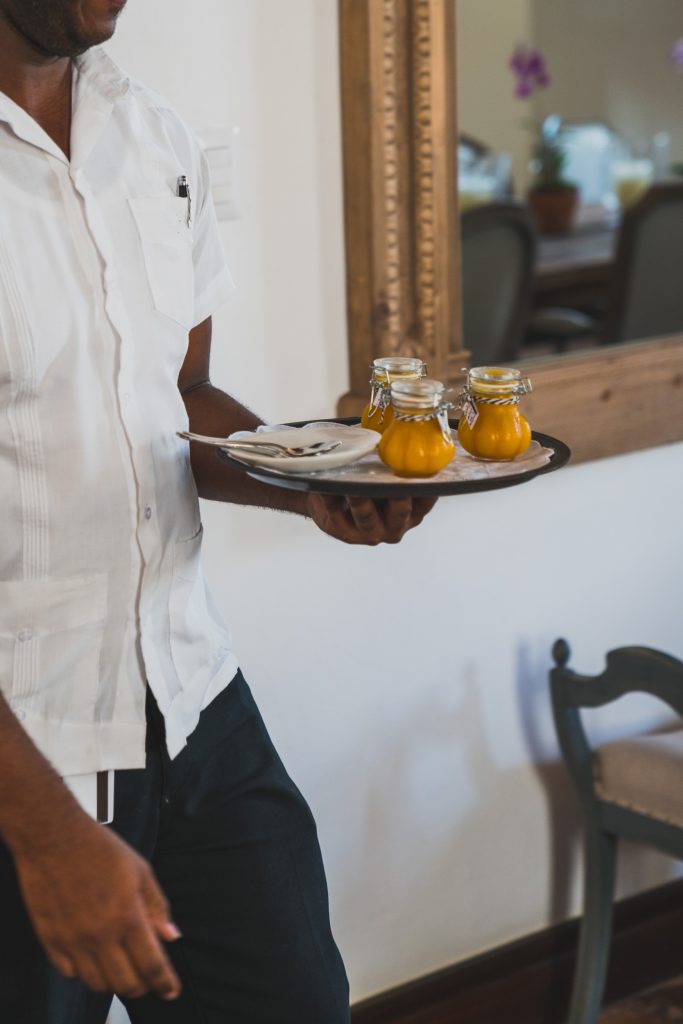 [/column] [/columns_row]
With 3 sugar cane distilleries (Barceló, Brugal, J. Armando Bermúdez & Co. C. por A) the rum in the D.R. is beautifully pure. Unlike most other rums, Dominican rums give more importance to "smoothness", producing a unique rum thanks to an original and natural process of distillation and aging done in American white oak kegs. Having the opportunity to tour the Ron Barcelo distillery, we were treated to original cocktails, an array of rums, as well as learning the history of the Barcélo family. While on site we toured the museum (a truly well-executed museum taking you through the history of sugar cane and the Barcélo family) and went to the factory where they were firing barrels that would then lend to the smoky and sweet flavors the oak barrels give the liquid sugar before and during fermentation process. That process of burning is fascinating to watch! It's literally set ablaze and left to temper itself until the embers fade and a dark color remains. In the end what you end up with is a nectar unlike any other.
RON BARCÉLO | Carretera Ingenio Quisqueya, Km 6 1/2 | San Pedro de Macorís, República Dominicana
[columns_row width="half"] [column]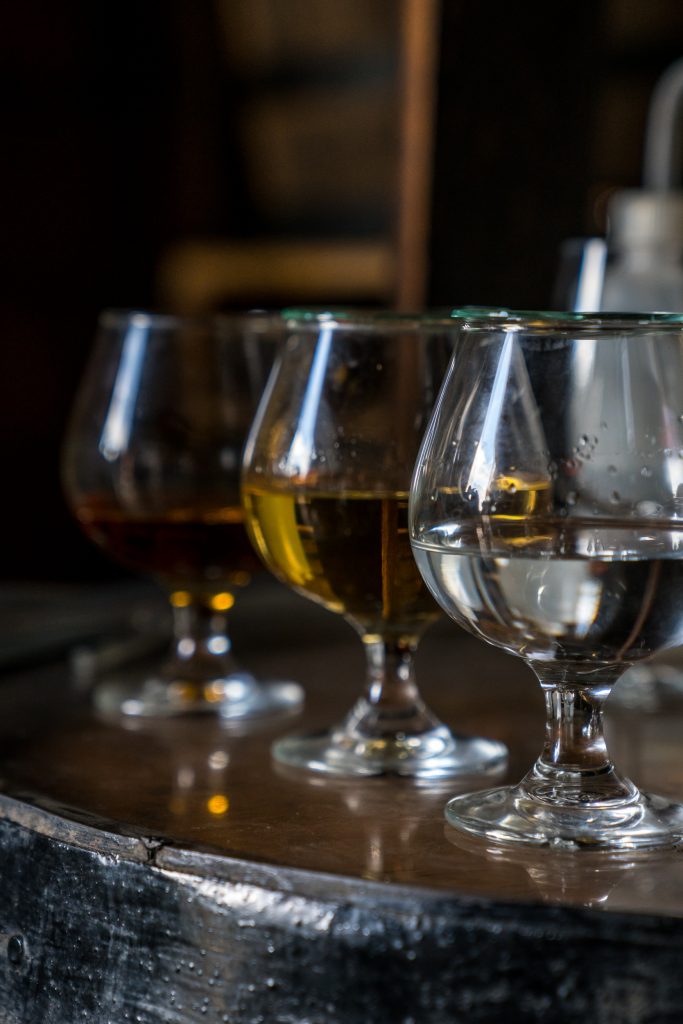 [/column] [column]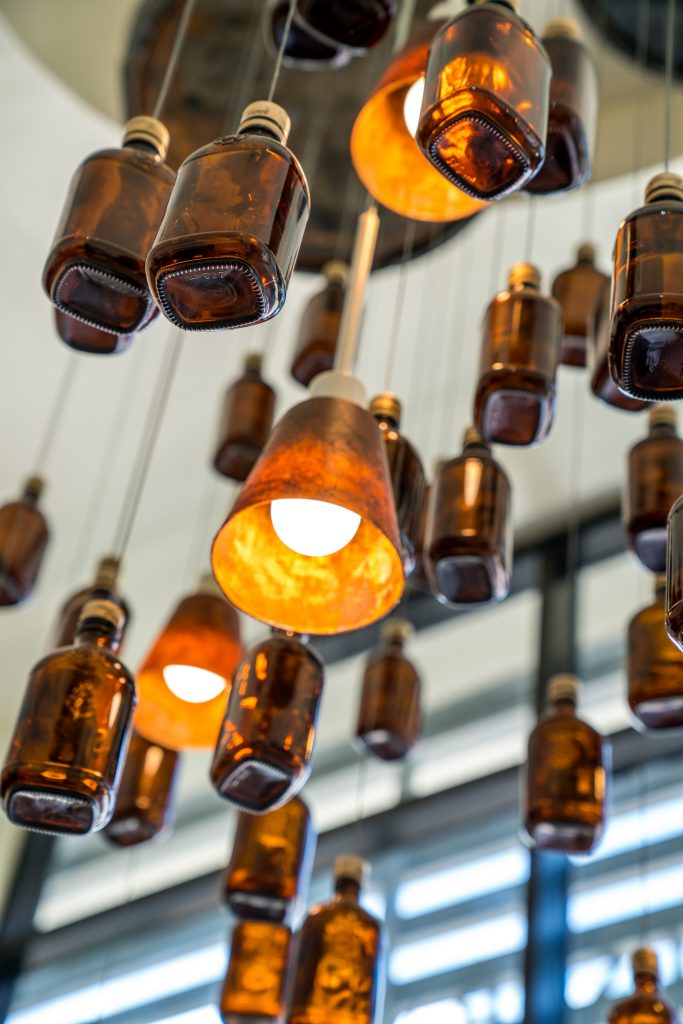 [/column] [/columns_row]
When you're out feasting and experiencing the country, while you're melting under the Caribbean heat in the swell of abundant color and vibrant smiles of the people, an ice cold Santo Libre does the trick. A cocktail made with Sprite, rum and a twist of lime, its refreshing and quickly became the best way to soak up the island sunshine.
Puerto Plata is an island paradise amidst a country that will leave an unforgettable feeling of love and passion. The Dominican is a very special country and there is no denying it. Each province has its own story, history, charm, cuisine, and landscapes but the stretch of beach and the cities that make up Puerto Plata are so breathtaking, it's a place you HAVE to see. So while you plan your next island getaway, consider indulging in fresh rolled cigars, slipping away into luxurious playas, and basking in the sweetness of life with rum in hand all while exploring everything this glorious country has to offer!
For more information, visit: www.godominicanrepublic.com
Our top picks for hotels: Casa Colonial (Boutique Luxury Hotel & Spa) + Gran Ventana (all-inclusive)
[separator type="thin"]
Traveling through the Dominican Republic is like stepping into a bit of pure bliss and history but we chose to share a few things Puerto Plata:
The silver clouds atop Mt. Isabel de Torres, the towering mountain behind Puerto Plata, gave the city its name.
San Felipe de Puerto Plata is the capital of the Puerto Plata province on the Dominican Republic's Atlantic north coast.
Its known as the "Bride of the Atlantic".
Puerto Plata is best known for its beaches (Sosúa, Playa Dorada, Maimón, Cafemba, Playa Grande (Luperón), Cabarete, Long Beach, Longbichito).
With Victorian inspired architecture, the distinguishing factor is the brightly painted walls, doors, homes, and buildings throughout the region.
You can buy fresh coconut in Puerto Plaza (green coconuts) and drink from the coconut and then, with a slice of a machete, enjoy the meat inside!
It's very clean.
There is always something to do: Dance, Eat, Water Sports (best snorkeling!), Outback Safari, Eco Tours, Cable Car ride up to the highest point of elevation (above the jungle floor with sweeping views of the aqua ocean), Shop, Drink, but most of all you can slip right into the culture and experience the most wonderful people!
The city boasts the largest collection of still-standing 19th century Victorian-style houses in the Caribbean. Its San Felipe Fort is one of the oldest military colonial period fortresses in the region, dating back to 1577.
Puerto Plata is the province where the remains of the first European settlement in the Americas are located. Admiral Christopher Columbus' famous three ships made landfall here in 1492, naming it La Isabela.
Puerto Plata is better known for its Atlantic coastline with more than 62 miles (100 km) of beaches, coastal villages and hotels. The beach towns of Sosua and Cabarete, world famous for its windsurfing and kiteboarding, are less than half an hour away.
The popular Ocean World Adventure Park is on the outskirts of the city. Damajagua Falls, Disney's Splash Mountain ride but for real, is just a 30-minute ride south.
The main port of entry is the Gregorio Luperón International Airport (POP) and the Ocean World Marina is a full-service facility.
You can roll your own cigars!!!!!!!!
You won't want to leave.
SaveSave
SaveSaveSaveSave
SaveSave
SaveSave