Exploring Bohemia | the Czech Republic
Falling in Love with the People, the History, the Creative Spirit
by Ruth Cuevas
[dropcap letter="W"]hen I was growing up, to be "Bohemian" meant gypsy-like skirts, big earrings, a free spirit and a certain
je ne sais quois.
It would be a long time before I would visit Bohemia in search of what it really meant to be Bohemian, readily seduced by its natural beauty and ability to effortlessly express passion. There are two main regions in the modern Czech Republic: Bohemia and Morovia. Bohemia lured me in in every way while Morovia boasts some of the most reputable Czech wines which is noteworthy.
in BOHEMIA
It's in Bohemia where Prague, Karlovy Vary, and Cesky Krumlov reside, as well as beautiful artifacts like crystal, porcelain and other royal-worthy things. Beginning with Prague – a city where great writers like Kafka* were inspired to expose the humor in the human condition through writing that touched on our primal emotions. (Visit the place where he used to work if you get a chance – it's  a Sofitel Hotel now but incredible!) It is a city that drew creatives here in droves. A place where Milan Kundera's fictional lovers ravaged each other and toyed with ideas of sexuality – generations before it was considered cool! It also happens to be where the only successful assassination of a high-ranking Nazi Officer during WWII took place.
Let's face it, Prague is pretty bad-ass.
[columns_row width="half"] [column]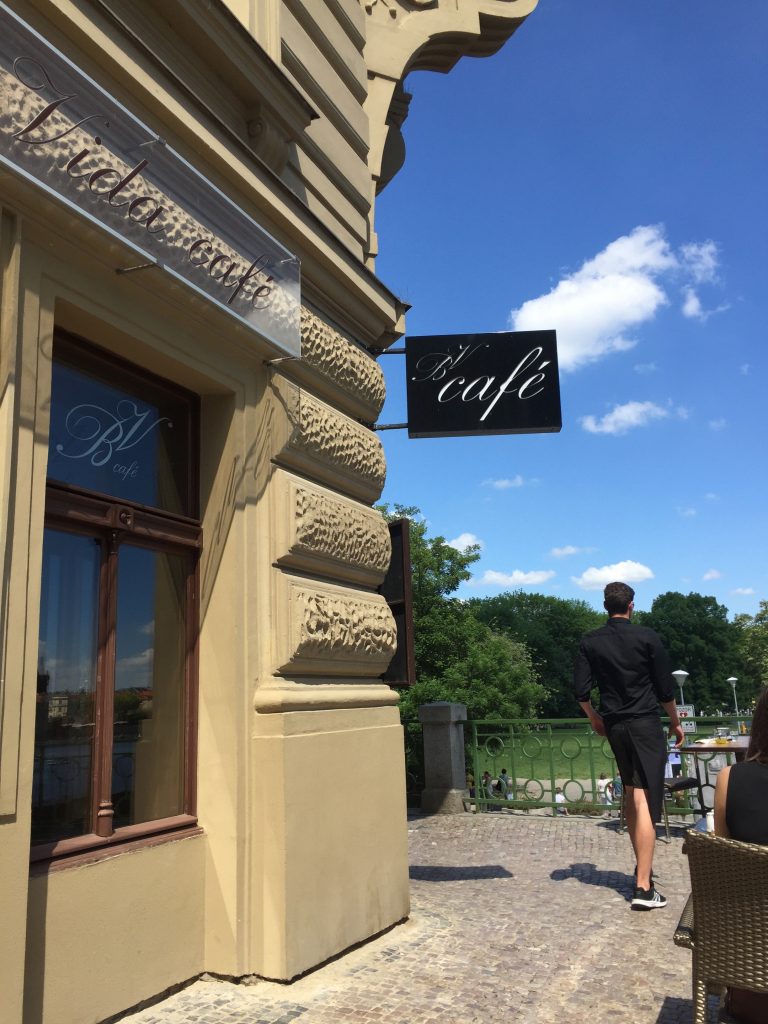 [/column] [column]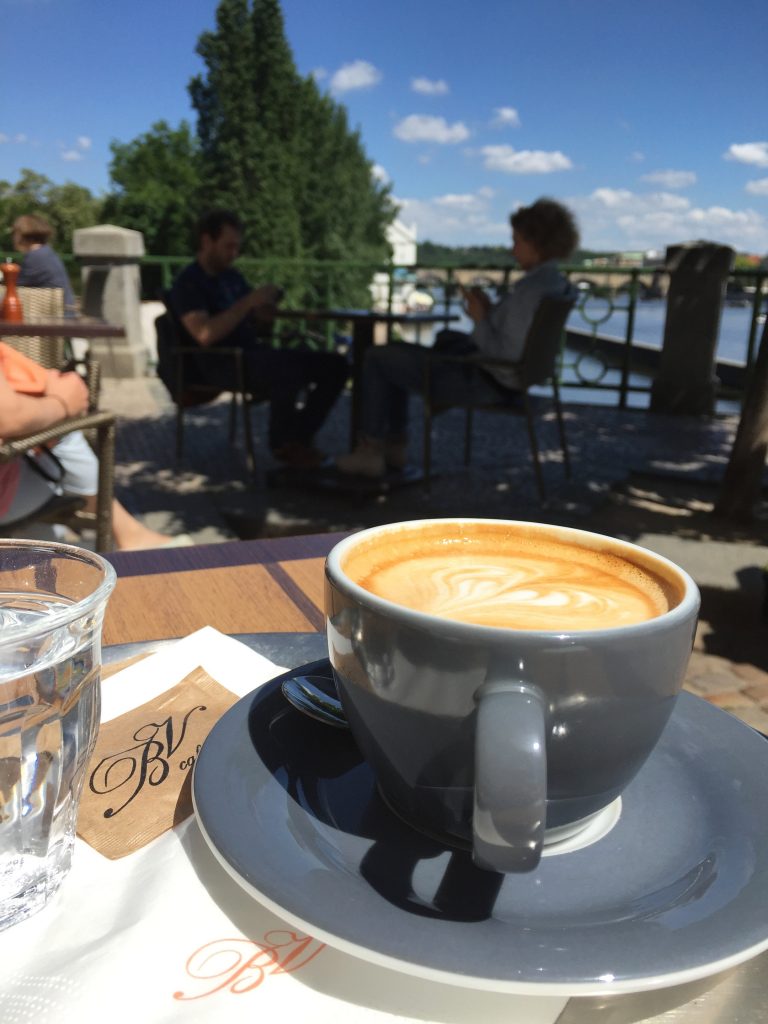 [/column] [/columns_row]
The city was mostly undamaged during the war so traversing through the old town is like being transported to yesteryear.  The city is an architecture enthusiast's dream. Brightly colored art deco facades in blues, greens, and pinks adorn the cobblestone streets. Prague is also home to the uber-modern Frank Gehry design, Dancing House. Across the street from that you'll find stained glass, statues and ornate ironwork adorning front doors, corner windows, and park gates making you feel like you've stepped into an Alphonse Mucha poster.
For those of you that may prefer a different kind of historic adventure, take a tour of the underground tunnels that run beneath the entire city. Above ground, the walkways run parallel to the Vltava River. Cafes, parks, and sculptures line the route, inviting you to put away your phone, throw out the agenda and bask in the surroundings. (If it's sunny, grab a seat outside the Bella Vida Café  and have a piece of cake and a coffee.)
[columns_row width="half"] [column]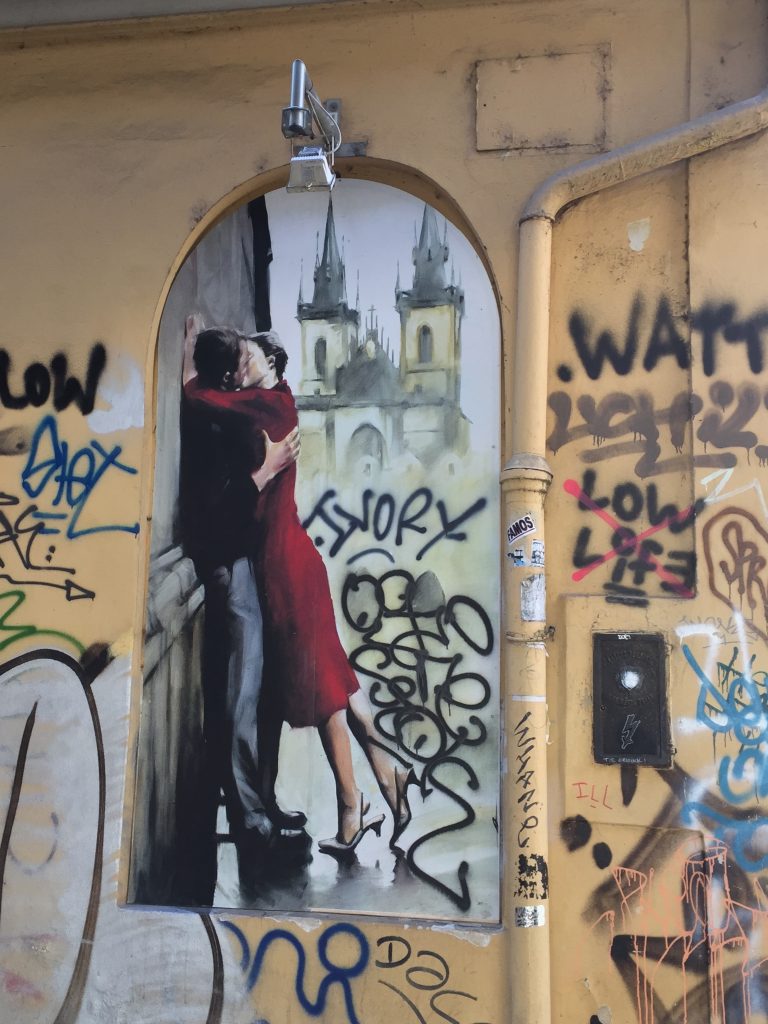 [/column] [column]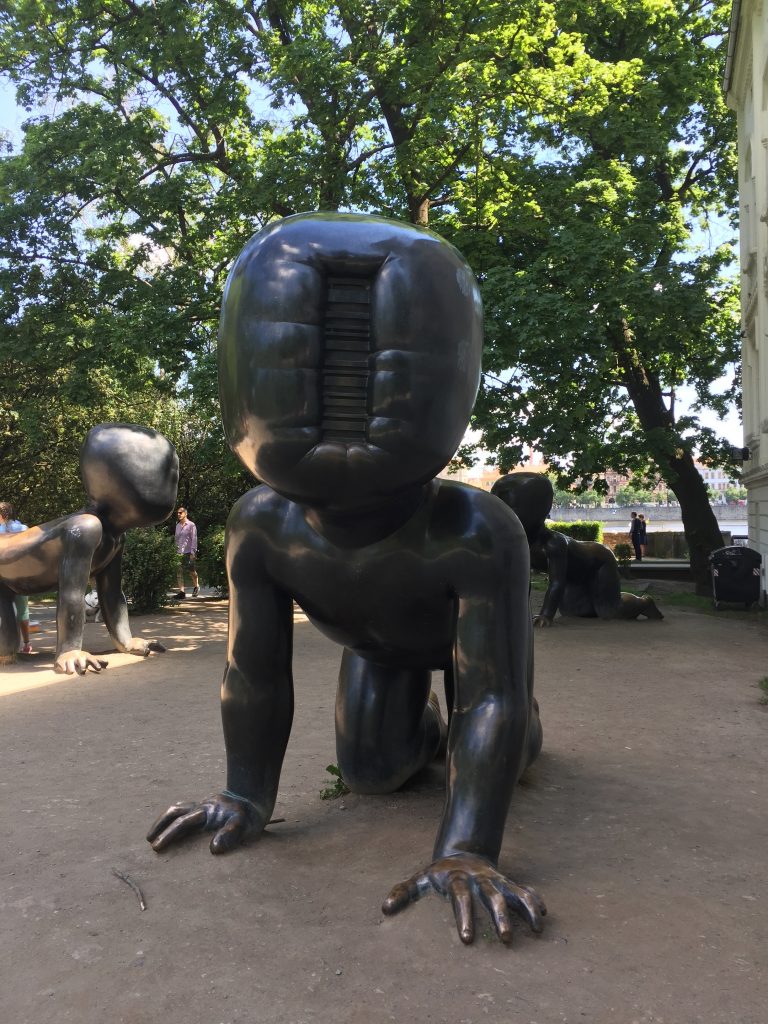 [/column] [/columns_row]
Just north of the old town is the quiet suburb that surrounds the Hotel Schwaiger.
Large, stately homes and Embassies grandly stand behind intricate iron gates and if you get a slight peek into any of the windows, it's a peaceful existence between fine crystal and ornate tapestries. In the immediate vicinity is Stromovka, a large English park ideal for taking photos, reading, writing, or working out.
[separator type="thin"]
the HOTEL
Stepping into the Hotel Schwaiger you're transported to an elegance of the city, immediately taken into a world where luxury is a state of mind. Originally built in 1849, for years it served as a family residence under the name, Villa Klára.  It's been a registered Czech Republic cultural heritage site since 1921 under the name, Villa Schwaiger. In 2016, the current owners of the Villa began extensive reconstruction and in late August 2017, the Villa opened its doors as the exclusive, four-star boutique, Hotel Schwaiger.
[columns_row width="half"] [column]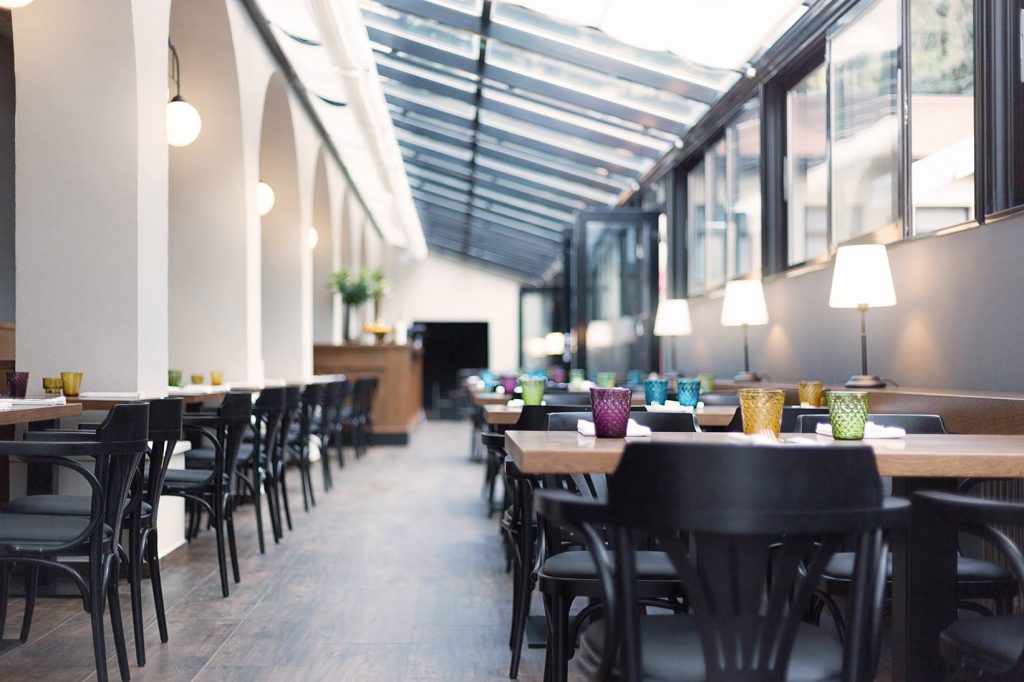 [/column] [column]
[/column] [/columns_row]
Reminiscent of the 1920s, clean lines and solid colors accentuate the picturesque refinement of modern affluence lending to the notion that luxury is more of a feeling, than mere "things".  The staff here offer a level of service that embodies what luxury should be. Working alongside their sister property, Pod Vezi, they were tasked with creating a hotel that brings together the modern interpretation of the spirit of Prague in a way that doesn't betray its rich history nor the triumph of the human spirit. That sentiment that has been passed down from generation to generation and has fostered some of the world's most creative writers, painters, musicians, academics, artisans, and anyone else who shows their love and passion for life through their craft.
Prague is sexy. And so is the Hotel Schwaiger. This hotel is like an elegant woman who never reveals her true age.
the FOOD
The chef at the V Zahradě, Chef Radek Ryška, shows his knowledge of Czech cuisine by taking traditional dishes and infusing them with modern flavors and textures that take you through a gastronomical wonderland. Using the innovation of gastronomy to exude a single flavor and elevate it, Chef Ryška balances each one without competition. That is apparent in their appetizer, cream of goat cheese served with pumpkin and pistachio. The dish has crunch, silky textures, and color. Couple that with that in-house fresh-baked breads and every dish to follow – all sourced locally – can appease even the most selective palates. Accompanied by soft jazz dancing around the air in the room, the fresh bouquets of florals, and handmade colored glasses adorning each table make for one unforgettable introduction.
[columns_row width="half"] [column]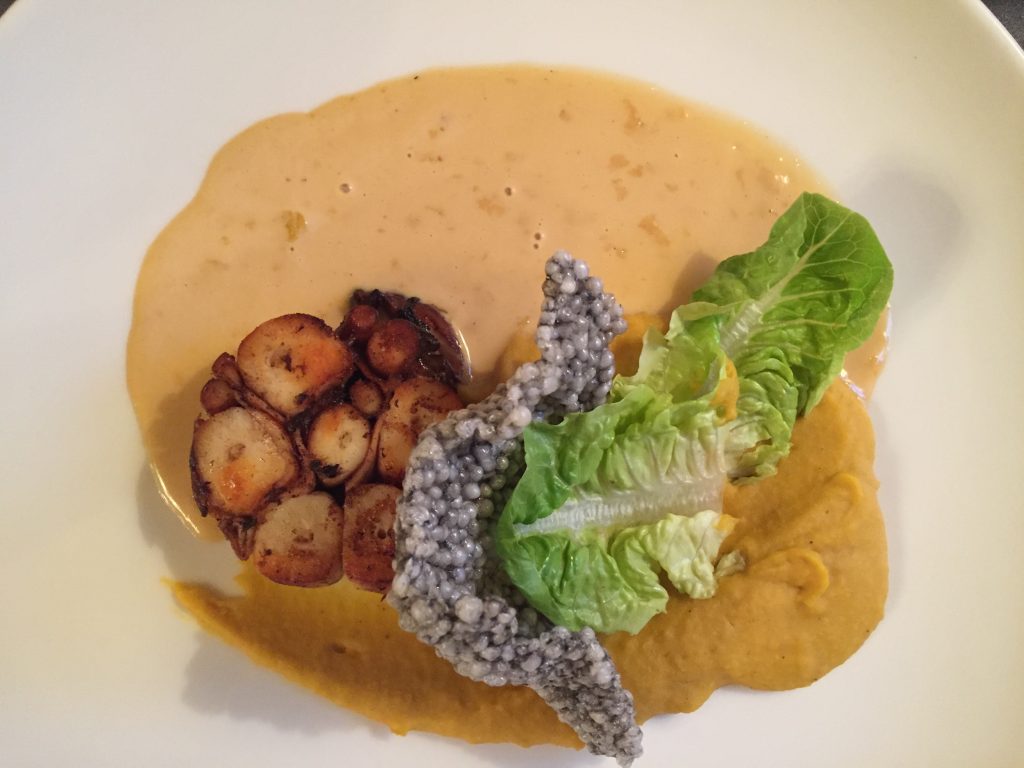 [/column] [column]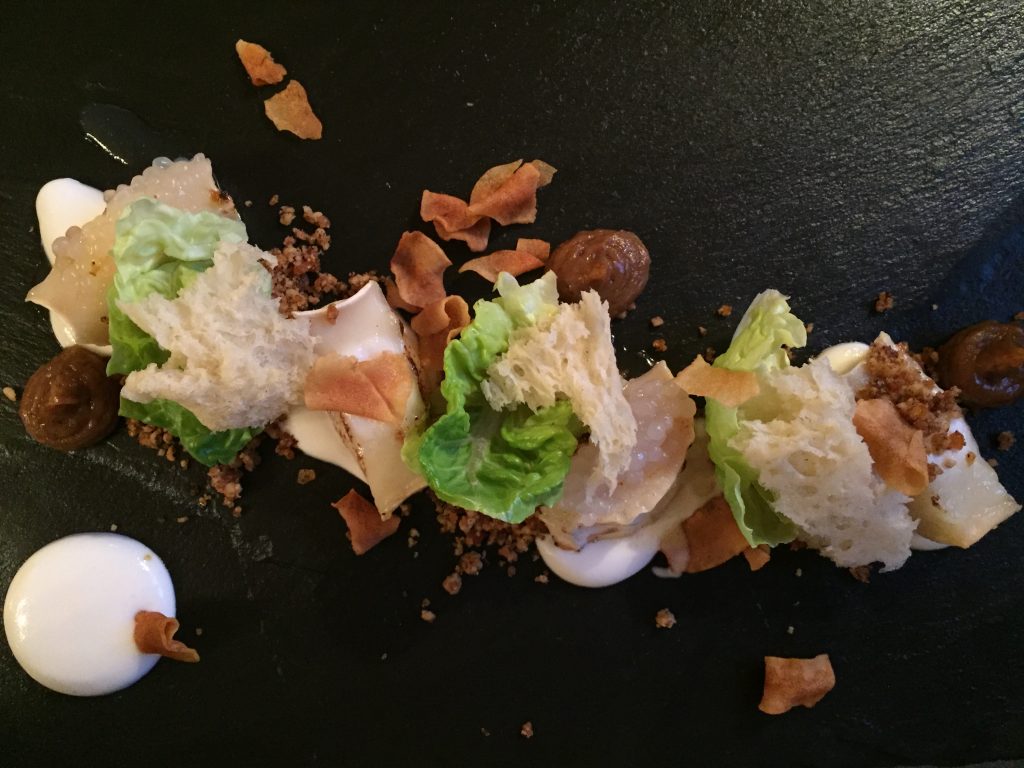 [/column] [/columns_row]
With exciting creations including the smoked trout with marinated cucumber and ash bread, chef has created a moment that is more than just a meal, it's an adventure – a fun adventure. I mean, how often do you get ash bread? When the sweet tooth calls, I choose the goat cheese and white chocolate cream. Made with a side of homemade blueberry sorbet topped with pistachio nuts or the chocolate pastry with egg liqueur ice cream, served on a bed of salted caramel sauce, it's delicious. The combination of goat cheese and white chocolate lightens the usual heaviness becoming like an airy mousse, the warmth of the mousse is contrasts the icy sorbet.
[columns_row width="half"] [column]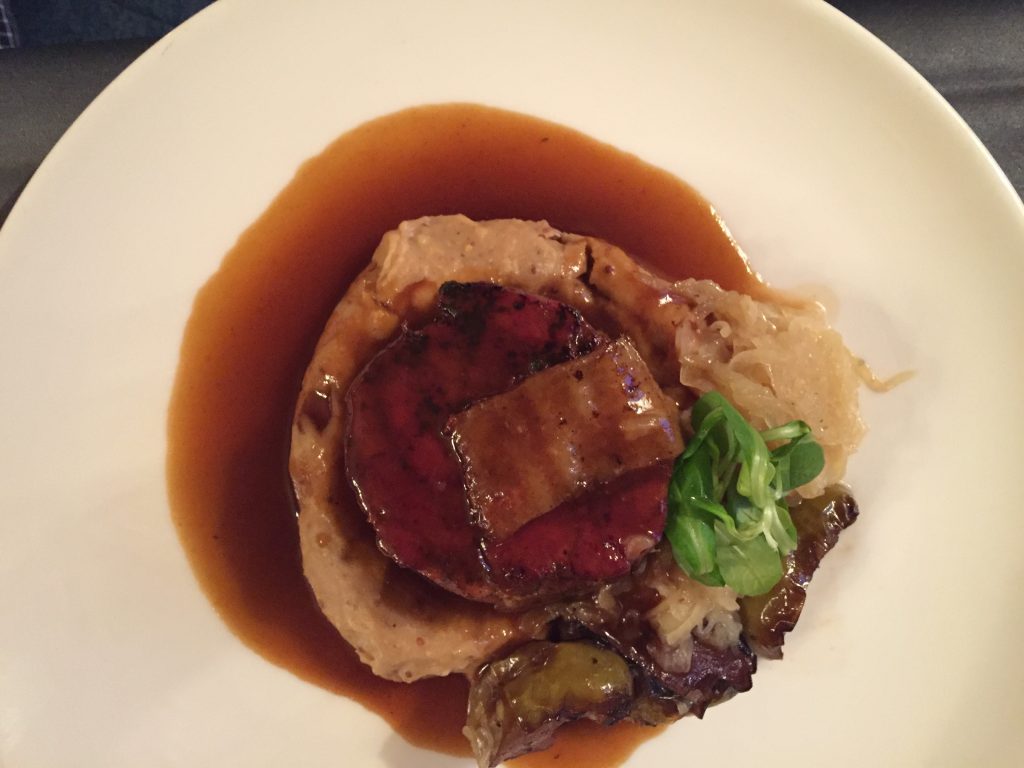 [/column] [column]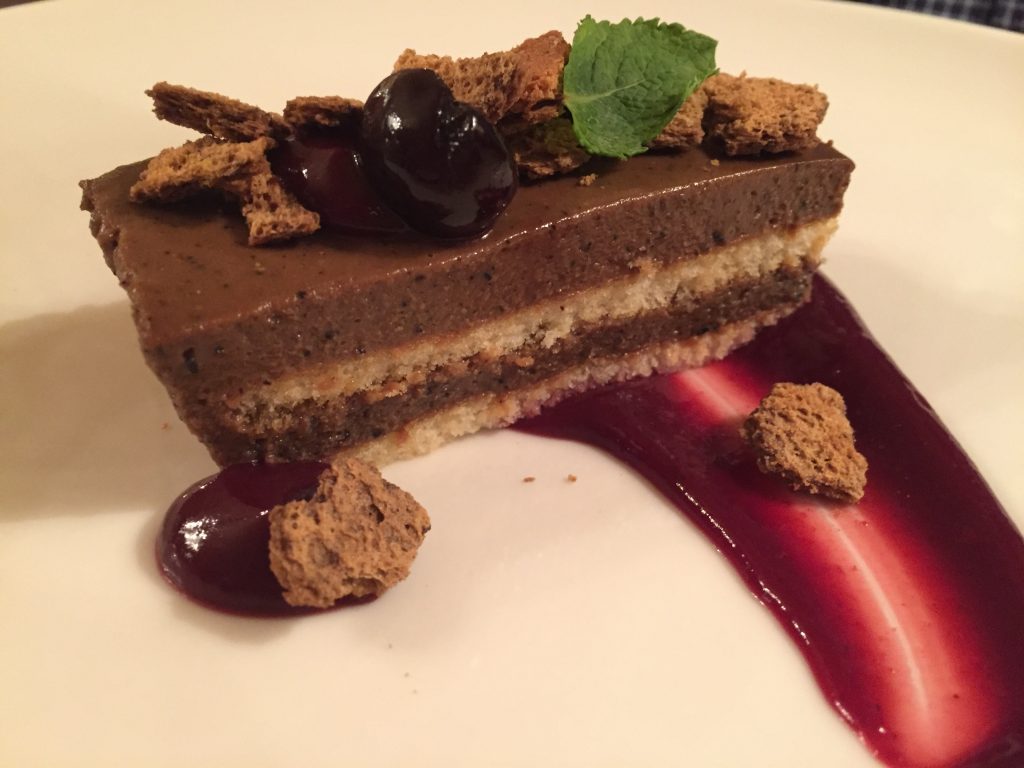 [/column] [/columns_row]
Nothing at the Hotel Schwaiger is typical – not the drinking water (it's cucumber water), nor the welcome, the price, the quality of service, or any small detail. They've kept the best of the old and twisted it with the new all while preserving the artistic spirit known to the region. This is where artists took traditional art forms and made them modern. It's a place where writers who, for fear of persecution, wrote in silence or underground, in the labyrinth of ancient city streets and buildings that still exist below the city of Prague. The meals were fabulous, the people wonderful, and the presence of tradition inviting you into their world showing you what's possible. A careful blend of old and new, displaying the balance of how change is good and how with a little imagination, you can turn something ordinary like dinner into a dance between you and the chef where he carefully reveals his love of life through his cuisine
the RENOVATION
I had the pleasure of chatting with the hotel manager, Martin Čelko who explained that when they were renovating, they wanted to create an establishment that combined all aspects of the things they valued. They wanted the hotel to be eco-friendly, economical to the customer, while offering high quality products. A decade of research provided the team with the ability to circumvent common problems guests have, fine tuning their mission with the Hotel. They anticipated things like climate control and room service, creating a level of comfort and service that is hard to match.
Quality doesn't have to be out of reach and neither does luxury. If you've ever toyed with the idea of visiting Prague, I recommend you stay at the Hotel Schwaiger, where the staff will make you feel like a million bucks and their warm smile will give you one in return. In fact, tell them that you read about them in ATOD Magazine; I'm sure they'll show you how they define a luxurious holiday.
the OVERALL
Prague is a city of unsung heroes, impeccable beauty, artistic inspiration and unparalleled hospitality. If you go searching for that Bohemian je ne sais quois, you might not be able to put it into words, but you'll feel its essence. For me, the feeling defines luxury.
SaveSaveSaveSaveSaveSave
SaveSave
SaveSave