Casa Laguna Hotel and Spa
When "Home Away From Home" Takes on New Meaning
The scene is set: enter a 1920's home resting on the bed of Pacific Coast Highway, waves crashing in the distance, a rare whale sighting barely 200 feet off the shore. The sound of serenity is moving through the air like a welcomed dance, a portal to another time and space. But – the scene unfolds as arrive at Casa Laguna Hotel & Spa in the majestic Laguna Beach. As we enter up the clay tile-tiled walkway accented with succulents, Moorish and Spanish ceramic decorative accents, bistro tables, the tranquil pool, small walkways lined with a plethora of various greenery (leading somewhere marvelous no doubt), and then we see the entry leading to the lobby.
Deep shades of rich blues, mustard and gold accents, and bright white echo throughout the front room and dining area. Tufted sofas inspired by designs of the era, chairs situated near the fireplace with a larger than life Tom Ford book resting on the table between them, and fresh cut wildflowers flowers situate atop every table. Everything here has a clear purpose and while you're here, it's clear that you can slip into something comfortable and forget about the busy-ness of the everyday. While we head towards the front desk, everything feels warm. The lobby is filled with small, intimate details that makes it pristine and immaculate yet feels like you're in a dear friend's abode.
Now time to meet today's supporting cast: Brandon. Dressed head to toe like a page taken from Tom Ford's iconic fashion, wearing a light ocean blue shirt and dark trousers with a little glance of ankle peeking through just above the perfectly polished brown leather loafers – the kind of loafers that seem to have a story of their own.
"Welcome to Casa Laguna" he says and immediately, its as if we've arrived at our very own mini Spanish inspired mansion. It feels like home.
Built in the 1920's, Casa Laguna is a house now reimagined as a beautiful boutique hotel located in the heart of Laguna Beach. Housing 23 rooms, all of which were beautifully restored in 2016 by Martyn Lawrence Bullard, each one has its own character and is decorated with Martyn's own custom fabric prints and ceiling décor. In essence, the property is thoughtfully curated right down to the large Spanish wooden doors on the outdoor patio and all throughout the property leading to the highway.
Laguna Beach is a city made for everyone and that's why its among my favorite (and often only) stops in Orange County aside from Dana Point. Designated an official city in 1927, this greenbelt stretches along the Pacific Ocean and on most days when you look out onto the water, you'll see dolphins or whales basking in the bed of sapphire blue. Whether you're traveling alone, with friends, with family, or your partner, it's a city full of life, excitement, delicious food, a thriving LGBT community, gorgeous seascapes, and friendly locals.
[columns_row width="half"] [column]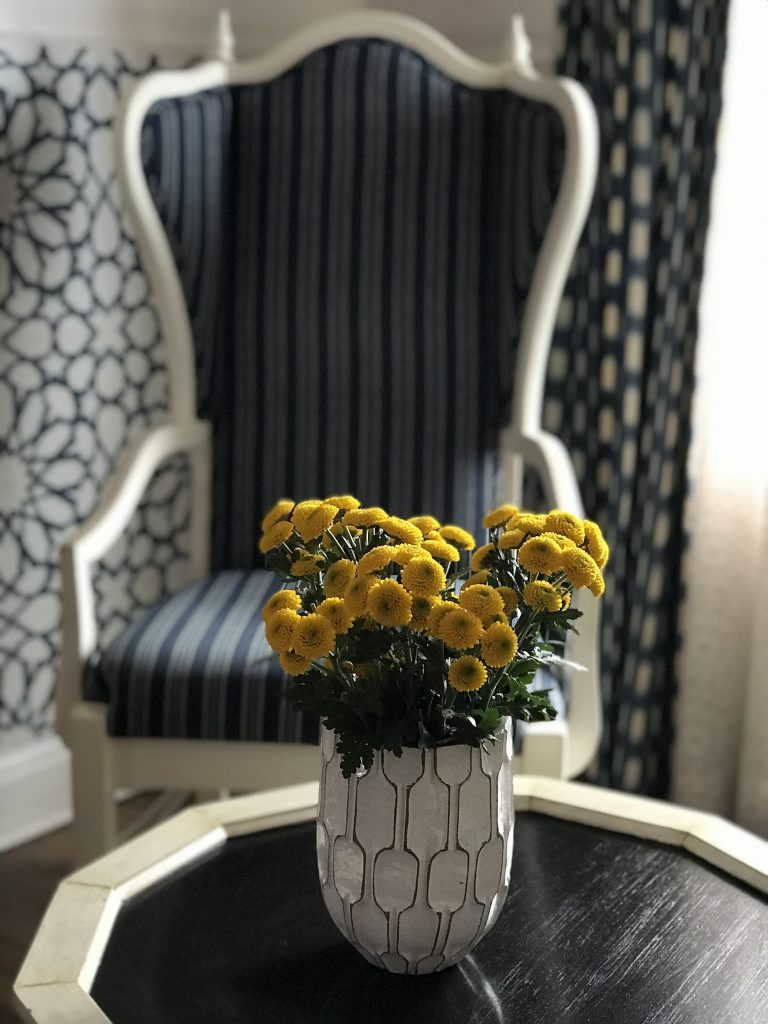 [/column] [column]
[/column] [/columns_row] [separator type="thin"]
LAGUNA SUITE
Having the pleasure of staying in the Laguna Suite, the moment you step inside the room you won't want to leave. As you enter, a table, writing/dining-for-two table and oversized chairs rest near the front door leading you towards the living room equipped with a wet bar, varying wine selections, a couch, a coffee table dressed with snacks and bottled water, and a balcony. As you turn to walk into the bedroom, you are greeted with a dual-room fireplace that heats both the living room and the bedroom lending to a more romantic ambiance. The bedroom is a Spanish inspired haven with shades of reds and bespoke furnishings throughout. Lastly, the bathroom … this is the bathroom to sink into with a glass of champagne, bubbles in the claw foot bath tub, dim lighting, music to entice, all surrounded in French tiles bright with color and detail that give you a sense of artistic wonder.

My favorite part of this room however is the hanging art. Curated with a female empowered influence, from a black and white photo of all female surfers to the charming photo of two women somewhere where clear aqua waters exist blissfully hangs above the bathtub, this really is a spectacular space full of feminine wiles. A reminder that no matter what era we dwell in or are drawn to, the beauty, strength, and fondness of women is ever present.
With dual paned windows, the sound of the highway is muted and yet somehow the soothing sound of waves crashes against the shore still filters in effortlessly. When your hunger should call, keep in mind they have small plate options available in the kitchen but some of our favorite dining options in the area are a short drive, walk, or Lyft ride away. (We've listed our picks at the end of this article.)
As the sun was setting, we decided to venture into Las Brisas for Happy Hour and a delicious dinner. Our evening was so mesmerizing, we watched a grey whale playfully frolic less than 200 feet from shore. It was magic! You can read all about our dinner, HERE. After dinner we arrived back to our suite to enjoy the complimentary bottle of champagne before putting on the soft robes provided for guests and sinking into the comfort of the king sized bed. This was by far one of the most restful nights of slumber I'd have in a while.
[columns_row width="half"] [column]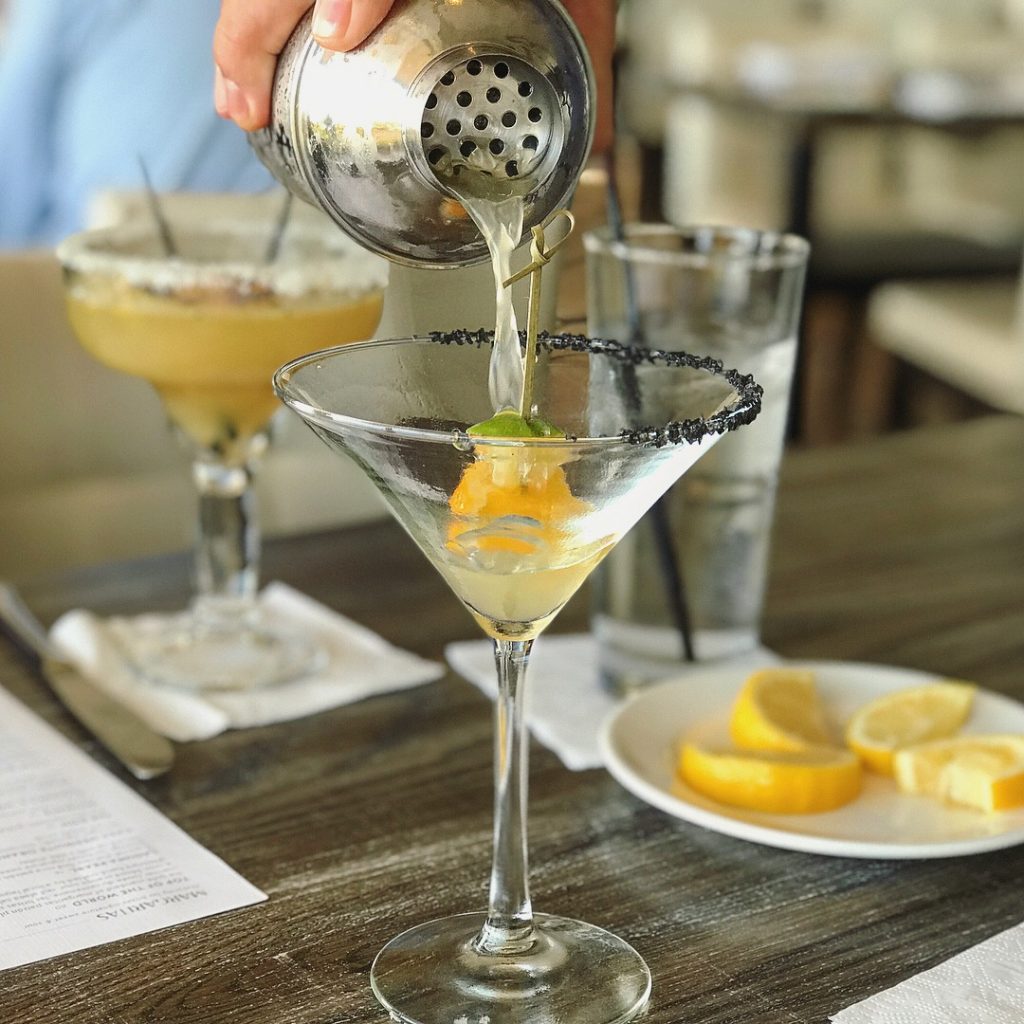 [/column] [column]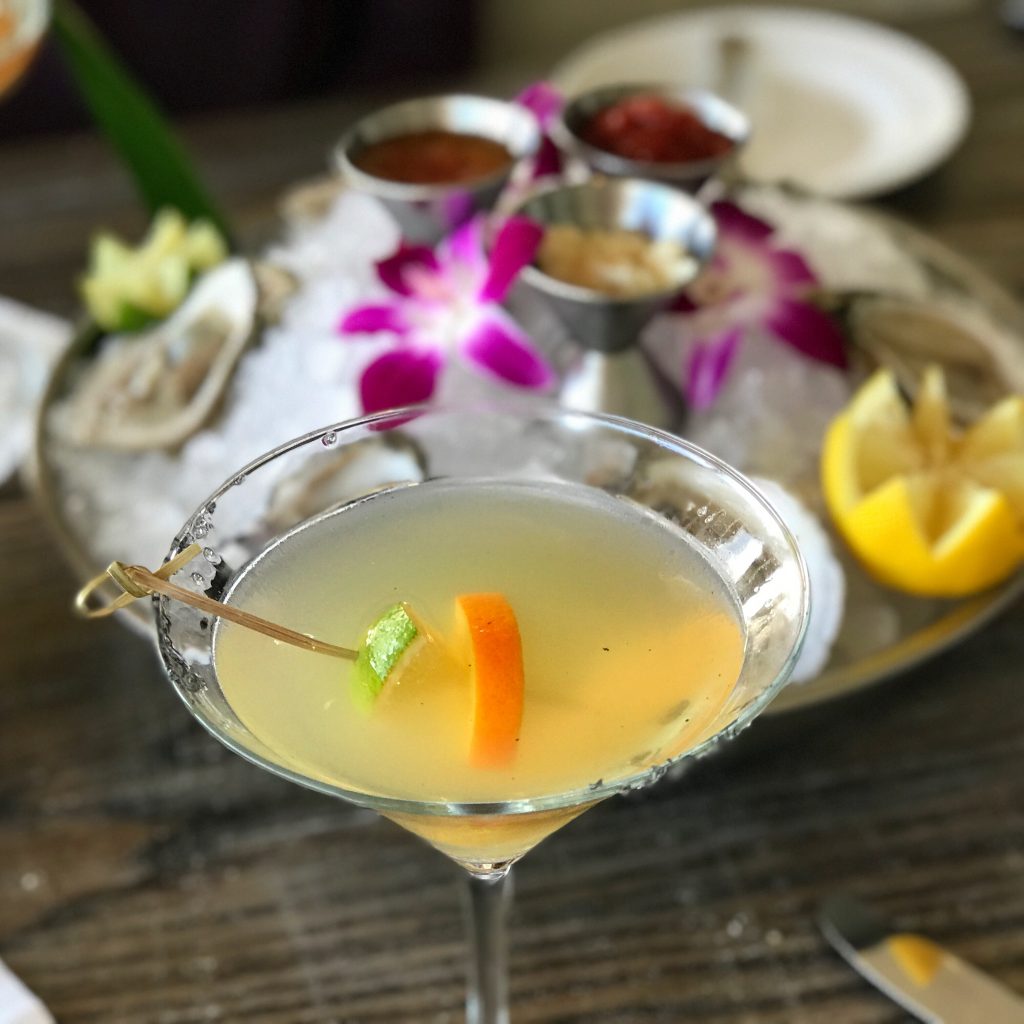 [/column] [/columns_row]
Once morning comes, I head outside to do a salt water soak on the terrace above the pool. Located up the steps onto a private terrace is a small salt water jacuzzi tub where I'm going to spend a relaxing thirty minutes. Looking around, you have a wonderful view of the ocean and when you're done feeling every tense muscle in your body melt away, you can then enjoy the lounge chairs, sip champagne at one of the bistro tables, or follow suit with a massage in the cabana.
This gate hangs well and hinders none, refresh and rest, then travel on.
We did all of that and then headed down into the dining area for the breakfast provided by the hotel.
With fresh baked pastries, gourmet breads, eggs, sausage, fruits, juices, and more, this is well above par in terms of breakfasts. Outside on the patio (which made me feel as if I was transported to some darling village on the French or Spanish countryside) is a station housing fresh coffee, fruit infused water, and all of your necessary accoutrements.
As the morning hours came and went, it was with great sadness that check out time arrived. A seamless stay, Casa Laguna is where I will be returning year after year from this moment on. Its delightful charm, warm staff, thoughtful décor, tranquil ambience, subtle artistic touches, and escapism lured me indefinitely.
949.494.2996 | 800.233.0449 | 2510 S. COAST HWY. | LAGUNA BEACH, CA 92651
Dining Recommendations
Cocktails + Happy Hour
The Rooftop Lounge | Royal Hawaiian | Las Brisas
Dinner Picks
Las Brisas | upscale Mexican/Coastal Californian fusion
Eva's Caribbean Kitchen | if you're lucky you'll see the owner Eva Madray who is a wonderful human being! The menu includes dishes from the Africans and Creole, East Indians, Amerindians, Chinese, and Europeans (mostly British and Portuguese)
The Studio at Montage | upscale French and Coastal California cuisine
BRUNCH to try
Nick's Laguna Beach | Driftwood Kitchen | Watermarc
Information on the One-Bedroom Suites
Private balcony with views of the Pacific Ocean
Claw foot bath tub
Gas fireplace in some of the One Bedroom Suites
Hand painted Spanish tiles with custom marble vanity Cowshed bath amenities
40" Sony Flat Screen HD Smart TV
Nespresso Coffee Maker
Curated Minibar featuring Dean & Deluca snacks
Martyn Lawrence Bullard signature fabric and custom furnishings
Queen bed custom comfort hand-crafted natural fiber mattresses
Custom Bathrobes
Working Desk
Wi-Fi
Air Conditioner

[separator type="thin"]
ABOUT
Casa Laguna is a castle-like seaside enclave of historical buildings that dates back to the early 1900s, nestled in the heart of Laguna Beach, California. The property, originally designed by one of California's premier builder/architect teams, Frank Miller and Arthur Benton, for Miller's wife, Marion, has been perched high above the Pacific Ocean for decades and remains one of the city's most beautiful historical gems, known for its distinct structure made of massive concrete, stone and pressed-block edifices.
The property features the Mission House building, that now serves as Casa Laguna's lobby and the nearby Mission Suite, which was thought to have been Miller's interpretation of a family cottage or guest house. A second building was added to the property circa 1931, likely to house the property's caretaker, and it is now home to the hotel's premier Bungalow Suite. In 1945, the inn traded hands to Dewey Howard, a wealthy property developer from Los Angeles, who built several small buildings amongst the lush and sprawling landscape throughout the property.
In 1946, it debuted as Casa Laguna.
Casa Laguna existed as a hotel and later as an artists' colony until 1977 when it was converted into a bed & breakfast inn. In 2000 the property was purchased by Francois Leclair and it was completely renovated with incredible passion and attention to detail. Layers of paint were removed from the unique decorative pressed blocks and rare Catalina tiles. Modern materials were replaced with original-style wood and masonry. The buildings were soon returned to their original Mission-style appearance.  In 2000,Casa Laguna was recognized as a "Registered Historic Structure" by the City of Laguna Beach.
In 2014, Casa Laguna was sold to a PRG partnership that envisioned restoring the Spanish Colonial architecture and reimagining the inn as a luxury boutique hotel while honoring the rich and textured history. With designer Martyn Lawrence Bullard at the helm, an extensive redesign of the guest rooms and lobby was completed and the hotel reopened in April 2016.
Laguna Beach History
In the mid-1800s, local Indians thrived on the rich beaches and freshwater canyon lakes that made up the area they named Lagonas, for 'lake.' By the late 1800s, visitors were making an annual pilgrimage on rutted trails through the canyons to camp at Laguna Beach each summer. By the time painter Norman St. Clair visited from San Francisco in 1903, Laguna already had become a popular tourist destination. Like tourists of any era, St. Clair returned home with glowing reports and landscape paintings that led his artist friends to follow him south. It wasn't long before Plein Air artists like William Wendt and California marine artist Frank Cuprien moved to Laguna Beach. Within a few years, Laguna Beach had a permanent population of about 300 people – half of whom were artists.
In 1932, partly to bring popularity to the village in the wake of the Great Recession, the Festival of Arts staged its first show.  Artist and vaudevillian Lolita Perine added 'living pictures' to the festival, launching the tradition of the Pageant of the Masters.  In the 1940s, Laguna also began to gain worldwide prominence as a luxurious yet quaint coastal vacation destination and was widely regarded in Europe as "The Riviera of America".
Hollywood film makers and stars would soon follow and found Laguna to be a secluded retreat.  Judy Garland, Bette Davis, Mary Pickford, Rudolph Valentino, Charlie Chaplin and Mickey Rooney maintained homes in town. Later, Ozzie and Harriet Nelson joined them.
By the 1960s, the Main Beach boardwalk was transformed into an open public beach park. The decade brought other changes too. A group of artists who thought the Festival of Arts was too restrictive in accepting exhibitors began the Sawdust Festival, and the Art-A-Fair followed a year later to focus on traditional arts and new mediums.
Today, Laguna Beach has become an ideal blend of art galleries, cafes, artisan restaurants and boutiques.