Taking Romance and Creativity to the Dock on the Marina
A little slice of Southern California beauty …
photos by Dawn Garcia
stay·ca·tionˌstāˈkāSHn/ | noun, informal
a vacation spent in one's home country rather than abroad, or one spent at home and involving day trips to local attractions
[dropcap letter="I"]n the dead of winter, while we hear stories of blizzards, heavy snowfall, and beyond freezing temperatures all around the US, we here in Southern California are feeling very grateful for our weather. Grateful for the days where the sun shines down, glistens on the water, kissing our skin. That is ever apparent when you head towards the ocean which is where we decided to go to continue our quest for the perfect staycation and found ourselves in
Marina del Rey
. The beautiful display of sailboats and yachts lining the docks basking in the temperate seventy degree weather, situated with total ease on the beautiful waters acted as the perfect reminder that "vacation" is only a drive away.
Growing up, Marina del Rey used to be a bit of a snoozy little spot, but now? It's a revived city full of history (often forgotten and thankfully reinvigorated), adventure, hidden gems, gorgeous views, a feeling of those living the dream, and a sense of leisure that soothes the soul. In fact, if you wake up early enough, you might see a local paddle boarding – ya know, just to grab their morning coffee! Marina del Rey is a small little bit of paradise but a little known fact is happens to be the largest man-made marina in the United States, with over 4,600 small-boat slips.
[columns_row width="half"] [column]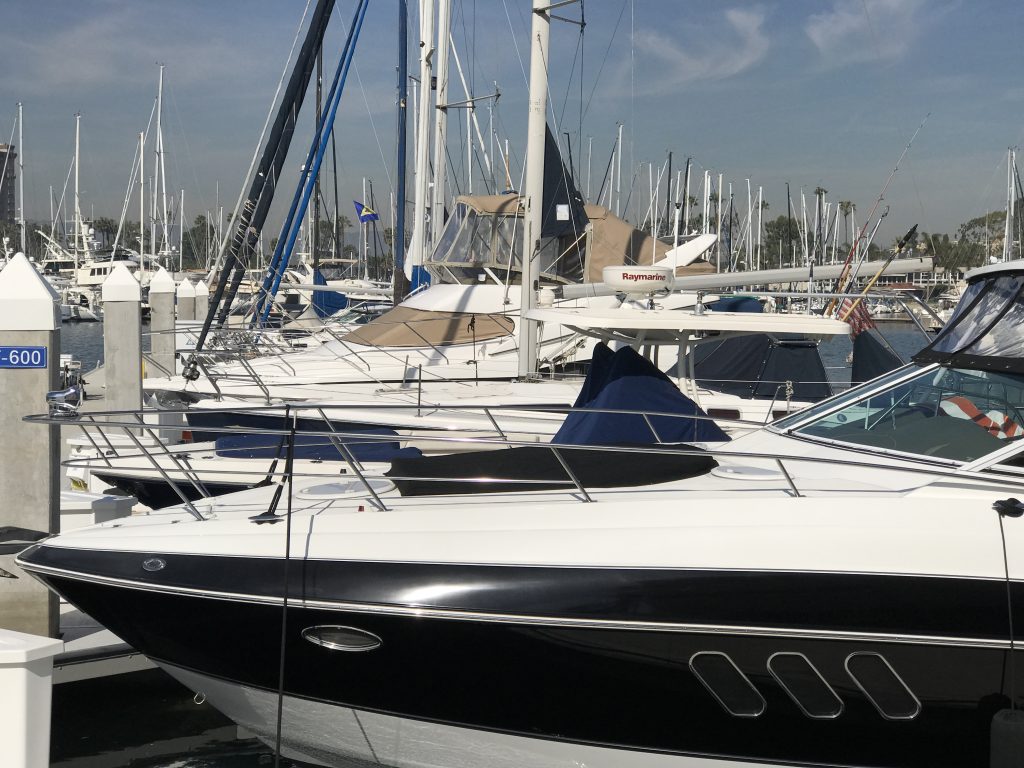 [/column] [column]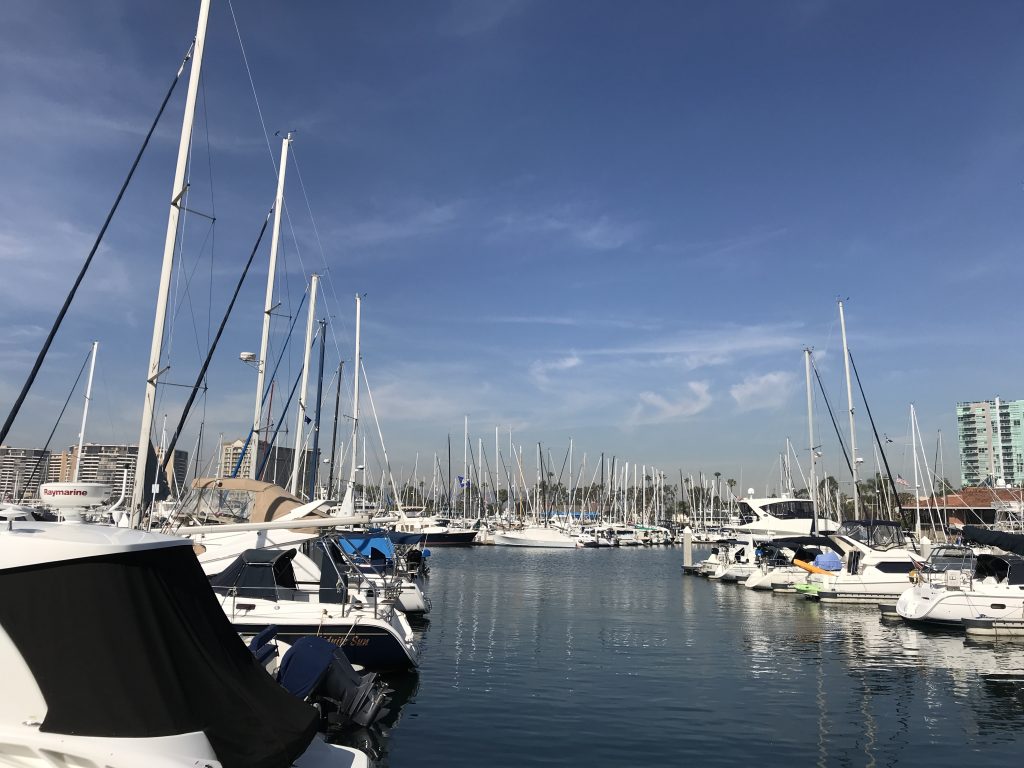 [/column] [/columns_row]
With a modest population of just over 8,000 residents, the Marina is among the few untarnished, modestly inhabited, well-maintained gems in Los Angeles. While its story is a young one dating back just over a hundred and forty years, it has been home to the Shoshone and Gabrielino/Tongva tribes, Spanish explorers, and eventually what we now lovingly refer to as Angelenos. From sailing to kayaking, walks around the harbor, the smell of sea salt in the air, this little slice of escapism is one to indulge in. And, in true staycation form, we were all too elated to explore the stop in the city that we'd call home for the next 24 hours: Marina del Rey Hotel!
The moment you pull into the parking lot, you're facing the marina and all of those luxurious boats! When you walk into the lobby, you've stepped in to a bit of a seafarers paradise with shades of turquoise, sculptures of seabirds in formation ascending upwards, darling little seats in the lobby, a business lounge equipped with a turntable, an impressive collection of literature, art novice fanfare, a long tufted velvet sofa, and the smells coming from the kitchen of SALT playing you like the Pied Piper.
[columns_row width="half"] [column]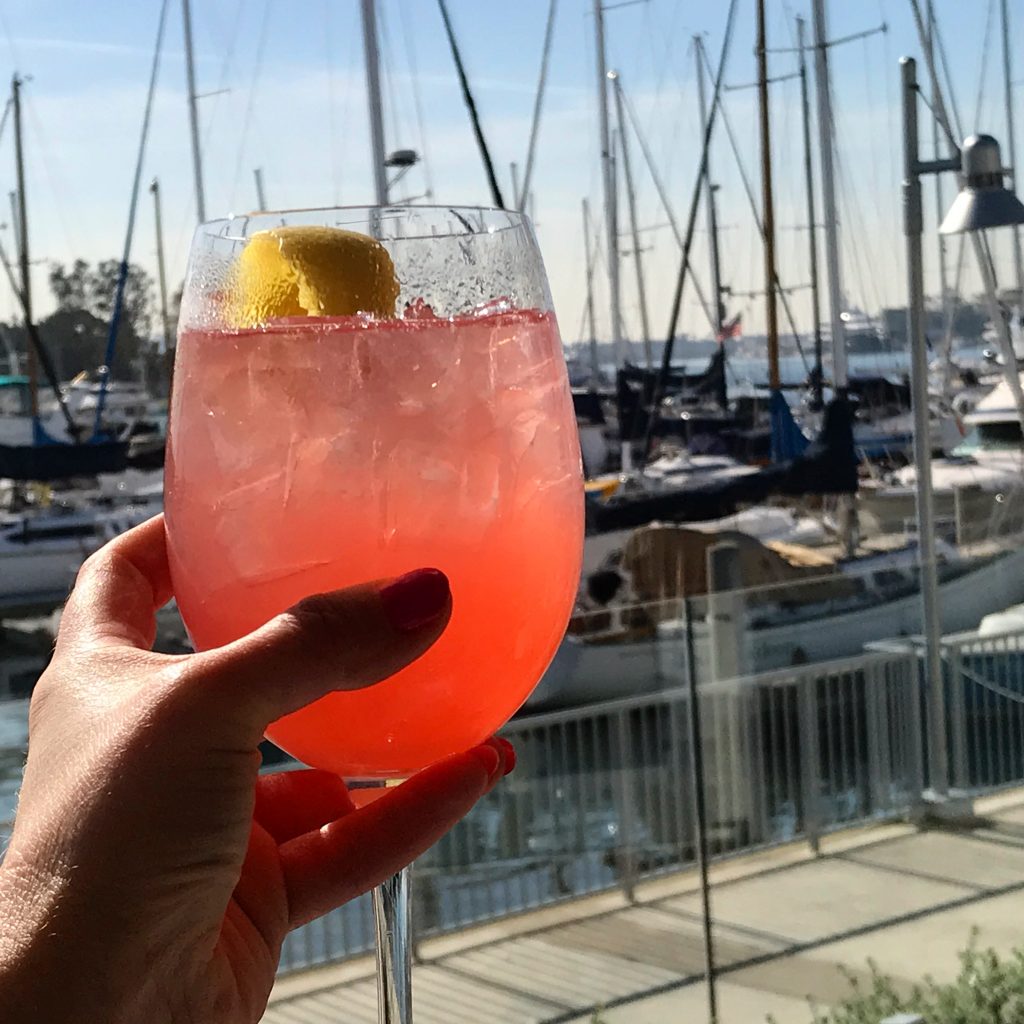 [/column] [column]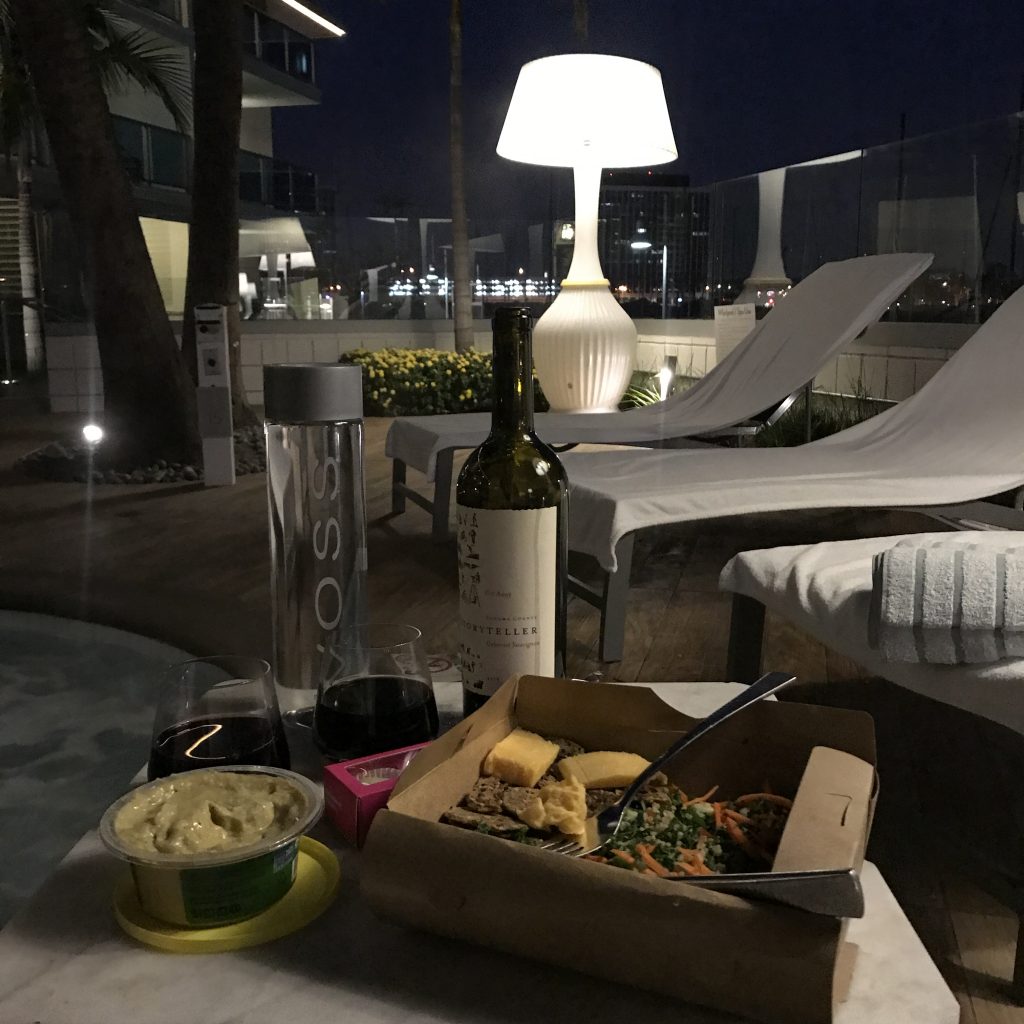 [/column] [/columns_row]
Here to experience the Romance Package, we are shown to the room where a bottle of Segura Viudas Gran Cuvée Reserva Cava, two flute glasses, and white chocolate strawberry hearts await. The room is minimalistic and airy with a bright white bathroom lined with porcelain tiles resembling light birchwood, a large king size bed, a desk, oversized chair and a private patio that glimpses out onto the pool, the fleet, and the marina. It's no wonder the mentality of the bustling city melts away the moment you settle in.
Dropping off our luggage, we head to SALT for cocktails and a midday bite.
A restaurant designed with contemporary renderings coupled with the ease of an easy, beachy, nautical feel hugs the harbor. Opting for seats on the patio, we settle into the sectional in front of a round concrete fire pit, kick up our feet, and before long Alvin our server arrives. With a smile that extends from ear to ear, he makes ordering a fantastic prelude! With a menu that has all of your spirits covered, they have specialty cocktails, a few takes on the classics, and a plentiful selection of wine and beer.  Over the next two days we would venture to try four cocktails, but to start we tempt our hunger with the Beausoleil oysters.
COCKTAILS
SALT | partida tequila, grapefruit liquer, lime, agave, orange bitters
This signature cocktail is a take on a margarita. With the hint of changing things up with grapefruit liquer, the citrus resonates but I would have preferred this with less bitters and agave and opted for a tad more fresh lime.
AFTERNOON DELIGHT | aviation gin, lillet, raspberry syrup, lemon, sparkling rosé
A refreshing spritzer, Afternoon Delight would pair well with the Japanese Hamachi or something rich like Mary's Fried Chicken Sandwich. The cocktail itself is clean and palatable but perhaps a tad less Lillet would keep it more balanced.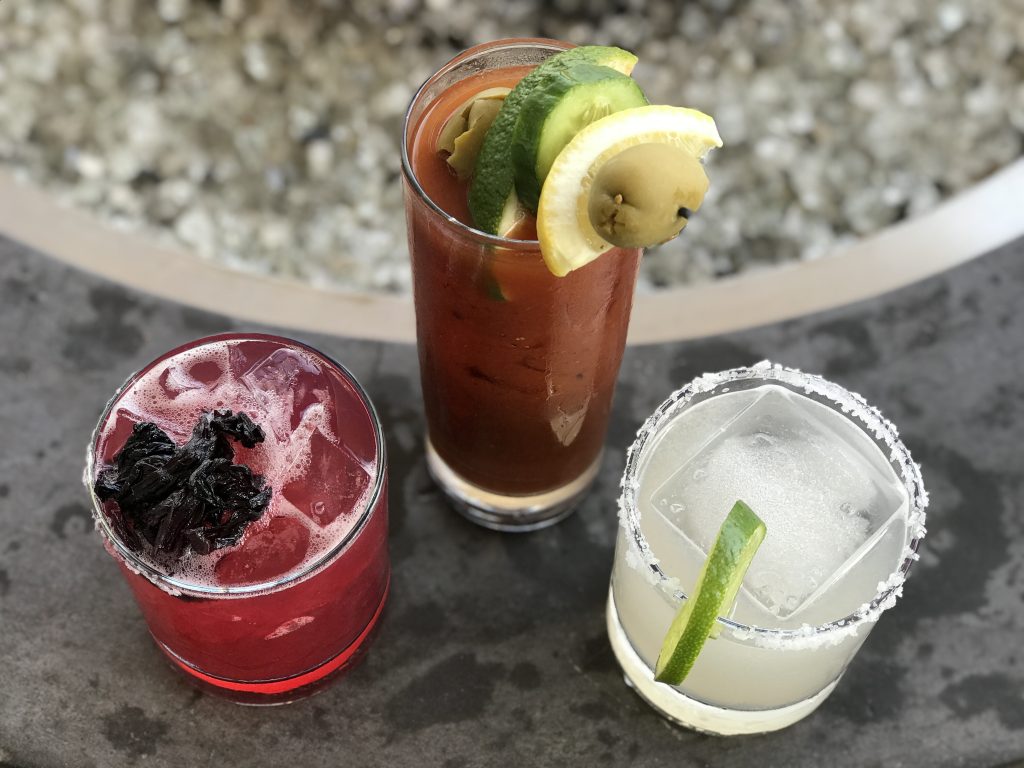 IN BLOOM |vida mezcal, tequila, pineapple liquer, hibiscus agave, lime
Ever wondered what foreplay and sensuality would taste like if served in a cocktail? This would be it. This cocktail lures you with its rich tones of pinks and reds, sinks in to wake up your inner vixen with the smoky mezcal, and then invites you to let go entirely and drink in the playful sips of pineapple, hibiscus, and lime that take their time on the tip of your tongue just before gliding down the back of your throat. In other words, should you want to take a chance, order this one!
THE WEEKEND CURE | house made bloody mix (don't ask what's in it because they won't tell … and we like that!) and infused bacon vodka
This is their house Bloody Mary, a cocktail that is the one way I test whether or not a mixologist/bartender understands how to truly make a great drink. It's one of the simplest drinks in theory but to find the one that hits all marks is almost like searching for a white buffalo. They're out there, but not that easy to find. The Weekend Cure at SALT however does not disappoint. While I would rather all Bloody Mary's – far and wide – ditch the horseradish altogether, the base on this was really well-balanced. Initially I wanted the jalapeño infused tequila but they were out so second best was the bacon infused vodka. The salty undertone of the vodka packed a generous punch and honestly, whatever the secret ingredients are in this hangover miracle, is done well.
BEAUSOLEIL OYSTERS | miramachi bay, new brunswick) | house cocktail, horseradish
I don't believe there is a more perfectly naturally made food quite like oysters. They are nature's sexual awakener, a palate pleaser, and proof that the ocean is full of wonder. The selection offers a rush of seawater with minimal brininess. With a mix of creamy and plumpness on the tongue, each oyster sits well on the palate and refreshes on the finish. While I tend to enjoy the natural juices of an oyster, we did add a splash of fresh lemon.
[separator type="thin"]
As the sun began to set, the marina let in a cool night breeze and the enticing pool and jacuzzi were too much to ignore. A wardrobe change into our swimsuits, we walk through the patio curtain of our room and off we go. Pulling up an oversized patio seat made for two, admiring the sublime life sized white lamps lighting our way, we dip our toes into the hot tub, pour some wine and sink into total submission. Soon we are joined by other hotel guests including a happy surprise when running into my friend and incredible musical artist, Justin Ratowsky and his lovely wife Erika at the hot tub (check out his music at www.CaliConscious.com). The night couldn't have been more seamless. With happiness filling the air, MDR Hotel is the catalyst for joy and love.
As the sun rose, we went for an early swim and basked in the temperature regulated pool. Against the backdrop of the cabanas, the sound of seagulls greeting the morning, a few paddle boarders getting in some morning serenity, doing laps in the luxury of this well laid out pool sets the tone for what will be another dreamlike Southern California day.
Shortly after dragging ourselves out of the pool, we get ready for the day and head back to SALT for a hearty breakfast.
[columns_row width="half"] [column]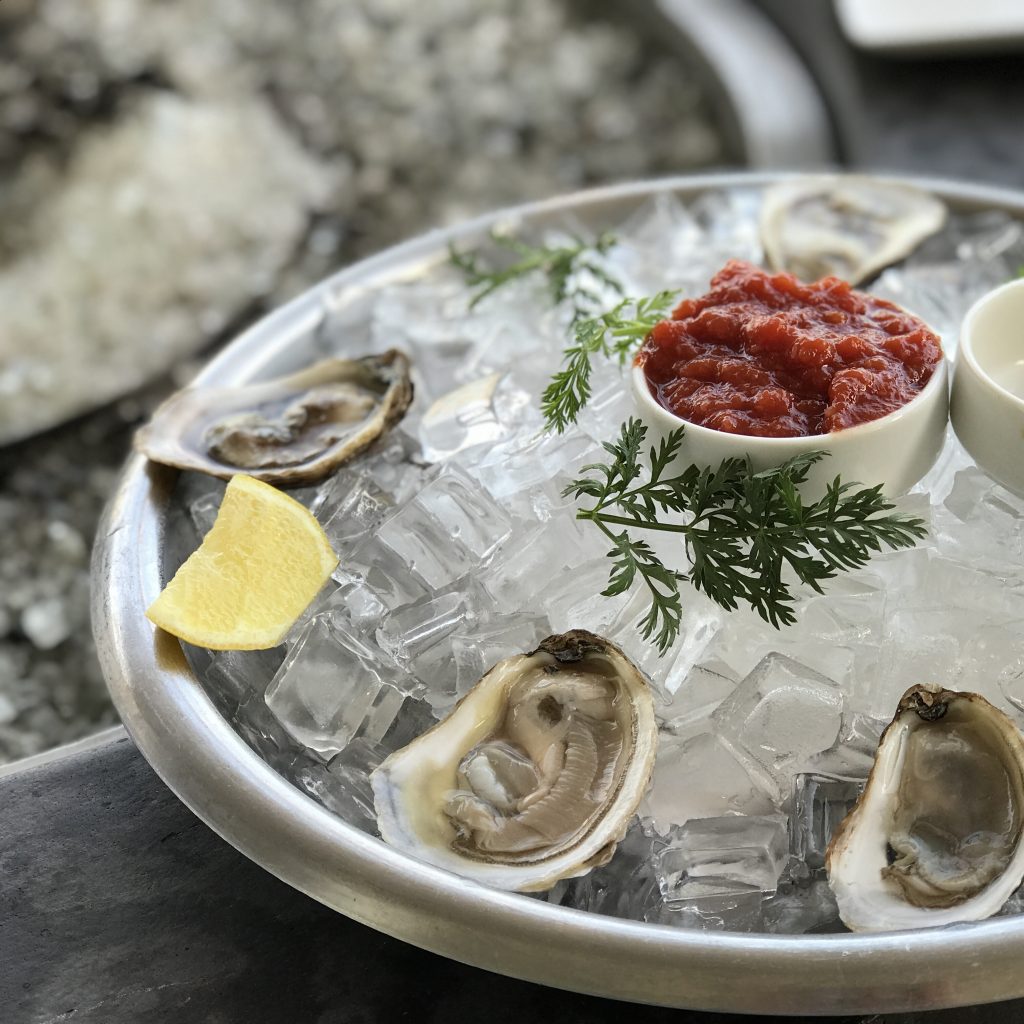 [/column] [column]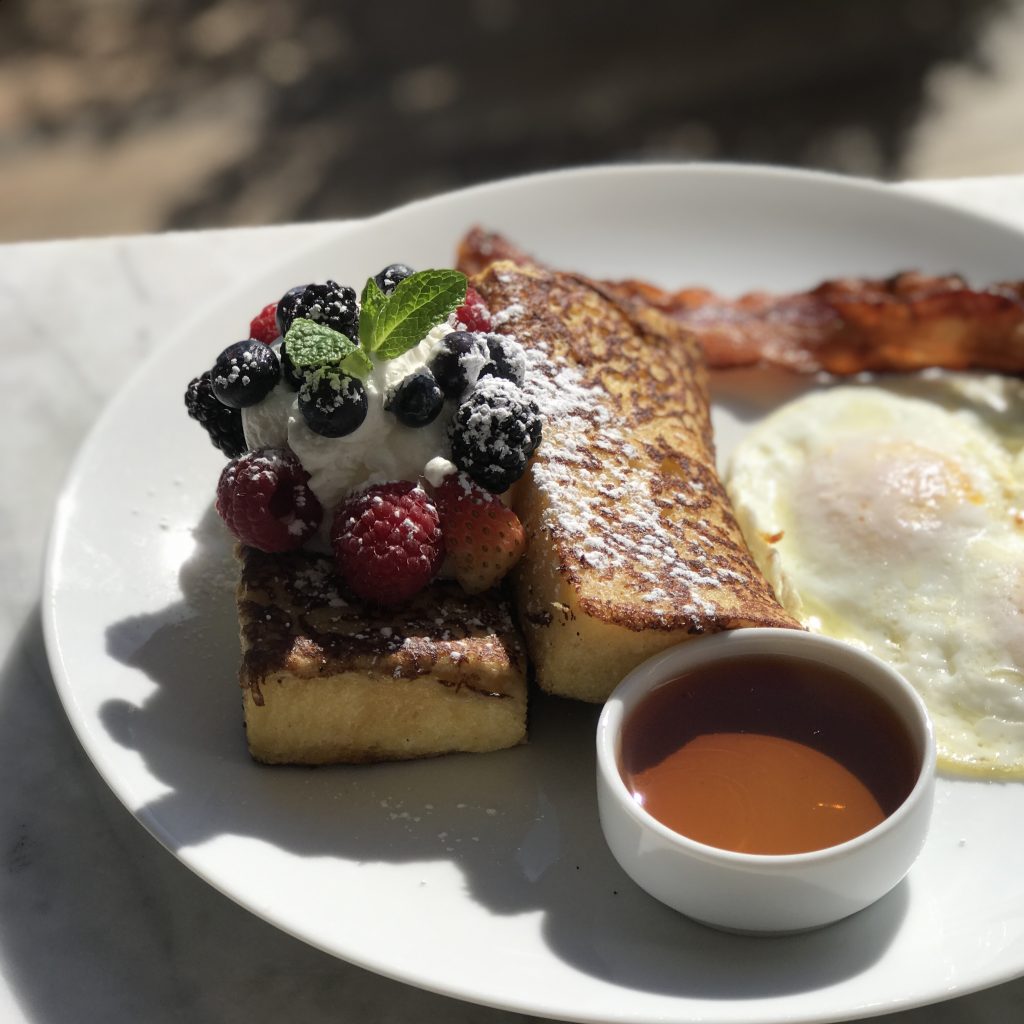 [/column] [/columns_row]
FOOD
PAIN DE MI FRENCH TOAST | berries and cream, maple syrup, farm eggs and bacon
Thick cuts of french toast rest on the plate while a pop of color by way of a berries medley of blueberry, blackberry, and raspberry sit atop a dollop of cream. Served with eggs over easy and crisp cuts of bacon, this is a hearty start. The only suggestion would be to add a little something to the bread and French Toast batter itself to lend some added texture and keep it from being dry.
'LES BURRITO | farm egg whites, fingerling potato, braised kale, crispy mushroom, salsa verde, feuille de brique
Just when you think you've tasted eggs in every way, they take it one step further. This was such a fascinating presentation of flavor, visual appeal, and variation. The crisp outer shell of the "burrito" is as thin as a crépe with the lining of egg whites sheltering the potato, kale, and earthy array of mushrooms. All of which were bathed in a controlled amount of salt and spice. This was a surprise and that's always welcome.
[separator type="thin"]
Marina del Rey Hotel | 13534 Bali Way | Marina del Rey, CA 90292
[button content="BOOK YOUR STAY" color="teal" text="white" url="https://gc.synxis.com/rez.aspx?hotel=14642&template=PHC&shell=PHC&start=availresults&locale=en-US&arrive=02%2f06%2f2018&arrive_submit=02%2f06%2f2018&depart=02%2f07%2f2018&depart_submit=02%2f07%2f2018&adult=1&rooms=1&promo=&iata=&group=&__utma=66482994.1979349891.1517017563.1517434009.1517986582.3&__utmb=66482994.2.10.1517986582&__utmc=66482994&__utmx=-&__utmz=66482994.1517986582.3.3.utmgclid%3dCjwKCAiAweXTBRAhEiwAmb3Xu-4DltMIO0q6urjPeLrKTNGs4Ydpg1XZjPYqucN9o42-lqAhgKWR2xoCu-sQAvD_BwE%7cutmccn%3d(not%2520set)%7cutmcmd%3d(not%2520set)%7cutmctr%3d(not%2520provided)&__utmv=66482994.%7c3%3drt%3dgoogle%25257Ccpc%25257CMDR01-Marina-del-Rey-Hotel-Brand-5335-14642%25257Cmarina%252520del%252520rey%252520hotel%3d1&__utmk=3753911&_ga=2.69912912.190320743.1517986582-1979349891.1517017563&_gac=1.157000393.1517986946.CjwKCAiAweXTBRAhEiwAmb3Xu-4DltMIO0q6urjPeLrKTNGs4Ydpg1XZjPYqucN9o42-lqAhgKWR2xoCu-sQAvD_BwE" openin="_blank"]
As the afternoon crept in, it was time to check out … and I was hesitant because we wanted to stay a little longer! Marina del Rey Hotel is an idyllic staycation that reminds you that vacation is more a state of mind. For those of us in Los Angeles, it's only a few traffic jams away and knowing that is precisely why it's an easy choice to make when you need to get away, don't have much time, and are in search of bliss.
While you're there, look into chartering a sailboat or yacht even for an afternoon, paddle board if you're feeling zen, or simply open a bottle of wine and relax on your private patio. Either way, be prepared to leave feeling revived!
Treat your honey to an extra special stay all month long in Marina del Rey.
Whether planning to celebrate before, during, or after Valentine's Day, enjoy a romantic night or two away with our signature sweetheart package during the entire month of February.
Celebrate romance on the waters of Marina del Rey with:
Marina view guest room
A bottle of champagne and chocolate truffles, delivered upon arrival
2 signature cocktails at SALT
Your choice of breakfast at SALT Restaurant or in-room (up to $50 value)
1 PM late check-out
*Website exclusive package. Package available for stays from 2/1/18 – 2/28/18. Subject to availability. Black-out dates may apply.