The Garland
A Stay at the Garland is an Escape to Iconic Times of the Late Sixties and Early Seventies
4222 Vineland Avenue | North Hollywood, CA 91602
photos by Dawn Garcia
[dropcap letter="A"] hotel situated in the heart of
North Hollywood
, the story behind this throwback is one any creative traveler needs to discover. Like a true
Slim Aaron
photo,
The Garland
is a pop of time and color eluding the present in the most wonderful way. From the forethought of design that bellows throughout the property, to the family rooms with bunk beds and DVD players, to the James Suite that plays to the heart of my inner Hollywood starlet like a perfectly played violin, and a screening room that already makes me look forward to booking, 
The Garland
is such a wonderful place to escape. Los Angeles, made up of every diversity, every cultural wonder, can get a bit daunting when you maneuver through the sea of red lights on the highway or the streets, or get caught up in the bustle of the business, so escaping for 24 hours can be the beautiful soul-reckoning you require.
With a devoted vision as a gift from her husband Fillmore Crank , The Garland, named after Beverly Garland, was built in 1970 . In true fashion of her career and the times, there is a sense of nostalgia here that echoes in the 1960's-1970's décor; an homage to days when spy movies were wonderfully campy, women were pristine while they raised three sons (My Three Sons), and life in Hollywood could pause long enough for us to feel liberated and happy. Now run by their son James, there is an unpretentious yet culturally significant vibe that resonates. With accents of orange ruminating all around the property, The Garland embraces its past, takes midcentury modern and says, "hey, let's have some fun", and from strategically placed art to greenery lining the walls adorned with butterflies, it becomes the most idyllic and elusive escape from the city that most of us call home!
Pack your overnight and remember what its like to play, eat, smile, swim, laugh, and love.
[columns_row width="half"] [column]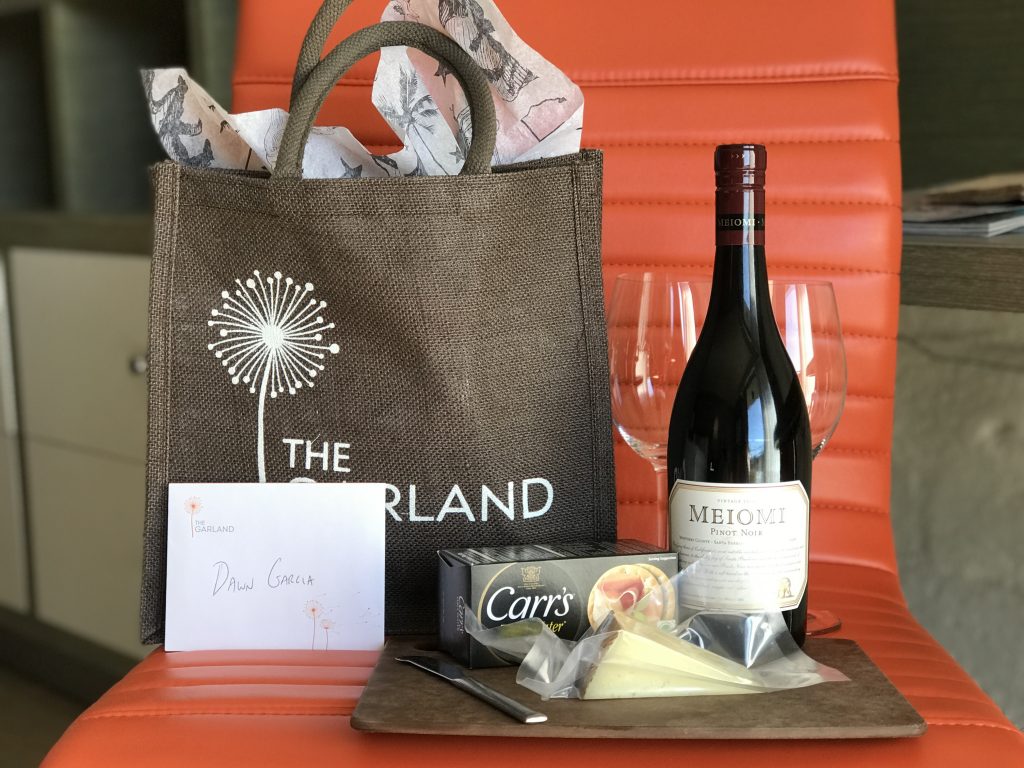 [/column] [column]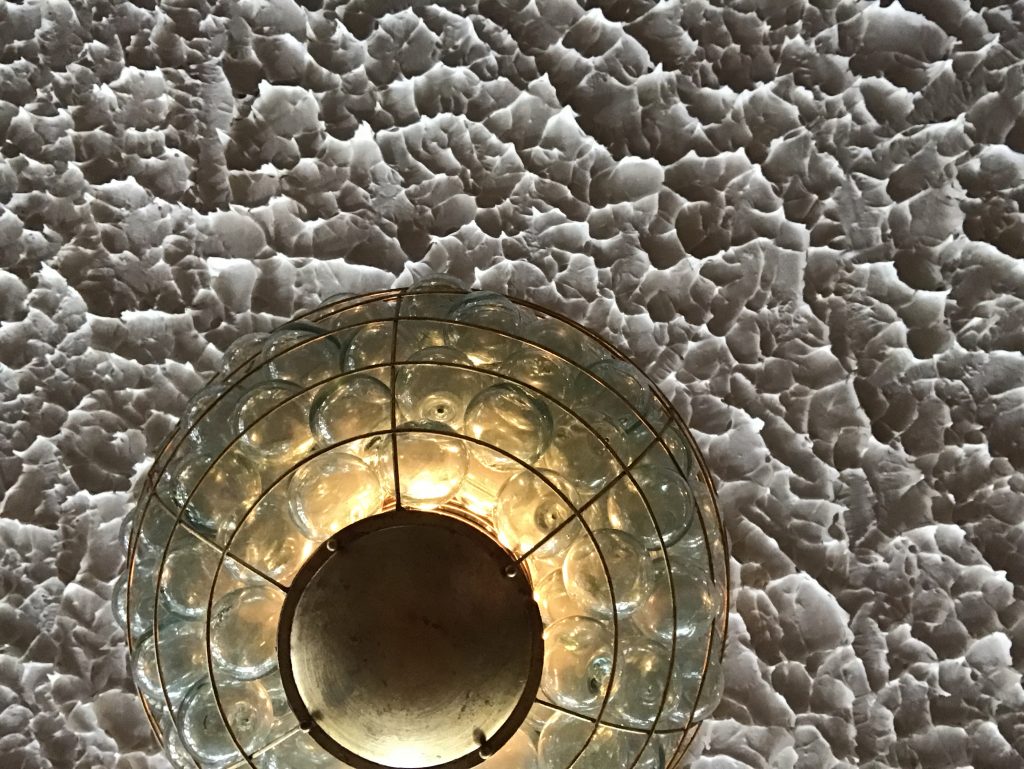 [/column] [/columns_row]
In the peak of a true Los Angeles winter, the temperatures are an average seventy degrees. We Southern Californians don't take our bliss for granted nor assume this will last forever so when we browse through the weather channel and snowflakes show in our favorite US cities? We find it impossible not to pause. We realize there's a reason we stay snug and cozy with snowfall only a few short hours away: the promise of a good surf within minutes, and the beckoning sun beaming down on us with a smile we wouldn't dare deny. Why wouldn't we staycation right here at home?!
With only a day and an evening to escape reality, we arrive at The Garland ready to explore, relax, enjoy a cocktail, a swim, and enjoy dining at The Front Yard restaurant on site. Greeted by an incredible staff, we are shown to our room with a king size bed dressed in white with accents of orange and rich deep woods, a retro work area, dresser, TV, an orange/beige tweed-like upholstered arm chair, waiting on the table is a goody bag full of Garland fun: frisbee, notebook, stress balls, a welcome card, wine, wine glasses, and a cutting board with fresh cheese. Quite the happy welcoming gift! All of which can be found in their darling little gift store on property. With simple design and added comforts like a modern refrigerator, bottled water, coffee, and a bathroom designed with a clean, mid-century modern feel (plus a half glass shower door that even has a hole for your hand to turn on the water as to not get wet), this standard king room is perfect (thought next time I'm definitely staying in the Family Room while I dream of staying in the James Suite!).
[columns_row width="half"] [column]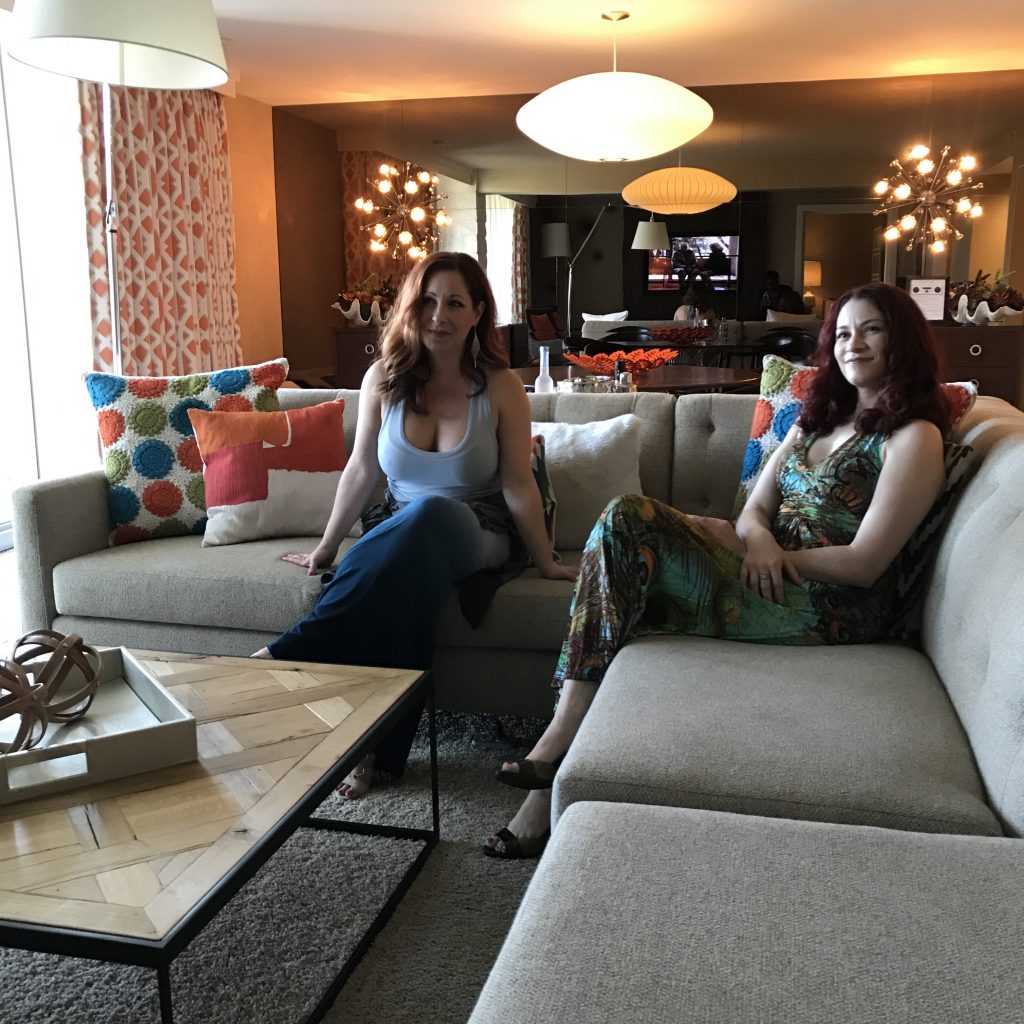 [/column] [column]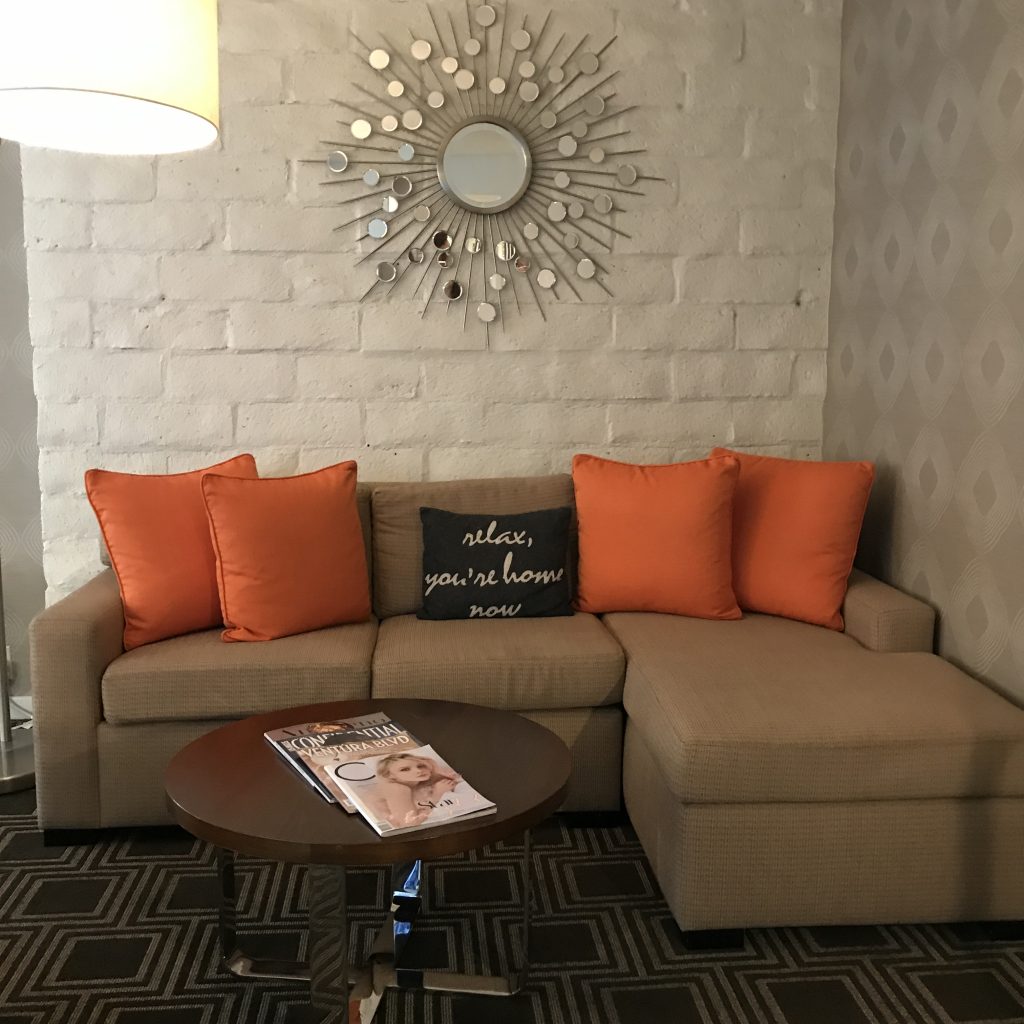 [/column] [/columns_row]
After touring the property and being tempted by the pool and the secret garden, its time for Happy Hour. The one thing you should know about The Front Yard is its easily one of the most darling little restaurants in the valley in terms of décor and ambiance. Imagine going to someone's house and the front yard was lined with cute benches, flowers, little nooks with an array of textured pillows to sit in, bright colors, cool art sculptures, and then a menu. (Ok so obviously that would be the coolest front yard ever but this restaurant comes pretty darn close.)
For Happy Hour (served from 4-6pm daily and again from 10pm-midnight) we opt for their cocktail and appetizer menu to start.
[columns_row width="half"] [column]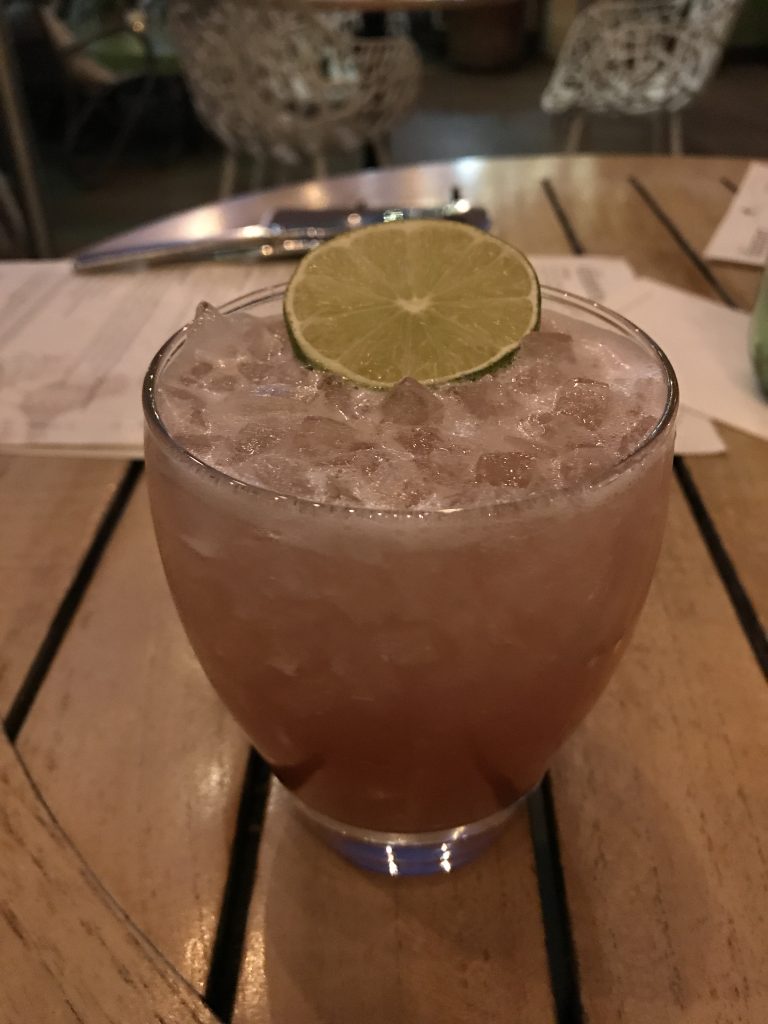 [/column] [column]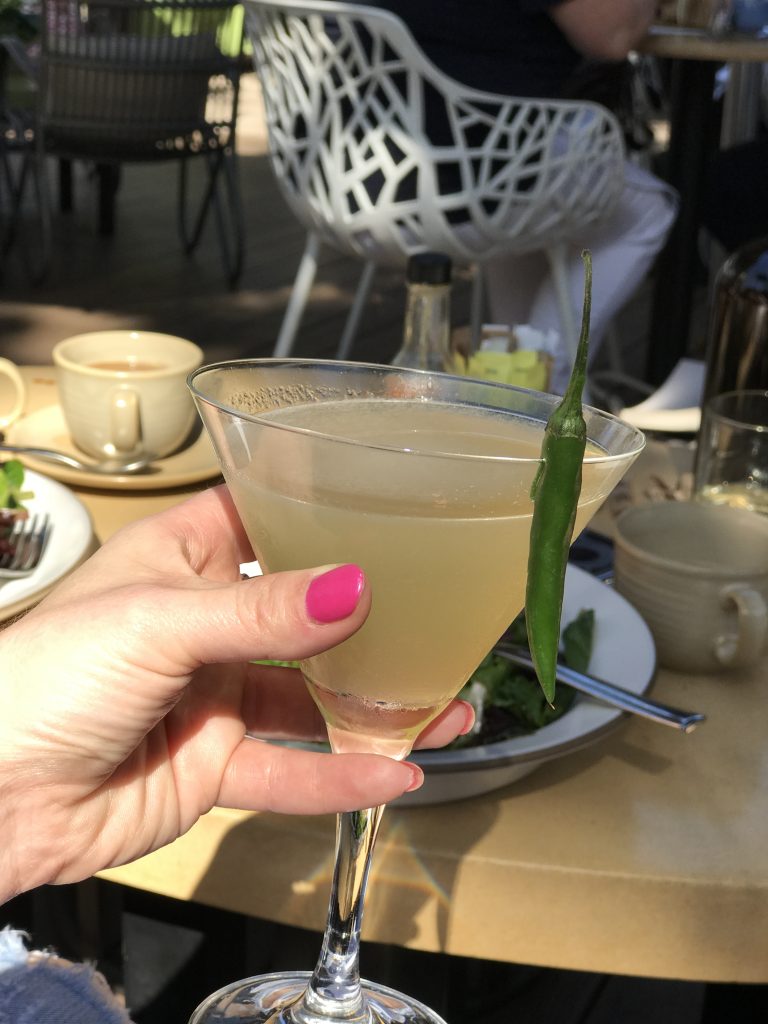 [/column] [/columns_row]
LA PIÑELA
don felix anejo, licor 43, pineapple, lime
HOLY SMOKES
el silencio mescal, madagascar vanilla, agave, thai chili
Both cocktails have their intrigue but personally it's the Holy Smokes that wins. Without being too smoky or spicy, this is a rather well rounded drink with notes of vanilla and a kick of heat. The La Piñela is fresh and easy for those who like a little more of a sweet margarita. As the sun went down, we settled in for dinner and a wonderfully relaxing evening.
[columns_row width="third"] [column]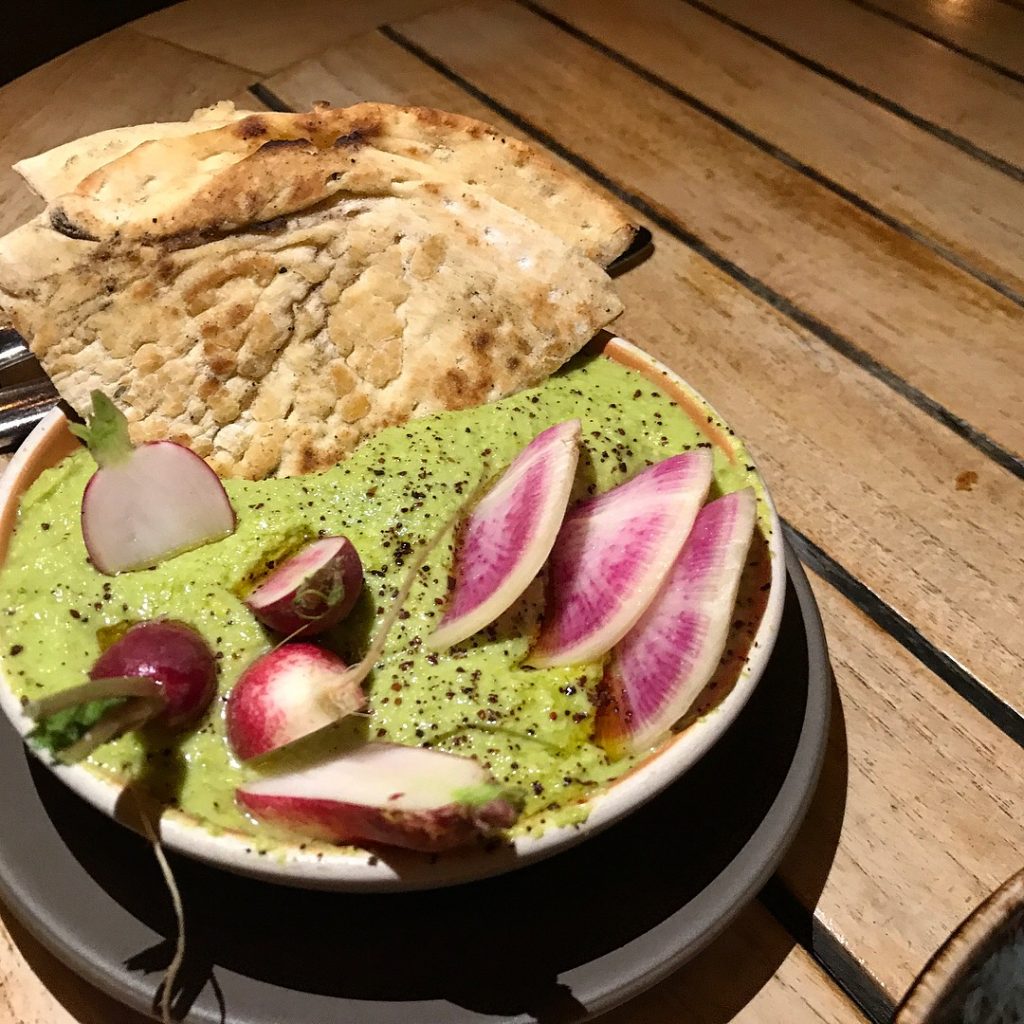 [/column] [column]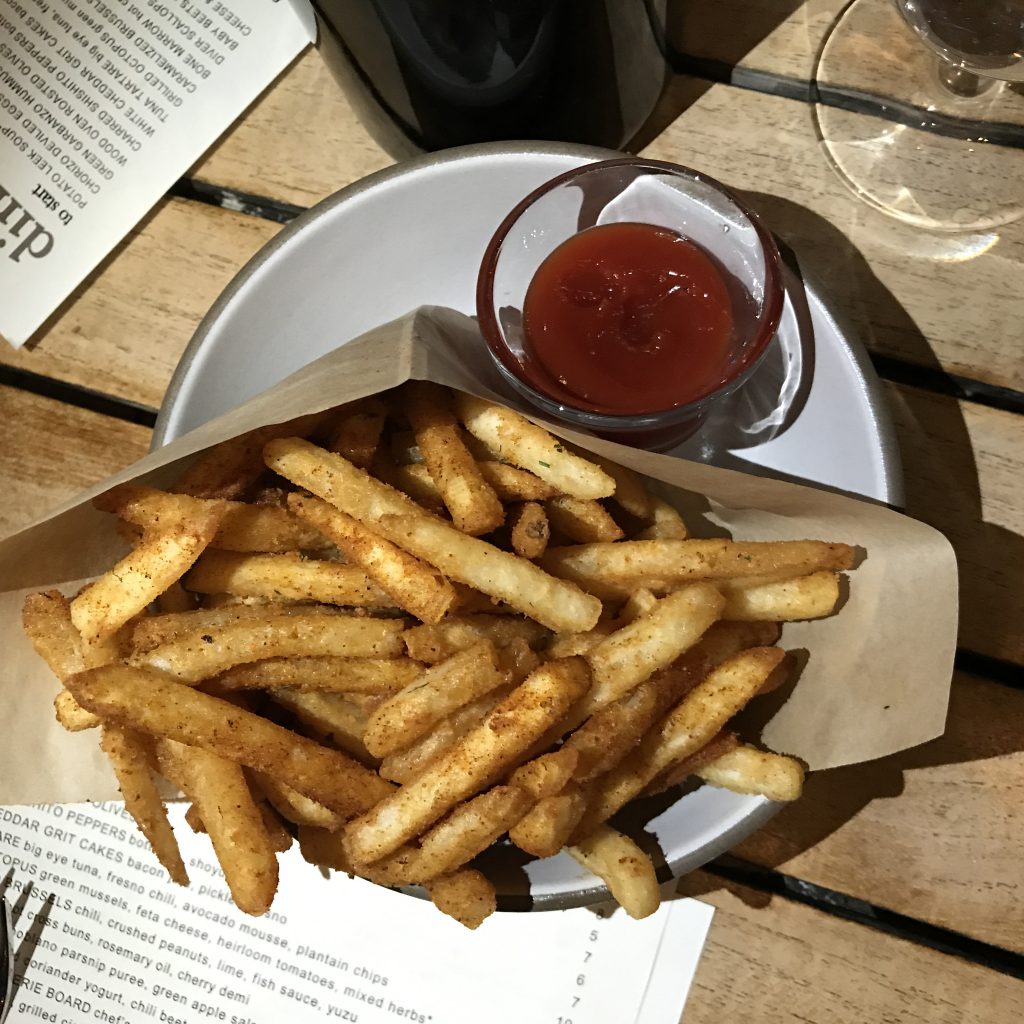 [/column] [column]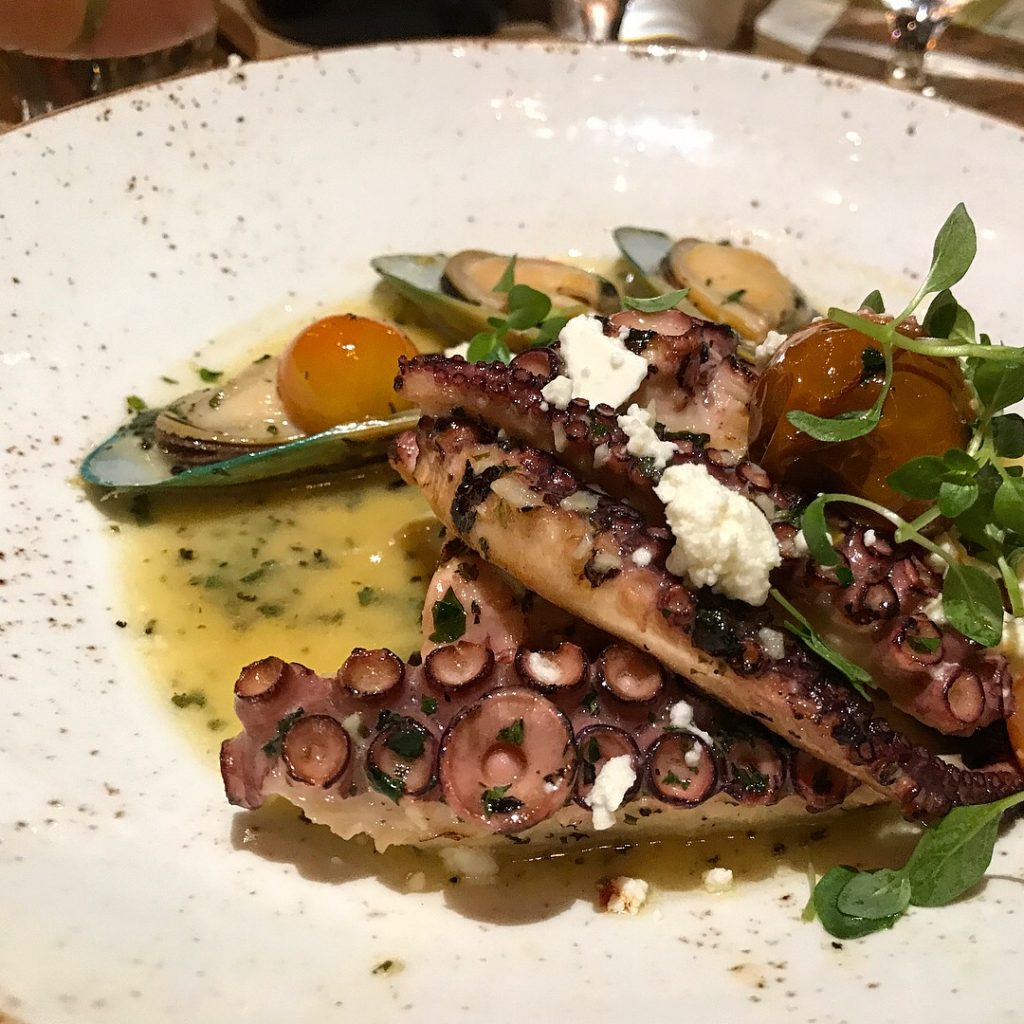 [/column] [/columns_row]
Chorizo Deviled Eggs
Adobo French Fries
dried chilies and Mexican oregano
Tuna Tartare
big eye tuna, citrus yogurt, peach, macadamia nut, taro chips
[columns_row width="half"] [column]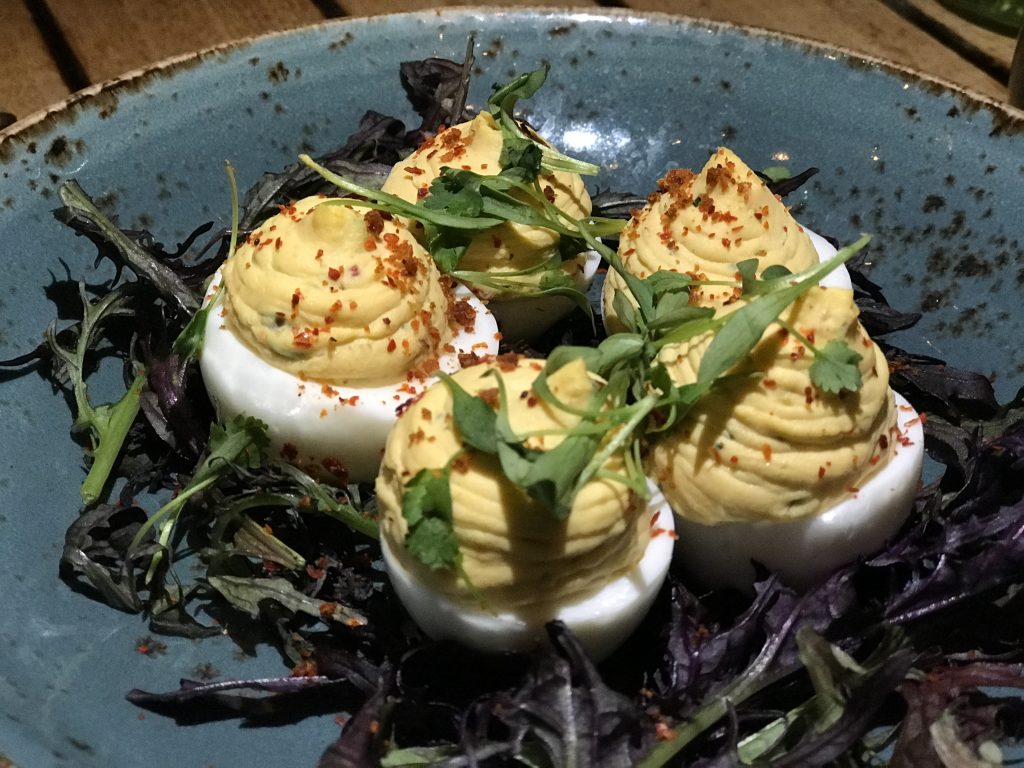 [/column] [column]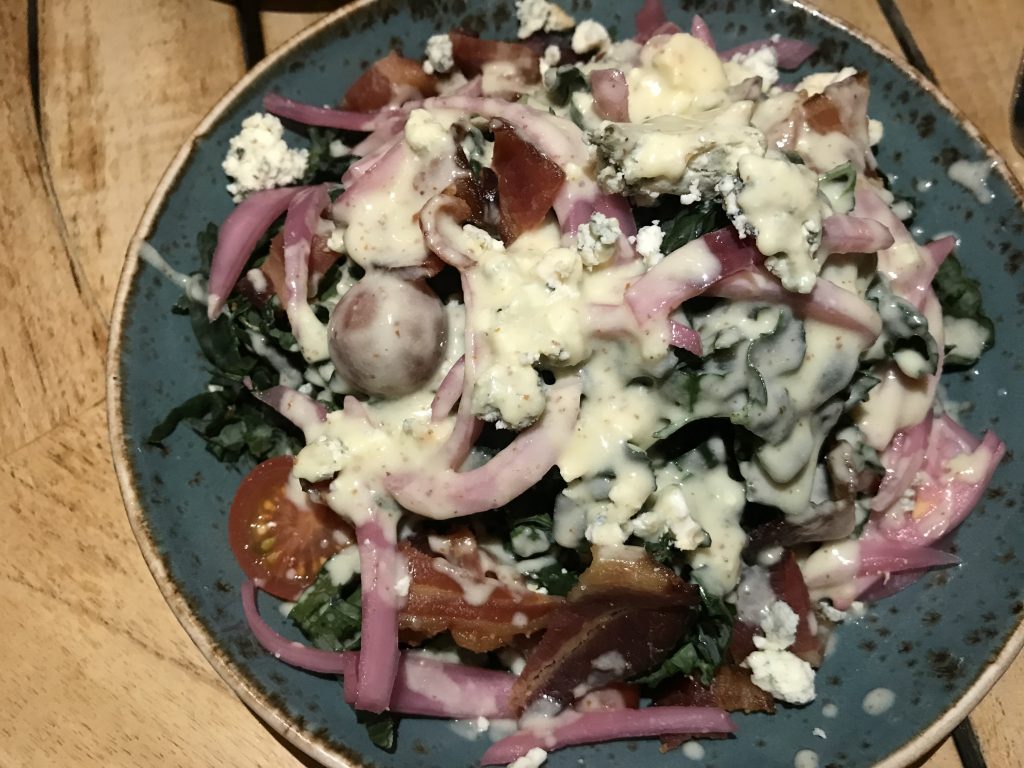 [/column] [/columns_row]
GRILLED OCTOPUS
GREEN GARBANZO HUMMUS
WEDGE SALAD (substitute with kale)
cherry tomatos, blue cheese, crispy pork belly, red onion, creamy bacon dressing
DECONSTRUCTED MARKET VEGETABLE LASAGNA
baby squash, pecorino, baby peppers, smoked heirloom tomato, tomato bisque
FILET MIGNON
black garlic jus, onion confit, moody blue stuffed fingerlings
While it may sound bizarre, my favorites are the deviled eggs and fries. Both have such distinct flavor that they stand out against variations of those basic, yet frequented bites. The deviled eggs have a unique flavor and that added element of salt and richness that comes through in the chorizo? Seals the deal. As for those adobe fries? Be prepared NOT to share because you'll end up eating the entire funnel cup yourself! With a hint of spice, smokiness, and the perfect crisp, these fries hold their own.
The entire menu has a range of flavor profiles that can appeal to every diner from finicky to adventurous. The wedge tasted incredible with the kale. Something about the crunch of the greens mixed with the salt of the generous chunks of pork belly, the softness of the onions, and the bacon dressing all come together for a refreshing, albeit fattening, bite.

While just about everything is worth trying, it was actually lunch the next day that left an indelible mark: the short rib tacos with apple slaw are well worth devouring. The meat is slow cooked so it just melts in your mouth and the contrast of cabbage and apple flavor in the slaw takes it all to the next level. I'm looking forward to coming back to try more of their vegetarian dishes (which are in plenty) and I must compliment Chef Larry Greenwood on his willingness to create, alter, and cook with happiness. It was a pleasure meeting him and talking to him about his world travels and culinary journey.
While this was an immensely restful evening away from life, the following day I lingered just a little while longer basking in the pool, lounged on a wicker bed, and enjoyed the warm Los Angeles swell that defies the word, "winter".
So, while we discover more staycations, let The Garland be among the places you happily wander into for precisely that. It has a history that extends into a time and space when there really was the promise of a better life, the charm of films and TV shows that would mesmerize viewers for decades to come, and whispers in the faint breeze that life is far more than a simple ideal. In fact The Garland ignites that spark within, feeds your hunger, supports local artisans, and dares to ask, "How long do you want to stay …?" – and – you'll be hard pressed to leave once you've arrived.
[button content="BOOK YOUR STAY" color="orange" text="white" url="https://www.thegarland.com/about" openin="_blank"]
[separator type="thin"]
ABOUT
Time has only improved this iconic Hollywood boutique hotel in the heart of LA. In 1970, legendary Hollywood actress Beverly Garland, and her husband Fillmore Crank, discovered this bucolic seven-acre property and knew they wanted to create a hideaway for friends, family and guests. Together with Las Vegas hotel impresario, John Kell Houssels Jr., they decided to build one of the most stunning hotels in North Hollywood, which would serve as an oasis within the high-energy excitement of Los Angeles.
In 2000, the Beverly Garland hotel was handed down to their son James, whose unpretentious, sophisticated style influenced the expansion of the hotel into a true resort. Chic, relaxed and centrally located, guests here are close to Hollywood landmarks, popular attractions and world-renowned business epicenters, all while being ensconced within the urban paradise the Garland family created. Today, The Garland has been reimagined and renovated with a hip new restaurant, cool décor, manicured outdoor parks, and fresh ideas. Check in and check out one of the most glamorous hotels near Universal Studios Hollywood.
SOME PRICING INFO
Family Suite | $439 – $499
*Venue Rental Fees (F&B minimum fees not included in pricing)
Courtyard | $500 – $1,000*
The James Suite | $$$$ upwards into the thousands
Beverly Garland Theatre | $2,000*
Beverly Park | $2,000 – $6,000*
*General pricing, seasonality/event type will ultimately dictate pricing