A magical palace in St. Moritz
Where luxury knows you on a first name basis
Once upon a time there dwelled a palace. A hotel palace so exquisite and remote, it fed the imagination of great artists, visionaries, and legends – men and women – over time. Built as a palace of luxurious refuge and seasonal perfection, a place so divine still exists. That is Badrutt's Palace in Switzerland. From Los Angeles to Zurich you then journey on one of three UNESCO heritage trains in the world and find yourself in St. Mortiz, the center of where Badrutt's exists. With a suite devoted to the past, including the Hitchcock Suite, there is something for everyone here.
Home to 8 Restaurants including Michelin restaurant IGNIV by Andras Caminada and La Coupole – Matsuhisa by Chef Nobu, it is where one disappears to when in need of prestige, sublime beauty, and serenity. A uniquely implemented sustainability model, Badrutt's Palae may be one of the only hotels of its size and history who can taut such advancements. While invisible to the naked eye, the cooling and heating system is entirely green and saves them indefinitely on their carbon footprint which, for environmentally conscious travelers is a huge win.
As for why this gem is one to book, the Palace is available to guests only twice a year for a cumulative seven months: Winter and Summer. In winter you can enjoy one of the most exhilarating polo matches you've ever seen as horses and polo players saunter on to the frozen lake for an epic visual stunner and unequivocal adventure for any fan or spectator. In summer, guests can enjoy beautiful hikes, horseback riding, exploration, and spectacular views. The limited months make it even more appealing to enjoy while the seasons cooperate.
[columns_row width="half"] [column]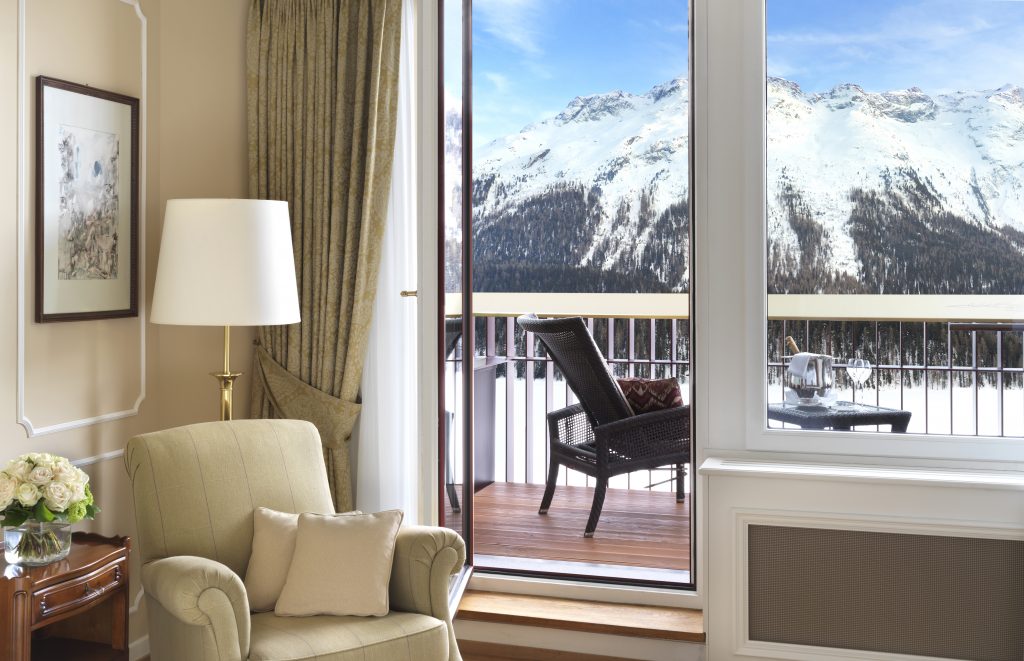 [/column] [column]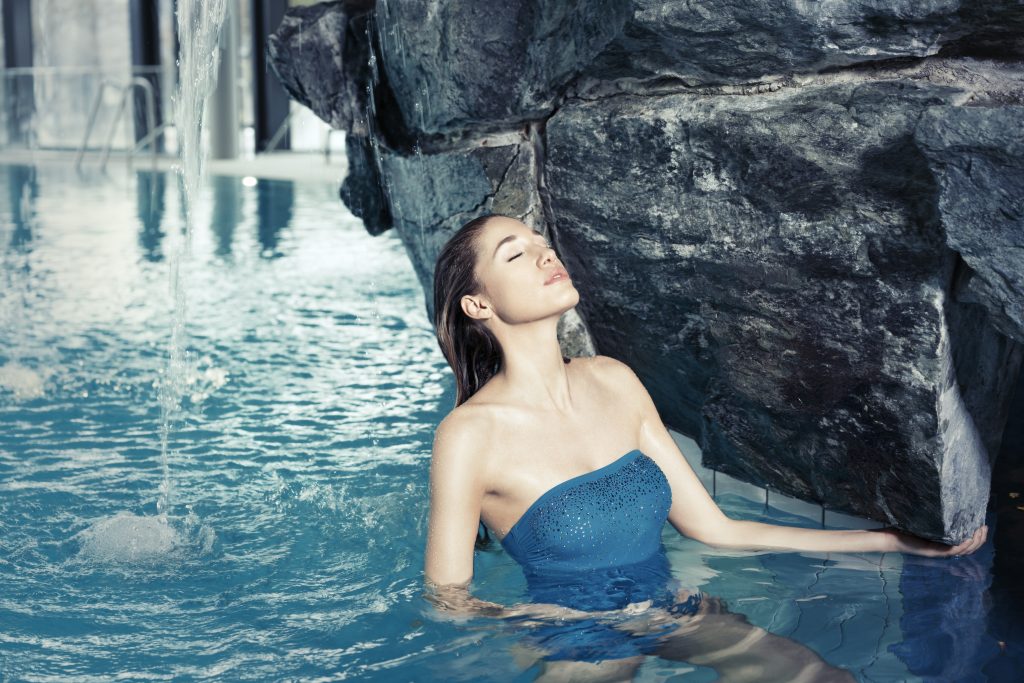 [/column] [/columns_row]
The property is situated on its own locale allowing for guests to enjoy seeing what the region has to offer. Year round guests can swim in the decadent outdoor swimming pool (imagine snowflakes falling above while you're immersed in a heated pool below!) or guests can indulge their need for bliss at their spa.
St. Moritz is where the romance of Europe and the need for reprieve calls your name. While the region is English speaking, two primary languages of the region are Romansch and German adding an element of intrigue and a long standing history. As you think about where to plan your next escape, consider gathering your things and leaving the chaotic world behind.
For more information, visit www.badruttspalace.com
Many people might not know that the famous British film director Alfred Hitchcock absolutely loved St. Moritz in general and Badrutt's Palace Hotel in particular. His first visit was in 1924, when he used the town as the setting for his film »The Prude's Fall«. He subsequently returned to Switzerland with his young bride in 1926, and they spent their honeymoon at Badrutt's Palace Hotel. The master of suspense enjoyed his stay so much that he came back all of 34 times, a sure sign that a holiday at Badrutt's Palace Hotel is a truly memorable experience.
[separator type="thin"]
Inspired by Badrutt's Palace Hotel
Alfred Hitchcock had a very special connection with Badrutt's Palace Hotel, one that transcends the hotel's glamorous atmosphere and impeccable service. The director enjoyed returning over and over again because St. Moritz made his creative juices flow like no other location. One of his masterpieces, »The Man Who Knew Too Much«, reveals just some of the amazing ideas that came to Hitchcock during his stays at Badrutt's Palace Hotel. The 1934 version of this classic film, starring Peter Lorre, takes place in St. Moritz, as the director wanted none other than the dramatic backdrop of Engadin for the equally thrilling events in the motion picture. And that's not all. We all know Hitchcock's 1963 horror classic »The Birds«, a legend in international cinematography. The director first thought of creating a film script about birds while staying at Badrutt's Palace Hotel, when he saw a large flock of mountain birds soaring high over the hotel into the blue Engadin sky.
When he visited Badrutt's Palace Hotel for his annual Christmas break, Alfred Hitchcock and his wife liked to stay in room 501 – a beautiful suite that can still be booked today. The Hitchcock Suite is full of charm and simply oozes history: the warm wooden floor gives way to plush, elegant upholstery and rugs, while a beautiful vintage room heater reminds guests of a distant past, when the master of suspense relaxed in the very same corner of this very same room.
Coming back for more
Although Hitchcock loved to spend his winter holiday at Badrutt's Palace Hotel, he never parttook of any of the many winter sports on offer in St. Moritz. Instead, he preferred to take long walks, enjoy the panorama and relax with other stars like Gregory Peck and Marlene Dietrich, as well as with Aniko Badrutt, the hotel's co-owner. In short, he enjoyed the simplest pleasures in life: he spent time with family and friends, he put his feet up, recharged his batteries and enjoyed the hotel's attentive service – all the things that inspire guests to return to Badrutt's Palace Hotel time and again, even today. Because some things really never change.
[separator type="thin"]
MICHELIN CUISINE
The Swiss Michelin Guide honours Marcel Skibba's culinary ability in the new 2018 edition, awarding »IGNIV@Badrutt's Palace by Andreas Caminada« a Michelin star.
The second gourmet nest by creative Andreas Caminada first opened its doors nine months ago in the noble Swiss ski resort of St. Moritz on 21st December 2016. Badrutt's Palace Hotel's guests can enjoy more than just the spectacular view of Lake St. Moritz and the Engadine Alps in the youngest IGNIV. The much acclaimed sharing concept with its many varied dishes to share, instead of picking from a classic menu, also adds to the newly-starred restaurant's appeal. The nest atmosphere which gives the concept it's name bears the signature of star interior designer Patricia Urquiola. High quality materials and a gentle and refined colour palette lend the elegant room a warmth and feeling of a private sanctuary, perfect for a relaxed family get-together or a dinner with friends or business partners.
Marcel Skibba is the chef on show in the restaurant's modern kitchen. Together with his 15-person brigade, the 31 year old runs his Fine- Dining-Sharing-Experience. Sharing is at the heart of IGNIV: all the food is served in small dishes, or on small plates and platters, placed centre table; each guest can serve themselves as they please.
The focus in the kitchen is on the unadultered taste of regional products. Skibba is very familiar with Andreas Caminada's high culinary expectations: he has been a fixed member of the top chef's kitchen team since April 2015 and during the summer and autumn seasons, when IGNIV St. Moritz is closed, he continues to work as his sous chef in the 3-starred Schloss Schauenstein.
In St.Moritz the recent Michelin Guide's award so soon after opening the restaurant is also cause for celebration: »We would like to congratulate Marcel Skibba and his team most sincerely. IGNIV enriches the offering for our guests here in Badrutt's Palace Hotel with a unique culinary highlight which is most deserving of its Michelin star. Now we are looking forward to the coming winter season more than ever with the service resuming in December«, reveals Hans Wiedemann, Managing Director and Delegate of the Board of the luxury Alpine hotel.
Andreas Caminada, CH-7414 Fürstenau www.andreascaminada.com
From the Black Forest to the Swiss Alps
Marcel Skibba began his career in 2003 in his native Black Forest. After qualifying as a chef in the traditional hotel and restaurant Erbprinz in Ettlingen as well as a stint in his parents' hotel he moved to the 2-starred »Le Pavillon« in Hotel Dollenberg in the Black Forest. He then gained invaluable experience as a saucier and possionier as chef de partie in Thomas Bühner's team in the 3-starred restaurant »La Vie« in Osnabrück. Since 2015 Marcel Skibba has enhanced Andreas Caminada's 3-starred cuisine in Schloss Schauenstein, where he quickly rose ranks to become the native Graubundener's sous chef and qualified for the position of head chef at IGNIV in Badrutt's Palace Hotel in St. Moritz, which opens every winter season.
Erfolgsnest IGNIV by Andreas Caminada
I couldn't be happier. It is so amazing to see how well the sharing concept has been received by our guests. But what makes me prouder than the success is the talent and love of detail with which my star performers Marcel Skibba and Silvio Germann fulfil the brief …"
The Graubunden-born star chef has deliberately ventured away from classic fine dining with the opening of his second restaurant brand IGNIV. The bold move and the realisation of his sharing concept by two of his most talented pupils, a concept still unique in Switzerland, have paid off: hot on the heels of his first Michelin star for IGNIV in Grand Resort Bad Ragaz, which opened in 2015, is another coveted star for his second outlet awarded only 9 months after its opening.