[title maintitle="Escape to San Francisco" subtitle="A weekend staycation from Los Angeles to the Bay"] [dropcap letter="U"]s city guys and gals tend to find total quiet a little alarming but sometimes, the hustle and bustle of our own respective cities push us to a place of, well,
blah
. So once in a while it comes time to city hop and enjoy staycations that aren't too hard to get to but give us a sense of escape. As Los Angeles is where we call home, in that mindset of escapism, it was time to pack up the kids and head to
San Francisco
.
A drive of about six hours, there are plenty of places to stop for potty breaks, food, interesting sites (Happy Cows among them), and still maintain your sanity knowing the city that once was the backdrop for every great Rice O'Roni commercial is within reach. And once you come upon the majestic-ness (yes, it's a word, at least for this piece) of the Golden Gate Bridge, you find the "are we there yet" incessant questioning is all worth it. And it was. Once we all ooh and ahh after crossing the bridge, we head straight to the hotel (because for us it was already 2am!).
[separator type="thin"] [title maintitle="Hotel Nikko" subtitle="Tapping Into Family Friendly Luxe"]
In search of a family friendly hotel that met my expectation of design, amenities, culinary options, and large enough rooms, we found Hotel Nikko. A Japanese inspired hotel, Hotel Nikko is located in the heart of downtown San Francisco. Hospitality that's dependable, breakfast in the hospitality suites if you're on certain floors (which we were), fresh juices, and a concierge desk with concierge eager to send you off to explore, this is a reliable place to stay. The room we stayed in was lovely. Pristine decor, large bathroom with a separate room for the bath tub and shower and another for the vanity, sink, the water closet, two queen beds, table and chairs, views of the city through out tall windows that spread across the entire wall, and we were greeted by our very own puppy. Yes, a puppy … a stuffed one. It's a darling addition to this dog-friendly hotel that even has its own dog run, water bowls, and a view of the city to make the humans jealous.
With a fully updated fitness room equipped with spa water, an on premises spa as well, it's the pool encased in the oversized atrium that wins us over. Whether you go during the day to watch the big blue sky above you through the glass encasings or you visit when the city lights still give way to a few stars in the night sky, the pool is really a fantastically designed, thought out extra. The pool crowd was balanced between families, couples, business men and women, singles, and friends traveling together so it was welcoming. All in all, a couple of hours in the pool was the perfect way to spend a morning.
[columns_row width="half"] [column]
[/column] [column]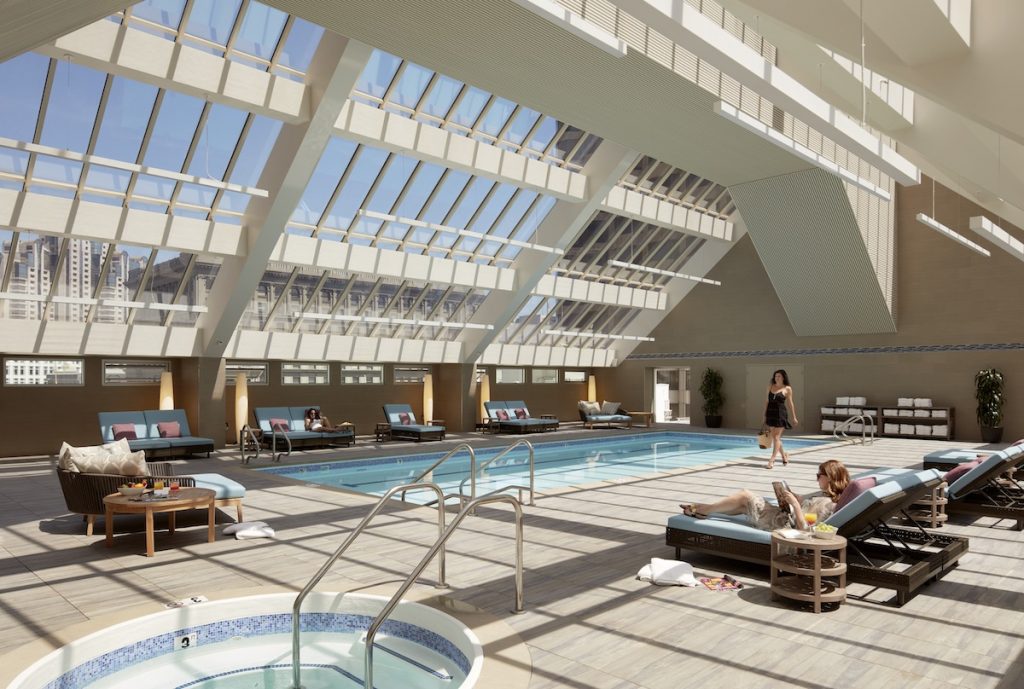 [/column] [/columns_row] [separator type="thin"] [title maintitle="Feeding Our Hunger" subtitle="Just Maybe
NOT
on the Pier Next Time"]
While San Francisco is noted for its famed food, as a gal growing up in Santa Monica, I believe any food, especially by touristy locations like a pier should be some of the best. I cannot say that was the case at Pier 39. While a darling strip to stroll, the restaurant options were not as illustrious as the legends of the bay area cuisine implies. We wanted to walk around, have some wonderful food along the way and play. My one complaint is that the options on Pier 39 are not exemplary of quality ingredients or passionate culinary undertakings.
It felt a little too much like a strip of chain restaurants versus that wonderful unique plethora you find on piers like I've come to appreciate in Santa Monica. Service at these restaurants was also lacking immensely. In a quiet restaurant, Chowders, which had great reviews and decent food, it took almost 20 minutes to get waters delivered to the table … and there was a near empty restaurant. I can be understanding of food not being perfect but there is no reason for poor service. Unfortunately this continued on to our experience at Sanruku which also included sushi that wasn't nearly as good as it should have been. For dinner, this trend wove itself into dinner and while a busy night and great service, the hour long delays in the kitchen at Tropisueño were difficult to stomach considering the $100 price tag.
I know San Francisco can do better so before writing it off, we will return for better experiences. That said, we shouldn't have to reserve great service and food to Michelin starred restaurants. Period.
[columns_row width="third"] [column]
[/column] [column]
[/column] [column]
[/column] [/columns_row] [separator type="thin"] [title maintitle="Wandering Around Pier 39″ subtitle="Redemption in the Options"]
Because Pier 39 and the neighboring piers really are where tourists are drawn, especially considering the gluttonous Ghiradelli Square appealing to every inner child, this is a fun place to get a little tourism in for the newbies. Thankfully we had a sixteen and eleven year-old with us to keep things entertaining and different. Stopping into the Ripley's Believe It Or Not! Museum, we had a blast discovering the many oddities Mr. Ripley shared with the world, going through the mirror maze, dancing it out in a trippy triangle, and felt something come alive (including reminding me of being a kid watching his TV Show with my dad). We all had a ton of fun at this tourist trap because let's face it, he was onto something, that Mr. Ripley!
There are daily tours, including one to Alcatraz and unfortunately for us we didn't have time for this dark delight. In addition to the many things San Francisco offers, its museums really are phenomenal. My favorite is the Palace of Fine Arts Theatre, de Young, SF Museum of Modern Art, and Museum of the African Disapora. For parents with young kids, two amazing museums you absolutely need to visit are Children's Creativity Museum and The Walt Disney Family Museum.
[columns_row width="half"] [column]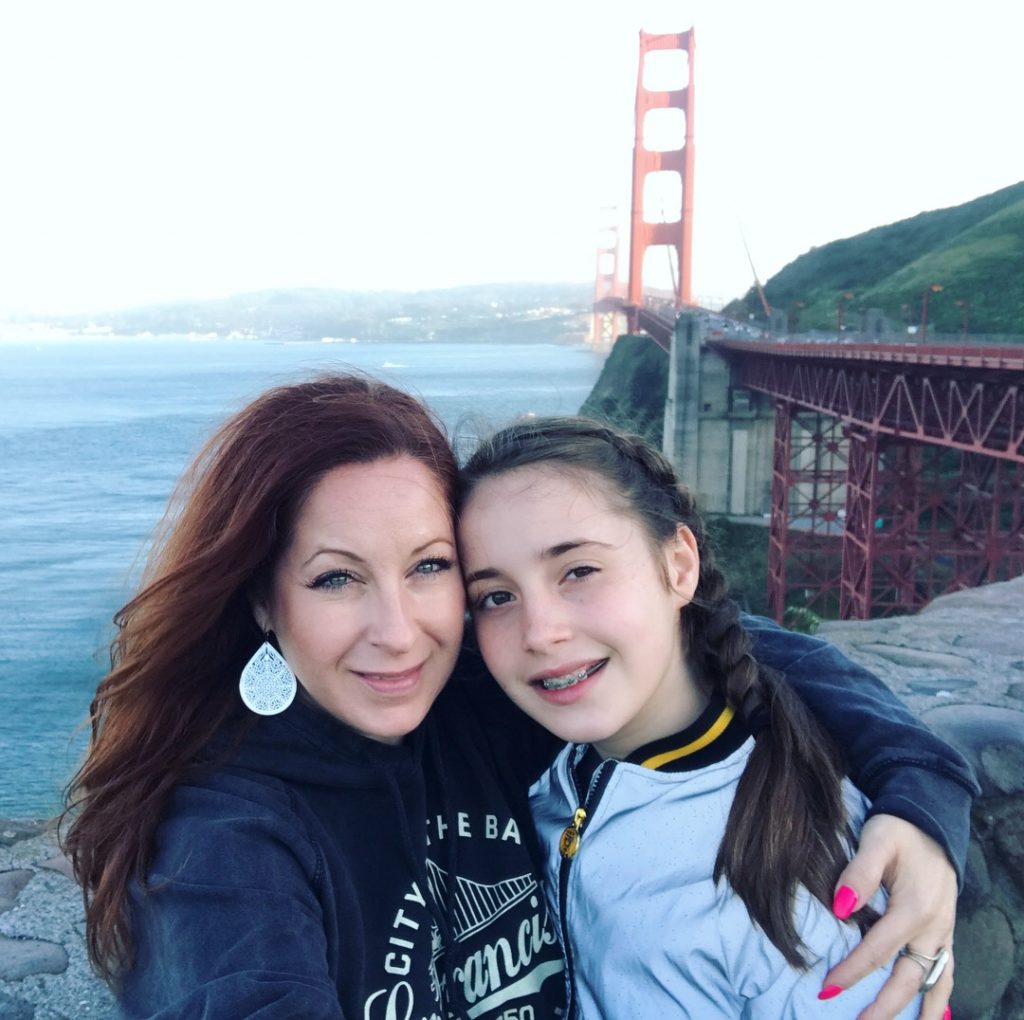 [/column] [column]
[/column] [/columns_row] [separator type="thin"] [title maintitle="Having Some Fun" subtitle="Reimagining Our Own
Full House
Intro"]
How quickly can you make the Full House intro? We spent 4 hours running around the city to recreate our very own version of that exact intro. It was fun. And happily juvenile, and we loved every minute of it. Under the direction of 16 year-old Director in training, Karen Rodrigues, we did everything from the trolly wave to the grass run, to sitting in front of the actual "Full House" all in an effort to bring her vision to life … and it was damn fun. In fact it was a really clever way to see some of San Francisco's more notable sights!
(As for the entertaining video itself? Video will post when she's finished editing and you'll be happy you stayed patient! Promise.)
All in all, San Francisco is a great escape and while the cuisine didn't do anything to excite us, the city itself has stories that always keep you interested. Plus it is where LGBTQ activism thrives, where technology continues to evolve, and where the arts have a happy place to dwell.
We'll be back. A lot. Next time though, in search of the best cuisine, boutique hotels that blow my design mind, and discovery of pockets in the city I have to see that I didn't even know existed. Until then …