Day 1
photographs by Lexi Scott
[dropcap letter="F"]ashion isn't just what's "in" at the moment, it's what's seen strutting across the catwalk in beautiful unison with the imagining minds of those here to watch it all unfold. Fashion should be bold, timeless and most importantly, fashion should make a statement. The first two days of
Atlanta International Fashion Week
were a different experience visible in each collection that made an appearance. From poetic prose weaved into each seam, an ode to women's empowerment to a journey through decades past. [separator type="thin"]
Scripted
The opening act of the event, JRashads' by Scripted wasn't a wow factor, but not a let down either. What I found the most interesting is that Shay, the designer, finds inspiration within her own poetry for her designs, which makes me think of an art exhibit. There is always that exhibit that seems unnecessarily outlandish to the naked eye, but each piece has a story that makes you look again, even though you're not quite sure why. JRashads may not have been New York Fashion week ready, but each piece admirably had its own personality.
Napostól
Napostól by Nessa Apostol was by far my favorite line of the entire week. Described as dance-inspired, Nessa's elegant, flowing designs certainly danced across the runway.
"I'm very into women's empowerment and feeling sexy, sensual, powerful, and I strive to have all of my pieces as soon as the woman that's wearing my clothes, as soon as she walks into the room, she commands the room." –– Nessa Apostol
Another way to describe Napostól is romantic with a whopping side of sex appeal. Though Nessa's designs are designed with the graceful, mesmerizing dancer in mind, don't let these free-flowing designs fool you. The high slits, deep V's, cutouts and sheer material incorporated into many of Nessa's designs are meant for the brave, the daring and the bold.
Day 2
Nina's Couture
Let me first start by saying that the theme of the night was vintage chic, and there is a fine line between vintage and retro. When I think of vintage chic, I think of the pre-60s flower child era, reminiscent of Marilyn Monroe, or even 1930s starlet Bette Davis, with sleek, fitted, billowing-through-the-breeze fabrics; not metallic and glittering cut-out shoulder dresses. Though Nina's Couture line did display vintage-inspired elements, nothing about this line screamed timeless.
Honestly, the line seemed all over the place. Many of the pieces seemed more like ready-to-wear outfits than couture.
Not that there is anything wrong with ready-to-wear (Michael Kors makes a living from his brilliant ready-to-wear collections­) but Nina's Couture line simply did not live up to the couture fashion week experience that was meant to be portrayed. What really turned me away from the two designs above were the stiff materials. The bottoms appeared to be made of a metallic nylon/spandex blend that added nothing to the overall composition of the looks.
And of course there were a couple of disco-inspired pieces. I will say that the design to the right would actually make a lovely vintage addition with a few tweaks. My first suggestion would be to completely do away with the metallic bubble skirt; a circle or pencil skirt would be more fitting. I love the structure of the sleeves, but if you're going to add structure to a design, make it apparent.
This dress could be taken even deeper into the realms of vintage fashion by extending the sleeves a few inches into a cape. Some may think that this would add no new, or modern-day, value, but this has been incorporated into many high-fashion designs in recent years.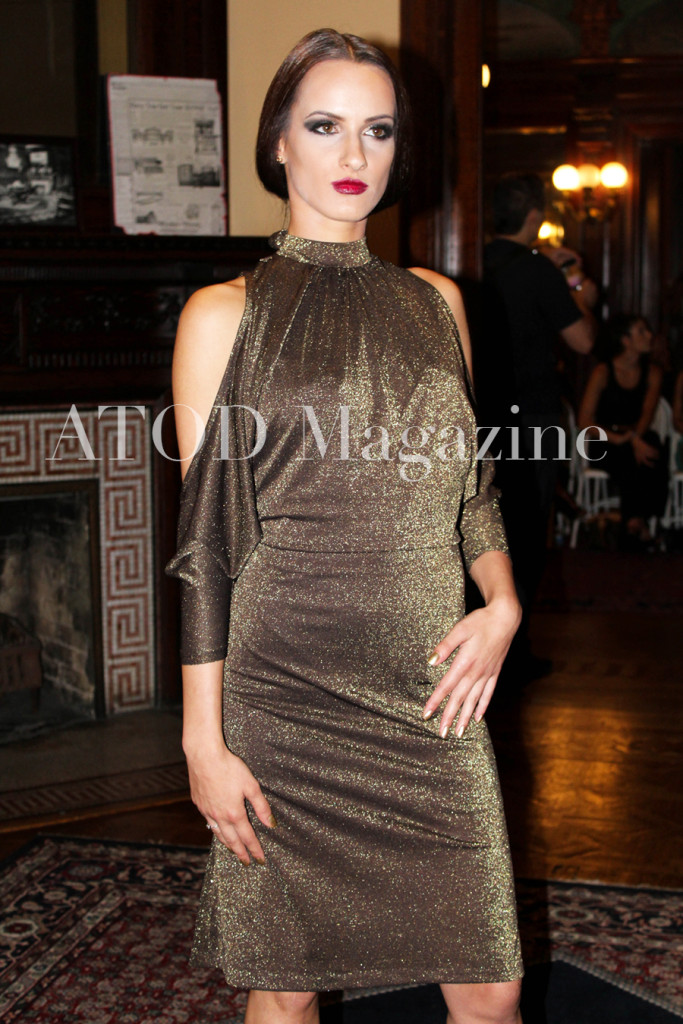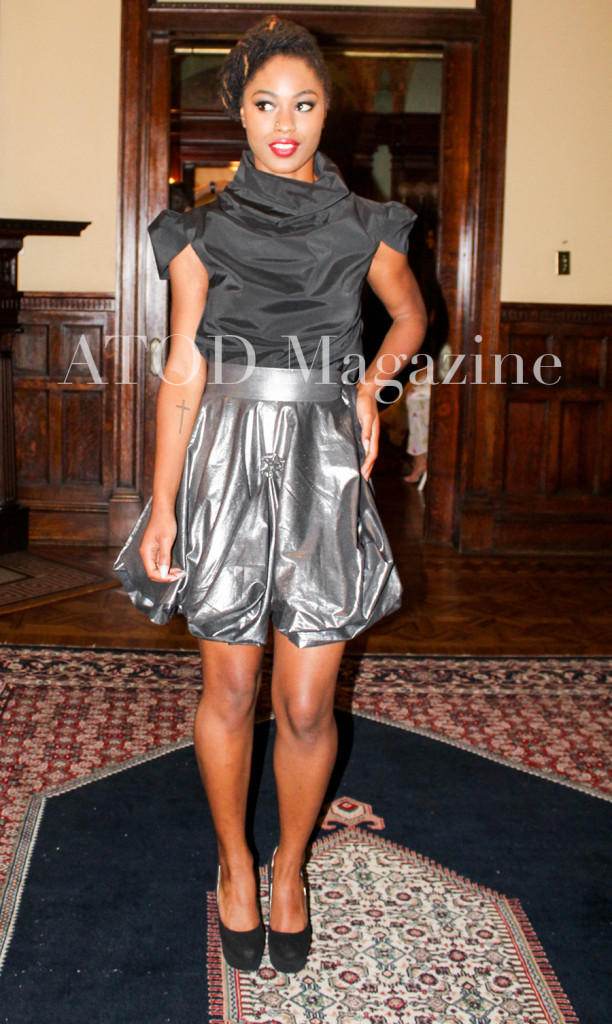 Though I think this line could have been more fluid as far as design, there was one redeeming piece that effortlessly stood out from the rest; one dress that screamed old Hollywood. From the texture and femininity of the dress to the high neck to the contrast of the daring sheer sleeves, this piece from Nina's Couture (pictured left) is highly reminiscent of the Coco Chanel 1957 evening gown. With curls pulled back from the model's face, pinned up into a bob and paired with bold makeup on the eye, this look would shine through decades of fashion and lackluster trends!
[separator type="thin"]
A Watch Made With Style In Mind