[title maintitle="The Vibrance of Gray" subtitle="A Golden Era Re-imagined"]
In a perfect world, bursts of bright happy colors filter through the air like the keynotes on a baby grand. That's precisely the world that lives and breathes in the imagination and renderings of fine art photographer, artist and author, Gray Malin. While first falling madly and deeply with his series, Welcome To The Parker, his uncanny ability to bring retro, optimism, and chic design into the images he creates is truly joyous. This fall, Gray introduces us to his latest new series: The Beverly Hills Hotel.
All photographs ©courtesy of Gray Malin
[columns_row width="half"] [column]
[/column] [column]
[/column] [/columns_row]
A match made in Angeleno heaven, this commissioned series is nothing short of brilliance and nostalgia. Shades of pastels create a fabricated world that you're certain once existed in the hay day of Los Angeles with modern twists subtly infused into the final images. With meticulous detail, right down to the accessories—including hand bags you'll swoon over—the iconic fashion and Malin's ability to completely transform a space into a moment in time almost seems too good to be true. That is the magic of Malin's creations. They take you to a place of true happiness and it's the kind of gaiety that envelops you in its entirety—and—for a while, as you gaze on the wondrous work he produces, your soul grins.
THE INTRODUCTION | On a temperate October evening, Gray invited some of us for a private preview of the series. Arriving at The Beverly Hills Hotel, stepping inside this Los Angeles landmark is only the beginning. Sauntering through the tropical foliage on into the Frank Sinatra Suite, poised ever so idyllically are various large prints resting on easels. Each piece is carefully placed throughout the rooms of the suite as if they have a story that will be unveiled as you step inside. There beside the four welcoming prints of The Cabana Girls, The Women, Strike A Pose, and California stands Gray himself. Dressed in a blue jacket, light blue shirt, fitted pants resting just above the ankle, and brown leather slip-on loafers, he is effortless as he talks to guests and friends all-too-thrilled to be here. Myself included.
Talking about life, creativity, inspiration, marriage, and parenthood, below is a look at the new series and conversations with Gray.
[columns_row width="third"] [column]
[/column] [column]
[/column] [column]
[/column] [/columns_row]
How did you partner with the Beverly Hills Hotel? 
I first connected with the hotel about two years ago. The interest in working together was immediate, so it quickly moved into brainstorming a project that excited us both. Once we landed on the creative direction of what is now the Gray Malin at The Beverly Hills Hotelseries, it was about a year in the making.  From conceptualizing individual shots to location scouting within the hotel's grounds to working with a professional wardrobe designer, prop stylist, a team of lighting and hair & make-up artists and lastly, casting the talent – my team and I meticulously planned every component of this shoot.
With such an epic Los Angeles landmark, what were the early inspirations for this Series?
It began with my inspiration, the hotel itself and the idea to create a series that would transport the viewer into my personal interpretation of the 'Golden Era'— filled with an attractive jet set crowd decked out in vintage wardrobe and props from the 1950s and 1960s enjoying everything The Beverly Hills Hotel has to offer.
The palate for this series is so lovely with the muted tones and subtle bursts of color, paying homage to the history and allure of the hotel. Was it a challenge to find the fashion and accessories for this, or did you have pieces you'd always want to play with and finally found the ideal backdrop?
Considering it was my largest organized shoot to date, the key was to prepare as best as possible ahead of time. It was important to me that the clothing, hair & make-up styling, and props utilized were period specific, so that the viewer would be fully transported while looking at the images. In order to accomplish this, I worked with a talented team of below-the-line professionals, who ensured that my vision would be realized on set. All decision-making had been done in advance, which allowed me to focus entirely on accomplishing the shots.
[columns_row width="half"] [column]
[/column] [column]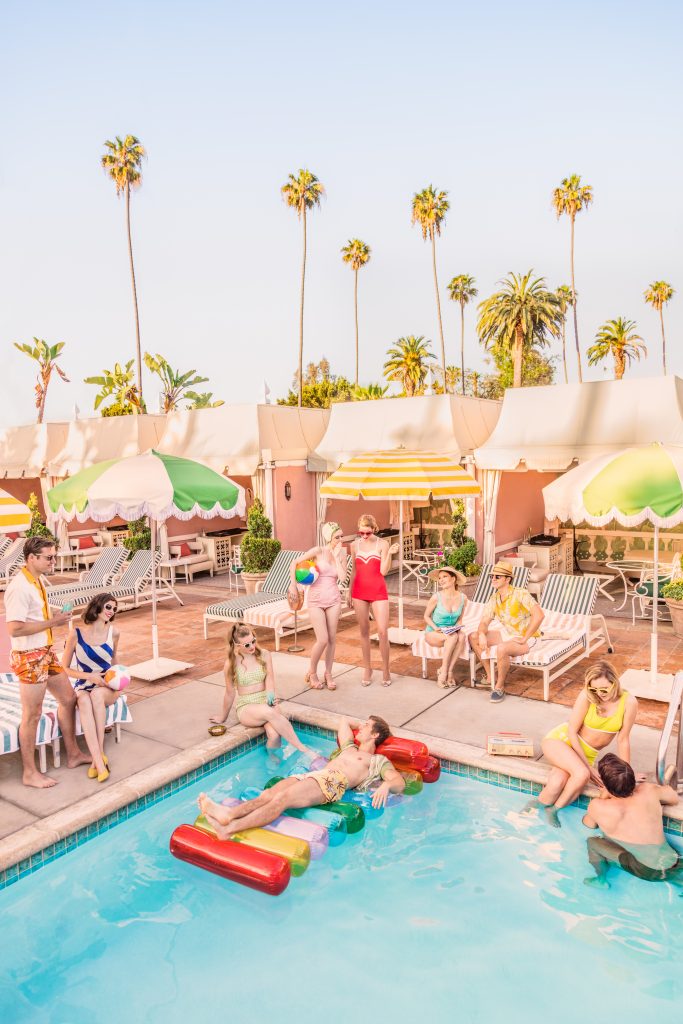 [/column] [/columns_row]
I love the inclusion of the rainbow floaty in "Poolside at the Beverly", it's one of the only ones with intentional color shift. Tell me a bit about how you orchestrated and designed that scene?
The greatest challenge with the swimming pool was making it feel vintage and era specific. In researching old images of hotel swimming pools, I noticed that there was less furniture and more open space directly around the sides of the pool. Therefore, we decided to shoot early in the morning before the sun came up because we requested the hotel move the majority of the pool furniture aside to open up the seating space (which needed to be put back by the time the pool opened). To inject another layer of vintage charm I sought out vintage patio umbrellas and while the prop stylist was at the movie warehouse looking for umbrellas she discovered the rainbow floaty. At first, I was not sold but once I saw the juxtaposition of the colorful raft against the colorful umbrellas it won me over. It was definitely a bold prop, but it certainly makes this image much more joyful.
Recently at a friend's house, she has two large prints from the Beaches series. When I asked her what it is that draws her to your work, she simply said: His work makes me feel happy. I knew exactly what she meant. Now that you're wrapping up an insanely busy year to make way for your twins, fondly referred to as Peanut Butter and Jelly, what has been one of the greatest encounters you've had from a collector of your work?
Oh, I love this story! Through my work, my constant goal is to evoke that feeling of joy. Whether it's a photograph of a beach where someone grew up going as a child or a whimsical image of an animal in an unexpected location, my goal is to engage the viewer and hopefully make them smile. As far as greatest encounters, I always enjoy hearing about why people selected a particular piece, but one of the most memorable would be this time I was in Capri, Italy. My husband and I were walking down towards a beach club, and I overheard the couple in front of us talking about how beautiful it was. Then the woman said, "It's like a Gray Malin photograph." It was an incredibly surreal moment!
[columns_row width="half"] [column]
[/column] [column]
[/column] [/columns_row]
On another note, I read your recent post, Shades of Gray: Our Journey (yet one more reason I adore you), and like probably everyone reading it, I couldn't help but tear up with joy for you and Jeff. Being a parent is by far the greatest love you get to know—no fear of rejection—total freedom to love with every fiber of your being, even when they poop on you. And they will. With such attention to detail, how are you guys decorating PB + J's room?
Awe, we're so looking forward to their arrival and cannot wait to begin this new chapter. I've actually been working with an interior designer, Amy Berry, on their room. She and I have been friends for some time and I have watched her become a parent (twice) and absolutely loved how she designed her own nurseries, not to mention her clients. By visiting her website or Instagram, @amyberry you will surely get a sense of what the room will look like.
What gives you the greatest joy?
I truly love creating art and sharing it with others to interpret and enjoy in their own way.
Aside from Last Holiday, what is a movie you turn to for inspiration? Or a book you've recently picked up that you can't put down?
There are so many but I'm always happy to watch The Sound of Music, again. The movie reminds me of the importance of good values and always makes me want to call my family and tell them I love them.
[columns_row width="third"] [column]
[/column] [column]
[/column] [column]
[/column] [/columns_row]
Where haven't you been or explored that you want to visit in the next three years in hopes of beginning the next collection?
I recently checked off a major destination on my list, Naoshima, Japan, where I went for our babymoon. I actually would really love to shoot my next series stateside: I have my eye on both Palm Beach and New York City.
What is something you don't often share that has given you such a deep appreciation for not just beauty, but the heart and story of the world you envision and so willingly share?
Every summer I spend time at our family vacation home on Lake Michigan. There is a large closet full of old photo albums that meticulously documented my grandparents' lives and travels around the world. Though they have passed, looking back and seeing how they lived has influenced me tremendously and certainly keeps me pushing forward.
[separator type="thin"]
Sometimes when you fall in love with the work of an artist, you may be better off not meeting them in person for fear it will change your perception of the pieces themselves. That is entirely untrue in this case. I've met Gray Malin twice now: first at the launch of his book, Beaches and now for The Beverly Hills Hotel series, and in those two moments, I felt as if I was sitting with an old friend. Gray is among the rare exceptions. When you meet and have the pleasure of getting to know him, you fall even more in love with whatever he creates. This series is a special one and having had been invited to attend his private viewing in the Frank Sinatra suite, well, it was a real privilege. The man not only has impeccable taste but he's so much fun and is a remarkably lovely human being. His joy is infectious and it shows in everything he does.
Thank you so much Gray! 
[separator type="thin"]
A look at the event at Beverly Hills Hotel …