[title maintitle="EAT YOUR GREEN" subtitle="Just not that kind …"]
As we learn more and more about the value of cannabis in terms of health and wellness, it seems cooking with this magical, newly legal substance may make that sweet fix a little more of an anti-anxiety fix—especially when we're talking about edibles.
As I continue to understand the many facets of the cannabis industry, as an editor and a journalist, the studies that continue coming out about how good CBD can be for us continue to bewilder me. In search of recipes that were simple and straight forward, I came across a few cannabis-infused treats I thought I'd share with you.
Keep in mind that ingesting cannabis or CBD has a direct deliverable that will immediately engage with your body so be mindful and do very small doses until you know what works best.
Photographs in partnership with Shutterstock
---

Canna-Chocolate Chip Cookies
Time Required: 30 minutes | Yields 16-24 Cookies
WHAT YOU NEED
baking sheet
½ cup Cannabutter
1 ⅓ cup flour
½ teaspoon. salt
½ teaspoon baking soda
½ cup brown sugar
¼ cup granulated sugar
1 egg
2 cups chocolate chips
STEPS
Preheat oven to 375 degrees. Grease baking sheet.
Mix Cannabutter, sugars and egg into large bowl.
Mix baking soda, salt and flour in a separate bowl.
Add flour mixture to butter mixture slowly. Stir all ingredients together.
Form dough into 1-inch balls and place them two inches apart on baking sheet.
Bake in preheated oven for 10-12 minutes, or until light brown.
Cool on wire rack before serving.
---

Time Required: 20 minutes 
WHAT YOU NEED
Wax lined paper
Straws (Any will do)
Dish for sprinkles
Ingredients:
1 ½ cups chocolate chips (dark, milk, or white)
15-20 strawberries with stems
¼ cup sprinkles
STEPS
Cut straws in half and insert into the stemmed top strawberry (a knife may be needed to cut a small hole to insert straws more easily).
Put sprinkles in dish for easy dipping.
Melt chocolate and Cannabis Coconut Oil in a microwave safe bowl, stirring every 15-20 seconds (depending on wattage) to avoid burning.
One at a time, dip bottom half of strawberries into melted chocolate. Allow excess chocolate to drip back into bowl.
Dip the bottom half of chocolate covered portion into sprinkles.
Place on wax paper lined baking sheet or plate to dry.
Chill in fridge for at least 30 minutes before serving.
IDEAS
If using white chocolate, you could add a few drops of food coloring to make it more fun!
Use a mixture of chocolates to create a layered effect, allowing each coat to dry before dipping in next coat. If using a mixture, be sure to include the chocolate and Cannabis Coconut Oil recipe for each.
Serve right out of the freezer for a nice, icy treat.
---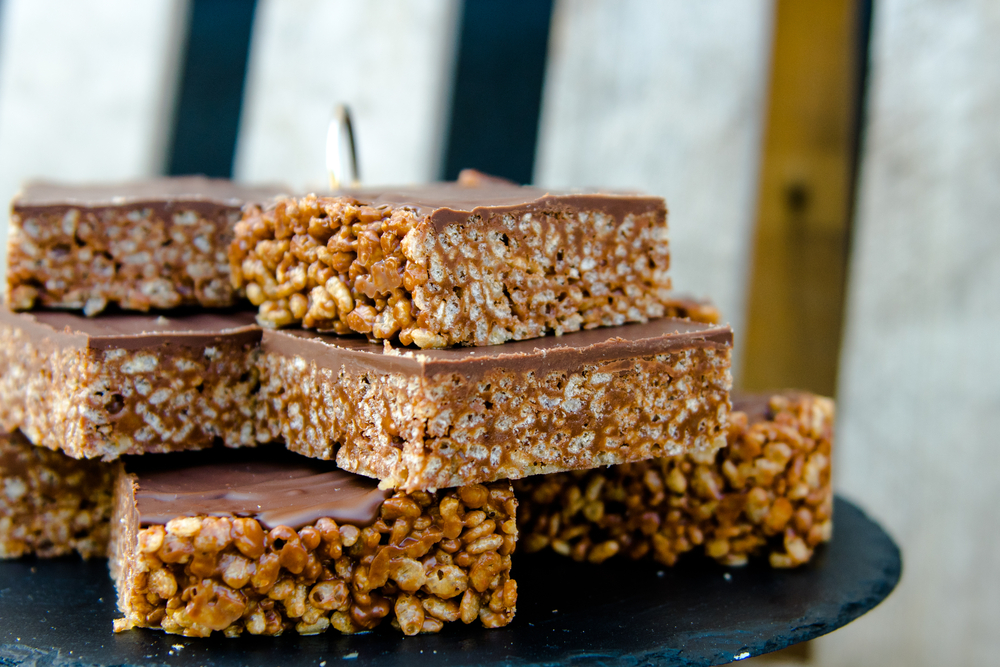 INSTRUCTIONS
Microwave cannabutter until melted in microwave safe bowl large enough to hold the cereal and marshmallows, too.
Stir the marshmallows into the melted butter and microwave on high for two minutes. Whip the cannabutter and marshmallows until well mixed.
Stir in cereal until thoroughly coated.
Press into a buttered 9×13 pan. Let set until firm- about an hour.
Cut into 15 pieces.
---
As you discover and try more flavor profiles and combinations, may you find the right blend that improves your quality of life and overall well-being.