[title maintitle="Slip Into Glamping" subtitle="Get Lost in the Comfort of Nature"]
glam•ping | a form of camping involving accommodation and facilities more luxurious than those associated with traditional camping.
Glamping seems like a made up word to those tried and true campers that go to Joshua Tree to be connected with nature with nothing but a sleeping bag, lantern, and a backpack full of edible food. They are the OG campers that have just the right of protein and enzymes, water for nourishment, and no access to regular showers. It's admirable, but for those of us that love the outdoors with a few of the finer amenities like a bed, a bathroom, access to running water and safe haven, glamping is the answer.
Sleeping on the hard dirt, with the promise of insects having their fun on my flesh has never been one of those things that beckoned my name—which is frustrating when you really genuinely  love spending time in nature.
Worldwide, glamping has become a very popular alternative, and here in California, our options to play outside and sleep luxuriously under the moon tend to be ample.
Much like the tiny house movement, glamping has a wide range of appeal and is now a regular part of our everyday vernacular. Regardless of it being a contemporary approach to an old school pastime, there's no shame in upping your camping game, and below are California sites worthy of booking.
[separator type="thin"]
71895 Highway 1, South Big Sur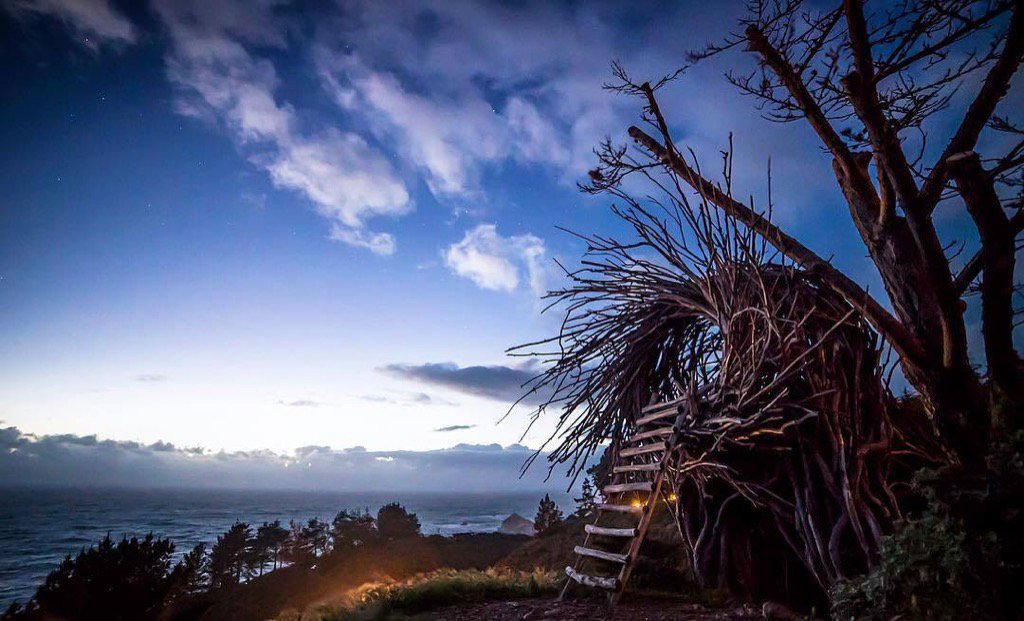 The story of Treebones Eco Resort (TREEBONESRESORT.COM) began 34 years ago when John and Corinne Handy visited Big Sur on a trip. For anyone who visits the area, the draw to stay as long as possible is one that often cannot be ignored, and Corrinne and John Handy heeded the call and fell in love with the area. So much so, they bought some property and, alongside their kids, started Treebones Resort. The resort is comprised of several glamorous yurts (tent-like circular fabric structures with wood lattice frames) nestled deep into the cliffside and forests of the Central Coast. Captured in the stories of legendary writers Henry Miller and Jack Karouec, the appeal of Big Sur is one that engages the senses and invites mystery and danger, romance and infinite beauty. With multiple ecosystems in play on any given day, the area is ideal for camping, and while there are several camp sites, it is the allure of glamping sites like Treebones that are taking center stage for travelers far and wide.
Each Treebones yurt is gently raised above the land, leaving the surrounding area as undisturbed as possible. Each environmentally friendly yurt is made with materials found locally, making sustainability a priority long before it was en vogue. There are several little gems on the property including a human nest, or twig hug made for two with handmade ladders leading into a nook made of branches that you can lie down in and watch the crashing waves under a night sky plentiful with stars. The nest and hut both offer small picnic areas and futon pads, though you'll need to bring your own sleeping bags and pillows.
Dining options are the Wild Coast Restaurant and The Sushi Bar. The Wild Coast Restaurant, where prices range from $9 to $45, excluding market-priced items, serves locally sourced produce, fish, and meats. The Sushi Bar offers a refined Omakase tasting experience for $90 per person. There are also local grocers, restaurants, wineries, and more in the neighboring cities of Big Sur, Cambria, Monterey, and Carmel by the Sea.
While there, consider taking a Big Sur Hike hosted by Central Coast Outdoors (CENTRALCOASTOUTDOORS.COM) that will be a full day's adventure through rocky beaches, historic sites, waterfalls, and redwoods. The hike includes a gourmet picnic lunch that hikers will enjoy by a cascading creek. Book a massage at the Treebones Eco Resort in the private massage studio or a yoga class in its on-site yoga retreat on a panoramic outdoor platform.
Prices start at $175, and yurts begin at $320 per night, depending on season. Prices are subject to change based on availability.
[separator type="thin"]
Glamping means you can feed your nature beast and your inner debutante simultaneously. Go ahead. Settle in for the night, and do so with a little extra panache.
[separator type="thin"]
14120 Old Cazadero Road | Russian River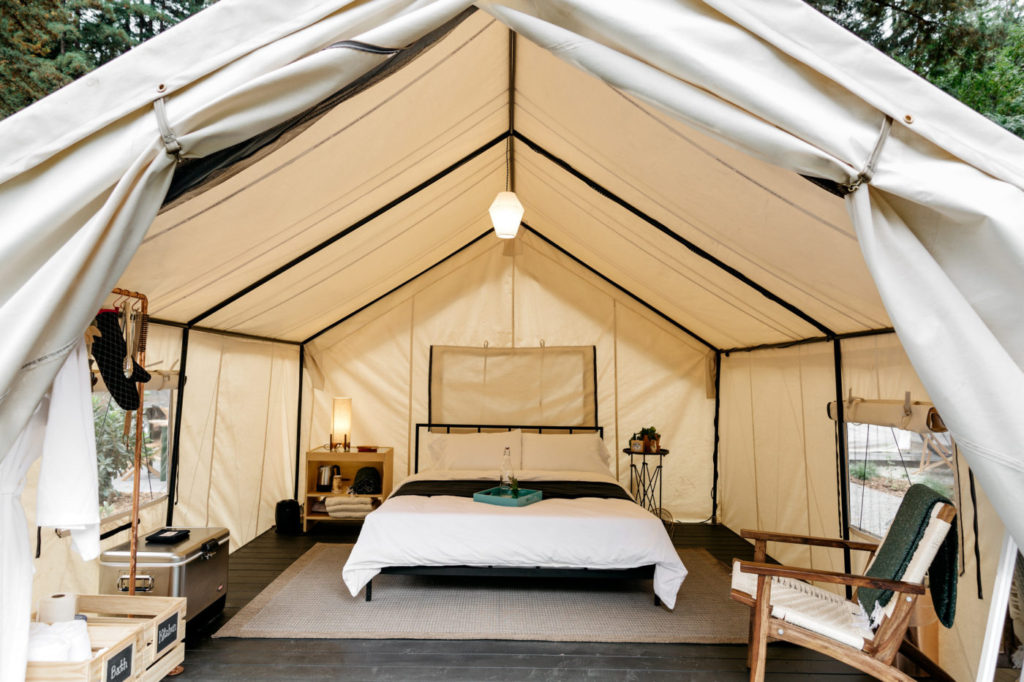 The Russian River is home to some of California's most prominent natural resources, including wine and culinary prowess. It's also now home to luxury Airstreams and glamping sites. Partnered with the silver bullet of greatness, Airstream, AutoCamp (AUTOCAMP.COM) is an adult-centered glamping site in Sonoma County. Each one offers luxurious sleeping Airstream buses and glamping tent sites with modern design interiors in Airstream suites, redwood suites, and canvas tents outfitted with the finest furniture, amenities, and ambiance.
Staying in nature is glamorous and mid-century modern at Autocamp. The unique camping site offers wind-swept views of the redwood trees canopied all around you, lulling you each night with the sounds of nature and greeting you each morning knowing you are well-rested. Located only a short distance from the town of Guerneville and the Russian River, Autocamp offers endless options for what to do each day and evening. In town, you can stop off and experience one of the best-decorated and curated Mexican restaurants, El Barrio, spearheaded by visionary chef and hotelier Crista Luedtke (who also happens to be the woman behind the Guerneville transformation).
There are plenty of grab-n-go options in town, including the gourmet yet affordable Big Bottom (BIGBOTTOMMARKET.COM) general store. On the river, you can go canoeing or fishing, and in the neighboring terrain, you can bike ride, hike, or just explore. There are wine, beer, snacks, and camping essentials available in the clubhouse, someone on site to help plan your adventures, quiet space for yoga and meditation, and indoor and outdoor fire pits for story time, s'mores, or a little romance (cue bow-chicka-bow-wow).
Glamping means you can feed your nature beast and your inner debutante simultaneously. Go ahead. Settle in for the night, and do so with a little extra panache.
STRAWHO– USE RESORT| Trinity River
Yurts are all the rage, though in truth they've been around for centuries. This 30-foot, two-story yurt has a clawfoot bathtub, electric fireplace, microwave, bamboo flooring, coffee pot, two queen beds, and private river access.
STRAWHO– USERESORTS.COM/LODGING/YURT/
REDWOOD TREE HO– USE| Russian River
Tree houses are more than childhood whims; they're perfectly acceptable forms of luxury. Located in Sonoma near Healdsburg, this two-bedroom tree house has high thread-count bedding, cozy pillows, a sofa, TV, and an outdoor wraparound deck with a Weber barbecue and plenty of seating for up to 10 people.
COSTANOA LODGE| Pescadero
Want to stay in a tent bungalow? Costonoa is it. These wood- or metal-framed bungalows with waterproof canvas covering offer electricity, sliding windows, Adirondack seating, indoor hot showers, and heated concrete floors. The property includes a 24-hour sauna and an outdoor fireplace.
VENTANA| Big Sur
Want to sleep Huckleberry Finn-style in the middle of the Big Sur splendor? If so, Ventana's glamping options are ideal. With the luxuries of pristine accommodations, the intrigue of the Redwoods, a bath house, heated floors, a full bathroom, and all the comforts you'd expect from a hotel, Ventana is glamping done well.