[title maintitle="Happy Headwind" subtitle="April Quarantine = Cocktail Time"]
Quarantine got you down? Need to be reminded that spring is actually upon us and the promise of sandy beaches and sun are around the corner? Yah, us too.
So instead of wallowing in the fact that beaches and vacations seem a century away, make your home your new hangout—but less depressing. Print up some tropical photos of those swanky, carefree, islands you've always wanted to visit, photos of you and your mates or best girl slamming down cocktails, and travel into the blissful state of a happy libation. At the designated space on your couch.
The history of vodka dates back to 1405 in Eastern Europe and Scandinavia. Vodka is a diminutive form of the Slavic word voda (meaning "water"). "Little water" first appeared in Eastern Europe, and in 1553 it was used as medicine in Russia.
Traditionally, vodka is made by distilling liquid from potatoes, but its manufacturing has since evolved to include other grains such as corn, rice, and oats. It's a drink best served icy cold, and Portland brand Headwind Vodka (headwindvodka.com), founded by Jason Dyke, is crafting cocktails that go down easy. The brand distills the spirit six times and filters it twice, removing that ethanol burn. Rest assured its 40 percent alcohol volume is tried and true, says Dyke.
Headwind shares recipes for some tasty cocktails as April launches us into a new season. All cocktails can be made with the vodka of your choice, but this month we're celebrating the Pacific Northwest with Headwind.
Let us drink, let us laugh, and let us revel in the fresh blooms of April with a good stiff drink!"

–A. Mixologist Somewhere
PHOTO CREDIT @highproofpreacher | This article first appeared as a work-for-hire in Sensi Magazine, April 2020 by Eli Dupin
[separator type="thin"] [columns_row width="third-and-two-thirds"] [column]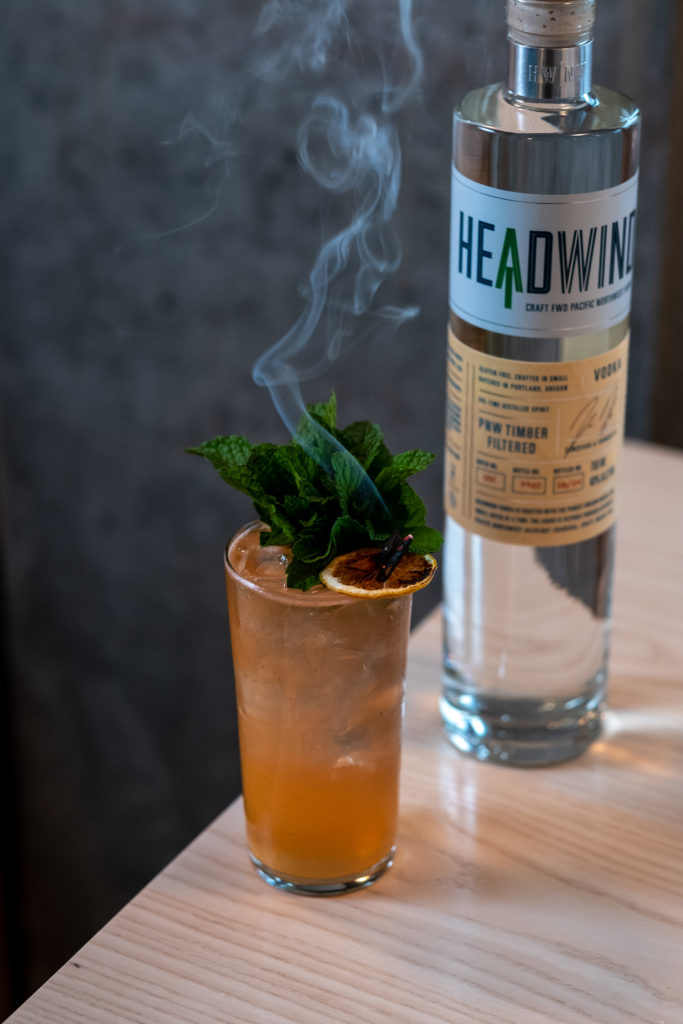 [/column] [column]
THREE CAPES
INGREDIENTS
2 ounces Headwind vodka
3 ounces grapefruit juice
1 ounce cranberry syrup (Try Raft Botanicals Cranberry 5 Spice Syrup)
3 ounces soda water
Lime wedge or fresh floral
[/column] [/columns_row]
INSTRUCTIONS
Add vodka, grapefruit juice, and cranberry syrup into a shaker with ice and shake.
Strain into a Collins or martini glass with ice, and top with soda water.
Garnish with a lime wedge or a fresh floral.
[separator type="thin"] [columns_row width="third-and-two-thirds"] [column]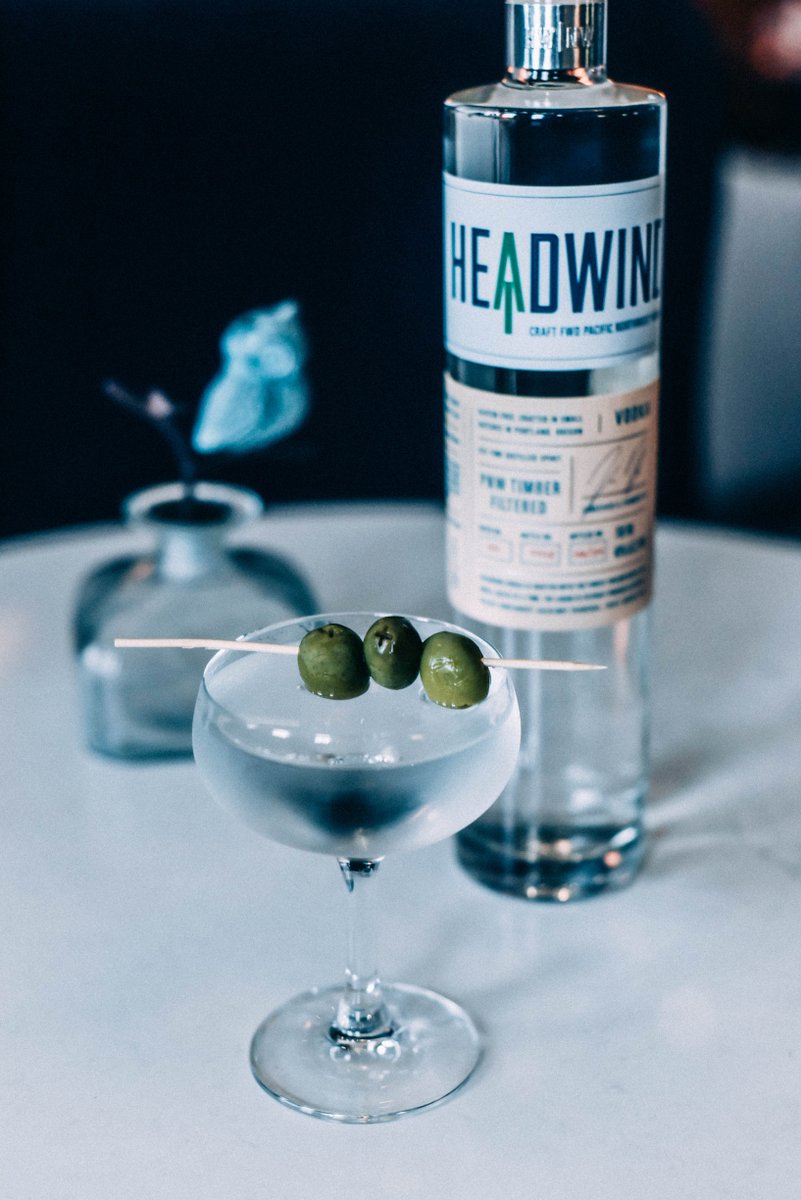 [/column] [column]
HEADWIND QUARANTINI
INGREDIENTS
2 parts Headwind Vodka
.5 part dry vermouth
Dash of orange bitters
Lemon twist
[/column] [/columns_row]
INSTRUCTIONS
Fill glass with ice and swirl glass until chilled. Discard ice. Add vodka and vermouth.
Add dash of orange bitters and finish with a lemon twist.
[separator type="thin"]
[title maintitle="SPARKLES + BLOOD" subtitle="Refreshing And Kinda Healthy"]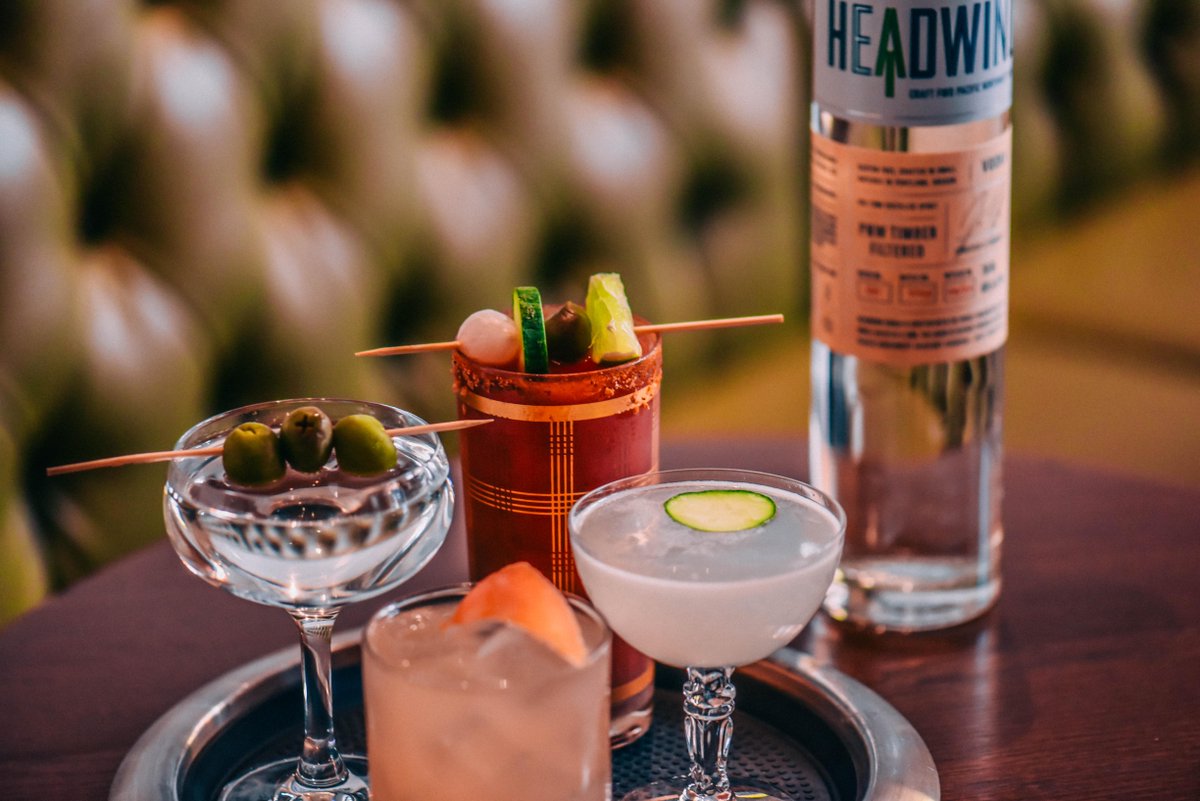 VODKA SODA

Servings: 1
Ingredients
2 ounces Headwind Vodka
4 ounces club soda
Bitters to taste (try something fun like cardamom bitters)
Slice of lime
Edible floral (optional)
INSTRUCTIONS
In a glass full of ice, combine vodka and soda, and stir.
Add bitters and slice of lime or an edible floral.
[separator type="thin"]
There's something wonderful about drinking in the afternoon. A not-too-cold pint, absolutely alone at the bar – even in this fake-a** Irish pub."

—Anthony Bourdain
[separator type="thin"]
HEADWIND BLOODY MARY
Servings: Four
[columns_row width="half"] [column]
INGREDIENTS
2 parts Headwind Vodka⁠⠀
4 parts tomato juice⁠
2 dashes Tabasco sauce (or your favorite hot sauce)⁠⠀
1 tsp prepared creamy horseradish⁠⠀
2 dashes Worcestershire sauce⁠⠀
1 pinch black pepper⁠
Lime wedge
Olive
Sliced cucumber
Cocktail onion
*Sliced chorizo salami
[/column] [column]
GLASS RIM
1 pinch celery salt⁠⠀
1 pinch garlic salt⁠⠀
1/2 teaspoon paprika⁠⠀
1 teaspoon Kosher salt⁠⠀
[/column] [/columns_row]
INSTRUCTIONS
For the drink, mix the first six ingredients into a pitcher and stir until combined.
Add juice of lemon wedge.
For the glass rim, mix all ingredients and place onto a plate. Dip the top of each glass in water (or rub with leftover lemon wedge to make it sticky) then place the rim in the salt mixture.
Fill each glass with ice and pour in drink mix.
For garnish, skewer a lime wedge, olive, slice of cucumber, and cocktail onion (not pictured).⁠
*You can add chorizo salami to the skewer, or to keep it vegan, omit.
About Headwind
Headwind Craft FWD Pacific Northwest Vodka starts with high-quality, gluten-free, corn-based grain distilled and filtered through Pacific Northwest timber. The result is a smooth, crisp sip of the Northwest. Each bottle of Headwind vodka is wrapped in birch wood and hand-labeled with individual batch numbers, bottle numbers, and bottling date. @headwindvodka