Exploring Mexico's Coast
… and celebrating the rich Mexican culture for Hispanic Heritage Month
[dropcap letter="M"]exican culture is a staple in most metropolitan cities around the world. From the vibrant colors that come from the region, to the culinary influence of the North to the South, the power of
Mexico
is visible in global fashion, food, film, wine and spirits, and design. This month, as we celebrate
Hispanic Heritage Month
and culture, Mexico is at the forefront of our minds. We want to shine a light on Mexican culture, and we are going to do that by highlighting a few select regions and recipes that extend throughout the Mexican coast.
For more information, VisitMexico.com
---
SINALOA, MEXICO
Sinaloa, a state in Mexico, is well known for its agricultural production and is referred to as the "Breadbasket of Mexico". Over three quarters of its landmass is used for agriculture, and it is the leading producer of rice and vegetables in the country. Seafood is abundant along the 640 km coastline, and the primary cities in the state are Mazatlán, Culiacán, and Los Mochis.
One of the famous dishes from Sinaloa is Aquachile, which is shrimp marinated in lime and chile, served with cucumbers, onion, and cilantro. Culiacán, known for its culture, luxuries, and celebrations, is also home to Las Riberas Park. It is known for its dancing fountains and religious temples, such as its Basilica Cathedral, the sanctuary, and the Lomita.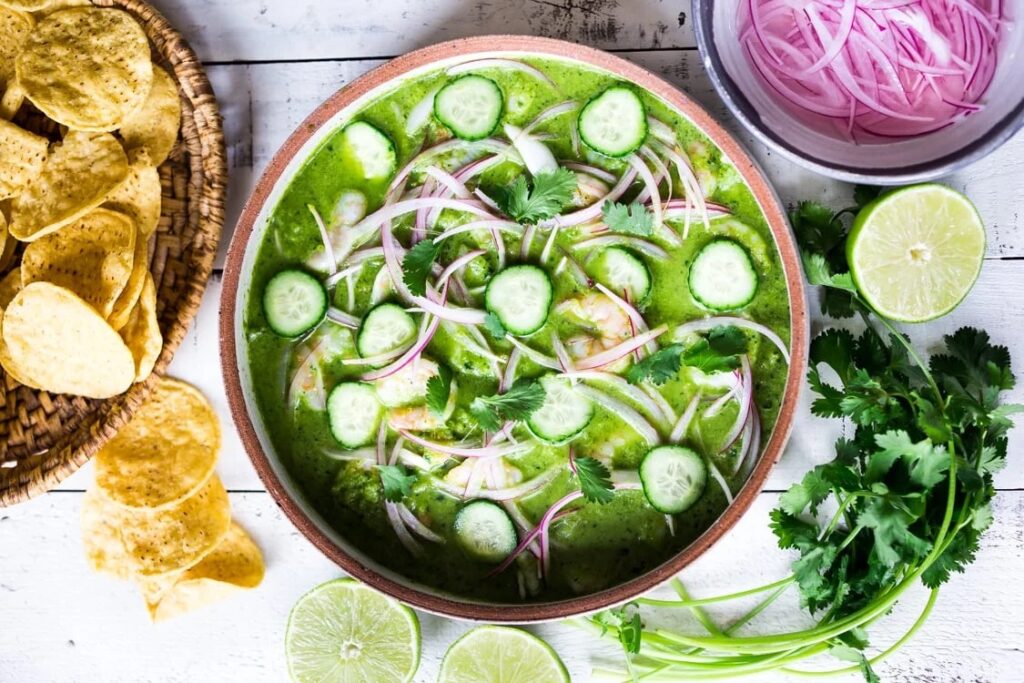 INGREDIENTS
FOR THE SHRIMP
Raw Shrimp
Lime Juice (enough to cover the shrimp and cook them)
Salt
FOR THE RED ONION
Sliced Red Onion
Vinegar (simple white vinegar, though you can use other)
FOR THE AGUACHILE MARINADE
Lime Juice (reserve some of the lime juice from marinating the shrimp, or use fresh if you'd like)
Jugo Maggi (or use Soy Sauce)
Garlic
Cilantro
Jalapeño peppers
Serrano peppers
Salt
AGUACHILE GARNISH
Sliced cucumber, radish, serrano, chopped cilantro, spicy chili flakes
Simple white vinegar
Water – Enough to cover the onions
INSTRUCTION
COOK SHRIMP. Thinly slice the shrimp in half lengthwise. Place the sliced shrimp into a bowl and cover with 1 cup fresh lime juice, enough to completely cover the shrimp. Use more as needed.
Add salt to taste let the lime juice "cook" the shrimp for 20 minutes to 30 minutes, flipping once part way through. The shrimp will turn pink in color.
SOAK THE ONION. While the shrimp is cooking, add the red onion to a bowl. Add the vinegar and enough water to cover the onions. Soak until ready to use. This will take some of the bite out of the raw red onion.
PROCESS THE AGUACHILE MARINADE. Add the 1/2 cup reserved lime juice, jugo maggi (or soy sauce), garlic, cilantro, jalapeno, serrano, and salt to taste to a blender or food processor. Process until smooth.
ASSEMBLE THE AGUACHILE. Add the shrimp with remaining lime juice to a serving bowl. Pour the chili-lime marinade over it. Season with salt if desired.
Top with sliced cucumber and onion, chili peppers, and radish. Cover and refrigerate at least 30 minutes to chill.
Top with fresh herbs. Sprinkle with red chili flakes.
Serve with tortilla chips or tostada shells.
---
[columns_row width="half"] [column]
[/column] [column]
[/column] [/columns_row]
---
RIVIERA NAYARIT, MEXICO
The Riviera Nayarit region is located between the Pacific Ocean and the Sierra Madre Mountains. It is a multicultural, multiethnic, and multilingual state, with traditions from the many cultures that make it unique. There are four indigenous tribes in Riviera Nayarit: the Huicholes, Coras, Tepehuanos, and Mexicaneros.
The Huicholes are a particularly fascinating tribe, known for their colorful dress, embroidered manta cloth clothing, and plumed hats. They are also known for their elaborate bracelets, rings, and necklaces made of crystal beads, which also shape their vision of the universe. The Huicholes call themselves the "Children of the Sun," and are obligated to visit the five sacred places of their faith in their lifetimes. One of these places is the Tatei Amara, or "White Rock," located in the historic port of San Blas.
The Coras, who are renowned for their ceramics, live mainly in the municipality of Nayar, in the western part of the state. Their dialect is related to that of the Huicholes.
The Tepehuanos inhabit small areas in the municipality of Huajicori, and among the artistic products created by them are yarn knapsacks, hats, clay pots, and equipales (traditional barrel chairs with a woven palm base and leather seat and back).
The Mexicaneros are often dedicated to weaving reed baskets, bins, and chiquihuites (small containers with lids), as well as creating wood art pieces, ixtle nets made of maguey fibers, and yarn knapsacks.
Banderas Bay, one of the largest and most beautiful tropical bays in the world, is also home to Nayarit. Every winter, humpback whales arrive at Banderas Bay to give birth, and visitors and locals witness their magnificent breaches, jumps, and water spouts, along with glimpses of their newborns.
---
COLIMA, MEXICO
The capital of the Mexican state of Colima is Colima City. It is located near the central Pacific coast, in a valley south of Colima Volcano. The main square, Jardín Libertad, features a 19th-century Belgian kiosk and Portal Medellín, a grand building with a row of arches. The Catedral Basílica Menor de Colima has a neoclassical facade. Next to the cathedral is the city hall and government building, Palacio de Gobierno.
Colima's main crops are the Mexican lemon, melons, mangoes, papaya, watermelon, yellow seedless watermelons and bananas. Other crops include corn, sugar cane, jalapeno chilies, cherry tomatoes and cucumbers. "Colima offers you, from the coast to the mountains, a range of delicious dishes that include products and typical recipes from the area where they are cooked. Undoubtedly, Colima is characterized by its delicious traditional dishes, however, it also offers innovative and varied gastronomic proposals ranging from Mexican to international cuisine located in the metropolitan area of the capital." (VisitMexico.com)
Chiles en Nogada
INGREDIENTS
FILLING
1 tablespoon olive oil
1 onion, chopped
2 cloves garlic, finely chopped
1 ¾ pounds ground pork
2 cups peeled, seeded, and chopped tomatoes
1 ripe plantain, chopped
1 apple, chopped
1 fresh peach, chopped
1 bunch fresh parsley, chopped
2 tablespoons chopped candied orange peel
2 tablespoons pine nuts
2 tablespoons raisins
2 tablespoons blanched almonds, chopped
4 whole cloves, ground
salt and pepper to taste
SAUCE
2 ½ cups chopped walnuts
1 ¾ cups milk
¾ cup soft goat cheese
1 tablespoon white sugar
1 (1 inch) piece cinnamon stick
GARNISH
1 ½ cups pomegranate seeds
½ cup chopped fresh parsley
INSTRUCTION
Roast poblano chiles over an open flame on a gas stove or grill until the skin is black and charred on all sides, turning often, 10 to 15 minutes.
Place the charred chiles in a plastic bag or in a large bowl covered with plastic wrap. Allow to sit for 5 to 10 minutes, then open and peel off the skin. Cut a slit in each chile lengthwise and remove the seeds.
Heat olive oil in a large pot over medium heat. Add onion and garlic and cook until soft and translucent, 3 to 4 minutes. Add ground pork and cook until browned, breaking up with a spoon while cooking, about 7 minutes. Mix in tomatoes, plantain, apple, peach, parsley, candied orange peel, pine nuts, raisins, almonds, cloves, salt, and pepper. Simmer until filling is cooked through and flavors are well combined, about 10 minutes.
Combine walnuts, milk, goat cheese, sugar, and cinnamon stick in a blender; blend until walnut sauce is smooth and creamy.
Fill each poblano chile with the pork filling and place on a plate. Spoon walnut sauce over chile and sprinkle with pomegranate seeds and parsley.
---
[columns_row width="half"] [column]
[/column] [column]
[/column] [/columns_row]
---
OAXACA, MEXICO
According to Lonely Planet, Oaxaca is "A cultural colossus fit to rival anywhere in Latin America for history, gastronomy and colorful manifestations of indigenous culture. [Oaxaca] is a complex but intensely attractive city whose majestic churches and refined plazas have deservedly earned it a Unesco World Heritage badge. Lovers of culture come here to indulge in the Mexico of Zapotec and colonial legend." The Zapotec people are indigenous to southern Mexico and North America in the Mesoamerican region. They have been the dominant group in the Valley of Oaxaca.
That said, Oaxaca is also the largest producer of mezcal! It is the principal mezcal producer, and reflected more than 90% of production in 2020. What is mezcal? It's tequila's smoking hot older sibling. Mezcal is made from 100% maguey or agave (sometimes up to 40 different agave varietals), obtained by distillation of fermented juices with spontaneous or cultivated microorganisms, extracted from mature heads of maguey or cooked agaves, harvested in the territory covered by the DOM (Denomination of Origin). In the last 10 years, official production has increased, from less than 1 million liters in 2011 to almost 8 million liters today. It's gain in popularity only continues to grow, and it is because the unique flavor profiles of mezcal hit sensual, smokey notes no other spirit can rival.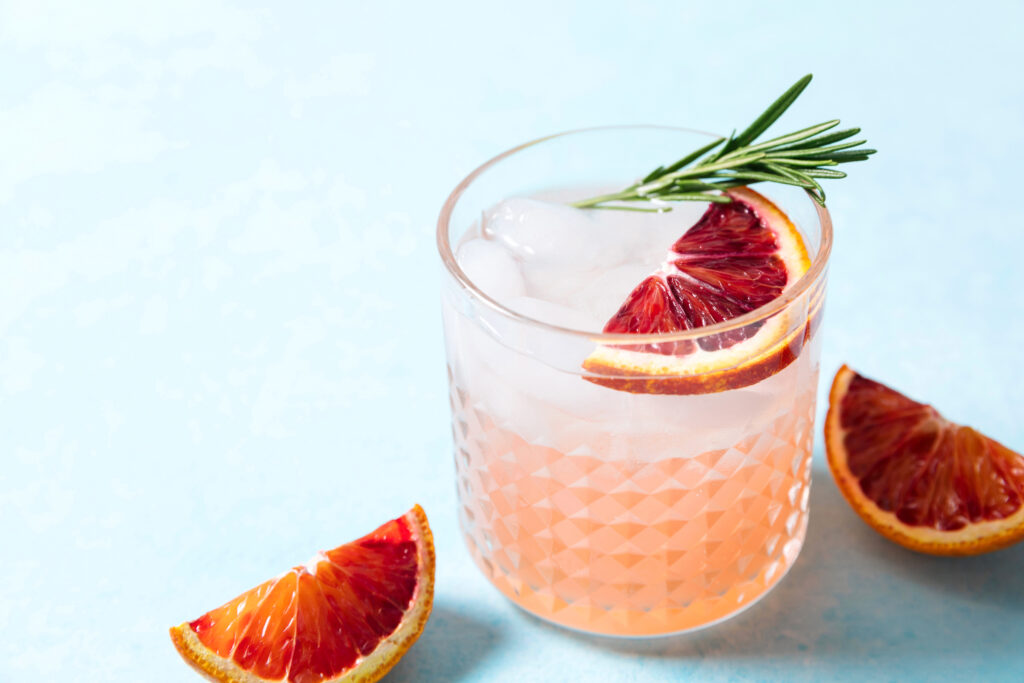 Smokey Mezcal Paloma
INGREDIENTS
For the Jalapeño Simple Syrup
¼ cup sugar
¼ cup water
1 halved jalapeño
For The Rim
Smoked salt
Chipotle powder
For a Paloma
Ice
1 ½ oz mezcal
2 oz fresh squeezed grapefruit- OR – blood orange juice
1 oz fresh squeezed lime juice
½ oz Jalapeño Simple Syrup
Splash club soda or sparkling water (I like Topo Chico)
INSTRUCTION
Simple Syrup
Combine sugar, water and jalapeño in a small saucepan and simmer until the sugar is dissolved.
Remove from heat, cover, and cool to room temperature, then strain (if needed) into a glass jar.
Chipotle Smoked Salt Rim
It's exactly how it sounds. On a plate, combine the smoked salt (I use Maldon) and chipotle powder.
Wet the rim of the glasses with a lime wedge and roll in the salt mixture. Then fill glasses with ice.
Paloma Cocktail
Add mezcal, grapefruit/blood orange juice, lime juice, and simple syrup to a one of the glasses.
Top with soda and give it a little stir.
Garnish with jalapeño slices and lime slices if you'd like.
---
NATIONAL PARK OF TULUM, MEXICO
Tulum, a city in southern Mexico, was built in the 1300s and is one of the few Mayan cities that still stands. It is located 130 km south of Cancun. Tulum was built during what is known as the Mayan post-classic period. As well as being the only Mayan city built on a coast, Tulum was one of the few protected by a wall. Located on the gorgeous Mexican coast, the wall is seven meters thick and varies in height between three and five meters. It is unknown why a wall was built around the city, but it is speculated that it was used to protect the city from invaders and is is also said that it housed only priests and nobility within the walls, while peasants were kept on the outside.
The city can be entered through one of five doorways that lead to a field of rolling hills, black and grey stone outcroppings, and a sun-drenched landscape that will leave you in awe. Tulum is a beautiful town located on the Caribbean coastline of Mexico's Yucatán Peninsula. It is known for its white sandy beaches and well-preserved Mayan ruins. The main cite is a large stone structure called El Castillo (castle), perched on a rocky cliff above the beautiful beach and turquoise sea. Travelers come from near and far to see the incredible mangroves and cenotes (natural limestone sinkholes), dive the cavernous ocean seascapes and swim with protected sea turtles.
[columns_row width="half"] [column]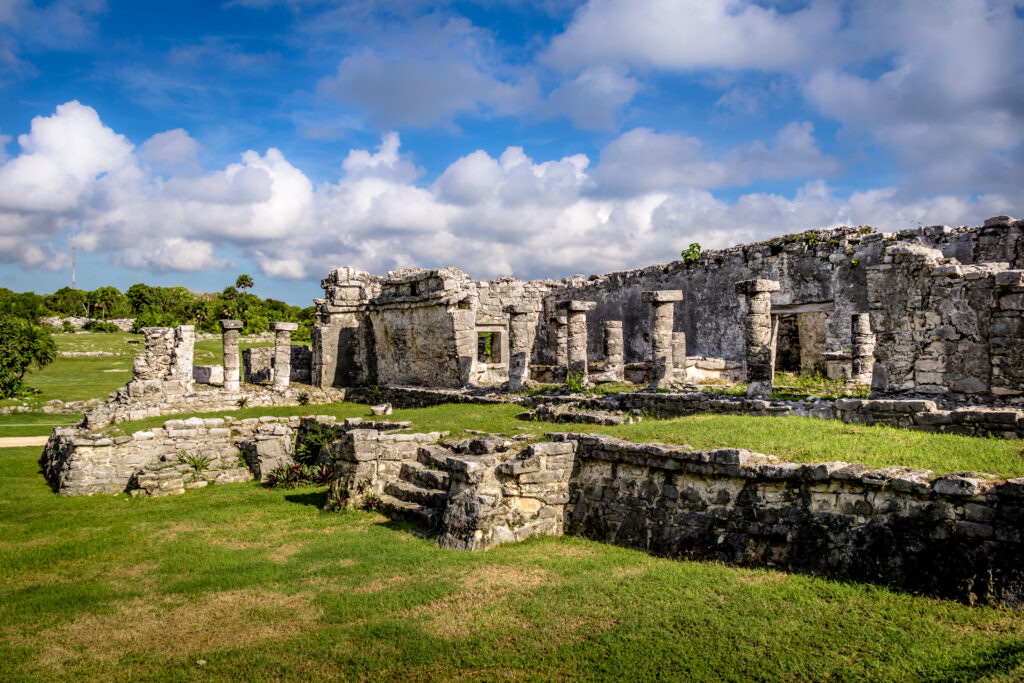 [/column] [column]
[/column] [/columns_row]
Yucatecan Golden Tacos – Codzitos Yucatecos
Also try Simply Recipe's Conchinita Pobil recipe.
INGREDIENTS
8 to 10 corn tortillas
Lard, duck or goose fat, or olive oil as needed
75 g/3 oz strong Cheddar-style cheese, coarsely grated
Coriander/cilantro leaves
For the Salsa para Codzitos
100 g/4 oz onions, peeled and coarsely chopped
3 garlic cloves, peeled
300 g/11 oz tomatoes, coarsely chopped
15 ml/1 tbsp olive oil
1 dried habanero chile
Sea salt and freshly ground black pepper
INSTRUCTION
In a blender or food processor, purée the onions, garlic and tomatoes.
Heat the olive oil in a frying pan and pour in the tomato mixture. Push the habanero down into the sauce and add some seasoning. Simmer it all very gently for about 20 minutes, until it has thickened. Remove the mix and check the seasoning. (The salsa can be prepared several days in advance and refrigerated. Reheat before serving.)
Warm the tortillas briefly in a dry frying pan or over a naked flame and roll them up as tightly as you can. Place them snugly side by side on a plate or a baking tray and leave them to dry out for 30 minutes, longer if it suits you—this will help them to keep rigid and firm.
Preheat the oven to its lowest setting and put a serving dish lined with kitchen paper to warm.
Heat a couple of tablespoons of fat or oil in a non-stick frying pan over medium heat. Once it starts to simmer, add as many rolled tortillas as will fit snugly side by side. Cook for about three minutes, until they start to turn golden (very slightly). Carefully turn them over and fry the other side. Then turn them again to brown any vacant spots – you are looking for a deep gold all over. With a spatula remove them to the plate in the oven. (Add more fat to the pan if necessary and fry any remaining codzitos in the same way.)
Remove the kitchen paper from the serving dish and line the tortillas up in a row. Spoon the sauce over them and sprinkle with cheese and coriander.
Serve immediately.