[title maintitle="TO THINE TACO BE TRUE" subtitle="a little taco history, a lot of taco eating"]
Tacos are equivalent to a good kiss. Or that perfect ice cream cone. Or that belly laugh that makes you shoot drinks out of your nose because you laughed so hard. Basically, tacos are a culinary godsend that are said to have originated in México in the 18th century, though they don't officially make an appearance in the mainstream until 1905.
According to folk lore (and Mexican history) the first taco originated in Mexican silver mines. In fact one man's love of tacos led him to further discover their origin. University of Minnesota's Professor of History, Jeffrey M. Pilcher—whose obsession with eating tacos over the course of 20 years—led to a curiosity about how tacos came to be. In a study he shared in Smithsonian Magazine he says, "The origins of the taco are really unknown. My theory is that it dates from the 18th century and the silver mines in Mexico, because in those mines the word "taco" referred to the little charges they would use to excavate the ore. These were pieces of paper that they would wrap around gunpowder and insert into the holes they carved in the rock face.
When you think about it, a chicken taquito with a good hot sauce is really a lot like a stick of dynamite.
The first references [to the taco] in any sort of archive or dictionary come from the end of the 19th century. And one of the first types of tacos described is called tacos de minero—miner's tacos. So the taco is not necessarily this age-old cultural expression; it's not a food that goes back to time immemorial.
The first mention that I have seen [in the U.S.] is in 1905, in a newspaper. That's a time when Mexican migrants are starting to come—working the mines and railroads and other such jobs. In the United States, Mexican food was seen as street food, lower-class food. It was associated with a group of women called the Chili Queens and with tamale pushcarts in Los Angeles. The Chili Queens of San Antonio were street vendors who earned a little extra money by selling food during festivals.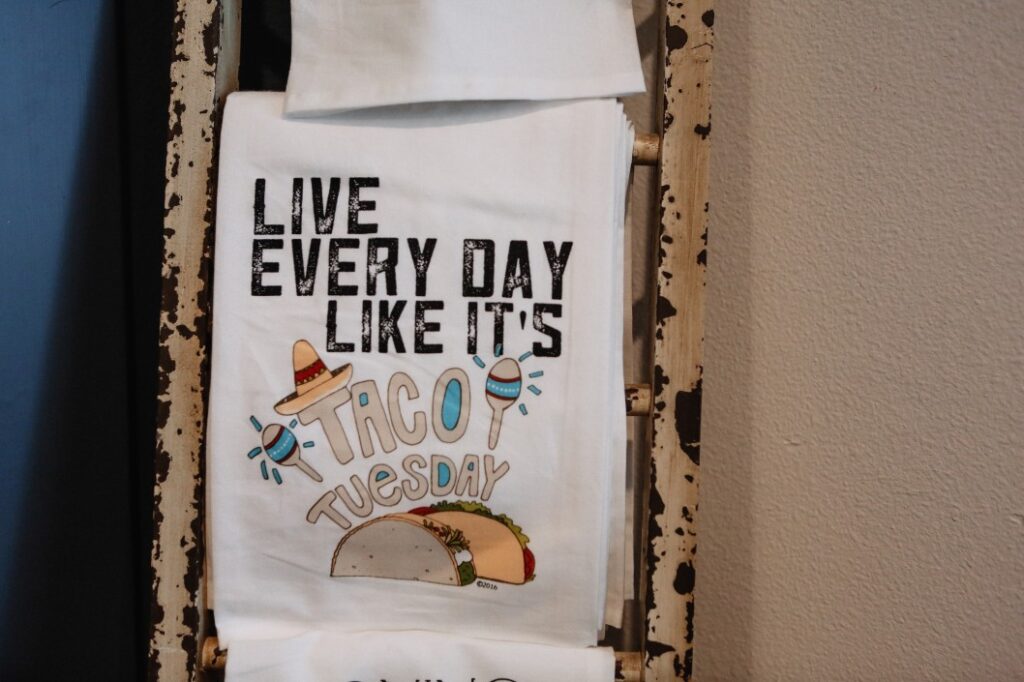 When tourists started arriving in the 1880s with the railroad, these occasional sales started to become a nightly event. Tourists came looking for two things in San Antonio—the Alamo and the Chili Queens. Mexico was considered a dangerous place. The Chili Queens were a way of sampling that danger, but not at the risk of being robbed by bandits. The risk was that the food was hot—people described it as "biting like a serpent."
So maybe the miners didn't wrap their favorite meat in a perfectly pressed corn tortilla while deep underground, but the danger, the cultural influence, and the damn tasty influx of what we now know as tacos has changed the way we experience street food. 
Hispanic Heritage Month is about celebrating every culture that hails from Latin America, Hispanic and Chicano cultures and we feel its Yucatán inspired Cochinita Pibil + Beet Vegan tacos with Watermelon Margaritas recipes that make this second week of a month-long celebration something to salud! And cook. And make. And eat. And drink.
[separator type="thin"]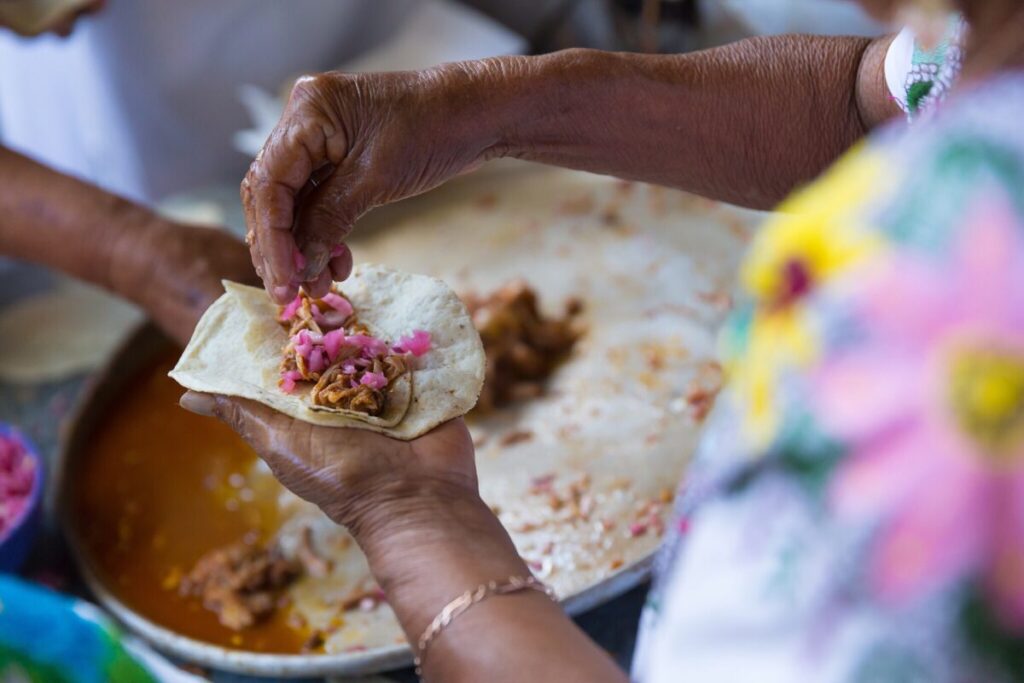 Cochinita Pibil Recipe
Prep time: 10 minutes | Cook time: 3 hours | Marinating time: 6 hours
Serves 4-6, depending on appetite.
If for some reason you don't eat all your cochinita pibil at one sitting, it will keep for several days in the fridge. Achiote is an essential ingredient for this recipe, there is no substitute.
INGREDIENTS
3-4 pounds pork shoulder
1 cup orange juice, freshly squeezed if possible
1/2 cup lime juice, juice of 4-5 limes
1 teaspoons salt
3 ounces of red (rojo) achiote paste, available in Latin markets
Pickled red onions (optional), for garnish
Dry Mexican cheese (queso seco), for garnish
Chopped cilantro, for garnish
Lime wedges, for garnish
INSTRUCTION
Marinate pork in achiote paste with orange juice, lime juice, salt: The night before or the morning of that you plan to serve this, mix the orange and lime juice with the achiote paste and salt in a blender until combined. Be sure to rinse the blender soon afterwards, as the achiote stains.
Cut the pork into chunks of about 2 inches square. Don't trim the fat, as you will need it in the braising to come. You can always pick it out later. Put the pork in a non-reactive (glass, stainless steel or plastic) container, then pour over the marinade mixture.
Mix well, cover and keep in the fridge for at least 6 hours and up to 24 hours.
Preheat the oven to 325°F.
Line a large casserole with a double layer of heavy-duty foil, or a triple layer of regular foil – you want a good seal. (Traditionally, cochinita pibil is wrapped in banana leaves, which add a wonderful flavor to the pibil. So, if banana leaves are available—you may be able to get them at the same store as the achiote paste, or at an Asian market—consider using them. Just heat the leaves first to make them more pliable.)
Pour in the pork and the marinade and close the foil tightly. Put the casserole in the oven and bake at 325°F for at least 3 hours.
Bake time is 3 to 4 hours, so plan ahead.
(You want it pretty much falling apart, so start checking at the three-hour mark.)
Shred cooked pork meat with 2 forks: When the pork is tender, take it out of the oven and open the foil. Remove the meat with a slotted spoon to a bowl, then shred it with two forks. Pour enough sauce over the meat to make it wet.
To serve, either use this as taco meat or you can try something different: Serve meat over rice, garnished with cilantro, lime wedges and queso seco, a Mexican dry cheese a little like cotija. Pickled red onions are a traditional garnish.
[separator type="thin"]
[separator type="thin"]
Wicked Healthy Beet Tacos
Yields 2
INGREDIENTS
12 oz red beets
1 T olive oil
2 T sherry vinegar, divided
4 oz Lacinato kale, destemmed and leaves roughly chopped
1 red onion (chop one half and thinly slice the other half)
1 avocado, halved
1 jalapeño, trimmed and deseeded (use as much or as little as you'd like depending on your heat preference)
2 garlic cloves
¼ cup plant-based mayo
fresh cilantro
1 t vegetable oil*
salt and pepper
4 tortillas

(We like Jicama wraps from Trader Joe's | or Pea Protein gluten-free Mission tortillas)
INSTRUCTION
Roast the beets.
Preheat oven to 400. Wash, dry, peel, then slice the beets into thin wedges, about 1/2-inch thick. Place onto a baking sheet and drizzle with one tablespoon of olive oil and a pinch of salt and pepper.
Roast for 25 minutes, or until tender. Let slightly cool, then drizzle with one tablespoon of the sherry vinegar.
Prep the veggies. Organize your kale, onion, avocado and jalapeño.
Make the avocado salsa. Add the chopped portion of the red onion and half of the avocado to a food processor. Add the garlic, plant-based mayo, cilantro, the remaining tablespoon of sherry vinegar and desired amount of jalapeño.
Pulse until the desired consistency is achieved. Season with a pinch or two of salt.
Cook the kale. Preheat the remaining 1 teaspoon of oil over medium-high heat. Add the kale and saute until just wilted, about two minutes. Season with salt and pepper.
Warm the tortillas+ prep avocado. Wrap the whole tortillas in foil and warm in the oven for a few minutes. Slice the remaining avocado half.
Build your tacos. Lay the warmed tortillas on plates and top with a dollop of the avocado salsa, spreading to coat. Layer on the roasted beet, sauteed kale, sliced avocado and sliced red onion. Top with any remaining avocado salsa.
[separator type="thin"]
[separator type="thin"] [columns_row width="half"] [column]
[/column] [column]
[/column] [/columns_row]
Spicy Watermelon Margaritas
Prep Time: 5 mins | Yield: 1 cocktail 1x
INGREDIENTS
2 ounces fresh watermelon juice
1 ½ ounces tequila, preferably 100% agave silver or blanco tequila
¾ ounce fresh lime juice
½ ounce fresh orange juice
½ teaspoon agave nectar or simple syrup, more to taste
1 thinly sliced jalapeño round (¼th inch wide, a little goes a long way!)
Optional garnish: 1 tiny watermelon wedge
Watermelon juice
1 small seedless watermelon, or half of a larger watermelon
Chili-salt rims
1 part kosher salt
1 part ancho chili powder or regular chili powder
Lime wedges
INSTRUCTION
To make the watermelon juice, scoop the watermelon flesh into your blender and blend until it has turned into a smooth juice. Depending on your watermelon, you may or may not need to strain out the pulp (if it's too pulpy for your liking, pour it through a fine mesh strainer, pressing the liquid through with a big spoon).
To prepare your margarita glasses: On a small, rimmed plate, mix together equal parts salt and chili powder. I like to use my fingers to rub the chili powder into the salt (be sure to wash your hands afterward). Run a wedge of lime around the top of each glass. Dip the top of the glass into the salt blend at a 45-degree angle and roll it from side to side to catch the salt. Add ice cubes to your glass and set it aside.
To make margaritas (feel free to make multiple margaritas at once): Fill a cocktail shaker with ice. Pour in the watermelon juice, tequila, lime juice, orange juice, agave nectar and top with a jalapeño slice.
Secure the lid to the shaker and shake for 30 seconds. Taste and add additional sweetener if necessary. Strain the liquid into your prepared glass(es). Cheers!