An App of Recipes Made For Love
You'll Love the Food Culture App from Chef Ryan Rondeno
As fans of exquisite food, dining with chefs, and missing all the goodness we once reveled in, this holiday weekend we would be remiss not to conjure up some beautiful home cooking courtesy of one of the local favorites we love, Chef Ryan Rondeno. Having just launched the release of his mobile app, Food Culture (we haven't been able to put it down), chef has curated a truly unique app!
Appealing to those of us who love to cook but hate to think too much about it, the app is comprised of dozens of recipes, with new ones added regularly. The recipes are broken down into different category options from breakfast and Southern comfort, to mocktails and decadent desserts. Each recipe comes with a shopping list easily organized, so when you go to the market everything is in one location so you can get what you need and get to cooking!
Below are Chef's personal suggestions to indulge in flavors that begin with decadence—and finish the day with a little sweetness. What happens next in terms of love? Entirely up to you!
Recipes by Chef Ryan Rondeno. Download the Free App Today.
[columns_row width="half"] [column][button content="Google App Store" color="black" text="white" url="https://play.google.com/store/apps/details?id=com.weapp.recipeapp" openin="_blank"][/column] [column][button content="Apple App Store" color="black" text="white" url="https://apps.apple.com/us/app/food-culture/id1538389448″ openin="_blank"][/column] [/columns_row]
---
[title maintitle="For Breakfast" subtitle=""]
Buttermilk Blueberry Pancakes
Pairing blueberries with a fluffy pancake is always a win in my book. Of course, we had to have spices in the dish. Star anise, cinnamon sticks, and bay leaves added a nice bite to the syrup. In addition, the aroma of toasted pecans filled the kitchen. It would add nice texture to the pecans in the making of a great breakfast.
Serves 4
IINGREDIENTS
Cooking pan spray
1 cup Chopped pecans, toasted
1 Cinnamon stick
2 Bay leaves
1 cup Maple syrup
1 pint of Blueberries
2 Star anise
Pinch of salt
1/3 c. Sugar
4 Eggs
2 1/4 c. Buttermilk
1 tsp. Baking soda
4 tps. Baking powder
1/4 c. Butter, melted
1 c. Pastry flour
1 c. All purpose flour
INSTRUCTION
In a stainless steel bowl, combine flour, sugar, salt, baking powder, and baking soda. Add eggs and buttermilk. Whisk until combined. Melt butter and add to the mixture. In a small pan, add maple syrup, cinnamon, blueberries, bay leaves, and star anise. Cook for 4-5 minutes or until the blueberries pop in the syrup. Toast pecans for 2-3 minutes at 375 degrees. Add to the blueberry mixture. Set aside. Heat pan or griddle at medium high heat. Spray with pan spray. Cook until small bubbles appear and edges allowing the pancakes to flip easily. Once flipped, cook for another 2 minutes or until done. Serve the pancakes with the blueberry-pecan syrup.
---
---
[title maintitle="For DINNER" subtitle=""]
Crostini, Blue Cheese, Plum, and Mint
The plum and blue cheese crostini is the perfect appetizer. The tangy blue cheese complements the tomato and plum. It's definitely a crowd pleaser!
Serves 6
INGREDIENTS
10 Mint leaves, chiffonade
6 oz. St. Agur blue cheese or your favorite blue cheese
Pinch of salt
1/2 c. Granulated sugar
1/2 c. Port wine
2 Star anise
2 Bay leaves
8 oz. Yellow tomatoes
5 Plums, medium diced
2 tbs. Olive oil
1/4 c. Butter, melted
1 French baguette
INSTRUCTION
In a 10 inch pan, heat olive oil at medium high heat. Add plums and caramelize for 3-4 minutes. Deglaze with red wine or port. Reduce by 1/4. Add sugar,salt, tomatoes, bay leaves and star anise. Cook for 20 minutes at medium high heat until juices reduce by 1/2. In a small pan, melt butter. Slice baguette into 1/2 inch slices. Brush with butter and season with salt and pepper. At medium-high heat, Cook on a grill pan until for 15-20 seconds on each side . If you don't have a grill pan, you can toast in the oven at 375 degrees for 1 minute. Remove from the oven and sprinkle blue cheese on each slice. Top with plum mixture and add mint.
Serve!
Note: Granny Smith apple can be substituted for plum if not in season. Great served at room temperature, but best when served hot.
---
---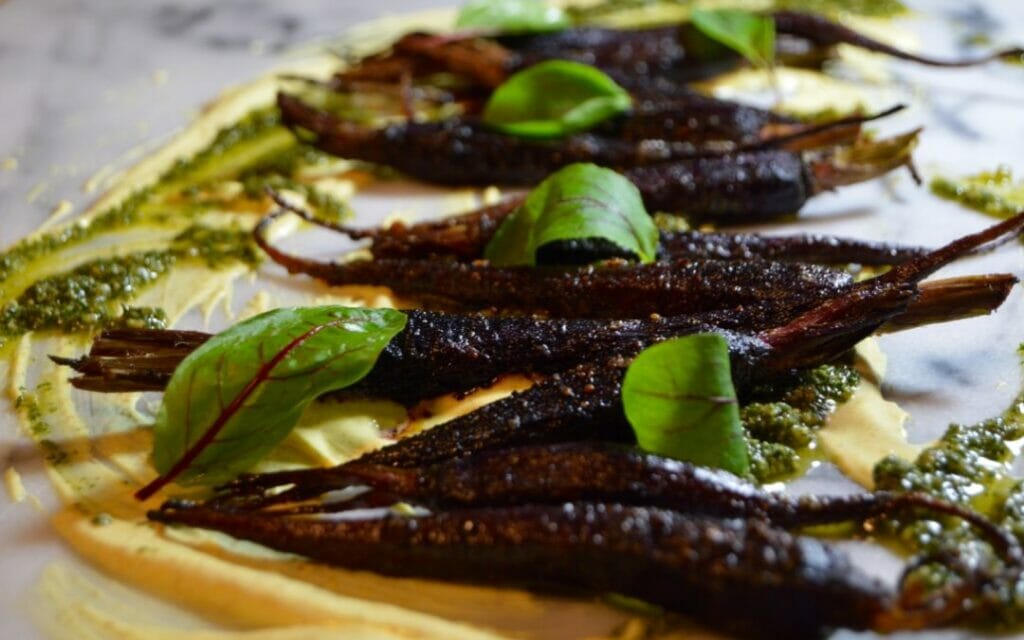 Cumin Roasted Carrots, Spiced Creme Fraiche
Great vegetarian recipe to add to your dinner table! The spice creme fraiche and carrot pesto comes together beautifully with the roasted carrots.
Serves 4
INGREDIENTS
Salt and pepper to taste
4-5 Sprigs of thyme
1-2 tps. Crushed red pepper
1 Lemon, juiced
1 cup Carrot top leaves, packed
2-3 tps. Cumin
1/4 c. Sunflower seeds
6 cloves Garlic, chopped
1 tsp. ground ginger
2 tbs. Butter
2 tsp. Curry powder
1 c. Olive oil, plus 2 tbs.
8 oz. Créme fräiche
2 bunches of Heirloom or rainbow carrots with carrot tops
INSTRUCTION
Preheat oven to 350 degrees. Remove carrot tops and reserve. Peel carrots. Thoroughly clean the carrots removing any dirt. This step could take 2 or 3 times. In a 12 inch saute pan, add butter and olive oil at medium heat. Add cumin, 4 cloves of garlic smashed, crushed red pepper, and thyme. Toast for 30 seconds. Add carrots and mix in the pan. Season with salt and pepper. Roast for 25 minutes.
For the Carrot Pistou: In a food processor, add carrot leaves, sunflower seeds, garlic, juice of half a lemon. Pulse until finely chopped. Slowly drizzle olive oil until fully incorporated. Season with salt and pepper.
For the Créme Fräiche: In a small bowl, add, creme fruit, curry powder, ground ginger, and juice of 1/2 a lemon. Whisk until smooth. Season with salt and white pepper. Taste for seasoning adjustments. To Assemble: Smear creme fraiche on the base of the plate. Add roasted carrots. Spoon pistou on top of carrots.
---
[title maintitle="For Dessert" subtitle=""]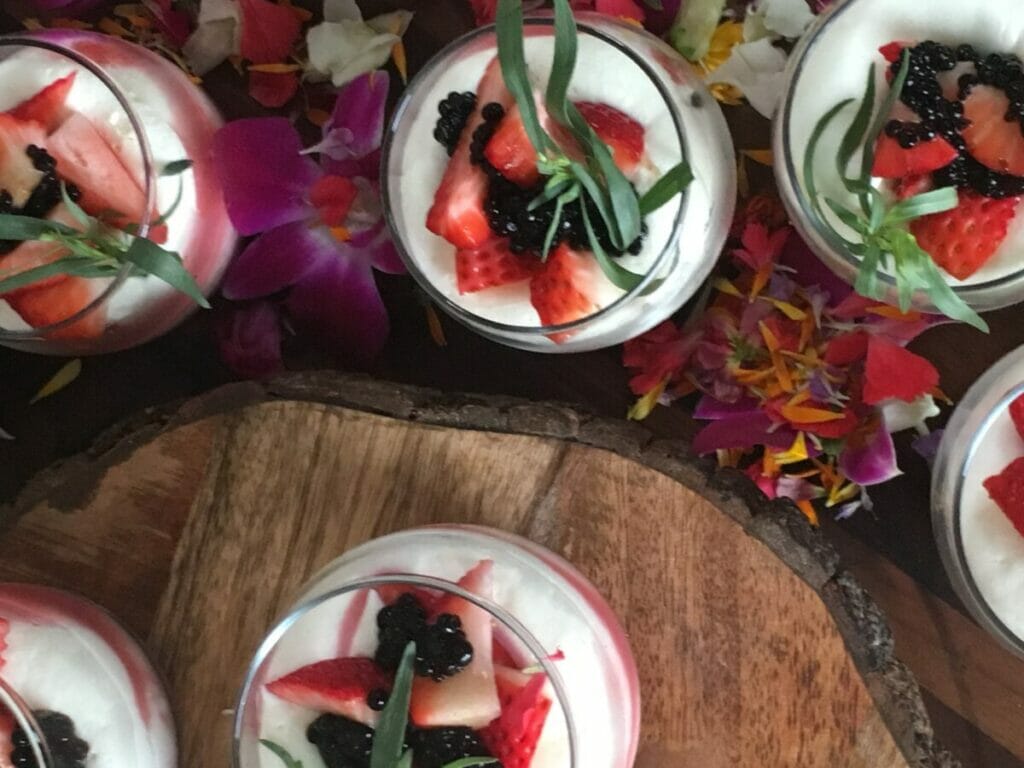 Berries, Balsamic, Citrus Mascarpone Cream
Pairing balsamic vinegar and berries creates a magnificent treat! Herbs such as basil, mint, or tarragon adds a great balance to the dish!
Serves 8
INGREDIENTS
Sprigs of mint, basil, or tarragon for garnish
2 tbs. Honey
1/2 c. Balsamic vinegar
1 cup Grand Marnier, optional
Juice of 1 orange
Juice of 1 lemon
1/2 c. Granulated sugar
8 oz. Raspberries
8 oz. Blueberries
4 oz. Goat cheese
8 oz. Marscapone cheese
pinch of Salt
Zest of 1 orange
1 tsp. Vanilla extract
1/2 c. Powdered sugar
2 c. Heavy whipping cream
INSTRUCTION
For the Whipped Mascarpone: In a Kitchen Aid mixer bowl, combine heavy whipping cream, powdered sugar, vanilla. orange zest. and salt. Whip heavy cream mixture until it forms soft peaks. Add mascarpone and goat cheese. Whip until medium stiff. Refrigerate for 3 hours or until ready to use.
For the Balsamic syrup: In a small pan, add balsamic vinegar and honey. Reduce by half or until thick and syrupy for about 5-7 minutes. Allow to cool.
For the Macerated berries: In a stainless steel bowl, combine blueberries, strawberries, granulated sugar, orange juice, lemon juice, and a pinch of salt. Let sit for 1-2 hours until ready to use.
To Assemble: In a bowl or small glass, add mascarpone cream mixture. Top with macerated berries. Drizzle balsamic syrup.
Garnish with a chiffonade of mint, basil, or tarragon.