7 Spots to Eat + Drink Together Again
Los Angeles welcomes back DineLA for a unique twist on restaurant week.
[dropcap letter="G"]et those camera phones ready!
We may all very well be pandemic exhausted at this point, so when California news broke that restaurants were to open back up slowly and steadily, and events like DineLA was back—every one of us did a little happy dance. You see, dining out is our culture, our connection to the world, our way of getting together with those we love to be in the company of (and sure, that's changed a bit this past year as we realize who we miss and who we can do without). Not only has Governor Newsom opened restaurants up for outdoor dining, it seems indoor dining may be resuming as soon as next week at 25% capacity.
As this magazine was born out of a love of wanting to save California restaurants from going under nearly 12 years ago, this past year made it abundantly clear that the way we all approach dining out needed to change. Once upon a time, when the opportunity to eat out with our families came about it really was a special occasion. But now that we're so close to bidding farewell to a nasty illness plaguing the entire globe, eating out at a restaurant or sipping cocktails at the bar is top of the list.
The notion of eating insanely happy cuisine made by equally happy chefs, void of arrogance and entitlement, is the joy we've been missing. Well, that and actually being with the people we utterly adore.
So while social distancing and COVID compliance is still in effect (talking to you people who think you're too cool to wear masks), mask up (yes, really, wear your f*#$ing masks) and do your part to ensure restaurants get to stay open this time. Follow the damn rules!  Now onto the fun stuff…
DineLA is back and below is a look at some LA hotspots we've missed that are offering fab menus and playful options including curbside, takeout, outdoor dining, and as the city ordinance allows … perhaps sitting inside as well. But before you rush out in your pajamas, take the time to shower, dress up in clean clothes, be courteous and kind to the front-of-the-house (that's hosts and hostesses, managers and GM's for the service industry newbies); Tip your servers well (because they've been without work for far too long), and take the extra time to properly thank every busser, every line cook, and every chef.
Restaurants re-opening is not just a boost in the economy, it's a godsend. Treat it as such.
[separator type="thin"]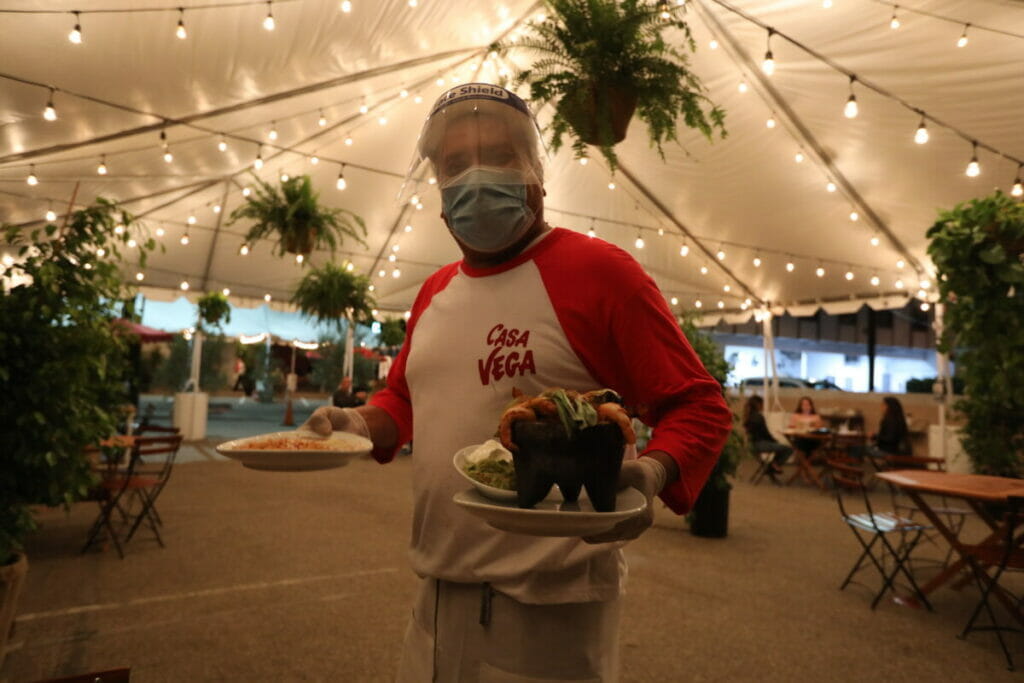 For every local Angeleno, we've all had one too many late nights at Casa Vega tossing back margaritas, scarfing down tacos and commenting on the interior decor. This restaurant is a valley icon.
Price: $20 lunch; $25 dinner
Menu Details: Casa Vega's dineLA menus are linked here; highlights include Casa Vega's signature classic margarita to start (dinner only), mains like vegetarian burrito, house combo, Tres Tacos Chicos, and a choice between Churros de Rafael or Flan for dessert; available for take-out and outdoor dining Monday-Sunday, 4:30pm-12am.
Why ?: Celebrating its landmark 65th anniversary this year, the Sherman Oaks dining institution reopened this week for outdoor dining and take-out after a nearly two-month closure.
While we don't typically promote chain restaurants, after the year everyone has had, we want to be sure everyone gets some love.
Price: $25 dinner menu; $35 dinner menu options
Menu Details: Black Angus guests can expect menu highlights including their choice of one appetizer from choices like Loaded Baked Potato Soup, Steak Soup, Crispy Fried Garlic-Pepper Zucchini, and more. Entrée course selections include an 8oz Cab Top Sirloin Center-Cut, Fire-Grilled Chicken Breasts, or Fire-Grilled Jumbo Shrimp with classic Sidekicks like Au Gratin Potatoes, Mac & Cheese, 5-Grain Rice Pilaf, and more. For $1.99 more, patrons can upgrade to a Premium Sidekick like Grilled Asparagus, Roasted Brussels Sprouts, or Loaded Baked Potato. Don't forget to add dessert with your choice of New York Style Cheesecake, Sky-High Mud Pie, or Big Mountain Chocolate Fudge Cake. Full menus available here.
Why ?: For the very first time, Black Angus Steakhouse is participating in Dine L.A, with special menus available daily from 3pm-8pm for restaurant dining & take-out.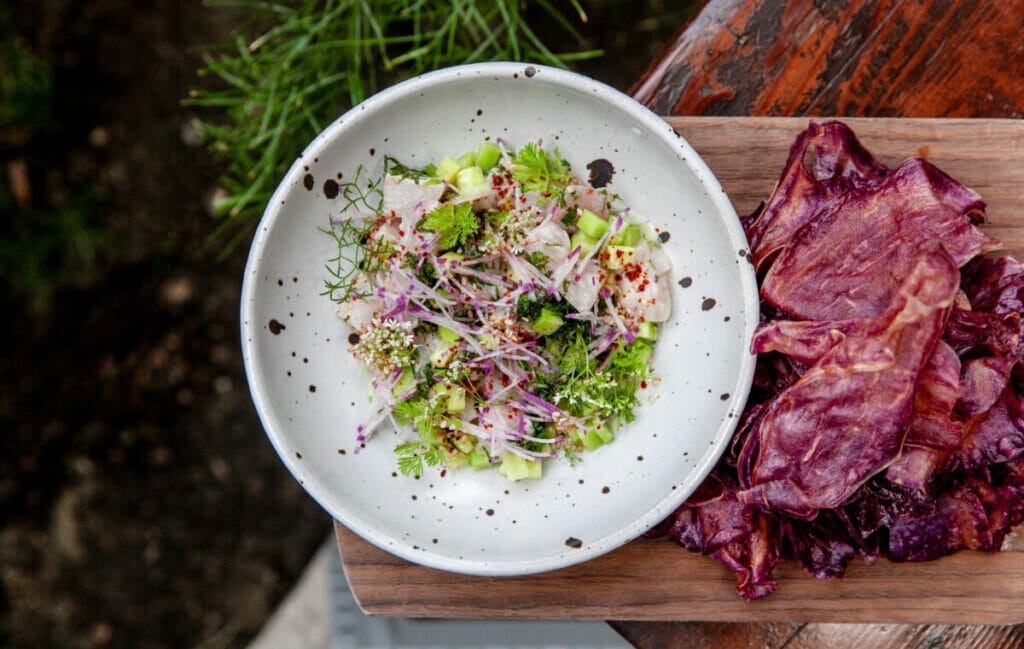 Oh how we've missed beautiful and intriguing food! Manuela has flavors that might just give you a bit of a culinary-gasm.
Price: Lunch is priced at $30; dinner is priced at $55
Menu details: Available for dine-in, take away, and delivery, Manuela's dineL.A. menus can be found here; including a choice of three-course lunch or dinner, the Southern-influenced meals feature staples such as Black Bean Chilaquiles, Wood Grilled Jidori Chicken Thigh, Ocean Trout Tartare, Peads & Barnetts Pork Chop, Burnt Honey Cake, and much more.
Why ?: Featuring a Southern-influenced cooking style, Manuela's comforting menu is presented with California's bounty of vibrant flavors, quality, and seasonal ingredients. Located at Hauser & Wirth gallery in the Arts District, the sprawling open-air terrace provides a stimulating combination of cuisine, art, sustainability, and community. Manuela's outdoor dining nestled amongst blossoming flowers and vines, providing a lively and refreshing dining experience.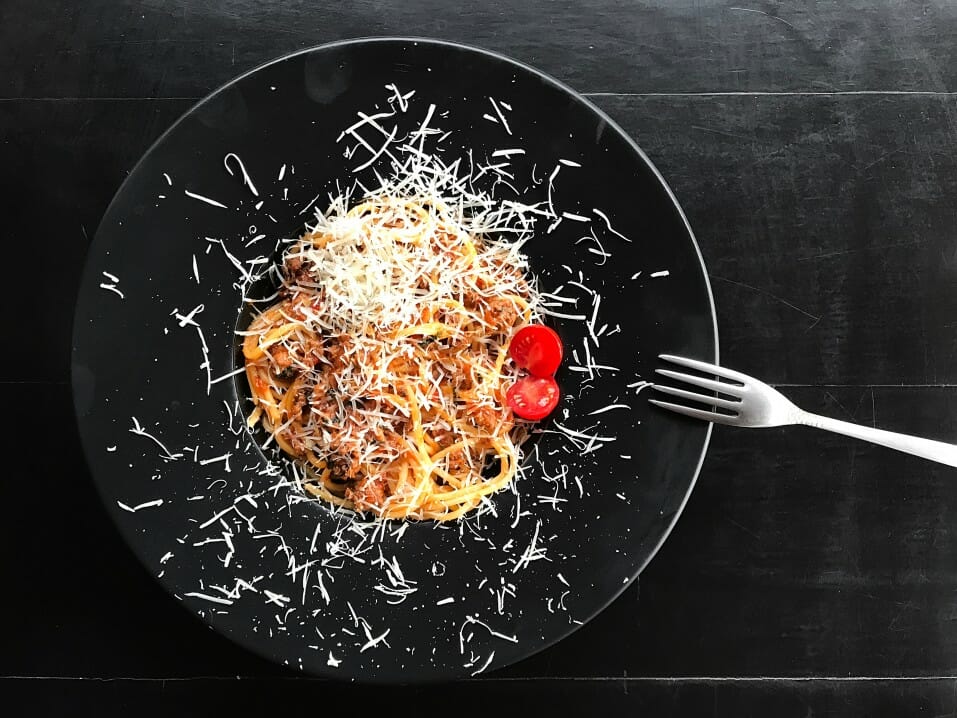 Did someone say yummy comfort food? Savoca is straight up carbohydrate happiness.
Price: $45, 3-course
Menu details: Full menu here; offering its signature unfussy Cal-Ital fare and featuring dishes like Burrata Cheese with Cherry-Balsamic Jam and Housemade Coccoli Bread; Spaghetti alle Vongole with P.E.I Mussels, Manila Clams, and Pinot Grigio; and Olive Oil Cake with Almonds, Orange Jam, and Honey Gelato.
Why Me: Savoca features custom-built outdoor cottages with romantic lighting, heating, and LA County-approved ventilation, so you can dine safely and warmly.
---
---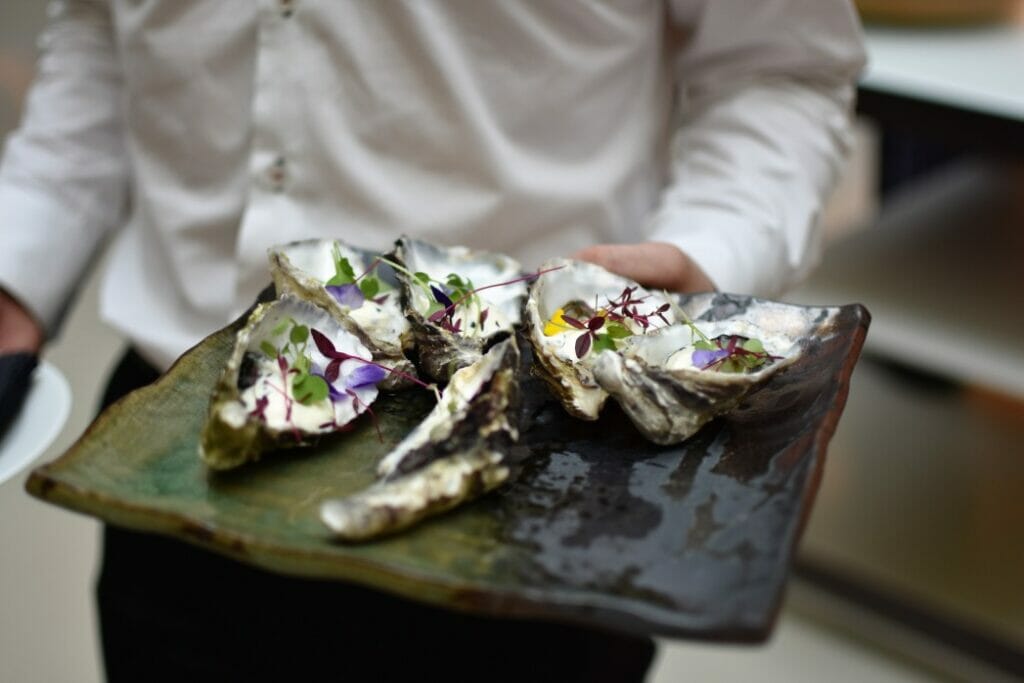 We love oysters. And we miss sitting at a bar that shucks them so we can try to sensually suck them down. And when you're done being all sexy and sh$*, give the Stranger Things Experience a go. It's made for super fans (that's us!).
Price: Lunch is priced at $35; dinner is priced at $55
Menu Details: Available for dine in or take out, Rappannock's menu can be found here; offering its signature locally sourced Oysters, Bay Scallops, Shrimp Cocktail, Avocado Kale Salad, Shrimp & Grits, Lobster Roll, Lobster & Shrimp Quesadilla, and Banana Bread Pudding.
Why ?: Rappahannock Oyster Bar's first West Coast location is nestled at ROW DTLA just blocks from the Arts District and Little Tokyo. With an emphasis on sustainability, locally sourced, ethically fished, and responsibly farmed ingredients, the menu draws inspiration from the people of L.A. and the bounty of fresh produce, fish, and meat sourced in Southern California.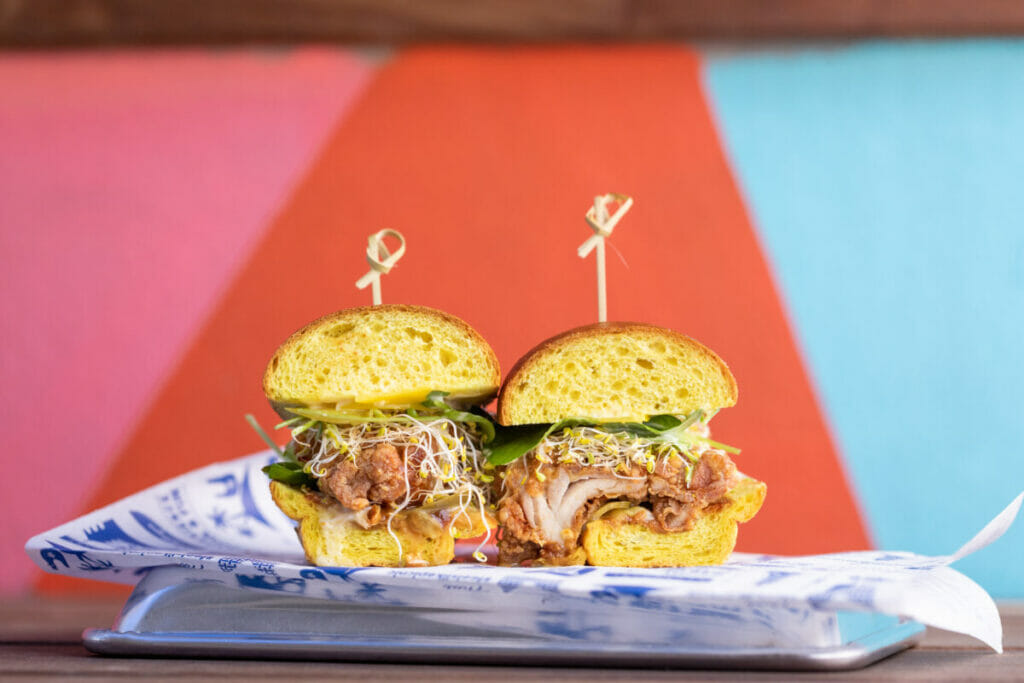 Something about Japanese flavors fused with American gluttony sends our mouths soaring. Come hungry, leave gleeful.
Price: Lunch is priced at $15; dinner is priced at $35
Menu details: Pikunico's Japanese-inspired lunch features a Golden Chicken Sandwich with a Choconut Chip Cookie; dinner includes a Family Basket and four Choconut Chip Cookies
Why ?: ROW DTLA has public seating that is regularly cleaned and sanitized so you can easily enjoy the crunchy and savory Japanese style picnic lunch just steps from the lovely restaurant! Pikunico is a fast-casual restaurant, highlighting authentic Japanese ingredients and a contemporary experience with genuine hospitality.
The delicacy of Italian cuisine done with French precision is genuinely sublime and this is a pizza and pasta eatery you don't want to miss.
Price: Lunch is priced at $30 per guest and is available until 5 p.m.; dinner is priced at $65 per guest and is available from 5-11 p.m.
Menu details: da Michele's dineL.A. menus are available for dine-in only. Lunch features three courses including choice of an appetizer (Meatballs, Gnocco Fritto, or Caesar Salad), main course (Cacio e Pepe or one of da Michele's famed pizzas), and Caprese Flourless Chocolate Cake with hazelnut and Vanilla Gelato for dessert. Dinner, a five-course meal features smaller, individual portions, and includes choice of two starters (Burrata Eggplant, Scallops and Truffle, Beet Salad), two entrees (Pappardelle Genovese, Grilled Branzino Fillet, Pizza), and choice of dessert (Bread Pudding or Tiramisu).
Why ?: L'Antica Pizzeria da Michele, the world-renowned Neapolitan pizzeria, debuted in the heart of Hollywood in 2019 as the first U.S. location. The restaurant's authentic Neapolitan pizza is made using the same century-old recipe, technique, and Italian imported ingredients at its origin restaurant in Naples, established in 1870. Both the lunch and dinner menus are an excellent value, and the dinner menu allows guests to sample many of da Michele's most popular dishes through smaller portion sizes.
---