From Paying Bail Bonds to Saving Water, the world is filled with innovators, good-doers and buzzworthy brands.
This #ATOD5 is devoted to those people and brands who are thinking further than their checkbooks. Those that have considered—in great detail—the well-being of others and the planet, and doing so with conviction, action, and a plan. In an article written by Ivana Vojinovic, she explores the importance of marketing and messaging.
The primary purpose of branding is helping businesses stand out from the competition. Branding your company means sharing your brand values with customers and creating trusting relationships with them."
And she isn't wrong. After working in production for years, it wasn't until I changed gears and worked for a network in advertising and marketing that I truly understand the value of smart brand messaging and its power over consumers. In a sea of competitors, most of us want to support people and brands that actually care about humanity, decency and the environment. Below is a look at five brands doing more than offering mere lip service. They're putting their money where their mouth is.
Young Thug + Gunna
How these top rap artists are making a far bigger difference beyond the music. 
Last month, Young Thug and Gunna visited Fulton County Jail, ATL. Working with the district attorney's office, lawyers, prosecutors and bond companies, Young Thug paid the bonds for a group of individuals, all of whom were being held on minor/petty offenses, and had not been able to afford the cost of release. Upon being reunited with their families, individuals and their loved ones were all given home cooked meals and a chance to celebrate being back together again.
The 'Paid the Fine' video documents this emotional process and broadcasts a strong message on the necessity of people being given second chances and a way out of the system. At the helm of Young Stoner Life Records, Thugger demonstrates the power in working hard and being successful, and the importance in giving back to the community once you've made it. With over 412,000 individuals being held in the USA who can't afford to pay their bond, the 'Paid the Fine' video shines a light on the national issue through the lens of a local community, in hopes to raise awareness and encourage those who are able to help to do so.
This is where we are from. We just woke up and went to the jail with the lawyer and you know DA's and the prosecutors, you know, the bonding companies and just got as many people as we can out … It feels so good to the point where you start feeling that's why God put me here. He put me here to do this." – Young Thug
Slime Language 2 has become the third No.1 album for Young Stoner Life Records. Holding #1 song ('Ski') and album position on Apple Music on its day of release, the album controlled 7 out of 10 of the Top 10 spots on Apple Music charts. In its first week, total album impressions reached over 2 billion, amassing over 140m streams in the US alone, and 190m globally. All artists featured on Slime Language 2 also charted in Apple Music's Top 50 chart. Over the last three years, Young Stoner Life Records has continued to evolve into a familial powerhouse taking over the culture and the airwaves with ties both local to Atlanta and globally around the world. For them, family is deeper than rap, and it's the unique characteristics of each member that makes them inimitable.
Check Your Eco
Environmentally friendly decadence.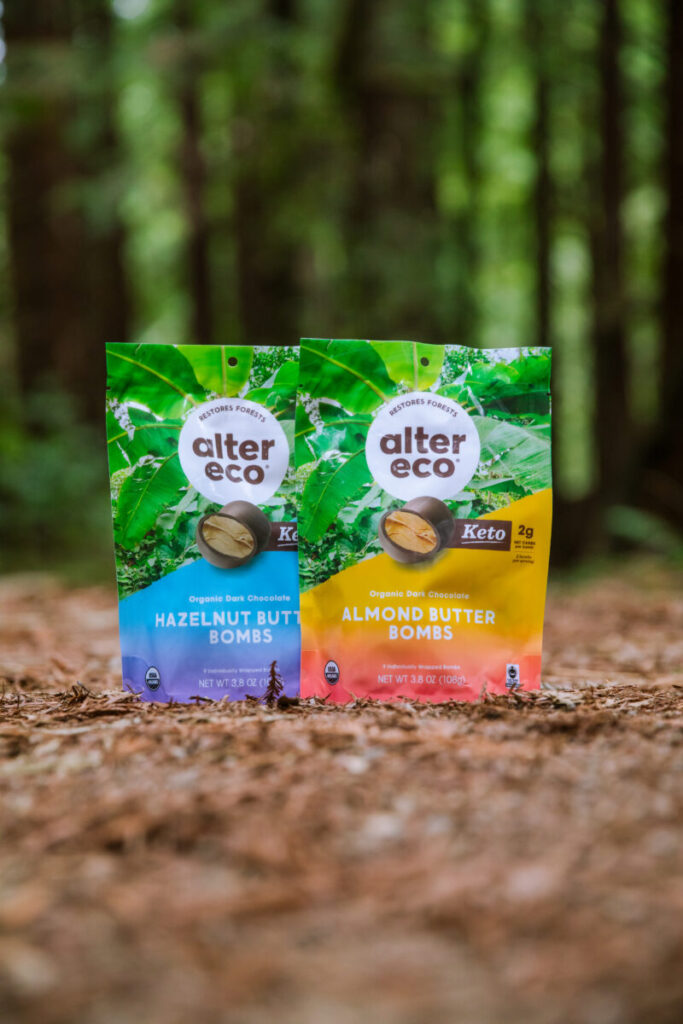 San Francisco born brand, Alter Eco Foods—a chocolate-centric, sustainability-directed food company that takes healthy indulgence to an entirely new level—is a company founded on the principles that indulgent chocolate should be sinful and good for the planet. Their line of keto-friendly, fair trade, organic dark chocolate bombs are, as the name suggests … the bomb. With small serving sizes, the hazelnut butter bombs and almond butter bombs are the size of a Lindt truffle (round balls full of layers of chocolate and cream) yet because of how they're made—are so much better for you. It's a brand to get behind because while engaging in the luxurious sweet buttery bites, it's noteworthy that their products go to restoring the forests, are free of sugar alcohols, soy, glute, emulsifiers, preservatives and GMO's. In other words, it's dessert without the guilt.
Alter Eco co-founders, Tristan Lecomte of France, Mathieu Senard and Edouard Rollet of the United States and Ilse Keijzer of Australia, were trained in business but have been activists at heart for as long as they can remember.
Before starting Alter Eco in the United States 15 years ago, we experienced first-hand both profit-driven multinationals and on-the-ground NGOs."
Once they began to see the challenges for humanitarian aid efforts that is when they decided they would be pioneers in social entrepreneurialism, wielding the business of food to fight for economic and social justice. All of their product is sourced from farmer-owned coops practicing sustainable agriculture. The product line includes nut butter bombs, chocolate bars, and truffles.
$18 for Nut Butter Bomb Bundle | alterecofoods.com
Making Radical Life Choices
The story of one woman's decision to stop drinking.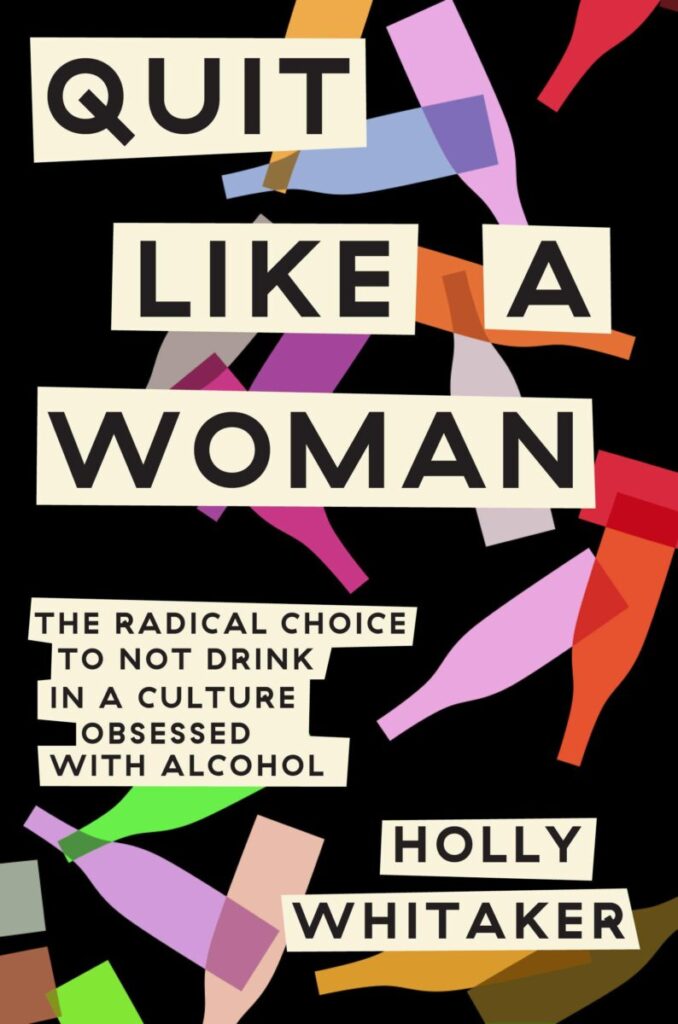 In a world where drinking is socially acceptable, for some it can catapult into a life of addiction. Holly Whitaker was living big. She and her group of highly successful female friends were winning at life. Every week, they would get together to celebrate their little wins, drown their stresses in wine and weed, and eventually find the perfect excuse for that Sunday brunch—alcohol free-flowing—to continue partaking on an early weekend morning. As time went on, those drinks justified by, "it being 5 o'clock somewhere", became the catalyst to drinking any time of day … any day.
When it came down to tossing back tequila shots and beer chasers at 11 a.m. at a pool bar because she was "in Mexico, and that's what you do", it became painfully clear during a conversation with a dear friend that maybe she had an actual problem. That day-drinking pool bar moment led to a story told by her friend G about his friend Bob that had a severe drinking problem and almost lost everything. There was something about that story that seemed eerily familiar. Whitaker had to recognize a harsh reality. It might be time to reassess her life, her potential alcoholism, and the addiction she had yet to fully embrace.
The book is a stark and honest look at addiction told with self-deprecating honesty from single-and-owning-it sex, a woman who seemed to be on top, compromising what she wanted in life, making societally acceptable excuses for consumption, which led to high-class drinking, professional success and the spiral that led to her inevitably having to make the choice to face down her demons and stop drinking.
When she looked inward, she battled with accepting she had a problem, and instead briefly diverted by self-diagnosing as someone with Borderline Personality Disorder. That diagnosis was quickly dismissed by multiple therapists and experts who confirmed she didn't have BPD, but what she did have was an addiction issue.
After Whitaker picks up a copy of The Easy Way by Allen Carr, once she gets to the end of the book, she surmises its lesson: the only way to control alcohol is to not imbibe at all.
This is a must-read for any woman that has ever wondered if maybe that bottle of wine a night is really masking the stress of life—or is something deeper at work. Quit Like A Woman will revolutionize everything you thought you knew about drinking, social messaging and marketing, and how to take back control of your life. Just doing it sober.
$18 | Amazon.com, RandomHouseBooks.com
Made For Mom, Built For Everyone
CBD Skincare with a plan.
In an article done on the history of CBD, the first person who was successful in extracting CBD from the Cannabis sativa plant was a chemist who graduated from Harvard university, Roger Adams. However, when Adams first managed this in 1940 he wasn't aware that he succeeded in extracting a chemical compound. Years later, Adams and other scientists realized the power of that near missed discovery and started researching the possible benefits of CBD. Now fast forward to 2021 when CBD is legal on both a federal and state level and what you have is an onslaught of brands and companies vying to get in the space.
Empower Body Care was founded by Trista Okel in 2004 in her kitchen. A long-time advocate of recreational and medicinal use of cannabis, she chose to help her mom manage her pain and started making CBD oil in her crockpot. Long before the influx of cannabidiol or hemp were commonplace conversation from big box stores to curated wellness boxes, Okel knew the benefits of CBD and the plant's power to help people reduce discomfort and enable people to lead more enjoyable, fulfilling lives were undeniable. The topical oils she made for her mom soon led to word-of-mouth, including friends asking her to make batches of CBD oil for them, and before she knew it, her line of CBD skincare was born.
Okel played with various herbs and ingredients to get the right combination, and once she perfected her blend and started making larger quantities, she made the decision to live by the messaging behind Empower by advocacy and community organizing.
The company has committed to donating a portion of every sale to help houseless communities, LGBT and women's rights. The brand line also believes in full transparency and has forged a close relationship with East Fork Cultivars, one of the first USDA-certified organic hemp farms in the United States that is Sun + Earth certified. The result is ethically grown, safe CBD that is vigorously tested for cannabinoid content and contaminants. The product line consists of luxury body cream, topical oil, body lotion (lemon verbena, peppermint juniper, lavender bergamot, cedar bergamot) and soaking bath salts. You can read more about Okel's story in the upcoming weeks.
$12-$48 | Empowerbodycare.com
Bringing the Rainfall To You
A new water conscious shower head has the spa factor.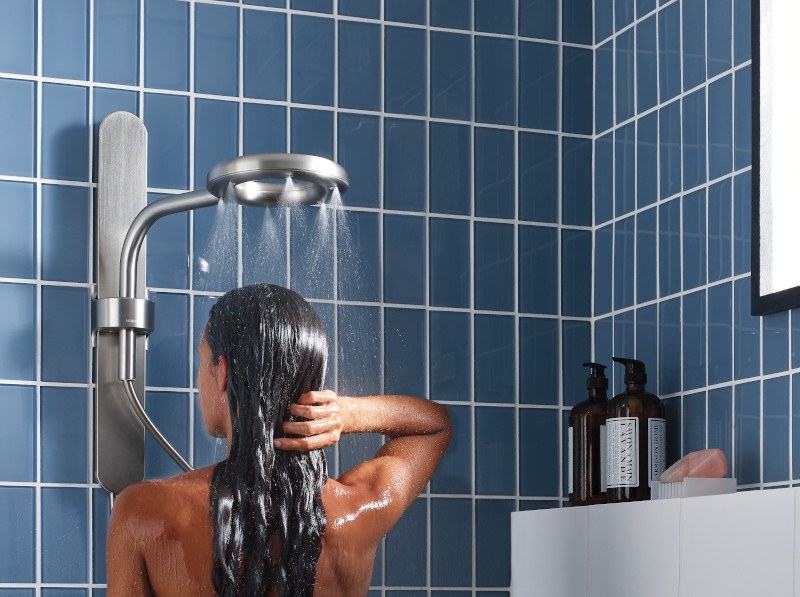 Taking a luxurious shower is one of the few privileges we should never take for granted. Having access to running water and modern technology is not the case for everyone which is why when we come across brands that care about the environment and waste, we pay close attention. Moen is a brand known for its innovative bath and kitchen product lines, so when the announcement of the Nebia spa shower made its way to members of the press, it piqued our curiosity. To understand the value of a shower head that offers both a spa-like experience and water conservation, you should first understand the water waste we contribute to every day.
First think about the moment you turn on your shower head. Chances are you let it run a few minutes until it warms up. According to research conducted by the EPA's WaterSense Program, running that water equates to 20 percent of water that is totally wasted.
A low-flow showerhead uses about two gallons a minute, or 20 gallons for a 10-minute shower. A standard showerhead uses 2.5 gallons a minute, or 25 gallons for 10 minutes.
Considering how many countries and states don't have access to clean water and working plumbing, finding ways to minimize our water waste matters. That's energy-rich water that we're running down the drain without a second thought to alternatives.
Moen has created a far more sustainable option with their new Nebia Rainshower and Handshower Combo. Nebia uses a unique water delivery system to provide more pressure and double the water coverage of traditional showers, while using significantly less water. This patented spray technology creates the sensation of more water, while actually using 45% less than a traditional showerhead. . The Nebia spa shower is simple modernism with clean lines and unobstructed, elegant design. It is also backed by a solid warranty and the company will assist in installation should you need it. That makes it at the top of our list of must-buys.