The Sex Appeal of the Corvette is Timeless
Driving along Coldwater Canyon in the Los Angeles hills, I am immersed the unmistakable sound of the purr coming from the mid-engine of the bright lime yellow 2021 Chevrolet Corvette Stingray Coupe 3LT as it hugs the road like a calculated lover. I grip the wheel and allow the drivers seat to nestle into my back. Bucket seats more comfortable than I expected, the Bose surround sound system playing my synced Spotify playlist on the 8-inch Head-Up touch screen display, and the contrasted yellow accents throughout the interior illuminated made driving in the hills, the highway, and my neighborhood an adventure.
This really is one sexy car and its history is one that involves automotive innovation, sex appeal, cinematic visibility, and an air of cool not many other American made cars can tout. As a lover of well-made products, that passion spills over into how much I love the automotive world. From being obsessed with my dad's MG, or my 1976 Plymouth Duster, to falling in love with the 1963 Stingray, cars have a story to tell and sure, I'm no expert, I most certainly appreciate thoughtful design and the story behind them.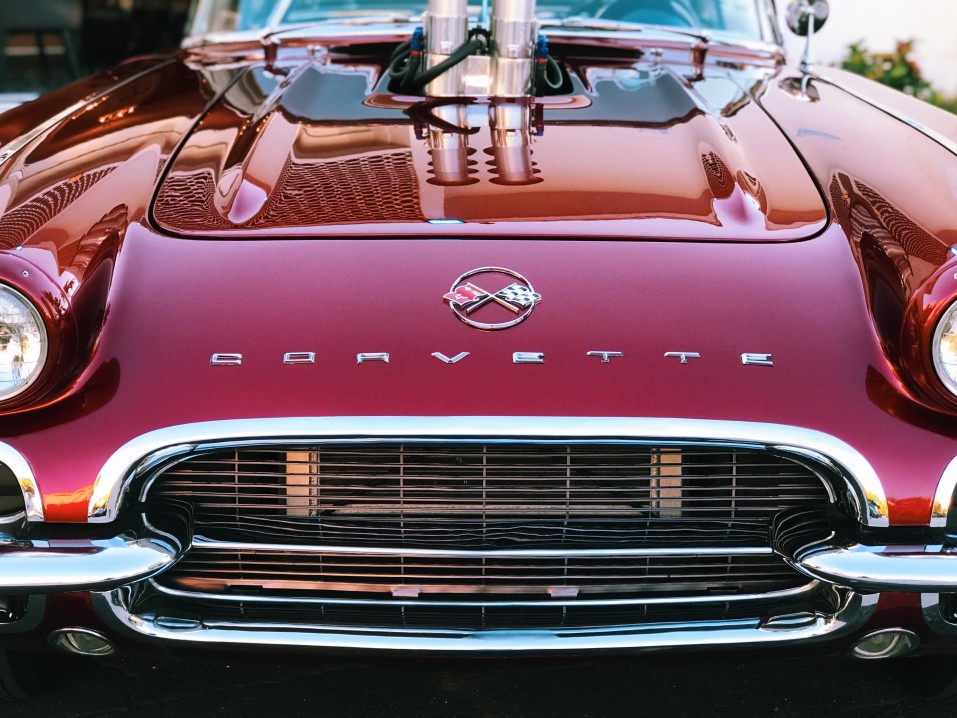 Here is what I knew about a Corvette before driving one:
It's a beautiful car that possesses the ability to capture attention wherever it goes (I've always loved seeing vintage Stingrays on the highway).
The most iconic color it comes in is red. Prince sings an entire song about it.
Christie Brinkley made it hot and feminine in National Lampoon's Vacation.
Barbie was so badass, she ditched the stationwagon for a pink Corvette.
A Corvette is fast and dangerously sexy, and while it seems like a fit for James Bond, we think it's way more fitting for a Jane Bond, Queen, or Boss Babe.
The Corvette is the kind of vehicle that sends a seductive chill up and down you in all the right ways. It is undoubtedly intriguing. The exterior design of the Stingray model has remained sleek and sensual since its inception, with a nose that emits a sensation of sheer power, doors that make you feel like you are about to own the road, exterior details including the insignia stingray that harness ones ability to speed down a highway with grace, agility, and prowess, and a motor that revs up the engine … the human one and the automotive one!
How It Began
While getting in that 2021 model made me feel like I was armed with an air of untarnished confidence and authority, the history of this beautiful specimen of automotive art intrigues me and after doing some research, I wanted to share a bit of the Corvette's origin story and how its evolved over the years, taking it a decade at a time, thanks to the incredible timeline offered at the Corvette Museum in Bowling Green, Kentucky.
The history of this sexy vehicle is one that exemplifies the American ideal innovating in the wake of dire challenges. Writer Greg Fink of Car and Driver researches its humble beginnings and has this to say. "Produced under the code name Project Opel, the sports car was a distinctly American take on the era's British sports cars, cobbled together from a fiberglass body and a 3.9-liter (235-cubic-inch) straight-six engine mated to a two-speed automatic transmission (really). After making its debut to a warm reception at GM's 1953 Motorama show in New York City, the Corvette became the rare entrant to go on to be produced for customers."
However, in 1953, the idea of the Corvette wasn't catching on—nor was its price point, but that didn't stop it from reaching the ultimate heights of a sought after sports coupe over the last six decades. It's popularity has only climbed in the ranks, but understanding it's timeless history matters.
1953. The first full-scale Corvette concept is displayed as a "dream car" at GM's Motorama in New York's Waldorf Astoria Hotel in January. On June 30, the first production Corvette rolls off of the assembly line in Flint, Michigan. Production of the 1954 Corvette begins in St. Louis, Missouri by December of 1953.
1963. The Corvette is a total restyle based on Bill Mitchell's 1959 Sting Ray race car (and bears its namesake). First year for the Corvette coupe and the only year for the split-window coupe. The Z06 is offered as an option on the 1963 Stingray, and only 199 models were built.
1973. 4,000 models (with serial numbers) were never built, so the serial number jumps to 34,464 but production actually totaled 30,464.
1982. The year of the first Corvette model to feature the convenience of hatchback design (introduced with the Collector's Edition model). At this point, four-speed automatic transmissions with overdrive is standard, with no manual transmission offered until well into the 1984 model.
1993. Introduction of the 40th Anniversary package which is optional with all models and has Ruby Red metallic exterior with Ruby Red interior.
2003. They introduce the 50th Anniversary of the Corvette, marked by the availability of a 50th Anniversary package that includes special red paint, a unique two-tone shale interior, special emblems and Magnetic Selective Ride.
2013. The 60th Anniversary hits the market with a special 427 Convertible Collector Edition to close out the C6 generation on a high note. Production of the sixth generation ceases on February 28. The seventh generation Corvette is introduced at an invitation-only reveal in Detroit on January 13. The Stingray designation returns. Indy 500 is paced by a 2014 Laguna Blue Corvette Z51 driven by San Francisco NFL coach Jim Harbaugh. Aluminum frames become the standard for all coupe and convertible models. Michelin becomes the exclusive tire supplier for Corvette. The Stingray features a LT1 V8 engine with 460 HP making it the quickest, most powerful standard Corvette to date.
2020. The 'next generation' Corvette debuts in Tustin, California on July 18, 2019 and is the brand's first-ever production mid-engine Corvette. The car features the fastest 0-60 time of any entry Corvette ever — under three seconds when equipped with Z51 Performance Package. Motor Trend Car of the Year award.
The Corvette has been taking chances since it first hit the car show circuit in 1953, and today it is still turning heads, continually evolving and adapting to the changing automotive landscape, and always being true to its roots of innovation, speed, design, and now it is among the more affordable sports coupes on the market.
Rise To Hollywood Fame
Like all things with a backstory, the Corvette has claimed its own stardom. In fact it has been a character or focal point in several films throughout cinematic history, including playing the villain in Hot Rods From Hell from 1967. Whether it was seen speeding in a crazy car chase, giving a ride to stunning Bond girls, flying off a bridge, or a acting as the sentiment of a character we love gliding across the sandy beach, the Corvette is a beautiful reminder that design is an art form that has lasting impacts. Each film it's made an appearance in (and there are many) have scenes we rarely forget. Below is a glimpse at some iconic films that turned the Corvette into just as much a character as the stars themselves.
Animal House (1978)
National Lampoon's Vacation (1983)
Terms of Endearment (1983)
Cannonball Run (1984)
007: A View To Kill (1985)
King of the Mountain (1981)
Con Air (1997)
Rush Hour (1998)
The Spy Who Shagged Me (1999)
Fast Five (2011)
No matter your age, it is very likely the Chevrolet Corvette has been a part of all of our stories in one way or another. This year's model was one of the most exciting vehicles I've ever driven. I have never felt more sexy or respected in a car before and I get the appeal of being seen in a well-made sports coupe meant to turn some heads. When you really take the time to appreciate the design behind this iconic car, from the early models to the new models, its sex appeal is timeless. The lines that exist on every inch of this vehicle—more accurately, this piece of art—move as you do, with luxury features from the sound system to the surprising comfort and ease of driving low to the ground with such a graceful engine makes this my top pick for 2020. It truly is one of more ideal weekend getaway sports coupes. And while I may not have chosen bright yellow or red as my exterior color, I will say my interest in driving the Corvette again is piqued. Thankfully, there's a new model coming in 2022!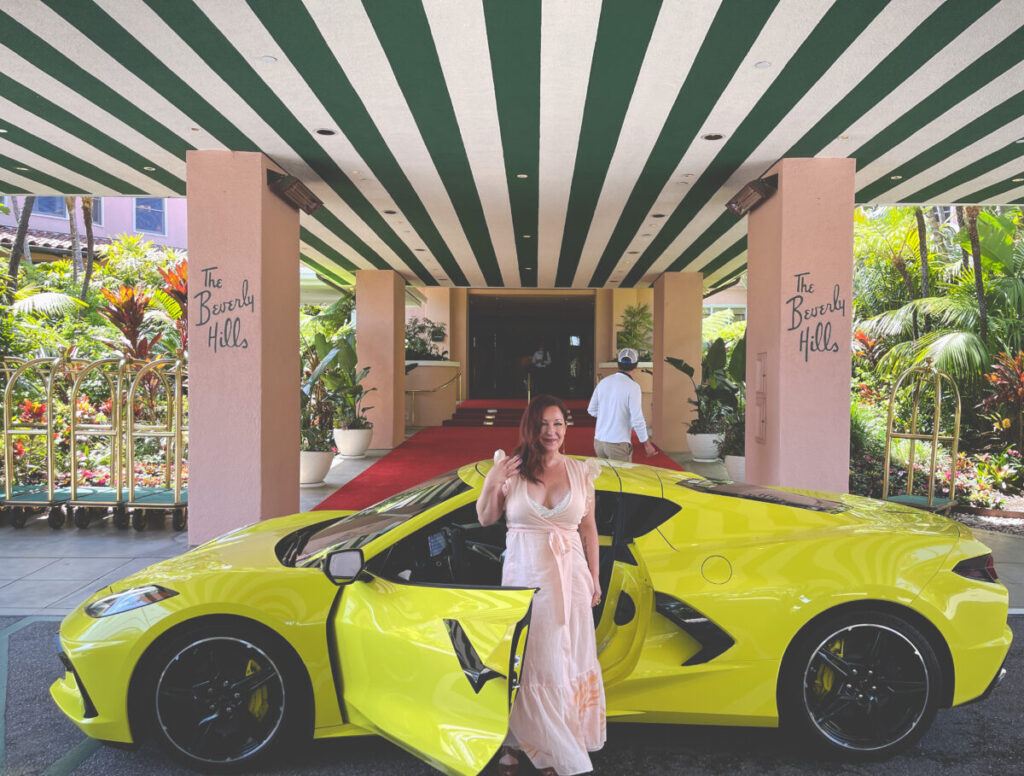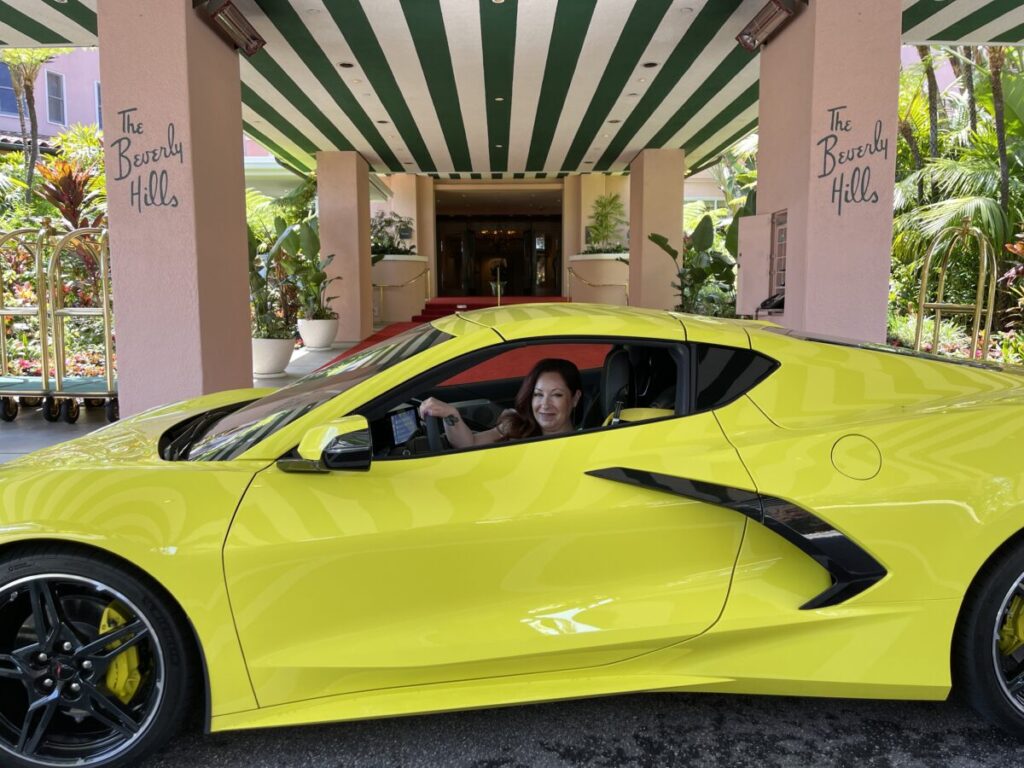 KEY VEHICLE FEATURES
Mid-engine layout optimizes weight distribution, for greater performance in a straight line and on track
This powerful machine is equipped with a serious command center. From the latest Chevrolet Infotainment 3 system† with 8-inch diagonal color touch-screen to the ingenious available Front Lift, every feature was included to improve your drive.

12-inch diagonal reconfigurable digital instrument display incorporates all driver information and features three distinct themes
Available Enhanced Navigation with 3-D view†
Available Bose Performance Series 14-speaker audio system
Simplified Bluetooth®† with NFC pairing – simply place your compatible phone above the volume button to pair
Available 4G LTE Wi-Fi®† connection
Wireless Apple CarPlay®† and wireless Android Auto™† compatibility
Performance Data Recorder
Head-Up Display for safety and comfort.

AVAIL. 0–60 TIME: 2.9 seconds 
I'm a proud judge of the 2020 Hispanic Motor Press Awards and encourage every reader to explore the ever-evolving automotive world. #HispanicMotorPress #HMPAwards
Photo Credit: Atticus Hamp @atticuslikes, Luvina Barboza @Luvina.barboza, Gabriel McClure @grmcclure,
[separator type="thin"]
A Little More | Corvette + Captain America
Mercia Pernait in Autoevolution reports that Corvette and Marvel joined forces. "Despite the rocky start, the American flag motif and almost indestructible shield soldiered on into a success story for Marvel. You can say the same about the 'Vette, which struggled to sell in the first two years of production but now goes for $150k because of dealer markups. From a front-engine challenger of European sports cars to a mid-engine design with supercar-rivaling performance, it's obvious that both the Corvette (just like Captain America) went through significant improvements over the years.
Originally white, the Stingray Z51 before your eyes flaunts the captain's shield proudly on the frunk while a capital A thrones over the removable hardtop. On the sides, five-pointed stars similar to those on the shield add to the specialness of the wrap. Of course, red and blue are also featured to bring the point home about this car's loud and proud American origin.
Run by Michael Brink, the Brink of Speed channel has recently uploaded three dyno pulls of the "Superhero Wrap" mid-engine sports car. On the Baily's Hyperformance Factory dyno, the stock 'Vette put down 440, 439, and 440 horsepower (445 and 446 PS) plus 428, 424, and 424 pound-feet of torque (580 and 575 Nm). At the rear wheels, of course!
In other words, the rear-wheel numbers are roughly 10 percent lower than those at the crankshaft. This proves that Team Corvette engineered the drivetrain with utmost attention to detail, and let's not forget that Tremec had a huge input with the dual-clutch transmission known internally as TR-9080."