The Beverly Hills Hotel is like staying on the most exquisite movie set that dates back to Old Hollywood Glam
For those of us who have been born and raised in Los Angeles, there is one iconic hotel that oozes sophistication, the intrigue of times passed, design that makes you salivate, and a coolness factor that is inescapable. That iconic place is The Beverly Hills Hotel that first opened its doors to the public in 1912.
Located in the heart of Beverly Hills amid million dollar homes and the hustle and bustle of city life just a short jaunt away, the hotel has been the city escape for some of Hollywood's most historic celebrities from Chaplin, Sinatra and Marilyn Monroe to modern day Hollywood elite.
Driving up to the Hotel is where your journey to being transported begins, and driving up in the 2021 Corvette Stingray Coupe 3LT added that extra element of panache, sexiness, and prowess that set the tone. The Corvette is unlike any other vehicle on the market, and the Beverly Hills Hotel sets the stage for something unforgettable as it has one of the most prestigious hotel entries in all of Los Angeles.
Photos by Dawn Garcia, Cover photo approved by The Beverly Hills Hotel
The Back Story
The hotel is known for it's privacy policy, decadent decor, refined service, iconic wallpaper, the romanticism of being swept away in the sprawling green canopies of palms and vegetation. It is why this is such a special place. Opened on May 12, 1912 before the city even existed, the hotel had a mission to become the place people could stay at while they looked for property to buy in the area.

Originally owned and operated by developer Burton Green, President of the Rodeo Land and Water Company, he hired female architect Margaret J. Anderson and her son Stanley, to build a sprawling hotel in Mission Revival style on 12 acres, with white stucco exterior and terra cotta-colored roof tiles, and named it after Beverly Farms, his home in Massachusetts. The story goes that he invested $500,000 (over $14m in today's estimation), Green hoped to lure wealthy Easterners to retire in what were then open fields north of Los Angeles. On opening invitations Anderson, affectionately referred to as The Pink Lady, described the property as situated "halfway between Los Angeles and the sea."
Anderson had one very simple, yet critical motto: "Guests are entitled to the best of everything regardless of cost!"
Her vision to create this spectacularly timeless hotel remains evident to this day. In fact, I'd venture to say the hotel, now owned as part of the Dochester Collection, is even more true to her original vision. Over the years, the Hotel has gone through several owners from Hernando Courtright (1940s), Ben Silberstein (1950s), Muriel Slatkin and Seema Boesky (1970s), Marvin Davis (1980s), to its present owners, The Dorchester Collection under the guidance of CEO Chris Cowdray, General Manager Edward Mady, and the culinary direction of executive chef Michael Santoro.
Booking Two Nights At The Hotel
This summer, I booked a two nights stay at The Beverly Hills Hotel, and it was the most surreal and wonderful escape I've had in years. Driving through Coldwater Canyon with the roar of the Corvette engine soothing my entire being—hugging turns like a familiar lover—the drive to the Hotel is beautiful. The history of Los Angeles exists in much of the endless hills and roads leading to Beverly Hills from world renown architecture and design, to endless plant life and lookout vista points.
Much like staying at The Beverly Hills Hotel is like staying on the most elaborate and pristine movie set that is set in the Golden Age with all of the sophistication, design, vibe, and landscape you'd imagine, getting there is part of the experience.
From strolling the property at dusk, sipping a martini in the Polo Lounge, stopping for tea in the garden, relaxing by the pool, and enjoying refinement in my room, below are my Top 5 Reasons you should do the same.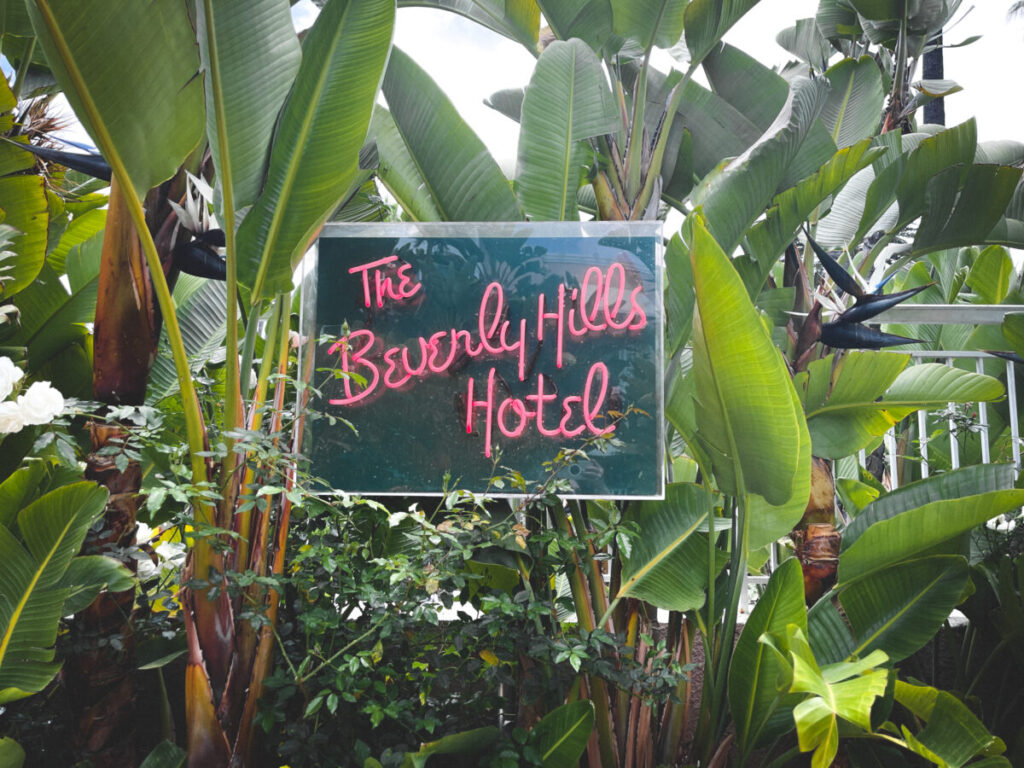 Reason No.5 | The Pool
Beginning with the glorious pool (first opened in 1938) and it's swanky cabanas designed by Alexandra Champalimaud featuring art by Gray Malin, towering pink palm tree sculptures, signatory green and white striped lounge chairs, even the outdoor bar feels like a tropical paradise. It's an escape to the a time where design is elegant and understated, everything is meant to give you that beautiful feeling of vacation, and service is uncompromising. One of the most notable "rules" of the pool is no photos once within the pool area. That simple rule allows guests to feel free to have anonymity, peace of mind, enjoy being in a bathing suit without worrying about anyone catching you … letting go.
Arriving inside the pool was my afternoon highlight. I strolled in, immediately was greeted by lush green vegetation, the smiles on the pool staff's faces, I was shown to the chais lounge of my choice by Jose who also set up a fresh towel for me and a second towel to act as a headrest. He kindly handed me the pool menu which is full of glorious options, including their signature cocktails and mocktails, and cuisine that is healthy and wholesome. The pool itself is like diving into another time altogether, and you HAVE to go.
TIP: Order the Bebidos de los Muertos or a glass of bubbles, and homemade hummus crudite, heirloom beet salad or the Wagyu burger.
[columns_row width="half"] [column]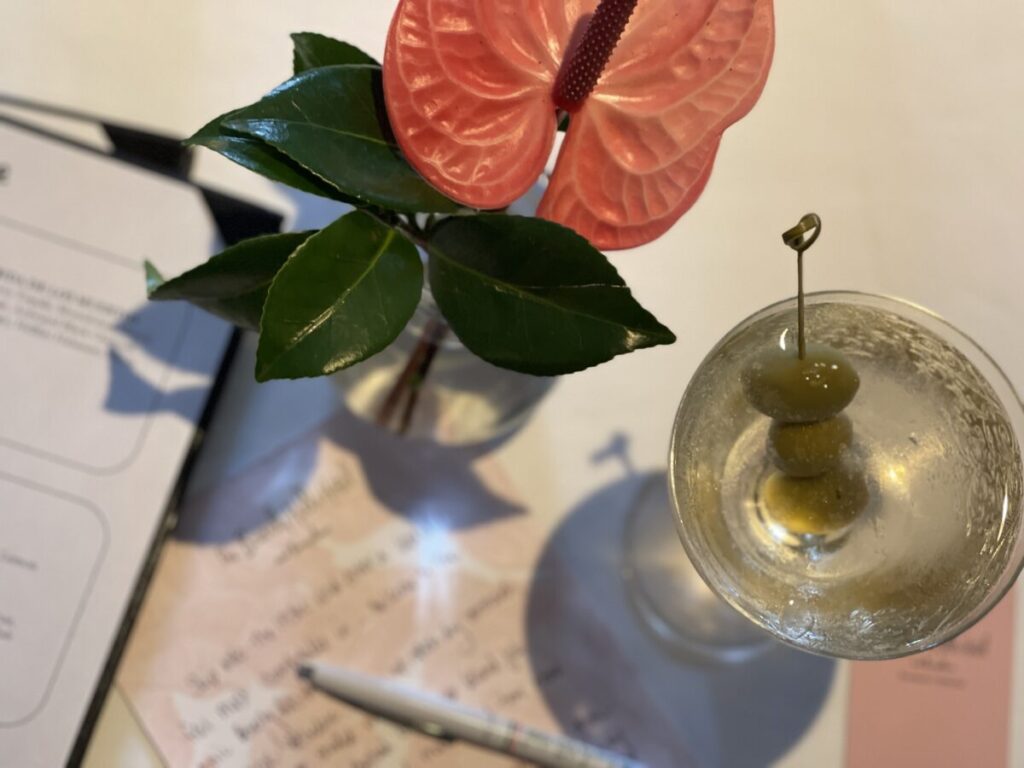 [/column] [column]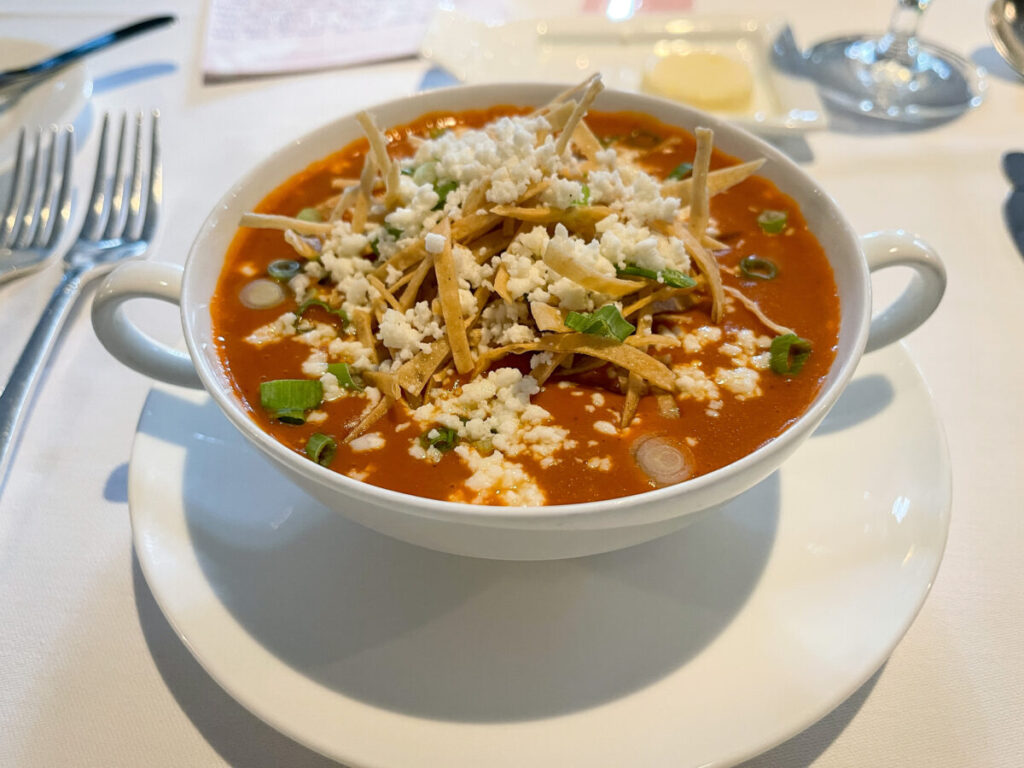 [/column] [/columns_row]
Reason No. 4 | The Polo Lounge
The Polo Lounge has been known as the epicentre of power dining in LA and the preferred place to be for legendary stars and Hollywood deal-makers. It was established in 1941 and was named after the polo fields on which it was built . Making reservations for dinner, I opted to sit inside at what is now my favorite booth, conveniently situated in between the booths where Marilyn Monroe and Elizabeth Taylor preferred to dine. To have chosen a table between where two very powerful, influential women sat once upon a time seems befitting.
From where I'm seated, I can glimpse the famed Polo Lounge Bar and the charming outdoor patio. The bar intrigues me as it's where Marlene Dietrich would sit down in a pair of slacks causing a stir, and changing the rules of female fashion at the Lounge forever. (Thank you Miss Dietrich!)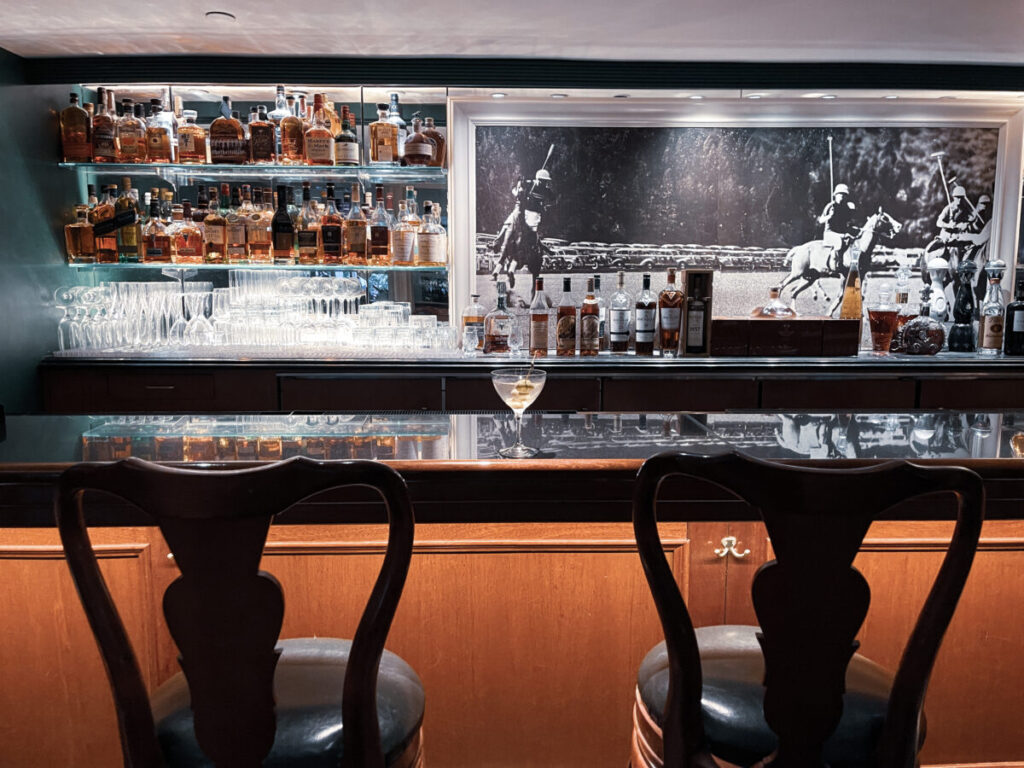 While the Hotel is known for its esteem, the dining experience is one that truly transports you. Each server is dressed in a white sports coat and they don white gloves, giving the illusion of true elegance and luxury one can't help but adore. The cuisine is vast from fresh caught seafood to hearty steak, and just about everything in between, but it is their signature martinis and tortilla soup that really make a lasting impression. My server Eugene was divine. Polite conversation, full of the rich history that comes with such a historic landmark, and he aptly and instinctively knew that friendliness and service are two things I have high expectations of when it comes to dining. He surpassed my expectations as did the entire service staff.
For those of you who fancy a martini, you know that this particular cocktail—that seems so simple—is often made incorrectly. As a true fan of a genuine dirty martini with a splash of dry vermouth, the perfect trace amount of olive juice, and when available, topped with three blue cheese stuffed olives, finding a bartender to make it flawlessly is much like finding a needle in a haystack. Many claim to make them "the best" but the two places in Los Angeles that know how to make a damn fine martini are Musso & Frank's and The Polo Lounge. The Polo Lounge martini is absolute. And so is that famous tortilla soup made with Jidori chicken, queso fresco, green onion, avocado, and crispy tortilla strips. The breakfast/brunch, lunch and more expansive dinner menu are also fun to explore, but that soup is my new favorite.
TIP: Sit where you are drawn to, order a signature cocktail, and keep it simple. This is where the culinary staples are most favored.
[columns_row width="half"] [column]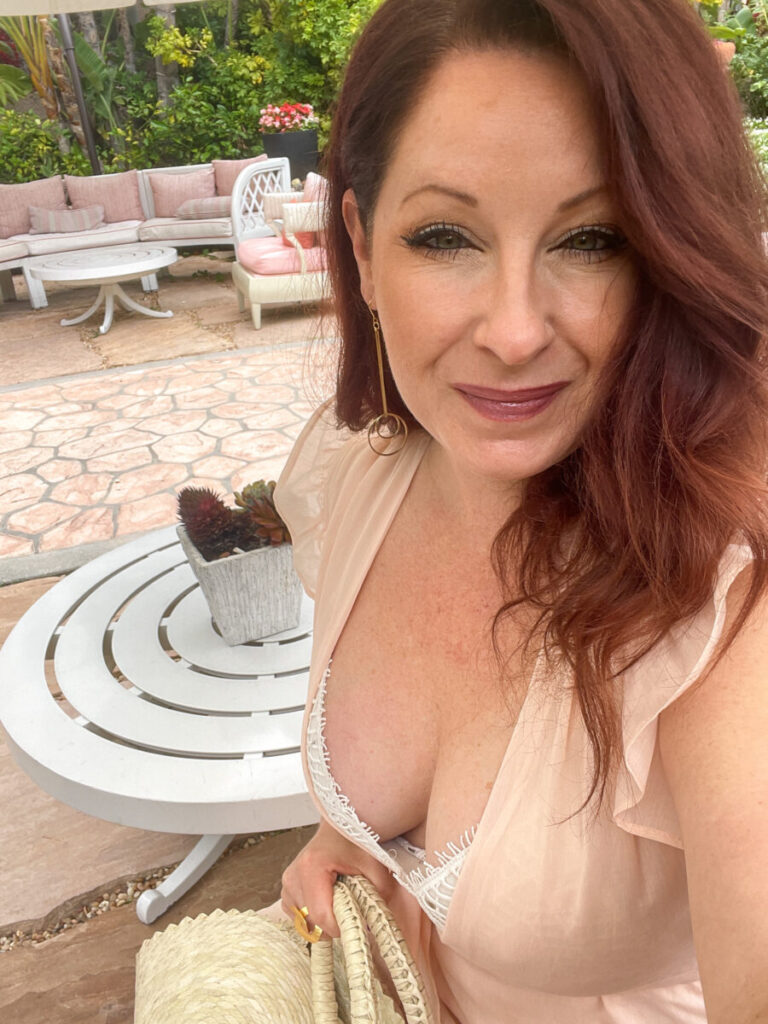 [/column] [column]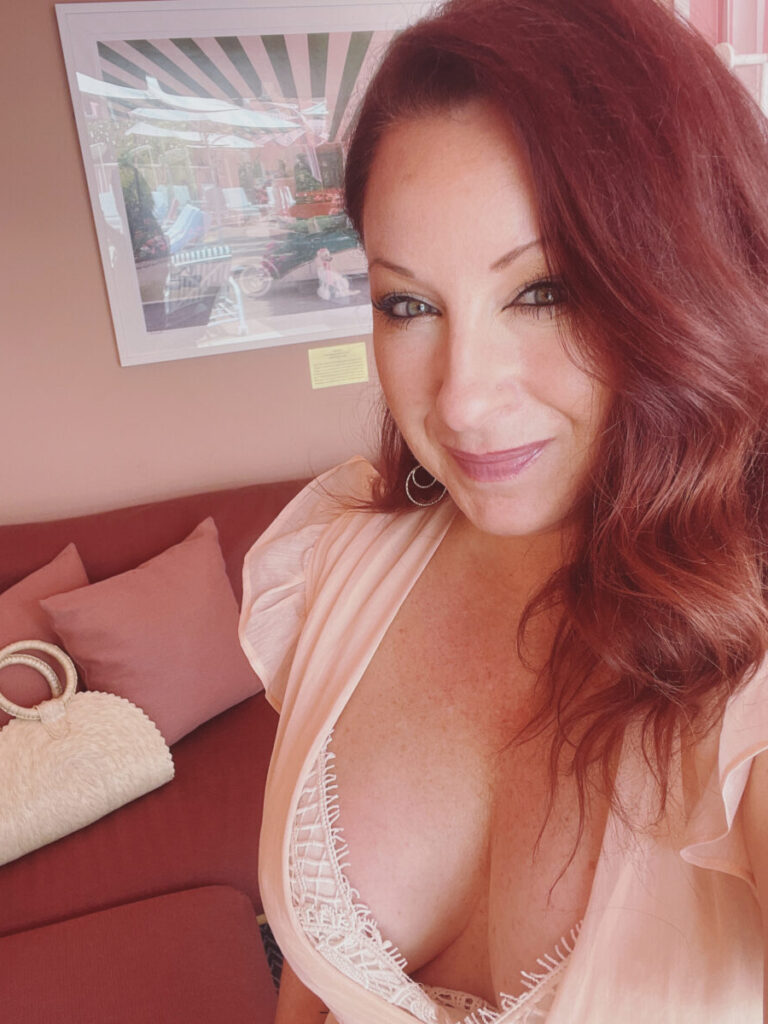 [/column] [/columns_row]
Reason No.3 | Romanticism + Design
Something about slipping into another time invites a level of romanticism that appeals to my inner creative. A revival of stories I heard growing up, the minute I was seated in Booth 7, I couldn't help but want to write. And so I did.
"Dressed in a vintage tropical long green dress, sandwiched in between Marilyn Monroe and Elizabeth Taylor's favorite booths, I sink in to the green leather round and take it all in. The sound of a jazzy piano playing overhead on the speakers ruminates all around the room, the chatter of a crowd I had long since missed, while I talk to Eugene, my server, I realize how much I have longed for moments like these. Rich tones and texture envelop my senses, jewel shades embellish the room as accents of white florals and seductive pinks invite me to get lost in days of ole."
The Lounge is a romanticized glimpse into an era I feel I most belong to, and yet it feels as if—for a moment—time has stood still and all of the glory and wonder of the 1930s-1960s consume you in the most beautiful way.
TIP: Walk the property, pay attention to the art, the furnishings, and the meticulous landscape architecture.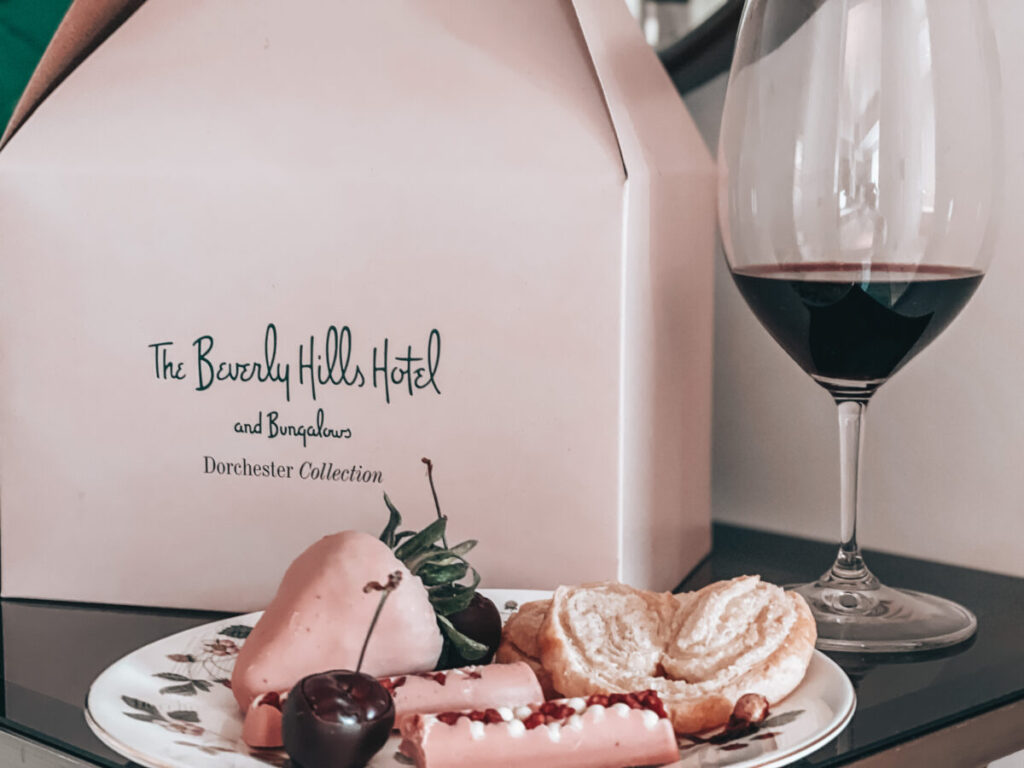 Reason No.2 | The Staff + Service
From the moment you pull up to valet, to the time you're all checked into your room, every hotel staff member treats you like royalty. The valet took amazing care of the gorgeous 2021 Corvette Stingray I was driving, the bellmen handled all of my luggage with care, the front desk were above and beyond, kind and thoughtful, as were the concierge.
Room service arrived within the estimated time frame (often earlier than expected), food arrives hot and set up beautifully, and upon arrival I was utterly impressed. The pastry chef in the kitchen provided me with a flurry of sweets from their famed gourmet marshmallows to their decadent chocolate dipped strawberries, but the piece de la resistance was the dome it was encased in and the white chocolate bar imprinted with the ATOD Magazine logo, welcoming me to a luxurious stay.
If you're an avid traveler (or were prior to travel restrictions), you know that service is something that is sorely lacking in the hospitality industry, but The Beverly Hills Hotel is the exception in every way. They set the standard for service, privacy, thoughtfulness, cleanliness, pride, inclusion, and diversity, and that is worth every dollar spent to stay here and experience all it has to offer.
TIP: Order breakfast or late night room service, but enjoy lunch and dinner on-site. (Two photos below courtesy of The Beverly Hills Hotel: Canaba Cafe + Presidential Suite pool)
[columns_row width="half"] [column]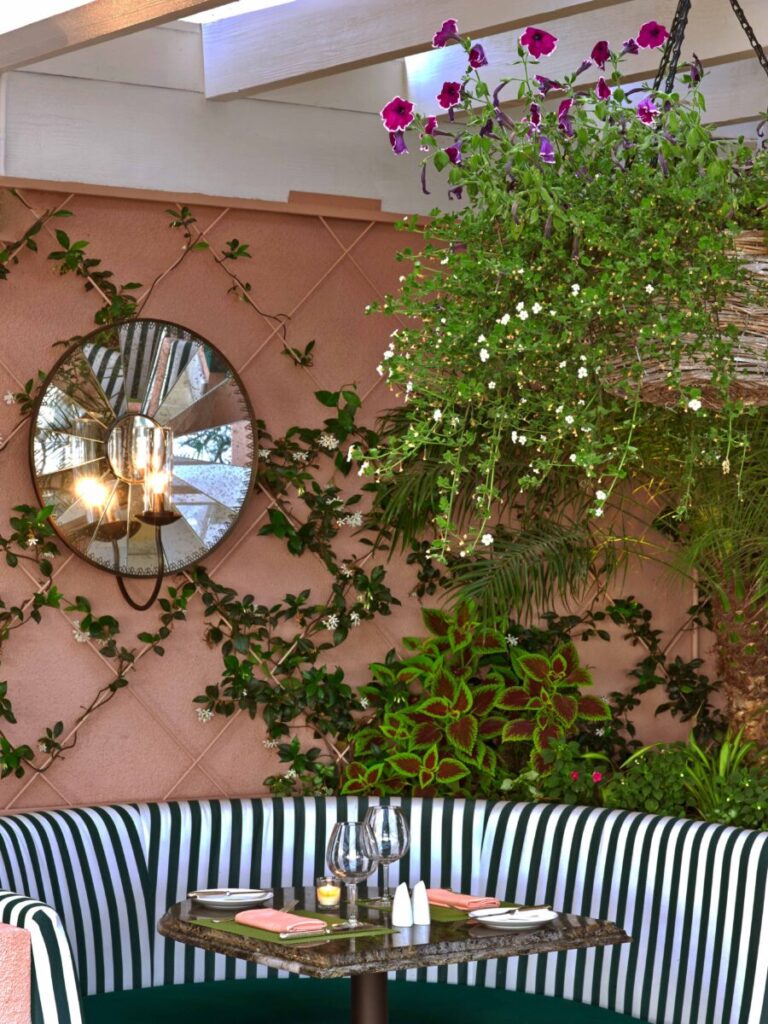 [/column] [column]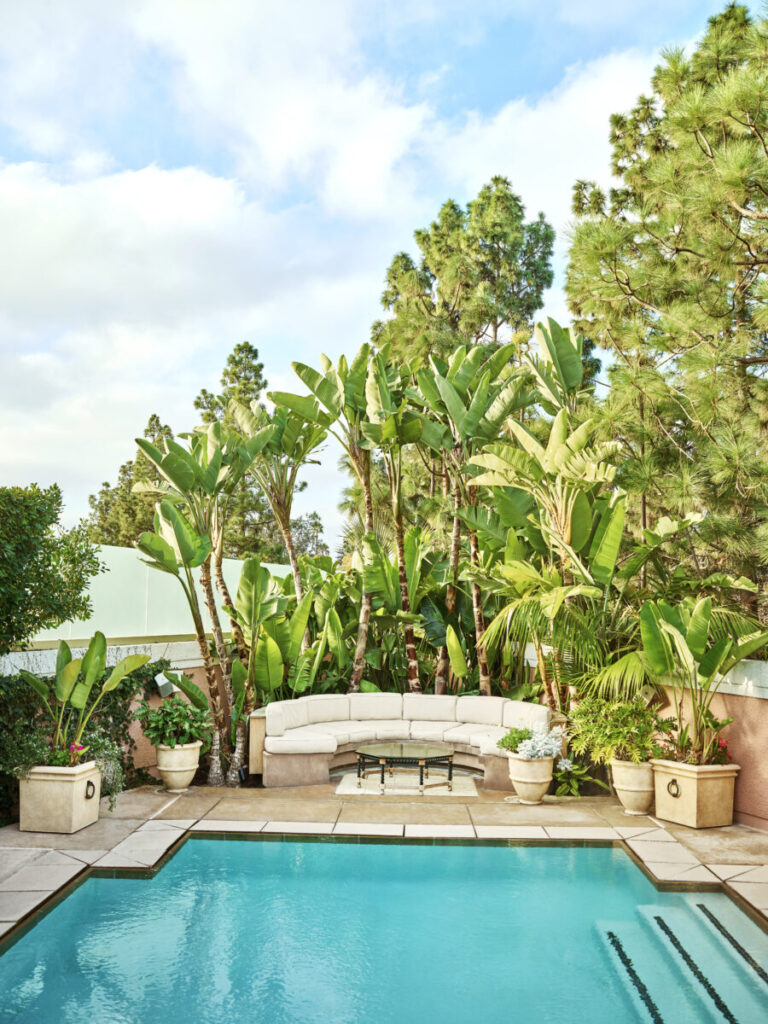 [/column] [/columns_row]
Reason No.1 | The Rooms + Bungalows
The first time I came to the property, it was to view their renovated bungalows. The bungalows ooze with elegance, design that boasts luxury and an echelon of elevated reputation not often found in hotels. The furnishings are downright gorgeous, with the feel of Richard Neutra's VDL Studio (designed in 1932), hints of the Stahl house (designed by architect Pierre Koenig, built in 1959) with a splash of Paul Williams' impeccable eye for architecture and design. Each individualized bungalow has savvy art, awe-inspiring lighting fixtures, and untarnished décor sprinkled throughout. Each bungalow also has a truly breathtaking patio adorned with outdoor seating and beautiful foliage.
I have yet to stay in a bungalow overnight, but on this mini staycation, I stayed in a Deluxe Room which is a large, seamlessly decorated room with an en suite bath and shower, his and hers sinks, a writing desk that dates back to turn-of-the-century with a touch of mid-century modern that has a signatory pink mirror upon opening to write. Inside the desk you'll find a pink notepad with the imprints of pink palms and a pink hotel pen, which appeals to my inner creative. There is a sofa, seating area near the television, and the master bed with one of the most comfortable mattresses I've stayed on in a long while. The accents include various shades of pink, white and cream, and simplistic touches of nuanced extras including rich woods, a bit of art deco, and at the foot of the bed was a golden fabric chaise.
The view from my window made me completely forget I was in the middle of the roaring city of Los Angeles as I was greeted every morning and evening with luxuriant vegetation, ample palm trees and the softened chatter of people laughing and talking in the patio of the Polo Lounge. Staying here alone on a solo trip was my escape from the chaos of work, the reprieve for a bit of necessary solitude, and some much needed creative inspiration.
TIP: Take a bath, open the windows to let in the night air, and take advantage of the on-site spa services.
When you're ready to experience a stay of utter decadence, book your stay at The Beverly Hills Hotel. To put it mildly, two nights here was exactly what I needed to restore my soul, and reset. And be on the lookout for the article in this month's issue that explores the history of the Corvette and how marvelous it is to drive such a sexy car to such a nostalgic and iconic Los Angeles hotel.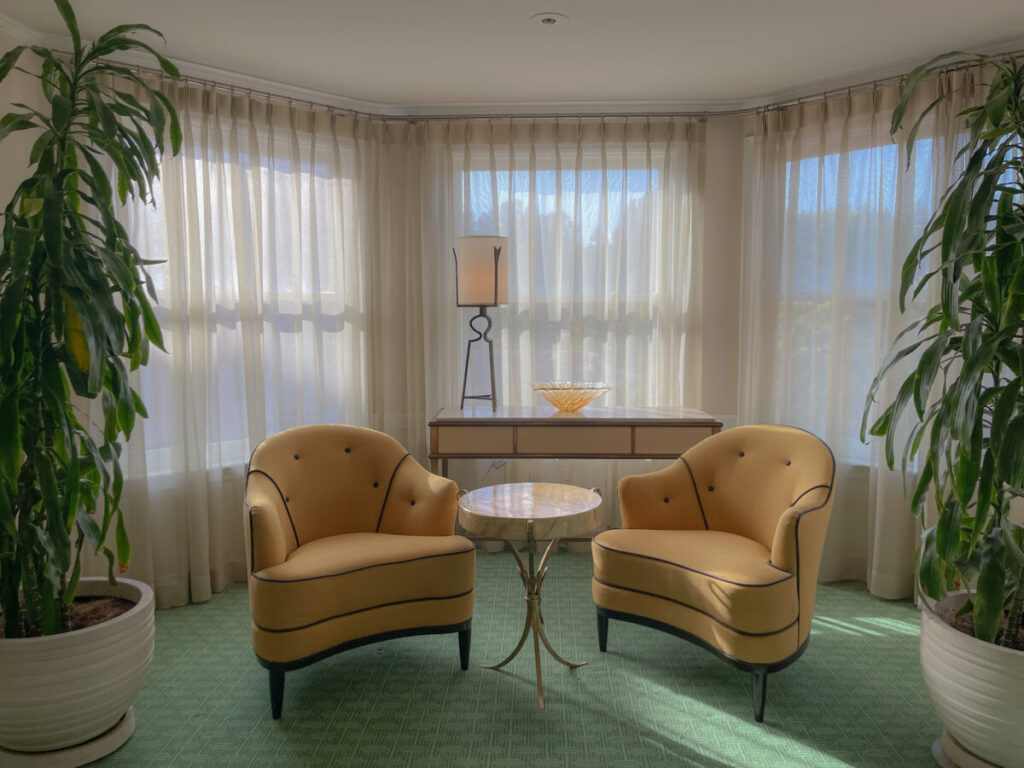 [separator type="thin"]
Fascinating Royalty + Cinematic History
The legendary pool opened in 1938 as 'The Sand and Pool Club', complete with sand to make it feel like a true beach club. Their famous Martinique banana leaf wallpaper was created in 1942 by heritage Southern California textile brand CW Stockwell, and selected by famed designer Don Loper in 1949 to adorn the walls of the newly renovated and redesigned hotel. It now enjoys iconic status as one of the most recognizable wallpapers in the world and has starred in several films. (The ATOD home office is inspired by this iconic wallpaper!)
The hotel was first painted its distinctive pink back in 1948, to complement the sunset and popular country style of the time. The hotel has been known as the 'Pink Palace' ever since. The Crescent Wing was built in 1949 and designed by renowned architect Paul Williams, along with the reimagined Polo Lounge, Fountain Coffee Room and the lobby. Paul Williams created their famous logo in the 1950s, developing a bespoke font which has since been trademarked to protect its distinctive style. In his honour, they also have a suite named after him.
Guests included the Duke and Duchess of Windsor, Princess Margaret and Lord Snowdon, King Albert of Belgium, the Crown Prince of Monaco, John Wayne and Henry Fonda. Elizabeth Taylor's father had an art gallery in the hotel's lower level, and Liz began a tradition of frequenting bungalows with six of her eight husbands. In 1956, the hotel's pool and cabana club were backdrops for Gregory Peck and Lauren Bacall in Designing Women. Frank Sinatra, Dean Martin and the rest of the Rat Pack engaged in prodigious drinking bouts in the Polo Lounge. Towards the end of the decade, Marilyn Monroe and Yves Montand checked into bungalows 20 and 21 while filming Let's Make Love.
In the 1970s, John Lennon and Yoko Ono hid out in a bungalow for a week. Charlie Chaplin, a frequent guest in the 1920s, returned in 1972 to accept an honorary Oscar. Faye Dunaway stayed there after receiving her Academy Award for Network in 1977, and in 1978 Broadway playwright Neil Simon, a frequent guest, filmed California Suite at the property.