Five cocktails that are simply seductive and ideal for welcoming in the season.
Fall is a season that has an undeniable air of romance. Something to do with the canvas of color that paints the landscapes all around us with a spectrum of ambers and golds, tangerine and chocolate tones taking hold of leaves as far as the eyes can see. It's magnificent and seductive, which is why it's our favorite time of year to sip on cocktails that take in every piquant range of crisp, refreshing, and often introspective spirits that can leave us in a tantalizing state of mind.
The French have an uncanny way of invoking a sense of sexy into most everything they do and that's why this month we're featuring Noilly Prat. The Noilly Prat company is based in Marseillan, in the Hérault department of southern France, and is a subsidiary of Bacardi-Martini. Joseph Noilly, an herbalist born in Lyon, developed the first formula in 1813, 50 years before the now archetypal vermouth, martini. What became of Noilly's vision has spanned over two hundred years with a French spirit fit for f[all].
Below is a look at five sultry Noilly Prat autumn cocktails you can make at home:
Noilly Toddy, a snug and sweet upgrade on the classic, with notes of vanilla and baking spice from Noilly Prat Rouge vermouth, rich cognac, chocolate bitters, and black tea.
French Cobbler, with flavors reminiscent of a citrusy, herbal classic cobbler, thanks to this particular vermouth's nutty notes (almost akin to a pastry crust), balanced with fresh blood orange juice for a festive touch.
Caffe Noilly, a pick me up after heartier fall meals or are espresso martini and negroni fans, this is another new fall cocktail must-try. A coffee-inspired Negroni variation with amaro, coffee, and bourbon highlighting the clove, chocolate, and spice notes of the rouge vermouth.
Marseillan 75, one bubble lovers can savor with beautiful blends the herbaceous, botanical blend of Noilly Prat Extra Dry vermouth with St-Germain elderflower liqueur and sparkling pear cider making it ideally apt for fall.
Trapazinno's "Fig Negroni" is another cocktail guaranteed to warm you up this season with its vast flavor profile incorporating the swift cleanse of gin, fig bitters and fig-infused Martini Rosso that makes it the kind of drink that has a textured richness you'll want more of. 
Noilly Toddy
Ingredients
1 ¼ oz Noilly Prat Rouge
½ oz D'usse VSOP
½ oz demerara syrup (2:1)
½ oz lemon juice
3 oz black tea (English breakfast or similar)
2 dashes chocolate bitters
1 dash angostura bitters
Method: Build ingredients besides tea into glass, top with piping hot tea.
Glass: Toddy glass
Garnish: Cinnamon stick
[separator type="thin"]
French Cobbler
Ingredients
2 ½ oz Noilly Prat Original Dry
¾ oz blood orange juice
¼ oz lemon
¼ oz demerara syrup (2:1)
1 dash orange bitters
Method: Build in glass, swizzle with crushed ice, add crushed ice to top.
Glass: Collins
Garnish: Fresh rosemary sprig
[separator type="thin"]
Marseillan 75 
Ingredients
1 ½ oz Noilly Prat Extra Dry
¾ oz St~Germain Elderflower Liqueur
½ oz lemon juice
¼ oz simple syrup
1 dash absinthe
2 oz pear cider
Method: Short shake, strain into glass with ice, and top with cider
Glass: Wine glass
Garnish: Nutmeg and pear slices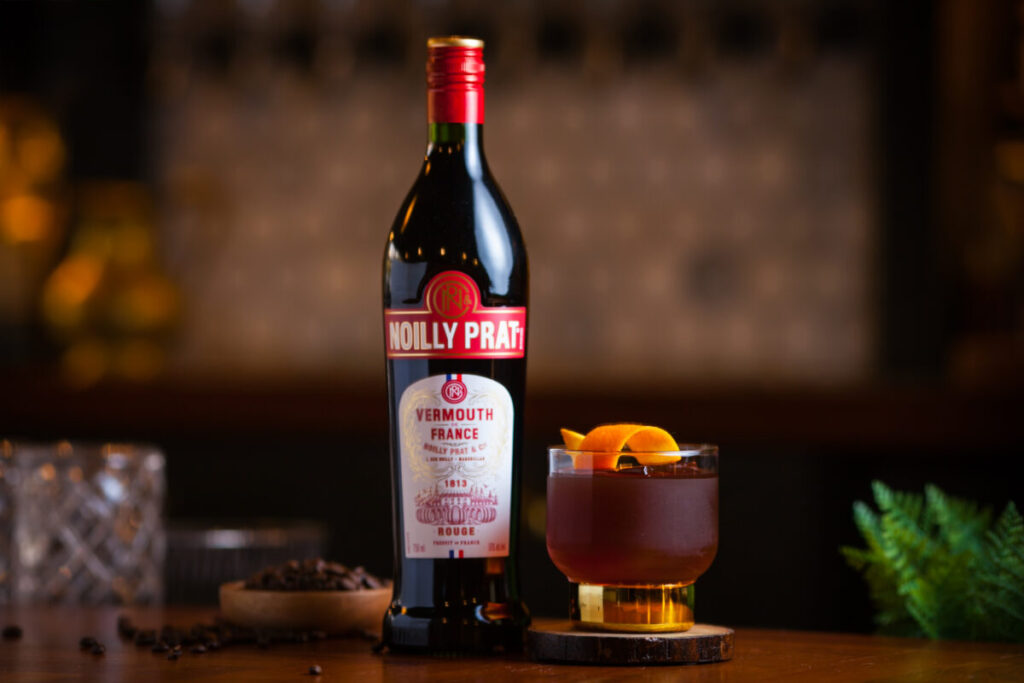 Caffé Noilly
Ingredients
1 ½ oz Noilly Prat Rouge
1 oz Angel's Envy Bourbon
½ oz coffee liqueur
½ oz amaro (I used Amaro di Angostura)
6 drops saline
Method: Stir, and strain into a rocks glass with ice.
Glass: Rocks glass
Garnish: Orange expression
[separator type="thin"]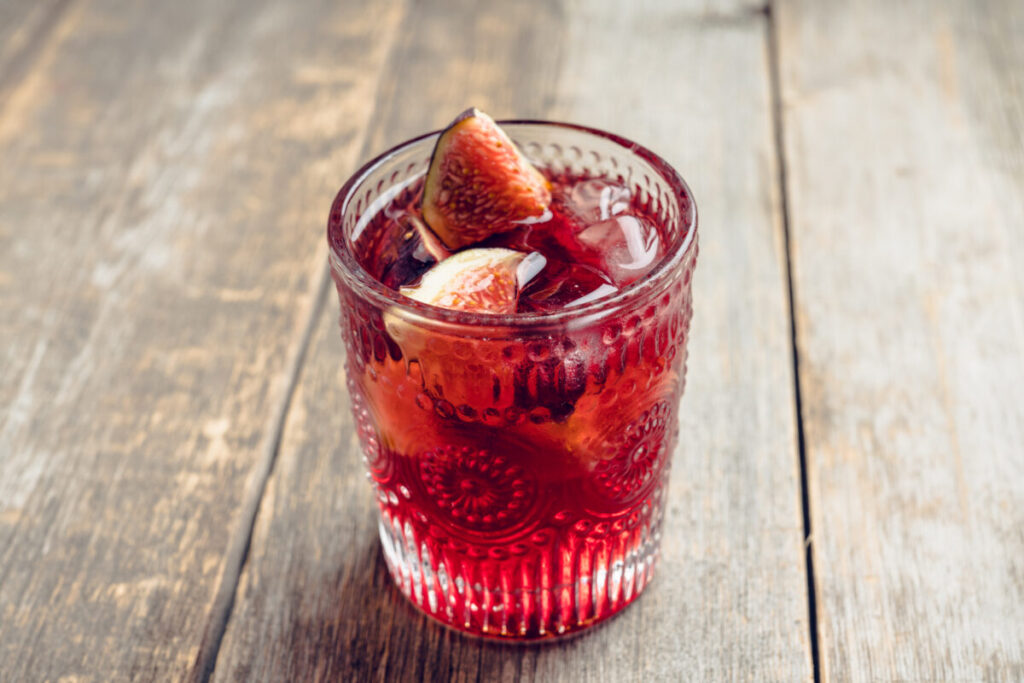 Trapazinno's "Fig Negroni"
Ingredients
1 oz Bombay Sapphire Gin
1 oz Martini & Rossi Bitter Liqueur 
1 oz Fig-Infused Martini Rosso
2 dashes fig bitters
Method: Build all ingredients in a rock glass over a large ice cube.
Glass: Rocks glass
Garnish: An orange twist.
[separator type="thin"]