It's time to dust off the swanky bar carts and create fall cocktails … it's time to entertain!
Remember when we used to entertain a lot? Invite swarms of people we love and adore over to drink and be merry? Well, the last 19 months put a pin in that whole theory, but that doesn't mean we can't bust out the bar cart and vintage stemware for some of our favorite people … in smaller doses.
Our favorite time of year is fall. Something about the California terrain finally resembling changes in the seasons makes it a paramount time of year for us locals. It is a bit of beautiful nostalgia reminding of us of old movies, romantic moments, cooler weather and intimate gatherings.
That is why we wanted to put together some entertaining tips, as well as five cocktails using an elderflower liquer (that is perfect for two-to-six people) and ideal for fall. Remember you can double, or even triple up the recipes to suit your amount of guests.
First thing's first, do you have a bar cart? If so, you can read past this, but for those in search of a vintage inspired bar cart, below are three vintage inspired bar carts we approve of ($$$$-$$). We included three different materials, designs, and functions because we know your tastes differ. The first is a Rattan bar cart from West Elm that has all the feels of a 1970's tiki party. The second is a more sophisticated bar cart with a touch of masculinity from Crate & Barrel; this cart has that more classic vibe from the 1940's and 1960's, but the added element of leather to accent the gold makes this a bold choice. The third cart is Kelly Clarkson's Wayfair line and its modern simplicity (and price tag under $300) makes this a universal cart that can add to any room (comes in silver, bronze and gold).
[columns_row width="third"] [column]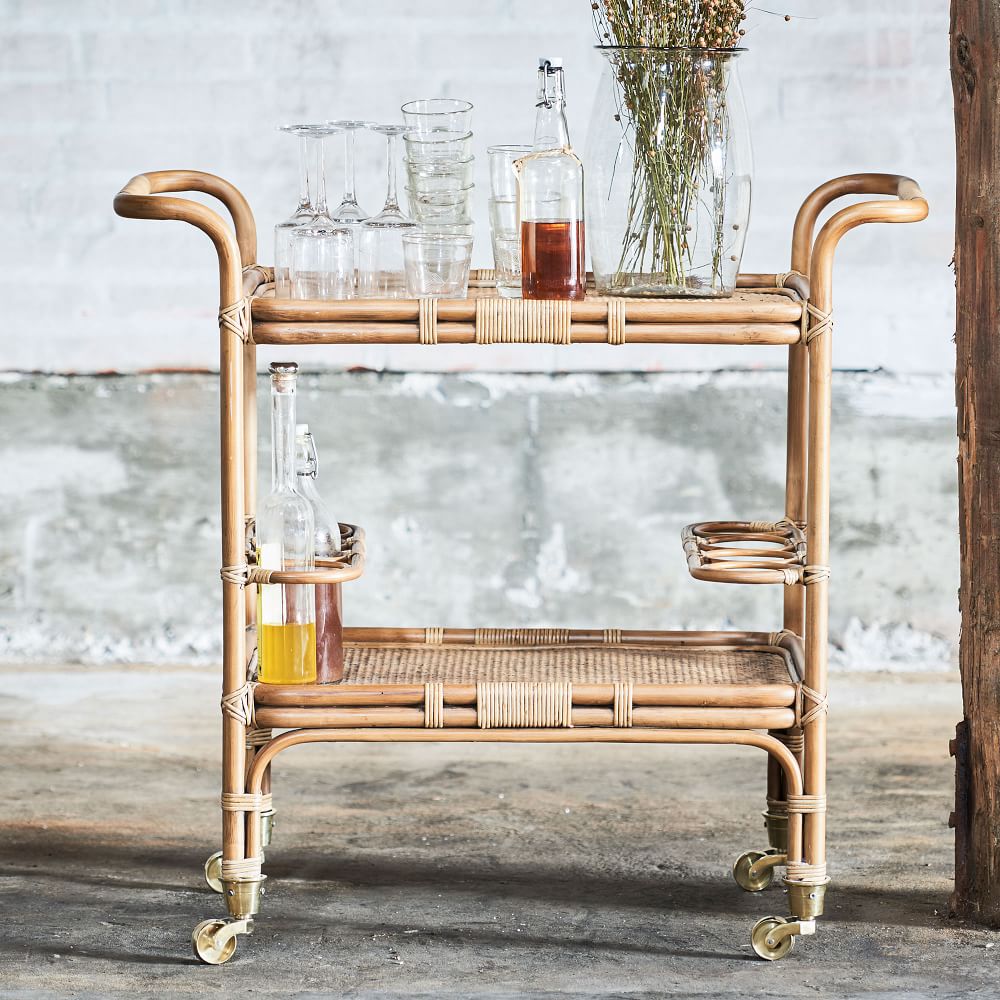 [/column] [column]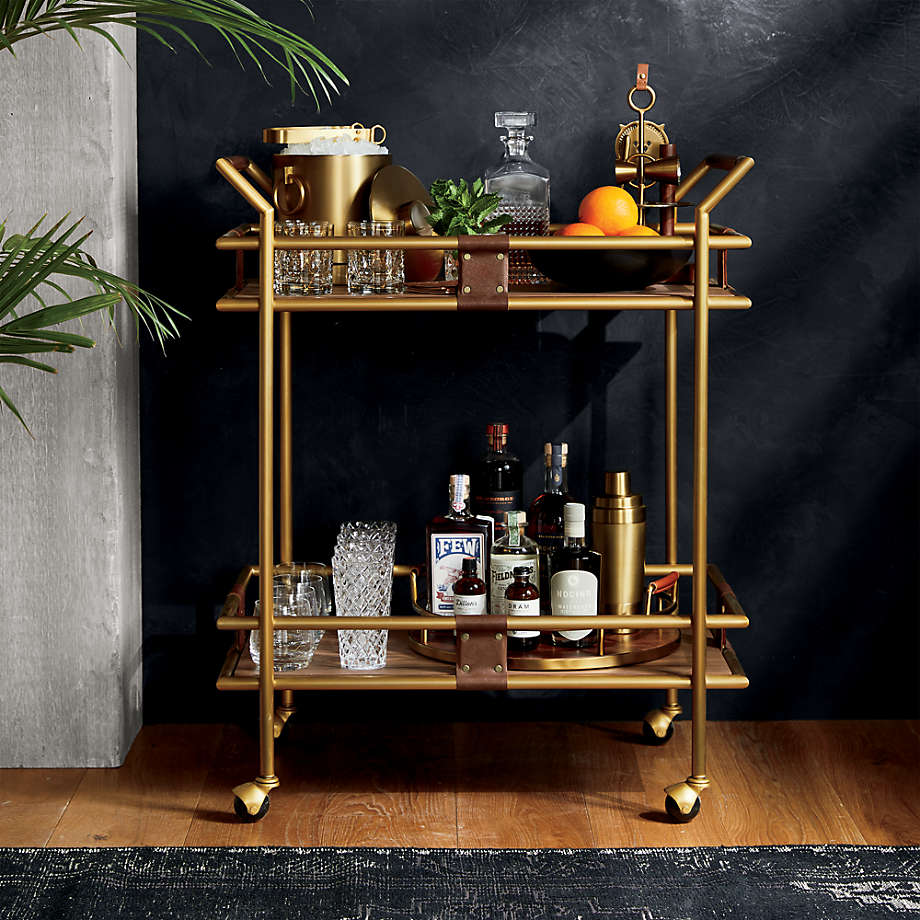 [/column] [column]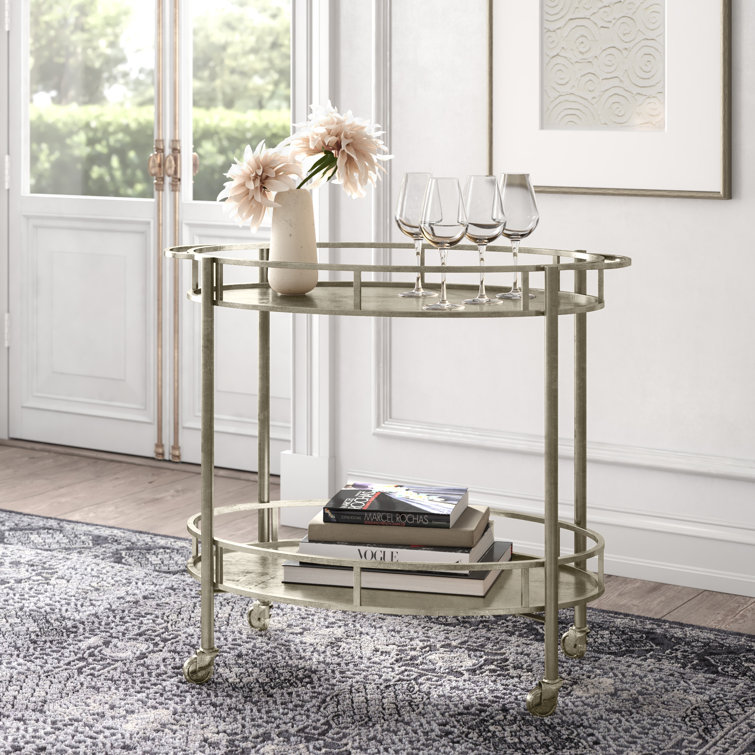 [/column] [/columns_row]
Now that you have your bar carts at the ready, have you thought about vintage inspired decanters, barware and stemware? Our first choice is always searching for true vintage finds at resale stores and that's where we've gotten the majority of our stemware finds. Etsy, Catawiki and eBay are also great places to find something rare and unique. That said, if you can't get to your nearest consignment store, here are a few ideas to stock up.
 on Etsy has an Amber Carafe Set, Whiskey Decanter Set, Whiskey Glasses, Glass Pitcher, Carafe Tray, Wood Ball Cork Stopper, Carafe & Glass Set, Gift Set
West Elm's Deck Out Your Bar Bundle includes: Brass Chelsea Tray, Brass Chelsea Ice Bucket and Metallic Base Decanter & Glassware Set.
And lastly, Crate and Barrel carries a line called the Brixton Decanter that is pristine and remnant of decanters from days of ole.
[columns_row width="third"] [column]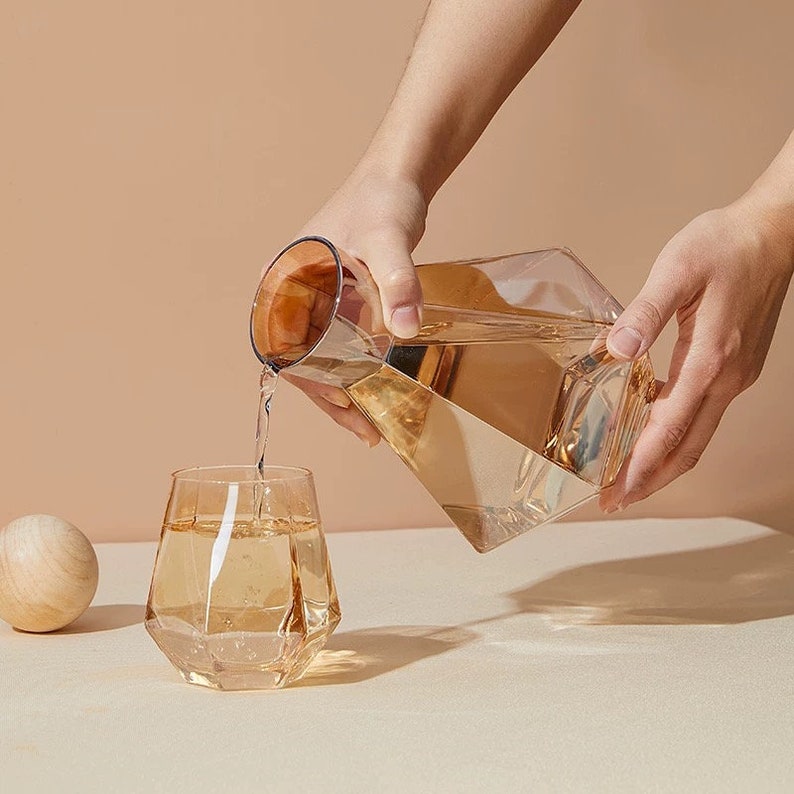 [/column] [column]
[/column] [column]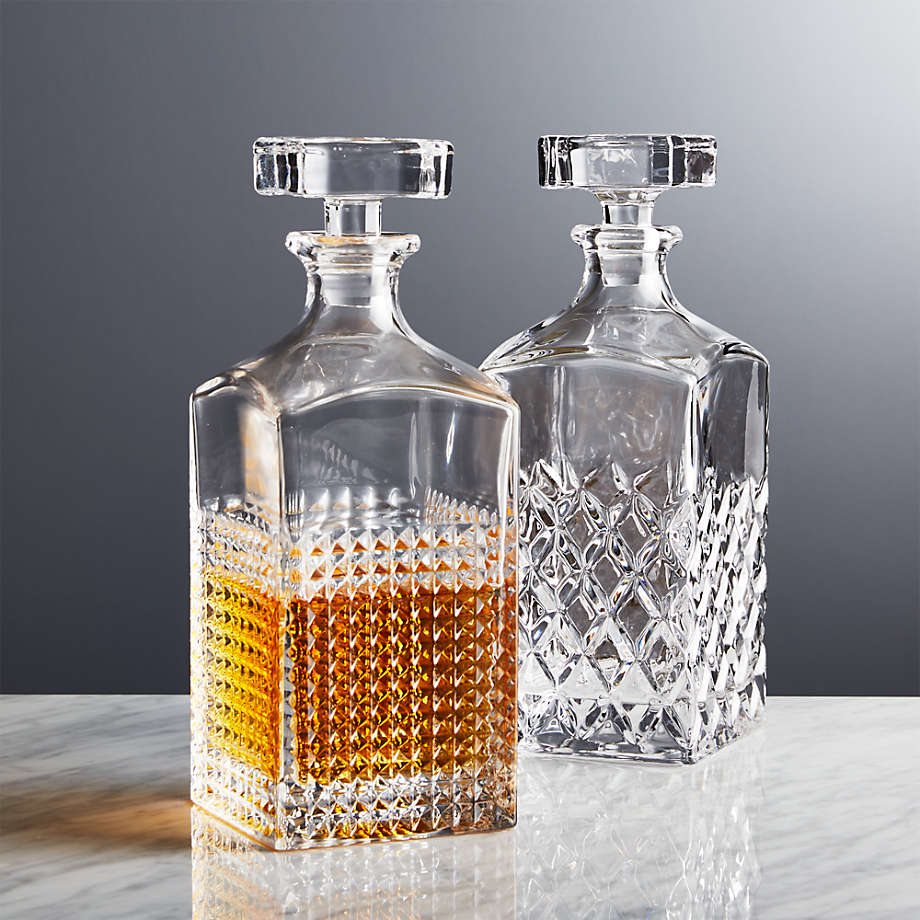 [/column] [/columns_row]
Last on the list for entertaining guests are the cocktail recipes. Below are five genuinely lovely libations that work for intimate drinks and throwing cocktail parties with panache. Thanks to our friends at St∼Germain, this autumn we all have reasons to celebrate … in style.
[separator type="thin"]
Ginger Rum Toddy
INGREDIENTS
¾ oz St∼Germain Elderflower Liqueur
1 ¼ oz Aged Rum
¼ oz Allspice Dram
2 bags Ginger Tea
½ oz Lemon Juice
INSTRUCTION
STEP 1: Steep tea bags in hot water, remove tea bags, add rest of ingredients, stir
STEP 2: Garnish with cinnamon sticks, clove, lemon wheel
Harvest Sour
INGREDIENTS
½ oz St∼Germain Elderflower Liqueur
1 oz Cognac
1 Tablespoon Fig Preserve
¾ oz Lemon Juice
Half an Egg White
Garnish with Fennel, Pollen and Fresh Fig
INSTRUCTION
STEP 1: Add preserve to cocktail shaker and stir in the lemon juice and cognac.
STEP 2: Add the rest of your ingredients. Shake with no ice, then add ice and shake again.
STEP 3: Double strain into a chilled glass and serve.
Elderfashioned
INGREDIENTS
¾ oz St∼Germain Elderflower Liqueur
2oz Dewar's 12 Blended Scotch
2 dash of Angostura Bitters
INSTRUCTION
STEP 1: Pour ingredients into a rocks glass.
STEP 2: Add large ice cubes.
STEP 3: Stir until chilled.
STEP 4: Garnish with an orange peel.
St-Germain Rosemary Punch
INGREDIENTS
1 cup Bombay Sapphire Gin
1 cup St∼Germain artisanal French elderflower liqueur
½ cup fresh lemon juice
4 cups freshly brewed jasmine tea
10 dashes orange bitters
8 rosemary sprigs
INSTRUCTION
STEP 1: Combine all ingredients in a punch bowl and stir well with plenty of ice to chill.
STEP 2: Ladle into punch glasses or rocks glasses. Serves 4-6 people.
Sangria Flora
INGREDIENTS
3 Cups Sauvignon Blanc or Dry white wine
¾ Cups St∼Germain artisanal French elderflower liqueur
5 Fresh Strawberries (halved)
5 Fresh Raspberries
5 Fresh Blackberries
10 Fresh Grapes
INSTRUCTION
STEP 1: Serves 4-6. Stir ingredients in a carafe.
STEP 2: Let the mixture soak for 15 minutes (or longer if desired), then pour into ice-filled glasses.
*The fruits listed are merely suggestions. Many combinations of local, seasonal fruit will work nicely with St∼Germain. Be creative!