The art of how Oscar de la Renta's Fall/Winter '21 Collection inspired the St-Germain Cocktail Collaboration
As we enjoy the last month of summer and head into fall, it's time to spark creativity and celebrate the best of our nation's culture, particularly with the return of NYFW (New York Fashion Week) and American Ballet Theater. To toast to the hopeful cultural renaissance, Fashion Designer Laura Kim (Co-Creative Director Oscar de la Renta and MONSE) and ballet dancer James Whiteside have inspired new artiste-worthy floral cocktail creations perfect for your next tête-à-tête. @StGermainDrinks
Before delving into what's behind the inspiration of these truly beautiful cocktail creations, we wanted to applaud every designer, model, dancer and visionary that gracefully waited out the pandemic. It's been a long and exhausting year and the absence of the arts was something that deeply affected those of us who thrive on that cultural infusion.
We cannot wait to see the runways peppered with the invigorating designs at NYFW nor the phenomenal, aw-inspiring movement of the American Ballet. There are few things that can take your breath away like fashion and dance, and as we safely make our way back, may you pause for a moment to celebrate those that have been training, designing, sewing, and adapting to the constant changes caused by COVID.
Thank you to everyone who continues to mask up and to everyone who has been vaccinated. You are appreciated, and human-to-human, thank you for caring enough about one another, and being part of the unity we all so desperately crave.
[separator type="thin"]
The story behind Oscar de la Renta is one to know. Dominican born de la Renta studied under Cristóbal Balenciaga and Antonio del Castillo and became a household name in the 1960's when the fabulous Jackie Kennedy brought him on as one of her courtiers. Kennedy's style was iconic, and Oscar de la Renta quickly catapulted as one of the most sought after designers in the fashion world. His attention to detail, lines, femininity and his ability to create exquisite visual aesthetics through florals, folds, and varying fabrics was unlike any other. His work is legendary and has become immortal to those who are steeped in the details only fashion can bring to life. Laura Kim is now taking those visions and putting her exquisite touch on the new collections.
Laura Kim's Rosé Spritz is an aromatic spritzer inspired by the cult fashion visionary's heritage and affinity for East Asian flavors, where she has paired elderflower liqueur with sparkling yuzu, rosé wine, and cherry blossom ice cubes to pay homage to pressed embroidery elements in Oscar de la Renta's Fall/Winter '21 collection. The strawberry-infused rosé wine reflects the strawberry milk beverages served in Korean cafes during the summer.
Meanwhile, Ballet Dancer maestro James Whiteside's—aptly named The Ballerino—aims to capture both the delicacy and verve of his renowned pirouettes and leaps on the stage—fusing the kick of ginger kombucha and lemon with bourbon and St-Germain elderflower liqueur, finished off with micro confetti to reflect his vibrant flair.
Finally, the Fleurita is a floral bouquet twist on the classic margarita dedicated to both creators in their return to the catwalk and Lincoln Center ballet stage this fall – featuring Laura and James's favorite ingredients – cucumber and lavender bitters respectively. Or finally, make your own DIY Bouquet Spritz with floral garnishes of your choosing!
These cocktails are part of the collaboration between the visionary duo being served at Fleuriste St~Germain this August 13-15 in NYC (details below). For those who can't visit the floral wonderland Fleuriste pop-up first-hand to try these cocktail delights, we've included the recipes below and some ingenious hacks (i.e. floral ice cubes!) to try and serve/impress at your next dinner party.
[separator type="thin"]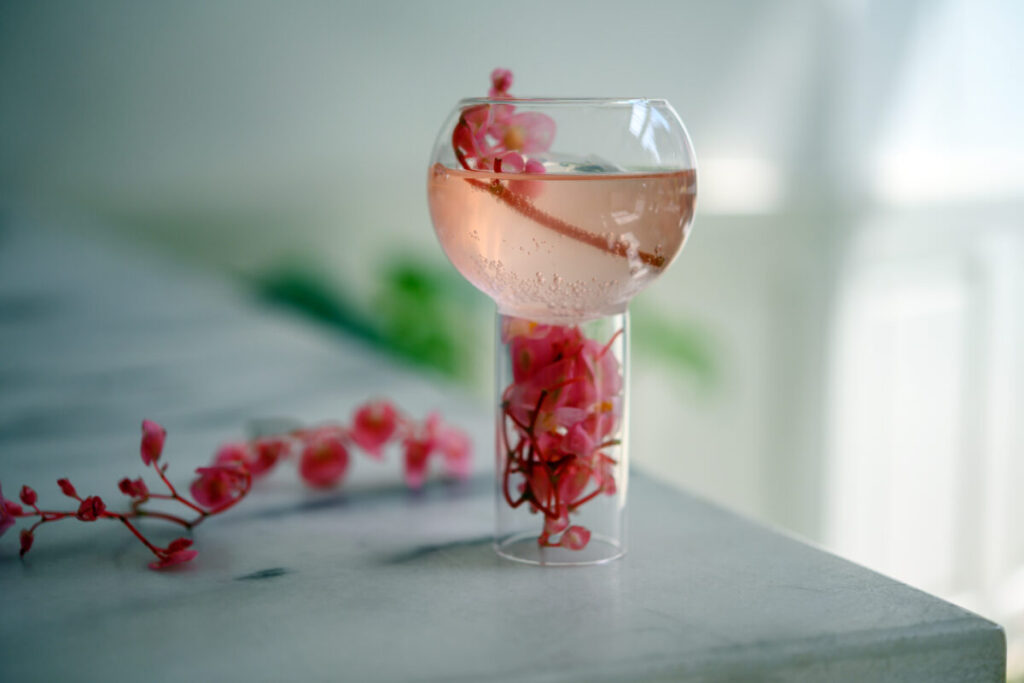 Laura Kim's Rosé Spritz
1 oz St-Germain Elderflower Liqueur  
2 ½ oz Strawberry-infused Rosé Wine (infuse 4 cups of quartered strawberries into a 750 ml bottle of rosé wine for at least 3 hours, then double strain)
2 oz Sparkling Yuzu
GARNISH: Cherry Blossom Ice Cubes
METHOD: Build ingredients over floral ice cubes in a wine glass.

James Whiteside's The Ballerino
1 oz Angel's Envy Bourbon
1 oz St-Germain Elderflower Liqueur 
2 oz Sparkling Water
1 oz Ginger-Lemon Kombucha
½ oz Lemon Juice
2 drops Bittercube Jamaican No 1 Bitters 
GARNISH: Micro Blossom Confetti 
METHOD: Build ingredients over pebbled ice in a Collins glass and add confetti garnish.
[separator type="thin"] [columns_row width="third"] [column]
[/column] [column]
[/column] [column]
[/column] [/columns_row] [separator type="thin"]
Fleurita
½ oz St-Germain Elderflower Liqueur
1 ½ oz Cazadores Blanco Tequila
1 oz Clarified Cucumber Juice
½ oz Orange Blossom Syrup (combine 1 cup of cane sugar and 1 cup water and gently heat until dissolved. Remove from the heat and add 2 tsp of orange blossom water)
¼ oz Citric Acid Solution (whisk 10 ml or 2 tsp of citric acid – lemon or citrus juice – with 100 ml of water)
Spray of Lavender Bitters
GARNISH: Fennel Pollen Salt, Edible Flower Bouquet 
METHOD: Combine ingredients in a cocktail tin and shake, then strain over ice and add floral garnish.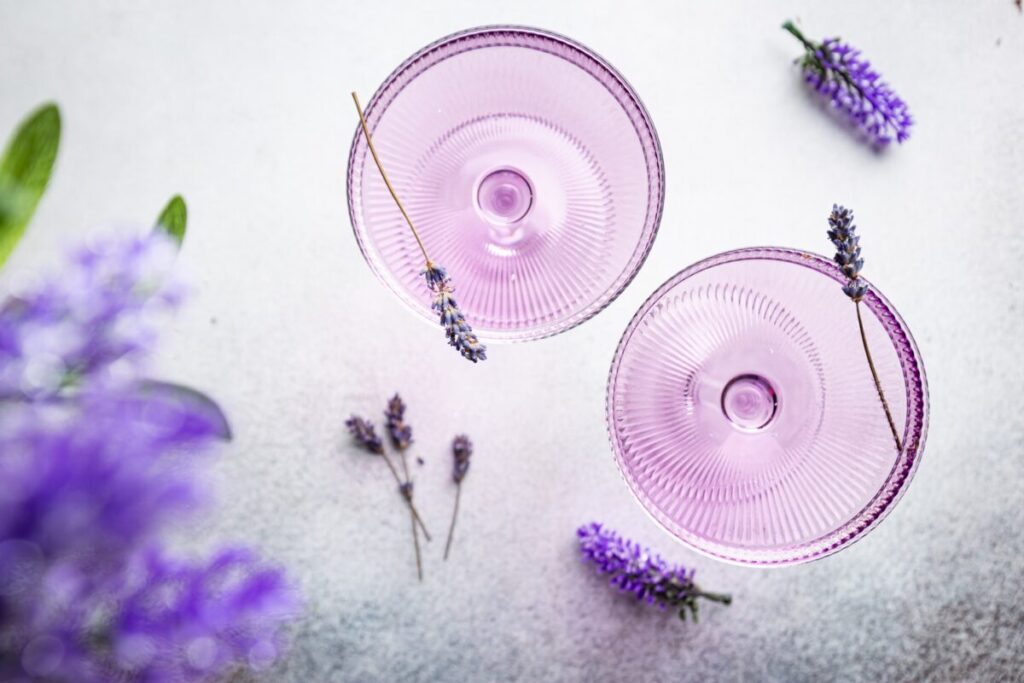 DIY 'Bouquet Spritz'
1.5 oz St-Germain Elderflower Liqueur 
2 oz Martini & Rossi Prosecco
2 oz Sparkling Water
GARNISH: Flower or Lavender Ice Cubes, or Flower Petals and Herbs
METHOD: Build ingredients over ice in a Tumbler or Wine glass, adorn with floral accoutrements and garnishes of your choosing!
[separator type="thin"]
Fleuriste St-Germain is the first ever flower shop of its kind, created by James B Whiteside, the American Ballet Theater Principal Dancer and Laura Kim, the Fashion Designer behind Oscar de la Renta and Monse. Drawing inspiration from the original French salons that fueled societal cultural and intellectual development, Fleuriste St-Germain is designed to be a community gathering spot sparking creative inspiration, joy and reconnection this summer. This flower shop-cum-cocktail bar and performance space will host guests to enjoy cocktail in the plush surrounds, featuring signature cocktails by Laura and James; as well as an exclusive ballet performance every hour choreographed by James, with custom costumes by Laura Kim.