Family Fun Made For Stranger Things Super Fans
Nothing quite like being in the Upside Down in the comfort of a 2021 Chevy Blazer
Now Through April 11th
[dropcap letter="I"]n 2016 the world sat down on their couches in front of the TV's and, for the very first time watched a new original series released on
Netflix
that would prove to be the greatest homage to Gen X-ers since John Hughes. That show is
Stranger Things
. A show about a bunch of truly rad kids (Mike, Lucas, Will, Dusty, Max, Nancy, Steve, Robyn, Jonathan, and Erica), starring the coolest chick with superpowers ever, Eleven. Together they take on the dark and sinister forces in their small town of Hawkins, but doing so while navigating the terrain of being teenagers in the 1980's. Three seasons in, and 40.7 million viewers around the world have tuned in to immerse themselves in the epic world brought to life in
Stranger Things
.
Among the millions of fans around the world, we here at ATOD have become enthralled in everything Stranger Things, fully committed to watching the town get overrun with demogorgins and the Mind Flayer, and falling in love with every single character introduced … even Billy.
So for those of us super fans craving Season 4—and some semblance of normalcy—Los Angeles answered the call and joined forces with Netflix, Fever and Secret Cinema in Row DTLA to create the Stranger Things Drive-Into Experience submersing us into … the Upside Down. Thrilled to take my kids to the event knowing how few things we've been able to do over this past year—and how much we nerd out over the show—GM loaned us the 2021 Chevy Blazer RS (Rally Sport) in a stellar midnight blue exterior to give the experience an extra layer of cool.
As a side note, once you purchase tickets to the Stranger Things experience, an email survey from Hawkins Online Portal is sent to you to help you figure out what style and character you'd resemble most from the 80's. This is in the vein of staying true to the times and guests are encouraged to come to the Drive-Into Experience in full era-specific attire. They even offer up some genuinely cool Hawkins High merch. (We were beyond excited to get the Dusty and Suzy coffee mug at the end of the event—#SuperFans!)
On the day of, we decided the only way to truly get in the spirit of the event was to subject the entire family (us and the teenagers) to channeling the 80s and our favorite Stranger Things characters. My daughter put on her oversized sweatshirt, baggy light blue jeans, and Vans (reminiscent of Max), my son wore his jeans, Converse and a popped collar polo shirt (reminiscent of Steve), my partner rocked the baseball tee and a slick hairdo (reminiscent of Billy), and I tapped into a side ponytail, frosty pink lipstick, bangles earrings, and my Hawkins High letterman jacket (reminiscent of Nancy). I packed up some homemade air-popped popcorn and we loaded into the Blazer, pressed the remote vehicle start button ready to get the adventure underway.
This marked the first time we'd driven from Ventura to downtown LA since the COVID shutdowns. We synced our phones to the in-car WiFi, typed the address into the Blazer's 8-inch touchscreen navigation system, adjusted our power seats, turned on the seat warmers, connected to the Bose stereo system, fastened our seatbelts, and turned on the Best of the 80's music on Spotify. As we pulled out of the driveway there was one very obvious cool factor of this all-wheel drive Blazer RS: the steering wheel was warming up! Warmed hands and warm bums, Run-DMC's "It's Tricky" jamming through on the sound system and off we went. With a playlist that ranged from Cyndi Lauper, Depeche Mode, Wham!, to Michael Jackson, the hour-long, no-hassle smooth drive was fun to say the least.
As we pulled off of the 110 freeway and into the heart of downtown, it was a stark reminder of the times. Skidrow has expanded, restaurants and shops are boarded up, and the city has placed port-o-potties throughout the area to help those living on the streets. Since the pandemic began, it's those living on the streets who have had the least amount of resources made available to them as far too many shelters were forced to close or were low on supplies due to lack of funding.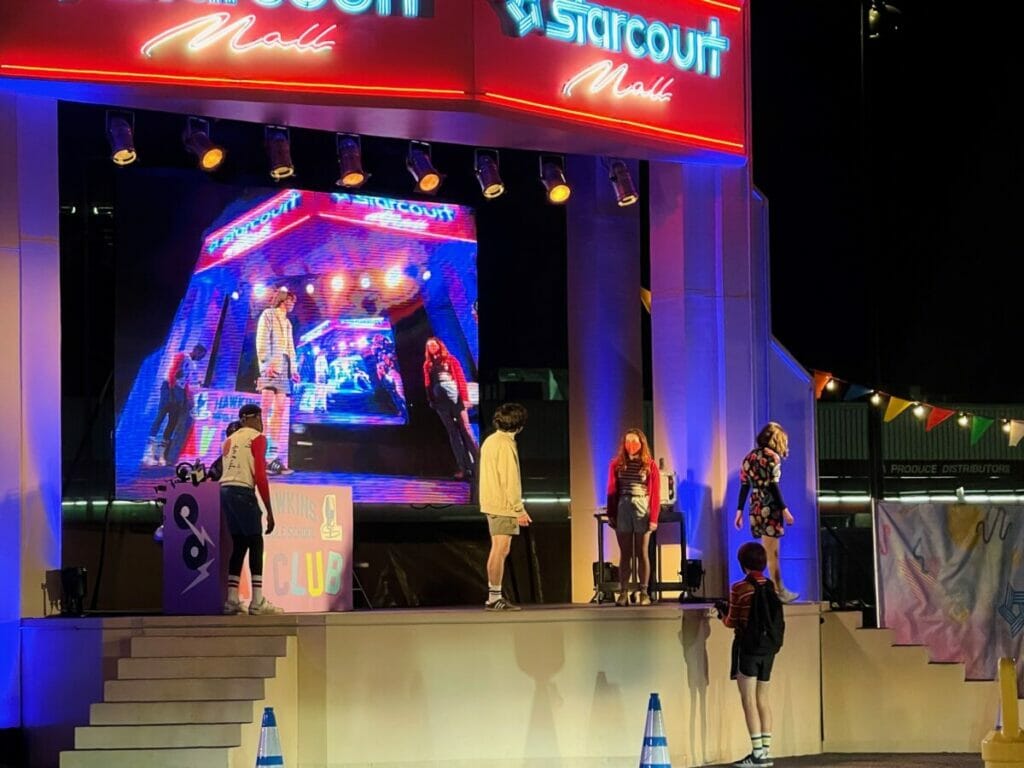 While the adventure we were heading to was going to be phenomenal and the ideal escape, we would be remiss to ignore the visible cues of a very troubling and challenging year for so many of us, but none more than for those on the streets. That aspect of this trip was heartbreaking and an opportunity to educate our kids on the importance of giving and helping those in need. Please don't ignore those around you. Please reach out to homeless shelters and community organizers in your area to see what you can do to help.
While we drove towards Row DTLA, a man walk past us with a smile so big, it was one of the most human moments we've had in a long while. Returning the smile, we look up ahead to see the RETNA painted exterior indicating we've officially arrived at "Starcourt Mall" (aka the event). Of all of the drive-thru experiences we've attempted (which there have only been 2 others), this was by far the most well organized of them all.
With socially distanced photo ops upon entry, we are greeted and given a bag of "mixed tapes" and a Hawkins newspaper and then pull up to check in where we can order Scoops Ahoy ice cream, soda pop, and candy.
Turning off the 80's jams to tune into the designated events FM station, we see Hopper's Chevy Blazer parked, and Will, Mike, and Lucas roaming around the row of vehicles with a camcorder filming us all, playing out scenes from Season 3. As we listen to the DJ spin albums from the era, out walks Max and Eleven arguing with Lucas and Mike (a scene from the last season). Well-cast and acted, it was immediately as if we'd been thrust into another time with characters that seem far too real to be fictional.
And then the DJ announces there will be a Best Dressed competition and girls dressed in purple spandex onesies and jazzercize attire roll past on rollerskates along with a few others, including Lucas and Mike. To our surprise? WE WON BEST DRESSED! We got ourselves a proud sticker and then all of the cars waiting to enter are given the go-ahead.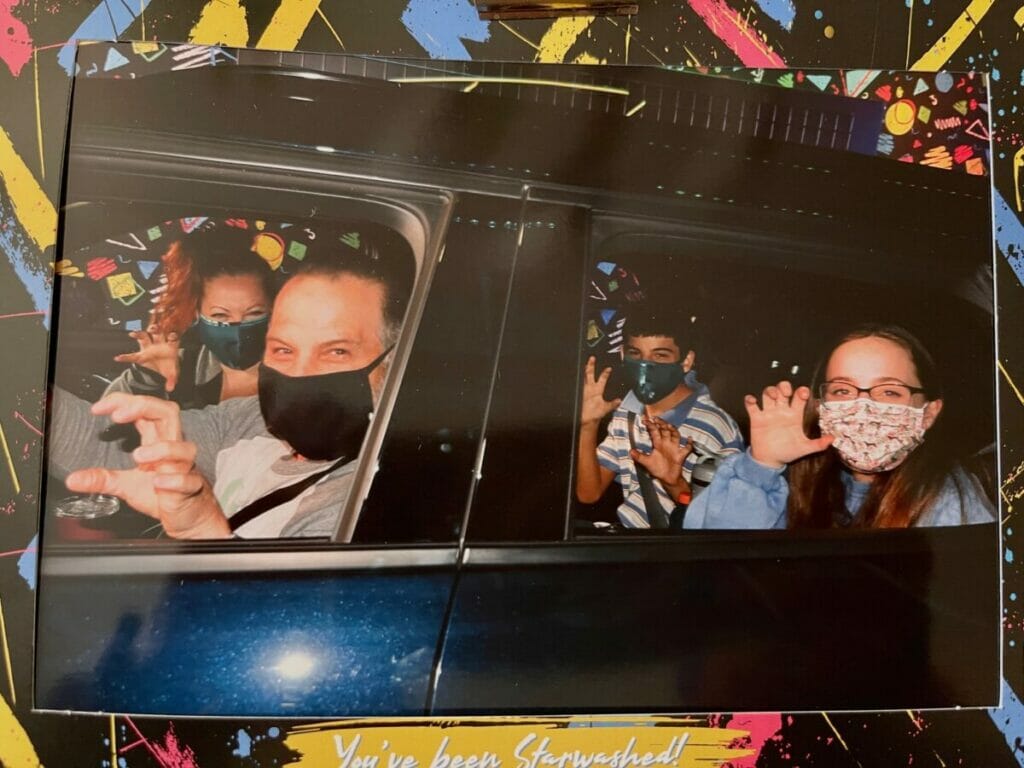 Without giving too much away, as you enter into the Upside Down garage, Murry can be heard speaking Russian and warning us of what's ahead. The Stranger Things Drive-Into Experience was exactly what our family needed. It was good fun with killer sets and characters, demogorgins and all, and the grand finale was absolutely haunting, beautiful, and true to the series. Driving through it all in the 2021 Chevy Blazer was honestly the most natural fitting vehicle for our family of four, and as we left downtown and headed back home, the kids fell fast asleep, and we enjoyed a little more 80s music … only this time adjusting the speaker system on the home screen to be in front just for us.
[button content="TICKETS #89-$329″ color="red" text="white" url="https://feverup.com/m/91034″ openin="_blank"]
---
CAR HIGHLIGHTS
2021 Chevrolet Blazer RS
RS stands for Rally Sport
The steering wheel warmer is legit
The drive is beyond smooth and quiet with noise reducing features
The stereo is on point
Sticker Price Fully Loaded: $47,185.00
Our only tip when driving the new Blazer RS is to watch the speedometer because the ride is SO smooth, you'll be driving faster than you think and those lights behind you might just be the cops!