The Weekend is a Palm Springs gem worth experiencing.
While we share this post about a beautiful staycation in our diverse state of California, it cannot be stressed enough that we are acutely aware of the situation in the Ukraine and we stand with them. 
Weekends are this remarkable concept that imbibe a sense of release, abandon, relaxation and an overall good time. What that good time means in your life is entirely up to you, but for us, weekends mean we get to unwind, escape, and do something that takes us out of our weekly routine.
This time around, I decided the best place to have a weekend to remember was to head straight for Palm Springs. Not only was I in desperate need to leave the binds of suburbia behind for a little desert reprieve, Palm Springs is also where I go to get exquisite ink (aka, tattoos) from one of the best tattoo artists around, Wyatt Johnson at Anarchy Tattoo. This time around I endured four and a half hours of Wyatt's artistry to get three gorgeous, bright blue butterflies on my back and side. These beauties are exquisite, and this trip was exactly what the serenity doctor ordered, which is why a weekend at The Weekend was the perfect prescription.
PHOTOS Courtesy of The Weekend and Dawn Garcia
[columns_row width="half"] [column]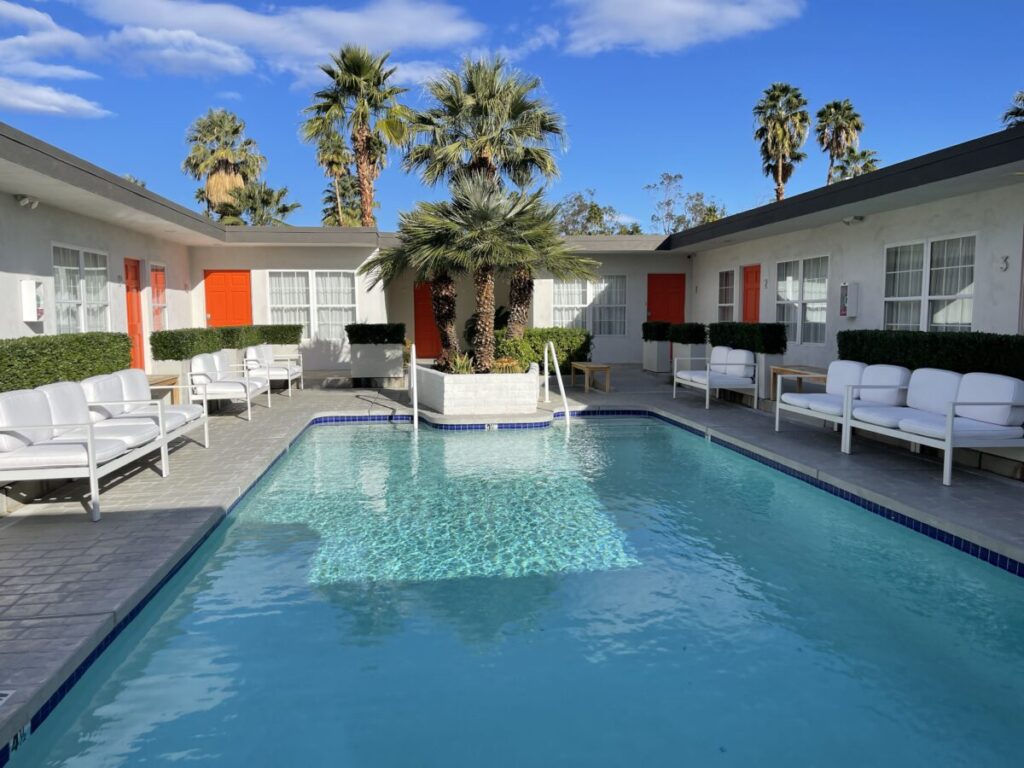 [/column] [column]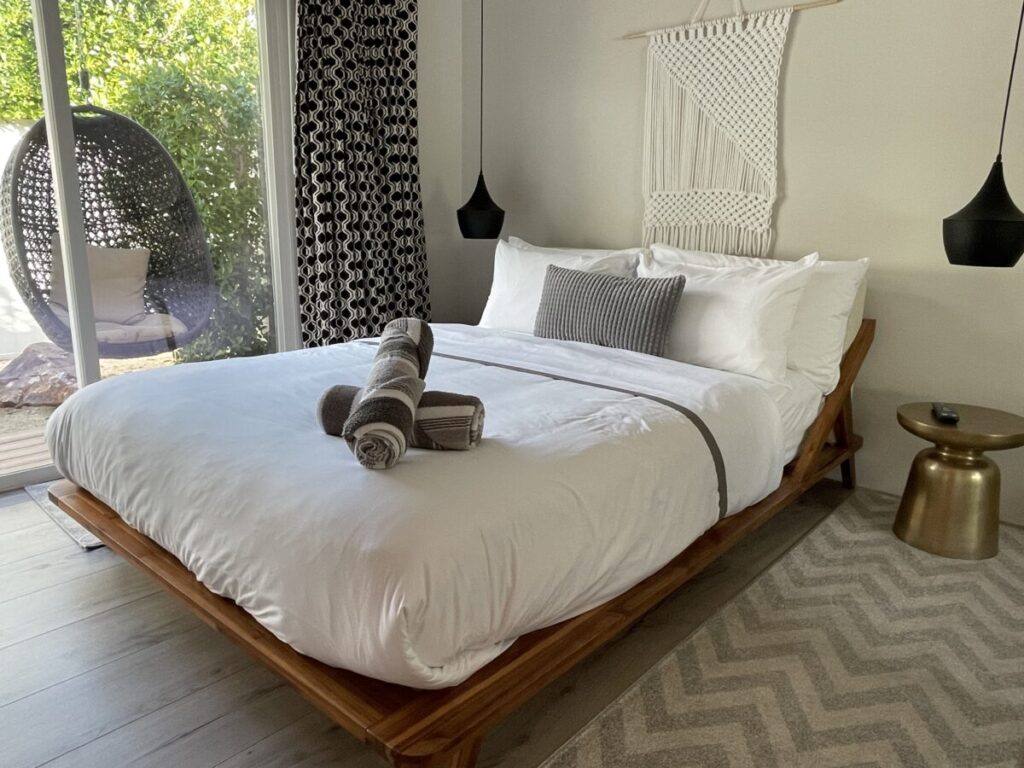 [/column] [/columns_row]
The Weekend hotel is located in the historic La Palmas District of Palm Springs. The property recently underwent renovations and the design falls right in line with the architectural dreaminess of midcentury modern that Palm Springs is known for.
Clean lines, bright whites, brightly colored accents, and in this case, tangerine and cobalt blue, this 10-room boutique hotel is truly home away from home.
Staying in room number 8, I was pleasantly surprised the moment I walked in. With coded key locks, stepping into my room felt like a vacation home I had always been missing. A two-bedroom, two-bathroom room (outfitted to become a one-bedroom/bath), the living room harkened my inner creative. Slim Aaron's famed poolside photo rest over the gray couch, a bookshelf lined with vinyls and design books stacked neatly on the shelves. Art and photography, as well as a vintage camera quaintly round the couch, as does an acoustic guitar — just in case one gets the urge to play a midday jam. In the kitchen is a swanky table, design-centric chairs with a black linear artistic light dangling from the ceiling, Marilyn Monroe sweetly looking down at you, and a complete kitchen outfitted with stemware, place settings, refrigerator, and plenty of room to settle in.
Each room has it's own unique experience, and in addition to the bedrooms and baths, there is a gorgeous private patio with a wicker swing "egg" chair, two chaise, succulents, and an open sky to gaze at when the sun sets. At night, this was the first place I wanted to go to, to feel the cold night air brush against my face and shoulders and take in the solace that comes from the enveloping mountainous terrain. Even though I did not have a chance to take a dip in the heated saline pool, that's next on my list when I return for my next stay.
In other words, it's the perfect way to slip out of life and welcome in a much needed respite.
[columns_row width="half"] [column]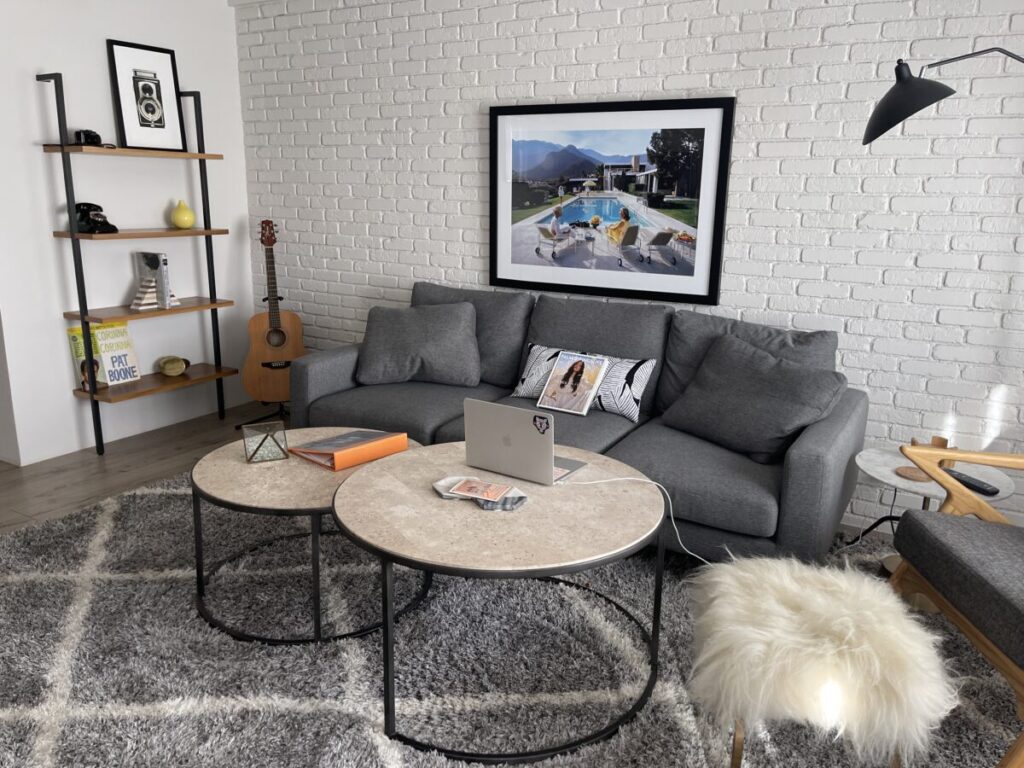 [/column] [column]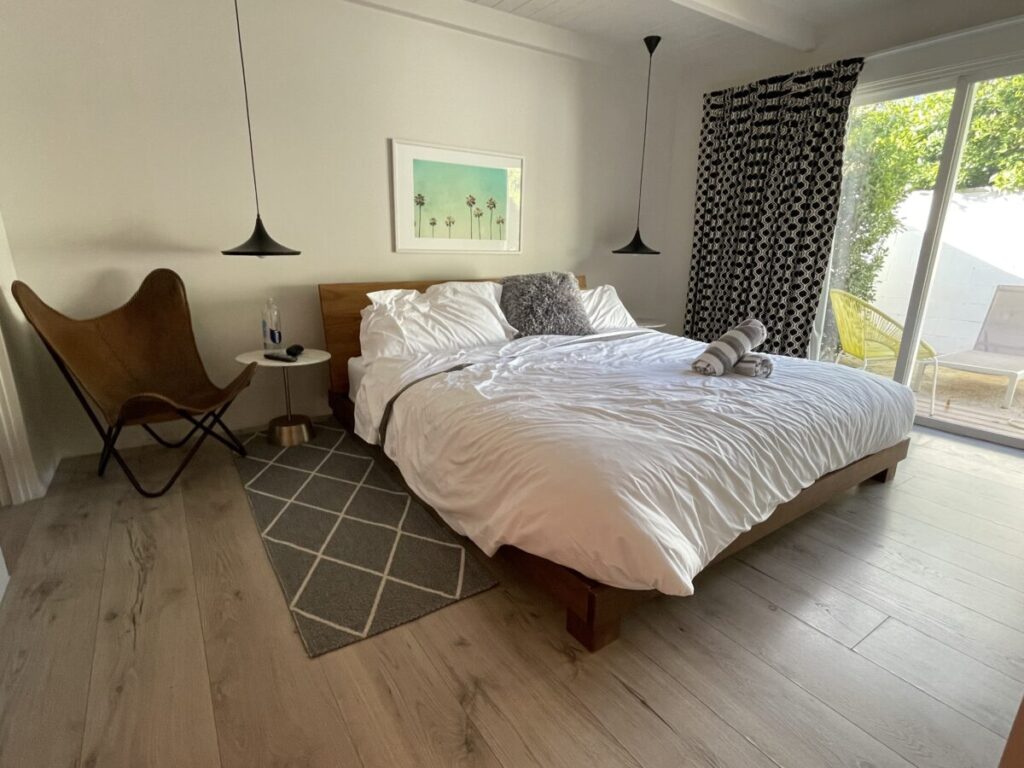 [/column] [/columns_row]
With two bedrooms, the ambiance and decor match the tranquil, yet swanky vibe that takes you back in time to the 1960's where only the free thinkers and stylish folks would escape the woes of Hollywood life for a neighborly refuge. This was the kind of break I genuinely needed. Like visual poetry, the mountains surrounding Las Palmas and The Weekend Hotel are majestic, divine, and wondrous, which only amplify a sense of belonging. And this is a sweet little nook of Palm Springs that makes you feel like you belong.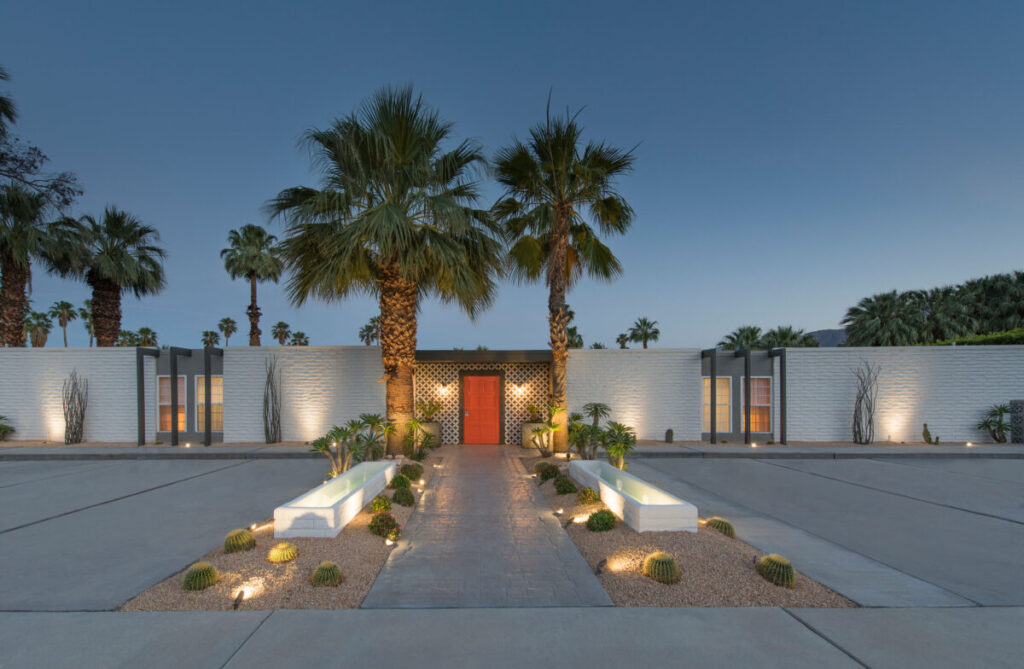 In an article on the Visit Palm Springs, owner Mark Hermann discusses the empathy behind creating a hotel with your guests in mind. He says it's he feels very fortunate to have discovered Palm Springs. "So often, our guests arrive and they've never been here, and I know what that feels like. Even though I grew up close, I really was not familiar with Palm Springs and everything it had to offer, from shopping, dining, the wonderful people that are here, the small town vibe, and of course the architecture. It's internationally known for its architecture."
In that vein, Hermann exhibits a compassionate approach to hospitality in a way few others can boast. We spoke to Hermann to get his take on this beautiful Palm Springs property.
What about The Weekend drew you in? (How you named it, what lured you about the property, what that term "the weekend" means to you.)
What convinced me to purchase and renovate the hotel was the location. I love the area North Palm Springs. Old Las Palmas is considered the most exclusive non-gated neighborhood in Palm Springs. We are walking distance to restaurants and coffee shops, but tucked away off Palm Canyon Drive.
I wish I remembered exactly when I came up with the name 'the Weekend'. We are known for our sizeable, well-appointed suites. This allows for a comfortable lengthy stay, but of course Palm Springs is in full swing each weekend. I had in mind our California road warriors escaping the large cities for a weekend respite. Naturally, our guests come from all over, with a significant portion from Europe and Canada.
What is the overall vibe you hope to bring to guests?
We are a family friendly, romantic getaway. Most of our suites can be either a one bedroom/bath or can be converted to a two bedroom/two bath. Our unique configuration welcomes families but our ambience is very relaxed. We play some favorites from the Frank Sinatra era in the mornings and blend that with chill electronica in the afternoon and evenings. Although rafts and toys are not permitted at the Weekend, our saline pool is heated year-round.
Of all of the decor, including color schematics, what element did you utilize to make it feel like home away from home?
During renovations, we removed the wall separating the kitchen/dining room and the living room, making for a great space to enjoy. Our sizable living rooms will make you feel at home.
For people like me that consider The Weekend the spot I hope to frequent more on the regular, what is your hope for "repeat" visitors and the property? Any plans for "regulars"?
Now in our third year of operations, we have been discovered! With only 10 suites, we tend to be fully committed each weekend. While we do not offer discounts, our repeat guests can always receive our best rates by booking direct on our website or calling our lobby.
Any plans to implement any food/beverage program once COVID is over?
We are a small boutique and do not have a restaurant on site. We are fortunate to be walking distance or a short drive to popular breakfast and dining locations. For those wishing to relax at home, we offer a kitchen with a full-sized refrigerator. There are no heating appliances, but provide all the cutlery requried should you order in or bring snacks from our local market.
---
RECOMMENDATIONS
Eat + Drink
Cartel Coffee | A local coffee shop located within walking distance from the hotel, this little coffee spot attracts locals and coffee lovers alike. I ordered a dirty chai oat milk latte and it puts almost everyone else's to shame. It was delicious and is now my go-to for coffee whenever I'm in town.
Cartel Coffee Lab | 1551 N Palm Canyon Drive, Palm Springs
MidMod Cafe | An incredible spot, recommended by locals, for vegan (non-vegan options also) and organic cuisine. I ordered the Acai Bowl and it was the most sensational breakfast. Blended with almond butter, bananas, and topped with gluten-free granola, cacao nibs, goji berries, blueberries, and strawberries this is refreshing and the portion is generous.
MidMod Cafe | 515 N Palm Canyon Drive, Palm Springs
[columns_row width="half"] [column]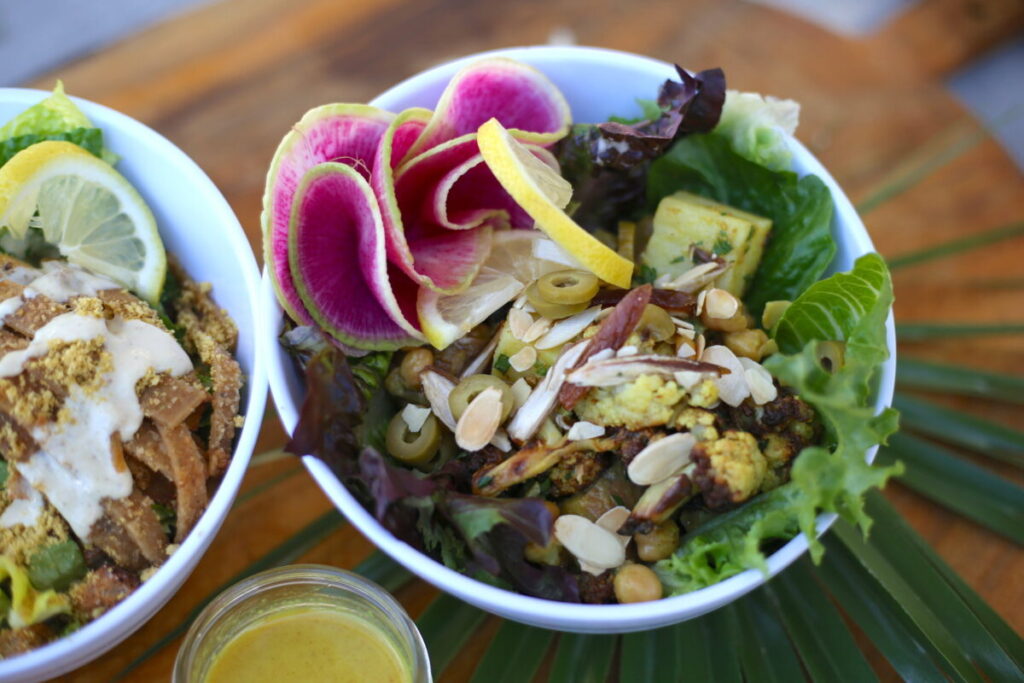 [/column] [column]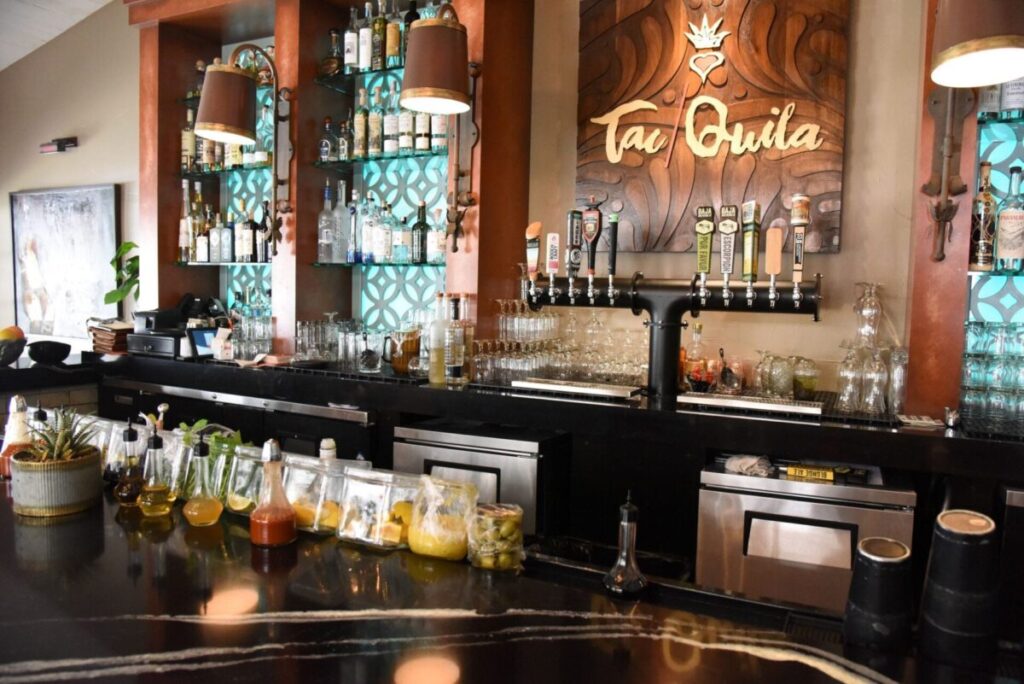 [/column] [/columns_row]
Chef Tanya's Kitchen | Vegan deli and marketplace that has an abundance of food choices from grab n' go to freshly made tempeh sandwiches, Chef Tanya's was a wonderful place to discover. She offers freshly made cold-pressed juices, and a truly happy staff. I ordered food to-go and several juices to last the three days I was in town including Ant-Venom, Beety, and Greens juices, the Guadalajaral Tempeh Powerburger (made using Anaheim chile), Coachella Forever salad (made with mixed greens, cabbage, avocado, quinoa, and so much more that makes this super clean and hearty), the classic deli potato salad, and a piece of vegan carrot cake. Every dish was sublime. She also offers an array of items made from local artisans to beekeepers.
Chef's Tanya's Kitchen | 706 S Eugene Road, Palm Springs
Tac/Quila | Made with love from Mexico, Tac/Quila is a phenomenal restaurant on the main strip owned by lawyers, Mark and Liz Ostoich, who love adventure, food, travel and … tequila. Tac/Quila is their, "made up word for combining gourmet Jalisco style cuisine with speciality tequilas and mezcals, in an effort to transport our guests south of the border and into a culture rich in flavor, color, art, and authenticity." I have to agree that the food is light and rich all at once, and the craft cocktails (including mocktails) are exquisite, complex and beautiful in flavor. This is a must-eat in Palm Springs. An added bonus is their exquisite decor and walls of greenery.
Tac/Quila | 415 n Palm Canyon Drive, Palm Springs
On my list to visit next trip: Café La Jefa, CHi CHi Restaurant, Sandfish Sushi & Whiskey, Farm (same owners as Tac/Quila), 4 Saints, Counter Reformation
---
The Drive
Working with GM, I was loaned the 2022 Buick Envision Avenir to drive around and experience. In my quest to find the ideal luxury SUV, the new Envision Avenir is luxe in all ways — and incredibly space efficient.  I was primed for an easy, no hassle, stress-free weekend away the second I push start engine. The Envision Avenir is such an exciting, sleek, high-end SUV and the drive is flawless. Whether I was driving around the neighborhood I live in, in traffic on the 101, or on the open road leading to Palm Springs, the 2022 Envision Avenir is a top contender for vehicles I truly believe are worth the sticker price and ride. The model I drove had the ebony twighlight metallic exterior with ebony and interior accents. I felt like I was rolling up in style, and the stereo system only adds to the level of importance. (Doja Cat sounds legit when cranked up!)
Some of the features include a leather wrapped, warming steering wheel, heat/cooling seats, top-of-the-line OnStar navigation system that plays on the 10-inch infotainment screen placed in the center dash, an air filtration that consists of microfilter technology (perfect on days when the Santa Ana's or the rain wreak havoc on Southern California), a handsfree programmable lift gate (this is way more fun than it sounds), plenty of room considering it's a compact SUV, and an abundance of space, storage, and a hearty trunk that fits groceries — and — overpacked suitcases!
With multiple 5-star safety ratings, the 2022 Envision Avenir by Buick is an SUV that should rise in the ranks of new vehicles you're considering. Whether purchasing for you, your family, or those that appreciate American-made luxury, this is one you need to check out. | $38,850 Standard Vehicle Price + $45,505 with additions and upgrades.
---