Santa Barbara proves to be a soul reset
Santa Barbara has always been a California city that held a special place in my heart. Whether I was a teenager visiting friends attending UCSB, eating late night $5 burritos at Freebird's in Isla Vista (before anyone knew about it), or wandering the cliffs where marine biology students would study the flourishing sea life, my love for the area began in my youth. When someone would ask where I wanted to retire, I'd always say Santa Barbara. The prestige, the laid back attitude, the fact that most everyone was nice … it is an undeniable draw.
Fast forward to now, COVID finally becoming less of a fear factor (variants and all) and travel becoming far more intriguing, when it was time to escape the normalcy of the every day it was The Santa Barbara House that beckoned. Initially I researched hotels, but the cost of hotels has become so inflated, a plane ticket to Europe is almost the same price as three nights away. This time I searched for the perfect place. A growing fan of Air BnB Plus, I found a charming, beautiful house in the heart of downtown called The Santa Barbara House.
The Santa Barbara House is a historic home and garden in downtown Santa Barbara, steps from Alice Keck Memorial Garden, the Courthouse and State Street. It was built in 1903 by the Hunt family and was lovingly restored by the Bogan family in 2020. "When we bought the Santa Barbara House, landscaping was minimal at best. We had a few large oaks and cypresses and the rest of the garden was all mulch. It's exciting that we get to be plan our garden from scratch but it's also a giant undertaking. We want to create the European garden of our dreams, but with a conscience as Santa Barbara is regularly in drought." says owner Jen Bogan.
[columns_row width="half"] [column]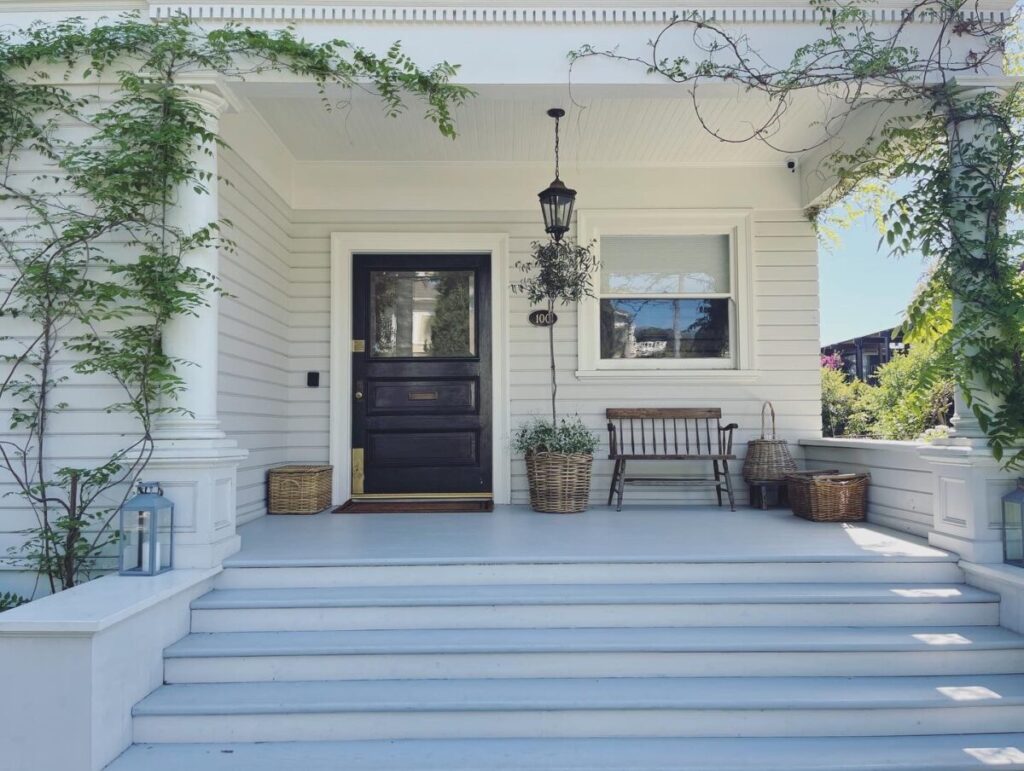 [/column] [column]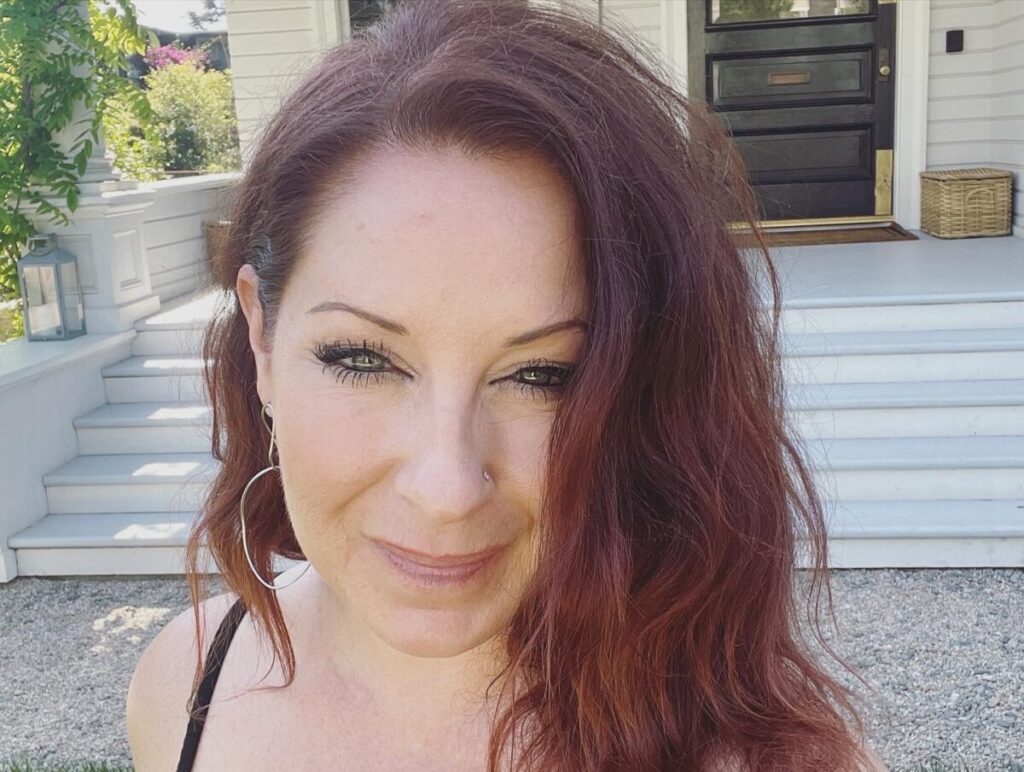 [/column] [/columns_row]
ARRIVAL
When you pull onto the property, it is surrounded in beautiful tall Cypress trees and foliage lining the perimeter remnant of the French countryside in somewhere like Provence or Médoc. It emits a sense of serenity the moment you pull into the white gravel driveway, birds chirping as if on cue, and as you walk towards the entrance your senses are overcome with the smell of lavender, herbs, the subtle scent of salt water and mountainous perfection enveloping Santa Barbara and the property. Located close to downtown, I would be staying in the Designer Fireplace Suite with a king bed, the entire upstairs with private entry on the ground floor, a generous living space with open windows and natural light filtering in from every direction, a washer/dryer, and of course a fireplace. The space is designed to be minimalistic with a breathy airness of whites and whispers of wood, iron, a combination of modern and antiquitous.
With the en suite adjoining to the bathroom (exquisite) and the living quarters, the Fireplace Suite is tranquility at its finest. There for a writing reprieve, I was elated to see an old writing desk situated by the corner windows looking out onto the city streets. I spent many hours sitting there, working, creating, even enjoying my morning coffee. The hosts, Jen and Elihu are lovely and respond quickly. They have put personal touches everywhere in the house and their clear love of design and aesthetics is visible in every pocket of space at The Santa Barbara House.
The property highlights: The outdoor wooden tables, the tree swing, the vegetation and landscape architecture, location, interior design, the ammenities such as having Q-tips, cotton balls, bathroom necessities, feminine hygeine products, two large fans, central air/heat, and more. There is also a refrigerator, plates and utensils, a Keurig coffee maker, and carefully chosen design pieces sprinkled throughout the space. This is a house to plan a trip around.
Santa Barbara Highlights: You won't find a more exquisite place to catch your breath. Santa Barbara is sheer perfection. The weather is pristine, the landscapes and seascapes are bar none; the architecture and design is timeless and beautiful, and the people are genuinely kind. Santa Barbara is a city and county devoted to preservation, sustainability, quality agriculture, and uncompromising quality.  I also highly recommend seeing a concert at The Santa Barbara Bowl. We recently saw Portugal The Man and Alt J there and it was an experience I'll never forget.
We plan to spend more time here and share our finds, our favorites, and the unsuspecting surprises.
[columns_row width="half"] [column]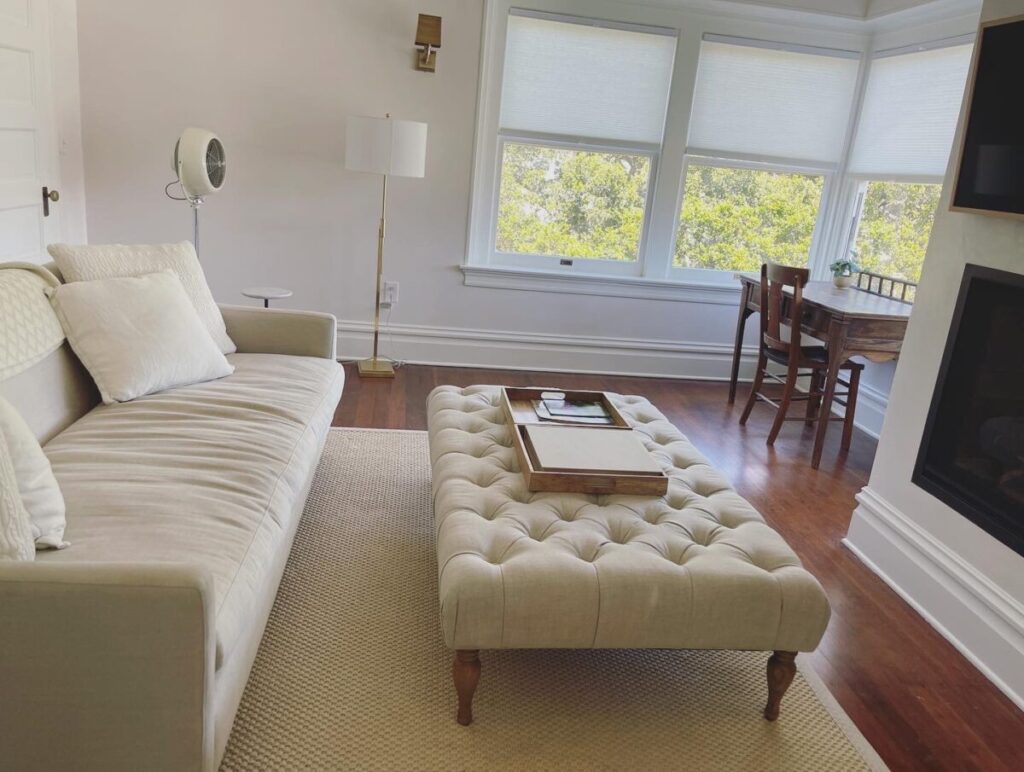 [/column] [column]
[/column] [/columns_row]
EAT
When it comes time to grab a bite, it's worth heading in to downtown. There are so many incredible culinary choices but I found my way to The Blue Owl where I loaded up for the next night and day. With plenty of flavor forward vegan options, I was so glad I chose to eat here. When you're ready for a beautiful dinner, one of the most glorious, eclectic, and wonderfully designed little restaurants tucked away in Santa Barbara is Barbanero. Found simply by mistake, the entrance is just off of Canon Perdido and the menu is inspired with the ambiance you'd find in Barcelona. Elements of wood, florals, herbs, and succulents, gorgeous intentional art sporadically placed throughout the restaurant gives it this rich and rustic environment perfect for a quaint dinner. It's the kind of place where you know you'll want to settle in, savor every morsel of every dish and relax. It's the most brilliant little spot in the area.
The Blue Owl | 5 W Canon Perdido, Santa Barbara, California 93101
Barbañero | 205 W. Canon Perdido St., Santa Barbara, CA 93101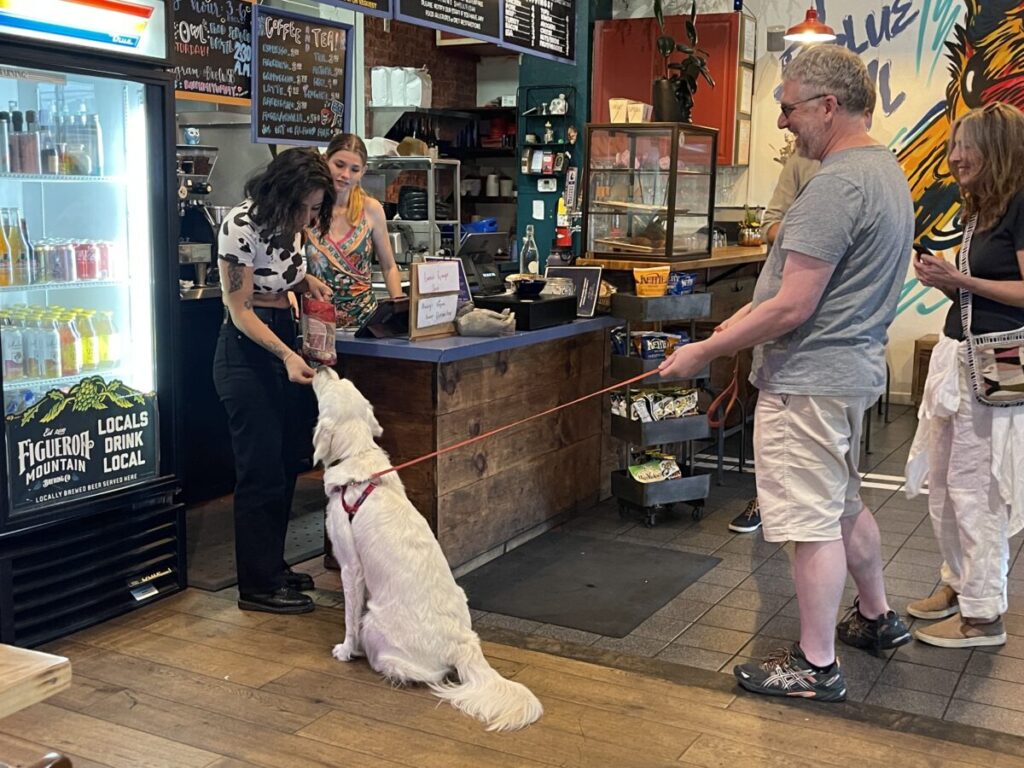 BLUE OWL Recommendations
Beet Salad | Spring mix, beets, vegan cheese (request vegan), pistachios, radish, Thai basil, garlic oil & thyme dressing
Mango Mint | Spring mix, mango, cucumbers, cherry tomatoes, snap peas, mint, thai basil, peanuts & tahini dressing
Strawberry Crostini | Grilled baguette, Violife vegan feta, fresh strawberries, Thai basil, balsamic glaze
Whalebird Kambucha to drink.
---
BARBAÑERO Recommendations
Grilled Avocado | black garlic ponzu, yuzuu mousse, fresh horseradish, avocado leaf salt
Market Fish | miso, chili-citrus emulsion, blueberry bomba rice, ginger 
Santa Maria BBQ | wagyu trip-tip, pinquito beans, pico de gallo, garlic butter
Ojai Hive and Honey | bee pollen, panna cotta, mead granita, fruit
They have an impressive selection of beer and wine, as well as a few refreshing mocktails.
[columns_row width="half"] [column]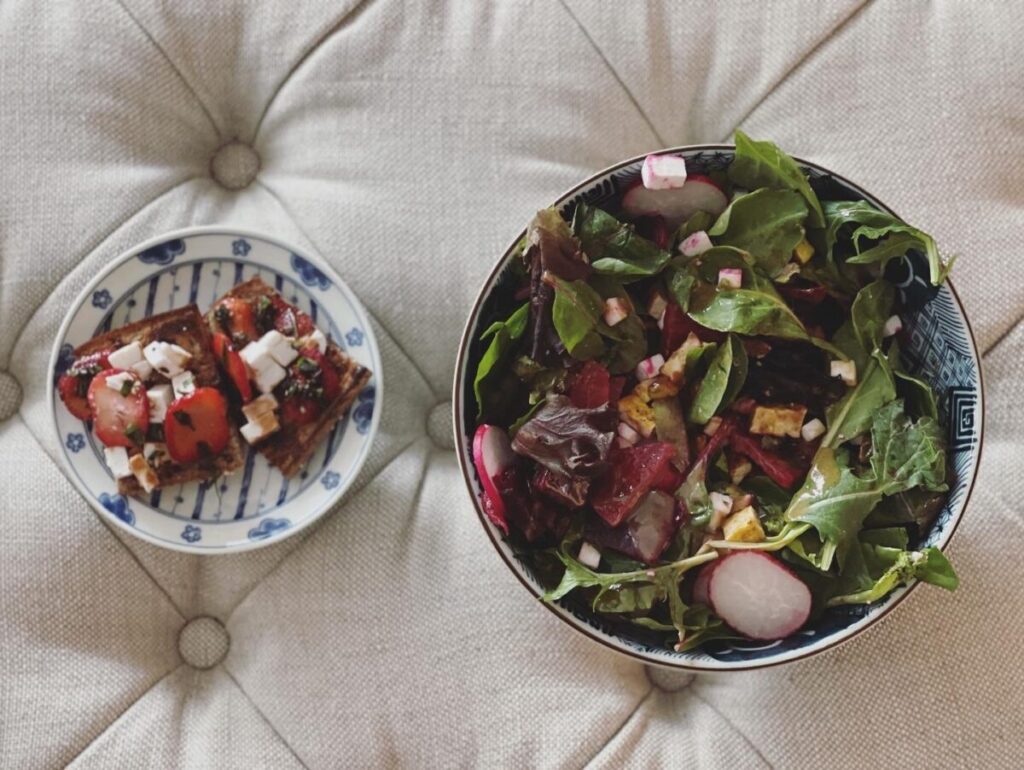 [/column] [column]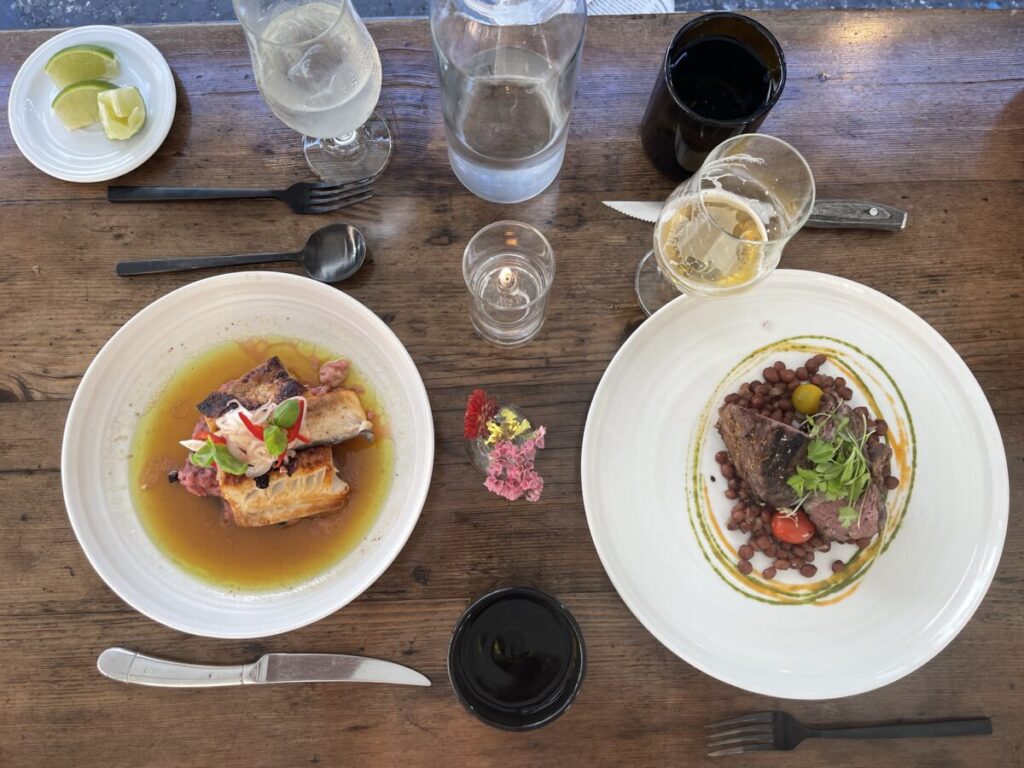 [/column] [/columns_row]
About Barbareño
Centrally located in downtown Santa Barbara, Barbareño enhances the essence of our local cuisine on the Central Coast of California.  Using the history and traditions of our area as a starting point, along with the abundance of locally produced products available from the region, Executive Chef Julian Martinez and Chef de Cuisine Preston Knox work to create a menu that vividly expresses our time and place.  Served in a casual yet refined space and complemented by some of the best wines and beers in California, we seek to redefine the significance of California Cuisine.