CannaSexual creator Ashley Manta is doing more than talking about cannabis and sex, she is liberating women
I don't know about you, but growing up, my conservative upbringing made sex a source of shame. I was taught that a body was something to hide, and I can assure you no one discussed self-pleasure, nor did they discuss sexual trauma. Considering the things happening in this country to further oppress women and their power over their own body, when I first met Ashley Manta of CannaSexual, it was at a tour of a primarily female-run, family cannabis farm in Santa Barbara called Autumn Brands. Invited to learn about their sustainable approach to cultivation and finish our tour with a lunch at the Santa Barbara Polo and Racquet Club, the group of people gathered were as diverse as the world we live in. And it was refreshing to see. Manta and I sat beside one another and that is when I learned about her fearless approach to sexuality, experimenting with cannabis, and her fierce belief that women are powerful and amazing beings worthy of all good things—including taking your power back and not shying away from ultimate pleasure.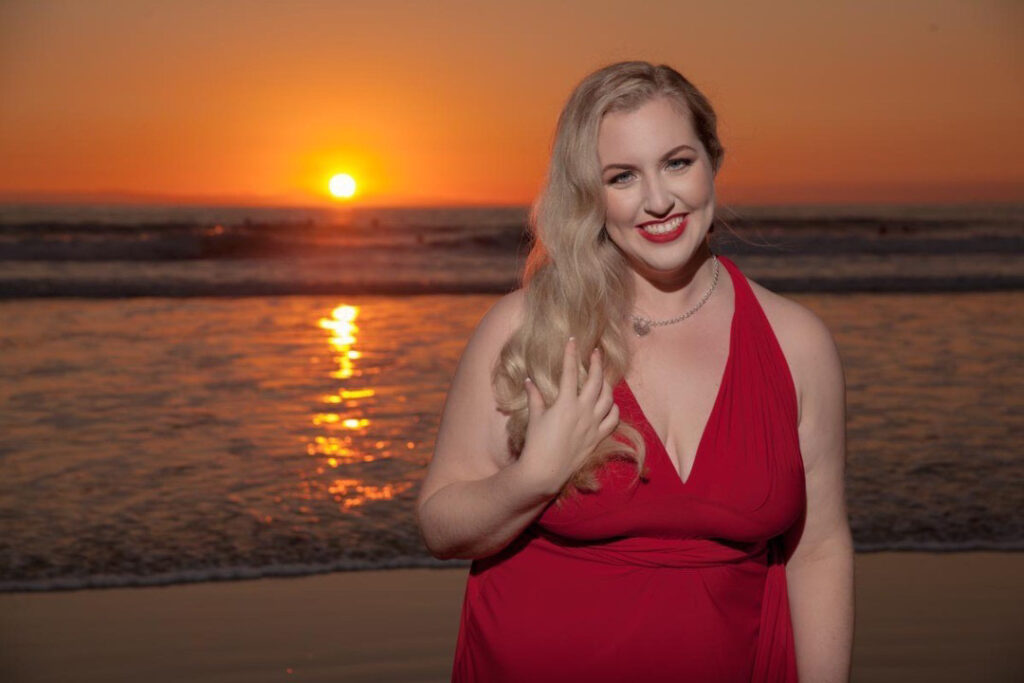 What inspired Cannasexual?
As a survivor of sexual trauma, one of my main symptoms was pain with penetration (vaginismus). I struggled with that most of my adult life, until I learned that THC-infused cannabis oil applied topically allowed me to have pain-free penetration. Even now, I still use cannabis oil almost every time I have intercourse. When I realized that cannabis could help make sex not just pain-free, but more pleasurable, I took a moment to look around the landscape of sexuality professionals that were in my sphere and I realized almost no one was talking about sex and cannabis from a consent focused, trauma informed, queer inclusive, body positive perspective. I wanted to be that person. In that moment, CannaSexual was born. It's been federally trademarked since 2016 and has become a globally recognized term, even being featured as the Word of the Week for Playboy!
So many women are conditioned to be contained in their sexuality. What would you tell anyone interested in exploring self pleasure
Self pleasure is your birthright! Your body is yours and when you explore self pleasure, you're not only taking profound ownership of your body, you're learning what feels good to you, under ideal circumstances, when you are under no pressure to look or act or sound or experience pleasure in a certain way. You get to cultivate a loving and erotic relationship with your body entirely on your terms without being perceived by anyone. That is true freedom! I understand that there's a lot of social conditioning to not prioritize our own pleasure; that if we masturbate at all, it's done in stealth mode–quickly and silently. And that when we're with a partner, their pleasure is the priority. It's hogwash! You learned those things from a society that benefits from you being disconnected from and dissatisfied with your body, and you can unlearn them too! Your relationship with yourself is the most important relationship you'll ever have.
---
According to research done at the NLM (National Library of Medicine), "Despite well-documented individual, relational, and health benefits, masturbation has been stigmatized and is understudied compared to partnered sex.
Solo masturbation is a common form of sexual expression across the lifespan, without risk of pregnancy or sexually transmitted infections (STI), and regardless of partner availability or interest (Coleman, 2003; Dekker & Schmidt, 2003; Robbins et al., 2011). Masturbation can help people explore their sexuality, experience pleasure, and learn about their bodily responses in ways that may support healthy sexual development, self-esteem, and body positivity (Coleman, 2003; Kaestle & Allen, 2011; Rowland et al., 2020). Indeed, masturbation is often included as part of therapeutic treatment plans for sexual difficulties, such as premature ejaculation and anorgasmia (Laan & Rellini, 2011; Rodriguez & Lopez, 2016; Riley & Segraves, 2006; Rullo et al., 2018). Despite these well-documented individual, relational, and health benefits, masturbation has been stigmatized (particularly for women), prohibited, and remains understudied in comparison with research on partnered sex (Baćak & Štulhofer, 2011; Bullough, 2003; Das, 2007; Fahs & Frank, 2014; Perry, 2019; Younis et al., 2018), reflecting far less scientific attention to how people behave sexually with themselves than with other people.
---
How has cannabis transformed your own sex life?
Being able to have pain-free sex was a game changer for me. It put me in the driver's seat of my own body again, and allowed me to very intentionally curate the experiences I was having, not just from a comfort perspective, but in terms of what kinds of pleasure I wanted to explore in my body. It has allowed me to turn off all the voices in my head that say I'm too much–too loud, too fat, too needy, too sexual. It helps me be present with myself and able to decide for myself what I believe about my pleasure and my body. It's been a powerful way to connect with partners, by co-creating experiences with sensuality and delight in mind. I'm deeply grateful for the wisdom that I've gained since working with cannabis as a botanical ally.
With so many canna-lubes out there, what are your go-to's?
I've been a fan of Quim Rock for a long time, as they are a women-owned California based cannabis brand. I also use a lot of suppositories from Hello Again, which makes THC and CBD infused suppositories, at various ratios for specific concerns. They've been a game changer for me, for both cramps and sexual aftercare.
You had talked to me about a retreat you attended where it was all women, all nude, and everyone learned a level of comfort in that setting that allowed for them to orgasm together. You've now launched your own retreats utilizing the skills you were mentored with and helped you in your own journey. Let's talk about how women get to a place where they're comfortable enough to orgasm in the same space, together. How can women be less timid with their sense of self?
Dr. Betty Dodson created the Bodysex method of women's circles in the early 1970s. I was lucky enough to learn from her before she passed away at age 91, in 2020. She was a huge advocate of cannabis for sexual pleasure, both solo and partnered. In the time I worked with her, and in my own experience running retreats, I learned that women sometimes need permission. Not because someone else is the gatekeeper of their body or sexuality, but because permission (through normalizing) acts like a beacon of light that shines through the darkness of their shame.
Part of the reason that I exist so boldly in my sexuality in the public eye is so that people, especially women, can look at me and think, "Huh! Well if she can do it, maybe I can too!"
Retreats, coaching, any space where women can come together in a group setting, allow for normalizing of pleasure, bodies, and sexual exploration. It takes a village sometimes, and I'm honored to help cultivate those spaces.
---

---
What is on the docket for 2023?
I'm going to be traveling and teaching a lot! First up, on Saturday Feb 11th in Los Angeles I'm speaking on a panel at the Psychedelics and Sensuality conference, hosted by Lizzy Jeff and Monica Cadena. Next month I'll be traveling to Toronto and while I'm there I'll be offering a Sex and Cannabis workshop at Oasis Aqualounge, Toronto's premiere sex club. I plan to make a few trips to Toronto this year so watch out for those dates. I'm planning retreats with my colleague Dr. Shannon Chavez and those will be in Frazier Park, CA; Hawaii; and Austin (dates TBA). I'll also be expanding my online offerings on ElevatedIntimacy.com, including a brand new online course called The Mindful Couple. Finally, Dr. Shannon and I are rolling out our VIP concierge coaching offering, which is tailor made for high-achieving individuals and couples who don't have time for a more traditional (and lengthy) approach to therapy and coaching and want to do a deep dive on vacation (anywhere in the world!)
Have you considered starting your own cannabis product line?
I have considered it many times. Although I haven't ruled it out entirely, especially if the right business partner came along, I'm focusing my energy on my coaching and retreats and workshops this year.
What are some things you wish every woman was taught?
Pleasure based anatomy and the importance of masturbation. It is amazing to me how many people see my necklace (a 3-D internal clitoris) and assume it's a wishbone. Most people don't realize that the clitoris is 90% internal and has as much erectile tissue as the penis. I wish that everyone was taught about consent and bodily autonomy, and that no one owes another person sex and if they choose to start having sex, they can stop at any time for any reason.
Most especially that sex isn't limited to just the very linear trajectory of heteronormative acts we see portrayed in media and porn. Sex is about possibility and creativity and pleasure, not body parts going in and out of each other.
With a background in Women's Studies and Philosophy, from a purely educational standpoint, what messaging do you feel is still lacking?
Mostly that sex is normal and healthy. People are shocked when I tell them that I'm a sex coach. I'm always the most interesting person in the room at parties. And while that's fun sometimes, I wish that it wasn't so noteworthy. I wish it was just normal that people would see a sex coach, just like they see a personal trainer or mindset coach (or astrologer, if you live in California). I wish more people understood that sex does not need to be this intimidating, taboo thing. I believe in treating it with reverence and respect, but fear and shame are the enemy when it comes to healthy sexuality, and we'd be in a much better place as a society if prioritizing pleasure was something that was considered empowering, not problematic.
---
Manta's approach to sexuality is liberating, and in the current climate where legislative measures are being introduced (and passed) that attempt to dictate what a woman does with her own body, the time to embrace self-efficacy, sexuality, self-intimacy, self-love, positive self-talk, and the power of asserting yourself and taking back your power is now. Personally, I can't wait to attend one of the CannaSexual retreats because like so many women, I am done feeling shame over pleasure. For more information on CannaSexual, visit the website or reach out to her via social media.
ABOUT ASHLEY MANTA
Ashley Manta is an award-winning sex educator and coach and has become a sought-after authority on mindfully combining sex and cannabis as part of her CannaSexual® brand. She is the author of The CBD Solution: Sex, published in 2020 in conjunction with Merry Jane and Chronicle Books. She completed her certification as a Bodysex® Facilitator after studying with legendary pleasure pioneer Betty Dodson.
Ashley is the creator of the Activating Your Cosmic Pussy sisterhood and a series of online intensives and retreats. She and colleague Dr. Shannon Chavez often collaborate to offer in-person retreats they call Pleasure Camp in Hawaii, California, and other locations around the world. Ashley and Dr. Shannon also offer concierge coaching for women and couples.