1/22/13 RECAP
This week I invited my first in-studio guest!
I want to thank my 1st ever in-studio guest, Mr. Eddie G of Coast2Coast Cuisine TV for coming in before heading back to New York!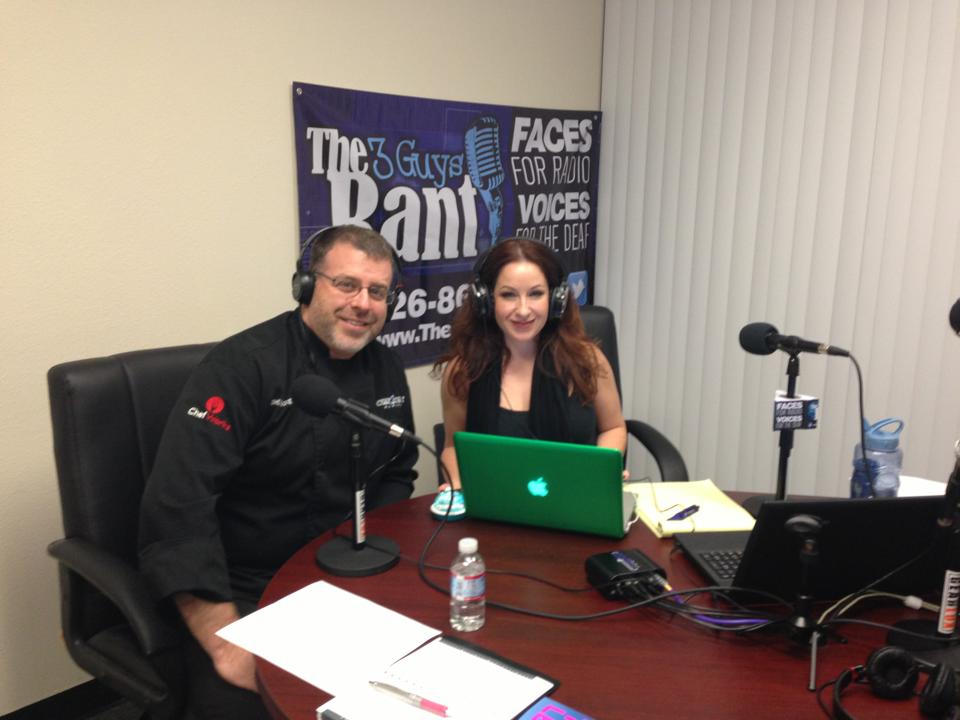 You can watch today's Episode at: http://www.youtube.com/watch?v=d07NpzE3H5c
Crab Cakes – Coast 2 Coast Superbowl
Eddie brought the cook-off foods
FACEBOOK: http://facebook.com/Coast2CoastCuisineTV
TWITTER: @ChefEddieGs
Chef Eddie G + Chef JR Cifrese of Coast2Coast Cuisine TV
On with Chef Eddie G (Eddie Gallagher)
CALLERS:
David Minkin – Magic and Wine
FACEBOOK | TWITTER: @DavidMinkin
I recently had the pleasure of seeing David's Magic Show at Bardot Hollywood and it blew my mind. I have never experienced anything like it! It really was the best magic show I've ever seen. He changed the skeptic in me. Not about magicians, just him doing magic. He's the real deal!
David Minkin
David Minkin – Magician performing live
David Minkin
Fashion Tip by Ali Levine
Celebrity Stylist, Ali Levine gives us a weekly fashion tip!
Ali Levine Design
FACEBOOK: http://www.facebook.com/AliLevineDesign
TWITTER: @alilevinedesign
This week's #TrendsTues (trademarked, TM) Tip is in honor of the President's Inauguration!
What would you wear for this special event?
Michelle Obama wore Jason Wu yet again for another amazing event, would you wear the same designer or switch it up?
72971063 WASHINGTON, DC – JANUARY 21: First lady Michelle Obama walks the route as the presidential inaugural parade winds through the nation's capital January 21, 2013 in Washington, DC. Barack Obama was re-elected for a second term as President of the United States. (Photo by Chip Somodevilla/Getty Images) 2013 Getty Images
To the note of living life with purpose, you don't always have to be wearing a label to feel good and look good. Michelle Obama shows us that when she wears Thom Brown, as her day of coat for the Inauguration. It's about enjoying the moment where you are and loving how you feel in it!
Stay tuned for more Trends & Fashion, behind the scenes with Ali Levine Design at youtube.com/AliLevineDesign
and www.alilevinedesign.com, click on our blog to check out our weekly #TrendsTues!
Xox"
Topics
Inauguration
LA Wine Tasting in February
Lawinetasting.com
Products
Three Sisters Olive Trees of Noah
http://www.greenprophet.com/2013/01/noah-olive-trees-lebanon/