Chef Simone: A Woman of Decadence
Making the world of sweets in Los Angeles and beyond something to celebrate
Desserts are the fairy tales of the kitchen—a happily-ever-after to supper.
The world of confections and decadent desserts is indeed something we've all thoroughly enjoyed throughout our lives. Something about diving in to a rich bite of dark chocolate mousse or a divine freshly baked confection sends our mouth and memory into a tailspin of joy. In the heart of Los Angeles, female led BIPOC company Art Delectables founded by Delja "Chef Simone" Dickson is devoted to supporting our need for organic, high quality, decadent sweets. From cheesecakes to her famous "more than a brownie", Chef Simone is a woman making a difference.
Her approach to sweets is beyond simple indulgence, and her story of once being a pre-med student to now supplying Angelenos with decadent bites is a story you'll want to know. She is devoted to educating dessert lovers on realizing sweets can be nutritious and healthy when you work with those who farm and source responsibly, and only use the best possible organic ingredients. She is among the few pastry chefs serving up uncompromising quality confections and desserts. Her love of agriculture and respecting fruits and ingredients from the ground up is why Art Delectables is such a special company and brand.
In honor of Women's History Month, we caught up with Chef Simone for a Q + A to talk about her journey and the delightful delectable pieces of dessert art she is known for.
ART DELECTABLES | Order by calling (310) 654-9689
---

Chef Simone, where did you grow up?
I grew up in Los Angeles, CA and, growing up, I spent most summers in the southwestern farming belt of Michigan with my grandfather. During those summers, I'd explore the array of fresh-made canned jams and jellies in my great grandmother's basement—all made from fruit we picked that day. Those were my first introductions to all things organic; where we picked the land by hand and used those ingredients for homemade dinner and desserts.
It inspired my unique path from pre-med student, to culinary and pastry chef, that blossomed into Art Delectables. I like to say I have an incredibly balanced upbringing since I had both experienced the city and the country.
What childhood moment do you often return to when cooking?
Those summers I spent in the farming belt of Michigan continue to inspire my cooking. We did everything from learning how to make jams, to picking fresh corn, and green beans. It nurtured my understanding for where our food comes from and fostered my intention to create a space where we can educate the community on the importance of making healthier, organic food choices, which I always found easier to talk about over dessert.
Most chefs return to the simplest of things when they're not creating their masterpieces. What is your culinary guilty pleasure?
For dessert, a staple in my house is cinnamon rolls. But, when we're at home, it's not so much baking that happens. I actually love to grill whenever I can. To me, nothing is better than a steak with sauteed mushrooms and fresh garlic. That is a staple in my house.
How are you able to lift other women up and empower more Black women, and women in general through your company?
As a chef, my mission is to help educate the importance of making more health-conscious decisions. That has extended to young mothers. We've done a lot of events where we educate these young parents on what balanced meals look like so that young families can feel confident in the food they are providing. Personally, I also try to support Black-owned businesses in every facet—not just food, but from my clothing, to jewelry, shops, etc.
Social media has been an especially strong platform to support Black-businesses.
It's been a great tool for me to see other BIPOC companies, and people that look like me, harnessing that entrepreneurial spirit. Whenever possible, I always try to refer friends, family, industry people to other Black businesses.
[columns_row width="half"] [column]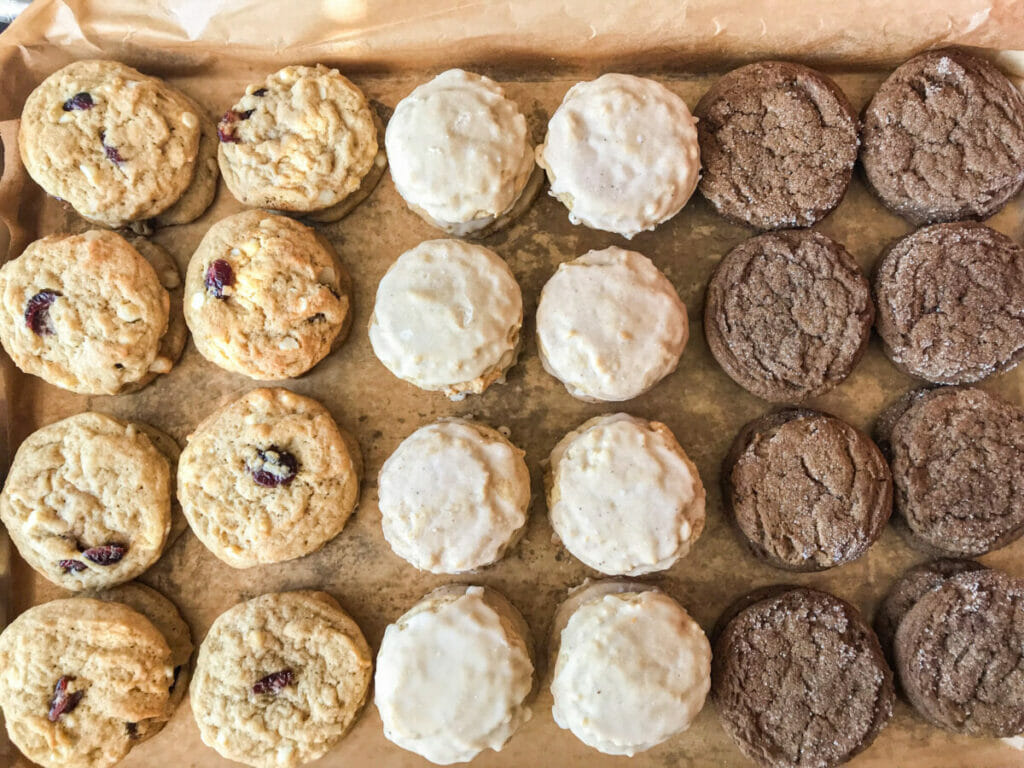 [/column] [column]
[/column] [/columns_row]
Ok so now onto cheesecake. What was the very first recipe you played with that gave you that "AHA" moment?
First: My first cheesecake was way too complicated for me to be doing! It was a pumpkin and vanilla bean cheesecake and I tested two different kinds of toppings. At the time, I had an obsession with cranberry coulis. Ultimately, it ended up being a success. I have a cousin who can't stand pumpkin and to this day she says it is one of her favorites. I was surprised by the amount of success that came from this first cheesecake, and it gave me the confidence to continue experimenting.
Second: From there, I started a small breakfast nook in my apartment in Chicago around 2010 or 2011, where I made fresh cinnamon rolls. My first one was a maple bacon cinnamon roll, made with real bacon on the inside. It was a surprising crowd favorite. Having success in the baked cake realm and baking with yeast really gave me that confidence to pursue a business that explores both arenas.
What is the wildest cheesecake recipe you've created?
In my early days, I enjoyed doing custom cheesecakes. I really enjoy the idea of someone coming in with a vision or flavors they want to use and we execute it from there. It never quite came off the ground, so I started experimenting on my own. One that comes to mind is a birthday cheesecake I made for a family member. It was a swirled strawberry shortcake cheesecake, with lemon curd filled layering—it was very reminiscent of like a strawberry lemonade cake. Other unique inspirations are available in Art Delectables' current product line, like the Banana Fosters cheesecake, which is one of our best sellers. We also have a Hot Chocolate cheesecake that has several layers of chocolate decadence.
If cheesecake were a quote, what would that quote be?
I can't speak for anyone else's cheesecake, but if ours were a quote I think it would be, "Heaven must be like this, it must be like this."
It's a lyric from one of our favorite songs by the amazing Ohio Players.
Who inspires you? Growing up, past, and present?
My grandmother. I call her nanny. She is the matriarch of the family and taught me the some of the first things I ever learned to cook. In my first cookbook, the family recipes I include are from her. My family in general inspires me; they are all such go-getters, creatives, with this entrepreneurial spirit that empowered me to create something for myself. Today, my mother Clotee McAfee is the COO of Art Delectables and she constantly inspires me.
What are some of the challenges you've faced that have made you a better business woman?
I learned that you have to plan for disaster and be flexible enough to pivot and change when needed. The pandemic has been a detrimental time for many people, and it could have been that for us if we did not find other avenues to operate and get us to the marketplace.
We recently expanded retail capabilities, now available through a GhostKitchen location in Los Angeles, and are anticipating making our way to grocery shelves later this year.
As a Black woman I have experienced times when it felt like I had to be the best in the room to move forward. As a spiritual woman, my faith grounds me to put trust in the process, and just continue moving forward. It has given me a great sense of drive and humility.
The biggest thing I learned is to be pliable and know that there are going to be good days and bad days. The most important thing is to keep determination and focus, or else it is easy to get sucked into the mundane of the everyday. Staying focused and my belief system have carried me through everything.
What message would you like to convey to readers who are only now learning about you and Art Delectables?
At Art Delectables, we only give to our customers what we would give to our family. We take care to fill each product with organic, non-GMO ingredients, and half the sugar of traditional desserts. We are as equally committed to the taste, balance, and presentation of each product as we are to its nutritional sensibilities. My pre-med background and creativity as an artist really shine through in Art Delectables. With our items you will never see an ingredient used that the body will not recognize.
To young Black girls and young Black women who will read this or learn about the things you're doing, what words of encouragement and wisdom can you offer them when they face adversity?
Never give up and keep going. Put the right kind of people on your team that you know you can trust. Find the right kind of mentors; those that are playing the game at a bigger level than you and learn from their successes and mistakes. For those of you who may not come from a supportive environment, keep your dreams to yourself and believe in them.
Seek out those who celebrate you.
In business, you're doing things that haven't been done, you're feeling your way through, so the last thing you need is someone who is negative trying to tell you what you can and can't accomplish. Take time to restore yourself—especially if you happen to be a mom and wife. It is important to take care of you first and try to find a balance.
[separator type="thin"]
Art Delectables
Art Delectables is a full-service organic catering company that specializes in High End Luxury Cheesecakes for grocers, restaurants and the hotel markets. We also cater to corporate accounts for gifting and events. Our products are made using only the highest quality ingredients, with a fraction of the sugar contained in traditional cheesecakes. With a rich decadent texture more like mousse, than dense cheesecake, we are the superior choice in taste, feel and overall appearance.
Art Delectables is an organic gourmet catering company that specializes in High End Luxury Cheesecakes hand crafted from only the finest and freshest local organic ingredients. Paving the way for sustainably conscious premium treats made with a fraction of the sugar, and using all wholesome ingredients, it's possible to enjoy your guilty pleasures without the guilt.
1/3 the Sugar in Regular Cheesecakes
Non GMO(genetically modified) Cream Cheese
Dairy Products NOT treated with rBGH
Only full fat portion controlled slice