Taking a road trip to visit historical sites, honoring the ladies who have paved the way.
Women's History Month is a historic month not just because it says so in the name. It's historic because it recognizes women and female leaders that have paved the way, defied the odds, and continue to push us forward. We want to honor history-makers all year long so below is a look at the perfect women-inspired monuments, landmarks, and museums you should explore throughout the country.
Whether you're hopping in your Holiday Rambler or your glamping-fab Airstream, spring and summer are ideal for getting out on the road—and with COVID vaccinations said to be administered to millions come May? There is no better time to start planning an excursion.
Travel Roundup curated by the Holiday Rambler Brand
[separator type="thin"]


Statue of Liberty, New York, NY
The Statue of Liberty is one of the country's oldest and most famous women. At a graceful 305' tall, she is a towering symbol of American freedom. The statue was sculpted by French artist Frédéric-Auguste Bartholdi and gifted to the United States by France in 1875 to commemorate the countries' alliance during the American Revolution. In her right hand, Lady Liberty holds a torch above her head. In her left hand, she carries a tablet inscribed with JULY IV MDCCLXXVI (July 4, 1776 in Roman numerals), the date of the U.S. Declaration of Independence.
The statue can be viewed from various vantage points along the Hudson River. For an up-close- and-personal look, take the ferry that departs from Battery Park to Liberty Island where the Statue of Liberty stands.
ROAD TRIPPERS: Look at staying on-site at Liberty Harbor RV with views of the Statue of Liberty and Liberty Harbor Marina.
New-York Historical Society Museum & Library, New York, NY
The New-York Historical Society includes a Center for Women's History with a plethora of exhibits, information, and artifacts from women who have shaped the United States.
"Women's Voices" is a multimedia digital installation that includes profiles of: Sonia Sotomayor, the first Latina Supreme Court Justice; Barbara McClintock, a Nobel Prize-winning scientist; Elizabeth Blackwell, the first woman to receive a medical degree in the U.S; Misty Copeland, a trailblazing dancer and principal ballerina; and Chien-Shiung Wu, the Manhattan Project physicist who was snubbed by the Nobel Prize committee.
ROAD TRIPPERS: Look at staying on-site at Liberty Harbor RV
Women's Rights National Historical Park, Seneca Falls, NY
The fight for women's right to vote began in upstate New York with the suffrage movement. In July 1848, two brave and determined women, Lucretia Mott and Elizabeth Cady Stanton, organized the first Women's Rights Convention with approximately 200 women in attendance at Wesleyan Chapel.
At the Women's Rights National Historical Park, "meet" the five women who organized the convention and Sojourner Truth, a former slave who became an abolitionist and women's rights activist. Learn more about the convention, its organizers, and what they thought would happen after the convention.
Outside, the park includes Wesleyan Chapel (where the convention was held), the homes of three suffragists (Elizabeth Cady Stanton, Jane Hunt, and Mary Ann M'Clintock), and Declaration Park & Waterwall, which features the text and signers of the Declaration of Sentiments. The Declaration was written by Stanton to protest women's inferior legal status and included 11 resolutions for equal rights.
Be sure to check the park's website to experience one of the many ranger talks (conducted outdoors) about the pivotal events that happened on the park's grounds.
ROAD TRIPPERS: Look at staying on-site at Hejamada Campground & RV Park, nestled in the beautiful Finger Lakes region of upstate New York.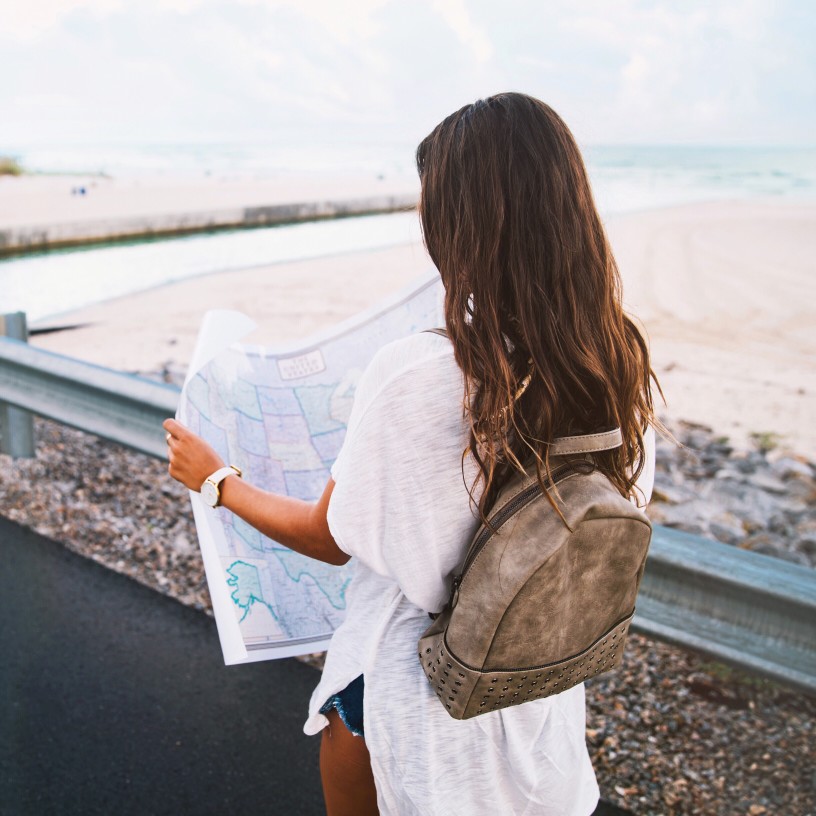 The National Susan B. Anthony House & Museum, Rochester, NY
Susan B. Anthony can be considered one of the world's greatest revolutionaries. She dedicated 50 years of her life to the women's suffrage movement and was arrested for voting in the 1872 Presidential election in Rochester. After a two-day trial in 1873, she was convicted and sentenced to pay a fine of $100 and court costs. The museum shares Anthony's inspiring story and preserves her National Historic Landmark home, which was the headquarters for the National American Woman Suffrage Association during her time as president of the organization.
She died at age 86 in 1906 after giving her "Failure is Impossible" speech in Boston.
ROAD TRIPPERS: Look at staying on-site at Southwoods RV Resort about 30 minutes from Rochester.
Clara Barton Missing Soldiers Office Museum, Washington, D.C.
Born 200 years ago in 1821, Clara Barton's humanitarian legacy continues today with the American Red Cross. In 1881, at age 59, she founded the American Red Cross and led it for 23 years.
Prior to establishing the Red Cross in the United States, Barton dedicated years of her life to the soldiers of the Civil War. She initially began by collecting much-needed supplies and later traveled to the front to deliver them and provide assistance in any way she could. Barton put herself in constant danger as she went to the major battles of the war to nurse, comfort, and care for wounded men. For her constant self-sacrifice, she came to be known as the "Angel of the Battlefield."
After the Civil War, Barton established the Missing Soldiers Office to locate Union soldiers who hadn't returned home. She and her team initiated searches on behalf of the women who were looking for their lost husbands or sons. Barton and her team wrote more than 100 letters a day to contacts in the U.S. Army and family and friends of the missing. By December 1868, she and her team had located more than 22,000 missing soldiers.
Visit the preserved rooms where Barton lived and worked during the Civil War and where she and her team spent thousands of hours in the Missing Soldiers Office.
ROAD TRIPPERS: Look at staying on-site at Cherry Hill Park  (full hook-up sites).
Arlington National Cemetery, Washington, D.C.
Just outside of D.C., Arlington National Cemetery is worth a visit since a number of pioneering women have been honored with a burial at the Cemetery.
Lt. Ollie Bennett was the first female medical officer commissioned in the U.S. Army. During World War I when she joined the Army as a contract surgeon, she was told there were no uniforms for female surgeons, so she had to design one herself. (Section 10, Grave 10938-LH)
On February 14, 1870, Seraph Young became, according to many accounts, the first woman in the United States to vote under a women's equal suffrage law. Two days earlier, Utah (then a U.S. territory) had passed legislation granting women the right to vote. Young, a schoolteacher, became the first woman to cast a ballot when she exercised her newly granted right in a Salt Lake City local election. (Section 13, Grave 89-A)
Major General Marcelite Jordan Harris retired in 1997 as the highest-ranking female officer in the Air Force and the highest ranking African American woman in the Department of Defense. A graduate of Spelman Academy, she was commissioned in 1965, rising through the ranks to become the first African American female brigadier general in the Air Force in 1991. Many of her assignments represented "firsts" for women in the Air Force. (Section 30, Grave 621)
ROAD TRIPPERS: Look at staying on-site at Cherry Hill Park.
Harriet Tubman Underground Railroad National Historic Park, Church Creek, MD
Harriet Tubman, who was born into slavery in Maryland and escaped to freedom in Philadelphia, is the Underground Railroad's best-known conductor. She risked her life many times, returning to Maryland to rescue at least 70 enslaved people, including her parents, brothers, family members, and friends. After the American Civil War broke out, her bravery continued as she became an armed scout and spy for the Union Army. In her later years, Tubman was an activist in the movement for women's suffrage.
To see where Tubman was born, lived, labored, and where she fled from, follow the scenic, self-guided driving tour of the Harriet Tubman Underground Railroad Byway that includes 45 sites. The Byway winds 125 miles through the beautiful landscapes and waterscapes of Maryland's Eastern Shore and continues for 98 miles through Delaware before ending in Philadelphia. A free map and audio guide are available on the Byway website.
On the Byway, don't miss the Harriet Tubman Underground Railroad National Historic Park in Church Creek, MD, to learn about Tubman's life and how her upbringing equipped her with essential outdoor skills that allowed her to successfully lead dozens of people out of slavery.
ROAD TRIPPERS: Look at staying on-site at Fort Whaley Campground with a variety of amenities, including a private pool, dog park, and catch-and-release lake.
Helen Keller Birthplace, Tuscumbia, AL
The life of Helen Keller was full of hard struggles and amazing accomplishments. When Keller was just 19 months, she suffered a severe illness that left her blind and deaf. When she was six years old, her parents hired Anne Mansfield Sullivan as her teacher. Sullivan, who had partial vision, was 20 years old and a graduate of the Perkins School for the Blind. Miraculously, in less than a month, Sullivan was able to reach Keller through sign language and open the world to her.
Keller became one of history's remarkable women. She dedicated her life to improving the conditions of blind and the deaf-blind around the world, lecturing in more than 25 countries. Wherever she appeared, she brought courage to millions of blind people.
When visiting Keller's birthplace, do not miss the water pump where Keller had her life-changing breakthrough. While cool water gushed over Keller's hand, Sullivan spelled "water" into her other hand. Suddenly, Keller connected the spelled word with the flowing liquid. Keller immediately began touching the elements around her, wanting to learn their names. Keller's home includes her complete library of Braille books, her original Braille typewriter, plus mementos and gifts from her travels around the world.
ROAD TRIPPERS: Look at staying on-site at Heritage Acres RV Park in Tuscumbia.
National Cowgirl Museum and Hall of Fame, Fort Worth, TX
The National Cowgirl Museum is the only museum in the world to honor the courageous, resilient, and independent women who helped shape the West. Hands-on activities for adults and children, along with computer-enhanced archival photographs, bring these trail-blazing women and the rough-and-tumble time to life. Through a hologram, hear from sharpshooter Annie Oakley and learn about the Wild West Shows that traveled the globe from the 1880s to the early 20th century.
Be sure to visit the Hall of Fame that honors modern-day cowgirl Supreme Court Justice Sandra Day O'Connor, along with the winningest female roper in the world, an American equestrian and Olympic show jumping medalist, a cowboy hat designer, and a country music superstar.
ROAD TRIPPERS: Look at staying on-site at Sandy Lake RV Resort. The resort offers pull thru sites, sites with concrete patios, a fitness center, swimming pool, and dog park.
Amelia Earhart Birthplace Museum, Atchison, KS
Amelia Earhart demonstrated that the sky's the limit for women. She was the first female aviator to fly solo across the Atlantic Ocean and the first person to fly solo from Hawaii to the U.S. mainland. During her flight to circumnavigate the globe, Earhart disappeared on July 2, 1937 somewhere over the Pacific. She was just 39 years old. As a champion for women in aviation, Earhart was instrumental in the formation of The Ninety-Nines, an organization for female pilots.
Visit her childhood home on a bluff overlooking the Missouri River to get a glimpse of life inside the Earhart family. Another Earhart attraction is an earthwork portrait of the aviator created in 1997 by Kansas artist Stan Herd. Made from plantings, stone, and other natural materials, the one-acre portrait is on a hillside overlooking Warnock Lake. A viewing deck is on a nearby hilltop.
ROAD TRIPPERS: Look at staying on-site at Basswood Resort, a beautifully secluded spot with modern amenities.
Sacajawea Interpretive, Cultural & Educational Center, Salmon, ID
This center pays tribute to Sacagawea (c. 1788 – 1812) and her important contributions to the team that surveyed the Louisiana Purchase and Pacific Northwest. Sacagawea was a bi-lingual Shoshone woman who accompanied the Lewis and Clark Corps of Discovery expedition in 1805–1806. Her skills as a translator were invaluable, along with her intimate knowledge of the difficult terrain. Remarkably, Sacagawea made the arduous exploration while caring for her infant son, Jean-Baptiste, who had been born just two months earlier.
The Interpretive Center is part of a 71-acre park that includes a bronze statue of Sacagawea holding Jean-Baptiste and two scenic walking trails.
ROAD TRIPPERS: Look at staying on-site at Elk Bend RV Park located on a scenic Western drive. The area is famous for its abundant wildlife – elk, eagles, bighorn sheep, deer, and mountain goats.
Bennington Museum, Bennington, VT
While the museum is closed during Women's History Month, it is reopening April 2, just a few days after the month officially concludes.
Anna Mary Robertson "Grandma" Moses (1860–1961) started painting in her seventies and within years was one of America's most famous artists. Moses, known as a folk artist, painted scenes of rural life that captured an idyllic, bygone era of the United States.
The Bennington Museum has the largest public collection of paintings by Grandma Moses and a collection of artifacts from her life, including an 18-century tilt-top table she used as her painting table and her paint-stained apron. In addition, the museum is now home to the schoolhouse where she studied as a child.
NOTE: Each 'Women's History Stop' has been researched but, due to COVID-19, be sure to call ahead to confirm hours of operation and secure tickets since many sites require advance reservations. There are additional museums and sites that honor remarkable women but many, such as the Rosa Parks Museum, are closed or have gone virtual. For in-person travel, please be safe – wear your mask, practice social distancing, and wash hands frequently.
TRANSPO INSPIRATION
HOLIDAY RAMBLER RV: The 2021 Nautica model from Holiday Rambler just earned Best New Model from RV Pro and Top RV Debut from RVBusiness. Nautica is a Class A Diesel motorhome that is less than 40' and built on a Freightliner Custom Chassis®. While the Nautica is shorter in length, it still boasts a roomy interior with lots of storage. Amenities include an electric fireplace, stainless steel appliances, pantry storage and full-extension drawers, a master bedroom suite with a skylight shower, and an exterior entertainment center with a 50" LED TV. For more information, visit holidayrambler.com.
REV Group® (REVG) is a leading designer, manufacturer, and distributor of specialty vehicles and related aftermarket parts and services. We serve a diversified customer base, primarily in the United States, through three segments: Fire & Emergency, Commercial, and Recreation. We provide customized vehicle solutions for applications, including essential needs for public services (ambulances, fire apparatus, school buses, and transit buses), commercial infrastructure (terminal trucks and industrial sweepers) and consumer leisure (recreational vehicles). Our diverse portfolio is made up of well-established principal vehicle brands, including many of the most recognizable names within their industry. Several of our brands pioneered their specialty vehicle product categories and date back more than 50 years. REV Group trades on the NYSE under the symbol REVG. Investors-REVG
AIRSTREAM: The Travel Trailer. Its history is just as impressive as its longevity in modern and contemporary design. Airstreams date back to the 1920s when Founder Wally Byam envisioned a home that could travel anywhere. It began with adhering a tent-covering over the back of his Model T. That worked until the rains came, and when they did he came up with a better, more efficient covering; a tear-dropped shape created with aluminum that acted as more of a permanent shelter and he threw the stove in back of his Model T and that was that.
With this ingenious contraption affixed to his automotive, it started catching the eyes of weary travelers looking for their own travel solutions. With a background in marketing, advertising and journalism, he realized he was onto something. By 1937, Airstream was a success and even as several other competitors attempted what Byam had, when WWII happened, the only surviving mobile trailers were Airstreams. The Airsteam was manufactured in Culver City (yes, it's native to California!). Fast forward a hundred years and Airstreams are still all the rage—and we pay good money to experience glamping in such sleek design and timeless appeal.